You should be applying for graduate programs at the start of your final year of university! It might seem strange considering you haven't graduated yet, but the idea is that you'll be able to start soon after you finish up your studies. 
When is the peak period?
It might come as a shock, but applications typically open between February and April for graduate programs, and again between July and September. The first intake is easy to miss as you're preparing for your final year of study, which is why we're reminding you that now is the best time to start applying for programs!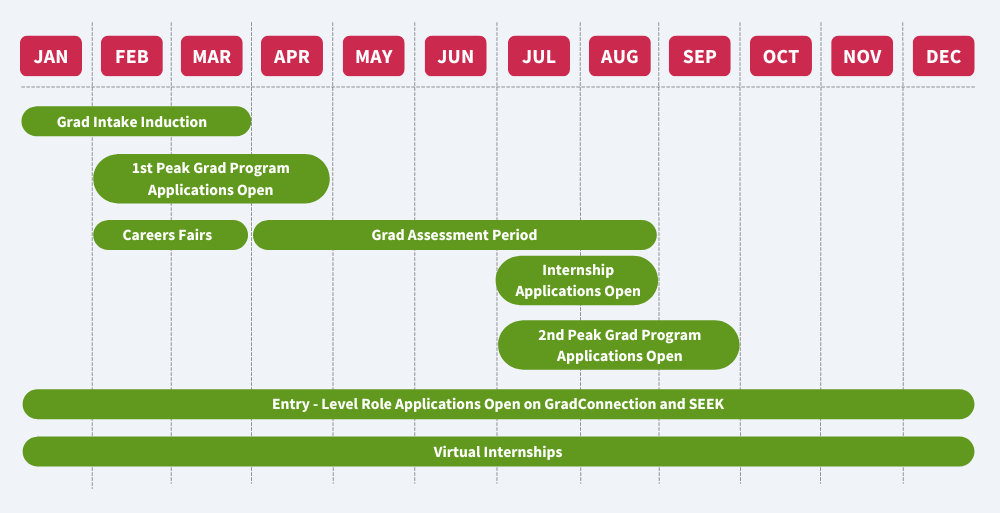 The Graduate Year At A Glance
Why do applications open so early?
If you applied for a graduate program at the beginning of the year and receive an offer, you won't start your new role until the following year (typically between January and March). This leaves an entire year between your initial application and your start date! But why is there such a big gap?
The short answer is, the recruitment process is extremely long, and submitting your application is only the beginning! The process can include interviews, online assessments, and even attending assessment centres. All of this can be really time-consuming, so when you look at the entire process, that year gap doesn't seem so big, after all!
How do you keep track of applications?
Sometimes it can get a bit tricky when you're applying for multiple positions - it's easy for some to fall through the cracks. Luckily, we've created an easy template for you to use! From what company and role you've applied for down to all the important dates, the tracker will help you keep on top of all your applications with everything in one place.
Don't leave it to the last minute!
You want time to look over your application, and not just once right before you submit it. You want to give yourself time to edit your application over the span of a week or two, so you have fresh eyes each time you look at it. You might even want to ask a friend or lecturer to look over it for you, so you can ensure it's perfect before you send it off. Graduate programs are very competitive, so you want to do everything you can to make yourself stand out – and an application free of autocorrect typos is an easy way to put yourself in front of at least a few applicants.
At the end of the day, getting an application in early can take some stress off you as you start to gear up for your final year of university - you've already got enough to think about, and worrying about rushing an application doesn't have to add to it!