AECOM Graduate Programs & Scholarships
AECOM is currently not accepting applications
We are a global network of experts working with clients, communities and colleagues to develop and implement innovative solutions to the world's most complex challenges.
With our talented team of architects, engineers, designers, planners, scientists, construction and management professionals, we're building a bright future. The difference we help our clients make is felt in every region of the world. We have the people, technology, and vision to deliver what others can only imagine.
Join our team and help us deliver a better world.
AECOM currently has 0 opportunities.
Select the following options:
Past AECOM Graduate Hiring Statistics
If you're interested in working at AECOM, understanding when they have opened up applications for their graduate programs, graduate jobs and internships is helpful knowledge to have so you know when you might need to apply. Use the below information to see when AECOM hires graduates, but more importantly what graduate degree's and other student attributes they target for their jobs.
---
Job types
Graduate Jobs (92%),

Scholarships (8%),
Disciplines
Accounting (62%),

Administration (62%),

Agriculture (62%),

Architecture (62%),

Actuary (62%),
Locations
Perth (69%),

Brisbane (69%),

Canberra (62%),

Darwin (62%),

Sydney (62%),
Work rights
Australian Citizen (100%),

Australian Permanent Resident (100%),

New Zealand Citizen (100%),

Australian Working Visa (62%),

New Zealand Permanent Resident (62%),
We are a team of over 56,000 specialists working across 7 continents to deliver some of the world's most influential and transformational infrastructure projects.
Together, across our regional communities and thriving metropolitan centres, we deliver a better world.
Whether we're delivering city-shaping infrastructure or enabling clean and stable water supply to far-flung places many of us may never visit, our work makes a difference.
On every project and for every client, our talented teams pride themselves on big ideas, positive change, and on leaving lasting legacies that build communities.
We pride ourselves on our commitment to client service and excellence in project delivery. Graduates – with their fresh thinking and passion for reimagining what's possible – are critical to our success.
AECOM has the people, technology and vision to create smart solutions for our clients' challenges.
Our Graduate Program
AECOM
---
After years of study, you're looking to launch your career with a company that supports your ongoing development, and makes the world a better place.
We are seeking applicants from a wide range of disciplines, including civil, electrical, environmental, geotechnical, mechanical, structural, building services and chemical engineering, as well as design, planning, and program and cost management fields.
As a graduate, you'll have the chance to work alongside industry leaders on iconic projects that help shape and connect our cities and communities.
Our Growing Professional Skills (GPS) graduate program is designed to help you bridge the gap between formal education and the workplace. The GPS program is spread across two years and comprises a range of core competencies and recommended training. As part of the program, we work with you to develop a plan, set your goals, and the actions required to achieve them.
Make Amazing Happen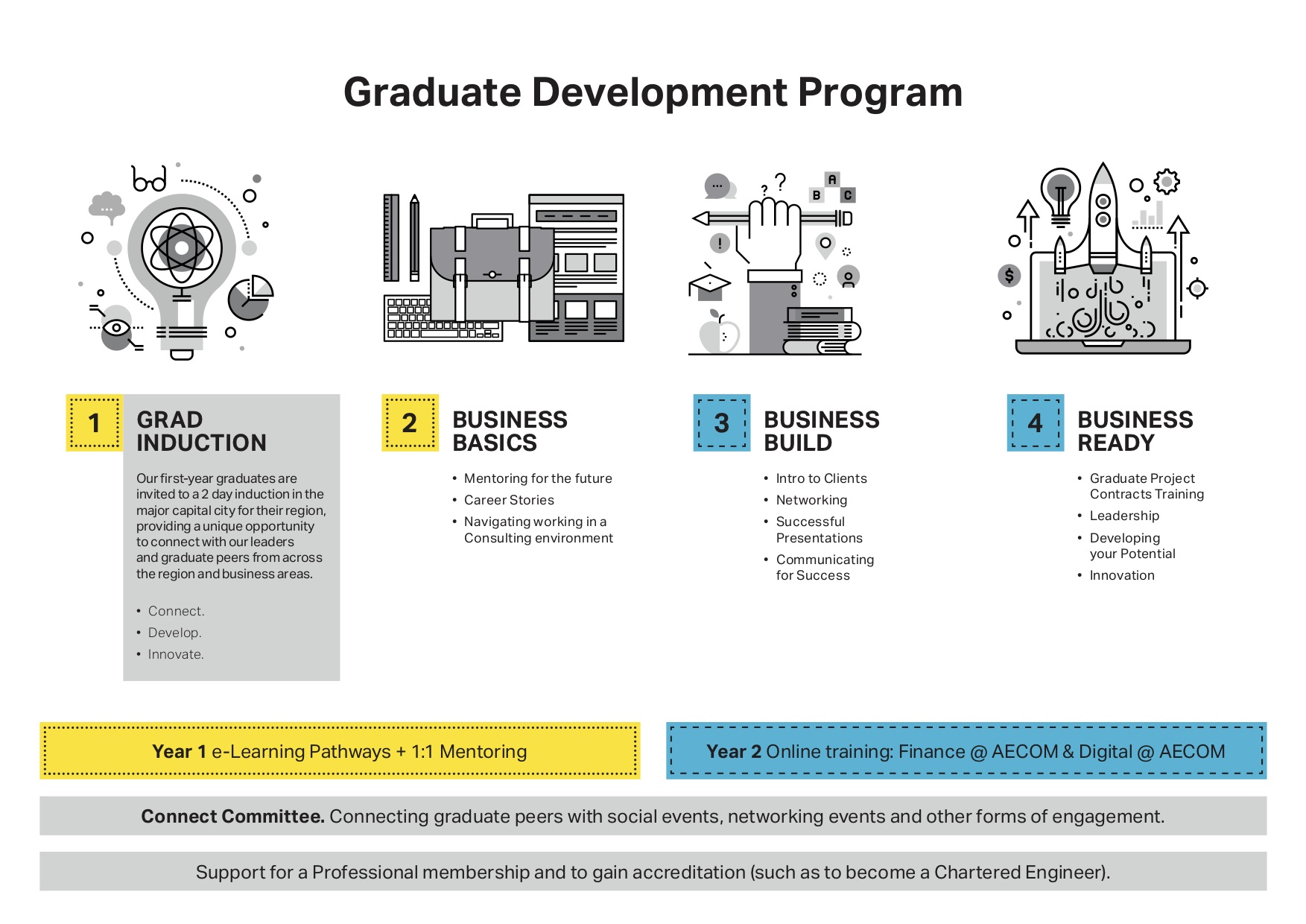 Day in the life: Sarah Jane Fausset
6:00AM
My alarm wakes me up, after pressing snooze a few times I eventually drag myself out of bed.
7:00AM
I leave my apartment and walk the 200m to the train station (very handy) and jump on the next train heading to the CBD.
7:30AM
I arrive at the office and turn on my laptop and have a quick scroll through my emails while the office is still pretty quiet. After 10 – 15 mins some of the other graduates and members of my team arrive so we all go down to the kitchen to make coffee and have a catch up.
I usually end up taking a second cup of coffee back to my desk and finish replying to my emails and check what is on the schedule for today.
9:30AM
We usually have our team resourcing meeting on Monday mornings to discuss what everyone is working on and to identify if anyone has capacity to help out and get involved on different projects. This lets us all know who is going to be really busy and who has some time to help them out which keeps our team stress free. My weeks are usually pretty busy especially as I spend half the week in Wellington working on site and half the week in Auckland in the office working on different projects. It's a really great mix of site work and design and allows me to see the whole design and construction life of a project.
10:00AM
Our team love to have morning coffee and snacks together in the kitchen and chat about everything and anything and sometimes we are lucky and someone brings in some home made goodies.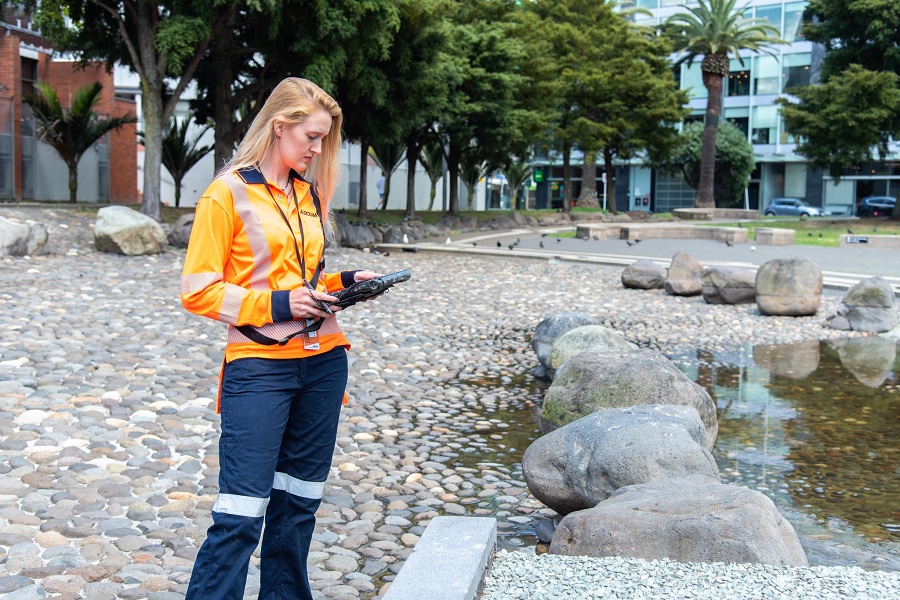 10:30AM
I head back to my desk to get some work done, I sit in an open plan office so its super easy to roll my chair over to the senior engineers if I need to ask them questions or need some guidance. Every project is different and a fantastic opportunity to continue learning and gain the experience and knowledge needed for my chartership.
12:00PM
The best time of the day, lunch time. Sometimes there is a learning development event on which usually has free pizza but if not we all head out to the park just outside the office and chillout in the sun for an hour.
1:00PM
I head back to work and get focused, if I'm onsite in Wellington we usually head out in the Ute to do our inspections up and down the site.
4:30PM
It is getting to the end of the work day so I wrap up what I'm working on and send out some emails or catch up with the senior engineers about the projects and what the plans are for tomorrow.
5:00PM
I usually head to a Gym class with the girls from work or rush home to take my paddle board to the beach if the weather is good. Its such a great way to relax and unwind after a productive day.
8:00PM
I usually cook a big meal with my housemates and watch some netflix or we all go out for dinner if we are feeling lazy.
9:30PM
I usually face time my family (and dog) who live in the UK and I update them on my adventures over in NZ.
10:00PM
Finally time to head to bed and get some sleep.
---
Richelle Fernandes
Graduate Electrical Engineer in Building Services
The University of Auckland (Graduated in 2017)
Bachelor of Electrical and Electronics Engineering (Honours)
6:45 a.m.
I hear my flatmate walking around and know it's time to wake up.
7:00 a.m.
I actually wake up and give myself exactly 20 minutes to get ready before I sprint down the street for the bus. The less time I spend getting ready means more time spent sleeping.
7:20 a.m.
*Almost misses bus*
8:00 a.m.
I have my oats for breakfast with some of the other graduates in the kitchen at work. We have a quick discussion on how our social sports team will go this week, followed by us stocking up on fruit from the kitchen for the day. I then spend some time checking my emails and calendar, marking all the actionable items and reading all other emails and filing them into the appropriate project folders in Outlook.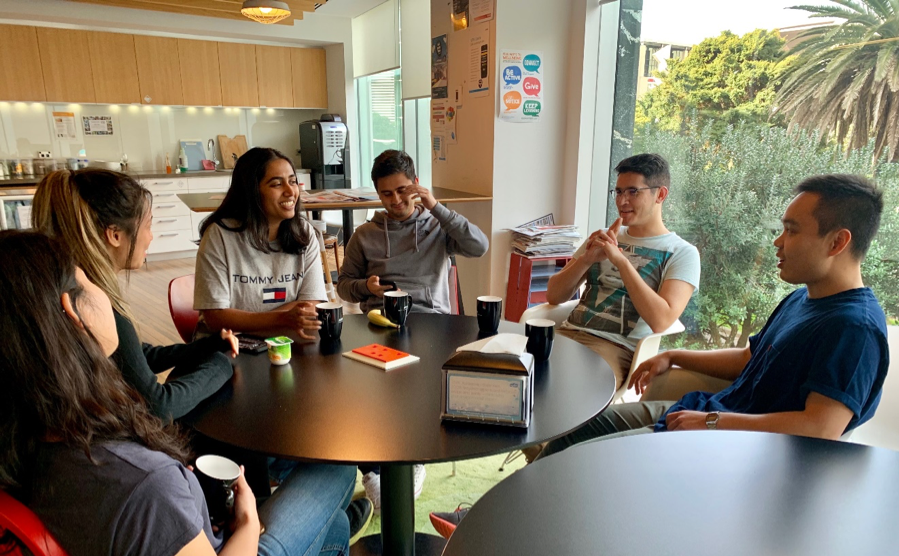 The graduates catching up over a quick coffee on a casual Friday morning.
9:00 a.m.
The Building Services team (Electrical + Mechanical) has its weekly resource meeting, where we conference call in the rest of our team members around the country. Each office spends a few minutes giving everyone a run down of the projects they are working on and what resources (i.e. people) they need for that week. Here's where I usually find out exactly how my week is going to go. After this, my team (Electrical) has a quick follow-up meeting to ensure everyone knows what they are doing this week and that everyone is properly utilised.
10:00 a.m.
I head back to my desk to get some work done. I usually spend some time talking to my manager or senior engineer before each large task, to break down the work into manageable chunks. I spend a lot of time working on projects that are based in Wellington and have had the chance to travel down quite a few times over my year and a half at AECOM. Once I'm done debriefing, I begin gathering the information I need to tackle this design task. For lighting, this usually includes looking at what the space requires, the options for light fittings (keeping the budget in mind), creating the lighting model on our lighting software, and contacting lighting suppliers for files of these light-fitting options. I model a few options with different light fittings until I am satisfied with the output and my work is then checked and verified by our senior engineers.
12:00 p.m.
Every few weeks the Early Professionals Committee at AECOM hosts an event, either at breakfast, lunchtime or after work, for learning development or social activities. Being part of the committee, I get to organise the event, prepare the room, order the catering and run the event. This usually lasts for an hour.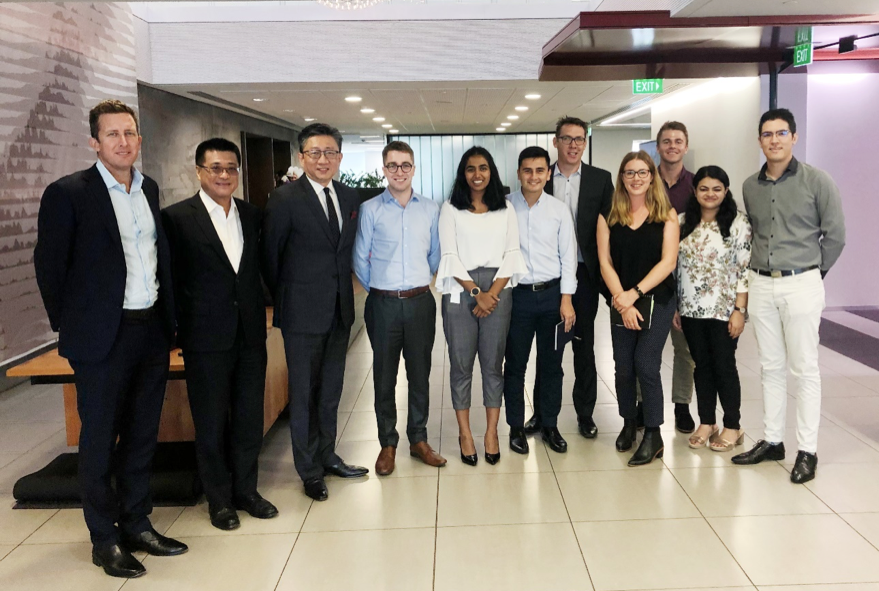 The Connect Auckland team met with Todd Battley (ANZ CEO), Dickson Lo (APAC COO) and Sean Chaio (APAC President) to discuss how Connect is progressing in New Zealand and our ideas for the future.
1:00 p.m.
Back to designing. It usually helps when I get a large stretch of time to work on design work as you have to be in the zone!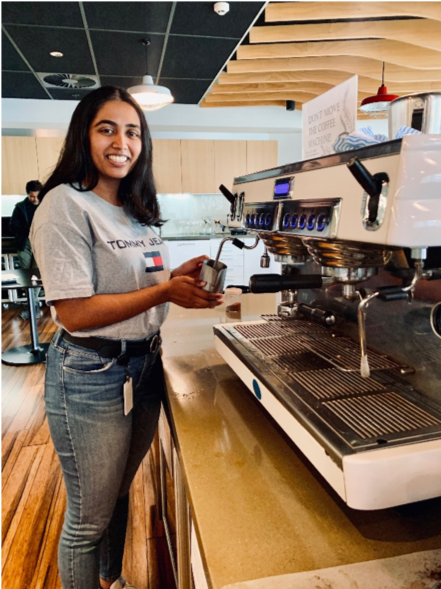 3:30 p.m.
At this point in the day (the point being everyone's three-thirty-itis), someone will message the other grads on the internal messaging system asking if it's tea time yet. We then happily scurry over to the kitchen for a small chat and make ourselves a hot chocolate or coffee while we're there! It really helps that AECOM has its own barista-style coffee machine. We even have a barista come in once in a while to teach new starters how to use the machine.
3:45 p.m.
One of my favourite parts in the day — supplier meetings! We often get suppliers coming in to talk to us about a new product they might have or run a small learning session on a particular aspect of building services, be it lighting, power, product selection or something else we've requested to hear more about.
4:15 p.m.
More design work! Design work is the real reason I got into engineering and each project always brings about new challenges and learning opportunities.
5:00 p.m.
At this point, I'm frantically changing into my gym gear and running around the block to the gym for that 5:30 Les Mills BodyPump class.
6:30 p.m.
Time to finally go home and have some dinner.
8:30 p.m.
AECOM's social volleyball team plays every Wednesday, which is where I'm headed to at this point. We may not always win but it's the thought that counts, right?
10:00 p.m.
Lights out. It's been a full on day and I'm ready to go to sleep.
---
Michelle Too – Graduate Civil Engineer
University Attended: University of Canterbury
Degree qualification: Bachelor of Engineering (Hons) in Civil Engineering
Year of graduation: 2018
8:00 a.m. – Arrive at work
I like to arrive early so I can have a nice desk by the window, which looks out onto the harbour. Once I choose my desk for the day, I then write down my to-do list and go through my emails. Every day at work looks different for me, but today my main priority is to design a stormwater system. The fun (but sometimes a little tricky) thing about this project is that it is done in collaboration with other engineering disciplines.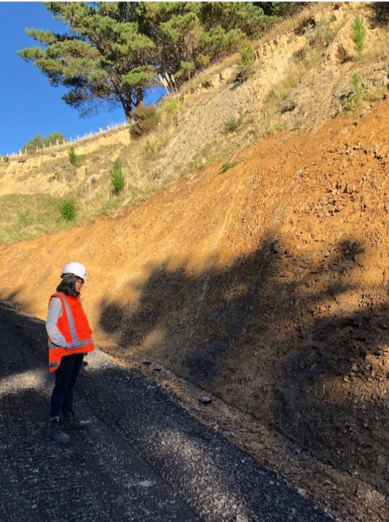 8:30 a.m. – Site visit
Before I get started on the design, I need to go on a site visit for one of my other projects. One of the first stormwater-design projects I worked on as a graduate at AECOM is almost near completion. Before heading out to the site, we check the Safe Work Method Statement (SWMS) to ensure that we are aware of any known risks and the controls around these. My colleague and I call the contractor to let them know that we are on our way and then we are off. Once we get to site, we review any new safety issues on site and sign the Contractor Safety Register. We then undertake an additional 'Step-back' (a task risk assessment). This additional quick check is handy to ensure that we are comfortable and feel safe to proceed with our inspection and gives us the opportunity to raise any potential hazards that the contractor may have missed. There are no new safety issues today, but if there were, we would assess the situation and follow with the appropriate action.
10:00 a.m. – Meet with the project civils lead
It was a fairly straightforward site visit, so it is not long before I am back at the office. I meet with the project civils lead to discuss the stormwater design of this new project. This is my opportunity to ask him questions and to clarify anything that I am unsure of. I work with him to ensure that I have the right approach as every region has different design guides and land conditions. He also provides advice about hydrological analysis and stormwater design.
10:30 a.m. – Start design
I make a start on the catchment analysis and use design guidelines, as well as my engineering judgement, to calculate the stormwater demand. For this design, the programs I am using to assist me are AutoCAD and Excel.
12:30 p.m. – Lunch time
It's time for a break! I like to eat lunch at the office overlooking the beautiful view of Wellington harbour with the other graduates before going for a walk along the waterfront (or sometimes this becomes a walk to window shop along Lambton Quay). In the summer, I like to use this time to go for a run along the waterfront to Oriental Bay.
1:30 p.m. – Continuing design
I continue to work on the design. Usually, I like to block the entire day for design work, so I can get in the zone. If I am not doing design work, then you can usually find me working with the transport advisory team, out on site, supporting our design and project managers, compiling contract documents, or having internal or client meetings. Once the catchment analysis is done, the fun part begins: the design of the stormwater system. I enjoy this because we get to propose designs for the client that are fit for purpose while keeping in mind economic, environmental and social sustainability.
4:15 p.m. – Coffee break
Time to grab a quick hot drink with the 'hot drink crew'. Sometimes we bring out a pack of cards and have a round or two of Three Up Three Down.
4:30 p.m. – Time to organise an event for Connect (AECOM's 'early professionals' group)
As the Wellington Connect Committee leader, I coordinate the Wellington Connect Committee members who are organising the next Connect event. The committee puts on events throughout the year that facilitate professional development, corporate social responsibility, health and safety, and networking for early professionals at AECOM. Organising these events normally involves finding speakers, catering for the event, and sending invitations. Today, we are helping the health and safety team to organise the annual AECOM early professionals Health and Safety Breakfast — a fun event that equips early professionals to be site ready.
5:30 p.m. – Ultimate Frisbee
I grab a quick bite to eat before heading to my ultimate frisbee game. After the game, I like to hit the gym before heading back home and relaxing.
---
A Day in the Life – Anna Callinicos, Graduate Environmental Scientist, Hamilton, NZ
University Attended: University of Canterbury
Degree qualification: Bachelor of Science (Chemistry and Geology) with a Postgraduate Diploma in Environmental Science
Year of graduation: 2018
6:15 a.m.
Time to wake up, a little earlier than my usual, but I am heading to the Coromandel Peninsula to do some field work out there, so I have to get on the road early. I have a quick shower and change into my field gear, which is so much easier (and quicker) than deciding what to wear to the office!
7:00 a.m.
I get a text from my workmate, she's outside to pick me up. I jump in the car and we're on the road! I spend the time in the car catching up on what's new in the world, preparing for the day and what needs to be done at each site. The drive is about two hours to our first site, so we just listen to some music and catch up for the rest of the journey.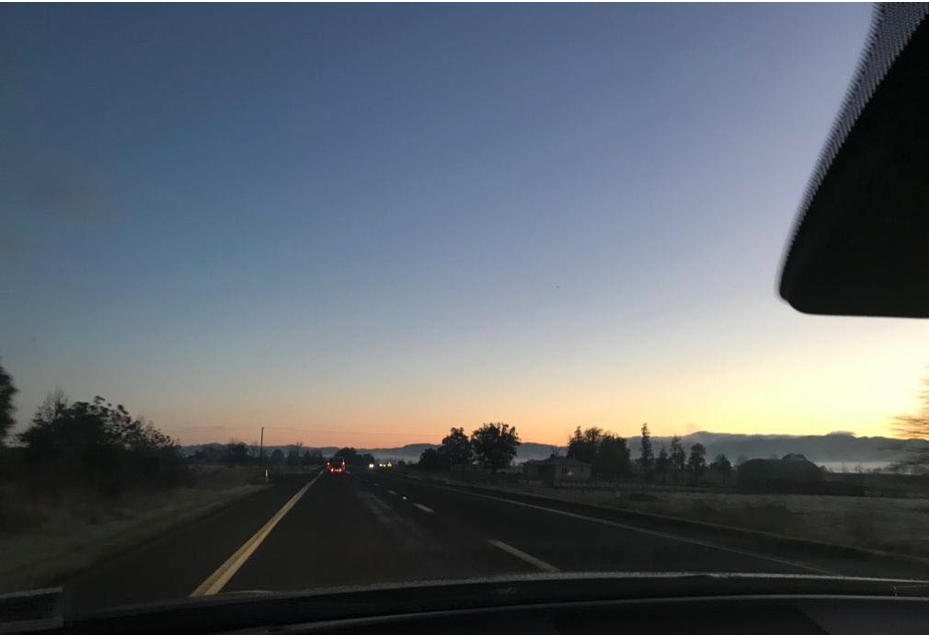 9:00 a.m.
We have made it to one of our sites, we have a busy day ahead and have three sites to get to today. We quickly let the team know back in the office that we have made it safely and then get all our equipment together for work. Today we are doing groundwater, surface water and air-quality monitoring at our sites, so there is a lot of equipment involved!
9:15 a.m.
We go on the hunt for our first groundwater monitoring well, which can be tricky sometimes when we've never been to the site (we once had to hire a metal detector to locate one). Luckily, the site is not too overgrown, and we manage to find the well pretty quickly and set up to begin the sampling. We use a pump that pulls water up through the well and passes through a flow cell that holds a sonde, a piece of equipment that can tell us in real time the pH, electrical conductivity, dissolved oxygen, and redox potential of the water. These parameters can move around as the water is pumped from the well and once they have stabilised the sample is taken. It takes about 30-45 minutes to sample a well. In the meantime, we take notes on the parameters and label some jars to collect our samples in.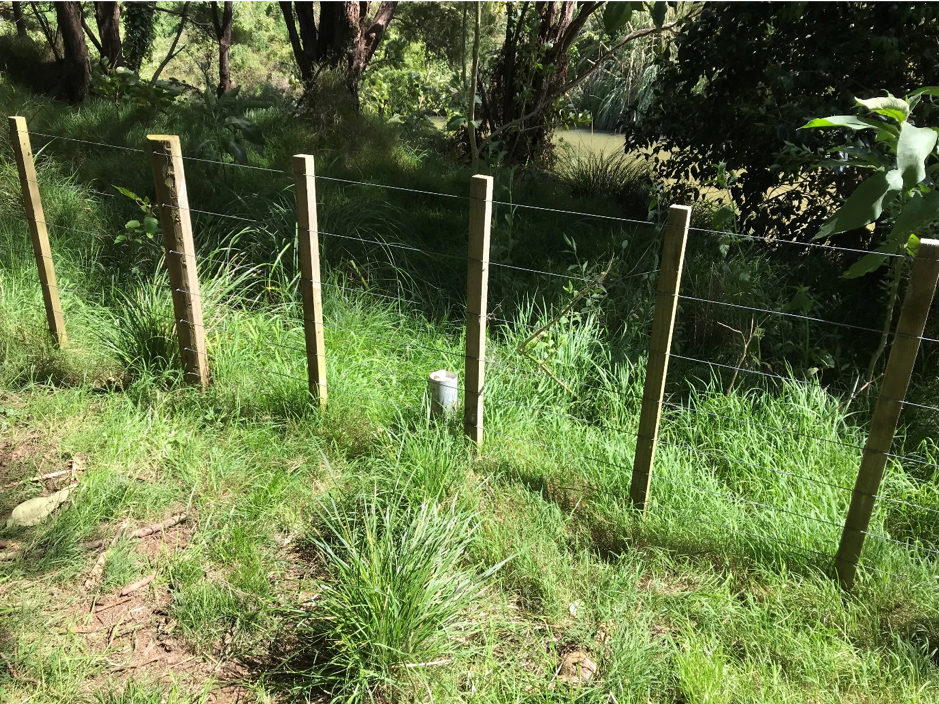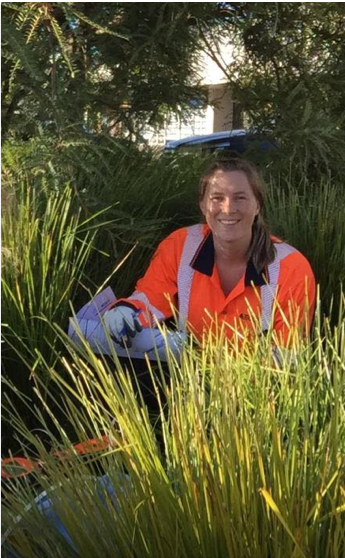 10:00 a.m.
On to the next well and this one is harder to locate. We eventually find it in the middle of some bushes, so setting up our equipment is a little more difficult. Again, we take notes about the water quality being pulled up from the well and prepare our sample jars.
11:00 a.m.
On to our third and final well for the day. This one is straightforward, and we manage to locate it, set up and sample it in 45 minutes — record time! This site has previously leached contaminants into the groundwater, so we are monitoring the groundwater to see whether the contaminant concentrations are decreasing. We will send these samples to a laboratory to be analysed and then write up a report for the client about the findings.
11:45 a.m.
We leave site and head towards our next site, which is up the peninsula a few bays around, and it's about a 45-minute drive. On the way, we stop and have our lunch at a scenic lookout, which is quite possibly the prettiest place I have ever had lunch at!!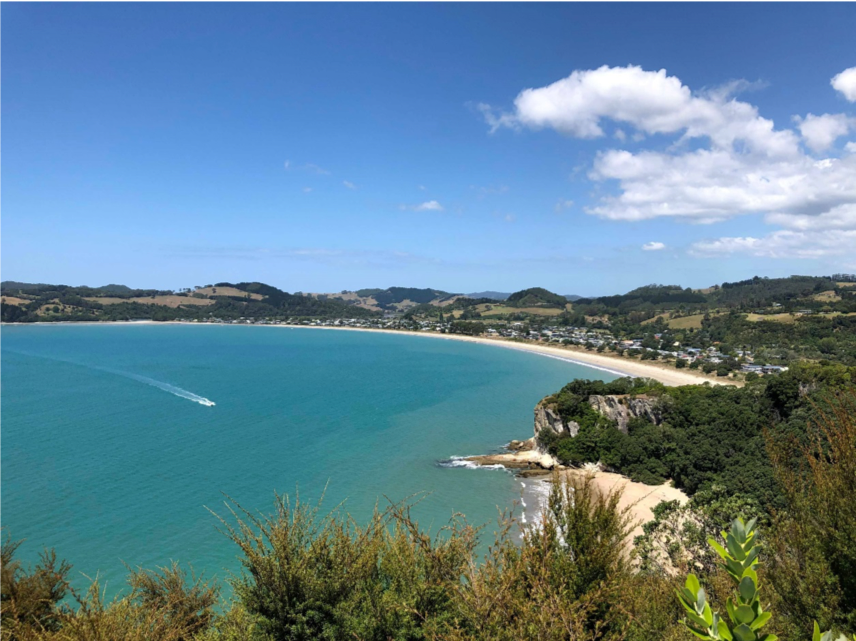 12:30 p.m.
We arrive at the next site and update our team in the office on our movements. We are taking two surface-water samples at this location, one upstream and one downstream of the site so we can assess whether it is having any environmental impacts on the stream. Sample collection is relatively quick and easy for surface water — we use a long, extendable stick called a mighty gripper, so we don't have to get too close to the water.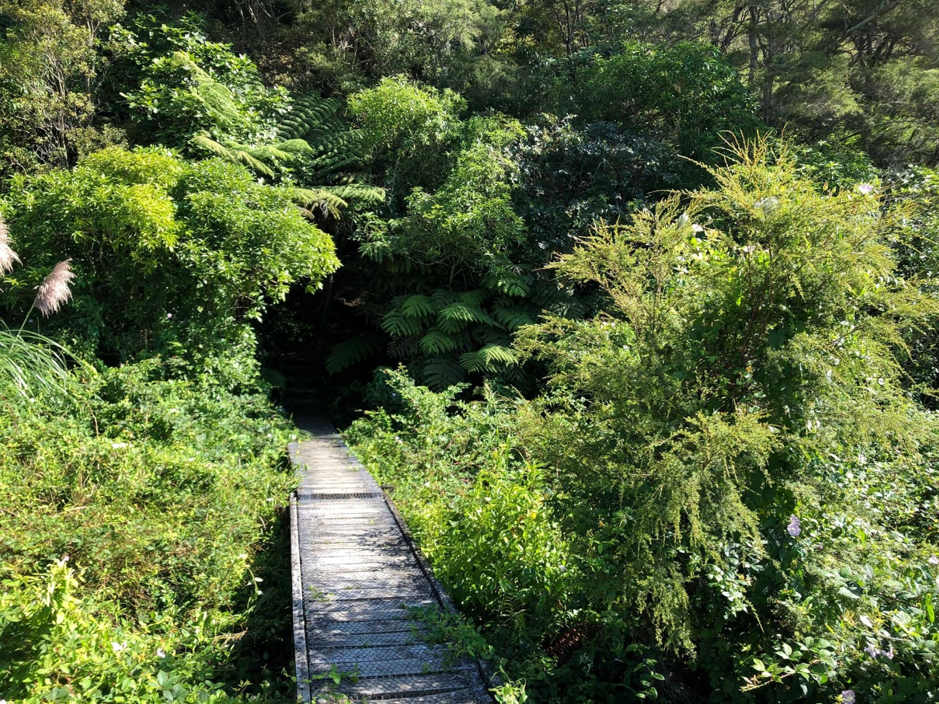 1:15 p.m.
On to the next site. We jump in the car and head to the next one to do some air quality monitoring and more surface-water sampling.
1:30 p.m.
We arrive on site and are straight into it! We quickly go grab surface water samples from a stream and then get started with the air-quality monitoring. We use three different machines to measure different gases. We are monitoring methane, carbon dioxide, oxygen, hydrogen sulphide and volatiles.
3:00 p.m.
Home time! We leave site after a big day and head back to the office. It is typical for my job to have slightly longer days when site work is required, but AECOM is really good with flexibility and work-life balance, so I can bank my extra hours as 'flex-time'. Flex-time enables you to build up extra hours and then when you reach eight you can use that to take a day off in the next month. Being out in the field, I have been able to use the programme and have had an extra day off every month I've worked here!
5:00 p.m.
We make it home after a long day and just in time for pizza Friday!! We have some pizza, drinks and play some table tennis after a busy day and week!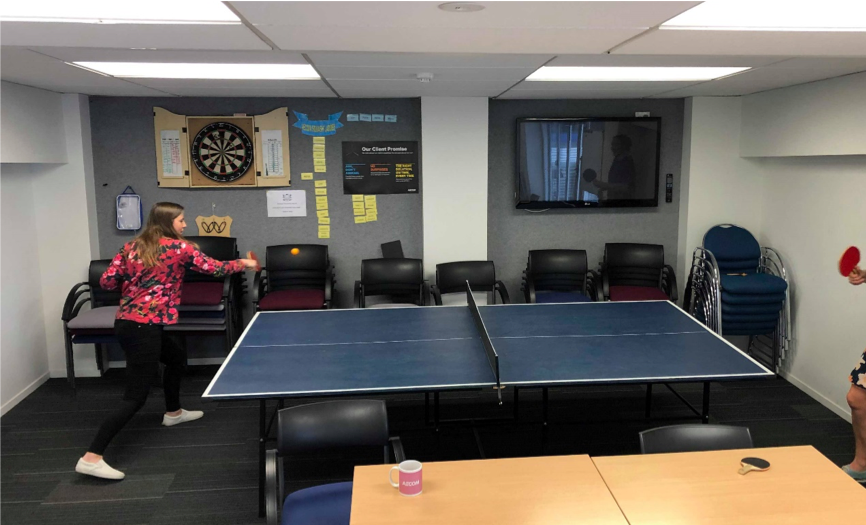 Our Undergraduate Program
AECOM
---
We are seeking applicants from a wide range of disciplines, including civil, electrical, environmental, geotechnical, mechanical, structural, building services and chemical engineering, as well as design, planning, and program and cost management fields.
As an undergraduate, you will have the chance to work alongside industry leaders on iconic projects that help shape and connect our cities and communities. An undergraduate position at AECOM will give you a unique opportunity to learn about our industry and business as well as build connections with our employees.
Corporate Responsibility
AECOM
---
At AECOM, we view Corporate Responsibility (CR) as an extension of our purpose: Built to deliver a better world. Our CR mission is inspired by our employees, who make a positive and tangible impact in communities around the world. Our employees serve as the blueprint for delivering more than just the physical. They are the inspiration behind our dream for a better world.
AECOM's CR platform — Blueprint for a Better World — captures our unique CR mission:
To deliver access to safe and secure infrastructure to those who need it most, to create opportunity for the leaders of tomorrow and to protect our planet so that, together, we can realize our dream of a better world.
Supporting this mission is our commitment to three main pillars:
Opening Doors: We deliver access to safe and secure infrastructure so those who need it most have a place to call home and resources to thrive.
Creating Opportunity: We help develop the next generation of the world's problem solvers and ensure future leaders reflect the diversity of the world we live in.
Protecting Tomorrow: We leverage our expertise to lessen our impact on the planet to help communities prepare for the future.
Through these pillars, we focus on specific causes or issues that reflect our professional expertise and the passions of our people:
Clean water and sanitation, clean energy, public spaces, homelessness and housing for displaced people
Veterans employment and mentoring (in select markets), STEAM education and design thinking, vocational training/reskilling for adults, economic opportunity for women
Environmental stewardship, green design and building, urbanisation, security and resiliency
For us, corporate responsibility is a reflection of our core values and priorities. It's tantamount to good business—and being good citizens of the communities and the 150 countries where we live and work.
Your application for a graduate role will be assessed through a staged approach including an initial application review, online video game testing, video interview and assessment centre / face-to-face interview.
We value diversity
AECOM is an equal opportunity employer and our Australian business is one of just 119 organisations to receive a citation from the Workplace Gender Equality Agency (WGEA) as an employer of choice for gender equality. 
We have also made a public commitment to help close the gap between Aboriginal and Torres Strait Islander Peoples and other Australians through our Reconciliation Action Plan. 
Apply online: aecom.com/careers
It's one thing to imagine a better world. AECOM was built to deliver it.
Why AECOM?
We provide a challenging environment with exceptional career opportunities.
You'll play a part in finding innovative solutions to some of the world's most complex – and important – challenges.
With our talented team of architects, engineers, designers, planners, scientists, construction and management professionals, we're building a bright future. The difference we help our clients make is felt in every region of the world. We have the people, technology, and vision to deliver what others can only imagine.
Join our team and help us deliver a better world.
Our Videos
Sarah Fayed
Alice Thurgood
Elzine
Meet our Chief Executive
AECOM
---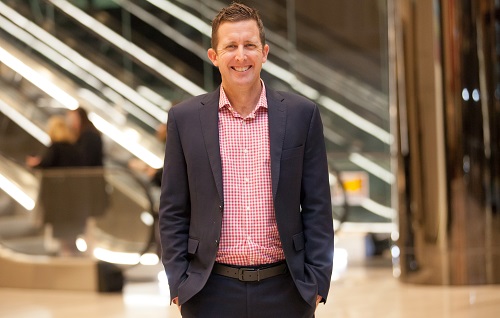 When I began my career with AECOM over 20 years ago as a fresh-faced graduate in our Townsville office, I never thought that one day I'd be writing to prospective graduates as AECOM's Chief Executive.
Back then, I was drawn to our organisation because, as an engineer, I wanted to make a difference, and it's been AECOM's purpose – to make the world a better place – that has kept me here since.
In both our thriving cities and regional centres, the work our teams deliver is transformative, impactful, and positive.
Whether it's ensuring stable water supply for a far-flung community, or designing the latest technologically-advanced higher education institution, we're about testing big ideas, trying new things, and working with clients to solve infrastructure challenges.
I envy you, as a graduate, studying amid a period of such rapid disruption – almost anything is possible as our industry evolves, and the opportunities to build rewarding careers are endless. At AECOM, you'll be able to apply what you've learned in class while developing new skills to address tomorrow's challenges.
No two careers are the same, and one of the great things about us is that you're in the driver's seat. Whatever your skillset and whatever your passions are, there's support available to set – and achieve – your goals.
Today, as Chief Executive, I lead a team of over 3500 designers, engineers, planners, scientists, and project managers in 20 offices across Australia and New Zealand. It's a privilege and great responsibility, but it's also a lot of fun.
Graduates, with their fresh thinking, energy and openness to new approaches and change, are critical to our ongoing success.
Join us!
Todd Battley
Chief Executive
Australia New Zealand
Equal opportunities programs

AECOM
---
Gender Equality at AECOM
At AECOM, we believe diversity is good for business. As one of only 119 Australian businesses to be named by the Workplace Gender Equality Agency (WGEA) as an Employer of Choice for Gender Equality, we want to ensure both women and men receive the same opportunities to build their careers.
Our clients have also told us how important it is to do business with firms that are showing real leadership in addressing the issues of pay inequality and unconscious bias and we know that, if we want to remain an employer of choice and trusted client partner, demonstrating a commitment to discussing these issues and, more importantly, acting to address them, is essential.
Providing career support and networking opportunities for women across our business is a key focus area. Our mCircles network, for example, provides mentoring opportunities for women and a forum to discuss, explore and support. Online, meanwhile, debate and discussion are flourishing across geographies through our WomenExcel group on our internal social media platform, Chatter.
We are also focussing on long-term development opportunities such as promoting more women from within the organisation, and hiring more women into leadership roles from outside our business.
We believe that conducting gender pay reviews when we first hire women will help, along with ensuring that salaries of women on maternity leave keep up with their peers who have not taken a career break.
Last year we launched our female sponsorship program to encourage more career pathways for women. The program matches 16 high-performing female future leaders with 16 members of the executive team and sees each educate the other about "a day in the life" in their position.
Hannah Tatam
Engineer
Perth
Over the past three years with AECOM I have worked in the Highways team, the Drainage and Waterways team and the Transport Advisory team.
All teams have been very welcoming and assisted greatly with my transition from graduate to professional-level engineer.
Working in different teams has provided me with additional skills and improved my understanding of how different disciplines contribute to projects. This will be of value when undertaking future project management roles.
I have sought to continually acquire knowledge and skills from those around me. I believe there is always something to learn from others.
Something that I encourage all young professionals to do is actively seek out opportunities in different areas of the business.
Indigenous programs

AECOM
---
Our Program
AECOM is committed to contributing towards Closing the Gap between Aboriginal and Torres Strait Islander peoples and other Australians in terms of life expectancy, health, education and employment.
Our Reconciliation Action Plan formalises our commitment to Aboriginal and Torres Strait Islander peoples. Under the RAP pillars of Opportunities, Respect and Relationships, our Plan sets our future directions of how we can increasingly make a positive difference: by strengthening existing and creating new relationships; respecting the special contribution of Aboriginal and Torres Strait Islander peoples to Australia; and working together to ensure all future generations have the same life opportunities as the broader Australian community.
We provide a comprehensive range of services for critical infrastructure in Aboriginal and Torres Strait Islander communities and want to build on these strengths. Some of our teams have incredible relationships and connections we would like to build on, while others have very limited awareness of the histories, cultures and lives of the First Nations peoples, which is something we seek to change.
Through the CareerTrackers Indigenous Internship Program, we are helping the next generation of Indigenous professionals develop their careers.
"I joined AECOM through the CareerTrackers Indigenous Internship Program, a program which provides internship opportunities for Indigenous University Students. My student advisor through the program matched me with AECOM and I progressed to an interview. I participated in training and development for my professional skills through CareerTrackers to help secure my position at AECOM, and then completed my interview and was given the opportunity to join the AECOM team as an Undergraduate Engineer.
My job is a great opportunity for me to learn and gain experience in the field of engineering. It gives me the chance to work in a world renowned company and on large scale projects. I have gained so much experience and knowledge in my time at AECOM over my internship and its incredible considering I've only just finished my first year of university."
Jordan Bartlett
Undergraduate Engineer