Allianz Graduate Programs & Internships
Let's care for tomorrow.
Your ambitions. Your dreams. Your challenges.
Let's care for bringing your whole, amazing self to work and feeling like you belong. For a place where learning never stops. To grow new skills and open up exciting possibilities. And where your curiosity can help transform an industry. We're here for what matters. When life twists and turns, there's flex for balance, so you can thrive. Share your ideas, inspire, give back and feel proud to be doing work that can have an impact across things that matter like climate change and mental healthy. Let's care for everyone's tomorrow so we can confidently create a better future together.
Allianz currently has 0 opportunities.
Select the following options:
As the third largest general insurer in Australia, we're proud to be one of the most trusted insurance and asset management companies globally. We care about our customers' hopes and fears and create products and services that give people confidence for what's ahead. We focus on sustainability and invest in future generations.  Bring your ideas, your passion and your skills, and let's shape the benchmark of our industry.
Allianz Olympic & Paralympic partnership
In 2021, Allianz has officially begun its eight-year worldwide partnership with the Olympic & Paralympic Movements. Just like them, Allianz has a strong global presence and a good track record in sport. We are proud to be a supporter of the Movements and celebrate being one of the TOP Partners. The power of sport unites us around a shared passion - it connects our employee community worldwide, including experts who are making the partnership happen and talented athletes, Para athletes and sport professionals who joined our company.
Join us and let's care for tomorrow, together.
For your future career development.
Here, learning happens on repeat. It never stops. It's in everything you do. You have the control to accelerate faster or take it slower. It's up to you. Grow skills in new areas, creating future opportunities you didn't think were possible. Feel excited about your career development and where it could take you. 
For all things that make you, you.
From your experiences, background, thinking style, abilities, to how you like to work. From your religion, culture, gender, to whoever your heart chooses to love. These things are uniquely yours and we want you to feel comfortable to show up and bring them all. When you can be yourself, knowing you're respected for who you are and treated fairly, it's easy to be your best. 
For life's twists and turns.
We're here for you. Whatever matters to you, matters to us. We want you to live your best life. To count on benefits that can strengthen all parts of you; physically, mentally, socially and financially. We also get that life is full of unknowns. With plenty of leave options you can make the most of special moments, important events, career breaks or take the time to give back. 
For our society and planet.
Even the smallest of changes can be a force for good. Especially when it can inspire everyone around you. From helping someone in need, giving back to your community, or encouraging your neighbour to work more sustainably. So come share your ideas. Get involved. Take action and make a meaningful difference in your own backyard. 
Let's care for tomorrow.  Care to join? 
Six month rotations. Four different roles. Two years to find your feet. One size doesn't fit all.
Grow to become the leader you want to be.
So long as you have an instinct about which direction you want to go in, together we can help map out the rest! With areas including Strategy and Transformation, Product Management, Relationship Management and many more to choose from, you'll gain diverse experiences and network with a wide range of professionals. And that starts with being assigned a General Manager who will sponsor and support your career development as your own personal mentor!
How it works
Tell us about the direction you'd like to go in (and yes, it's more than OK not to be 100% sure on where you want to end up)
We then work together to see how you want to use your degree, your interests and unique skills to work out the best place for you to start the program
Regular check-in meetings to see how you're going
Together we map out options for your next rotations
What you get
A flexible 2-year rotational program
An experience that is tailored to you
Loads of leg room to stretch out and try different roles on for size
Space to think, re-think and perhaps reinforce what you want to do
A dedicated General Manager-level mentor throughout the entire program
Assist with designing, executing and delivering a company-wide project
A chance to stand out as part of a tight-knit select group of graduates
Tailored learning and development programs, and access to 14,000+ LinkedIn Learning courses
Training in your chosen field
We recruit for Grads around July every year and have roles in the following streams:
General Insurance Leadership
Data Analytics
Accounting (Finance)
Underwriting & Insurance Analysis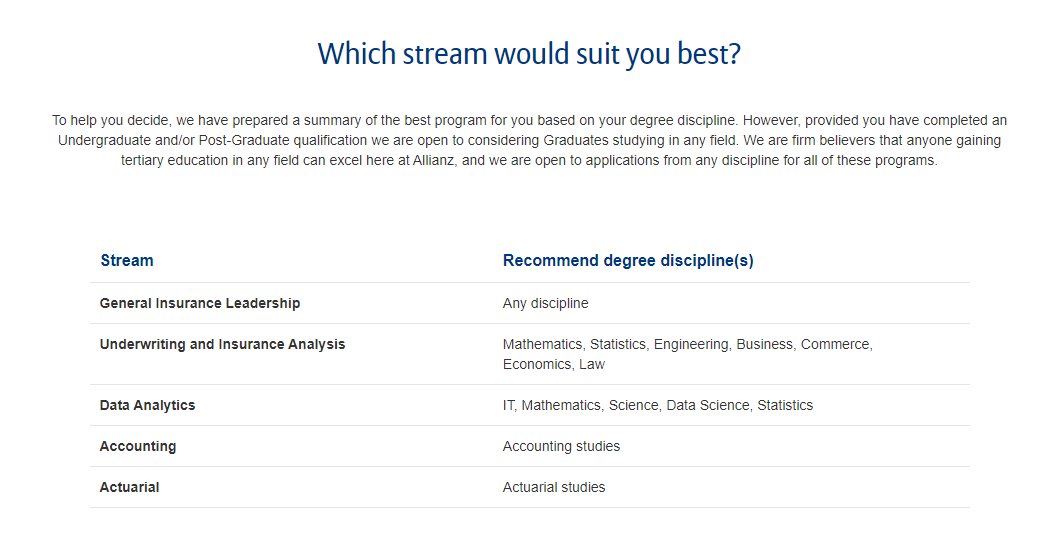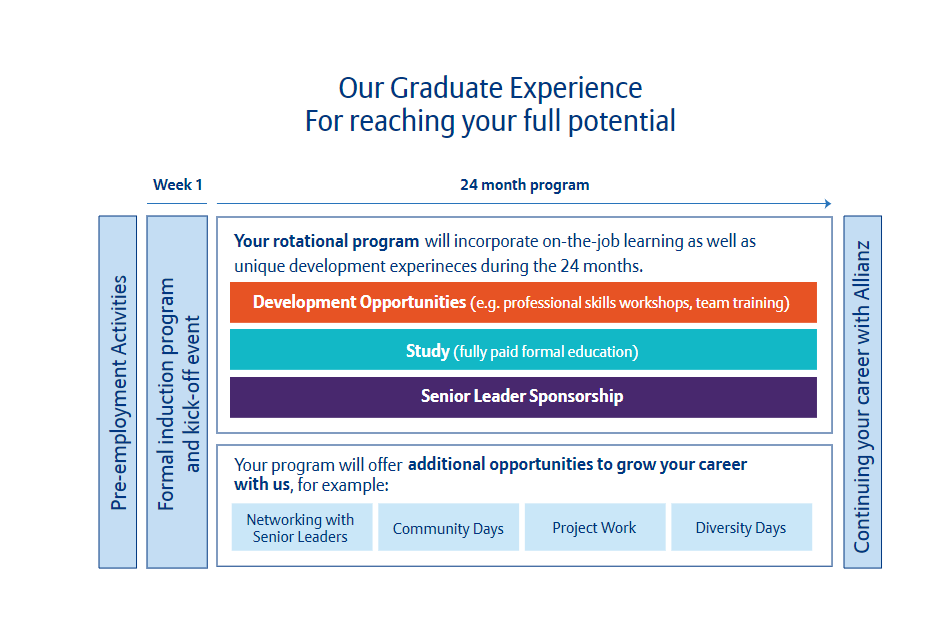 Caring for your tomorrow
Joining Allianz as a Graduate provides you with a unique opportunity to blaze new trails, disrupt the insurance industry and shape innovation in a supportive and welcoming environment. Following your formal orientation and induction program that will be run during your first week with us, core benefits of our program include the below.
For on-the-job learning that never stops
Up to four defined rotations in divisions to be chosen with you, over your two-year program
Technical training to assist you accelerate your skills e.g e-learning, product training, sales training
For skills to unlock your future
Fully paid formal education (eg. ANZIIF certification for non-Actuarial or Finance Graduates, CA for Finance Graduates and
Actuary Accreditations for Actuarial Graduates)
Study leave to complete your insurance industry qualifications
Deliver cross functional projects with your Graduate cohort
Professional skills workshops to continue to build your business skills
Ongoing learning sessions to build your knowledge of other departments and initiatives
Connect virtually with colleagues across the Allianz network
Potential opportunities to work internationally in the future pending international border openings
For access all areas
Ongoing support, mentoring and leadership through your Senior Leader Sponsor
Ongoing support from our Talent Management team
For shaping your professional network
Networking opportunities with the Managing Director and General Managers
Ability to network with other Graduates and the Allianz Graduate Alumni
Buddy program to assist in your introduction to Allianz
For making a meaningful impact
Opportunities to give back to our community through our Outreach Volunteering Program
Ability to take a Diversity Day to observe a recognised religious holiday
For benefits that support all parts of your life
Market competitive remuneration
Access to an attractive range of employee benefits, including insurance at discounted rates, discounts from well-known retailers and flexible leave arrangements
Internships & Clerkships
Allianz
---
Semester Internships
For flexing your time when and how you need to
Study full-time. Work 20 hours per week part-time. Gain valuable experience.
Hit the ground running
Our Internships are structured in a way that allows you to study full-time and still actively contribute in a meaningful way by working 20 hours per week part-time over an initial 5 - 6 month period.
Put your career on the fast-track
A successful internship with Allianz could also put you in pole position to fast-track your career and lead directly into our Award-winning Graduate Program (Top Graduate Employers 2020 – Australian Association of Graduate Employers, and Top Graduate Employers 2020 – GradConnection), where we'll provide you with the coaching and opportunities to develop into a future leader.
We recruit for Interns around March/April every year and offer roles in the following streams.
Actuarial
As an Actuarial Intern you'll have the opportunity to join one of the following divisions: Technical, Finance or Personal Injury.
Finance (Accounting)
As a Finance Intern you'll be exposed to a number of our key Finance functions, including: Statutory Reporting, Accounting Systems, Reporting and Financial Planning.
Data Analytics
As a Data Analytics Intern you'll join one of the following divisions: Actuarial Pricing and Data Analytics, Human Resources, Customer Insights and IT Data Office.
What else is on offer?
A supportive and tailored early career experience
On-the-job development and technical training to assist you to accelerate your skills
Support, mentoring and leadership through Senior Leaders and our Talent Management team
An attractive range of employee benefits, including insurance at discounted rates, community support programs and flexible leave arrangements
Market competitive remuneration
An opportunity to fast track a position in the Allianz Graduate Program
Application Process
Allianz
---
Application Process:
Step 1: Applications are submitted online.
Step 2: Online video interview via HireVue.
Step 3: Online aptitude test 
Step 4: Allianz Assessment Centre
Step 5: One-on-one interviews with hiring managers 
Step 6: Reference Checks
Finally: Graduate offer!
For some interview hints and tips on how to answer questions, watch this video:
Meet Jason Yip, Data Analytics Graduate
Meet Vidhi Bansal, Data Analytics Graduate
Let's care for you, your health and wellbeing.
We want you to enjoy more of the good stuff, like being healthy, positive and being able to focus on the things that matter in your life. 
For flexibility for when it matters most.
Enjoy flexible working arrangements to help you balance work and life including parental and carer's leave to emergency and compassionate leave. You can also purchase additional leave or swap out non-national public holidays. 
For a healthy mind and body.
Access various discounts for medical and health insurance and fitness gyms, plus 24/7 counselling for you and your family through our Employee Assistance Program.
For making every dollar count.
Entitled to significant discounts on Allianz insurance products and a range of other retailers (including travel and entertainment services), plus reduced rates on various financial products and services via our banking partners.
For celebrating all things that make you, you.
Become a member of the Network for Equity and Opportunity (NEO) to advocate for gender diversity or Allianz Pride and help to further the awareness of LGBTI+ issues in the workplace.