APA Group Graduate Programs & Internships
APA Group is Australia's leading energy infrastructure business, owning and/or operating around $20 billion of energy assets. We are a group of passionate professionals who work safely, and responsibly to deliver Australia's energy.
APA Group currently has 0 opportunities.
Select the following options:
Past APA Group Graduate Hiring Statistics
If you're interested in working at APA Group, understanding when they have opened up applications for their graduate programs, graduate jobs and internships is helpful knowledge to have so you know when you might need to apply. Use the below information to see when APA Group hires graduates, but more importantly what graduate degree's and other student attributes they target for their jobs.
---
Job types
Internships (77%),

Graduate Jobs (23%),
Disciplines
Accounting (4%),

Arts and Humanities (12%),

Banking and Finance (4%),

Business and Commerce (23%),

Computer Science (19%),
Work rights
Australian Citizen (100%),

Australian Permanent Resident (100%),
APA is an ASX Top 50 company and Australia's largest natural gas infrastructure business, owning and/or operating around $20 billion of energy infrastructure assets. Its gas transmission pipelines span every state and territory on mainland Australia, delivering approximately half of the nation's gas usage.
APA has direct management and operational control over its assets and the majority of its investments. APA also holds interests in a number of energy infrastructure enterprises, including the SEA Gas Pipeline, SEA Gas (Mortlake) Partnership, Energy Infrastructure Investments and GDI Allgas Gas Networks.
With over 1800 employees and 1200 field contractors working across 60 urban, regional and remote locations, APA is truly a nationwide organisation. Its assets include 15,000 kilometres of gas transmission pipelines; 27,000 kilometres of gas distribution mains and pipelines; gas storage and processing facilities; and wind, solar and gas-fired power generation.
We invest in people
We are driven by our values. We are dedicated to the health and safety of our people and in creating workplaces that foster their success. We want our people to grow with us. We want everyone to be able to succeed, deliver results and be encouraged to reach their full potential.
We are committed to developing a diverse and inclusive workplace. For us this means valuing and harnessing the unique talents, experiences and perspectives of all our people to help strengthen our culture, brand and performance.
Our industry is constantly changing, so staying ahead of the game creates tremendous challenges and a highly stimulating work environment.
We focus on creating opportunities
APA's scale, breadth, and geographical footprint create unique opportunities for our people. You too could benefit from opportunities to gain deep technical, field and industry experience, explore emerging solutions and markets; or work in one of the dynamic corporate functions supporting the growth and performance of our business.
We develop your capabilities
Being part of Australia's leading energy infrastructure company provides opportunities in itself. We want to develop your capabilities and look to harness your talents in a way that benefits you and our business. To help you along your way, we offer continued development and training opportunities. And we have some of the most experienced and talented people in our industry who are ready to help you in your journey.
We harness and nurture talent
We recognise the value of recruiting and nurturing new entrants to the workforce and provide opportunities for growth and development through our graduate, intern and apprenticeship programs. The APA Graduate program provides a great environment to incorporate on-the-job technical training and specialist development opportunities.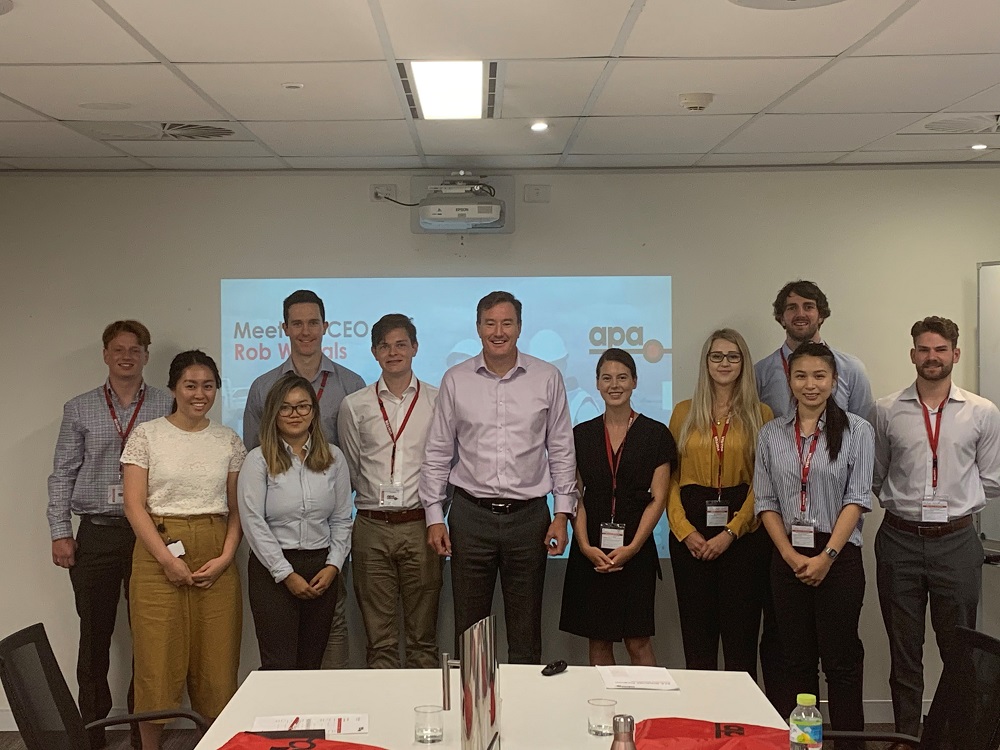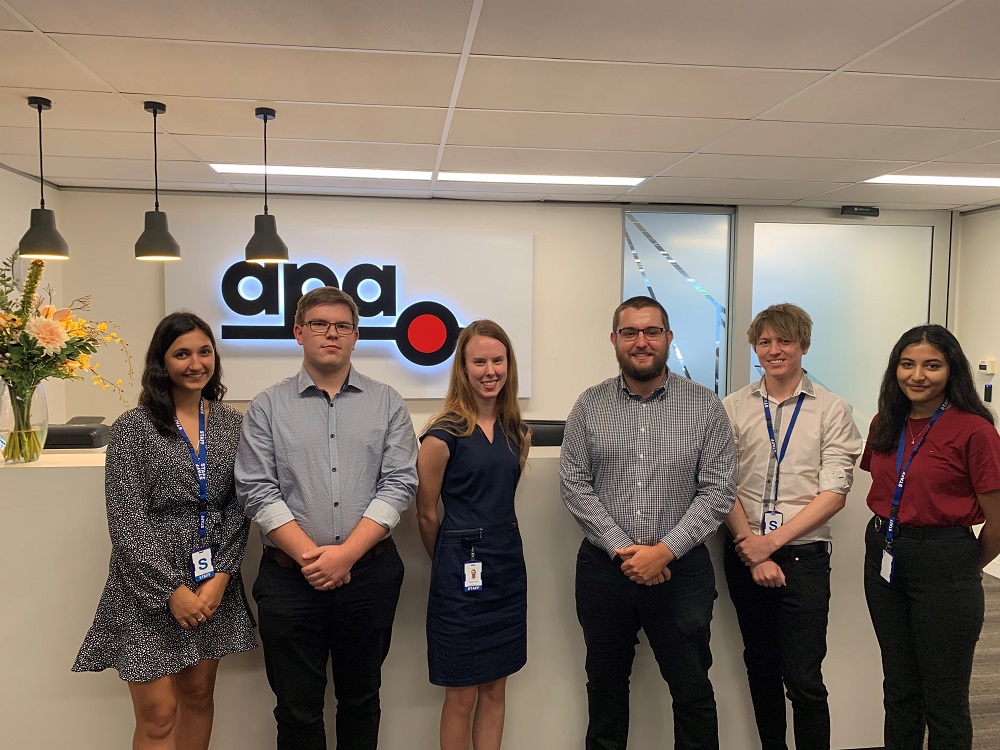 A career at APA offers:
Growth and development opportunities embedded into Intern & Graduate programs
Focus on sustainability: understand our infrastructure projects including wind and solar
Focus on customer centricity & innovation: understand how we listen and adapt
Exposure to Senior Leaders including Careers Conversations & Mentors from Talent Programs
Our vision is to connect Australia to its energy future.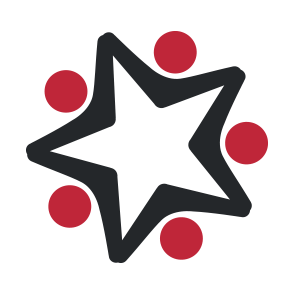 The APA Way
The APA Way comprises our Values (how we behave) and our Decision Compass (how we make decisions). It is how we do business. These values provide the most fundamental direction for the company we aspire to be, and what type of behaviour we regard as appropriate.
The APA Way guides us on how we do things around here. The APA Way supports our strategy so it's important all APA employees follow the APA Way to ensure we do the right things by our customers, our people and our business.
Our STARS Values
APA's STARS Values outline how we operate to ensure business integrity. They include:
Safe
We will maintain a safe environment and a professional workplace where employees work collaboratively, are valued and treated with respect.
Trustworthy
We act with honesty and integrity and accept individual and collective responsibility for the delivery of all business outcomes. We do what we say we are going to do.
Adaptable
We continually respond and adapt to our changing environment by innovating, modifying our behaviour and continually improving our processes and systems to take advantage of opportunities to enhance, improve and grow our business.
Results
We consistently meet our commitments and deliver excellent results to the benefit of our employees, customers, investors and the community through tenacity and perseverance.
Service
We are committed to high quality service delivery achieved through listening, understanding, anticipating and responding to our customers' needs.
Graduate Development Program
APA Group
---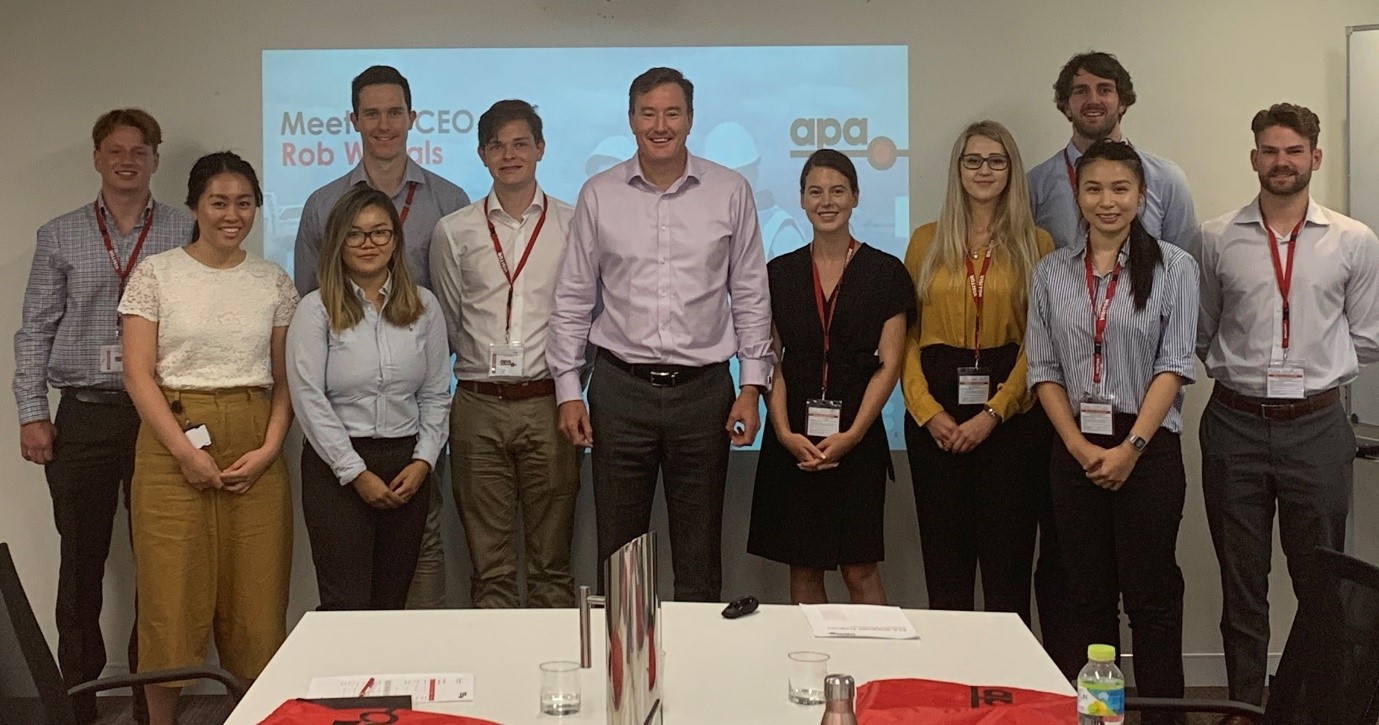 The APA Graduate Development Program is a two-year learning journey, designed to develop our future leaders and technical specialists. As a Graduate, you will gain valuable industry experience and learn about our business. You will complete three structured rotations in line with your discipline and interests. Working collaboratively across teams is important at APA and you will have the opportunity to work on a range of challenging projects across our business. Alongside gaining valuable on the job experience is the chance to build networks that will last a lifetime.
Your graduate development program will be the start of your career at APA and we know growth and progression are important to you. During your two years, there will be opportunities to receive feedback on your performance and set goals for your future career.
To help you on your learning journey, you will participate in a customised development program focusing on skills such as resilience, managing change, personal brand, communication, team work and networking.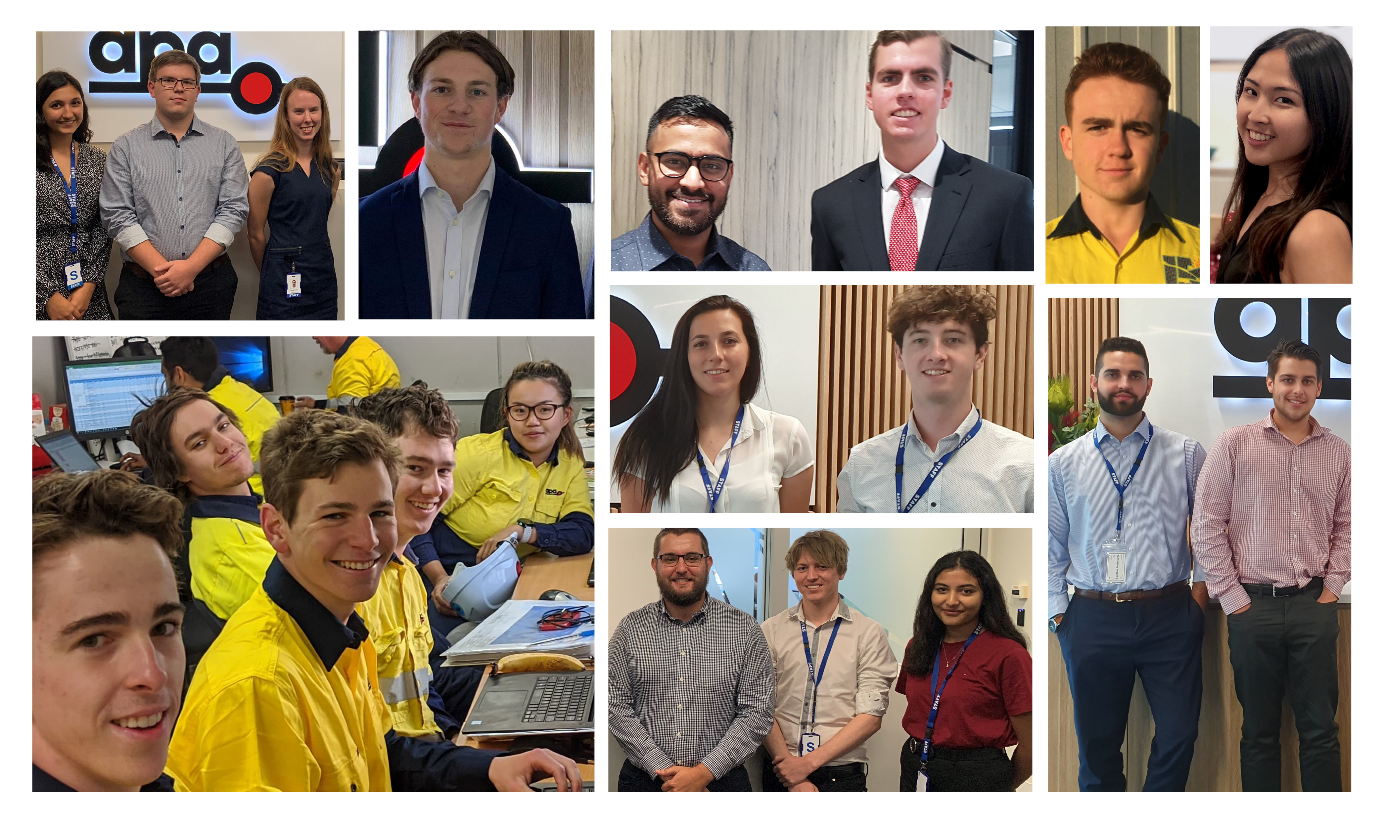 Our Intern program is a structured program that runs for 12 weeks from November to February each year. Working with a team aligned to your area of study, you will receive structured on boarding and induction, on-the-job training, and networking opportunities. We will provide meaningful work and appropriate supervision while you are observing and learning. Being a part of our Intern program could be a fantastic pathway towards the Graduate Development Program.
To be considered for the Intern program, you will be in your penultimate year of study. At the completion of your Intern program, this could lead to an ongoing opportunity to continue within your team, depending on business projects and workload.
Opportunities within these programs vary year to year and will be advertised on our careers page.
Who Are We Looking For?
APA Group
---
We want you to help us shape the future of the energy industry. At APA, we continue to seek diversity of thought and experiences in our future graduates so we can tackle the new challenges that we, and our customers, face in our ever changing world.
Our APA values are important to us and we're looking for graduates who share these values and are keen to join a rapidly transforming business environment. We want to hear from graduates who are flexible and resilient in the face of change and who thrive in team situations. We foster a diverse and inclusive workplace and want you to bring your energy and passion to work to deliver exceptional service to our customers.
We look for students from a range of disciplines including (but not limited) to:
Engineering: Mechanical, Chemical/Process and Electrical.
Business/Law/Arts: Arts, Finance, Accounting, Commerce, Economics, Procurement, Law, Human Resources, Marketing, Management, Project Management.
Transformation & Technology: Analytics, Software Engineering, Information Technology, Data Science, Computer Science.
Health Science/Science: Safety, Health, Environmental Management, Sustainability.
To be eligible to apply to the Graduate Development program, you will be in your final year of study. Each year we will advertise what positions are available on our graduate development program.
Our Recruitment Process
APA Group
---
We keep in touch with all our applicants throughout the process so you're up to date on your application's progress.
If you are applying to the APA Graduate Development Program, you can expect to be asked to complete an application form and submit your CV and cover letter with your academic transcripts. The process also involves a video interview, assessment centre and an interview.
If you have any queries, please send an email to [email protected] and one of our team members will get back to you. You can also follow APA Group on LinkedIn to stay up to date with announcements around our early talent programs and broader APA news.
Application Deadlines
APA Group
---
Graduate Development program
Applications Open: 3 August 2020
Applications Close: 21 August 2020
Intern program
Application dates for the Intern program will be open later this year.
Graduate Experiences
APA Group
---