AusNet Services Graduate Programs & Internships
We are a diversified Australian energy infrastructure business connecting communities with energy. Our strategy is to operate the best energy networks and grow through connecting people with renewable energy, accelerating a sustainable future.
AusNet Services currently has 0 opportunities.
Select the following options:
Past AusNet Services Graduate Hiring Statistics
If you're interested in working at AusNet Services, understanding when they have opened up applications for their graduate programs, graduate jobs and internships is helpful knowledge to have so you know when you might need to apply. Use the below information to see when AusNet Services hires graduates, but more importantly what graduate degree's and other student attributes they target for their jobs.
---
Job types
Graduate Jobs (60%),

Internships (40%),
Disciplines
Accounting (20%),

Administration (20%),

Banking and Finance (20%),

Business and Commerce (20%),

Communications (20%),
Work rights
Australian Citizen (100%),

Australian Permanent Resident (100%),

New Zealand Citizen (100%),

Australian Student Visa (40%),

Australian Working Visa (40%),
Past AusNet Services Graduate Programs & Internships
Check out some of AusNet Services's past jobs they have posted on GradConnection over the last 12 months. Understanding the details about what a graduate employer is looking for well before applications have opened can sometimes be the edge you need to secure your first graduate program.
---
Engineering Electrical
and 2 others
Hires applicants with degrees in
Engineering Environmental
At AusNet we are launching a 8 week paid internship that will provide valuable career experience in the energy sector as well as the opportunity to be considered for a graduate role in 2023
Engineering Electrical
and 2 others
Hires applicants with degrees in
Engineering Environmental
At AusNet we are launching a 8 week paid internship that will provide valuable career experience in the energy sector as well as the opportunity to be considered for a graduate role in 2023
Accounting
and 12 others
Hires applicants with degrees in
Data Science and Analytics
A Grad Program focused in your area of specialty with a rotation across other business teams to build understanding of what we do and capability and skills in different areas.
Computer Science
and 7 others
Hires applicants with degrees in
Data Science and Analytics
In your role, you will be responsible for developing, maintaining and operating a range of AusNet Services' digital and technological products and platforms.
Engineering
and 5 others
Hires applicants with degrees in
Engineering Chemical Processing
Engineering Civil Structural
Engineering Environmental
As a Graduate of our Engineering stream, you will support senior engineers and field-based employees in provision of engineering solutions, ensuring safety, integrity and efficiency of the network.
Our purpose is to connect communities with energy and accelerate a sustainable future. We do this by operating a diversified Australian energy infrastructure business with over $11 billion of electricity and gas network and connection assets, delivering energy to more than 1.5 million customers across Victoria.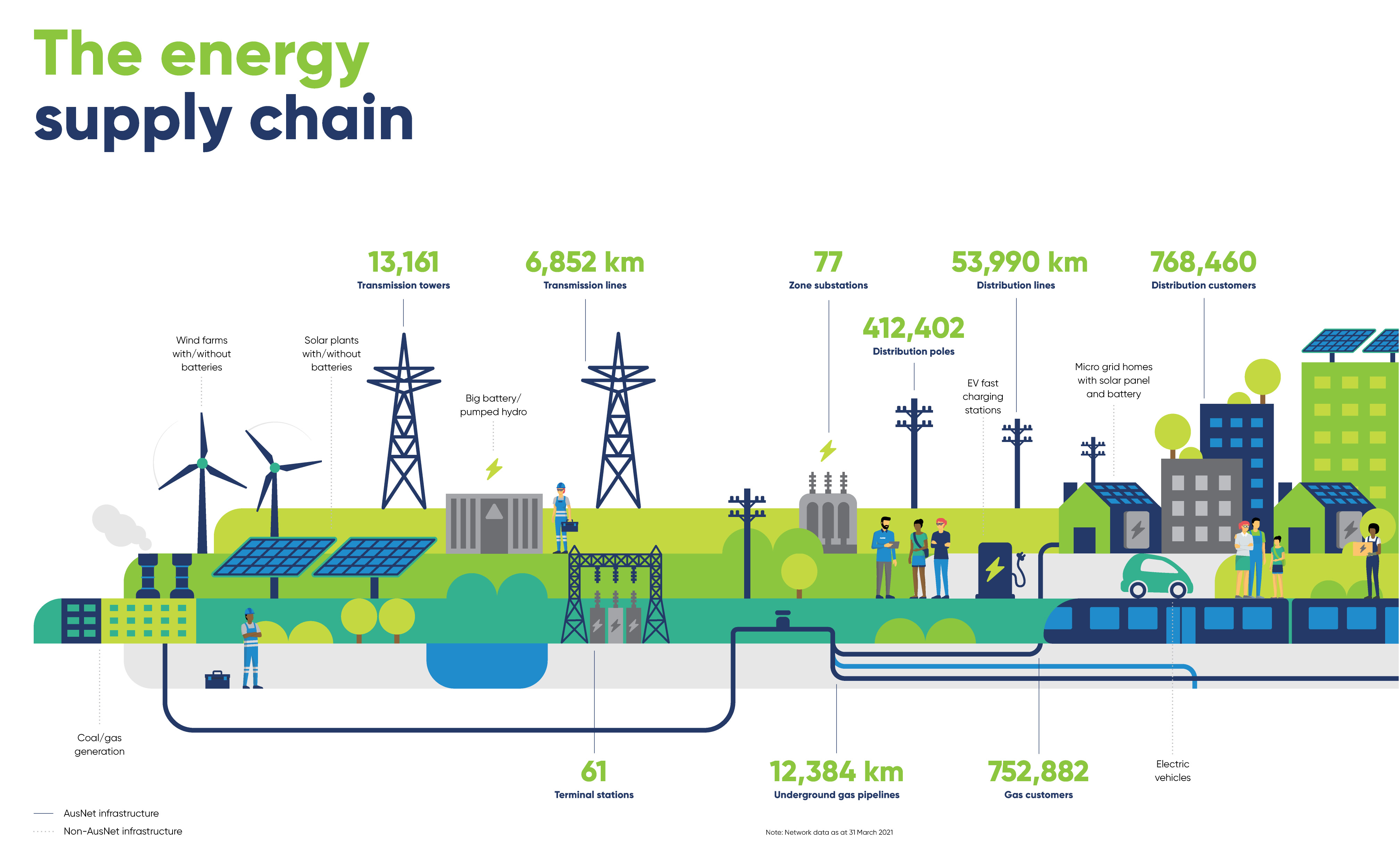 The energy sector is undergoing rapid transformation, with increasing levels of renewable energy and our customers installing new technologies such as solar power, battery storage and electric cars. Our energy networks are at the center of this transformation.
Our strategy is to own and operate the best energy networks and grow through connecting people with new energy. We are reimagining how people consume, generate and access energy in the future and building a sustainable energy future, where people are connected to new sources of energy.
Our people are at the heart of our success. We are working hard to foster a diverse culture that supports them to perform at the highest level. As we continue to evolve our culture, we will embrace change and operate with mutual trust.
We want to own and operate the best energy networks and to do this, we need to leverage new innovations. We will continue to optimise and modernise our networks, providing our customers with safe, reliable and affordable energy. And leverage data analytics and new technologies to set us up for the future. Evolution is in our hands, and we all have the power to change the future.
Join us in the transformation to a sustainable future energised by clean, renewable energy.
Why Join Us?
AusNet Services
---
Learning & Development
At AusNet Services we foster a culture of continuous learning and development. We are deliberately focused on how people learn and grow. Development wins the best talent, supports our people to lead and achieve, grows careers and cultivates energy to drive results. We are continuously provisioning additional training and development resources and opportunities based on evolving individual, team and organisation needs.
As a Graduate you will have the opportunity to take part in our learning experience created especially for early career talent. Our goal is to set you up for success. In addition to the rotations within your business unit, we provide the opportunity for you to learn another part of the business in a designated out of business unit rotation. There will be a chance to build commercial acumen with a tailored learning program to help you get up to speed on the ins and outs of AusNet Services and experiential elements to see our sites to build a deep understanding of what we do and how it contributes to creating sustainable futures for our people and our communities.
In addition to your grad experience, we also have access to organisation wide learning and support including: our inclusive learning sessions run by subject matter experts, access to LinkedIn Learning which you can access anywhere, anytime. You will also be a part of our Young Professionals Network, who are 100+ strong and sponsored by some of our Executive leaders, providing a network of support and guidance throughout your career at AusNet Services.
Meaningful work
If you have ever wanted to be part of the transformation of the energy sector in Australia and play a pivotal role to help our customers shift to renewables, then look no further.
We are working with local communities and energy partners to make a positive impact on our energy future. In 2016, we commenced our partnership on the Yackandandah Community Mini Grid Project, exploring energy solutions to help the community achieve its goal of powering the town with 100% renewable energy by 2022.
To date we have achieved many milestones towards their community goal, including: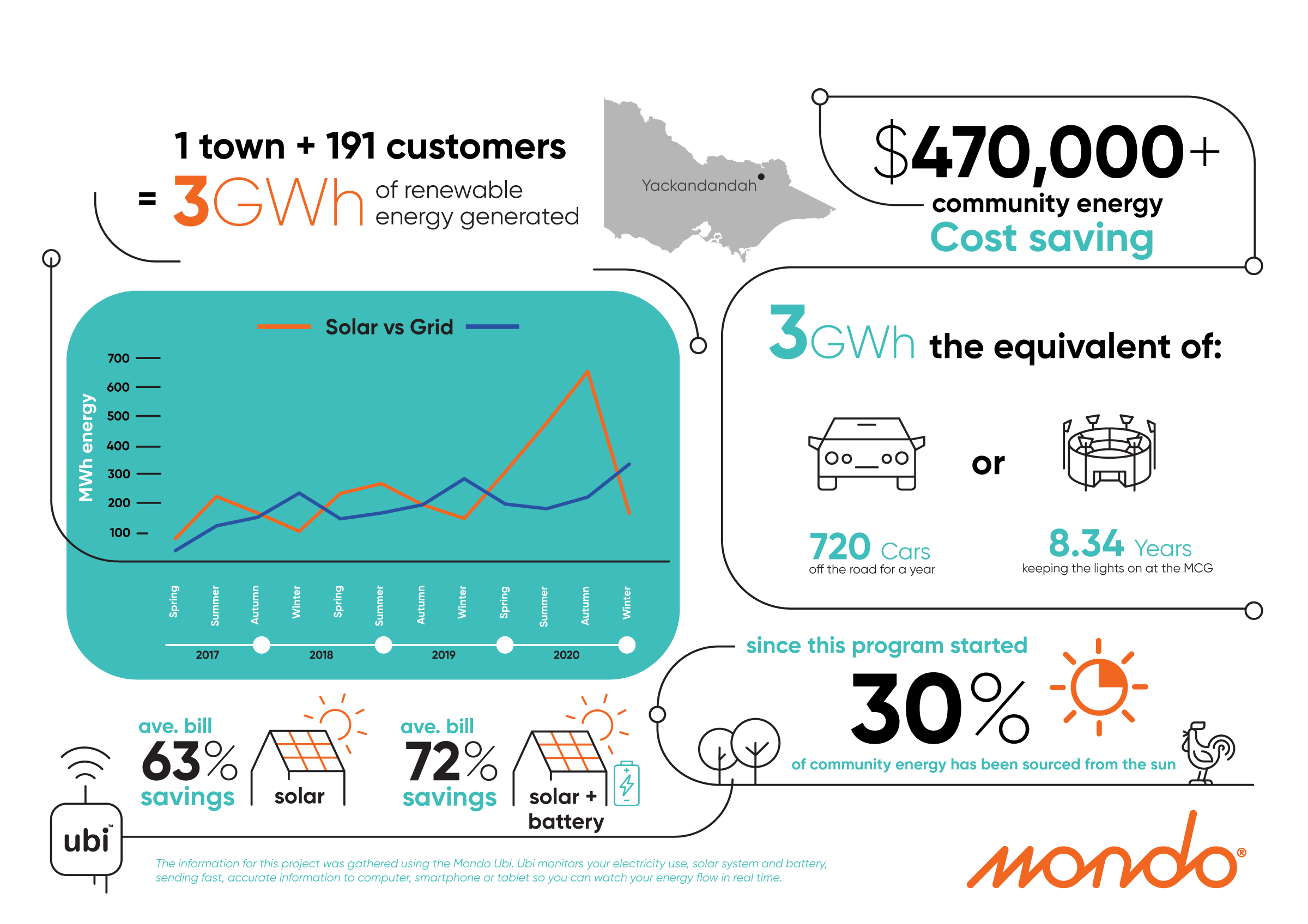 Other community projects include the Barwon Community Energy, Gippland's first community battery, to name a few, and our collaboration with Deakin University for application of 100% sustainable energy in a commercial setting.
Our pursuit for a renewable energy has created positive change and a step towards a truly sustainable future. As well as benefiting communities across Australia, we've also been recognised by industry leaders, being awarded the prestigious Clean Energy Council Award in 2019 and our work on the Yackandandah Community Mini Grid Project was awarded the Premier's Sustainability Awards 2020.
One thing is clear, great things can be achieved when determined people with imagination, courage and focus work cooperatively.
Graduate Program
AusNet Services
---
Our Graduate Program provides Grads with an opportunity to build a career within AusNet Services and create a sustainable future.
The 2 year program includes rotations within a core business unit and the opportunity to have a rotation in another division to build understanding of what we do and capability and skills in different areas.
At the end of your Graduate Program, you will be transferred to permanent role within the AusNet Services matched to your skills, capability, and career pathway.
We look for Graduates across various specialties:
Electrical Engineer
Civil / Structural Engineer
Digital (Computer Science, Info Systems, Data Analytics or Cyber Security)
Business (Economics, HR, Finance, Communications or Marketing)
Land & Property (Property, Property & Valuation, Property & Real Estate)
Internships
AusNet Services
---
If you are graduating in 2022, we would welcome you to join us as an intern in June 2022 where you will be given the opportunity to gain practical hands-on experience in a dedicated team, professional development and be part of projects that focus on a business challenge.
We are interested in students who are currently studying in the following specialties:
Electrical Engineering
Civil/ Structural Engineering
What we will like about you:
You are naturally curious with an open mind, a quick learner and ability to think outside the box
You enjoy collaborative environments but are also comfortable working independently
You are a good communicator both in writing and in person who can articulate your ideas, passion and perspective
You value diversity, openness and inclusiveness to suit our culture where everyone is supported to achieve their potential
To be eligible for the program you must be:
An Australian or New Zealand Citizen or Australian Resident at the time of submitting your application
In your final year of a Bachelor or Master's degree
Available to work for a 30 day program . First 20 days full time (5 days per week), then 10 days flexible (min 2 days per week)
Application Process
AusNet Services
---
Our Core Values & Strategy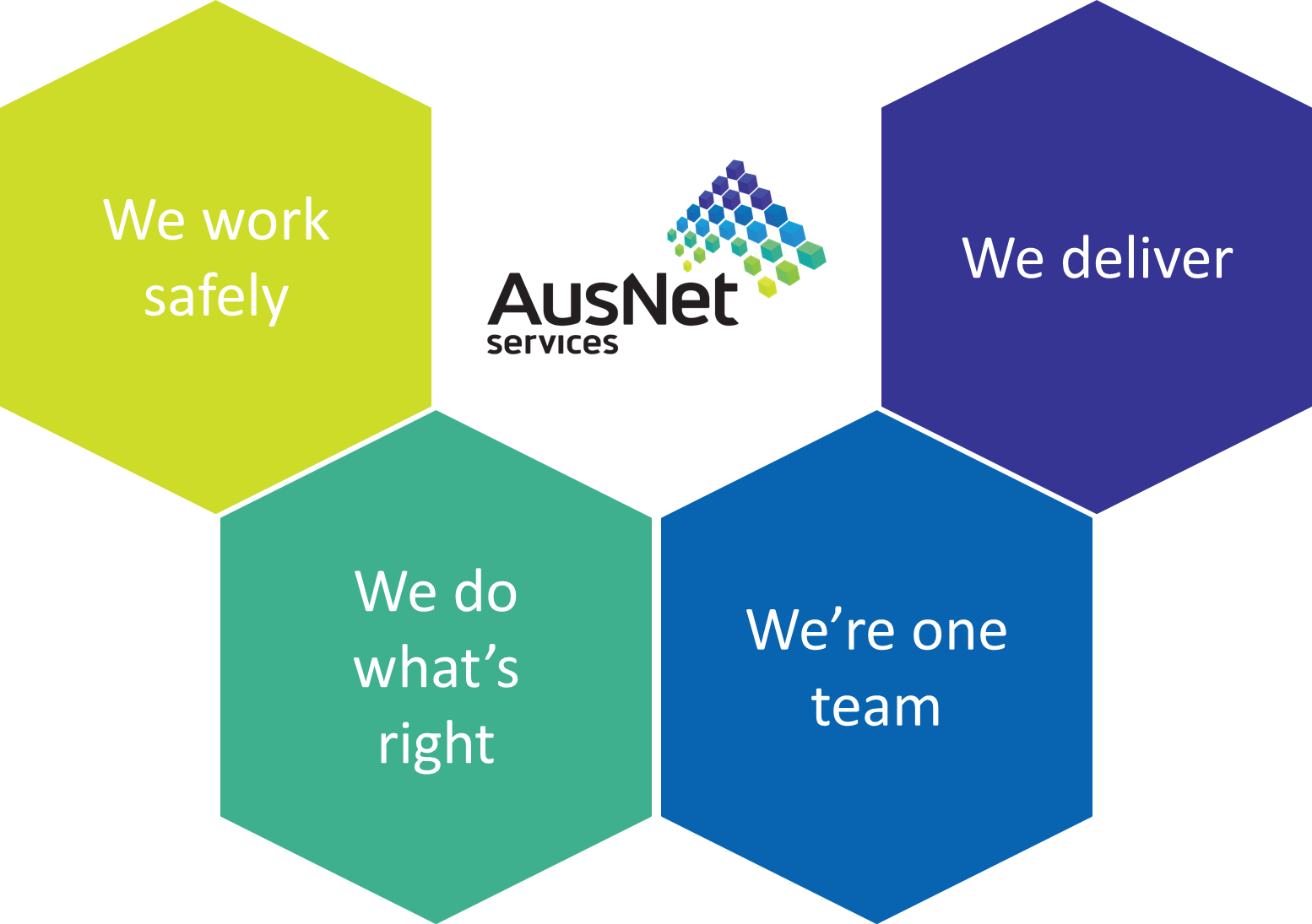 Our core values define how we bring our best selves to work, enabling innovation, continuous improvement and change to a better future. We look for grads who share our values and align to our vision of a sustainable energy future.
2022 Graduate Program
To be eligible for our 2022 Graduate Program, you will
have completed your degree in 2020 or due to graduate in 2021 (offer subject to graduation and you will be requested to provide transcript).
have completed an accepted degree aligned to the stream you have applied for.
have full working rights in Australia.
The application and interview process will be as follows:

We will review your application based on eligibility and suitability. It is an exciting opportunity for us to engage with Grads and our leaders play an integral part of this process. In the Grad interview process, you will have the opportunity to present to the best leaders in the industry, gain some valuable insight into AusNet Services from our key decision makers, and a chance to get to know them.
Applying for a Grad Program will be a new experience for many. Below are our basic tips to keep in mind when sending in your application, as well as during the interview process.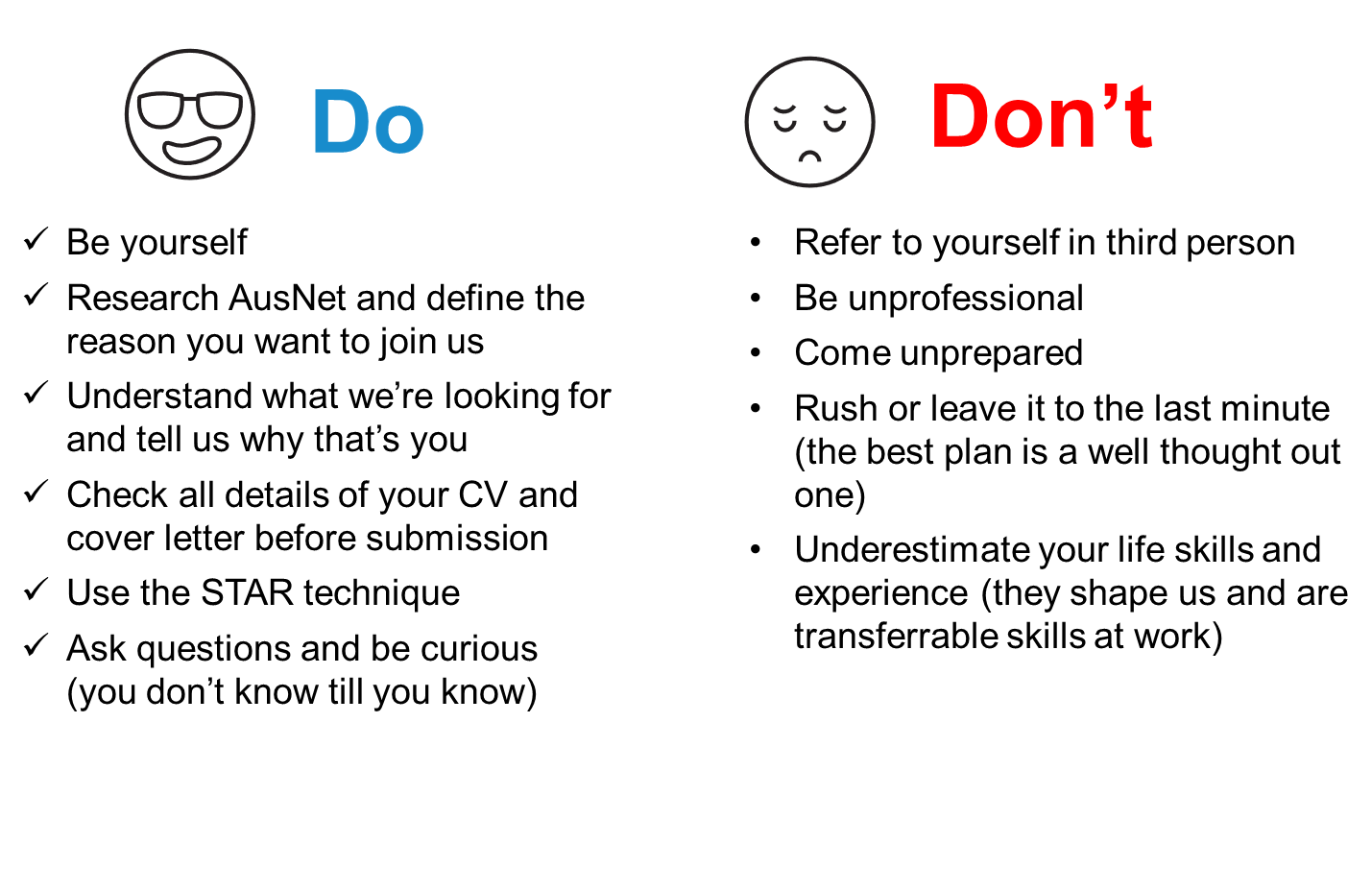 Employee Profiles
AusNet Services
---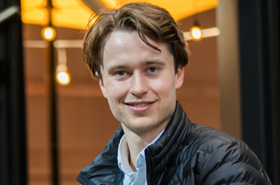 Name: Fin
Degree: Bachelor of Commerce and Engineering
What were your first few months like?
First few months predominantly focused on getting to know members of the team, learning about the various sustainability projects which AusNet Services is involved in and understanding how the energy industry and market operates as well as the future developments which are expected to reshape it.
Where are you currently placed in the business?
Currently working within the Emerging Markets team, which is part of Growth and Future Networks and assisting on projects under New Energy Markets.
How big is the team you are working with and what is the culture like?
Around 20 people, however projects usually involve working with individuals outside of the team who have expertise in other areas of the business, which provides the opportunity to gain insight into how those areas operate. Team culture is very friendly and open to answering questions to help with learning, as well as enthusiasm towards the projects which are sustainability driven.
What are the top 2 things you have enjoyed most about your current rotation?
I have deeply enjoyed developing my understanding and insight into the growing push towards renewable energy and how AusNet Services' position in transmission and distribution is poised to facilitate this paradigm shift. I also enjoyed developing my skills and knowledge in how projects are managed and completed, which I experienced when I assisted on finalising the pre-application for government funding for a project.
What do you like most about working at AusNet Services?
What I enjoy most about working for AusNet Services is the focus on sustainability and interest in renewable projects, as well as the welcoming culture and enthusiasm from team leaders.
Tell us about the most memorable moment so far (working here)?
The most memorable moment was being given the lead on organising the draft and final submission for a Grant Funding pre-application of a project.
What advice would you give to the candidates interested in applying to our Grad Program?
Come with a passion for sustainability and the desire to learn and develop your skills and knowledge in renewable energy.
In a few sentences, describe your day-to-day working experience?
Depending on the project, day-to-day activities typically involve assisting on projects through researching and completing tasks, regular meetings keeping you up to date on project developments and milestones and attending learning modules which provide insight into other areas of AusNet Services' operations and the energy industry.
---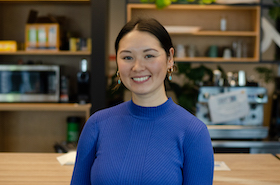 Name: Jade
Degree: Master of Statistics and Operations Research at RMIT
I started at AusNet Services back in 2017 as a vacation student/intern. I had just finished my first year as a master's student studying Master of Statistics and Operations Research at RMIT University. Before this, I studied a Bachelor of Science and Diploma of Classic music at the University of Melbourne. I completed the rest of my degree part-time whilst working full time.
As a data science intern, I had a bit of experience coding and using Machine Learning. I started out in an analytics team working along-side engineers who used advanced analysis to address electricity network problems. My intern project was to find a way to anonymise customer data if someone outside AusNet Services needed to use electricity consumption data without giving away private details of our customers.
After completing my 3-months as an intern, I was offered a full time position as a Data Analyst, and last year was promoted to Data Scientist as I am using more complex Machine Learning algorithms.
My current role as a Data Scientist is split across 2 areas of the business. I am working within Growth and Future Networks using AI and ML (Artificial Intelligence and Machine Learning) to forecast customer behaviour as well as find best solutions for our customers as well as the environment. The other area of the business I work in is within People and Safety where I am the People Analytics Lead. Here I work with workplace analytics data to analyse and observe ways of working of employees at AusNet Services.
Why did you choose to work for AusNet Services?
I chose to work at as I was interested in how analytics and ML was applied to real life problems. AusNet Services interested me as I am passionate about working towards a greener and more sustainable future through the use of renewable resources such as solar and battery.
How are you using your degree in your day-to-day work?
My master's degree was a great introduction to the basics of data science in a more academic space, however I found that 80% of my technical has come from on the job learning and experience.
What your proudest achievement since joining Ausnet Services?
Something which I am proud of is co-founding the Young Professionals Network (YPN). We began as a small group of 30 as a way to get to know others in the business who are in the early stages of their career. Now this group has grown to over 100 people where we catch-up at events such as workshops and social events.
Another achievement which I am quite proud of is being the Recipient of AusNet Services' Young Professional of the year in 2020.
How does your work impact the overall goal and strategy of AusNet Services?
My work in the People & Safety team is all about using data to make the whole employee lifecycle experience better. I find it fascinating that we can correlate certain behaviours with cultural metrics such as engagement to drive better outcomes for our people.
Within Growth and Future Networks, the work we do is all about building a more sustainable future. If we can find customers within our network that are suitable candidates for solar or battery systems, that means re-using their own energy, lowering carbon emissions, and contributing to a greener footprint.
A Day in the Life
AusNet Services
---
Jasper Koop, Finance Graduate
University: Swinburne University of Technology
Degree completed: Bachelor of Business (Economics) and Graduate Certificate in Data Analytics
6:00 AM: Rise and Shine
I generally start my day at 6:00am, as I aim to get an hour of CPA study in, before work. My alarm goes off and I roll out of bed. I head downstairs and pour myself a nice big mug of that glorious brown nectar (coffee).
6:20 AM: CPA Study
AusNet Services is currently sponsoring me to complete a Chartered Practicing Accountant (CPA) qualification. In addition to providing reimbursement for my course fees, AusNet Services also provides an additional two days of study leave entitlement per subject/unit. I am grateful for this support, and although I am only a few units into the program, I am already seeing the benefits of the additional knowledge and skills I have gained in my day-to-day work. I prefer to study in the morning, so I will generally spend an hour or two reviewing my course materials and completing practise questions. After this, I like to go for a short walk and finish my morning routine; shower, brush teeth etc…
8:30 AM: Commute
AusNet Services is very supportive of working from home, it is essentially up to you and your manager's discretion as to how often you come into the office. Most teams like everyone to come-in at least once or twice a week on the same day. I am lucky to live a short train ride (approx. 30min) from the office and I prefer to come in as much as possible.
9:00 AM: Work begins
After a quick elevator ride up to the 32nd floor, I take a moment to admire the Melbourne CBD skyline, of which we have great views. I setup my desk, greet my colleagues, make myself a second coffee of the day with the fancy coffee machine in the office kitchen and I sit down and get to work. I start my day by reviewing my Outlook calendar to see what meetings I have. I use OneNote to track my priorities and the miscellaneous tasks I must complete. I try to avoid email for the first couple of hours of the day as I like to spend this time working on something that is more difficult and requires a lot of focus. Currently, this is a project which involves using PowerBI to build a dashboard of metrics which track how our Network Operations and Network Management operational expenses are performing against budget on a project level.
11:00 AM: Team meetings
Twice a week there is a quick morning meeting to check-in with the immediate team and discuss how everyone is feeling and how projects are tracking. Once a week there is a virtual stand-up whiteboard meeting with the broader business unit. In my current rotation this is the Finance Business Partnering team. Our role is to monitor and analyse how other areas of the business are performing against budget while providing, management and regulatory accounting services, support, and advice.
12:00 PM: Lunch
We have flexible working hours, and you can take your lunch whenever you want. I will generally see when my colleagues or other graduates are free for lunch and grab something with a couple of them. At the moment I'm really enjoying this little Vietnamese restaurant in the food court adjacent to our office building and will grab a Banh mi from there.
2:30 PM: Distribution & Transmission Portfolio Performance Meeting
One of the great things about being a graduate at AusNet Services is that everyone is willing to aid your learning and development. Today the Capex Reporting & Forecasting Lead has been kind enough to invite me to sit in on a Distribution & Transmission Portfolio Performance Meeting. In the meeting I observe as the Operation Managers discuss what is driving the previous month's results and explain any significant variations from forecast and budget.
3:30 PM: Emails and KPI Scorecard
Throughout the day I respond to emails. This usually involves assisting colleagues with queries, such as helping them understand their approval limits for various kinds of expenditures. In my current role I also interface with many stakeholders across the networks side of the business, today I am collecting June KPI results and aggregating them into a scorecard, once reviewed and approved, this will be sent to the Directors.
4:30 PM: Home manager meeting
At Ausnet Services, every Graduate has a home manager. Your home manager is someone who will help you with just about anything you can think of, such as your career progression or helping you manage your current workload. I have a twice monthly meeting with my home manager where we usually talk about my progress through the overall grad program, any issues I may be facing and what I have learned. This week I call him on Teams as he is working from home. We discuss my personal and professional development plan along with all works in progress.
5:00 PM: Youth Professional Network (YPN) Friday drinks
Finally, the workday comes to a close and I pack, head down to one of the bars along Southbank for a drink with other members of the YPN. The Young Professionals Network, also known as the YPN, is a group of employees in the first few years of their professional career at AusNet Services. The network aims to support young professionals as they build their networks and career by fostering their personal and professional development as well as reinforce AusNet Services values through various activities, workshops, and events. This is one of many great culture-based initiatives at AusNet Services and provides a great opportunity to make connections across the business.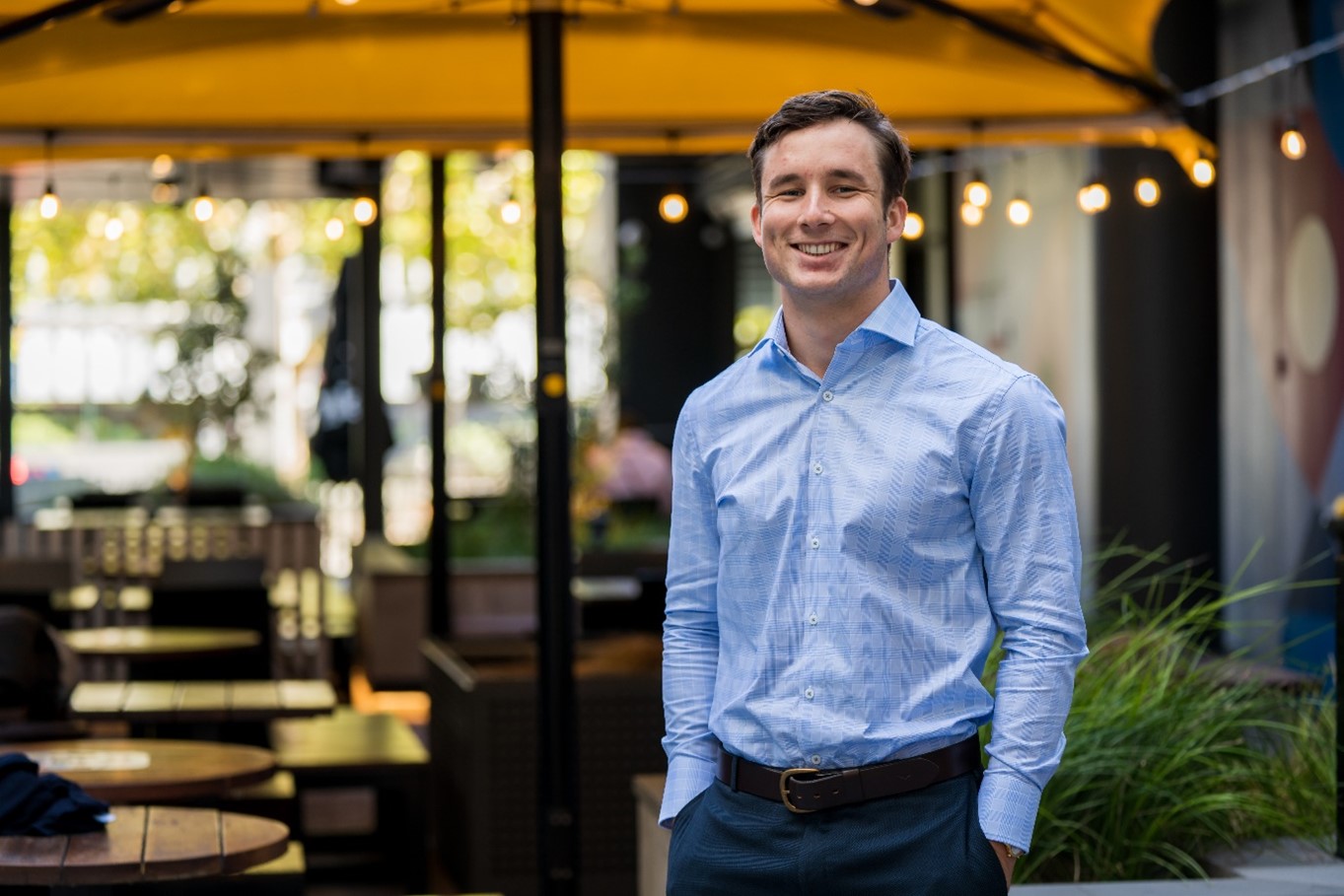 Perks & Benefits
AusNet Services
---
Learning Culture - We are passionate about your learning & growth and focus on different ways to provide learning beyond the classroom
Inclusion & Diversity - We focus on inclusion not just diversity, so you feel safe and supported for you to thrive
Flexibility - We encourage a flexible workplace to help you flex & adapt to changes in your role and life
Recognition - We love to recognise our diverse talent and reward high performing individuals and teams
Future Focused - We are focused on building a sustainable energy future for our people, our customers and our communities
As part of our learning culture, you will have unlimited access to the LinkedIn Learning platform to build your capability, you will have a mentor allocated to you to support your development, you will be invited to our Young Professionals Group events to build your network, be part of transformation projects, and much more.