Bank of America Graduate Programs & Internships
Bank of America is currently not accepting applications
It starts with you
Our employees are passionate about improving the lives of individuals and families, offering their time, expertise and philanthropic giving to create more sustainable communities, and we are proud to support your efforts.
Bank of America currently has 0 opportunities.
Select the following options:
Past Bank of America Graduate Hiring Statistics
If you're interested in working at Bank of America, understanding when they have opened up applications for their graduate programs, graduate jobs and internships is helpful knowledge to have so you know when you might need to apply. Use the below information to see when Bank of America hires graduates, but more importantly what graduate degree's and other student attributes they target for their jobs.
---
Job types
Internships (56%),

Graduate Jobs (44%),
Disciplines
Accounting (100%),

Administration (100%),

Agriculture (100%),

Architecture (100%),

Actuary (100%),
Work rights
Australian Citizen (100%),

Australian Permanent Resident (100%),

New Zealand Citizen (100%),
Our purpose as a firm is to make financial lives better through the power of every connection. We make life better in other ways, too, being ranked #8 on Fortune's 'Change the World' list of companies driving social change as part of core business strategy. And our commitment to creating satisfying, tailored graduate programs in a friendly environment proves we're just as focused on the well-being of the individuals who work for us.
"Since 2007, Bank of America has directed $145 billion to low-carbon, sustainable business activities through lending, investing, capital raising and developing financial solutions for clients around the world."
Working from offices in more than 35 countries, our people partner with leading corporate and institutional investors – including almost all of the Fortune 500 – to provide a full suite of financial products and services. We're proud to be a global leader in corporate and investment banking, sales and trading. And even prouder of ensuring our success is shared with our clients and communities.
Our Asia Pacific team is spread across in 12 markets, connecting Asia to the world and the world to Asia. Our regional footprint covers 12 currencies, more than a dozen languages and five time zones, placing us firmly among the region's leading financial services companies.
Our Opportunities
Bank of America
---
We offer a variety of opportunities including insight programs, summer internships and full-time roles. So wherever you're up to with your studies – and whatever your skills and ambitions – we can help you build a career on your own terms.
Studying for your first university degree? Our Banking Connections insight program offers a shorter, broader view of our businesses. Rather than being placed in a specific team, you'll enjoy a tailored program that will help you develop new skills and learn enough about our different opportunities to apply for an internship.
Summer internships typically last 10-12 weeks and attract students in their penultimate year of university who want to start working full-time the following year. They're our primary source of hiring for our full-time graduate programs and a great way to get a taste of what it'll be like – as well as hone your skills through structured performance evaluations, training, development and social opportunities.
Full-time Analyst programs are designed for candidates who are ready to start work upon university graduation. The program format varies by business but all offer formal, ongoing training and development opportunities, structured performance evaluations, mentoring support and networking opportunities to supplement your on-the-job learning.
Opportunities for STEM Students
Bank of America
---
If you have a background in STEM (Science, Technology, Engineering, Mathematics), you may naturally be gravitating towards one of our tech roles. But did you know we welcome STEM candidates across our banking programmes, too?
Global Investment Banking
Investment Banking is part of a team responsible for structuring and underwriting equity and debt transactions that help large corporate and government clients grow.
Global Markets
Working at the centre of the world's debt and equity markets, the Global Markets team provides sales and trading services, liquidity, hedging strategies, analytics and pricing to more than 9,000 institutional clients.
Global Research
One of the world's most respected research organizations, the Global Research team provides market insights, research, global trading and financing that helps investors and asset managers achieve their goals.
Employee Profiles
Bank of America
---
Kate Goodwin
Analyst, Global Transaction Services
What persuaded you to work for Bank of America?
The global nature of Bank of America is what initially drew me to the firm. The pure scale of this organization was fascinating as a student studying finance. After participating in Bank of America's summer internship program, I was impressed by the firm's investment in developing its junior team members.
What skills are important for a Treasury Sales Analyst?
Working as a treasury sales analyst, it is important I have strong qualitative and quantitative skills. Good people skills are crucial when interacting with clients and working effectively as part of the team. In addition, the ability to work with a multitude of clients and projects is important to my role as an analyst in the Global Transaction Services team. Hence, prioritization and time management is essential.
How does the bank support your development?
The bank continually provides opportunities to grow and develop. In particular, we have the opportunity to participate in internal and external classroom trainings on products and services across all lines of business. Further, we are provided with training focused on softer skills. For example, earlier this year I participated in a Building Resilience workshop which focused on success in the workplace through the ability to adsorb constant change and uncertainty while also maintaining high levels of performance and productivity. My manager and team members are also very supportive of my participation in these trainings which is highly motivating.
In one word, how would you describe Bank of America?
Connected
What advice would you give to students?
My advice for students is to explore all opportunities which present themselves throughout their university degree, both academic and extracurricular. Further, I believe internship opportunities are invaluable. They allow students to gain industry relevant experience and knowledge, while also developing essential soft skills through professional and interpersonal interactions.
---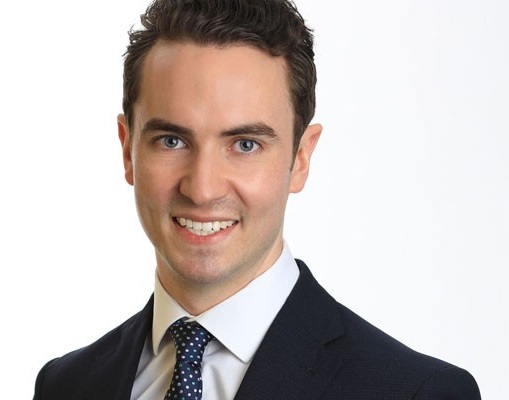 Samuel Burns
Analyst, Global Transaction Services
How do you describe the culture at the bank?
The culture at Bank of America is very inclusive and collaborative. From my first day at the bank, I felt like I was a part of the team. Everyone I had the opportunity to meet and work with welcomed me to the firm with arms wide open.
How does the bank support your development?
The development never stops at Bank of America. From training sessions held by other analysts and associates, to formal training seminars with external parties, the bank is very supportive of employee development. Furthermore, working in a close-knit team with experienced individuals has helped my development significantly.
In one word, how would you describe Bank of America?
Inclusive.
Do you work in a global team?
I do work in a truly global team. I have conversations with colleagues from many different countries on a daily basis. Due to the nature of our global clients, it is extremely important to build a strong relationship with colleagues in other countries and regions.
What is your biggest accomplishment or achievement at Bank of America?
The biggest accomplishment I have achieved at Bank of America was through one of the sports social clubs. We had a mixed team enter the Bloomberg Challenge (10 members running 1 mile each in a relay) where we came out on top. This is just one example of how the bank provides great opportunities and promotes culture and inclusion.

Meet more of our people - https://campus.bankofamerica.com/people.html
How to Apply
Bank of America
---
To get started with the recruitment process, candidates are required to make an online application via the Bank of America application system. Online applications for our Analyst programs comprise of two stages: an application and competency questions and a digital interview. Once you have finished the stages above, your application is then considered complete and our recruiters will begin reviewing your application.
If your application is selected to progress to the next round, you will be invited for further assessment. This will typically consist of one of more competency-based interviews to be conducted over the phone or at a Bank of America office.
The recruiting process varies depending on the program, location and division of your interest. We encourage you to refer to specific job descriptions for further details and confirmation of deadlines. We recruit on a rolling basis and strongly encourage you to apply early.
The following details the main application deadlines for programs in Australia:
Internship Programs
14 July 2020, 12:00 AEST (Melbourne positions)
28 July 2020, 12:00 AEST (Sydney positions)
Full Time Programs
31 Mar 2020, 12:00 AEST (Melbourne / Sydney)
FAQs and Tips
Bank of America
---
What are the requirements to be considered for campus opportunities?
Each program has individual requirements. However, to be considered for any program, you must be currently enrolled in a college/university or advanced degree program. If you are not currently enrolled, you can visit bankofamerica.com/careers for current experienced hire opportunities.
When do internships take place?
Summer internships for Australia usually run for 11 weeks between November and February, with full-time new hires starting in February.
Can I defer an offer?
No, Bank of America does not offer you the chance to defer.
If I applied last year, can I apply again this year?
Yes, you may submit two applications per year in APAC. If you are declined for the summer program, you can reapply for the full-time program the following year.
When will I hear from the bank following submission of my application?
We receive a very high volume of applications and endeavor to contact candidates as soon as possible once a decision has been made. You may receive a notification by email or one of our recruiters will contact you to update you on your application. At any point during the process you can log into your account and view the status of your application. Please be aware that email notifications sent from our application system may sometimes go straight to spam folders.
Will I be considered if I don't currently have work authorization for the country I would like to work in?
All candidates will be considered for summer internships and/or full-time positions however, the bank reserves its right to discontinue, change or modify its procedures and practices with regard to visa sponsorship as its business needs and, as applicable laws dictate per location. The bank does not, currently support work sponsorship for opportunities in Australia. For more details or to enquire with regards to a specific country please contact [email protected].
Our Events
Bank of America
---
We are coming to meet you and we are looking for graduates and summer interns from a wide range of disciplines who can demonstrate energy, drive to succeed and a strong desire to make a difference – is that you?
In case you can't meet us on campus, we also have online webinars where you can join us virtually.
For a full list of our events, please visit us at: campus.bankofamerica.com/events.html