You've probably never noticed us before, but we're inside cars, we're all-over four-wheel drives and we're fitted to trucks big and small – Bapcor keeps Australia moving.  Look around and you'll see accessories sold, quality parts fitted and exceptional servicing by our ever-growing assortment of brands. 
Bapcor Limited is Asia Pacific's leading provider of vehicle parts, accessories, equipment, service and solutions, with a sole focus on the au…
View more
Logistics and Supply Chain
and 1 other
Hires applicants with degrees in
Logistics and Supply Chain
As a Supply Chain & Logistics Graduate at Bapcor, you will work on projects and processes to support and optimise the performance of our supply chain. You'll get exposure into operations, supply chain, and logistics.
You've probably never noticed us before, but we're inside cars, we're all-over four-wheel drives and we're fitted to trucks big and small – Bapcor keeps Australia moving.  Look around and you'll see accessories sold, quality parts fitted and exceptional servicing by our ever-growing assortment of brands. 
Bapcor Limited is Asia Pacific's leading provider of vehicle parts, accessories, equipment, service and solutions, with a sole focus on the automotive aftermarket. Our businesses span the entire aftermarket supply chain, covering Trade, Commercial Vehicles, Specialist Wholesale & Retail. Bapcor takes pride in developing our specialised and knowledgeable team, fostering a diverse culture and possessing an unrelenting focus on excellent customer service by our 5000+ employees across Australia, New Zealand and Thailand. Bapcor's recent investment in leading Asian auto part distributor Tye Soon highlights our growing presence across Singapore, South Korea, Malaysia, Australia, Thailand and Hong Kong.
Our History:
Burson was established over 50 years ago in 1971 by Garry Johnson and Ron Burgoine in Victoria, and opened its first store in Braybrook, Victoria, in 1978. Burson Group built their head office and distribution centre in Preston Victoria in 2005 before the group became Bapcor Limited in 2016. This year, Bapcor celebrates its 50th anniversary, having continually grown the business considerably by acquisitions such as Tricor Engineering, Hellaby Holdings and Commercial Truck Parts Group. Our Values: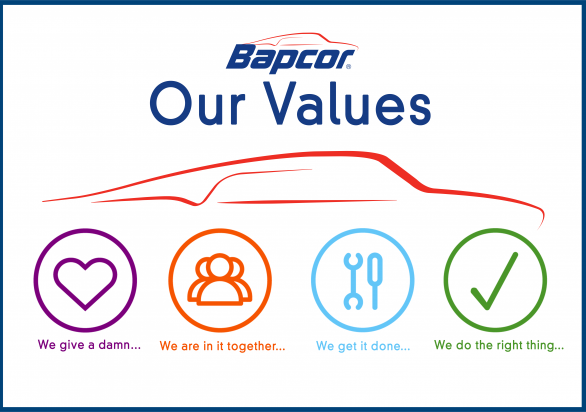 We give a damn: We care about what we do and are proud of how we do it. We are passionate and make a difference.
We are in it together: We're all part of the Bapcor family. We support each other, include everyone and have fun along the way.
We get it done: We use our unique talents to find solutions and achieve common goals. We celebrate success and strive to win.
We do the right thing: We are open, honest and respectful. We do what we say and say what we do.
Watch the following video for further information on Bapcor
As a Bapcor graduate, you will have:
A dedicated graduate program sponsor (Talent and Capability Manager)
A comprehensive, graduate specific onboarding program
Tailored rotations based on your discipline
Real projects with real responsibilities to gain practical experience
On-the-job technical training
Exposure to various leadership teams and functions across the business
Structured coaching and regular performance feedback
Focused career development and specialist development activities
Mentoring from senior leaders
Meeting of the minds where graduates come together and share learnings
At Bapcor, we are looking to invest in our graduates through a dedicated and agile graduate program to foster and develop:
Future Leaders: 

Planning for future leadership of the site and specialist / business critical roles
Increasing people leadership capabilities of managers by developing their own leadership, coaching and mentoring skills
Establishing a platform for potential management rotations

Future skills shortages:

Building and shaping the experiences, skills, attitudes and knowledge of team members
Developing graduates to possess experience in moments that matter
Developing existing managers by increasing the opportunities to coach and mentor
Enhancing business understanding and knowledge outside the "field of expertise"

Cultural improvements to the site by injecting innovative, energetic talent:

Developing existing managers by increasing the opportunities to coach and mentor
Enhancing business understanding and knowledge outside the "field of expertise"
If you want a future-focused, development-oriented start to your career we encourage you to apply – No automotive experience required! The 2-year Bapcor Graduate program consists of four 6-month rotations - your tailored rotations across multiple business units, segments and departments give you a fantastic platform to drive your graduate journey.
In addition to that you will be given the opportunity to:
Work with your leaders to identify potential rotations in your stream based on your interests and company needs*
Have a massive impact from day one
Get technical and leadership training to help you succeed
Have regular performance feedback and check in's with your leader and Graduate Program Manager
Regular access to senior leaders
Immerse yourself in all areas of Bapcor
Learn heaps and get challenged
Develop as a person and as a professional
In our program, you will receive a variety of professional development opportunities and resources alongside building long-lasting relationships with experienced industry professionals. We are always seeking capable and intelligent future leaders that want to make a difference and are committed to championing our values. Our Graduate pathways are agile and focus on developing you from day one! We also have in place a great support network to help you during your Graduate journey. That includes:
A buddy to help you find your feet
A line manager help guide you during each rotation;
A supportive team that wants you to succeed; and
A dedicated Graduate Program Manager that is here to help you navigate the business at any time
Everyone in your support circle is there because they genuinely want to see you to succeed! They will support you to navigate whatever you need help with during the program and are truly committed to helping you to be successful, they truly give a damn!
So that you know what you can expect when applying, we've outlined the steps of our graduate recruitment process below, along with some helpful hints for each stage.
Online application form
The application form is the first stage of your journey with Bapcor and helps us build our knowledge around your educational and work background, experiences and skills. We want to understand how you would fit right in at Bapcor and why you have taken an interest in our graduate program. Make sure to check that you are eligible for the program and tell us what motivated you to apply for our program.
Applications close Monday 22nd of August.
Online assessments 
The second stage of our recruitment process is a range of online assessments - these help us to understand your preferred ways of working and how we can best support you throughout your Bapcor journey. 
Online assessments will occur week commencing the 22nd of August 2022. 
Video interview 
The video interview is an online component where you will record timed responses to a range of interview questions for us to review. This stage allows us to get a better understanding of you as an individual and your communication style. We will be looking for various competencies that we'd like to see reflected in your interview that we believe will prime you for success at Bapcor.
Video interviews will occur week commencing the 29th of August 2022.
Assessment Centre and Interview
The Assessment Centre is an opportunity for us to meet and interact with you directly! There is an exciting range of activities for you to participate in during the session, but what is most important is that you will have the chance to learn more about Bapcor as a company and see who you could soon be working with. We encourage you to take this opportunity to ask us questions about the graduate program and our business while displaying why you are a great fit for Bapcor.
Assessment Centres and interviews will occur the week commencing Monday 12th of September 2022. 
Ella - Supply Chain Graduate
Degree: Business majoring in Global Logistics and Supply Chain
I had never heard about Bapcor before I applied for the role, however what drew me to the role and company was the family nature of the company. Although the company in recent year has grown into an industry leader for Asia Pacific, it still holds its family values and places more value on its people than its success. Bapcor is a great place to start your professional career as you get to be involved with a very new company and be involved with projects that will help shape the company as it continues to grow. Being involved in fundamental projects supported by industry professionals allows you to see the positive impact your work is having on the company. As a graduate you are supported by team leaders and other team members thus allowing you to make valuable connections making for a great work environment. Similarly, Bapcor encourages personal development and are eager to help see you shine in your role and areas that may spark your interests. I have found that my university degree has given me the fundamental knowledge needed in my day-to-day workings as well working with industry professionals to help expand my knowledge and understanding that university gave me.
Aish - HR Graduate
Degree - Science majoring in psychology
I am a science graduate who majored in psychology at the University of Monash. Bapcor caught my interest when applying for a graduate role as the core values indicated it was a progressive company in a stable industry, the way the program was structured was also very different to all the other programs I had come across. Bapcor is a progressive company with plenty of opportunity for career advancement. The approachability of senior management and the flexibility that Bapcor offers is one of the many positive parts of working for the company. I find myself utilising my degree in many aspects of my role at Bapcor, the transferable skills that I have learnt at university have been essential to the dynamic role of a Bapcor HR graduate. There is never a shortage of support and communication at Bapcor, with your direct manager or the Graduate program manager there is always someone to turn to for any situation you may face when transitioning into the workforce.
Sonny – Graduate Product Engineer
Degree: Bachelor of Mechanical Engineering and Bachelor of Industrial Design
I was specifically looking at graduate programs while searching for jobs online, because I valued personal and professional development and exposure to a variety of tasks. Bapcor caught my eye because they offered exactly what I was looking for – a structured development program where I can share my journey with other graduates and contribute to meaningful projects while being trained and supported daily by mentors and leaders. What I love most about Bapcor is the company culture – down to earth people and genuine interactions. As a graduate in the Product stream, my engineering degree has provided me with the critical thinking skills to tackle day-to-day problems, and the knowledge and technical skills to carry out product responsibilities. My best tip to anyone applying is to not worry about industry knowledge, as that can be easily taught. As long as you have a positive attitude, a down to earth personality, and an eagerness to learn, Bapcor is a place where you can thrive.
A Day in the life: Daniel
Marketing Graduate
After hitting snooze a couple of times, I would usually wake up around 7, hit the shower, jump into the car and start making my way across town to Mount Waverly. The drive usually takes about an hour, but i just put a podcast on and before you know it you're parking your car and making your way inside head office.
After saying "good morning" to the team I always grab a coffee with another grad or another member from my team that is also in need of some caffeine. The morning usually consists of sending/catching up on emails to branch managers or suppliers and finishing any projects that I need to submit for approval.
Around 12 o'clock one of the grads will usually be hungry and put "lunch?" in the team's chat were most of us will reply "level 1, 12:15". All the grads that are in the office and not working from home will catch up, compare lunches, and have a few laughs before going back to their desks.
The rest of the day usually contains meetings with internal teams such as the product team, legal team, commercial team, and team leaders to make sure you are getting the support you need. Meetings with external suppliers and agencies also happen throughout the day depending on the type of projects you have on. Before you know it, its time to pack up for the day, so I will put my headphones in and start the journey back home. Bapcor is a great place to be.
A day in the life: Will 
Product Graduate
First thing's first, and an incentive to be on time, is the coffee truck which rolls in at 8:30am. The lovely Sandy is here everyday with your regular order and a good bit of chat to start the day. With a coffee in hand, I spend the first half an hour focusing on how I plan to set out my day and having a chat with the team. Each day can be very different in the world of R&D so a good plan for the day is essential. 
My day is revolved around designing, building, fitting, and documenting OE and aftermarket vehicle parts. From pulling a fresh print off the 3D printer for test fitment to 3D scanning a new vehicle to start the development process, there's always an exciting new product on the horizon. Some days might be spent entirely on Solid works, perfecting a new design to meet engineering (and cosmetic) requirements whilst others might be a full day in the workshop performing wheel alignments with new suspension components or testing a wide range of aftermarket parts to ensure fitment and function. 
Lunch is generally spent however you like! the old faithful industrial café just up the road has a great range of fresh foods, or the lunchroom has everything you need to have a 3-course set menu if that's how you roll. 
Apart from the usual tasks of R&D, a range of filming and photoshoots for marketing pop up here and there or I might be down at one of the warehouses managing new and old stock. Everyday can hold something new and engaging. If you have a passion for learning, socializing ideas and concepts amongst team members and then bringing them to life, BAPCOR has you covered.
Flexible work options, free coffee, vehicle leasing, discounts, flu vaccination program, employee assistance program
Training and development including:
Mentoring programs
Learning & Development opportunities
Awards program
Study leave
Free PPE and uniforms, employee share plan
Diversity & Inclusion

Bapcor acknowledges the positive outcomes and benefits that can be achieved through a diverse and inclusive workplace, including the ability to attract, develop, retain and motivate all team members from the widest possible pool of available talent. 
We recognise and utilise the contribution of diverse skills and talent from all team members. Bapcor also recognises that to foster an effective diverse and inclusive workplace, discrimination, bullying, harassment, vilification and victimisation cannot and will not be tolerated. 
We also recognize that diversity extends beyond gender and includes, but is not limited to, age, ethnicity, marital or family status, religious or cultural background, sexual orientation or preference, disability or impairment, physical features, political or other beliefs or activities, or any other unlawful ground.
Gender Equality

The Ignition Program at Bapcor is committed to identifying and supporting the specific development needs of women. Ignition is a 12-month online program with participants supported via internal peer mentoring groups and connecting with other participants. In addition, Ignition participants have weekly communications, online collaboration facilities and webinars to provide support and guidance. Two cohorts kicked-off in early 2022, with the participants who have been nominated from across the Group.
Ignition is part of many initiatives we have been working on and implementing to support Diversity and Inclusion at Bapcor.