Boston Consulting Group (BCG) Graduate Programs & Entry Level Jobs
BCG is a global leader and works closely with giants in the corporate world and society to take on their most important challenges and tap into their greatest opportunities. 
BCG was the pioneer in business strategy when it was founded in 1963. Today, our diverse, global teams bring deep industry and functional expertise and a range of perspectives to spark change. BCG delivers solutions through leading-edge management consulting along with technology and design, corporate and di…
View more
Business and Commerce
and 5 others
Hires applicants with degrees in
BCG's Strategy Academy Masterclass is an opportunity for you to learn directly from BCG consultants on how to creatively solve business issues and challenges, to deliver the results we are known for.
BCG is a global leader and works closely with giants in the corporate world and society to take on their most important challenges and tap into their greatest opportunities. 
BCG was the pioneer in business strategy when it was founded in 1963. Today, our diverse, global teams bring deep industry and functional expertise and a range of perspectives to spark change. BCG delivers solutions through leading-edge management consulting along with technology and design, corporate and digital ventures—and business purpose. We work in a uniquely collaborative model across the firm and throughout all levels of the client organisation, generating results that allow our clients to thrive.
When you work at BCG, you immediately become part of our family of 22,000 diverse and dedicated employees around the world. We're passionate about using leading-edge management consulting practices and innovative technology and design—and about developing corporate and digital ventures to open the door to new possibilities to effect change. 
Your talents are unlimited, and your opportunities should be too. Working at BCG, your role takes on a different shape with every project and every client, which means there are endless paths you can follow. You can even create your own path—and best of all, we'll give you the tools and support that put you in the driver's seat, empowering you to unlock your potential and accelerate your career in ways you never imagined.
Whether you're looking for a traditional consulting job, a digital technology career, or a career to help climate change, there's a BCG job that's right for you. 
At BCG Australia and New Zealand (ANZ), we combine a deep heritage of strategy consulting with industry expertise and innovative solutions to address complex challenges and seize the opportunities that accompany them.
​​​​​​​Here, diverse, passionate individuals from various backgrounds collaborate within and across our offices in Auckland, Canberra, Melbourne, Perth and Sydney—and with colleagues worldwide—to unlock the best in our clients, society, and one another.​​​​​​​
​In ANZ, our consultants work across Energy & Environment, ​Financial Institutions, ​Public ​Sector, Insurance, Health Care, Principal Investors & Private Equity, Industrial ​Goods, Consumer & Retail, and ​Technology, Media & Telecommunications.  Our jobs in ANZ support business functions like People & Organization, ​Post-Merger Integration, ​Global Advantage, ​Transformation, ​Strategy, ​Corporate Development & Finance, ​Technology Advantage, ​Client Enablement, ​Operations, ​Marketing & Sales.
You've always been the one who seeks the extra challenge, the extra credit, and the extraordinary opportunities? You're not afraid to roll up your sleeves or speak your mind?
As a member of our consulting team, you'll work alongside some of the world's top minds on cases that reshape business, government and society. You'll collaborate on challenging projects with team members from many backgrounds and disciplines, increasing your understanding of complex business problems from diverse perspectives and developing new skills and experience to help you at every stage of your career—at BCG and beyond.
Consulting work is varied and rigorous, much of it performed at our client sites. Projects can vary in length, size, and location, depending on the client's challenge. Because our clients operate all over the world, you may travel internationally. 
At BCG, we hire graduates and post-grad students who are looking to bring their dedication and motivation to every challenge, big or small. We value accomplishment, curiosity, and unique backgrounds and perspectives.  You'll start making an impact on day one.  The learning curve is steep. The experience is unparalleled. We work both hard and smart as we cocreate with clients. You may find yourself on the road or immersed in data. But either way, you'll be welcomed, valued, and appreciated.
Our teams feature recent graduates with academic backgrounds across numerous disciplines, from business to humanities to science and more. Ideas, not tenure, matter to us—so you'll be able to make an impact from day one in a supportive environment that respects the views of every individual. Here you'll have the opportunities for international assignments while being supported in a deeply collaborative environment. Hands-on learning, support from your team, and innovative training programs will allow for a smooth transition from the classroom to the real world of business.
BCG in Australia and New Zealand recruit graduates mostly between February-March each year.  However, we do accept applications year-round outside of this period and we welcome your application anytime.
We look for driven, curious students who are excited by a challenge and want to have a positive impact on their communities, whether local, national, or global. As a graduate at BCG, you will be tackling the toughest challenges, benefiting from accelerated learning that serves you for a lifetime, and working with a caring, diverse and inclusive community of exceptional people.
You will be supported to learn and develop from your first day at BCG. We have a comprehensive program of formal learning. When you join, you will participate in a two-week foundations program with your starting cohort, where we cover core consulting skills, BCG processes and BCG networks. Your training is tailored to your career journey, for example, your first year as an Associate focuses on the BCG methodology of problem-solving and practices for effective project management. In addition to the core curriculum, you are able to opt-in to a number of different live sessions, covering topics including financial modelling, workshop facilitation and personal sustainability. Once a year the whole firm participates in core skills learning – an opportunity to learn from our leaders. Some of the best development experiences are on the job, as you learn by doing. You receive apprenticeship from your Project Leaders, Principals and Partners. In each case, you set learning goals upfront and get regular feedback from your Project Leader, Principal or Partner. You will also find that your peers contribute significantly to your learning.  As you progress through BCG, your Career Advisor will help you unpack feedback themes across projects and work through career development options. They are an invaluable sounding board as you chart your own BCG path.
Due to the way our work is structured at BCG in Australia and New Zealand, we only offer Internship roles to MBA students.
At BCG, we have a proud history of offering annual scholarships since 2004 to university students in Australia and New Zealand to support outstanding future leaders with their studies and beyond.
In 2022, we offered three scholarships to students.  We welcomed applicants from all backgrounds and disciplines to apply - there is no 'standard type'. Our process is designed to help you get to know us and what we do at the same time as we are getting to know you. Through that process, we hope you come to see BCG as a place that provides an unparalleled start to your career and equips you to have the positive impact you seek. 
We particularly want to encourage applicants from backgrounds that are traditionally underrepresented in our industry and empower them to become future leaders and change-makers. With that in mind, we offer two scholarships for students who identify specifically as:
Women or Non-Binary 
Indigenous (including Aboriginal, Torres Strait Islands, Māori or Pacific Island origin)  
Our third scholarship is open to all candidates who meet the eligibility and selection criteria. Anyone applying for one of the targeted scholarships will be automatically considered in this category as well. 
Applications for our Scholarship program are currently closed and will re-open on Monday, 20 March 2023.
Your application should include your CV, cover letter, and academic transcripts. 
We want to get to know you, so please make sure you have information in your cover letter and CV about things you're passionate about and why BCG is a great career fit for you. As a guide, we'd like to see details about:
Any work experience that you have had. We are seeking motivated individuals who can showcase a strong career trajectory and a high level of impact in the roles they have held – make sure to include how many hours a week you work (if relevant)
Your extra-curricular activities, whether on campus or outside of university life. Have you played sport extensively, or are you involved in a move that takes up a lot of your time? We look for individuals to demonstrate impact and legacy, significant contribution, and high levels of commitment, initiative, and responsibility
Your academic credentials. For Associate applications, you should be in your final year of undergraduate or postgraduate studies or have 1-3 years of work experience. For our Scholarship Program, you must be in the penultimate year of your undergraduate studies (or Master's degrees (excluding MBA) at the University of Melbourne or the University of Western Australia) for our Scholarship Program. Please include details of prizes or scholarships you've attained
Australian/New Zealand citizenship or permanent residency in the country of your office preference
Diversity & Inclusion

Diversity of thought, experience, and background is a core part of our BCG values and is key to delivering value to clients. 
At BCG, we are committed to fostering a diverse, equitable, and inclusive environment where everyone feels valued, connected, and empowered to be themselves and contribute to their fullest potential, drive inspired impact, and lead innovation. Our efforts toward diversity, equity and inclusion (DE&I) are underpinned by the strong communities in our employee-led networks, flexible work and mentoring programs, programs on inclusive teaming and leadership, authentic conversations, and clear metrics to track progress.
BCG's efforts and progress on DE&I are recognised locally and globally: BCG Australia and New Zealand hold a WGEA Employer of Choice for Gender Equality citation and are recognised as the leading small business for LGBTQIA+ inclusion by the Australian Workplace Equality Index. 
BCG also partners with clients on driving measurable change in DE&I. Our work enables clients to build team that fully reflect the diversity in the communities we serve and empowers them to advance their business and our society. 
You can read more about our latest research and insights on DE&I here:
https://www.bcg.com/capabilities/diversity-inclusion/overview.
At BCG we have a Cultural Diversity network.  Kulcha & Ethnicity (K&E) is a local network which ensures that those who identify as culturally or ethnically diverse feel included, respected, and well-supported to succeed at BCG. We are proud of the diversity of cultures, ethnicities, faiths, and languages in our BCG community and we believe it is important to acknowledge and celebrate these backgrounds while providing the right support to ensure everyone can succeed.
Story-telling and lived experiences are the foundation of the K&E pillar; the "True Colour – Authentic Conversations" series is a bi-annual event bringing voices and experiences from across the business in a 'fire-side chat' format and is a hallmark of the ANZ event calendar. The K&E pillar also organises regular celebrations for observances and events across major cultures and religions, including Lunar New Year, Diwali, Eid, and more.
Our Socio-Economic Diversity is our newest DE&I employee network aiming to improve awareness and inclusion of diverse socio-economic backgrounds at work. Research shows that socio-economic background has a significant influence on the feeling of inclusion at work, including the experience of interviewing and joining an organisation to longer-term retention and satisfaction. This network works closely with the recruiting team to reach out to students from diverse socio-economic backgrounds and ensure they are well supported throughout our recruiting process. Like our other networks, the Socio-Economic Diversity network is also working on projects to raise awareness within BCG about the impact of socio-economic background on experiences at work and the benefits of increasing socio-economic diversity.
LGBTIQ+

Pride@BCG is a global network which strives to make BCG an inclusive and fulfilling workplace for those who identify as LGBTQIA+. Pride@BCG offers extensive career development support and networking opportunities to help individuals excel and connect with other LGBTQIA+ identifying members and allies. More broadly, Pride@BCG offers a community of people with similar lived experiences, a strong support network, and a friendly group of people to grow alongside.

In 2022, BCG Australia and New Zealand was recognised as a Gold Employer and leading Small Employer by the Australian Workplace Gender Equity Agency, Australia's national benchmarking instrument for LGBTQIA+ inclusion in the workplace. AWEI recognised the significant strides we made in reducing roadblocks for LGBTQIA+ candidates seeking to apply for what was often their first full-time job. This recognition is also a testament to the hard work and inclusive practices of the Pride@BCG network, our DE&I teams, and of course the endless support of our allies.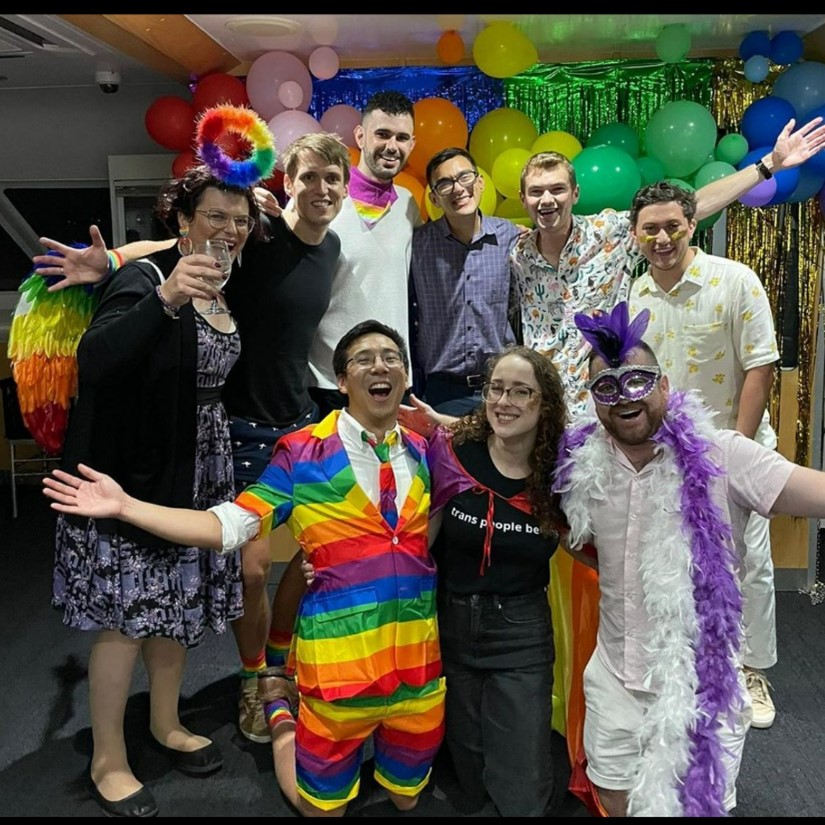 Pride@BCG recognises the social and cultural differences that may exist globally, so we've created three membership levels so you can engage comfortably with the network. You can choose to be 1) a general member (out to all of BCG), 2) a confidential member (out only to Pride@BCG members), or 3) a confidential subscriber to our emails (out only to Pride@BCG admin team). If you do not identify as LGBTQ+, we welcome you to join as an ally.
We fully respect each person's choices about their own journey and, where appropriate, need for confidentiality. Your choice to come out to your fellow BCGers is your choice, and we respect your privacy.
Learn more about our global Pride@BCG network here: https://careers.bcg.com/pride.
Disability Support

Able@BCG is a local employee network dedicated to disability access and inclusion in our teams, workspaces, and broader community. Through this network, we create safe spaces to amplify the voices of those with lived experiences of disability and chronic illness, visible and invisible. Able@BCG also provides resources and advocacy for people with disabilities. promotes education and awareness, and empowers employees to understand and embed inclusive practices into their day-to-day teaming.
We want to make sure everyone experiences a positive, barrier-free recruiting process and employment journey. We are here to support if you need adjustments to assist you with your experience, including support in submitting your application, providing identity documents, attending a job interview, plus more.


We recognise there is always more to do with and outside our firm and our partnerships are integral to these efforts. We are Bronze members of the Australian Network on Disability and a member of the IncludeAbility Employer Network. BCG also provided prop bono assistance in the development of the IncludeAbility initiative. 
Able@BCG is a part of BCG's global efforts on disability access and inclusion, including our membership of the Valuable 500: a global business collective made up of 500 CEOs and their companies, innovating together for disability inclusion. Read more about our commitment to the Valuable 500 here:
https://www.thevaluable500.com/member/boston-consulting-group.
Gender Equality

One of our highest priorities is supporting women in the workplace, which we aim to do through career growth and representation and by celebrating the achievements of women at our firm. We are encouraged by our progress and excited about what the future holds as we enhance opportunities, the BCG experience, and work-life integration, not just for women at BCG, but for all BCGers.
BCG promotes a safe and equal workplace for employees of all genders. In 2018, we were one of four Catalyst Award winners for Women@BCG, our innovative program to support women throughout their careers. Since 2019, BCG Australia and New Zealand has held the Workplace Gender Equality Agency Employer of Choice citation to recognise the commitment and leading practices toward gender equity in the workplace. In, 2020 we were also recognised as an Inclusive Employer by the Diversity Council of Australia. 
BCG regularly undertakes research and frequently publishes on the topic of gender diversity alongside partners such as Chief Executive Women, including a recent article "Re-inventing Gender Diversity Programs for a Post-Pandemic World". 
The Women@BCG network is a global network established to improve recruitment, retention, advancement and leadership of women in BCG's workforce. The network provides global best-in-class career development, mentorship, and networking programs to help BCG's women excel, both personally and professionally.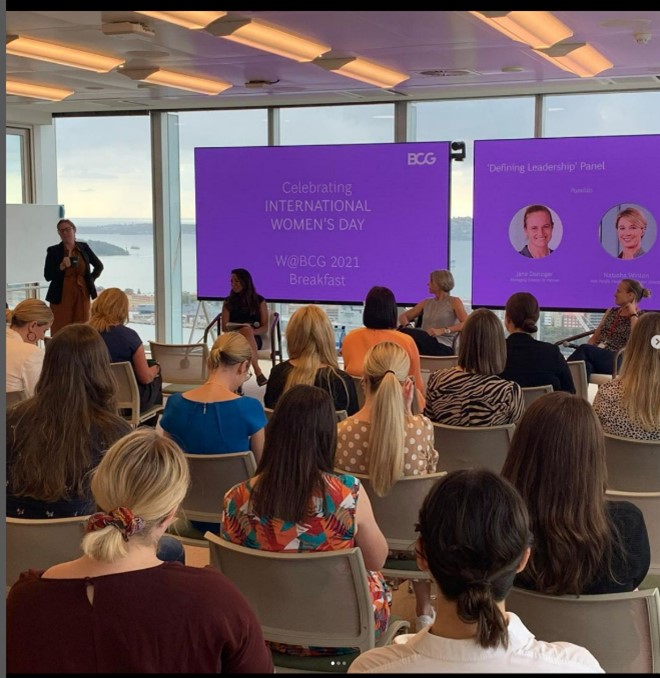 BCG's efforts in recruitment and advancement are supported by a dedicated Women's scholarship program for graduate hires, tailored mentoring and sponsorship programs for all women, and regular tracking and reporting of key metrics.
Our commitment to gender equality is mirrored in our internal policies, where we support employees to balance family responsibilities with personal goals. We offer flexible working arrangements so that our people can find a working model that suits them.
BCG has a strong history of supporting Aboriginal and Torres Strait Islander peoples in Australia. Our founding partners were passionate, with Colin Carter driving BCG's co-founding of Jawun with Noel Pearson, and Westpac in 2000. Since then, we have sent more than 120 long-term secondees to Jawun's Indigenous partner organisations, and over half of our senior leaders have been directly involved through secondment or executive visits.
We have contributed to topics like economic development, education, welfare reform, and assisting the drive towards self-determination through roadmaps like Empowered Communities. We've also been using our voice, publishing statements like our 'Submission on an Indigenous Voice' and educating our staff on issues like Nation Rebuilding through National Reconciliation Week and NAIDOC week events.
We are deeply committed to advancing reconciliation within BCG and in Australia. Our Innovate Reconciliation Action Plan (RAP) affirms this ambition. 
The First Nations@BCG employee network is integral to these efforts. It is a a place for Aboriginal and/or Torres Strait Islander employees and allies to drive the internal and external actions of the firm towards reconciliation. It has also been envisaged as a network for Aboriginal and Torres Strait Islander employees to build connections and mentorship, much like our other diversity and inclusion pillars (Women, Pride, Able @BCG). Notable initiatives driven by the pillar include the NAIDOC Week and Reconciliation Week events hosted across our BCG offices, and an ongoing partnership with Supply Nation to increase our procurement spend with Indigenous-led organisations.