CIMIC Group Graduate Programs
CIMIC Group is an engineering-led construction, mining, services and public private partnerships leader with a history dating back to 1899.
CIMIC Group currently has 0 opportunities.
Select the following options:
CIMIC Group is an engineering-led construction, mining, services and public private partnerships leader with a history dating back to 1899.
We integrate a world of experience and expertise to amplify insights, develop future-ready solutions and deliver enduring value across the lifecycle of assets, infrastructure and resources projects. CIMIC Group comprises our construction businesses CPB Contractors including Broad, and Leighton Asia, our mining and mineral processing companies Thiess and Sedgman, our services specialist UGL and our public private partnerships arm Pacific Partnerships – all supported by our in-house engineering consultancy EIC Activities.

Across CIMIC Group, we offer opportunities in skilled and professional roles as well as graduate employment, scholarships, apprenticeships and internships. Our portfolio of businesses and projects open up a world of opportunities. And our people – around 32,000 talented team members working in 20 countries across Australia and the Pacific, Asia, Africa and North and South America – are delivering projects that push the boundaries of engineering for better, more sustainable solutions that take us into the future.
CPB Contractors
CIMIC Group
---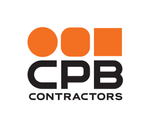 CPB Contractors is a leading international construction contractor that delivers projects spanning all key sectors of the construction industry – including roads, rail, tunnelling, defence, building and resources infrastructure – across a range of delivery models.


Our mission and principles
CIMIC Group
---
CIMIC Group's mission is to generate sustainable returns for shareholders by delivering projects for our clients while providing safe, rewarding and fulfilling careers for our people.
Our mission is supported by four Principles by which we live and work:
| | |
| --- | --- |
| | Integrity: Being respectful and honest with ourselves, our colleagues, our clients, our partners, our suppliers and shareholders and other stakeholders. |
| | Innovation: Continually adapting and evolving for the future. |
| | Accountability: Committing to what we are responsible for. |
| | Delivery: Amplifying our ability to deliver to drive our reputation and credibility. |
Underpinning these Principles is the Safety of our people. Ensuring our people return safely to their families is the most important thing we do each day, alongside our clients, partners, suppliers and communities.


An award winning graduate program
CIMIC Group
---
Success starts here
CIMIC Group invests in future leaders and provides graduates with exposure to a world of experience and expertise.
Use your experience, stretch your skills, strive for excellence and achieve exceptional outcomes for our clients, shareholders and communities – taking you from today to a brighter future.
Our global graduate program provides the opportunity to learn, develop and gain exposure to some of the world's most iconic asset, infrastructure and resources projects. Be part of something bigger.
How it works
Participants enter the program by working at one of our companies in construction (CPB Contractors, Leighton Asia and Broad), mining and mineral processing (Thiess and Sedgman), or services (UGL). Rotations and industry exposure are also available at CIMIC, our in-house engineering consultancy (EIC Activities) and our public private partnerships arm Pacific Partnerships.
With support for your transition from student to professional from technical experts and mentors, we'll challenge you with exciting projects and genuine responsibilities. We'll expand your knowledge with professional development sessions to build your strengths, leadership skills and business acumen. And you'll be exposed to a variety of projects and companies within CIMIC Group.
What you get
You receive structured, on-the-job training, guided learning plans and leadership mentoring. Over the two-year program, you will experience up to three eight-month rotations with placements in various roles, projects or CIMIC Group companies. Having the opportunity to rotate across companies as well as projects provides you with greater opportunities to build your career.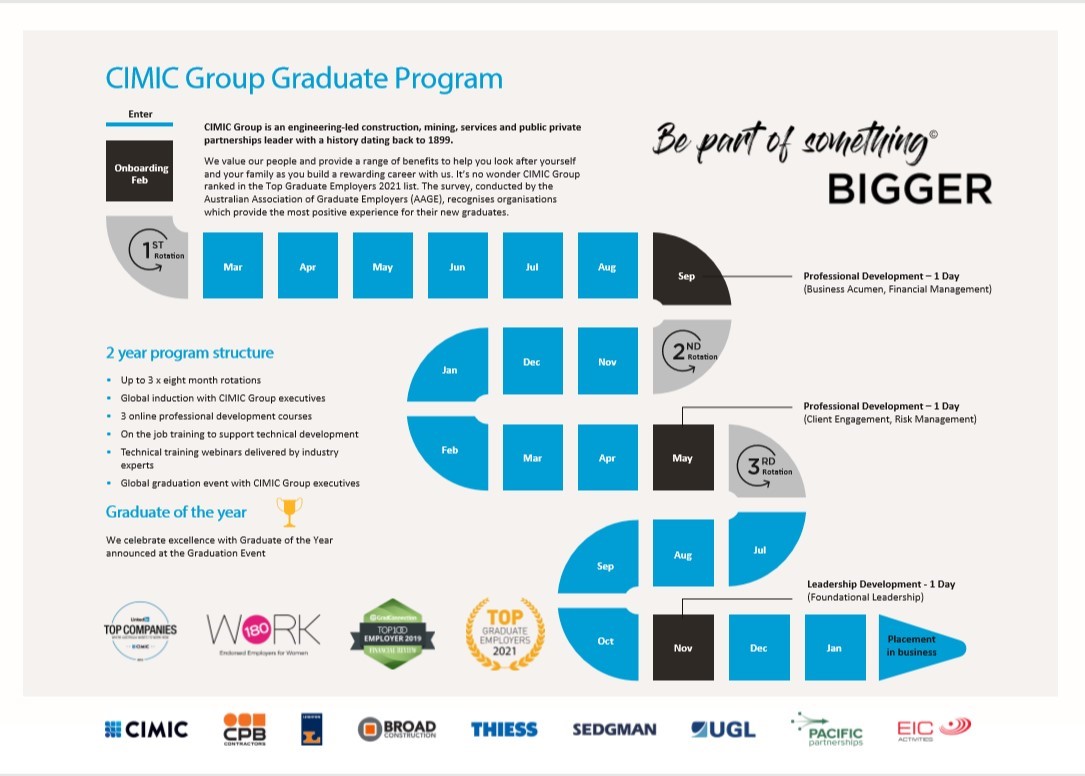 CIMIC Group graduates:
Achieve technical, professional and personal growth through a structured program
Participate in leadership development and networking sessions to accelerate their careers
Have opportunities to work on large complex projects across CIMIC Group's portfolio of work
Learn from a globally-recognised organisation with exposure to industry leaders and technical experts
Secure access to an exciting career path supported by a strong culture of internal recruitment and progression
Operate within a global network including engaging with other graduates
Work in challenging, diverse and inclusive environments
Meet with CIMIC Group executives at induction and graduation.
Important dates
29 March 2021

Applications open for 2022 intake

30 April 2021

Applications close for 2022 intake

April – May 2021

Shortlist

May – June 2021

Assessment and /or interview

CPB Contractors, Broad, Sedgman: Interviews May – June
Thiess: Assessments and video interviews – May, with formal interviews June
UGL: Assessment centre/interviews – Late May – June

July – August 2021

Offers issued

CPB Contractors, Broad, Sedgman, Thiess: July – August
UGL: July

November 2021

Onboarding commences

February 2022

Graduate program induction
What our graduates say about the CIMIC Group graduate program
CIMIC Group
---
Graduate program highlights

"Rotating through different projects and teams I have learned from various brilliant people and explored a number of new disciplines." - Elliott Skinner, CPB Contractors Graduate Construction Management (L).

"Applying the knowledge learned from university and the graduate program, I've contributed to the design and construction works of an architectural theatre project." - Pinky Yam, Leighton Asia Graduate Engineer Building.

"For me the highlight of the graduate program was the opportunities. The program sets the foundations but allows flexibility to experience more than your discipline." - Mason McManus, Thiess Graduate Legal.

"I've been given the opportunity to learn through on-the-job training and structured training programs and develop alongside other Leighton Asia graduates." - David Lo, Leighton Asia Graduate Engineer (R).
Professional experience

"It was great being part of delivering the WestConnex 3B Rozelle Interchange project in New South Wales. The project will not only improve the connectivity of Sydney's road network but will also create parklands and sporting fields for the community." - Jovanne Lee, CPB Contractors Graduate Engineer Traffic.

"Delivering the Byerwen process plant expansion in Queensland I had the chance to work with great people, and we managed to deliver a safe and successful project." - Darcy Clarke, Sedgman Graduate Engineer Mechanical.



"Delivering legal support for one of the world's largest battery projects, the Victorian Big Battery, was a rewarding challenge. This project is an exciting opportunity in the renewable energy market." - Kate Wildman, UGL Graduate Legal.

"It was great being part of delivering our project's footbridge and opening to the public under critical path, safely and with good planning. - Victor Pong, Leighton Asia Graduate Engineer Building.
Leadership experience

"I proved the capabilities I had developed on previous projects and in my final rotation I was requested to provide sustainability guidance on a new project." - Jacob Cesaro, CPB Contractors Graduate Sustainability.

"I had the chance to lead when overseeing remedial works on the M7 Motorway in Rooty Hill, New South Wales. I completed geotechnical investigations, developed the adopted construction methodology and issued a report certifying the completed remediation works." - Micah Fountain, EIC Activities Graduate Engineer Geotechnics.

"When the team was on roster during COVID lockdowns I lead the tunnel electrical design team in Brisbane, Queensland with guidance from a senior engineer in Sydney, New South Wales." - Vishnu Kumar, UGL Graduate Engineer Electrical.
Diversity and inclusion

CIMIC Group
---
CIMIC Group is a collaboration of around 32,000 individuals across 20 countries. Each person brings their own story, experience and perspective to their job and this diversity of thought, capability and skill makes our business stronger.
We recognise these advantages are strongest when our workforces reflect the diverse communities in which we work; and these diverse communities provide a valuable source of talent.
We do not tolerate any form of bullying, harassment, discrimination or vilification, and we actively develop supportive workplaces. Our priorities are: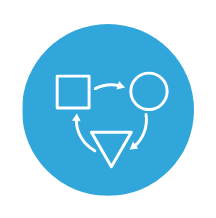 Cultivate an inclusive workplace
We undertake a range of activities to raise awareness and promote inclusion including training programs in unconscious bias, equal employment opportunity, discrimination, bullying and harassment. We also use workforce reporting to track diversity participation.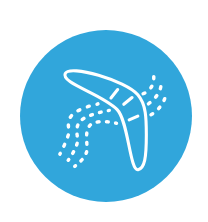 Increase indigenous employment and the use of indigenous suppliers
With a significant base of our business operating in Australia, we have a specific focus area on opening opportunities for Aboriginal and Torres Strait Islander people to participate in our business, as well as engaging Indigenous people in other countries – an objective we share with our clients.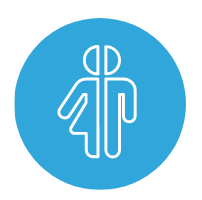 Gender equality
We're improving how we attract, retain and develop women at all levels in CIMIC Group. This includes addressing the challenges associated with relatively small numbers of women entering the engineering trades and professions and ensuring women are represented across diverse areas and in leadership roles. Regular company-wide pay equity reviews are used to proactively close pay gaps based solely on gender, supported by initiatives such as unconscious bias awareness training to empower equitable decision-making.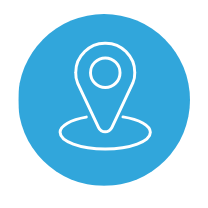 Invest in local employees
Our training and talent programs develop local leaders and graduates to ensure the future workforce is reflective of the countries in which we operate.
What makes the CIMIC Group graduate program different
CIMIC Group
---
Join an award winning graduate program
CIMIC Group is recognised as a top graduate employer by GradConnection and the Australian Association of Graduate Employers.

Accelerate your career
With a world of opportunities at your feet, prove what you are made of by stepping up to design, deliver, lead, share, mentor and transform. We back our people by recognising and rewarding performance, investing in development, and promoting first from within.
Accept the challenge
We work on projects that transform the way communities live. With a strong pipeline of projects globally, we deliver complex, innovative work in diverse industries. Our people enjoy extraordinary experiences and thrive on shaping the way our industries evolve.
Impact your world
Our people are passionate about making a difference, placing the wellbeing of those we work with, and the communities we deliver for, front and centre. We build diverse teams where everyone belongs and take seriously our responsibility to our communities and environment.
Real benefits
We value our people and provide a range of benefits to help you look after yourself and your family as you build a rewarding career with us.
We offer a range of benefits including:
Salary continuance insurance at no cost for all eligible employees
Discounted private health insurance
Access to discounts on a range of lifestyle products and activities
Preventative healthcare including skin checks, health checks and flu vaccines
Financial assistance and/or non-financial support for undertaking an approved course
Professional advisers to assist with the resolution of personal and work-related issues
Flexible working arrangements for all eligible employees
Salary sacrifice for employees on superannuation contributions
And much more.

CPB Contractors includes the fully-owned subsidiary Broad, a national construction management company delivering commercial new build, fit-out and refurbishment construction projects.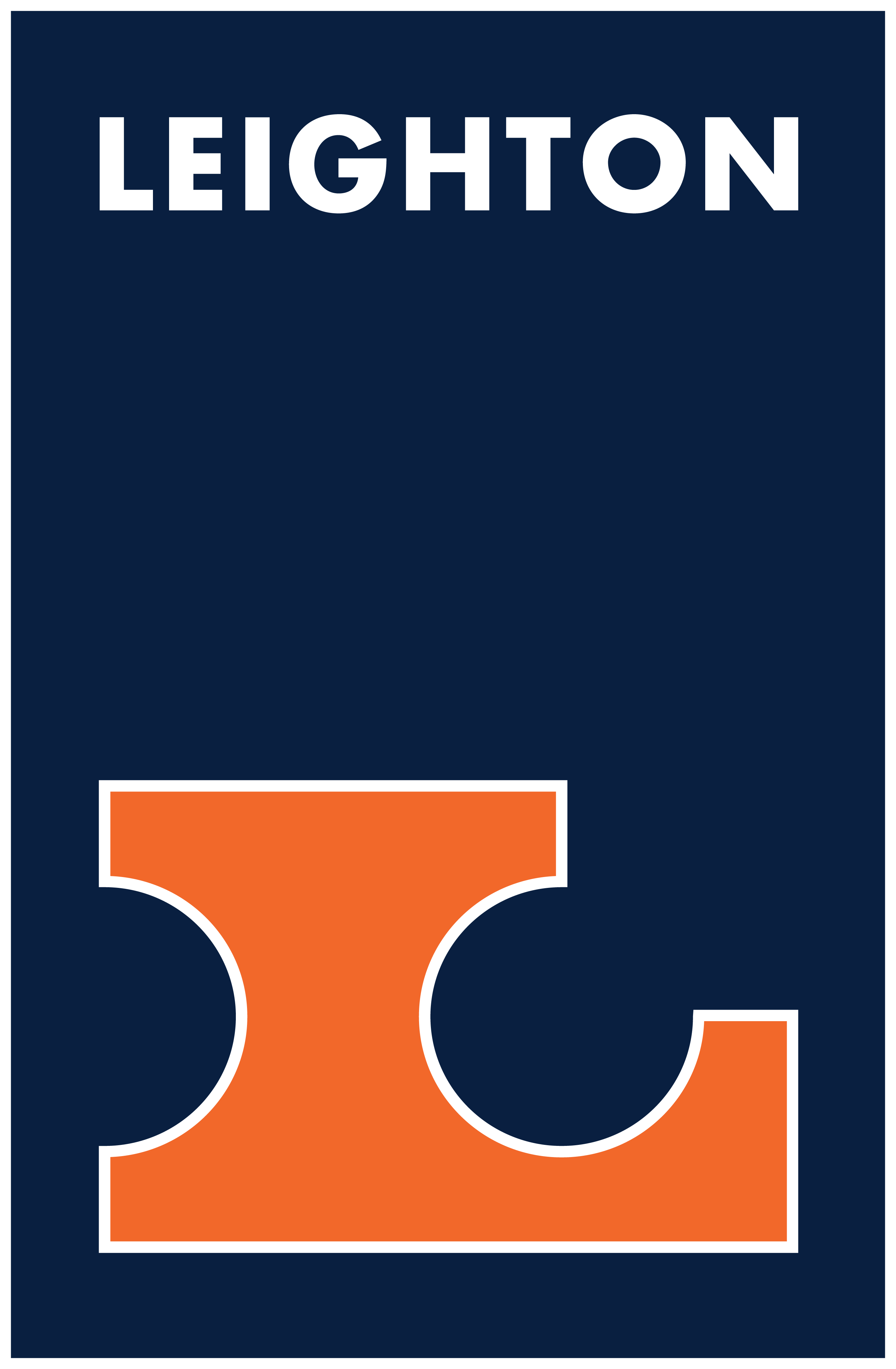 Leighton Asia established in 1975, is a leading international construction company. Headquartered in Hong Kong and a part of CPB Contractors, Leighton Asia delivers a portfolio of high-profile infrastructure projects throughout Asia.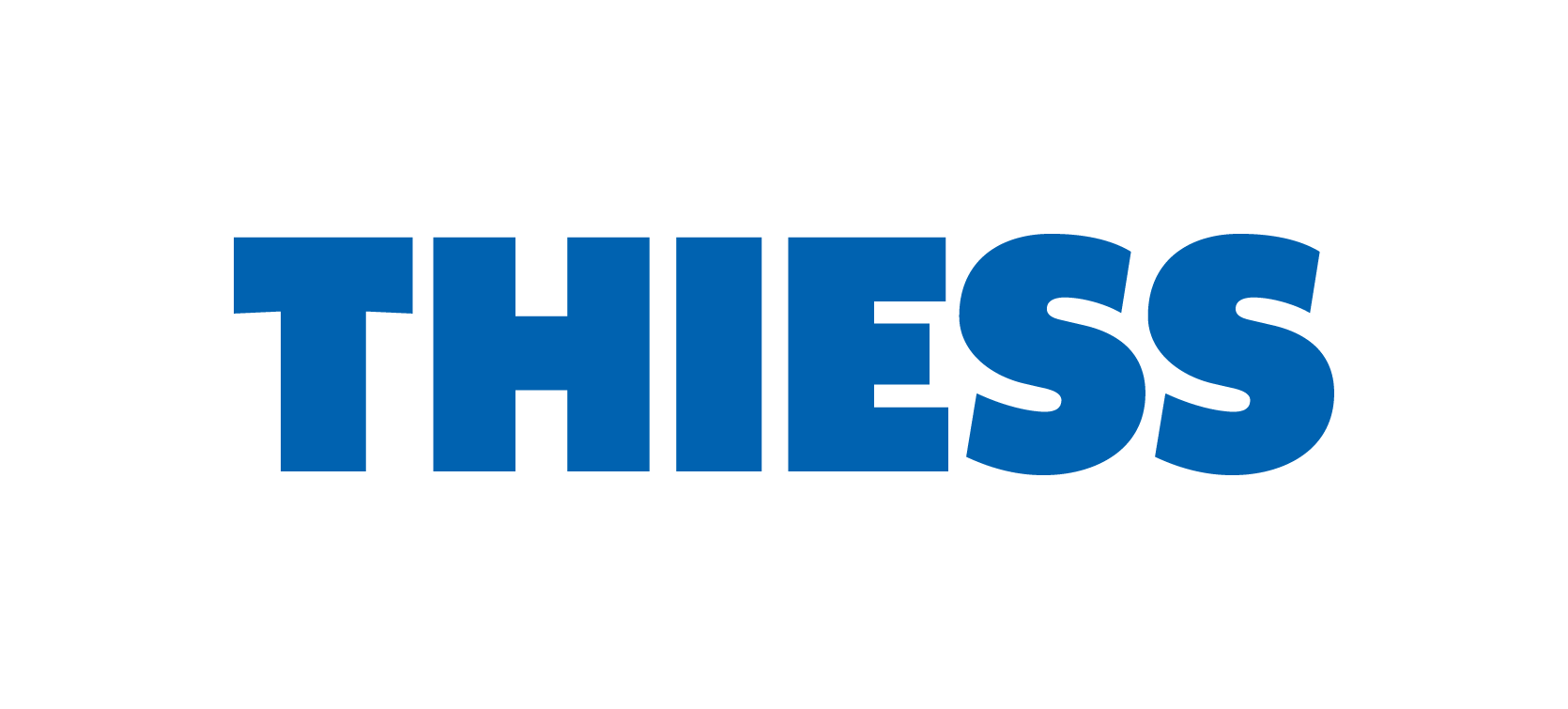 Thiess partners with its clients to deliver excellence in open cut and underground mining in Australia, Asia, Africa and the Americas. For more than 80 years, Thiess has operated in diverse commodities, geologies, environments and cultures

Sedgman is the leading provider of integrated minerals processing solutions, providing an integrated lifecycle of services, from engineering design to project delivery to ongoing operations.

UGL is a market leader in end-to-end asset solutions, delivering operational value and enhanced customer experiences through its whole-of-life offer for critical assets in power, water, resources, transport, defence and security, and social infrastructure.
Pacific Partnerships
CIMIC Group
---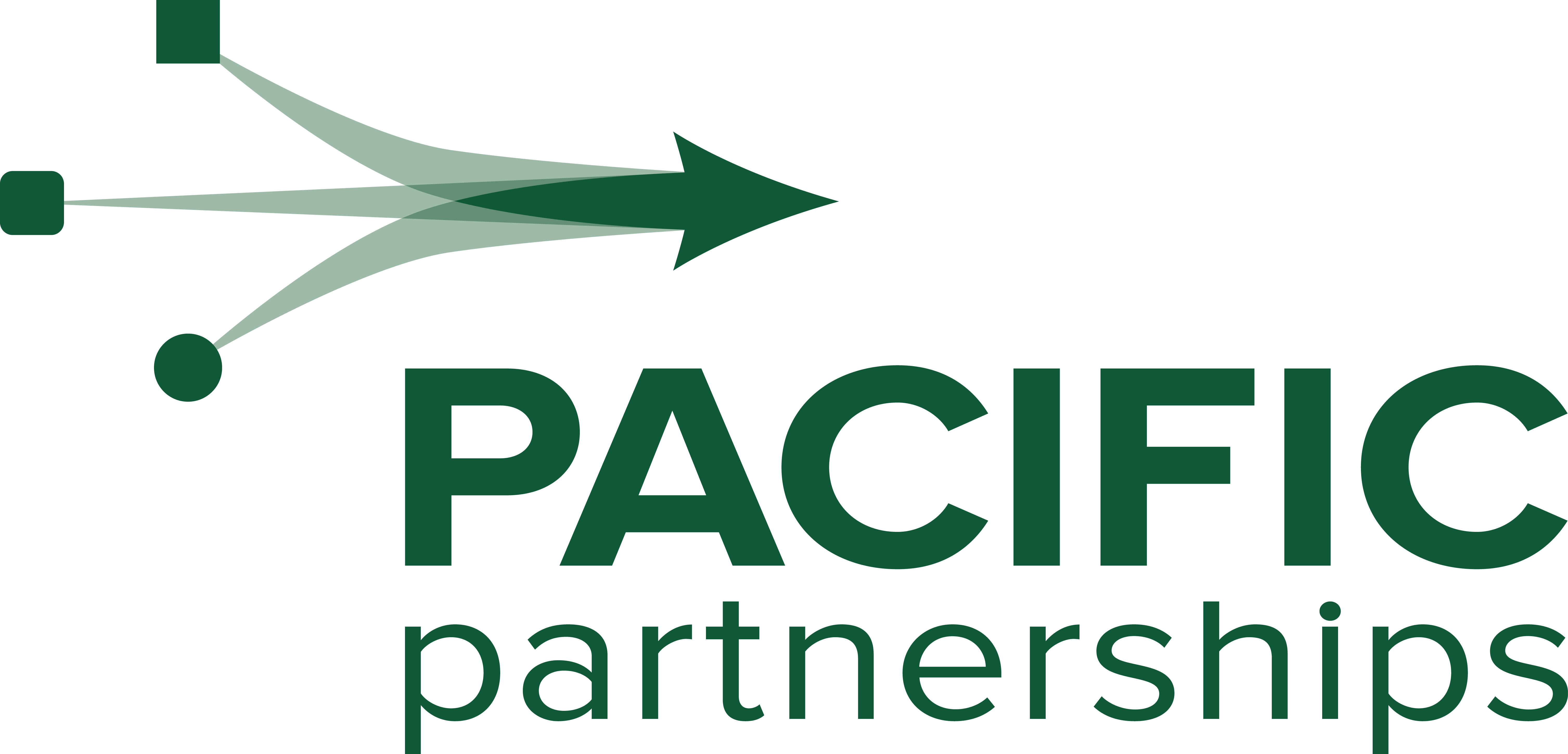 Pacific Partnerships develops, invests in and manages infrastructure concession assets for CIMIC Group, offering clients seamless value-for-money solutions for key infrastructure under public private partnership structures and build own operate transfer structures.


EIC Activities
CIMIC Group
---

EIC Activities is CIMIC Group's engineering and technical services business, providing a competitive advantage for profitable projects that generate value for clients, leveraging the Group's collective experience, technical capabilities and leading technologies.