Cognizant Graduate Programs
Be a part of a fast-growing diverse team that share one thing in common - our passion to drive change. At Cognizant ANZ, our mission is simple. Conceive, foster, and implement ideas that help to transform the world around us for the better.
Computer Science
and 6 others
Hires applicants with degrees in
Data Science and Analytics
Engineer the way the world works. Fast-track your career with us!
Past Cognizant Graduate Hiring Statistics
If you're interested in working at Cognizant, understanding when they have opened up applications for their graduate programs, graduate jobs and internships is helpful knowledge to have so you know when you might need to apply. Use the below information to see when Cognizant hires graduates, but more importantly what graduate degree's and other student attributes they target for their jobs.
---
Disciplines
Administration (11%),

Arts and Humanities (11%),

Business and Commerce (16%),

Communications (11%),

Computer Science (100%),
Locations
Sydney (32%),

Melbourne (16%),

Tokyo (11%),

Brisbane (11%),

Perth (11%),
Work rights
Australian Permanent Resident (89%),

Australian Citizen (84%),

New Zealand Citizen (26%),

Australian Student Visa (16%),

Australian Skilled Migration Visa (485) (11%),

Australian Working Visa (5%),

Australian Bridging Visa (5%),
Cognizant is one of the world's leading professional services companies, transforming clients' business, operating and technology models for the digital era.
Our industry-based, consultative approach helps many of the best-known organisations in Australia in every industry build and run more innovative and efficient businesses. Put simply, we help clients get digital done with the scale needed to transform their complex organisations to capitalise on the tremendous opportunities the latest technologies make possible, and the speed expected by their customers, partners and owners.
We bring our expertise to our clients in Australia through:
An expanding global delivery platform, offering an agile, diverse team around the world available 24/7, and local consultants available in person to collaborate with clients.
Digital technology and Industry specific solutions that address the challenges and opportunities presented by the digital age.
Strategic partnerships that provide best-in-class capabilities brought to you by Cognizant and the most trusted names in technology
Cognizant has been recognized as one of the top 75 graduate employers in Australia for 2022 by the Australian Association of Graduate Employers (AAGE). Cognizant has also been recognized as a Top Employer, for Excellence in Workforce Planning, Talent Strategy, Leadership Development and Career and Succession Management. Cognizant provides and inclusive and dynamic workplace built on collaboration, respect and meaningful work. We are proud to have over 100,000 women and more than 100 nationalities across our offices globally. We seek and develop experienced and diverse talent and also welcome fresh graduates with drive and perspective, who can be trained for future-ready leadership in a digital world.
Learn more about Cognizant at www.cognizant.com or follow us @Cognizant.
Our Graduate Program offers a training program that is targeted to the team you join. You will be given unique opportunities to work across the entire technical, consulting and digital space within specialized business units, where you will have the opportunity to be a team member that is currently delivering solutions within transformation engagements. You will be trained and mentored by top Cognizant experts and be exposed to the latest in methodologies applicable to the business unit that you join.
Our graduate program has two key differentiation components:
Innovation and Experiential Learning
Graduates will have direct opportunities to be mentored by industry experts within Cognizant, and draw from them to gain a solid understanding of business and market challenges. Practical experience and applications of information research will enhance the graduate's individual learning and expert feedback will help further skills development.
Career Empowerment
We believe that your learning should not be confined to a single area of the business. Our graduates will take part in existing live projects and directly interact with our partnerships and clients. This will enable you to not only gain exposure to our external business environment but provide opportunities to enhance your leadership and project management skills.
Graduate Program
Cognizant
---
About our Graduate Opportunity
As a Graduate Analyst at Cognizant, you will be a member of a fast growing local team of a truly global organization which is a leader in business and technology services, who provide a full range of services to our clients across a variety of industries. If selected, you will immediately commence a structured induction program under the Cognizant Academy and subsequently be assigned to a client engagement in Australia where you will work alongside experienced Cognizant Associates in delivering technology solutions. You will be embedded within the Cognizant teams that are currently delivering projects to our customers and you will learn skills that cannot be taught in a classroom and put into practice some of your theory and problem solving skills.
The Ideal Candidate
We are looking for motivated graduates who:
Have a passion for technology and emerging technologies.
Possess a strong attitude to learning and are willing to push past their personal and professional limits.
Have excellent communication skills and flexibility are a must, as we operate in a highly diverse and dynamic work environment.
Have a strong customer focus and customer centric approach to work outcomes.
Is a team player.
Eligibility
To be eligible, you will need to be:
Be an Australian or New Zealand Citizen or an Australian Permanent Resident.
Have a degree in Software Engineering, Computer Science, Information Technology, Data Analytics, Business or similar.
Have less than 2 years of related work experience.
Cognizant is committed to providing Equal Employment Opportunities. Successful candidate will be required to undergo a background check.
Application Process
Cognizant
---
Cognizant Graduate Application Process
1. Online Application
To apply, please upload a copy of your latest resume/CV. Transcripts are not required at this stage however they will need to be provided prior to offer. Our Early Career Talent Team will review your details to assess eligibility and suitability for our graduate opportunities.
2. Online Assessment
Successful candidates will be invited to complete an Online Assessment which will be used to help us gain insight across your capabilities.
3. HR Screening Call
Shortlisted candidates will be contacted by our Early Career Talent Team for a preliminary HR screening call. The HR screening call will be used as an opportunity to gain a better understanding of your current experience, aspirations, and situation.
4. Business Interview
Candidates who have made it this far will be invited to attend an interview (face-to-face or virtual) with the one of our Business Leads. This interview will seek to assess whether you, Cognizant and your prospective team are the right fit and if you share our passions for engineering impact.
5. Offer
Once all interviews and assessments are complete, successful candidates will be notified by our Early Career Talent Team. We will then closely work with you to guide you through the offer, the offer release, and the onboarding process.
Employee Profiles
Cognizant
---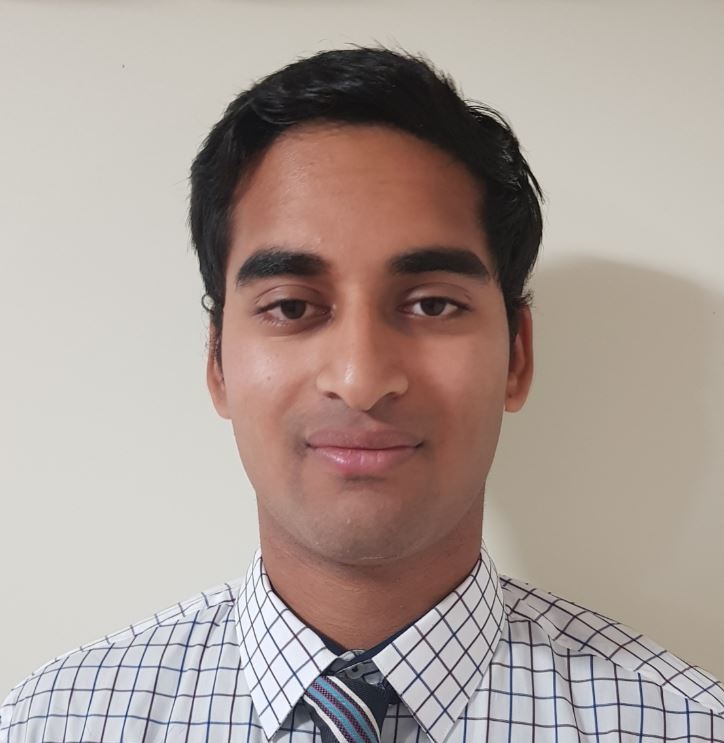 Sanjeev Raju
Role: Graduate Analyst at Cognizant
Degree: Bachelor of Commerce and Information Systems
University: Macquarie University 
"Cognizant's graduate training program prepares us to add value to clients and helps us to become comfortable working on client projects. I've appreciated the numerous networking opportunities we're given to expand our connections and build our personal brand. 
And the best part – the clients we get to work with. We get to work with real clients immediately and add real value to them, all while learning and making new friends along the way."
What's the best thing about being a graduate at Cognizant? 
I heard about Cognizant through a senior Cognizant colleague who recommended it to me as a great start for my career. 
The Cognizant Graduate Program has an excellent training structure focusing on a range of technical and soft skills to give us a core foundation of knowledge. We're also given mentors to help us through the journey of working in a client site, and we can reach out to them easily for help at any time, or for guidance on the areas and paths we want to pursue.  
There are a lot of things I have loved about being a Cognizant grad. The flexible and inclusive workplace culture that really supports us and caters to our needs, to begin with – even though we have been working from home during the pandemic, they have organised a lot of fun events like Trivia nights, Diwali celebrations and others to keep us entertained. 
I also appreciate the numerous networking opportunities we're given to expand our connections and build our personal brand. And the best part is the clients we get to work with. We get to work with real clients immediately and add real value to them, all while learning and making new friends along the way.  
Tell us about your day-to-day experience with the people, projects and learning resources at Cognizant.  
I attend daily stand ups where I discuss my tasks and update my team on my progress, and of course I go through all my emails and organise my priorities for the day. For a lot of the day, I work through tasks assigned to me for the sprint, which range from running database queries to creating and updating relevant documentation. 
I also go to a lot of meetings with my squad about sprint reviews, sprint retros and building activities, and we have some check-in sessions as well. Once a week I have a catch up with my mentor and we talk about how I'm doing and if anything can be improved in the program.
The general culture at Cognizant and among the graduates as well, is really good. We have a close group who have gotten to know each other pretty well, despite working remotely. Although we are working from home, we still talk and interact all the time, which is important.  
What's your advice for university students who are exploring future opportunities in the Technology and Consulting space? 
I would say to follow companies through different forums so you can see what they're working on and if it aligns with areas you are interested in. Also, follow big names in the tech space (for e.g. Elon Musk). When you are up-to-date on ways technology is being harnessed to benefit society, you have a lot to talk about when recruiters ask about your interest in the tech space. 
It's also good to connect with HR recruiters that work in the tech space through LinkedIn as they can provide more background and clarity on their graduate programs and what they have to offer. Campus recruitment events and careers fairs are also highly beneficial as many tech companies will be present and it's a great way to ask questions and establish connections with a range of employers. 
---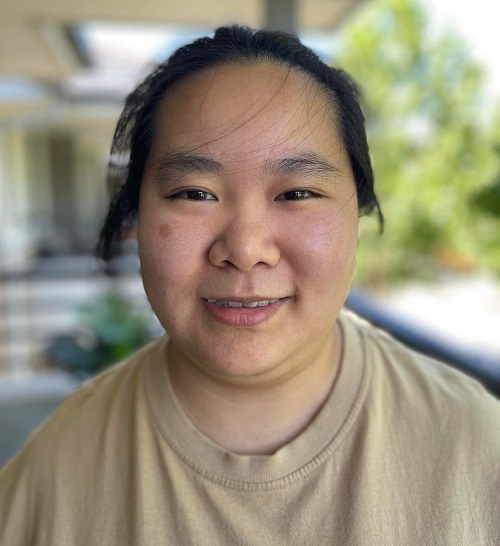 Jenny Tek
Role: Graduate Analyst at Cognizant
Degree: Bachelor of Science in Information Technology
University: University of Technology Sydney (UTS)
"I'm always interested in companies that provide an inclusive working culture of diversity and equality, as well as a growth mindset. I have found that Cognizant embodies all those things."
Why did you choose the Cognizant Graduate Program, and what's the best thing about being a grad here? 
I had recently completed my double degree in Business and Science majoring in Finance and IT at UTS and was keen to put the theoretical knowledge I had gained into practice.  
I've always had a passion for data analytics and IT, so when the opportunity to join the Cognizant Grad Program came up, I couldn't wait to exercise my interest in numbers and problem solving here! The best thing about it is that I'm surrounded by other grads who are equally passionate about technology, and the way we get to learn technical and soft skills before transitioning to client projects.
Tell us about your day-to-day experience with the people, projects and learning resources at Cognizant.  
Cognizant has a highly collaborative culture. I attend daily connects to see how the business analysts and software developers work to develop a solution utilising Salesforce software.  
I have also gained soft skills such as working across multiple time zones. I work with a few offshore teams, which means my meetings are in the afternoons. This allows me to spend my mornings working on domain learning and my technical skills. This is one of the reasons why Cognizant is an excellent place to start your career – they provide you with resources to learn new skills and acquire certifications, such as the Salesforce Administrator Certificate I'm currently studying for.
What qualities do you think are important for success at Cognizant and in the tech industry?
Being curious, adaptable and not afraid to ask questions are some of the important qualities you need to work at Cognizant, and the tech industry in general. The technology industry is changing all the time, and you need to be comfortable in feeling uncomfortable as you are going to face situations where you don't know the answers. 
It is never too late to learn new skills either. If you enjoy working towards a solution and you're someone who perseveres when you're uncertain about something, the technology sector is definitely for you! 
---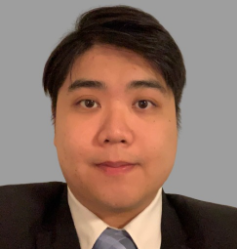 Derrick Lai
Role: Graduate Analyst at Cognizant
Degree: Bachelor of Engineering
University: RMIT University
"What really entices me is knowing that the company cares about their associate's growth and development, and also that it has a strong drive to be the best in the industry. These are the reasons I chose Cognizant."
Can you tell us what sort of things you're looking for in a job and workplace? 
What really entices me is knowing that the company cares about their associate's growth and development, and also that it has a strong drive to be the best in the industry. These are the reasons I chose Cognizant. 
Ever since joining Cognizant, I have been constantly supported by the company, from monthly meetups to check up on any concerns I have, or simply even just checking up on our mental health! All of these are signs of a company that truly cares for their associates' wellbeing and aspirations. 
What qualities do you think are important for success in the tech industry?
I personally think being patient and staying curious are two really important qualities for succeeding in the tech industry. 
As a fresh graduate, I am not familiar with the work that I am being exposed to, and it will take time for me to get better at it. Being patient is key as you do not master a certain set of tools or knowledge in just a day. Which brings me to my second quality, being curious. Approach new skills, knowledge, tools and anything else you come across, with an open mindset. This will make the process much more enjoyable and rewarding – every skill you acquire increases your value.
What's your advice for university students who are exploring future opportunities in the Technology and Consulting space? 
My main advice is to constantly be learning something because when you get in this habit, you will always find it easy to adapt to new things. 
Also, keep an open mind when exploring opportunities in the industry. Even if the opportunity itself might not be your preferred sector or line of work, it might actually turn out to be way better than you thought! I'm an example of this – my initial focus was on working in front-end development and I've ended up working on back-end (and really enjoying it). Never limit yourself based only on what you think you are comfortable with and good at!
Social Responsibility
Cognizant
---
Levelling the Playing Field for Women in IT
Cognizant is committed to supporting gender diversity across the workplace, leveling the playing field for women in tech careers around the world. We are proud of our ongoing progress. Learn why Forbes had named Cognizant to its list of "America's Best Employers for Diversity 2019".
We are proud of the strides we've made over the past 18 months:
40% of total Cognizant new hires — approximately 30,000 — were women. Women now represent approximately one-third of our global workforce.
At the 2019 MAKERS conference, Cognizant pledged to employ at least women around the world by 2020. This milestone was reached well ahead of our stated 2020 goal with 100,000 women in 48 countries.
ACCELERATING GENDER DIVERSITY in our leadership pipeline: 400 women will graduate by December 2019 from "Propel," our women's global leadership development program launched in 2018. 
INVESTING IN WOMEN IN TECH 400: $4.1 million grant to National Center for Women &Information Technology (NCWIT) by the Cognizant U.S. Foundation in December 2018. Grant supports digital skills education and awareness to increase interest among women of all ages in tech careers.
Promoting Gender Parity: Focusing on governance:

Two women now serve on Cognizant's Board of Directors, and half of the Cognizant U.S. Foundation's board of directors is female.
Forbes names Cognizant to its list of "America's Best Employers for Diversity 2019" and to"Best Employers for Women 2018."
We're Completely Cognizant — Celebrating Inclusion. Advancing Diversity. 
To learn more about our commitment to creating a more diverse, inclusive and belonging workplace, visit us at www.cognizant.com/diversityinclusion.
Culture & Values
Cognizant
---
At Cognizant, we are driven by our purpose and guided by our values.
Our Purpose
We engineer modern businesses to improve everyday life.
Our Values
Each member of our team takes responsibility for creating a culture that enables exceptional outcomes.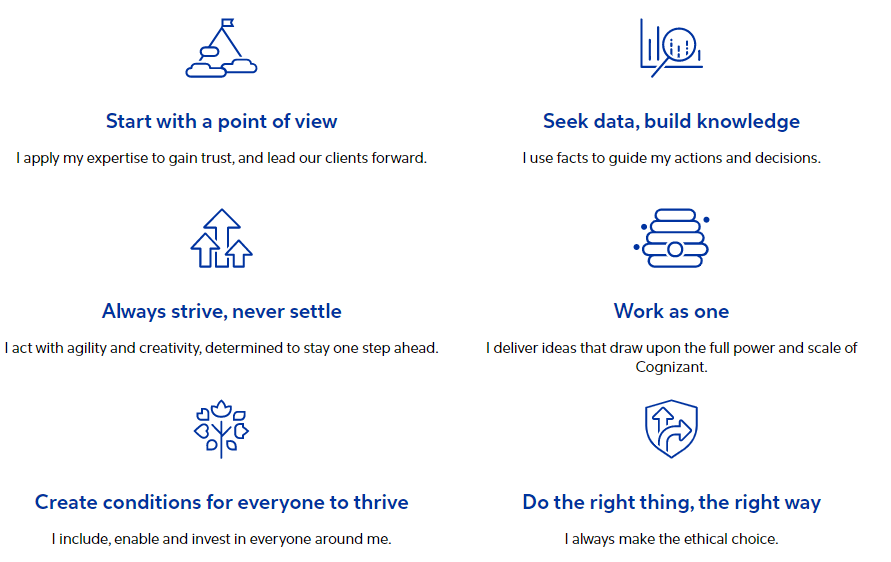 A sneak peek inside Cognizant Australia's offices, where new graduates kick-start their career!
Cognizant Sydney Headquarters
Barangaroo NSW
"An exploration in juxtaposition of space and texture, the Cognizant HQ in Sydney is a daring yet restrained workspace that encapsulates the personality of the brand and solidifies their presence within the Australian technology sector." – Driven x Design
Our Cognizant Sydney office is a newly designed space which has recently been awarded 'Silver' in the Sydney Design Awards for 2020. Careful planning and collaborative work was invested in carving out this innovative and culminating design that has the ability to transform and adapt to suit the needs of its employees and Cognizant's key clients and stakeholders.
Check out some photos below for an insight into your future place of work. 
Our Open Kitchen Facilities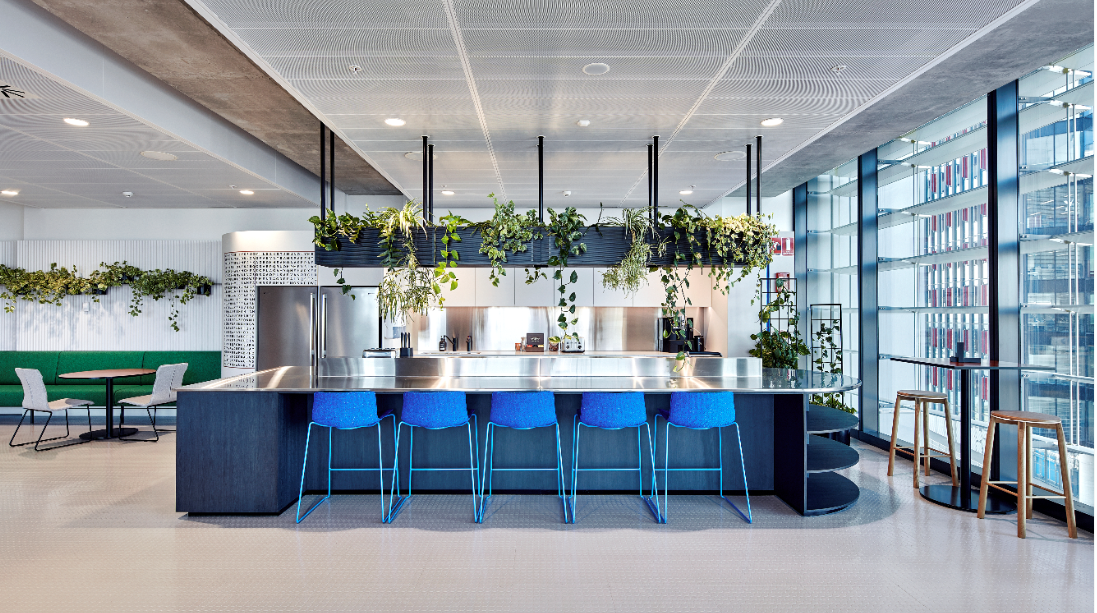 Flexible Working Areas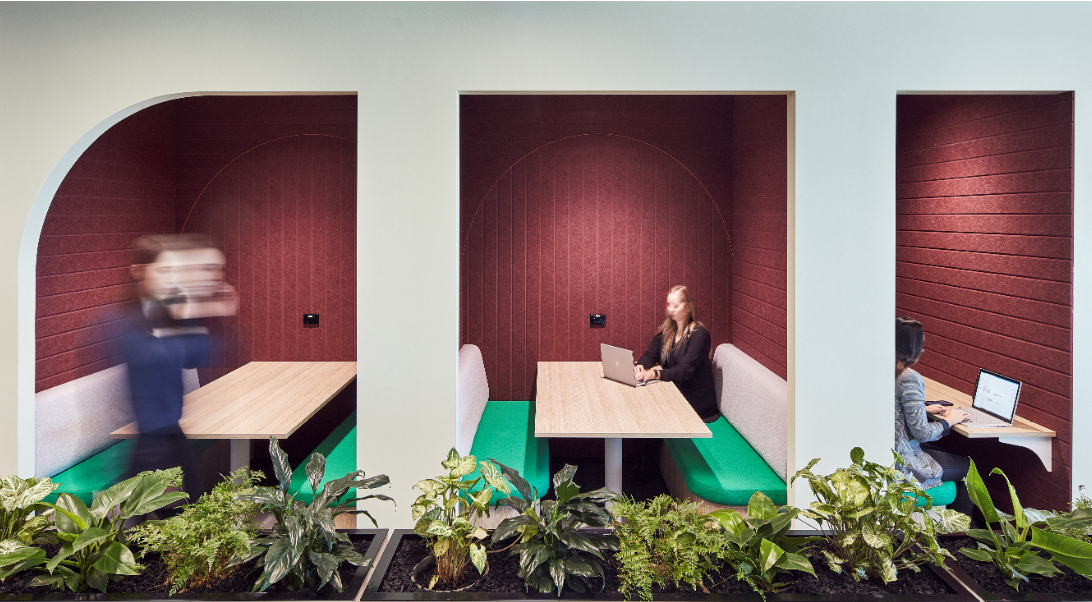 Collaborative Zones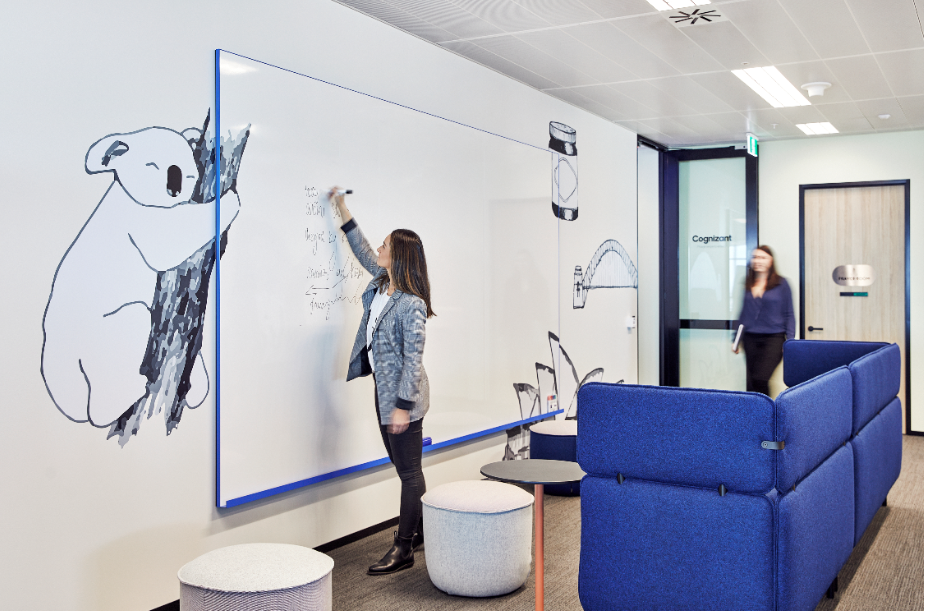 Adaptable Working Spaces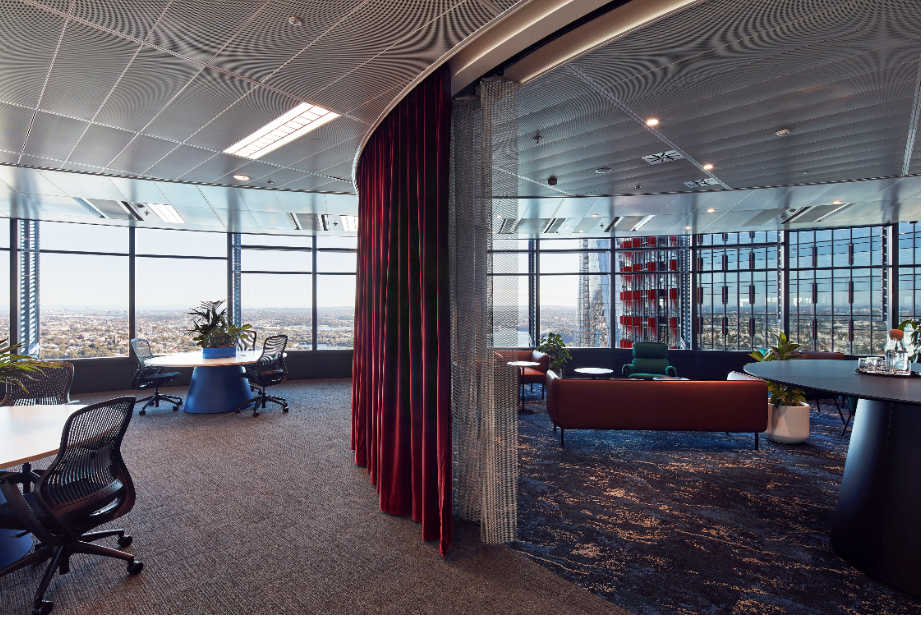 Impressive Views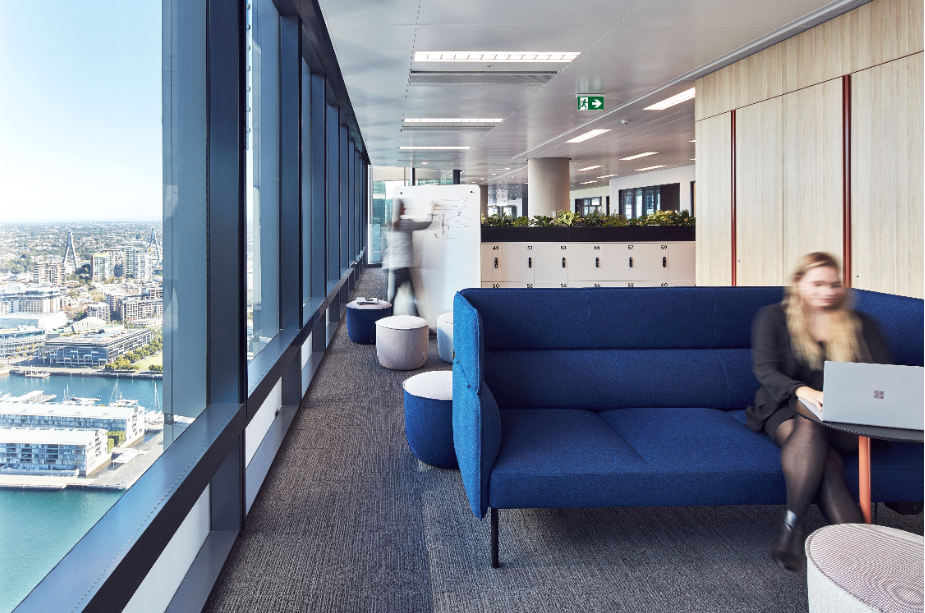 Cognizant Melbourne: the Collaboratory
Melbourne CBD
Located in the heart of Melbourne's technology district, the Cognizant Melbourne office is Cognizant's First Asia Pacific Collaboratory – a dedicated space where Cognizant works with customers to imagine and build the future of their work. It's a place where specialists from Cognizant—designers, strategists, technologies and partners—work hand in hand with clients to take advantage of the opportunity that new waves of digital technology are creating right now.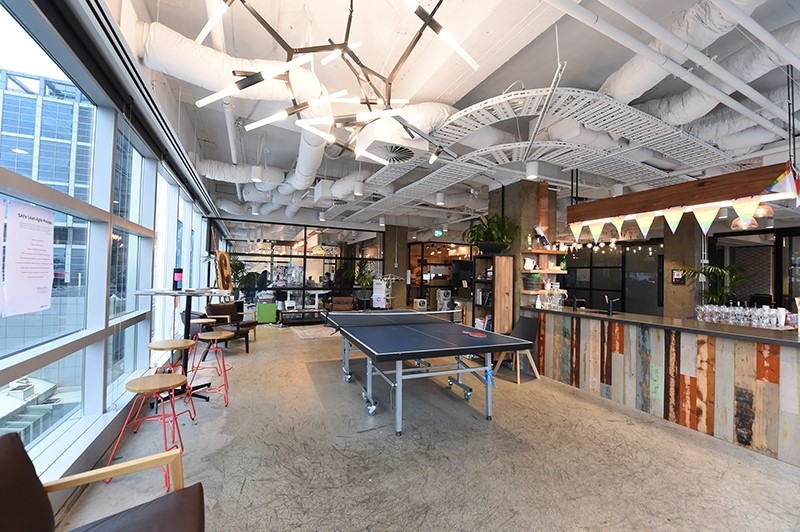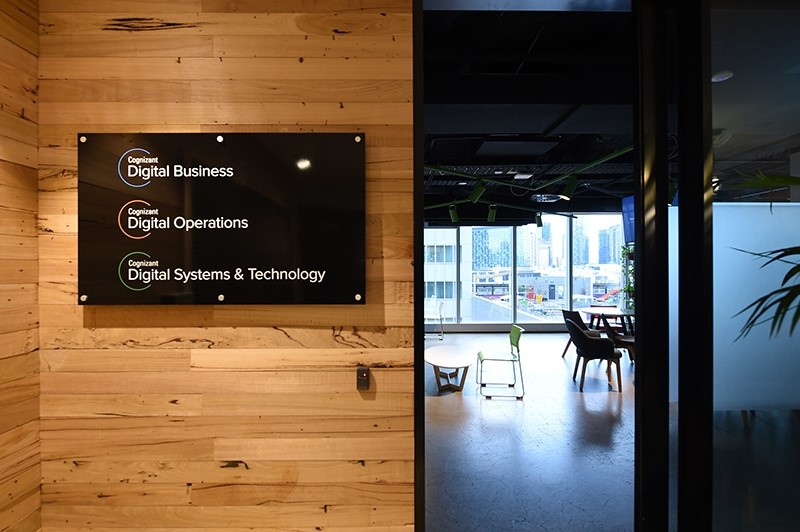 Having the ability to gather data quickly—and act instantly on that data—is a substantial competitive edge in Formula One. Find out how Aston Martin and Cognizant are working together to enable better, faster decisions in a sport where every millisecond matters!
Anticipate trends. Drive meaningful change. Outthink your competition. That's the power of intuition—and we can engineer it.