CPB Contractors Graduate Programs & Internships
A trusted and experienced partner
CPB Contractors is the Australasian construction company of the CIMIC Group.
Working closely with clients and partners, our projects connect communities, play a key role in urban and rural development, help drive economic growth and provide vital long-term infrastructure.
With the people and projects of our subsidiary Broad Construction, our mission is to generate sustainable returns for our shareholders by deliverin…
View more CPB Contractors has no active opportunities at the moment.
See who's currently hiring with our Job Search!
Search for jobs
Let's construct our future together
As a member of the CIMIC Group, CPB Contractors is a lead employer and participant in the CIMIC Group Graduate Program.
This highly recognised program exposes graduates to world-class projects across a range of industries, including some of Australasia's most significant construction operations with CPB Contractors. 
Applications for the 2024 CIMIC Group Graduate Program open on 13 March 2023. Applications for graduate positions can be made via our Job search page and type in 'graduate' in the search bar.
About the graduate program
Graduates are provided with structured on-the-job training, a formal development program, guided learning plans and mentoring. Over the two-year program, graduates will undertake two, 12-month rotations, with placements in various roles, in projects across CPB.
Graduates enter the program working at one of the Group's operating companies: CPB Contractors, Broad Construction, Leighton Asia, Sedgman, UGL or EIC Activities. Over the course of the program, rotations and industry exposure activities are also available at CIMIC Group and Pacific Partnerships.
Graduate program opportunities are available across a number of disciplines including:
Civil engineering
Mechanical engineering
Electrical engineering
Construction management
Safety + Health
Environment
Finance
Commercial
Communications
Human resources
Sustainability
Data science
Innovation
Digital engineering
Survey
What makes the CIMIC Group Graduate Program different?
CIMIC has been recognised as a top graduate employer by GradConnection and the Australian Association of Graduate Employers.
Our graduates:
Achieve technical, professional and personal growth through a structured graduate program.
Learn from a globally recognised organisation and benefit from exposure to industry leaders.
Secure access to an exciting career path supported by a strong culture of internal recruitment and progression.
Operate within a global network and engage with other like-minded graduates.
Work in challenging, diverse and inclusive environments.
We put our people first.
Our success is built by our people. That's why we put our People First.
People First is a package of initiatives delivered across CPB Contractors to better support, recognise and reward our employees.
It's our pledge to make CPB Contractors a great company to work for, where people feel commitment, pride and belonging, and all contributions are truly valued.
Perks & Benefits
In return for the passion, skills and loyalty of our people, we offer a unique set of benefits:
| | |
| --- | --- |
| | Our Group is secure: Our market-leading position and global footprint mean we offer diverse, long-term careers. |
| | We're at the forefront of our industry: Our people are trusted to deliver the biggest and most significant projects in our regions. |
| | Our people are the best in their fields: We are proud of our role as a contractor; we are clear, focused, innovative and disciplined. |
| | We create unique and diverse career opportunities: We back our own people and promote from within. |
| | Our work offers challenge and adventure: We widen people's worlds and help build their next adventures. |
| | We share a sense of connection and belonging: We treat our workmates like family and make friends for life. |
One Rewards Program:
The One Rewards program gives our people access to significant discounts and saving from a wide range of retailers on an easy to use and convenient program.
The program provides discounts and savings from about 400 major retailers including supermarkets, department stores, motoring & petrol, home & gardens, families & babies, education & books, computers, electronics, travel entertainment, finance & insurances, and retail options.
Employees from CIMIC, CPB Contractors, Broad, EIC Activities, Pacific Partnerships, Sedgman and UGL are eligible for the new One Rewards program, which is available in Australia, New Zealand, Canada and United States.
AIA Vitality Membership:
We value our people and provide a range of benefits to help look after yourself as you build a rewarding career with us. In Australia, CIMIC Group employees who are eligible for our AIA Australia salary continuance insurance can now also become a member of the AIA Vitality health and wellbeing program.
AIA Vitality's proven approach takes you on a journey to better health, where you get to know your health, improve it and enjoy the rewards.
AIA Vitality rewards eligible employees with points for making healthy choices like completing a health check or nutrition assessment, or setting and following through on a physical activity target.
As a new member, you start on a bronze status and can work your way up to silver, gold and platinum status.
The more points you earn, the higher your status and the bigger the rewards, including shopping vouchers and discounts on movie tickets, your weekly shopping, fitness activities and travel.
Your Health and Wellbeing Journey:
Know your health – health checks, nutrition assessments and fitness assessments
AIA Vitality offers a range of online and offline health assessments to help you find out more about your health.
Improve your health – healthy eating, exercise and fitness, lifestyle and wellbeing
AIA Vitality helps you set goals and maintain good health through discounts on gym memberships, fitness devices and more.
Enjoy the rewards – flights, entertainment, shopping vouchers
AIA Vitality recognises your effort and keeps you motivated with rewards including shopping vouchers and discounts.
| | |
| --- | --- |
| Constructing our future together 2022 | Pass and Tackle |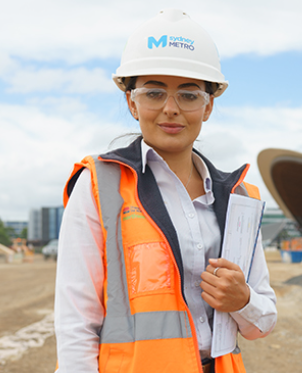 Stephanie Raad
Civil Engineer
My name is Stephanie Raad and I am a Civil Engineer on Northwest Rapid Transit (NRT), stage one of Sydney Metro and Australia's largest public transport project. I am the newest addition to the civil team at Bella Vista Station where I am involved in a range of civil disciplines including earthworks, underground services, roadworks, landscaping and civil structures.
A Day with Stephanie Raad
5.45 AM
The morning rush.
The 5.45 am alarm rings and I race to hit the snooze button, five minutes pass a…
View more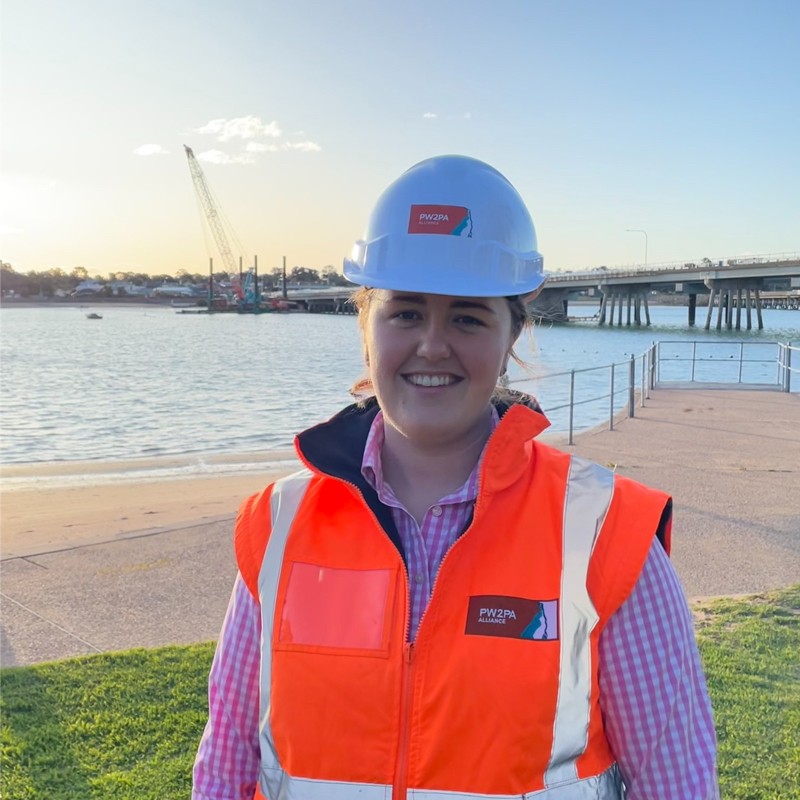 Prue Townsend-Webb
Graduate Civil Engineer, CPB Contractors
Bachelor of Civil Engineering (Honours), UQ 2020
My name is Prue Townsend-Webb and I'm a graduate civil engineer working with CPB Contractors on the Joy Baluch AM Bridge Duplication project in Port Augusta, a regional town north of Adelaide, South Australia. I am a member of the structures team that is responsible for the refurbishment and upgrade of the 550-metre  bridge, which spans the Upper Spencer Gulf.
A Day with Prue Townsend-Webb
6:00am
Rise and shine
My alarm rings and I'm up out of bed. Aft…
View more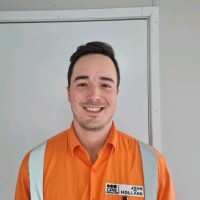 Lachlan McDonald
A Day with Lachlan McDonald
5.00am:
My alarm goes off and I slowly crawl out of bed and into the shower. I get dressed, make myself a coffee and grab my lunch (usually left-over dinner from the night before) and I'm out the door by 5.30am and on the road driving to work. My drive to work typically takes 20 to 30 mins depending on traffic.
6.00am 
Attend the daily pre-start where the supervisor outlines the day's activities for each work crew. I  discuss with the work crews any  risks involved with their activities and outline  what controls can be put in place to m…
View more