Banking should be for all the ways you live and for all the things you believe in. At DBS, we make things simpler for people, to help them live more and bank less. Join us, and together we can make banking joyful for everyone.
DBS currently has 0 opportunities.
Select the following options:
Past DBS Graduate Hiring Statistics
If you're interested in working at DBS, understanding when they have opened up applications for their graduate programs, graduate jobs and internships is helpful knowledge to have so you know when you might need to apply. Use the below information to see when DBS hires graduates, but more importantly what graduate degree's and other student attributes they target for their jobs.
---
Disciplines
Accounting (100%),

Actuary (100%),

Administration (100%),

Agriculture (100%),

Architecture (100%),
Work rights
Hong Kong Citizen (100%),

Hong Kong Permanent Resident (100%),
Check out some of DBS's past jobs they have posted on GradConnection over the last 12 months. Understanding the details about what a graduate employer is looking for well before applications have opened can sometimes be the edge you need to secure your first graduate program.
---
Generalist
All Disciplines
Hires applicants with degrees in
Data Science and Analytics
Design and User Experience
Engineering Aerospace Aeronautical
Engineering Chemical Processing
Engineering Civil Structural
Engineering Environmental
Fast Moving Consumer Goods
Health Policy and Administration
Hospitality Sports and Tourism
Logistics and Supply Chain
Medical and Biomedical Science
Pharmacy and Pharmacology
Physio and Occupational Therapy
Psychology and Counselling
Radiography and Medical Imaging
This is an internship opportunity for undergraduate students who are in penultimate or final year of studies and are keen to pursue a career in T&M after graduation.
DBS is a leading financial services group in Asia with a presence in 18 markets. Headquartered and listed in Singapore, DBS is in the three key Asian axes of growth: Greater China, Southeast Asia and South Asia. The bank's "AA-" and "Aa1" credit ratings are among the highest in the world.
Recognised for its global leadership, DBS has been named "World's Best Bank" by Euromoney, "Global Bank of the Year" by The Banker and "Best Bank in the World" by Global Finance. The bank is at the forefront of leveraging digital technology to shape the future of banking, having been named "World's Best Digital Bank" by Euromoney. In addition, DBS has been accorded the "Safest Bank in Asia" award by Global Finance for 12 consecutive years from 2009 to 2020.
DBS provides a full range of services in consumer, SME and corporate banking. As a bank born and bred in Asia, DBS understands the intricacies of doing business in the region's most dynamic markets. DBS is committed to building lasting relationships with customers, and positively impacting communities through supporting social enterprises, as it banks the Asian way. It has also established a SGD 50 million foundation to strengthen its corporate social responsibility efforts in Singapore and across Asia.
With its extensive network of operations in Asia and emphasis on engaging and empowering its staff, DBS presents exciting career opportunities. For more information, please visit www.dbs.com.
Kevin Suen, Technology & Operations – Consumer Banking Group Technology

"I learnt more about DBS while I was studying in the university.  At that time, DBS was already in the forefront of the financial technology industry.  DBS' Graduate Associate (GA) Programme seems could fulfill my dream so I applied for it.  Though I was new to the bank, I was empowered to be the key person leading the projects assigned to me.  DBS partnered with Amazon Web Services (AWS) to  organise the AWS DeepRacer League across different markets as a hands-on and interesting way to learn Artificial Intelligence and Machine Learning.  This is really a fun way for not only T&O colleagues, but also all employees from different units in the bank to learn Artificial Intelligence and Machine Learning.  I strongly believe that this co-learn culture not only applies to this competition, but also in our daily work. With this in mind, we can continue learning and improving together".

Click here to read Kevin's story.

Pony Lau, Institutional Banking Group – SME Banking

"I have a passion in myself – I want to contribute and make a difference to the world within my reach. It is difficult, but all it takes is put one foot in front of the other. We can start from own self.  I joined DBS as a Management Associate. During this 2-year programme, one of the key takeaways was getting to know how such a huge bank works.  This programme is a luxury that I have made the most out of it to build a solid foundation for my career. I started working as a Relationship Manager to serve SME clients. Though I was a fresh graduate at that time, I had chances to meet many successful business people.  This exposure in the front-line has definitely geared up my relationship building and credit skills. I have further expanded my horizons and skillsets by navigating in different roles including credit risk management, strategic planning, digitization projects."

Click here to read Pony's story.

Guolin Niu, Group Audit - Data Scientist

"In the bank, our Internal Audit team has to provide independent appraisal of adequacy and effectiveness of risk management, control and governance processes.  With the risk-based approach, Group Audit identifies some areas as top priority as every year's focus.  In view of the tremendous number of data, it's not possible for our internal auditors to review every single piece manually , so as an inhouse data scientist in the bank, we make use of data analytics and build Machine Learning (ML) models to identify any outlier cases in which our auditors can further work on to find out control gaps if any.  With good use of data nowadays, it is more persuasive when presenting the findings to stakeholders or senior management.  With the support from leadership team, the bank continues to advance the back-end infrastructure.  I really appreciate for the bank's continuous investment in data."

Click here to read Guolin's story.
Executive Management Associate Programme
DBS
---
Our Executive Management Associate Programme is a high-profile programme aimed at grooming our bank's next generation of leaders in one of the following business areas:
Consumer Banking

Consumer Banking Group (CBG) oversees the bank's full spectrum of products and services, including deposits, investments, mortgages, insurance, credit cards and wealth management to help our customers realise their dreams and aspirations at every stage of life. Join us to sharpen your skills in communication, strategy, and analytics, while developing industry acumen from the best in banking.

Institutional Banking Group

Institutional Banking Group (IBG) provides customised solutions for every business, from large corporates and institutional clients, to small and medium-sized enterprises (SMEs). We continually invest in product capabilities and digital innovations, to support the transformational and financial objectives of our clients. Join us to refine your skills in finance, client service and project management, while gaining an international perspective of banking.

Treasury & Markets

As an Asian leader in treasury operations, DBS Treasury & Markets (T&M) is a key player in various regional markets and actively make market, structure, originate, innovate and distribute a wide range of products. We were named as the Regional Derivatives House of the Year, Asia (ex-Japan) by AsiaRisk, for 4 consecutive years, from 2015 to 2018. Join us to enhance your skills in finance, products design and client service, alongside some of the best professionals in the Asian financial markets in this field.

The 12-months Programme provides Executive Management Associates with experience in one of three key areas of the bank through a fast-tracked development journey. You will gain great exposure and leadership capabilities that will enable you to accelerate your career progression within the Bank. Upon graduation, you will be provided with exciting opportunities to work with the best across departments and markets. If you aspire to lead the World's Best Bank and Be The Change, we are looking for you!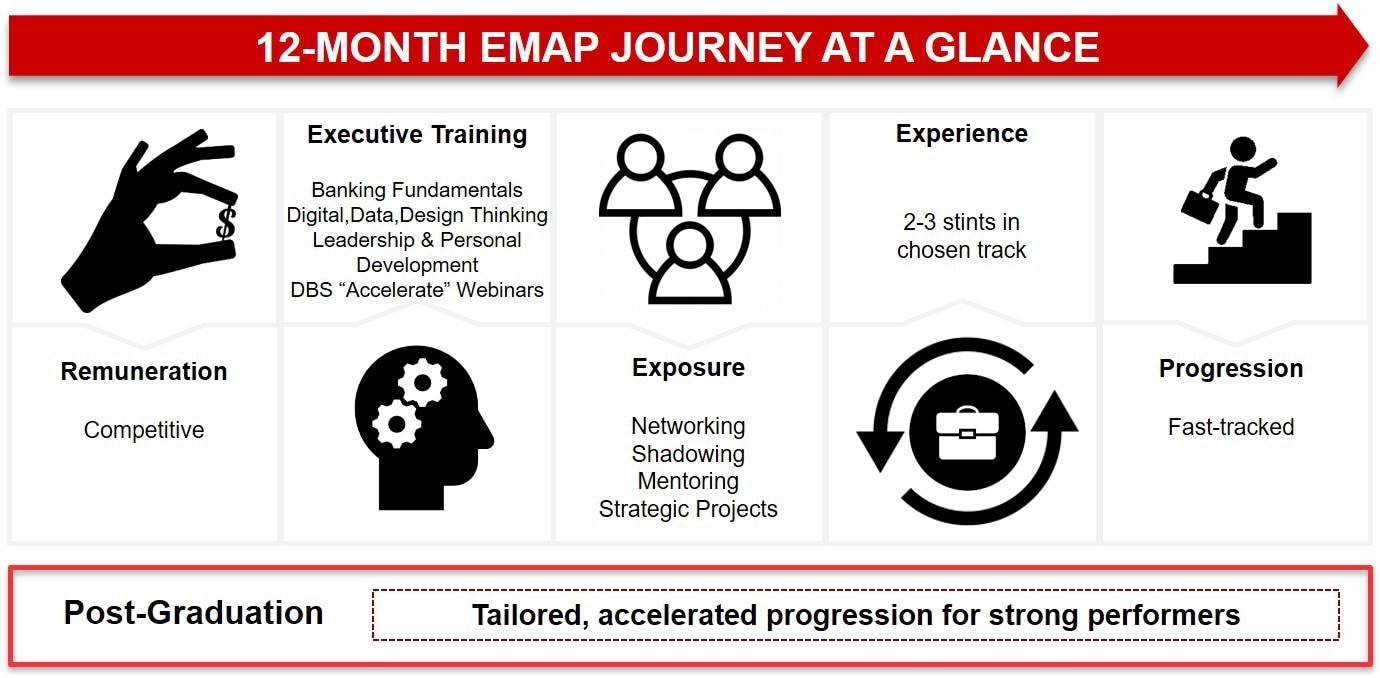 Graduate Associate – Technology & Operations
DBS
---
The DBS Graduate Associate – Technology & Operations Programme is a specialized development programme that will give candidates with a passion for technology and operations a leg-up in the banking industry.
This 2-year programme grooms young talents to be future leader in our Bank's digital journey by developing in-depth banking knowledge, particularly in technology and back-office operation.
As a Graduate Associate in this programme, you will:
Undergo rigorous training (multi-media or on-the-job) to build banking knowledge, project/process management and personal development skills to be an effective people manager.
Gain a deeper understanding and appreciation of the different functions across the technology and operations businesses through job rotations.
Have networking opportunities with senior management who will mentor and guide you on your personal growth.


Holistic development
Our Graduate Associates will go through comprehensive training to equip them with essential skills to deliver first class customer service such as banking and finance knowledge, process / project management skills and personal development skills to manage people effectively. Through structured job rotations, candidates will gain deeper insight into the specific functions in Technology and Operations. Candidates will also benefit from mentorship and networking opportunities with top executives – experiences that will give them valuable industry insight.
If you are an aspiring tech-innovators and ready to drive innovation in the World's Best Bank, we are looking for you!
Treasures Elite Program
DBS
---
DBS Treasures provides wealth management to our customers through a team of professional relationship managers and committed customer servicing staff. The Treasures Elite program is a fast-track program to groom you to be part of our professional team with 18-month comprehensive training as well as rotation in various client facing roles.
Under the Treasures Elite program, you will
Undergo a structured learning program to gain banking and products knowledge for the success in your role
Gain a deeper understanding and appreciation of the different functions in the Branch through job rotations to both operation and sales roles
Gain more exposure by participating in cross-function projects
Have mentoring and coaching to support your personal growth
Depending on your career interest, you will become a Customer Service professional or a Wealth Management talent upon completion of the program. If you are ready to shape your career and future in the World's Best Bank, we are looking for you!