Banking should be for all the ways you live and for all the things you believe in. At DBS, we make things simpler for people, to help them live more and bank less. Join us, and together we can make banking joyful for everyone.
DBS currently has 0 opportunities.
Select the following options:
Past DBS Graduate Hiring Statistics
If you're interested in working at DBS, understanding when they have opened up applications for their graduate programs, graduate jobs and internships is helpful knowledge to have so you know when you might need to apply. Use the below information to see when DBS hires graduates, but more importantly what graduate degree's and other student attributes they target for their jobs.
---
Disciplines
Accounting (100%),

Administration (100%),

Agriculture (100%),

Architecture (100%),

Actuary (100%),
Work rights
Hong Kong Citizen (100%),

Hong Kong Permanent Resident (100%),

Hong Kong Student Visa (100%),

Hong Kong Work Permit (100%),

Other (100%),
Past DBS Graduate Programs
Check out some of DBS's past jobs they have posted on GradConnection over the last 12 months. Understanding the details about what a graduate employer is looking for well before applications have opened can sometimes be the edge you need to secure your first graduate program.
---
The DBS Graduate Associate – Technology & Operations Programme is a specialized development programme that will give candidates with a passion for technology and operations a leg-up in the banking industry.
LOCATION
Hong Kong (Hong Kong)
DBS is a leading financial services group in Asia with a presence in 18 markets. Headquartered and listed in Singapore, DBS is in the three key Asian axes of growth: Greater China, Southeast Asia and South Asia. The bank's "AA-" and "Aa1" credit ratings are among the highest in the world.
Recognised for its global leadership, DBS has been named "World's Best Bank" by Euromoney, "Global Bank of the Year" by The Banker and "Best Bank in the World" by Global Finance. The bank is at the forefront of leveraging digital technology to shape the future of banking, having been named "World's Best Digital Bank" by Euromoney. In addition, DBS has been accorded the "Safest Bank in Asia" award by Global Finance for 11 consecutive years from 2009 to 2019.
DBS provides a full range of services in consumer, SME and corporate banking. As a bank born and bred in Asia, DBS understands the intricacies of doing business in the region's most dynamic markets. DBS is committed to building lasting relationships with customers, and positively impacting communities through supporting social enterprises, as it banks the Asian way. It has also established a SGD 50 million foundation to strengthen its corporate social responsibility efforts in Singapore and across Asia.
With its extensive network of operations in Asia and emphasis on engaging and empowering its staff, DBS presents exciting career opportunities. The bank acknowledges the passion, commitment and can-do spirit in all of our 29,000 staff, representing over 40 nationalities. For more information, please visit www.dbs.com.
Management Associate Programme
"Whilst banking has changed significantly since I joined the MAP in 2012. I would have never imagined working in six different roles across two countries, enabling me to build incredible relationships and gain a very diverse understanding of the bank. From the experience of graduating at our CEO's house to working on fascinating projects transforming capital markets today, it has always reminded me to keep an open mind. To be adventurous in exploring new ideas yet courageous to fail and learn quickly."
Andrew Nardi, 2012 Management Associate
Graduate Associate Programme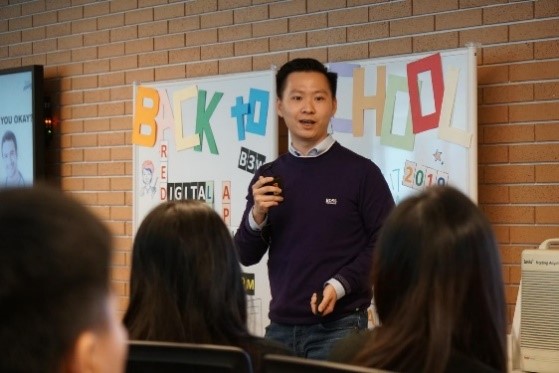 "DBS Graduate Associate programme has provided me with the opportunity to realise my vision – combining business and technology. Digital transformation of our Operations team is one of key tasks I am involved. By empowering our employees with the latest technology and data analytics tools, we can further improve the service delivered to our customers."
Josh Yip, 2018 Graduate Associate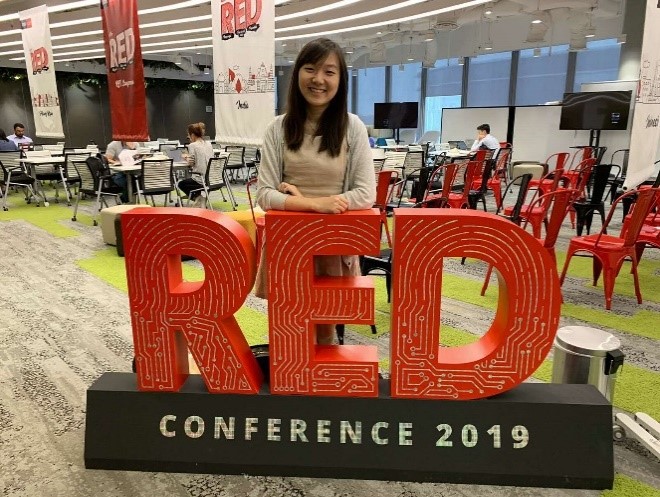 "In 2019, I represented the Hong Kong team and travelled to Singapore to attend the regional customer service conference. I had the opportunity to present to our Group CEO on how could we leverage data to improve the user experience of our products and services. It has definitely been one of the highlights of my career with the Bank so far." 
Yuki Lam, 2019 Graduate Associate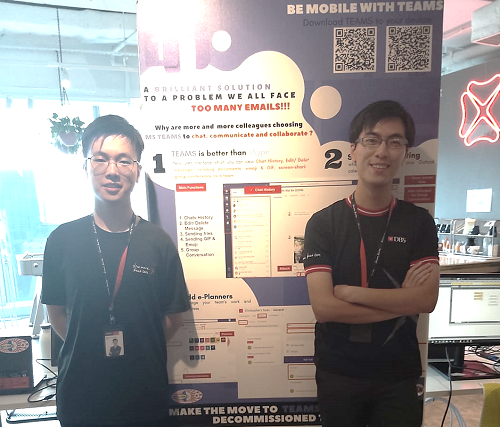 "After graduating from university, I had an extensive background in both statistics and data science, and I wanted to apply my knowledge in an actual working environment. The DBS Graduate Associate Programme provided me with the opportunity to achieve this. Through data analytics and customer science, I helped to create a landscape of the Bank's API customer portfolio by using data. This provided our management with insights to assess business performance and drive business decisions."
Patrick Yau, 2019 Graduate Associate

Treasures Elite Program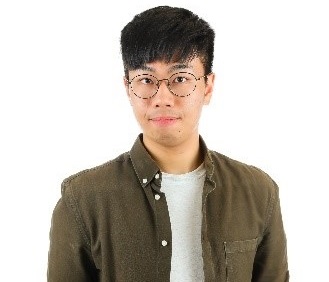 "We understand that it is takes a lot of resources and effort to groom a freshman. I am grateful for the support and guidance provided by seniors and trainers throughout the DBS Treasures Elite Program. My branch manager and the entire operations team continue to groom me with the skills that helps me develop my abilities to serve our customers professionally."
Tony Ma, 2019 Treasures Elite


Executive Management Associate Programme
DBS
---
Our Executive Management Associate Programme is a high-profile programme aimed at grooming our bank's next generation of leaders in one of the following business areas:
Consumer Banking

Consumer Banking Group (CBG) oversees the bank's full spectrum of products and services, including deposits, investments, mortgages, insurance, credit cards and wealth management to help our customers realise their dreams and aspirations at every stage of life. Join us to sharpen your skills in communication, strategy, and analytics, while developing industry acumen from the best in banking.

Institutional Banking Group

Institutional Banking Group (IBG) provides customised solutions for every business, from large corporates and institutional clients, to small and medium-sized enterprises (SMEs). We continually invest in product capabilities and digital innovations, to support the transformational and financial objectives of our clients. Join us to refine your skills in finance, client service and project management, while gaining an international perspective of banking.

Treasury & Markets

As an Asian leader in treasury operations, DBS Treasury & Markets (T&M) is a key player in various regional markets and actively make market, structure, originate, innovate and distribute a wide range of products. We were named as the Regional Derivatives House of the Year, Asia (ex-Japan) by AsiaRisk, for 4 consecutive years, from 2015 to 2018. Join us to enhance your skills in finance, products design and client service, alongside some of the best professionals in the Asian financial markets in this field.

The 12-months Programme provides Executive Management Associates with experience in one of three key areas of the bank through a fast-tracked development journey. You will gain great exposure and leadership capabilities that will enable you to accelerate your career progression within the Bank. Upon graduation, you will be provided with exciting opportunities to work with the best across departments and markets. If you aspire to lead the World's Best Bank and Be The Change, we are looking for you!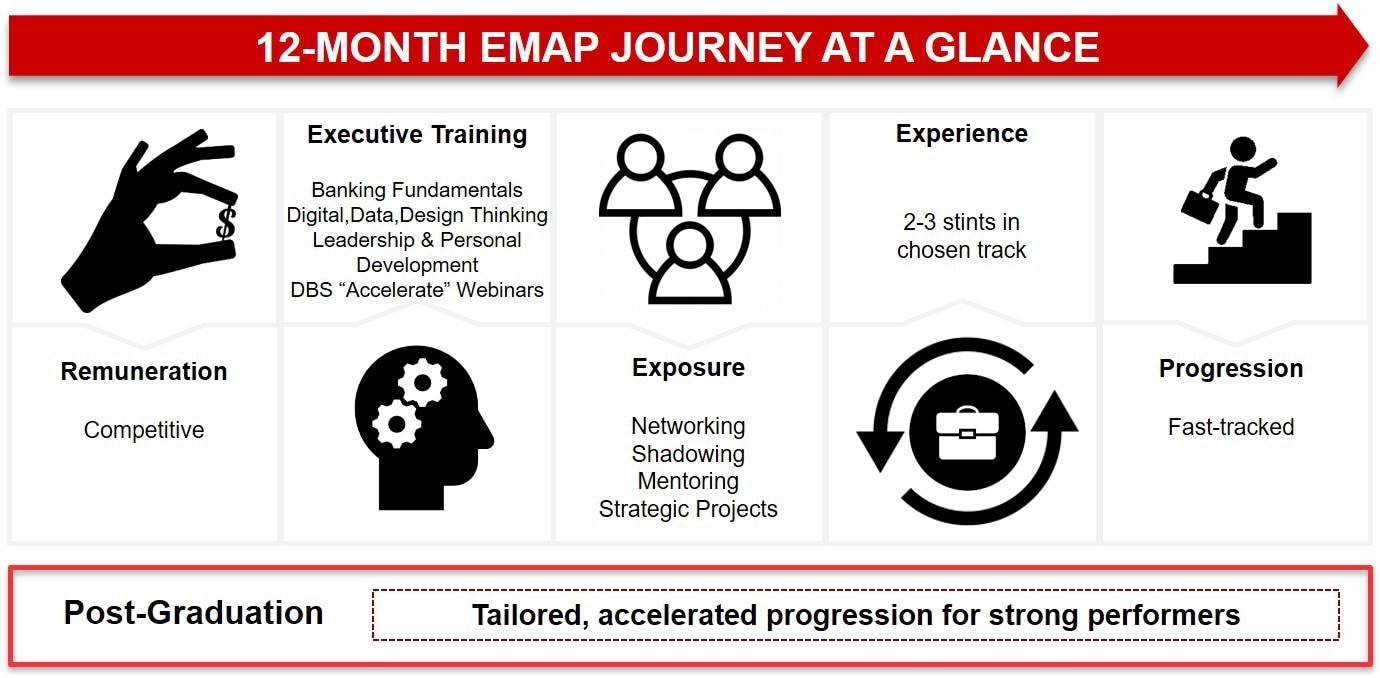 Graduate Associate – Technology & Operations
DBS
---
The DBS Graduate Associate – Technology & Operations Programme is a specialized development programme that will give candidates with a passion for technology and operations a leg-up in the banking industry.
This 2-year programme grooms young talents to be future leader in our Bank's digital journey by developing in-depth banking knowledge, particularly in technology and back-office operation.
As a Graduate Associate in this programme, you will:
Undergo rigorous training (multi-media or on-the-job) to build banking knowledge, project/process management and personal development skills to be an effective people manager.
Gain a deeper understanding and appreciation of the different functions across the technology and operations businesses through job rotations.
Have networking opportunities with senior management who will mentor and guide you on your personal growth.


Holistic development
Our Graduate Associates will go through comprehensive training to equip them with essential skills to deliver first class customer service such as banking and finance knowledge, process / project management skills and personal development skills to manage people effectively. Through structured job rotations, candidates will gain deeper insight into the specific functions in Technology and Operations. Candidates will also benefit from mentorship and networking opportunities with top executives – experiences that will give them valuable industry insight.
If you are an aspiring tech-innovators and ready to drive innovation in the World's Best Bank, we are looking for you!
Treasures Elite Program
DBS
---
DBS Treasures provides wealth management to our customers through a team of professional relationship managers and committed customer servicing staff. The Treasures Elite program is a fast-track program to groom you to be part of our professional team with 18-month comprehensive training as well as rotation in various client facing roles.
Under the Treasures Elite program, you will
Undergo a structured learning program to gain banking and products knowledge for the success in your role
Gain a deeper understanding and appreciation of the different functions in the Branch through job rotations to both operation and sales roles
Gain more exposure by participating in cross-function projects
Have mentoring and coaching to support your personal growth
Depending on your career interest, you will become a Customer Service professional or a Wealth Management talent upon completion of the program. If you are ready to shape your career and future in the World's Best Bank, we are looking for you!