Department of Defence Graduate Programs
As a graduate in the Department of Defence, you will enjoy experiences that, as a civilian, you simply wouldn't find with any other organisation. You will work with a diverse group of men and women who are dedicated to protecting Australian interests. You will carry out work that has true purpose. The Department offers Australian Public Service (APS) graduate opportunities across four Pathways.
Department of Defence currently has 0 opportunities.
Select the following options:
About Us
Department of Defence
---
The Department of Defence is one of Australia's largest organisations and has a key role as part of the Federal Government. We are seeking graduates from all university disciplines for work across the career spectrum.
As a graduate in the Department of Defence, you will enjoy experiences that, as a civilian, you simply wouldn't find with any other organisation. You will work with a diverse group of men and women who are dedicated to protecting Australian interests. You will carry out work that has true purpose.
Culture and misconceptions about civilian employment
Did you know there are 17,000 civilian employees in the Department of Defence? Watch Defence's graduates discuss common misconceptions about being a Defence Australian Public Servant and find out how they work with their military colleagues.
Why Join Us?
Department of Defence
---
Make a difference, Have an Impact.
With a mission of national and international significance, in one of Australia's most dynamic organisations, Defence is seeking graduates from across all academic disciplines to take up the challenge.
In 2020 the Civilian Defence workforce took part in several operations to directly assist the Australian public through unprecedented times. To find out how Defence Graduates Sebastian & Holly volunteered to help vulnerable Australians during the COVID-19 pandemic you can read the article on the Canberra Times.
As a graduate in the Department of Defence, you will enjoy experiences that, as a civilian, you simply wouldn't find with any other organisation. You will work with a diverse group of men and women who are dedicated to protecting Australian interests. You will carry out work that has true purpose. The Department offers Australian Public Service (APS) graduate opportunities across a range of career pathways. Each development pathway is tailored to provide excellent learning and career progression opportunities to propel you into your future career with confidence. We are one of Australia's largest government departments and as such, we are able to offer rewarding careers across the widest possible spectrum of employment categories. You name it, we do it. 
As a Defence Australian Public Service (APS) graduate, you will make a difference through supporting regional security and humanitarian efforts, conducting intelligence analysis, purchasing and sustaining Australian Defence Force equipment, conducting research and development, or providing strategic advice for policy and business decision making. Watch this video to find out why our graduates picked the Defence Graduate program.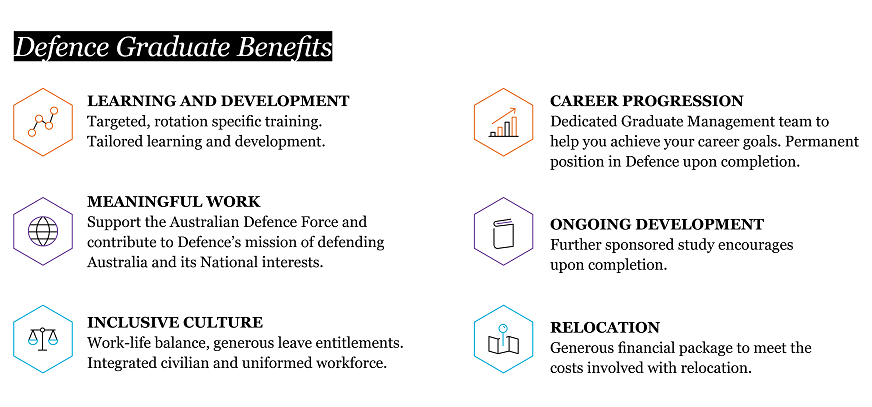 Learn and Develop with Defence
You will have the opportunity to immerse yourself in targeted, rotation specific training that will provide you with the skills and knowledge required to undertake rewarding, exciting, challenging and meaningful work.
Defence is committed to lifelong learning. Hear from Defence's graduates about their most memorable rotation, and find out how the Defence Graduate Program offers a tailored learning and development program that will propel you into your future career with confidence. If you want unrivalled learning and development opportunities, you will find it at Defence.
A career in the Defence APS will support you from entry and onward as you professionally develop and progress. Our logic is simple - as you grow and develop your skills and experience, so does the contribution you make to Departmental and team goals. 
You will receive training and development specific to your graduate development pathway. Further study is encouraged once you have completed the graduate program, with a wide range of post- graduate university study supported by Defence. We value our employees and place importance on encouraging further career and knowledge development, training through such programs as Studybank and access to degree programs through the University of NSW @ ADFA campus.
The Career Progression Opportunities
You will be in charge of your own career pathway and your dedicated Graduate Management Team will support you to achieve your career aspirations. Upon successful completion of your graduate program, you will be placed into a permanent position in Defence.
Working in an Inclusive Culture
Defence employees uphold and demonstrate respectful, professional and inclusive behaviours, and as Defence Public Service graduate, you will work in an integrated team alongside your Australian Defence Force colleagues to achieve Defence's goals and mission. Defence encourages work-life balance, and you will be provided generous leave entitlements and flexible work options to achieve this.
Defence graduates work on average 7.5 hours per day. Flexible work hours are offered as an alternative to the traditional 9–5 work day and allow staff to vary their daily arrival or departure time to fit within their work area requirements and their lifestyle. Generally, the span of time within which staff can work their required hours on a flexible basis is between 7am–7pm, but individual arrangements may be negotiated to fit in with your team, work and personal circumstance requirements.
Salary, Position Type and Leave Entitlements
Defence APS staff are employed under the Defence Enterprise Collective Agreement. Australian Signals Directorate (ASD) graduates are employed under the ASD Conditions of Employment (Non SES) Determination 2018. All of our graduates are employed as permanent full-time employees upon commencement of the program. So once employed, you don't have to worry about competing for a position at the end of the development program.
Graduates for all development pathways will commence on a salary of that is equivalent to the bottom of the Defence APS 4: $71,207 pa plus 15.4% superannuation. Upon successful completion of the Defence Graduate Program, graduates will advance to a minimum of $77,739 pa plus 15.4% superannuation.
As full-time Defence employees, graduates are offered generous leave entitlements, including 20 days annual leave per year, public holidays, paid sick leave, paid Christmas stand-down, plus one "unspecified purposes leave day", which we call the DeCA day. It's always nice to have one day up your sleeve when you don't need a reason to have a day off.
We Cover Your Relocation Expenses
Transition from study to career can be a challenging one. For many, it is the also first time they have lived away from home, and most graduates are moving interstate. We work hard to make the whole process as easy as possible for you, and offer a generous financial package to meet the costs involved with relocation.
Graduate Program
Department of Defence
---
The Graduate Program Pathways
Defence offers Australian Public Service (APS) graduate opportunities across a number of Pathways. Each pathway is tailored to provide excellent learning, development and career progression opportunities.
This year you will be able to choose from four pathways. Remember you can preference two in your application!
Technical Pathway
The Technical Pathway is an 18 month program with three rotations of six months each.
From fighter aircraft, Navy ships and soldier systems, to intelligence, surveillance and reconnaissance technologies, training in the Technical Pathway will ultimately lead to work in one of Australia's largest program management, logistics, procurement and engineering services. Defence has operations in more than 70 locations throughout Australia and overseas. Our civilian workforce is responsible for managing the acquisition and sustainment of the equipment used by the Australian Defence Force across air, land and sea domains.

Defence is committed to the professional development of its people and provides significant opportunity for career advancement. The 18-month program consists of three six-month work rotations, at various locations around Australia, and includes assistance to achieve industry based professional recognition. Your learning and development program will include:
Relevant Degrees: Engineering, Logistics, Law, Business, Commerce
Duration: 18 Months – 3 x 6 month rotations
Locations: Various (Canberra, Melbourne, Sydney, Adelaide, Brisbane, Perth, Newcastle)
Intakes: February and September
Salary: $71,207 pa + 15.4% superannuation, upon successful completion of the program graduates will advance to ASD 5: $78,143 pa + 15.4% superannuation.
Intelligence Pathway
A career where you may reveal their secrets, protect our own or inform national security strategy?
In one of the Intelligence Pathways, your training and development will be tailored for you to kick off your career in one of the three Defence Intelligence Agencies. We seek applications from graduates of all disciplines, because it is ultimately the combination of your skills and qualifications, in conjunction with your diverse experiences and aptitude for analysis, technology, innovation, critical thinking and/or problem solving that will propel you into your future career in the national security environment.
Relevant Degrees: All degrees
Duration: 12 Months – 3 x 4 month Rotations
Locations: Canberra, with possible interstate rotations available
Intakes: February and June
Salary: $71,207 pa + 15.4% superannuation, upon successful completion of the program graduates will advance to APS/ASD 4: $77,739 pa + 15.4% superannuation.
Research and Innovation Pathway
As one of Australia's largest employers of scientists and engineers, DST delivers expert, impartial advice and innovative solutions for Defence and national security.
DST's vision is to be a world leader in defence science and technology – indispensable in transforming the ADF and Australia's national security.
Headed by the Chief Defence Scientist, DST have an annual budget of approximately $408 million and employ approximately 2300 staff, predominantly scientists, engineers, IT specialists and technicians. DST have a presence in nearly every state and territory in Australia, with the national headquarters situated in Canberra, and research facilities in Melbourne, Edinburgh (in the northern suburbs of Adelaide), Canberra, Brisbane, Sydney, HMAS Stirling at Rockingham (near Perth), Scottsdale in Tasmania, and Innisfail in northern Queensland.
DST work closely with industry, universities and the scientific community to enhance their combined ability to support Australia's defence and national security capabilities and to contribute to national wealth.
As part of the Defence Graduate Program, the Research and Innovation (R&I) Pathway is a dedicated Science and Technology pathway that leads to graduate employment at DST. The R&I program consists of two-rotations (8 & 4 month) across major science and technology capability areas within DST or more broadly in Defence and provides graduates the opportunity to apply the knowledge learnt through their undergraduate degree to real-life, cutting-edge Defence research programs.
Candidates must have completed a minimum of a relevant Honours degree with no more than 2-years relevant experience and want to further develop their research skills through a DST supported PhD in the future.

Relevant Degrees: Cyber/ Computer Sciences; Electronic/ Electrical Engineering; Mathematics ; Physics; Aerospace/Aeronautical Engineering; Naval Architecture; Material Science; Mechatronic Engineering; Mechanical Engineering
Duration: 12 Months – 1 x 8 month rotation and 1 x 4 month rotation
Locations: Various across Australia
Intakes: February
Salary: $71,207 pa + 15.4% superannuation, upon successful completion of the program graduates will advance to APS/ASD 4: $77,739 pa + 15.4% superannuation.
Policy and Corporate Pathway
The Policy and Corporate Pathway is a key enabler of Defence's mission and provides future leaders across the Department and recruits high-calibre university graduates from all disciplines for roles across several areas.
We can offer graduates meaningful and challenging work from day one. Those who are successful in joining us will undertake a wide range of management, administrative, finance, personnel and policy roles throughout the Department of Defence. Graduates join a network of people all dedicated to working on issues that impact the well-¬being of all Australians.
Our 12-month Pathway includes three work rotations consisting of four months each at various locations in Australia. The first must be taken in Canberra, with the opportunity for regional rotations offered later in the Program. In previous years, graduates have completed rotations at Defence establishments in Sydney, Darwin, Perth, Nowra, Williamtown, Townsville and Amberley.
In each rotation you will have real tasks and responsibilities, and be fully integrated into the work team to ensure you reach your
Relevant Degrees: All degree types
Duration: 12 Months – 3 x 4 month rotations
Locations: Canberra
Intakes: February 
Salary: $71,207 pa + 15.4% superannuation, upon successful completion of the program graduates will advance to APS/ASD 4: $77,739 pa + 15.4% superannuation. 
Explore each of the pathways and search by your degree on our website here.
Other Opportunities
Science, Technology, Engineering and Mathematics Cadetship Program
Internships & Clerkships
Department of Defence
---
The STEM Cadetship offers students a head start to a rewarding career in Defence by offering an entry-level employment pathway for high performing tertiary students currently studying a relevant STEM degree.
As a STEM Cadet, you will be employed as an Australian Public Service (APS) employee where you will be provided with real-world, practical and high-quality work in the Department of Defence.
http://www.defence.gov.au/APSCareers/stem-cadetship.asp
During the STEM Cadetship, you will be able to apply your discipline, academic knowledge and skills to contribute to Defence's current projects. Similarly, you will be able to apply the practical skills and knowledge that you learn from Defence back into your studies.
Find out how your university discipline can lead to a rewarding, challenging and meaningful career in Defence. The STEM Cadetship will provide you with excellent learning and career development opportunities to propel you into your future career with confidence.
What's in it for you?
Ongoing (permanent) employment with a minimum annual salary of $52,652 pro rata plus 15.4% superannuation  during your cadetship;
Reimbursement of compulsory university fees (i.e. course fees) for your STEM degree, upon successful completion of the relevant STEM units each semester;
Reimbursement for the cost of books/resources required for your STEM degree up to a maximum of $1,000 (GST Inclusive) per year;
60-days (minimum) work placements per annum in Defence;
A $3,000 bursary payment per year; and
Guaranteed employment with Defence upon successful completion of the Cadetship.
Eligibility
Australian citizenship; and
A credit average (GPA ≥ 5 on a seven point scale); and
Will complete their tertiary studies (including Honours/Masters) between the end of Semester Two 2021 and the end of Semester Two 2024; and
Are currently enrolled in a relevant STEM undergraduate (with Honours/Masters) degree or are eligible and agree to undertake an Honours/Masters degree as part of the STEM Cadetship if required.
Have 12 months full-time tertiary study (equivalent to 8 units per year) remaining at the time of the Cadetship Program commencement.
Click here for more information about the STEM Cadetship.
Other Opportunities
Department of Defence
---
This year, Defence is one of many Australian Public Service (APS) agencies participating in a new APS Human Resource (HR) Graduate Development program. If you have HR qualifications and are pursuing a HR career with the APS, you could be one of the first to benefit from this program.
As a HR professional in the APS, you will contribute to managing our most valuable asset – our people – and play a crucial role in shaping the future of the APS.
If you are interested in applying for an APS HR graduate position, visit the dedicated HR Graduate Program website at https://www.apshrgrads.com.au for more information, and apply just once to be considered for opportunities in both Defence and other participating APS agencies.
Application Process
Department of Defence
---
The Department of Defence is an equal opportunity employer and we encourage all Australian citizens with relevant skills and qualifications to apply for our graduate opportunities.
We use a combination of different assessment methods to make sure we can get the best picture of your skills and attributes. Below are the key steps you will be taken through while you apply.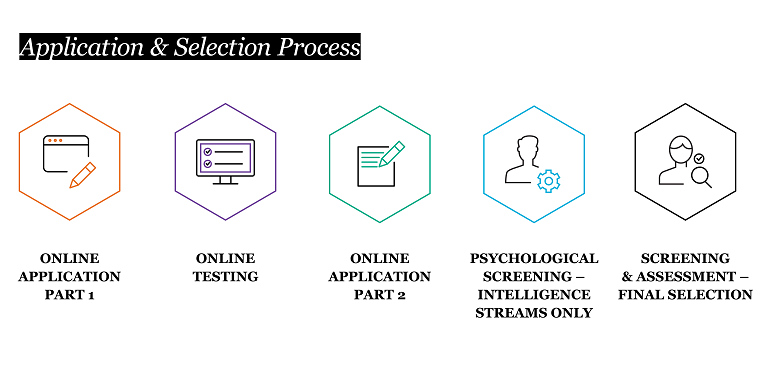 Stage 1 - Online Application Part 1
Upon registering your details through Defence's online recruitment portal you will be asked to complete personal information and asked questions which relate to eligibility for the program such as citizenship and completion of degree prior to program commencement. Please complete all questions; these will be verified at a later stage.
If you do not meet one or more of the eligibility requirements your application will not be progressed further.
Applications must be submitted by the closing date.
Stage 2 - Online Testing
After submitting your pre-application you will be invited to undertake a short online test, which will be utilised to assess both cognitive and analytical ability. This test takes only 20-30mins. You will be given two days to complete this.
After completing the online assessment you may be invited to complete the application. You will also be advised of the Pathways you are eligible to apply for. It is important that you take note of this information.
Results against online testing and responses to eligibility questions will be used to determine the Graduate Pathways you are able to apply for. The Graduate Office will advise applicants of this.
Stage 3 - Online Application Part 2
After completing the online assessment, you will be advised via email which Graduate Pathways you meet the eligibility requirements for and will be asked to address selection criteria and provide details of academic results, relevant skills, qualifications, current and previous employment
Responses to Selection Criteria: Selection criteria provide a set of measurable standards against which employers can assess your application. Defence uses capabilities identified within the Australian Public Service Commission (APSC) Integrated Leadership System to measure and rank applicants responses to each question on the application. 
You will be required to submit a 'one page pitch' against the criteria being assessed. Your one page pitch is limited to a maximum of 600 words to address all criteria questions, not 600 words per individual criteria question. How you prepare your pitch is up to you, however, please ensure that you incorporate responses and examples against each criteria. Applicants are strongly advised to read our Hints and Tips for completing your application prior to submitting your application.
Stage 4 - Screening and Assessment Centre
Applicants who are found to be competitive on the basis on their Revelian Coginify testing and written application will be invited to attend further screening and assessment processes. 
Prior to Assessment Centre 
You will be receive a request to upload a series of documents before your assessment Centre. 
You will be asked to provide two written referee reports. The Graduate Office will provide the template for these reports. It is preferred that referees be someone who knows your skills and abilities in relation to work or study, however character referees are acceptable as long as they are not family members. 
You will also be required to complete two additional online tests – Behavioral and Emotional Intelligence prior to attending the assessment centre
Assessment Centre Day
Assessment processes will vary depending upon the career Pathway you have applied and are being assessed against. Screening and Assessment Centres are held digitally and run in Pathway groupings. Please refer to Key Dates for details.
If selected to attend an Assessment Centre, you will be invited to spend half a day online with assessors from Defence. We use a range of activities and exercises to assess competency for a graduate position with the Department.
You must personally attend additional screening and or Assessment Centres to be considered further in the Graduate selection process.
Stage 5 - Final Selection
If successful, a member of the Defence Graduate and Entry Level Programs Office will make contact via telephone with an offer of employment between July and November, depending upon the Graduate Pathway for which you are being offered employment. Unsuccessful applicants will be advised via e-mail before the end of November.
Employee Profiles
Department of Defence
---
Technical Pathway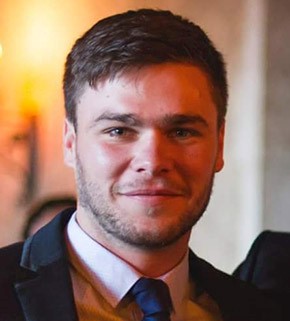 Gethin's Experience
I started my Defence life as part of the Capability Pathway on the Defence Graduate Program after completing a Bachelor of Engineering (Mechanical) at Charles Darwin University. I was shipped from the oppressive Darwin humidity to the crisp air of Canberra. Our intake was large and despite a plethora of engineers, all of the graduates were friendly, easy-going and most became good mates. The extensive network of graduates in Canberra and the work-life balance made my stint there really enjoyable. What's not to love about road trips to the beach in summer and the snow in winter?
With no previous exposure to Defence, I was unsure what to expect. I found everyone to be supportive, friendly and knowledgeable. Settling into Canberra was daunting but in the end was relatively smooth, the graduate team and work area providing me with good assistance and advice.
The 18 month program consisted of three 6 month rotations and flexibility with locations. I took the opportunity to see the country with my second rotation as part of the Air Warfare Destroyer program in Adelaide. This culminated in me going on sea trials to conduct noise and vibration testing. Standing on the back of a warship going full steam is an experience I won't forget. Neither is trying to sleep while they do speed and manoeuvre trials in the middle of the night.
I also had the opportunity to do a rotation external to Defence, which opens up the possibility of working in Defence industry. I continued my nomadic habits and crossed the Nullarbor to Perth for an industry placement with Austal. This gave me an understanding of how industry ticks, exposure to engineering design and the obstacles involved in contracting to Defence. I was given valuable exposure to the operation of a shipyard.
Moving around the country has allowed me to experience so much. From conducting sea trials to shooting a pass score at the Weapon Training Simulation System at ADFA in Canberra, the graduate program has provided me with opportunities to which I would not normally have access.
---
Intelligence Pathway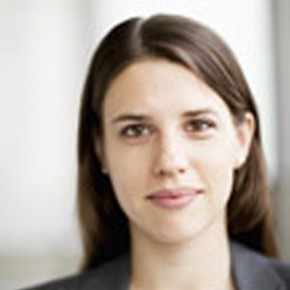 Kirsten's Experience
I joined ASD as a Cyber and Information Security Analyst after studying Mechatronics and Computer Science. While I always knew I wanted to work with computers, of all the choices available to me at the completion of my degree, Intelligence and Security seemed to offer the most challenging and rewarding opportunities. Within ASD, I've had the opportunity to use broad engineering principles and practices, as wells as specific knowledge from my Computer Science background to tackle problems.
As a Cyber grad within ASD, I've had the opportunity to undertake a number of rotations, in particular a rotation within ASD's malware analysis team. I was a little worried about the challenge, but the team was very welcoming and ready to help me learn the ropes.
I've had the opportunity to directly analyse infectious malware, to develop tools to help more rapidly identify and understand cyber threats, and to work with a team in a very challenging area. My assessment on the capabilities and threats posed by a given virus have contributed to the security of the Australian Government networks.
Moving to Canberra, I was worried about not knowing anyone. However, within a week, I'd made more friends than I had in a year – all fellow incoming grads. Those friends were the best support I could have hoped for entering the world of ASD.
---
Research and Innovation Pathway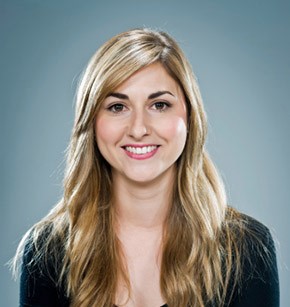 Sarah's Experience
I had been searching for the opportunity to pursue a career in research after completing post-graduate study and the Defence Science and Technology Group (DST) provided the perfect platform. Since joining DST, I have experienced the diversity and excitement in my professional life that I have always sought.
Working in DST has involved me in the development of capstone concepts for the Australian Defence Force (ADF). It has given me the opportunity to apply my analytical skills in new ways as well as contribute a scientific perspective. Being at the forefront of moulding the role of science in emerging technologies has been an exciting challenge and far exceeds the influence I expected to have in my first six months in DST. My role has also taken me to Enoggera Barracks in support of major Army experimentation activities. Staying on base and exploring practical issues faced by the Joint Force has given me a new perspective and greater appreciation for the accomplishments of the ADF. On the lighter side, I was also fortunate to be invited to participate in Weapons Training Simulation which allowed a group of Australian Public Service to fire a simulated weapon.
One of the best aspects of my work has been my colleagues. I've felt incredibly welcome within the organisation and there is a collegiate and community spirit that makes work truly enjoyable. People are always willing to help out and their willingness to impart knowledge has been an invaluable part of orienting myself within Defence. Senior leaders have also taken a personal interest in my development and have identified and encouraged many learning and development opportunities for me. In my short time in DST I have attended several courses and seminars, including the advanced 'Apollo Course in Future War Analysis' at the Australian Defence College.
DST Group has become more than a platform for my career; it is the expression of my career and goals. Feeling as successful as I do now, I can only imagine how I'll feel in years to come.
---
Policy and Corporate Pathway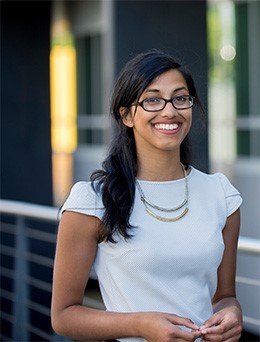 Neha's Experience
As a political science graduate in the Generalist Stream, I was given many opportunities to contribute to diverse, challenging and meaningful work. Throughout the graduate year, I was supported within my teams to develop skills in areas that I had not had much exposure to before. This included planning a visit by Timorese Defence officials to Australia, reviewing the effectiveness of an Army training exercise and coordinating the Department's responses to media enquiries. I learned useful lessons in crafting policy advice for senior executives, conducting training assessments and developing communication strategies.
One of the many highlights from my graduate year was my regional placement at an Army training academy in southern Queensland. Living on a Defence base allowed me to become closely acquainted with the dedicated and inspiring people who serve in the Australian Defence Force. I was grateful to participate in the unit's arduous physical training sessions, discover the hallowed traditions of a regimental dinner and accompany Australian soldiers as a designated 'UN observer' on a patrol march in Townsville.
Another memorable experience was attending two weeks of policy seminars at the Australian Strategic Policy Institute. This was just one of the many exciting learning and development opportunities afforded to me during the graduate year, which provided me with invaluable insight and candid advice from Defence leaders, national security thinkers and qualifications in project management and ministerial writing.
Moving to Canberra could have been daunting, but the entire transition was almost seamless. I had an instant social network in the graduate cohort, and thoroughly enjoyed exploring the city's great café culture, arts scene and civic attractions with lovely and talented people. The enduring friendships I've made both professionally and personally have placed me in good stead for a rewarding career in Defence.
A Day in the Life
Department of Defence
---
Research and Innovation Pathway
A Day in Monique's life
6:30am
I usually wake up around 6:30am and take my dog for a walk around the local park with my husband. I then get ready for the day (which always includes breakfast while watching Fox Sport News!) and drive to work. I live in a small town about 60 km from Adelaide city, and the drive to Edinburgh is about 30 km, but there are no traffic lights and there is rarely any traffic on the way, so the drive is quite relaxing.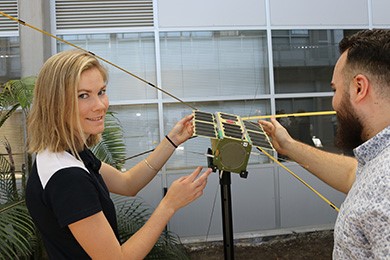 8:30am
I generally arrive at work around 8:30am, although I do not have a firm start or finish time most days since my team has quite flexible work hours (as do most at DST). I usually start my day by making myself a coffee and checking my emails. Triaging and responding to emails usually takes around half an hour, and doing it first thing in the morning helps me to get on top of things for the rest of the day. I then might complete some small packages of work that I can get through in an hour or so, before our 10 am team meeting. These tasks can include things like administration, reading relevant research papers, reviewing documents, and so on.
10:00am
Our team of seven people comes together every Monday to discuss the events of the previous week, plan for the upcoming week, and raise any issues. When we are operating a satellite, this meeting is typically focused on the outcome of operations – such as, what data has been collected, what activities have the satellite performed, what is the current satellite health and performance, what is the focus for the next week of operations. We also review an on-going team 'to do' list for longer-term tasks, which ranges from analysis to administrative tasks. This meeting usually goes for about an hour, and afterwards we all generally have a good feel for what we need to do over the upcoming week.
11am
I usually have a bit more time now to delve into a more involved tasks. I have a mechanical engineering background, so my responsibilities often involve tasks such as analysing on-orbit satellite data, creating models or simulations to test or reproduce particular activities, and engineering analysis and design jobs for a space system under development. I often use software such as Matlab, Satellite Took Kit and CAD to assist me to do these tasks. 
12:30pm
At lunch time, I either go for a run around the DST site, and then eat my lunch, or just take a short break in the office kitchen to eat lunch. We have showers in our building, so it's easy to fit in some lunch time exercise.
1pm
If we're operating a satellite, there are usually a couple of passes over our ground station in the afternoon, and we have an operations roster for the team. Operations involves preparing a set of commands to be sent to the satellite (which are converted to byte sequences) and scheduling our ground station to track and communicate with the satellite as it passes over. 
3pm
After the operations window, I will usually conduct some analysis of the data if it is required, or I will continue with an engineering or research task. This is often the best time of the day to get work done as the office quietens down after operations have finished for the day. 
4:30pm
I typically finish work around 4:30pm and on Monday evenings I head to football training. Footy training really helps to clear my head, and it provides me with work-life balance.
8:30pm
I arrive home at the end of the day and have dinner with my husband and my dog, and we usually watch AFL360 or the latest Netflix show that we're into! I'm usually pretty tired at the end of a Monday, so I'll usually be in bed before 11 pm, but always keen for the next day!
---
Technical Pathway
A Day In Alicia's Life
07:00am
I try to get some physical activity in before work most mornings with a friend, so I'm usually awake and down at Lake Burley Griffin by this time. A morning walk will get us awake and energised for the day ahead, especially if it's on a frosty Canberra winter morning.
08:00am
I aim to be in the office by 8:00am most days of the week. Working within the Public Service, I am lucky enough to have fairly flexible working hours, including self managed Flex Time. Usually once I get into the office I will sit down and check my emails, making sure there are no urgent tasks that require completing, and catching up on any new project wide news. I need to look ahead on my calendar so that I can plan my day and my week. Throughout the Graduate Program, and in my current position, there are plenty of opportunities for training and travel, so it's not unusual to have something on the horizon. In the past year as part of my job role I've travelled to various Defence bases, to Woomera for missile testing, and even spent a week at sea aboard HMAS Parramatta.
09:00am
I work in the Platform Systems team of the Hunter Class Frigate Program. In the morning we will gather together to talk about what work will be going on in the office this week. Working on such a large scale project means communication is key, and understanding what the wider project is undertaking ensures a more fluid decision making process.
10:00am
After our meeting, the team gathers together for the daily coffee run. This gives us a chance to get some fresh air and gives a relaxed and casual setting for discussion.
11:00am
The Hunter Class Frigate Program is forging the way for the Continuous Naval Shipbuilding Program, and will deliver a fleet of anti-submarine warfare ships to the Royal Australian Navy. Being in its early stages, my colleagues and I spend a lot of our day trying to familiarise ourselves with the complex design, ensuring that any international engineering standards used by the Ship Manufacturer are sufficient to be used in an Australian end-product. Reading and reviewing any documentation or technical drawings received from our Industry partner on strict deadlines plays a role in our daily work. 
12:30pm
At lunch I try to catch up with friends working in other projects within Defence. It's good to get an appreciation of other programmes within the acquisition and sustainment field. The work we do directly impacts members of the Australian Defence Force in a bid to make their jobs easier, and to help keep them safe.
1:30pm
After a break, the afternoon is filled with either meetings with relevant stakeholders to discuss current platform design components, liaising with different work areas in the project to ensure smooth integration between on board equipment and the platform, or organising any travel to Shipyards or to Garden Island East to visit ships in our current fleet. Visiting the current Fleet is a great way to understand what we wish to change or keep the same in Future Platforms, and listening to the very valuable experiences of those serving on board is a great way to do so.
3:30pm
I try to debrief with my superiors once a week. This includes taking part in a Naval Mentoring Program. It is important to regularly reflect on the where you want your career to take you in the future, and whether the work you are doing is going to take you in that direction. I have found that my supervisors and mentor are all very encouraging in trying to get me the exposure and experience in areas I hope to explore more. You might never know what you're missing if you don't get your feet wet wherever the opportunity arises. 
4:30pm
By now it's generally home time. I make sure I've tied as many loose ends as I can for the day, and write myself a list of tasks to continue tomorrow.
5:00pm
Once I get home, I take my dog for a walk or to the park before cooking dinner. After a high energy day it's nice to relax and watch television, read a book, or perhaps do some baking.
10:30pm
I try to be in bed by now, so I can be up nice and early to start again.
Diversity and Inclusion

Department of Defence
---
A more diverse workforce supported by an inclusive culture enhances Defence's capability and effectiveness, as it draws on different ideas to innovate and adapt to a rapidly evolving strategic environment and the changing nature of warfare.
The Defence Values and Behaviours underpin the building of inclusive and capable teams. These Values and Behaviours are embedded in our business practices and drive our organisational performance.
Defence continues to build capability through inclusion to deliver the Defence mission. Defence's strategies provide continuity and promote initiatives that improve our workplace culture, including the development of targeted inclusion projects and programs. 
Defence partners with a range of external organisations including the Australian Human Rights Commission, Diversity Council Australia, Champions of Change Coalition and Australian Network on Disability to improve our capability and performance focused on cultural reform. 
Aboriginal and/or Torres Strait Islander

Department of Defence
---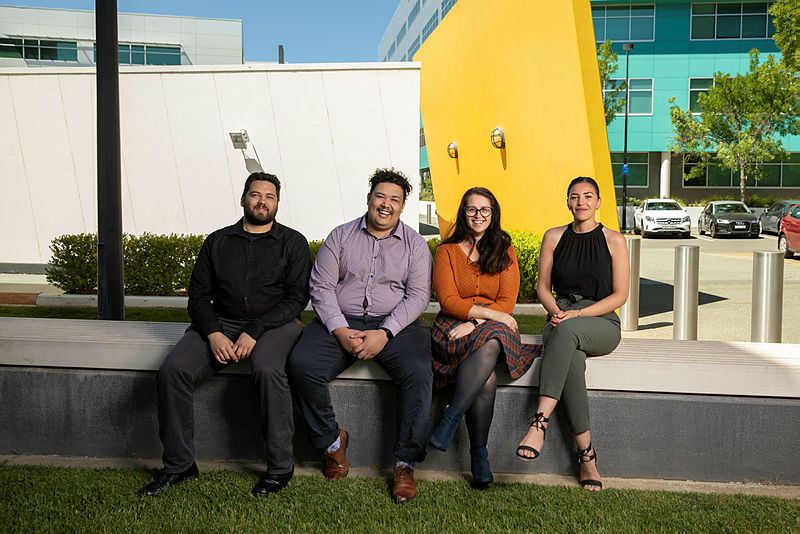 Australian Public Service, Department of Defence staff (l-r) Mr Jack Hampton, Mr Matthew Wenck, Ms Beth Bowerman and Miss Natane Berosa. Photo: Jay Cronan. 
Aboriginal and Torres Strait Islander people have long contributed to the defence of Australia and its national interests during times of peace and war. For over a century, Aboriginal and Torres Strait Islander people have continuously provided, vital contribution to Defence capability.
Defence is strongly committed to the National Agreement on Closing the Gap primarily through the provision of Indigenous employment pathways and procurement to improve the socio-economic outcomes of Aboriginal and Torres Strait Islander people.
Defence is always looking to proactively find new and innovate ways of enhancing employee experiences for Indigenous Australians. This includes a collaborative partnership with the Australian Human Rights Commission (AHRC) on an Indigenous Attraction, Recruitment and Retention Project.
Defence has an active Aboriginal and Torres Strait Islander Network (DATSIN) comprising both Indigenous and non-Indigenous Australian Defence Force personnel and Australian Public Servants. DATSIN is a communication vehicle that provides informal support to its members, for its members, and by its members.
Cultural Diversity

Department of Defence
---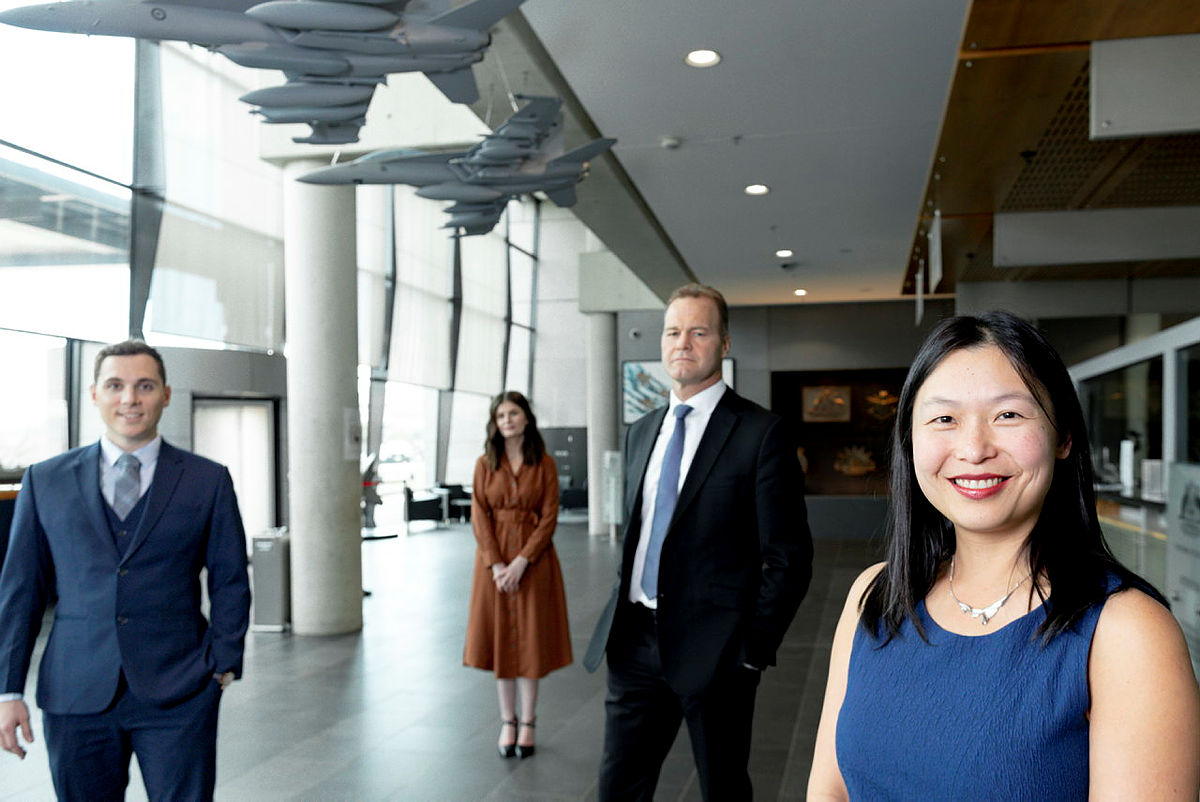 Australian Public Service, Department of Defence staff (l-r) Contestability Division Mr Tom Murphy, Defence Industry Policy Division Ms Madeleine Banister, International Policy Division Mr Mark Bellchambers and Strategic Policy Division Ms Helen Thai. Photo: Megan Popelier. 
Defence understands that people from culturally and linguistically diverse backgrounds increases capability and deepens our cultural understanding. This helps to build effective relationships with our counterparts and allies. 
Defence aims to provide an inclusive working environment that respects, values and utilises the contributions of people with different cultural backgrounds, experiences and perspectives.
At least one third of the Defence APS workforce and one quarter of the Australian Defence Force (ADF) have self-identified their cultural and/or linguistic diversity. Each year the Department contributes to the Multicultural Affairs Access and Equity Annual Report. This highlights the work Defence is undertaking to progress inclusion for those from different backgrounds and to share best practice initiatives in a whole of government perspective.
Defence regularly recognises and supports events of significance such as Harmony Day.  
The Defence Religious Advisory Committee (RAC) provides ongoing faith-related advice to Defence, to ensure the pastoral needs of personnel of all beliefs are met. Defence is guided by its own Guide to Religion and Belief which ensures that cultural and belief-related requirements are accommodated in operational procedures and uniform. Defence supports employees to practice their faith subject to the considerations of operational effectiveness, health and safety, and capability priorities.
LGBTIQ+

Department of Defence
---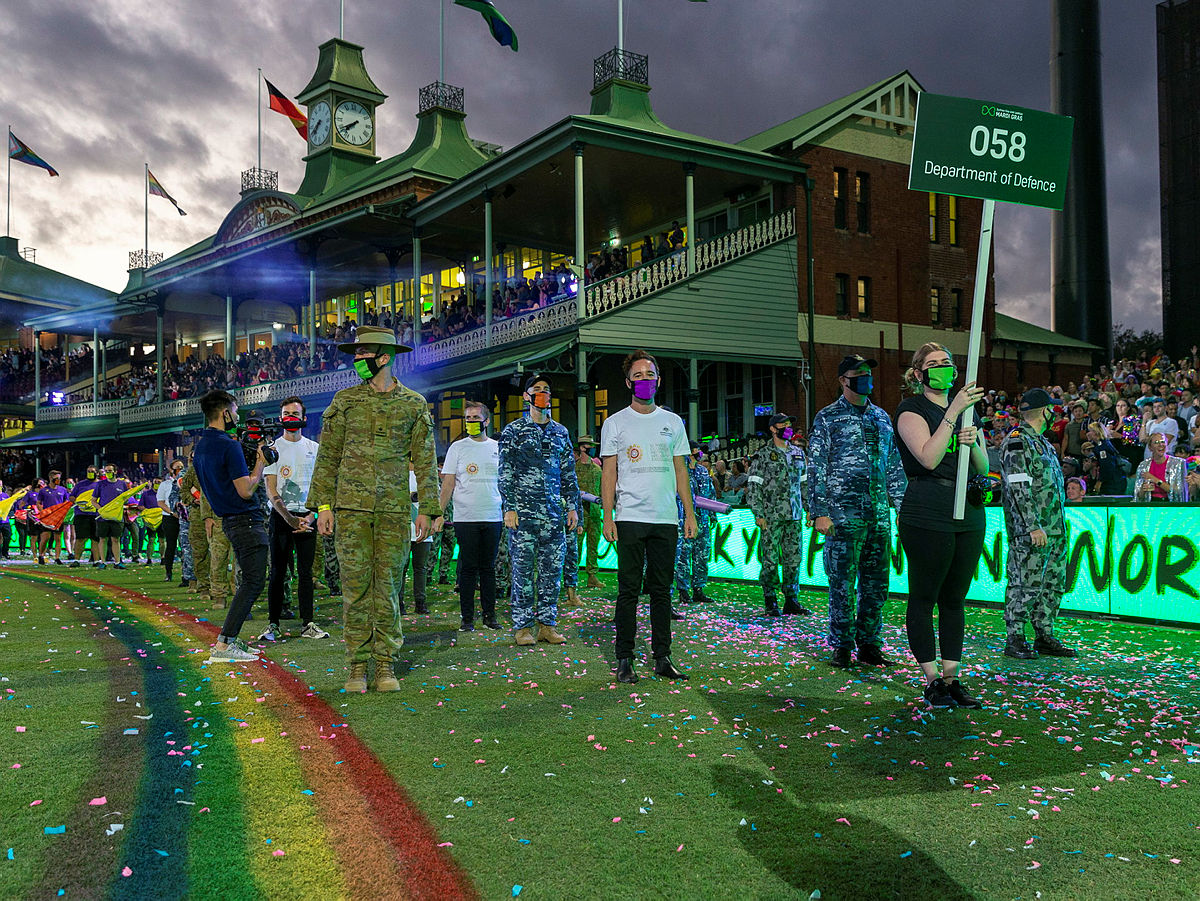 Australian Defence Force and Defence civilians participate in the Sydney Gay and Lesbian Mardi Gras Parade 2021. Photo: LSIS Nadav Harel. 
Defence seeks to create an inclusive workplace by driving long term sustainable Lesbian, Gay, Bisexual, Transgender and Intersex (LGBTI) awareness and support structures. Defence is committed to building an inclusive workforce that fosters development and progression to enhance our capability, regardless of sexual orientation, gender or gender identity. This is reflective of the Department's continued drive, to remove any existing barrier that inhibits our employees from contributing to their full capability.
Defence is supported by two LGBTI Champions, in delivering inclusive initiatives for public service and ADF members to promote equality in the workplace, regardless of sexual orientation, gender identity or intersex status. Defence supports Australian Defence Force personnel and Australian Public Service employees to continue the tradition of marching in the annual Sydney Lesbian and Gay Mardi Gras in Sydney, first established in 2013.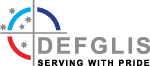 Defence engages regularly with the Defence LGBTI Information Service (DEFGLIS) who proudly support Australian Defence Force (ADF) serving members, ex-service members and veterans of the Australian Defence Force and their families.  Defence participates in roundtable discussions with other APS agencies through our membership of Pride in Diversity and as regular attendees at the APS Pride community of practice.
Gender Equality

Department of Defence
---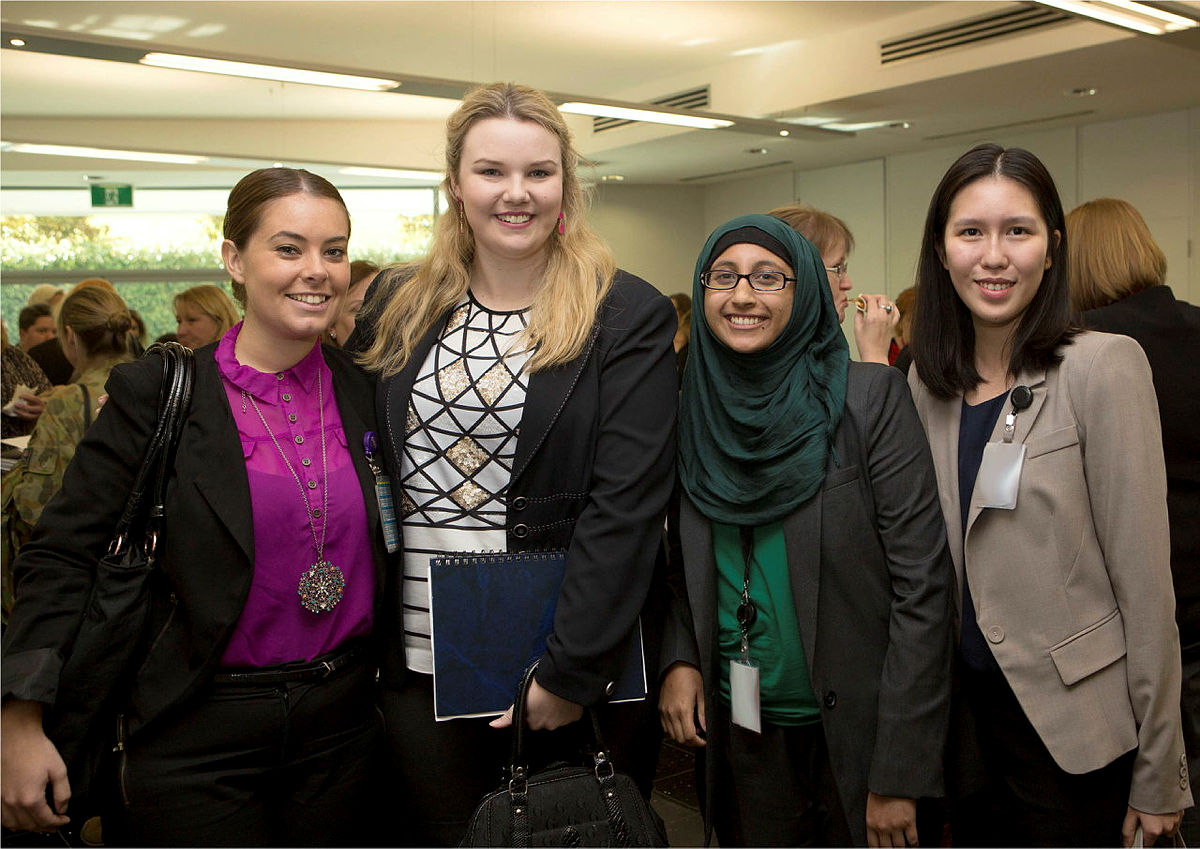 Guests at Sandra Evers-Manly's, Vice President Corporate Responsibility at Northrop Grumman, presentation on gender and race diversity. Photo: FSGT Kev Berriman. 
Defence is committed to greater representation of women within Defence at all levels of the organisation, and is embracing differences and demonstrating fair, respectful and inclusive behaviour.
Defence has a strong reform agenda to further gender equality and embed a positive and inclusive culture across the enterprise. Ensuring greater participation of women in the workforce provides Defence with access to the best possible talent available. This diversity of voice, opinion and experience further enhances our capability.
International Women's Day
Gender Champion
Women in Defence Awards
The Male Champions of Change (MCC)
Defence has a broad range of recruitment programs, and pathways to increase the participation and support of women in both the Australian Defence Force (ADF) and Defence Australian Public Service workforce, which includes the Defence Graduate Program, the ADF Gap Year Program, and many more.
Strategies focussed on leadership, targeted mentoring, education, training, networking and career development further enable women to achieve their career aspirations at Defence. 
Defence has been recognised for its commitment to gender equity, receiving the Athena SWAN Institutional Bronze award in 2020. The Athena SWAN awards are an initiative under the Science in Australia Gender Equity (SAGE) program, which aims to promote equity and diversity in STEM.
As at 1 November 2021, women represented 46% of the Defence APS.
Disability Support

Department of Defence
---
Joint Military Police Unit Flight Lieutenant Kandis Ivas-Duncan steps through the Vice Chief of Defence Force Executive's defensive line during the International Day of People with Disability silent touch football game. Photo: LSIS Craig Walton.
Defence recognises the valuable skills and perspectives people with disability bring to the workforce and enables them to contribute to Defence capability. Our recruitment focus will always be geared towards an applicant's ability as opposed to any perceived or prescribed limitations.
Defence supports a range of programs and initiatives aligned to the APS Disability Employment Strategy 2020-25 to remove real or perceived barriers within the workplace, working across the enterprise and other government departments to reflect best practice in supporting its personnel. 
Our recruitment focuses on an applicant's ability, skills and experience. To support applicants, Defence is committed to making reasonable adjustments at time of recruitment and throughout an employee's Defence career so that they can optimise their full potential.
Defence maintains a Gold Membership with the Australian Network on Disability (AND) to ensure our programs and policies keep pace with best practice. International Day of People with Disability (IDPwD) is acknowledged and celebrated annually.
As of 1 January 2020, people who identity as having a disability represent 3.2% of the Defence APS workforce.