Department of Home Affairs Graduate Programs
The Department of Home Affairs is a global organisation dedicated to the protection and prosperity of Australia. When you work with us, you are part of a diverse and dynamic workforce.
Department of Home Affairs currently has 0 opportunities.
Select the following options:
Past Department of Home Affairs Graduate Hiring Statistics
If you're interested in working at Department of Home Affairs, understanding when they have opened up applications for their graduate programs, graduate jobs and internships is helpful knowledge to have so you know when you might need to apply. Use the below information to see when Department of Home Affairs hires graduates, but more importantly what graduate degree's and other student attributes they target for their jobs.
---
Disciplines
Accounting (100%),

Administration (100%),

Banking and Finance (100%),

Business and Commerce (100%),

Communications (100%),
Work rights
Australian Citizen (100%),
Past Department of Home Affairs Graduate Programs
Check out some of Department of Home Affairs's past jobs they have posted on GradConnection over the last 12 months. Understanding the details about what a graduate employer is looking for well before applications have opened can sometimes be the edge you need to secure your first graduate program.
---
Department of Home Affairs
Apply now for the Department of Home Affairs 2021 Graduate Development Program – Affirmative Measure – Disability.
Department of Home Affairs
Apply now for the Department of Home Affairs 2021 Graduate Development Program – Affirmative Measure – Indigenous Employment.
Department of Home Affairs
Apply now for the Department of Home Affairs 2021 Graduate Development Program - General Stream.
About the Department
Department of Home Affairs
---
Home Affairs brings together Australia's federal law enforcement, national and transport security, criminal justice, emergency management, multicultural affairs, settlement services and immigration and border-related functions, working together to keep Australia safe.
The Home Affairs Portfolio includes the Australian Border Force (ABF), Australian Security Intelligence Organisation (ASIO), the Australian Criminal Intelligence Commission (ACIC) and Australian Federal Police (AFP).
Overview of our Graduate Program
Department of Home Affairs
---
Your Career, Australia's Future
When you work with us, you are part of a diverse and dynamic workforce dedicated to keeping Australia prosperous, secure and united. We offer our graduates a range of interesting opportunities and unique experiences.
Our 12 month graduate program offers you a range of interesting and challenging work, access to professional development, excellent employment conditions, support through various diversity networks, rewarding professional relationships and buddies as well as endless career opportunities and pathways.
We provide you with support though an orientation and induction program, a mentor to launch your career, a range of Graduate events, access to health and wellbeing programs, as well as a team of supervisors, mentors and program managers to assist and guide you.
You are welcome to apply for our Graduate Development Program if you are:
an Australian Citizen or will be by 24 April 2020
in the final year of your degree or have completed a minimum of an Australian recognised undergraduate or postgraduate degree in the last five years and are able to provide evidence of completion before the start of the program
able to relocate to Canberra
obtain and maintain an Employee Suitability Clearance, we encourage you to complete the Employment Suitability Self-Assessment
obtain and maintain an Australian Government Security Vetting Agency clearance
Meet Our Graduates
Department of Home Affairs
---

"The highlight of my graduate year has undoubtedly been the networks I have made and the connections formed with people across the Department. I have had the opportunity to learn from a diverse range of people who are experts in their field and who have been so generous with their time in supporting me on my journey."
Chantelle, Graduate
"The highlight of my graduate year was the vast amount of opportunities at the Department, which involved working and being exposed to diverse areas of work, expanding my skillset and building networks with the other graduates and people within and outside of the Department that will benefit my future."
Matthew, Graduate
"I was drawn to the Department because of the diversity of work and career opportunities, which has enabled me to use my engineering skills and experience in ways I never thought possible. The Graduate Program has given me the chance to deliver innovative and practical solutions that make a real difference."
George, Graduate
Selection Process
Department of Home Affairs
---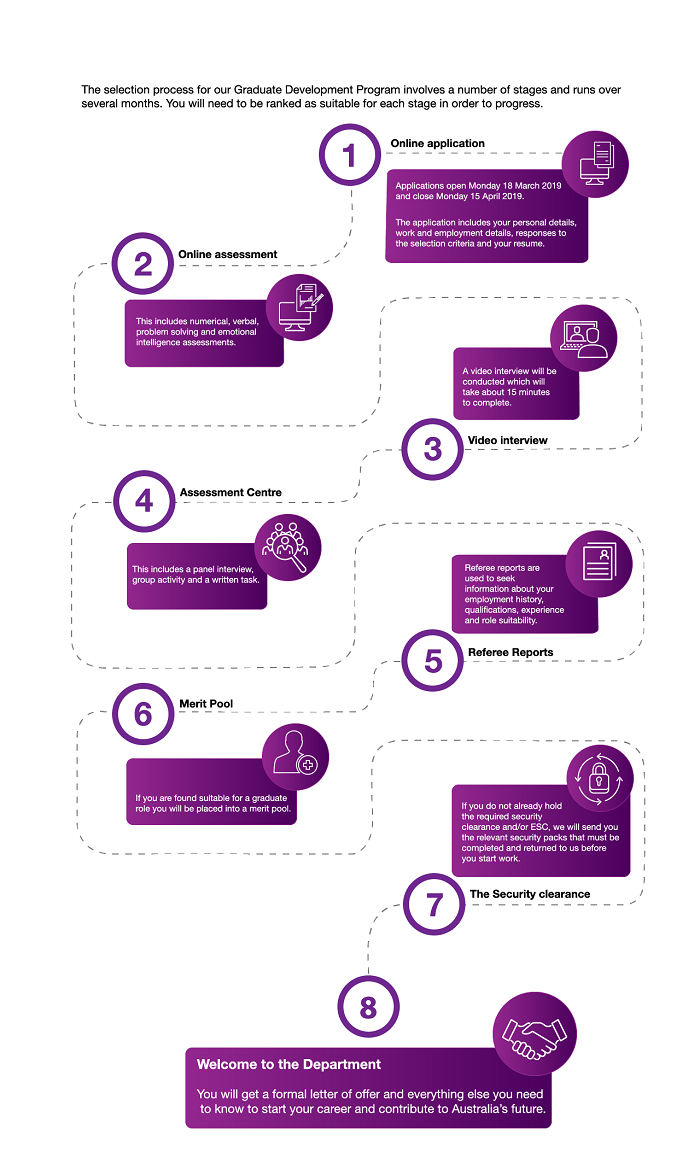 Vocations
Department of Home Affairs
---
We need a diverse workforce that is professional, agile and capable in order to fulfil our mission of a prosperous, secure and united Australia. We provide an exciting range of opportunities in the following vocations.
Policy
Policy is a busy and dynamic vocation in the Department. The work is challenging and often fast paced, requiring flexibility and agility to deliver results.
The Policy vocation covers a complex agenda of policy initiatives including immigration and citizenship policy; traveller, customs and industry policy; national security and law enforcement; international engagement and capacity building, while influencing whole-of–government strategic policy development and remaining cognisant of cross-agency program management and operational environments.
Corporate
The Corporate vocation is a key enabler that supports teams across the Department with technical expertise and advice in the areas of finance, law, human resources, risk and security management, communication, parliamentary and executive services.
Employment in this vocation will provide extensive exposure to all the various parts of our organisation and will provide you with a solid platform to build your career and develop a network of contacts.
Program Implementation
The Program Implementation vocation manages and delivers Government programs in relation to visas, citizenship, emergency management, national security, customs and trade. The Department's significant program of initiatives focuses on supporting a safe and secure Australia that maintains strong economic growth and is globally competitive, liveable, sustainable and welcoming.
Through this vocation, your work will have true value and you will be contributing to projects of national importance.
Intelligence
This vocation provides intelligence services and formulates products to support strategic and operational decision making to counter border threats and support the Departments mission. Intelligence is critical to the safety and security of Australia, and the Department of Home Affairs is at the forefront of the Government's intelligence effort. It operates in a complex, rapidly evolving environment, with real threats and real world implications that matter to the lives of Australians.
Your career with us will expand your understanding of the national security and intelligence environment, and will enable you to answer some of the most complex problems facing Australia today.
Information and Communication Technology (ICT)
A career in ICT at Home Affairs is exciting, diverse and challenging. We offer hands-on experience and training in some of the most innovative and advanced technologies available, including:
Cyber Security (risk mitigation, incident responses and network operations)
Biometrics
Smart Gates (airports)
Wearable technology
Software Development (Java, Web, Mobile Apps, database administration, systems analysis)
ICT projects - Project Management (Agile), Business Analysis
Data Science (Big Data analysis)
We employ fresh thinking, energetic and motivated people who can use their ICT skills to help protect Australia. The ICT vocation has a number of entry level programs available including graduate, cadet and apprentice programs.
What degrees are we looking for?
Department of Home Affairs
---
We want people who can problem solve complex issues, think critically, have good judgment and decision making skills, excellent written and verbal communication skills and participate in a culture that values diversity, respect and inclusion.
While it is essential our graduates possess these capabilities, there are certain qualifications and particular subject areas that align to the Department's current focus and critical delivery.
These include, but are not limited to degrees and/or majors or minors in:
Advance Computing
Computer Science
Engineering Technology (Telecommunications)
Cyber Security
International Security Studies 
Criminology
Science (Forensic Science)
Public Affairs and/or Administration
Public Policy
Communication in Media and Public Affairs
Business and Marketing
Information Technology
Business Administration
Human Resource Management
Business Management
Diversity and Inclusion

Department of Home Affairs
---
 Diversity and inclusion in the Department
The Department of HomeAffairs is committed to building and valuing a diverse workforce that represents the community it serves; a workforce that fosters inclusiveness and embraces the diversity of its people, such as differences in cultural backgrounds, race, ethnicity, disability, age, gender identity and sexual orientation.
The Department supports its staff by realising their full potential through removing employment-related disadvantages and barriers to participation.
The Department drives innovation, performance and producitivty be empowering its diverse workforce to utilise the unique skills, ideas and perspectives and qualities that they contribute to every day.
The Department encourages applications from a broad range of suitably skilled people to deliver diverse responsibilities and to perform many complex roles by offering flexible work arrangements, diversity networks, and by implementing relevant diversity action plans.
Statement of Commitment
The Department has a Statement of Commitment: Workplace Equality, Diversity and Inclusion that outlines our commitment to building and valuing a diverse workforce that represents the community we serve, a workforce that fosters inclusiveness and embraces the diversity of its people, such as differences in cultural backgrounds, race, ethnicity, disability, age, gender identity or sexual orientation.
Diversity Champions
The Department has Champions at the senior executive level who drive the diversity agenda for our workforce, advocate for the full inclusion of all staff, and influence sustainable change for our organisation.
The Department has a dedicated Diversity and Inclusion Team who support our champions and staff by managing a yearly program of diversity and inclusion initiatives and events.
Diversity networks
The Department has several diversity networks that provide a platform for staff to come together and connect on workplace matters relating to disability, gender equality, Indigenous, LGBTI+ and CALD.
These networks have the support of our Diversity Champions and meet on a regular basis in an informal environment, to encourage information sharing and to discuss ways to progress important issues, advance initiatives and raise awareness.
Staff are welcome to join one or more diversity networks of their choice, noting that staff don't have to identify with a particular cohort to be a member.
Diversity days of significance
Diversity days of significance are recognised in the Department annually to promote awareness of our diversity cohorts. These days are acknowledged either through online communications, events with guest speakers or through other activities, such as fundraising for advocacy groups.
These days include, but are not limited to, International Day of People with Disability, International Women's Day and International Men's Day, International Day Against Homophobia, Biphobia, Intersexism and Transphobia, NAIDOC and National Reconciliation Week, Harmony Day and International Day for the Older Person and International Youth Day.
LGBTI+

Department of Home Affairs
---

Chris' Story
"The Department has an active interest in supporting the LGBTI+ community through recognition of important events and actions, it is also a member of national action groups to effect change in the workspace at all levels.  New staff members from within the community can be confident they are entering an organisation serious about creating an inclusive environment."
Support for lesbian, gay, bi-sexual, transgender and intersex staff in the Department
The Department is committed to providing a safe and supportive workplace for all lesbian, gay, bi-sexual, transgender and intersex (LGBTI+) staff. Gender is a complex topic, particularly if we try to define or label it. As an organisation, we are accepting of who people are, and support staff in bringing their authentic selves to work.
The Department participates in the annual Australian Workplace Equality Index (AWEI) – a national benchmark on LGBTI+ workplace inclusion and is a member of Pride in Diversity (PiD), Australia's first and only national not-for-profit employer support program for all aspects of LGBTI+ workplace inclusion.
LGBTI+ Staff and Allies Network
The LGBTI+ Staff and Allies Network, which is open to all staff, raises awareness and supports LGBTI+ inclusion in the workplace. The role of the network is to connect LGBTI+ staff and allies through professional and social networking opportunities, and to increase LGBTI+ visibility across the workforce.
Gender Equality

Department of Home Affairs
---

Alex's story
Alex has recently returned to work after extended paternity leave to care for his three young children and has accessed flexible hours to work Monday and Tuesday, while caring for his children the rest of the week.
"It's great that the Departments flexible working arrangements applies to men too. The fact that I've been so present at home has given the children, and I, a deep bond and I know that I am loved and relied on—it's a strong and steadying feeling" says Alex.
Gender Equality in the Department
Our Department is committed to creating a supportive and enabling culture that recognises the contribution of all genders, and provides opportunities for leadership, career development, flexible work and equal participation.
The Department's Gender Equality Action Plan 2017-20 sets our commitment to sustained gender equality and ensures that best practice inclusion is embedded in our leadership and people management practices.
Through it, we will develop a robust gender diverse leadership pipeline by attracting and developing talent equally, and at all levels. Gender equality will also be integrated into our policies and procedures so the Department can provide equitable access to flexible work arrangements to support and retain the valued skills of our staff.
Staff Advancing Gender Equality (SAGE) network
The Department's SAGE network helps support and promote gender equality in the workplace. The network meets regularly, as well as having an online platform, which allows members to actively discuss and share information on gender equality matters, and help to drive progress of initiatives for the Department. SAGE members are consulted on departmental gender equality policy, programs and initiatives, and have access to cross-agency network events, and learning and development opportunities.
Leadership development opportunities
The Department is committed to creating a gender balance across all levels and business areas. We provide a number of internal leadership development opportunities for staff to improve their leadership capabilities and individual performance.
Our leadership programmes provide a sequential and structured learning curriculum, designed to address the sometimes complex and challenging environment for leaders in the Department.
Opportunities are available to staff to participate in leadership conferences, events and forums. These include the Department's annual Executive Leadership (EL) Conference, the Leadership in Action Events Series (LIA), the annual She Leads Conference, supported by the SAGE network, and the Institute of Public Administration Australia (IPAA) Women in Leadership series.
The Department's Information and Communications Technology (ITC) Division participates in the Women in IT Executive Mentoring (WITEM), a national program aimed at accelerating leadership development of women within the IT profession.
Staff have the opportunity to participate in external programs such as, the Women in Law Enforcement Strategy (WILES) mentoring program that encourages women to pursue careers and senior leadership positions within Australian law enforcement and regulatory agencies, and the Australasian Council of Women and Policing (ACWAP) that provides networking and development opportunities for women in policing.
Flexibility in the workplace
All staff are eligible to access flexible working arrangements, regardless of gender, to assist them in balancing their professional and personal responsibilities. Flexible working arrangements should be accessible, benefit both staff and the operational requirements of our business, and should not be detrimental to staff career progression.
Flexible working arrangements may include flexible location, hours, patterns, rostering, job sharing and graduated return to work.
Indigenous Australians

Department of Home Affairs
---

Brad's story
 "While participating in the Indigenous Apprenticeship Program, I have been given the opportunity to study a Certificate IV in Government. The Department of Home Affairs has ensured I am supported throughout the program and am successful in kick starting my career. I have access to the Indigenous Support Staff Network (ISSN) where we can collaborate, access job opportunities, information about the program, development opportunities and keep in touch with colleagues. I've also been paired with a buddy who was also a previous apprentice and the support I received from them has been amazing."
Support for Indigenous Australians in the Department
The Department of Home Affairs is committed to providing Aboriginal and Torres Strait Islander staff with access to many initiatives and resources to support professional development and to maximise potential within the workplace, which includes:
The Department's Reconciliation Action Plan (RAP) focuses on achieving better results in attracting, retaining and advancing Indigenous staff and promoting reconciliation throughout the Department.
The Department offers access to the Commonwealth-wide Indigenous buddy and mentoring program, and staff at all levels are invited to participate.
The Indigenous Employment Strategy aims to build a sustainable workforce to support the delivery of departmental outcomes and Australian Government objectives through an increased Indigenous representation within the workforce; a pathway for Indigenous staff within the APS through learning and development opportunities; and a diversity-rich environment that closes the gap on Indigenous  disadvantage.
Aboriginal and Torres Strait Islander staff may access paid study leave and financial assistance.
Aboriginal and Torres Strait Islander staff may access Ceremonial and NAIDOC Leave.
The Indigenous Staff Support Network (ISSN) is an open network for both Indigenous and non- Indigenous staff to promote connections, networking and collaboration to further share mutual support and to discuss ongoing opportunities.
The Jawun Secondment Program is a significant professional development opportunity for our executive level and APS6 staff. It is an immersive learning experience focused on developing cultural competence and an understanding of Indigenous culture.
Disability

Department of Home Affairs
---

Justine's story
"As a staff member with disability, I am passionate about driving positive change and raising awareness about disability inclusion in the workplace. The Department has provided me with the opportunities to chair the Focus on Ability Network which is a staff network that is open to anyone interested in advocating for staff with disability and carer's of people with disability. My managers have supported and encouraged my involvement in these forums and valued my contribution to creating an inclusive workplace."
Support for staff with Disability
The Department provides support through the following initiatives:
Participates in the RecruitAbility Scheme, which aims to attract and develop applicants with disability and facilitate cultural changes in selection panels and agency recruitment.
Disability Action Plan (DAP) which sets out initiatives that will provide staff with disability equal access to development, promotion, services and career opportunities and help to build a more disability confident organisation. 
Member of the Australian Network on Disability (AND), a national organisation that makes it easier for employers to welcome people with disability in all aspects of their business
Focus on Ability Network, which provides an opportunity for staff with or without disability to meet in an informal and friendly environment, encouraging information sharing, while fostering meaningful relationships.
Reasonable Adjustments Passports, which assist staff when there is a change in manager or location and ensures key information about those reasonable adjustments are readily available and transferable.
Disability confidence manager's toolkit designed to assist managers in supporting staff with disability.
Committed to increasing mental health awareness and supporting staff who might be experiencing mental health issues, by providing support services and initiatives such as the Employee Assistance Program (EAP), Peer Support Network and a Mental Health Plan.
Assistive Technology Support Hub for staff who require assistive, adaptive and rehabilitative devices and applications.
Participates in the Dandelion Program, which provides skilled employment opportunities within the Information Communications and Technology (ICT) Division to people on the Autism Spectrum.
Intergenerational
Department of Home Affairs
---
Supporting intergenerational staff in the Department
The Department recognises and values the diversity of staff of all ages and the benefits that generational age groups can provide our organisation.
We are committed to engaging in ways to retain the corporate knowledge and career experience of our mature age workforce, while increasing representation and developing the skills of our younger workforce. This demographic of staff is known as intergenerational (under 25 and over 45 years of age).
Mature age workforce
Mature age staff bring a wealth of experience, knowledge and skills that are highly valued by the Department. We seek to attract mature age staff to assist in building our corporate knowledge and operational experience, as well as retaining these staff by providing a supportive and flexible work environment.
Flexible working arrangements are available to staff who are 55 years and over, to accommodate age related life commitments and we offer health and wellbeing programmes, such as the AgeWell Program, that provides a holistic approach to addressing the health needs of our ageing workforce.
Younger workforce
Younger staff play an integral role in improving our organisational performance, as well as being an important part of our succession planning. We must ensure that we continue to grow our future workforce in order to sustain our organisation's effectiveness.
We support career pathways into the Department and professional development programs to grow the skills and knowledge require of our future leaders. Our internal leadership programs provide a pathway for leadership capability development as staff progress through the various levels of responsibility and influence.
Staff have the opportunity to engage with peers at forums and networks, in the Department and across the APS, as well as executive mentoring and buddy programs.
Cultural and Linguistic

Department of Home Affairs
---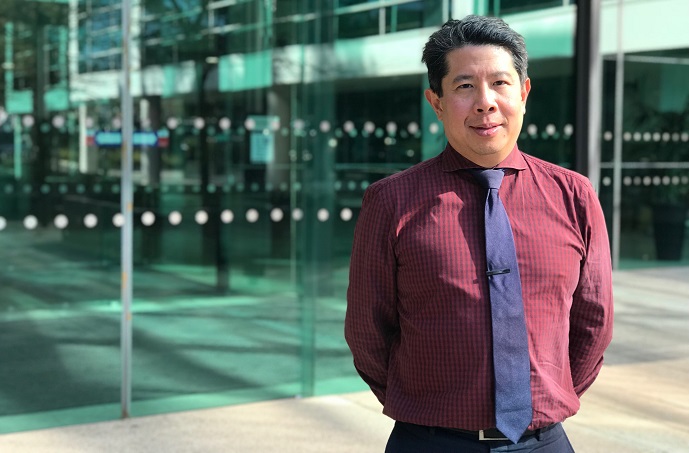 Daniel's story
"My family has a long history in the Northern Territory around Pine Creek, Mataranka, Katherine and Darwin. The Indigenous part of my mob is Finnis River Brinkin, which borders Larrakia country. My extended family's heritage includes Chinese, Italian, German, English, Scottish and Indigenous.
I work in the Multicultural Community Relations Section which supports the Government's engagement with Australia's culturally and linguistically diverse communities. There is always something new to learn about our different communities and the work is always interesting."
Supporting culturally and linguistically diverse staff in the Department
The Department is committed to supporting the continued recruitment and retention of staff from culturally and linguistically diverse (CALD) backgrounds and values and embraces their skills, perspectives and experiences.
CALD Network
The CALD Network provides a virtual platform, instantly connecting staff from across the organisation who are from CALD backgrounds. Members have the opportunity to share their experiences in a safe environment about matters or issues affecting CALD staff, achievements and contributions, or just to connect and support one another. The forum is also used to promote learning and development opportunities, as well as networking, events and forums internally and externally of the Department.
Provisions for CALD staff
CALD staff have access to employee conditions that support staff with appropriate recognition of cultural obligations, as well as having dedicated prayer rooms in most major workplace sites, to assist staff with their religious duties.