Fujitsu Graduate Programs & Internships
Our Vision
Our purpose is to make the world more sustainable by building trust in society through innovation. Our purpose drives every action of every person at Fujitsu. We aspire to contribute to a world in which people, places and things are connected to solve social issues and generate innovation, leadin…
View more Fujitsu has no active opportunities at the moment.
See who's currently hiring with our Job Search!
Search for jobs
Our Vision
Our purpose is to make the world more sustainable by building trust in society through innovation. Our purpose drives every action of every person at Fujitsu. We aspire to contribute to a world in which people, places and things are connected to solve social issues and generate innovation, leading to a greener future and sustainable society that leaves no one behind.
Our vision is to build new possibilities by connecting people, technology and ideas to create a more sustainable world where anyone can advance their dreams. By bringing together our integration capabilities and cutting-edge technologies, we drive your success, moving forward for a more sustainable world. We call this 'Fujitsu Uvance'.
Fujitsu Uvance is the business focus we are bringing to technology and cross-industry functions. Through Uvance we are committed to transforming the world into a place where people can live their lives, enjoying prosperity and peace of mind.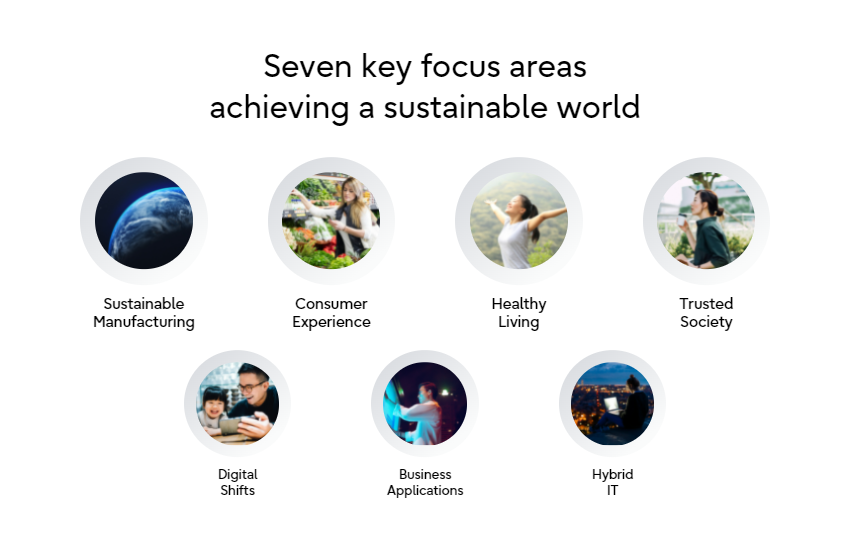 At Fujitsu, we recognise that diversity of thought leads to powerful innovation. That's what we invest in our people. At Fujitsu you will have access to interactive online courses, mentoring programs and leadership development programs that will help you unlock your potential. We know that you perform best when you have the freedom to choose the way you work. That's why we have a flexible work policy that allows you to strike the perfect balance between your career and personal life.
At Fujitsu we are committed to using our digital transformation skills, time and resources to contribute to communities in Australia and New Zealand. We do this by supporting causes important to our people and by forming long-term community investment partnerships.
Lastly, in order to deliver on our purpose of making the world more sustainable by building trust in society through innovation, we are working to continually reduce the environmental impacts of our products and take a leading role in influencing society's thinking regarding sustainable resource management. Fujitsu has long-term commitments to enhance the sustainability of our products throughout the product lifecycle.
This year we are taking a different approach to our Graduate Program. We want you to discover the path that excites you most because when you find a practice area you love you will reach your potential faster. We now offer two streams for our Graduate program; a technical stream and a business stream.
Technical Stream
Our Fujitsu Technical Stream is for graduates who aspire to define the future of cloud computing, cyber security, engineering and innovative solutions. We are looking for students with academic backgrounds like yours to help us solve business challenges from a fresh angle. Within the technical stream you will work alongside industry professionals to strengthen your technical skills. You will work on real projects that directly contribute to Fujitsu's purpose to make the world more sustainable by building trust in society through innovation.
For the 2023 Graduate Technical Stream we are accepting applications for the following roles:
Graduate Consultant, Data Engineering (Versor) - you will join Versor, a leader in designing and delivering Modern Data Platforms and AI solutions based on the Microsoft, Databricks and AWS technology stack. You will receive a unique career roadmap and 1:1 mentorship from industry thought leaders during your graduate program.
Digital Systems Platforms Unit (DSPU) - leading the digital transformation, the Digital Systems Platforms Unit (DSPU) shapes the way our business utilises technology. You will be passionate about UX and delivering exceptional value to internal Fujitsu stakeholders. Opportunities include:
Graduate, Automation Analyst, PowerPlatform
Graduate, Business Analyst, Data & Reporting
Graduate, Business Analyst, Enterprise Applications
Graduate, User Experience
Graduate – Hosting & Cloud - as a valued team member in our Hosting & Cloud team, gain exposure across multi-cloud environments leveraging Fujitsu partnerships to deliver optimal solutions for a broad range of customers.
Graduate – Data & Applications - working with leading customers across the public sector and commercial environments, you will gain experience in application development, integration, testing and optimisation of our customer solutions. Opportunities include:
Associate Software Developer
Technical Applications Analyst
Business Analyst
Cyber - join our Cyber Security team in delivering cyber services to protect and secure our large scale customers from cyber threats. Opportunities include:
Graduate, Cyber Analyst
Graduate, ISM Associate
Graduate, Analyst Governance, Compliance & Risk
Chief Technology Office - learn our established Co-creation methodology engaging business experts from client organisations to work together with Fujitsu to address critical business challenges. Opportunities include:
Graduate, Portfolio Associate, Product Management
Graduate, Business Analyst, Agile
Graduate, Co-creation Analyst
Business Stream
Our Fujitsu Business Stream is for Graduates who are thought-provoking leaders, have strong communication and analytical skills and are passionate about customer relations. We are looking for students who have the skillset to think outside the box to solve business challenges. Within the business stream you will work across many areas and specialisations that will stretch your thinking and challenge you every day. You will work alongside industry professionals to solve real business challenges by working across our diverse client list.
For the 2023 Graduate Business Stream we are accepting applications for the following roles:
Graduate, Office of Purpose - a key role in driving diversity, equity and inclusion initiatives with employees, customers, and community partnerships. 
Graduate, People & Culture - By gaining exposure across the different P&C specialisms throughout the graduate program you will apply industry best practices to support our most valuable asset - our people.
Graduate, Finance - Working with our Finance team you will gain expertise in the practical application of your accounting knowledge in a large high growth technology company. You will also gain experience in management and tax accounting and have an overview of all aspects of the Finance Department.
Workforce Management Business Analyst - you will have the opportunity to shape our future workforce while aligning to customer priorities.
Chief Technology Office - learn our established Co-creation methodology engaging business experts from client organisations to work together with Fujitsu to address critical business challenges. Opportunities include:
Graduate, Portfolio Associate, Industry Aligned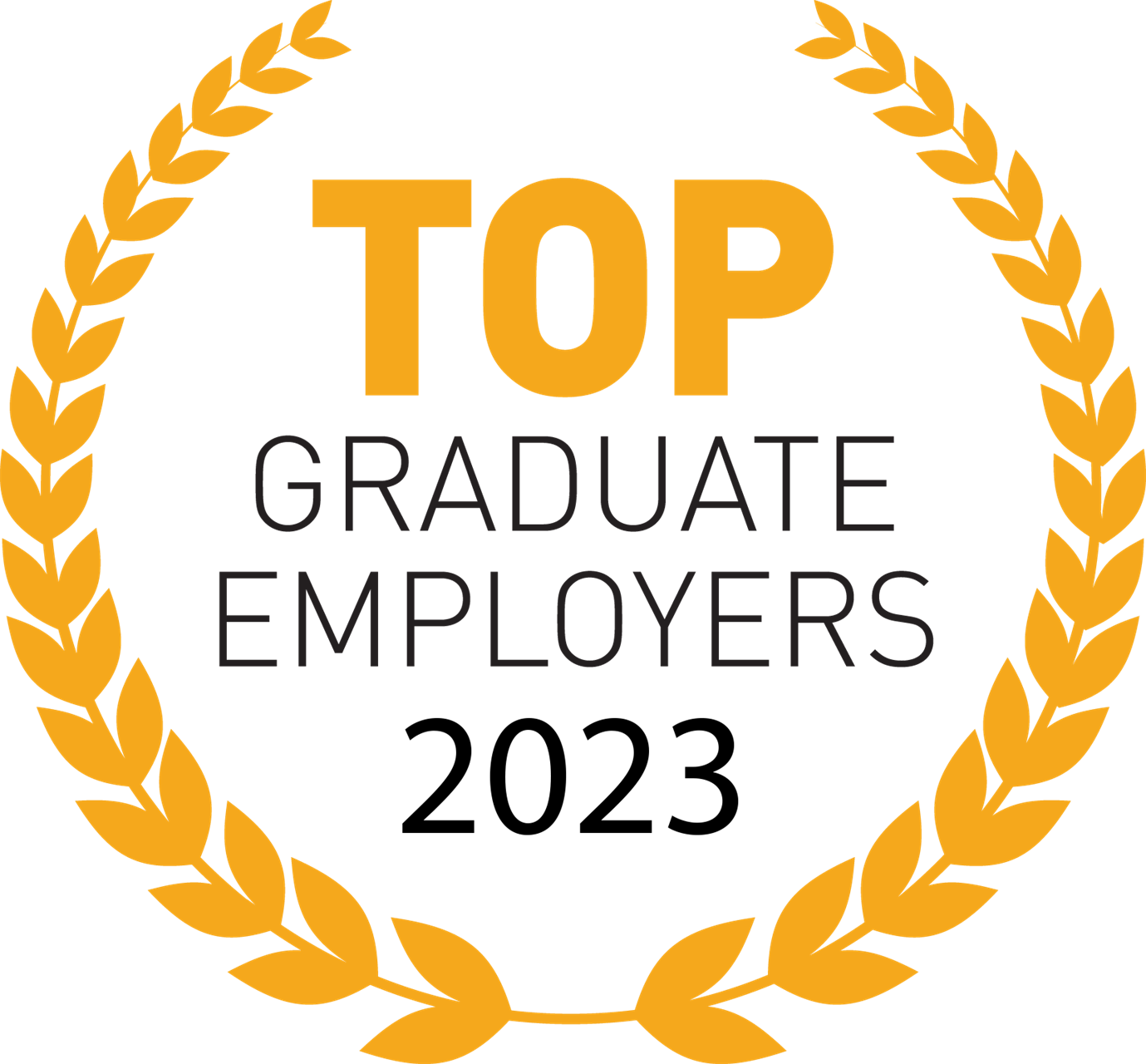 Are you a First Nations student who wants to kickstart your career by gaining industry experience with a global ICT company? Look no further than Fujitsu's First Nations Internship Program.
Across our 12 week summer internship program you will gain industry experience, work on real projects, build your technical and soft skills and potentially secure a spot in our award-winning Graduate program.
If you would like to find out more please register your interest here.
At Fujitsu we offer a range of lifestyle benefits including:
Volunteering with purpose
We recognise the importance of providing opportunities for our people to volunteer flexibly and in their own communities. To help support this, our 'Volunteering with Purpose' entitlement provides employees with 3 days paid leave to volunteer at a charity of their choice.
Learning and development
Fujitsu is committed to providing learning and development opportunities to its imployees. You will have access to a range of online learning courses through Empower. In addition, you will have the opportunity to attend a range of internally run learning and development modules.
Flexible work arrangements
Fujitsu supports a workplace culture that recognises diversity and strives for inclusivity for all Fujitsu employees. We encourage employees to organise how they work in consultation with their manager to meet individuals varying needs and responsibilities while ensuring Fujitsu's customer and business requirements are met.
Annual Leave Purchase Scheme
You can purchase up to two weeks of extra annual leave each year
Parental Leave
We provide 14 weeks of paid parental (including adoption related parental leave)
Travel Benefits
You have access to a range of travel benefits including discounted air travel, airline club membership and discounted accommodation
Fujitsu is committed to hiring the best talent available and to delivering a superior candidate experience with clear, honest and consistent communication every step of the way. Take a look at the steps below to understand how the recruitment process works.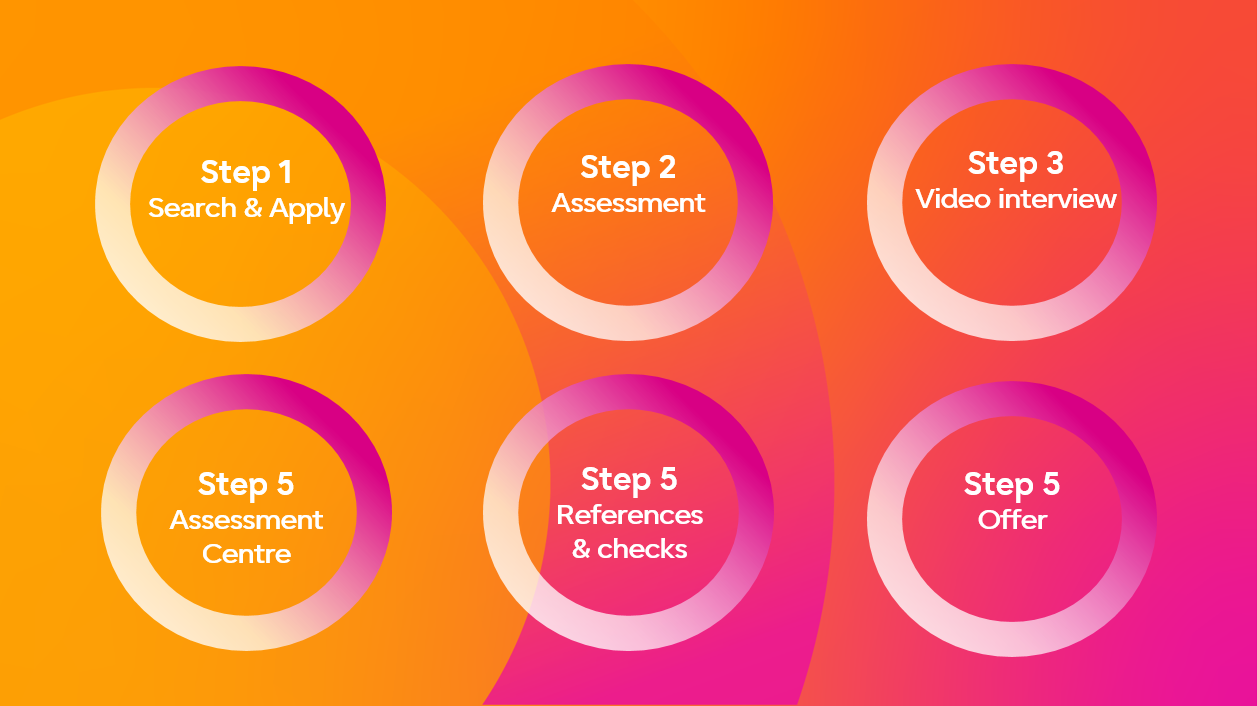 Read about what our Graduate Alumni have to say about the Graduate Program
Check out Fujitsu's blog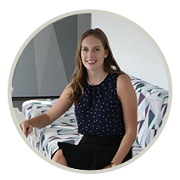 Emily Pulbrook
Hear from Emily Pulbrook who recently went to Japan for a 2 week training course. Emily started at Fujitsu in 2018 as a Sales Graduate and has been promoted into a Sales Associate role.
Was the program rewarding in terms of developing your career?
The Fujitsu Graduate program has helped me greatly in developing my career and also personally in term of my own confidence in my abilities to perform and learn. The Graduate program was challenging and often encouraged you to do tasks that you didn't think you were ready for yet. At the time it is very daunting but if you persevere, work hard and have a good supportive team behind you then you can achieve whatever is put in front of you. The saying 'you need to get comfortable being uncomfortable' is very true when trying to develop and grow your career.
What were some day to day tasks you owned?
My average day to day tasks included managing the CRM tool for a number of customers, working on tenders, managing bids, attending training sessions with both Fujitsu and partners and sitting in on customer meetings and calls.
What's the coolest experience you had within Grad Program?
The coolest experience I had within my Graduate Program was being sent to our Head Office in Japan for 2 weeks to attend a regional sales training course with 15 other colleagues from our offices around the globe.
What's your biggest challenge?
My biggest challenge has been learning to not always instantly say yes to having a task or job done by a specific timeline or date. Where this has become an issue for me in the past is that I have agreed to get something done by a certain time period without really understanding all of the steps needed to complete the task. You can sometimes end up setting yourself to inadvertently fail. That was a lesson I learnt the hard way and the best way to help rectify the situation is to be honest as soon as you realise that it is an unrealistic timeline. That way you and the respective parties can work together to figure out the next step forward as soon as possible.
Any advice?
Starting your career through a Graduate Program I found extremely helpful. The colleagues that you will be working with will know that you are most likely fresh out of university and that this is most likely your first 'real job.' Because of this they are happy to take the time to explain how things work and operate both internally and within the industry. So my advice would be to take advantage of the time that you are a 'Graduate.' Ask how things work and why and don't be afraid to ask what you might consider a simple or stupid question.
---
Check out Fujitsu's blog
Reinaldo Capizzi
Hear from Reinaldo, a member of the Fujitsu Graduate Alumni. Reinaldo is now a Co Creation Analyst, supporting clients with their innovation agenda.
Was the program rewarding in terms of developing your career?
Yes. I think that the Graduate Program gave me opportunities that I wouldn't see in your typical role. It allowed me to branch out and see other parts of the business. In particular, you get a load of opportunities to meet different people, and a lot of them adopt a really helpful approach to aiding your learning or giving you opportunities to try something new when they learn you are a Graduate.
What were some day to day tasks you owned?
In the co-creation team we own a lot of the Fujitsu innovation initiatives. Typically we are doing tasks related to innovation activities that we run with our partners and clients such as design thinking workshops. Internally we run an incubator program for business ideas that come from any employees – we help them form a pitch, review it, and take it to our internal review board. We then manage the idea as it turns into a proof of concept, and we also manage other innovative technological projects that can come from our global Fujitsu counterparts and integrate them into our local region.
What's the coolest experience you had within Grad Program?
I would say the coolest thing was designing an escape room for Fujitsu World Tour – which is Fujitsu's biggest annual expo for all our customers to attend. Initially myself and a colleague heard our events manager think out loud about creating an escape room, and we put our hands up to make it actually happen. We ended up making a small escape room inside the expo which was a lot of fun for the attendees, and at the same time it was able to show off some Fujitsu technology.
What's your biggest challenge?
Biggest challenge was managing multiple projects and innovation initiatives at the same time. Every client and partner is important and for me, I found that trying to please everyone became rather difficult when there are conflicting priorities. I overcame this challenge by managing expectations and setting these expectations with the client and partner from day one. This could involve being transparent with them and telling them I'm working on multiple projects and my response might be delayed. There's no shame in doing this and the client / partner would rather you be honest than to commit to a deadline you know you can't make.
Any advice?
A lot of my learning has come from working with people outside my team. I've started on a few interesting projects simply because I overheard a conversation about an idea or project that I thought I could help out with. Don't worry too much if you think you don't have the skills or knowledge to do something – most people's concern is that you show that you want to learn. Also, don't understate the importance of soft skills like presenting, building relationships, or general business acumen – these are most important for your career anywhere
---
Check out Fujitsu's blog

Tobias Mikkelsen
Hear from Tobias Mikkelsen, Associate Service Delivery Manager based in Wellington, New Zealand
Was the program rewarding in terms of developing your career?
The Graduate Program taught me all the foundational skills that I need to have in the IT industry. The program includes training that gave me a great insight into how my strengths can be aligned to make me work better and more efficiently.
What were some day to day tasks you owned?
I worked onsite at one of our major customers in Wellington, working with the service delivery team there. I was in charge of reviewing tickets each morning, doing the weekly incident report, working on the monthly report and billing. All of these are fundamental tasks for the service delivery team and have a high importance.
What's the coolest experience you had within the Graduate Program?
The coolest experience within the Graduate Program was being able to go to Sydney and meet the entire cohort every few months. This was a great way to network and get contacts with people in different parts of the company. We did a lot of team building activities like going to Luna Park in Sydney! We did public speaking training, leadership training, and got to present to the senior leadership team on multiple occasions.
What's your biggest challenge?
Coming straight out of university, one of the biggest challenges was getting used to the corporate life. Having studied computer science at university, I was used to being able to do most of my work alone. In the corporate world you have to be able to work in any team of any size, while still being able to do your own work. This was a big challenge for me, and I keep learning new thing about it every day and continue to develop my skills in this area.
Any advice?
Be open to saying yes to any opportunity that comes your way. This is what allowed me to get the most opportunities out of the Graduate Program. Having an open mind and being up to a challenge is the best way to learn new things and get better at things you already know.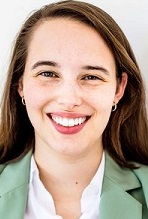 Day in a Life of Adelaide
Your Name: Adelaide Spicer
Your Job Title: Graduate Digital Consultant
University Attended: University of New South Wales
Degree Qualification: Bachelor of Science (Majored in Food Science)
Year of Graduation: Graduated in 2019
5:40am 
As a morning person, waking up at this time doesn't bother me too much. As soon as I'm up I hop in my gym clothes and drive to my nearby gym in the Shire. Exercising before work helps clear my mind and get ready for the day. 
7:30am
Fujitsu has a flexible workplace policy and we have the option to either work from home or from our local office location. Either way, since I'm more productive in the morning I log on to my work laptop before breakfast to quickly check my emails and prioritise my tasks for the day. Once sorted, I make my usual peanut butter toast and coffee – with smooth peanut butter, not crunchy. Post-breakfast I complete my detail-oriented tasks for the day. This might be proof reading a proposal, reviewing data in an excel I compiled the day before, or finalising a presentation for later in the day. Personally it's my favourite part of the day, quiet and productive.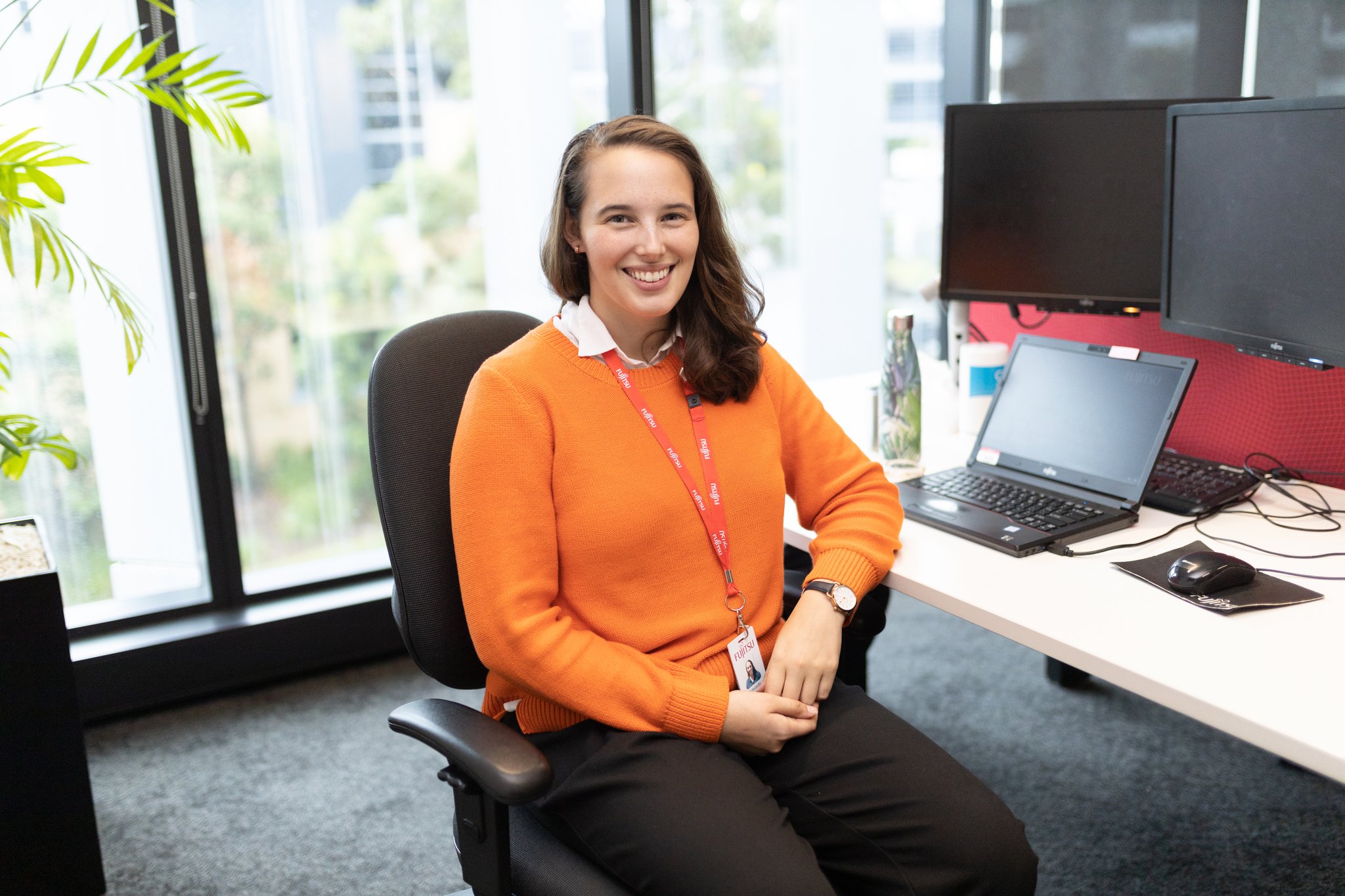 9am-12pm
In Consulting, your days are highly dependent on the project work you're assigned. Generally when working on a customer project your mornings are often filled with daily check-ins or 'stand-ups' with your customer and project team. In the age of remote working this means lots of Microsoft Teams calls and virtual Kanban boards! These meetings ensure we're all on the same page with regards to deliverables, timelines and general expectations. When in-between projects I use this time to read thought leadership articles and pursue IT certifications. Fujitsu has been very supportive of my desire to broaden my education and skillset. Working in the Consulting team means that I need to stay abreast of news, new technologies, and trends so I can bring value to our customer engagements.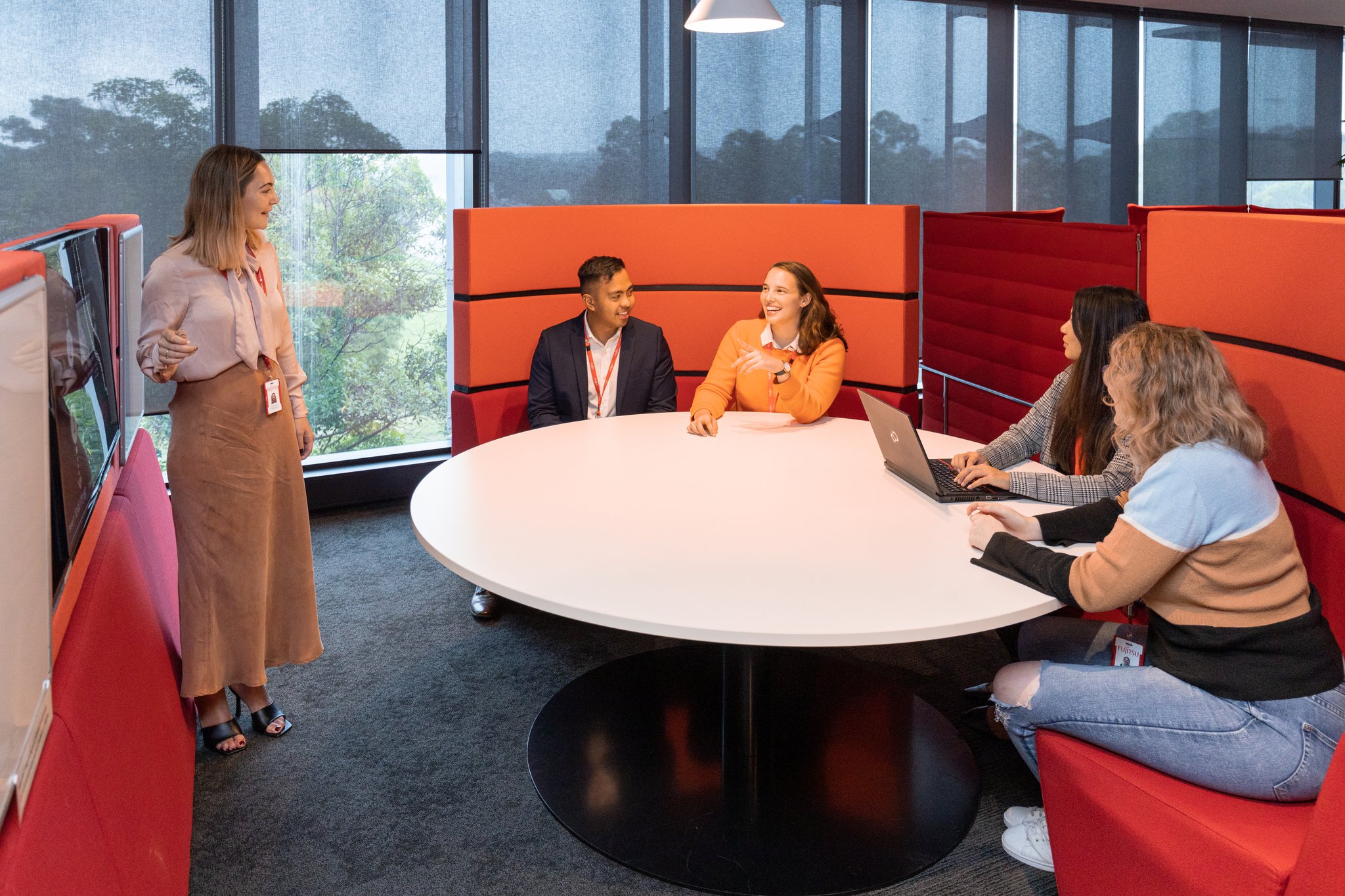 12pm
Lunchtime! When in the office I use my lunch break to relax and catch up with colleagues in the communal kitchen area. When working from home, I spend this time walking my co-worker (my cavoodle). I would say he's more excited about my lunchtime break than I am. Sometimes I'll end up navigating us to my favourite bakery a few streets over and grab a sweet treat to have with my afternoon coffee.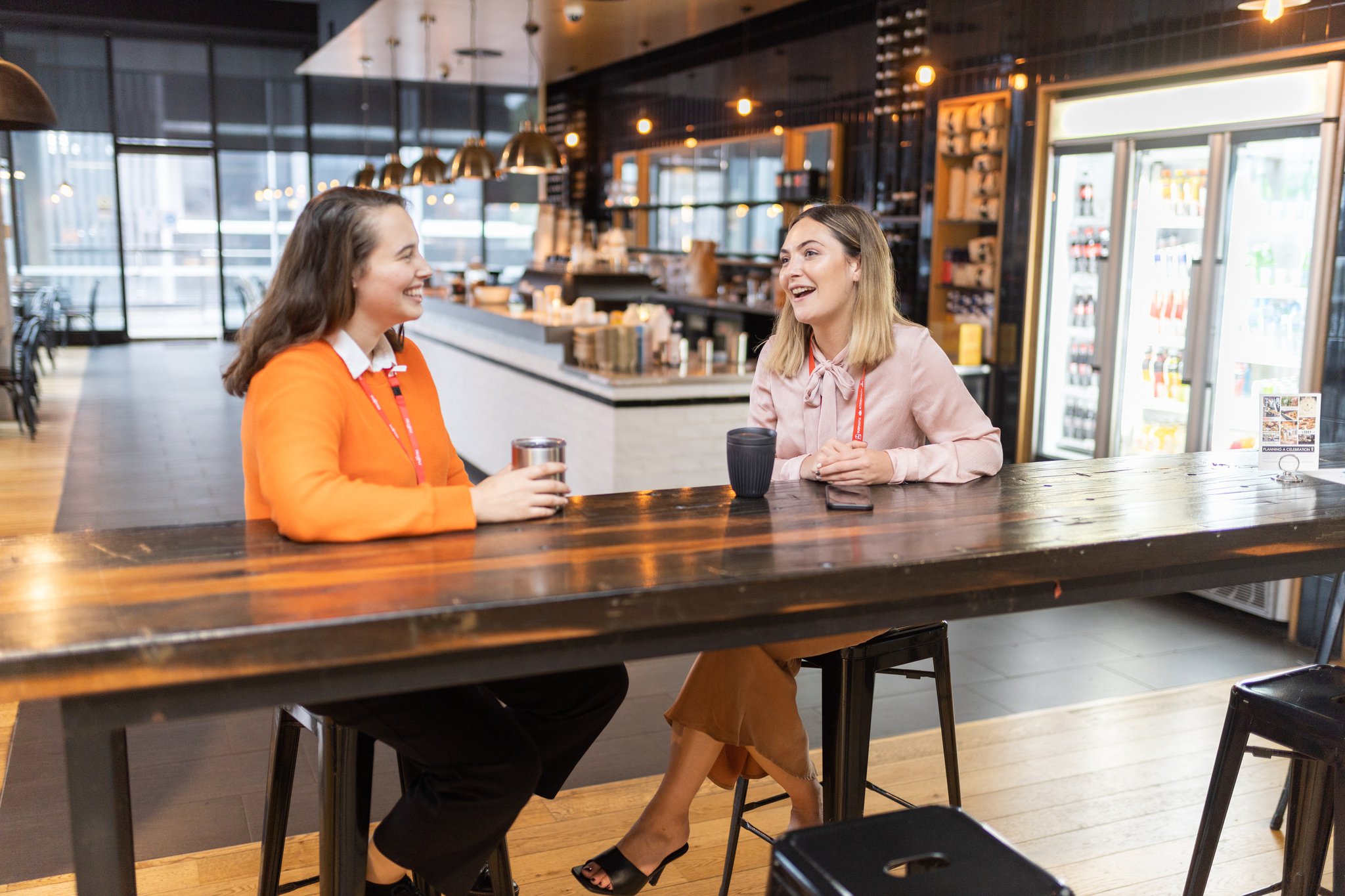 1-2pm
After carefully arranging my big thermos of coffee and sweet treat on my desk, I jump straight back into work. Often I'll have a working call scheduled with one of my team members. We'll screen share and work collaboratively on a document or presentation. One of my favourite deliverables to work on are Personas. Consultants use personas to represent the sentiments and experiences of real people, but in an anonymous way. They are helpful when designing a human-centric solution.  
2-3pm
Once a week we have a video call with our entire Consulting team. Since we are a small team spread across Australia it's important to attend so we can connect virtually with each other, have a laugh and discuss our respective projects. It's also a chance to show off our new Microsoft Teams backgrounds. 
3-4pm
I wrap up my tasks for the day and email any updates to my project team. This helps to set the agenda for tomorrow morning's stand-up.
4-5pm
Clocking on at 7:30am means that I'll log off earlier today. This means that I'll beat the peak hour traffic from the office, and when working from home no commute home means I spend the time on my balcony reading or drawing on my iPad! Fresh air helps clear my mind and unwind from the day. 
5-7pm
I'll spend some time making dinner and turn on Netflix in the background. I finally finished the Haunting of Bly Manor and Queen's Gambit – highly recommend. Depending on how I'm feeling I'll either make an elaborate salad or do a classic mac n' cheese from a box.  
8pm onwards
I hop into my PJ's and either read a bit before bed or listen to a podcast. Going to bed by 9:30 helps make the early start a bit easier.
---
Day in the Life of Chloe
Your Name: Chloe Dizon
Your Job Title: UX Graduate, DX Services
University Attended: University of Technology Sydney
Degree Qualification: Bachelor of Information Technology
Year of Graduation: 2019
7:30am 
The alarm is ringing, time to get up! I'm not a morning person at all so it's definitely a struggle getting out of bed. However, it's straight into the bathroom to wash my face and get ready for the day. Every morning starts with a freshly brewed cup of coffee and a small snack to kick start the day. If I'm working from home, I'll use some of the time to watch the news or do some chores. If I'm heading into the office then it's into the car and off I go!
9:00am
Time to start work! The first thing I do is check my calendar, read new emails and plan out my day. My team uses a shared planner app that tracks each task we are assigned on, so I'm usually scrolling through this and updating my tasks. I also like to keep my own daily to-do list where I write down specific goals I want done for the day and allocate time to them depending on my calendar.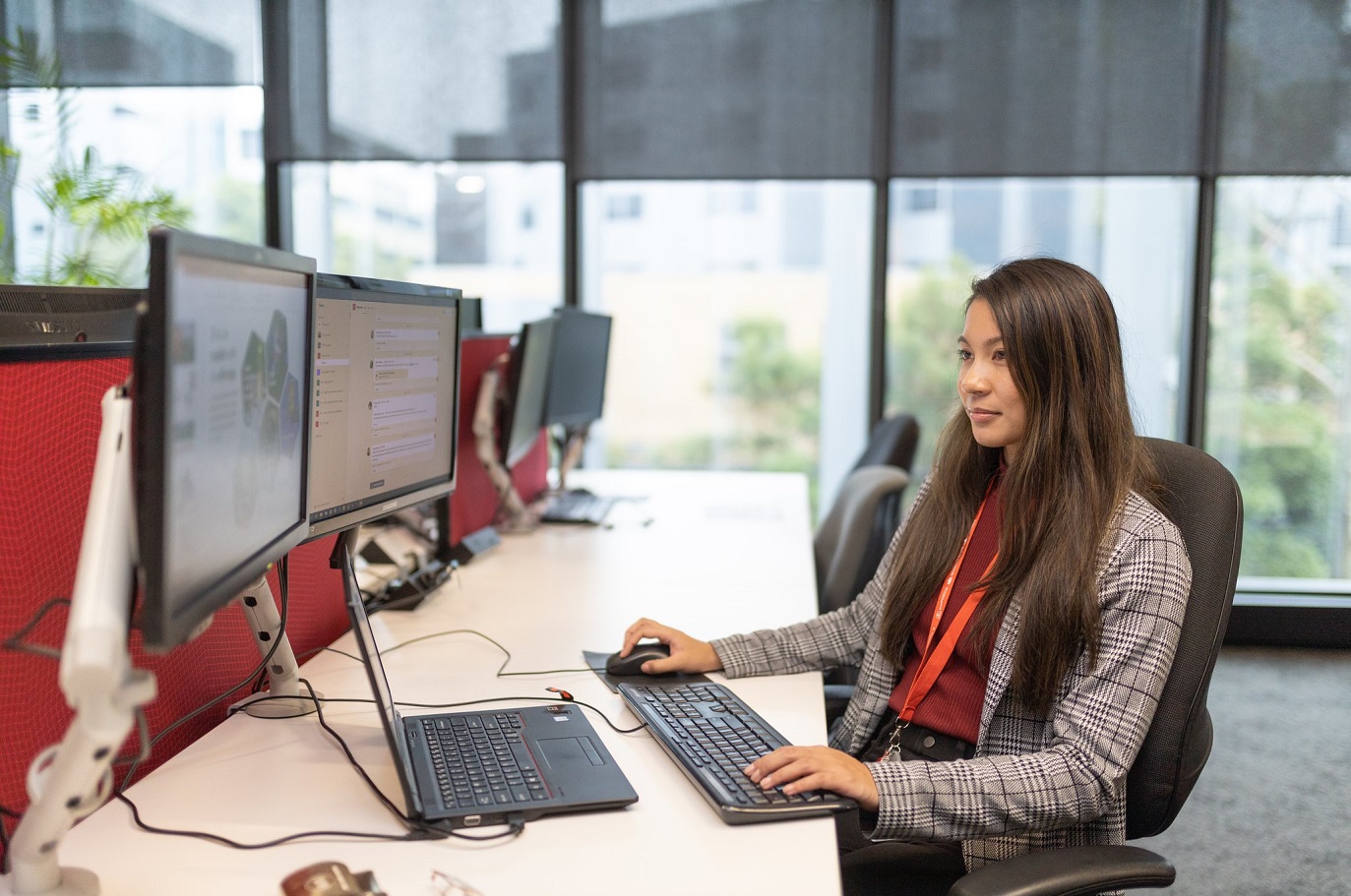 9:30am
It's time for my daily team meeting! I have a pretty small team so this is a time to catch up with each other. We chat about a range of things both work related (tasks we are doing for the day, blockers we have, what we need help with), and non-work related (new games we are playing, tv shows we are watching, weekend plans). It's the perfect way to start a day, making sure that our team is on track with some fun along the way.
10:30am
Meeting time! If I have the chance, I love to schedule majority of my meetings in the morning so I can leave any personal work for the afternoon. Today my team is preparing for an upcoming Human-Centered Experience Design (HXD) workshop. Preparation for these workshops include creating business challenges and personas depending on the customer challenges, and creating a screenplay detailing each activity and how long it takes on the actual workshop day. Today we are "dry-running" the workshop, that is pretending we are running the workshop with the team to see if there are any timing issues or activities that do not fit the workshop plan. This is important to not only find any possible flaws, but also allows us to practice our facilitation skills for the actual workshop day.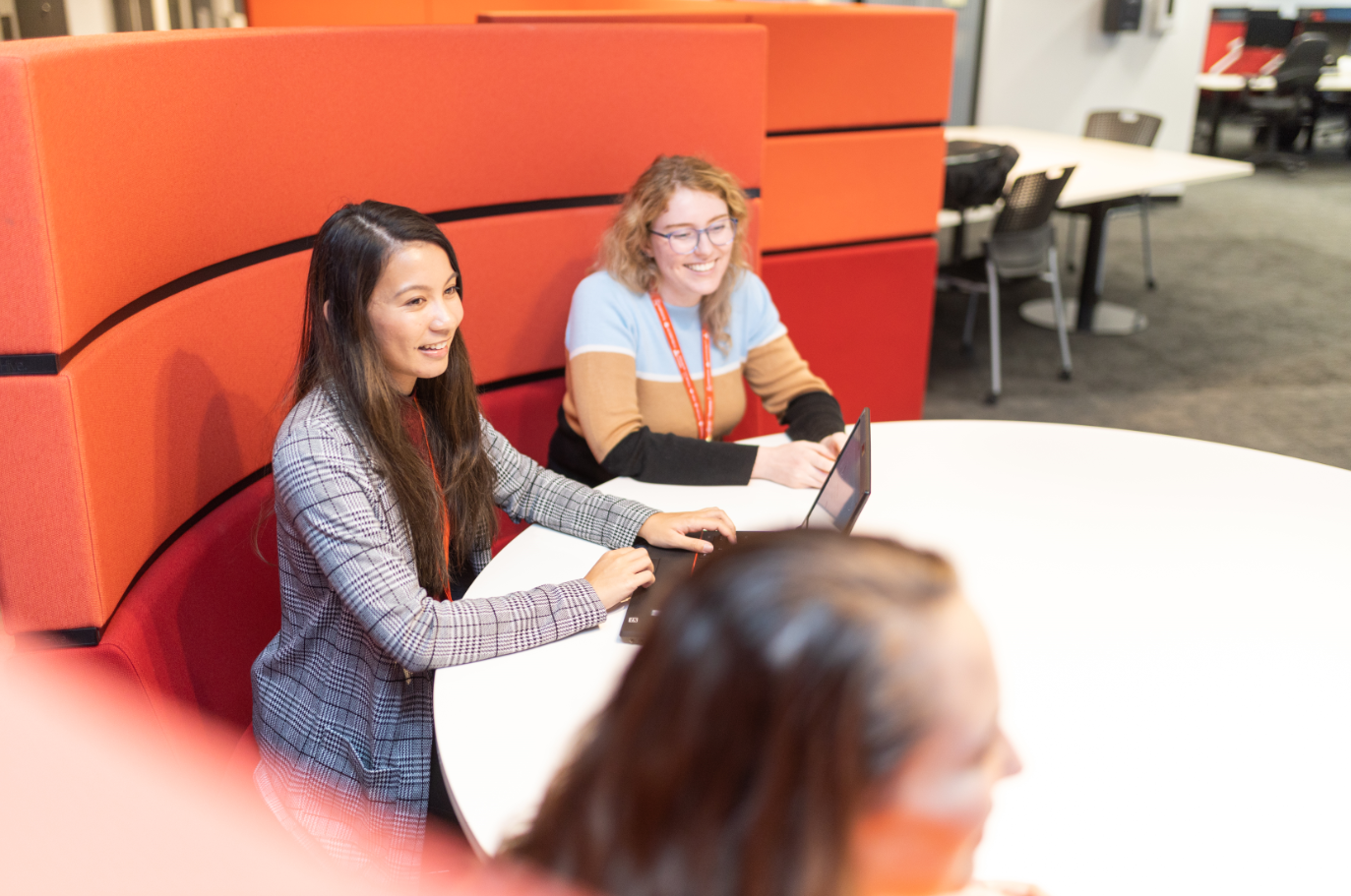 The Digital Transformation team at Fujitsu run these HXD workshops with customers to define their business goals and discover innovative solutions together. We use a mixture of cutting-edge technologies and hands-on activities to ensure our workshops are tailored to our customers' needs while also keeping the process exciting and fun! Originally these workshops were held in our Digital Transformation Centre located in Macquarie University, but now we offer these workshops virtually as well. The move to virtually provide workshops was very different for me – being someone who never turned their video on during calls or even owned a webcam at home. But having now facilitated many virtual workshops, I can now say I'm much more comfortable showing my face online and have had many great learning experiences from doing so!
12:00pm
With our workshop practice now complete, it's time for lunch! Today I'm having leftovers from last night's dinner. It's times like these where I miss being in the office and so close to the shopping center as I would usually quickly pop over with some friends, buy lunch, have a quick chat and maybe even do some quick shopping. 
1:00pm
With a fully belly, it's now time to catch up on any work I have to do! One of my key interests is UX Design and today I'm mocking up a mobile application for one of our partner companies. This involves ensuring users encounter positive experiences when interacting with the application by designing it in a way that is easy to use, intuitive and aesthetically pleasing. Today, I have received some new assets from the graphic designer so it is time to add these into the mockup and ensure they are on-brand and placed correctly for a pixel-perfect design that is easy for the developers to understand and re-create. 
2:30pm
Time for a coffee/tea break! At home this is usually accompanied by biscuits and a quick chat with whoever's home that day. In the office my team would usually use this time for an informal catchup, non-work related, where we would chat or even play a quick game to freshen up for the rest of the day.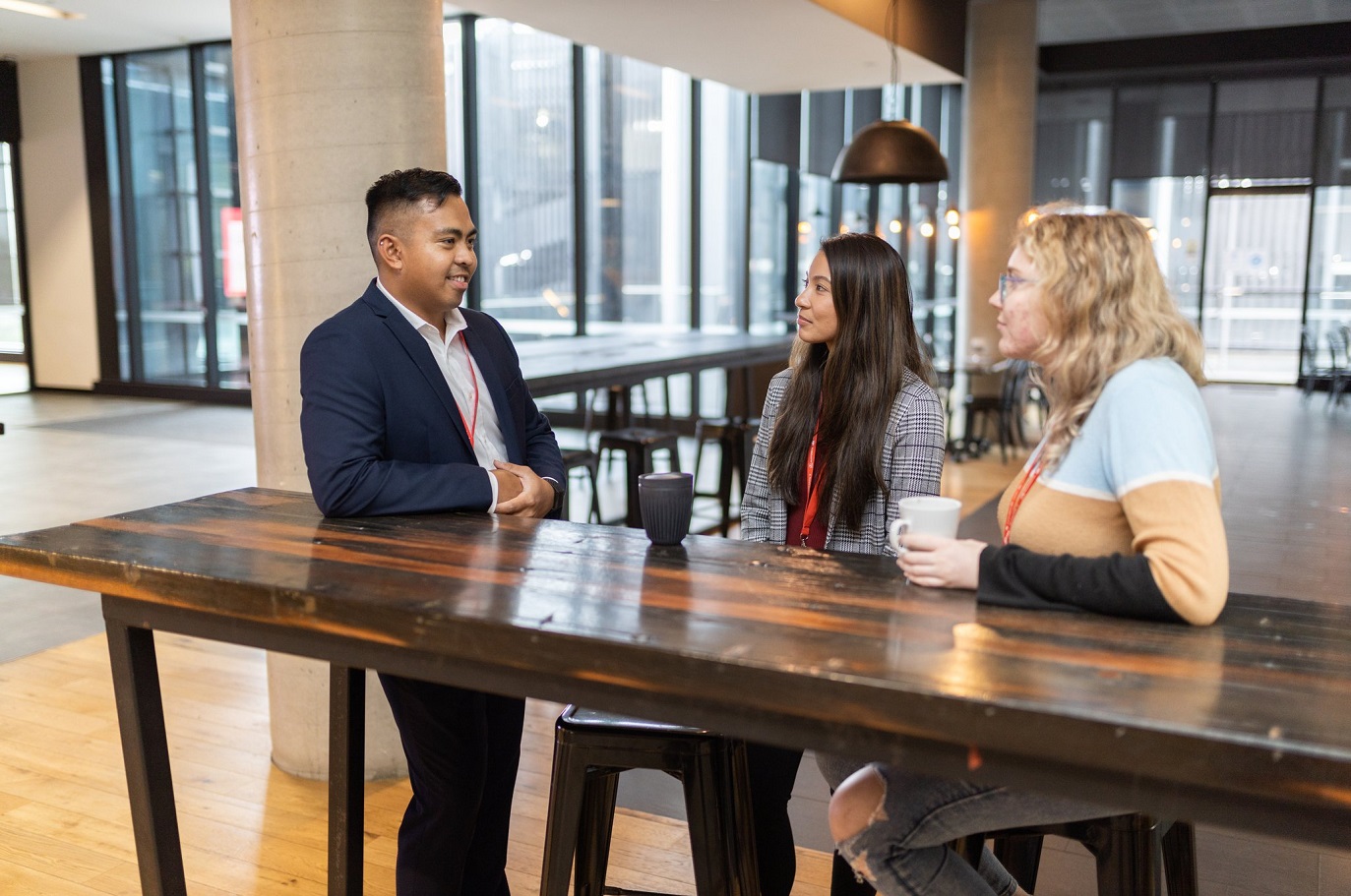 3:00pm
We are at the home stretch now! This is the time for any last-minute meetings I might need for the upcoming days or to catch up on any tasks. Today I'm working on some process improvement tasks for the team. This involves using Microsoft's Power Platform to create an easier way to receive, store, and report on our HXD workshop data. I'm currently creating a flow that enables the data on our Sharepoint lists to send calendar invites and email updates on Outlook. 
5pm
It's logging off/home time! Time to clear the head with some exercise. Maybe I'll visit the gym, or head to the dance studio, or walk the dog. Whatever it is, I love ending my work day with some exercise and fresh air to keep productive and stay healthy.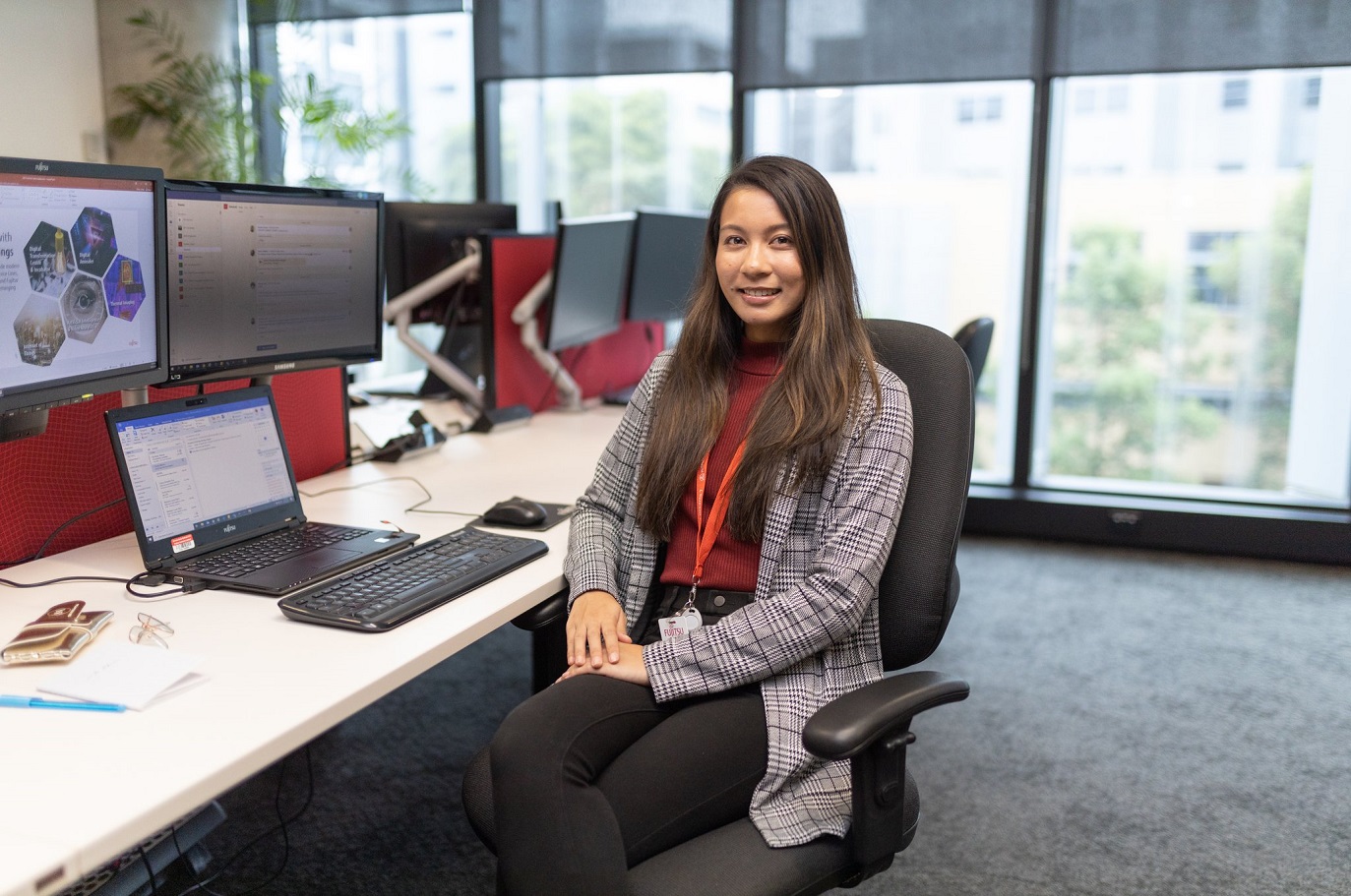 6pm
Time to create a feast for dinner! I love to cook dinner each night (whether it's a quick 20 min meal or an elaborate dinner I started earlier in the day) as a way to take my mind off the day while also getting a meal. Afterwards, it's time to catch up with social media, watch a show or play a game. 
10pm
Sleep time! Time to rest and freshen up for the day ahead!
Diversity & Inclusion

At Fujitsu, they believe in the power of human difference to create a better future in a digital and diverse world. They understand that the insights of many voices will make Fujitsu stronger and more innovative. Fujitsu strives to be a place where everyone can be completely themselves.
Fujitsu's mission is to create a workforce that reflects the diverse nature of the Australian and New Zealand communities. They are committed to implementing strategies aimed at making team members feel supported with access to the tools needed to flourish in their careers. Their Diversity and Inclusion policy covers five key pillars: Disability, Fujitsu Pride, Gender, Generational, and Culture and Reconciliation. 
Fujitsu welcomes all applicants, regardless of, for example, gender, ethnicity, age and sexual orientations to apply for their Graduate Program.
LGBTIQ+

Fujitsu seeks to ensure all employees feel safe and respected without regard for sexual orientation or gender identity. 
Last year, Fujitsu joined Pride in Diversity, which is Australia's largest employer support program for LGBTI+ inclusion, to support with their activities to promote LGBTI+ inclusion. As part of their three-year strategy, Fujitsu will take part in the Australian Workplace Equality Index and continue to do so in future years to benchmark their practices. Fujitsu also participated in the Australian Workplace Equality Index Survey for the first time, which they have used to inform their strategy towards creating a work environment that is truly inclusive of the LGBTI+ community. 
Fujitsu have increased promotion relating to training and awareness sessions offered by Pride in Diversity to their employees, as well as launching the 'Walking in Rainbow shoes' online awareness course on their eLearning platform for all employees.
Disability Support

Fujitsu strives to provide an open and safe space that recognises people who are differently abled by raising awareness and aiming to eliminate unconscious biases.
Fujitsu participated in AccessAbility Day in November 2020, hosting jobseekers with a disability across human resources, sustainability, data centres, repairs, general IT and quality assurance. Fujitsu also held a web workshop with Aspect Autism Awareness to discuss and share employee stories. Aspect Autism Awareness has successfully placed employees with Fujitsu.
Fujitsu continues to strive to cater for employees who require adjustments, including but not limited to a range of flexible work policies, adjustable-height desks and accessible entrances and parking.
Gender Equality

Fujitsu believes that a successful business is one that taps into everyone's ideas and strengths.
Striking a gender balance is one of Fujitsu's key areas of focus. This year, there has been an impressive increase in the number of women in Graduate and traineeship programs, technology focused roles, and executive roles. 
Fujitsu is a proud member of Females in Information Technology (FiTT), an industry association that aims to create a voice for women in ICT, promote gender balance in the industry, and provides mentorship and development opportunities for women in Australia. Fujitsu is also a corporate member of Women in Information and Communication (WIC) in Canberra and supports a number of initiatives in this region.
Fujitsu celebrates exceptional women, and is proud to have had finalists in the NZ Reseller News Women in ICT Awards for the last two years.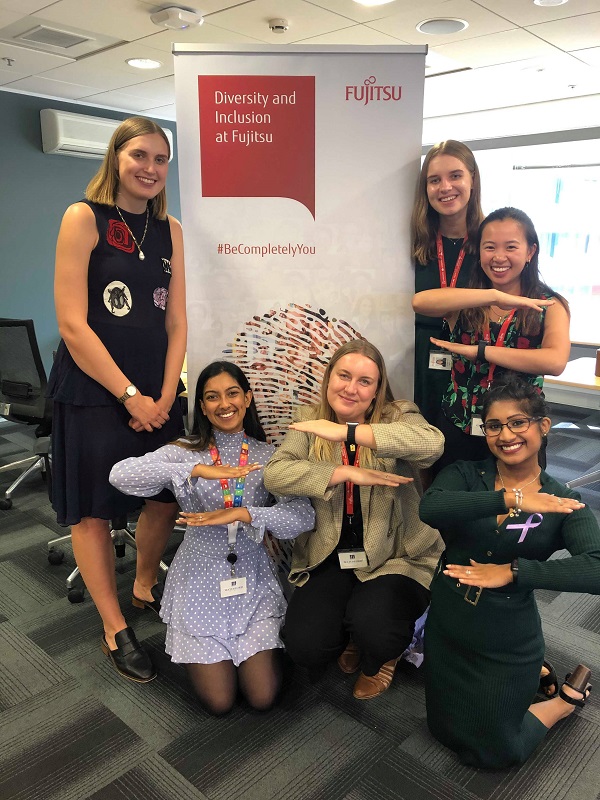 Aboriginal and Torres Strait Islanders

At Fujitsu, we believe that reconciliation is essential to achieving our purpose in Australia. Without truth-telling and equity; social trust cannot be realised. Without incorporating the knowledge and innovation of Aboriginal and Torres Strait Islander peoples, Australian sustainability will never be complete. Fujitsu New Zealand is committed to providing opportunities to Maori and Pasifika people, and promotes and celebrates the language and cultures that influence our business.
Fujitsu's first Innovate Reconciliation Action Plan (RAP) was launched in 2019 as a successor to our 2018 Reflect RAP. In 2020, we achieved some of our key RAP goals including the launch of our internship program and our highest ever spend of $1.4 million with First Nations owned businesses. Through this program we contribute to the achievement of SDG10: Reduce Inequality (Target 10.2).
Our third RAP, a second Innovate RAP (2021-2023), was launched in the second half of 2021. The second Innovate RAP signifies Fujitsu's increased ambition to create opportunities to collaborate with customers, partners and Aboriginal and Torres Strait Islander communities, utilising our unique technology solutions to co-create value – for our partners, our communities and society.
In 2020, Fujitsu launched our first paid internship program to create pathways for young Aboriginal and Torres Strait Islander peoples. In partnership with Walanga Muru, the Aboriginal and Torres Strait Islander unit at Macquarie University, we welcomed 7 Aboriginal and Torres Strait Islander interns to Fujitsu across various business units, including Cyber Security, Finance, Human Resources, Portfolio and Alliances, Project Delivery, Responsible Business and Sales. Alongside day-to-day responsibilities within their teams, the interns also completed a structured development program, including connecting with external mentors. Fujitsu continued the First Nations Internship program in 2021 and partnered with Indigital to build technical skills for First Nations students. As part of the Indigital program participant's engaged in cultural Storytelling and developed 3D characters in Virtual Reality.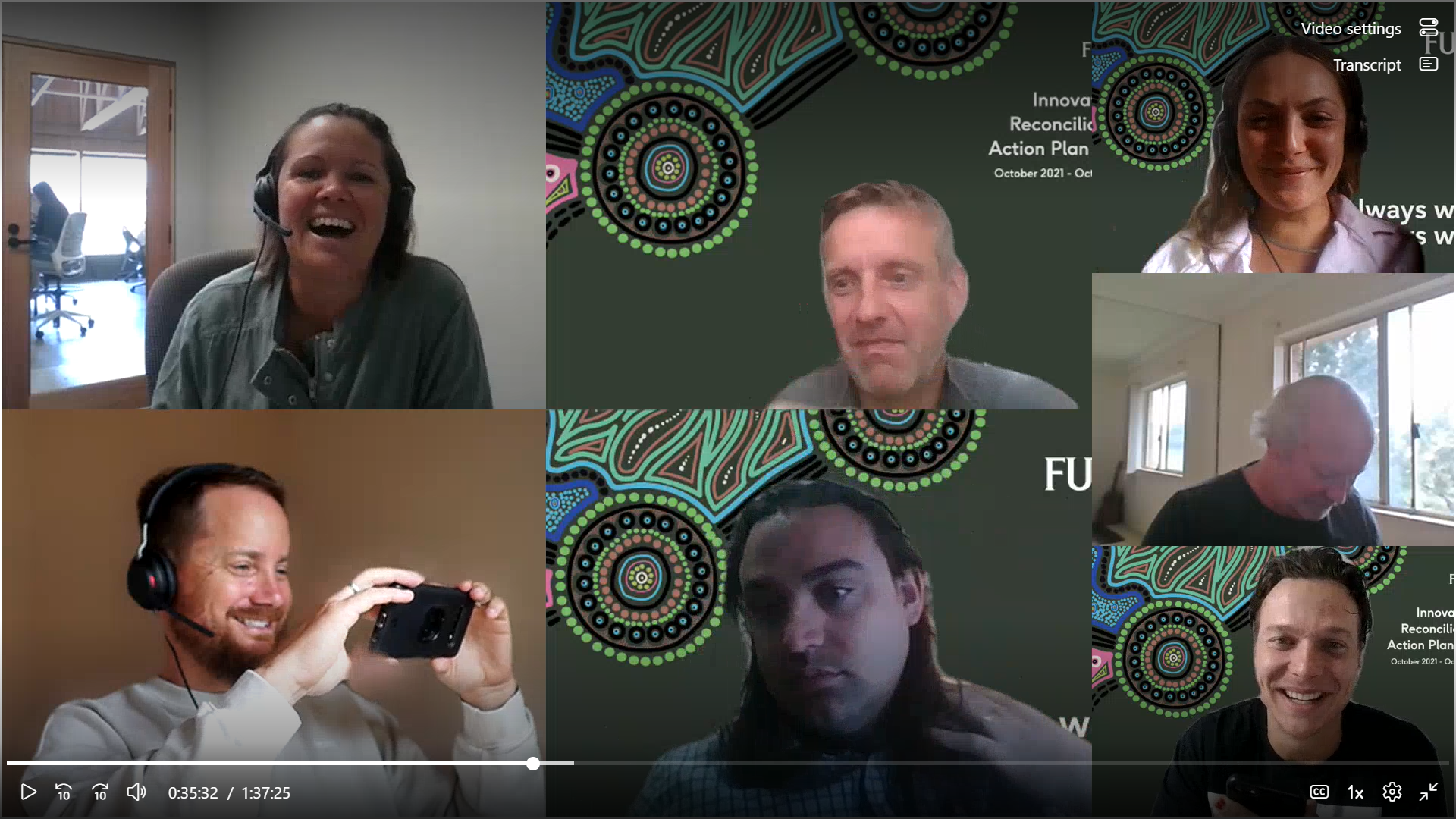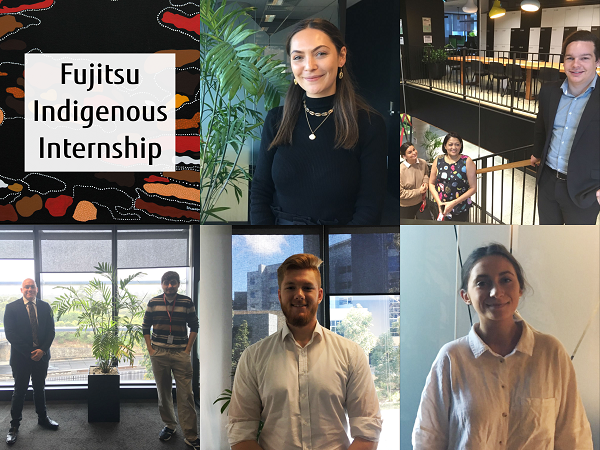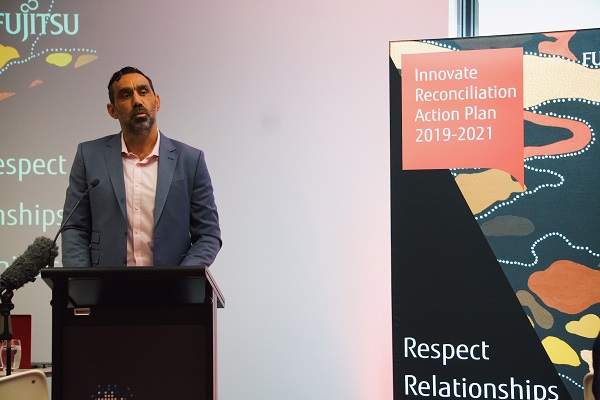 Fujitsu has also partnered with the Bawurra Foundation, a charity founded and led by Gamilaraay man Jesse Slok, by hosting in our cloud and use of Fujitsu's hardware products. Bawurra Foundation works with many First Nations communities and Elders to digitally preserve Aboriginal and Torres Strait Islander knowledge and culture in Australia. Volunteers partner with First Nations Elders and communities to record and preserve oral histories, songlines, and language. To accompany this preservation, Bawurra Foundation digitally preserves artefacts such as maps, photos, letters, drawings, and news clippings.
Fujitsu established its Māori & Pasifika Working Group in August 2021 to develop the Diversity and Inclusion Action Plan and engage in activities to promote our vision of a respectful and diverse workforce. This is a practical plan of action built on Fujitsu's core values: aspiration (wawata), trust (tiakitanga) and empathy (aroha). If you would like to read more about Fujitsu's Maori and Pasifika Inclusion Plan you can access the document here.
Fujitsu is ambitious to be a global leader in workplace diversity. Their diversity and inclusion group's generational pillar aims to nurture and promote connected relationships across all generations at Fujitsu.
A recently launched initiative is the Reverse Mentoring Program, which sees Graduates and experienced colleagues get the chance to mentor executive leadership members. This program was designed to give Graduates an opportunity to share their insights, experiences and bring a fresh perspective on their business, strategy and culture. This program provides leaders with the opportunity to deepen their insights into diversity and inclusion and allows feedback to be received in a safe space. 
Fujitsu's Next Generation Network (NGN) is another example of a Generational focused program. It runs across Australia and New Zealand, where NGN ambassadors lead roundtable sessions and events such as trivia, boxing, fun runs, fitness boot camps, pub quizzes and speed networking that aim to include employees across different generations.
Fujitsu supports the Young Enterprise Trust in New Zealand, which fosters entrepreneurship and financial literacy of young New Zealanders.
Embracing Generational Diversity at Fujitsu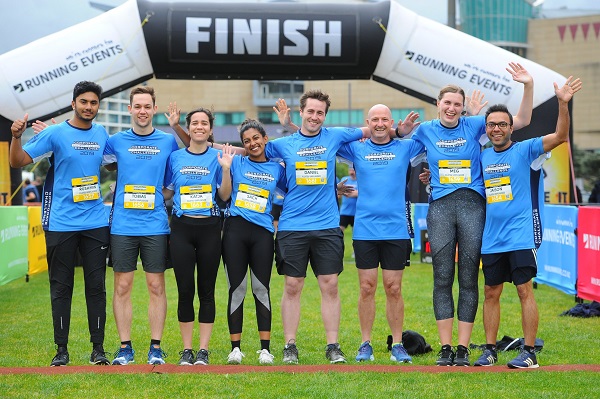 Case Studies & Hackathons
At Fujitsu, we offer a full range of technology products, solutions and services to our customers. We work with our stakeholders, using our experience and the power of ICT to contribute to their success and the future of society. Below are some examples that we have worked on.
Digital Owl - Drone and video analytics used to find threatened species
Working with the NSW Office of Environment and Heritage (OEH) 'Saving our Species' program, the 'Digital Owl' project uses Fujitsu's high-performance computing, video analytics and drone technology to capture and analyse video information over a broad geographic area. The information can then be used to help locate endangered species for management, and invasive plant species for eradication purposes.
New Research Collaboration Takes Aim at Brain Aneurysms with Artificial Intelligence
Fujitsu Australia, GE Healthcare, Macquarie University and Macquarie Medical Imaging have embarked on a new research collaboration to improve brain aneurysm diagnoses. The project is focused on developing a solution that leverages artificial intelligence (AI) to detect and monitor brain aneurysms on scans faster
Fujitsu Australia & Macquarie University Health Hack
Hackathons are an excellent way to generate ideas and to turn them into action very quickly. Fujitsu Australia teamed up with Macquarie University to launch Health-Hack 2018 as part of the Fujitsu World Tour in Sydney. The two day hackathon had students co-creating together to develop innovative ways in which technology can be used to improve the health and well-being of the Australian population.
Australia Post Case Study
Throughout its history, Australia Post has helped customers, businesses and government navigate the social changes that have shaped and transformed the country.
Fujitsu & Woolworths launch 'Eddies Fresh Food'
Fujitsu Australia Limited and Woolworths, the fresh food people, have partnered to create "Eddie's Fresh Food", the exciting integration and installation of real payment registers at St Edmund's College, Wahroonga. This collaboration has created authentic learning opportunities for students with disabilities.
Canberra Hospital Case Study
Canberra Hospital is located in Garran in the Australian Capital Territory, housing 672 beds and catering to a population of about 550,000. The institution acts as a teaching hospital for the Australian National University Medical School and the University of Canberra's School of Nursing.