Gilbert + Tobin Clerkships
Gilbert + Tobin is a leading Australian law firm, advising clients on their most significant corporate transactions, regulatory matters and disputes. An international leader in M&A, private equity, capital markets, competition and regulation and technology and digital, we work on complex issues that define and direct the market.
Gilbert + Tobin currently has 0 opportunities.
Select the following options:
Past Gilbert + Tobin Graduate Hiring Statistics
If you're interested in working at Gilbert + Tobin, understanding when they have opened up applications for their graduate programs, graduate jobs and internships is helpful knowledge to have so you know when you might need to apply. Use the below information to see when Gilbert + Tobin hires graduates, but more importantly what graduate degree's and other student attributes they target for their jobs.
---
Work rights
Australian Citizen (100%),

Australian Permanent Resident (100%),
Past Gilbert + Tobin Clerkships
Check out some of Gilbert + Tobin's past jobs they have posted on GradConnection over the last 12 months. Understanding the details about what a graduate employer is looking for well before applications have opened can sometimes be the edge you need to secure your first graduate program.
---
The only way to understand the work and culture is to experience it for yourself. Your clerkship with Gilbert + Tobin is your chance to see if you'll thrive here. To test yourself with meaningful work from day one. And to get to know the people who will shape your career.
Be Part of the Momentum
Gilbert + Tobin
---
Gilbert + Tobin is a leading independent corporate law firm and a key player in the Australian Legal market. We are renowned for our extraordinary depth and breadth of expertise.
"Working with G+T means working directly with recognised leaders in their fields, on meaningful and purposeful work. We have the freedom to be who we truly are, and the ability to thrive and adapt. We are intuitive and resilient, interested in the world and its challenges, and we always roll our sleeves up, whatever it is we are doing.
If you want to challenge your thinking and stretch your abilities, this is the firm for you. You'll also have the opportunity to work across borders and cultures, thanks to our growing network of international partner firms.
Through our pro bono work and related initiatives, we demonstrate our commitment to making a positive impact on Australia and the lives of others – including some of Australia's most disadvantaged and marginalised people.
Our challenge is to continue our momentum and become the most successful, respected and innovative corporate law firm in Australia. If you're interested in being part of that story, G+T is the place for you."
Danny Gilbert, Managing Partner
More+ Ambition
Working with G +T means working directly with recognised leaders in their fields, in a firm that aspires to be more. The work is challenging, interesting and rewarding. We're there for our clients at significant turning points in their business.
More+ Innovation
Innovation is deeply embedded into the DNA of G+T and the difference is, everyone is involved. We use in-house technology to automate routine legal tasks, and we also consult our clients' in-house counsel through G+T Innovate.
"Our graduates and junior lawyers play a fundamental role in our innovation, because they already look at things differently. They see things through the lens of technology and bring a fresh perspective to traditional legal process." – Caryn Sandler, Partner + Chief Knowledge and Innovation Officer
More+ Culture
The reason we all love coming to work at G+T every day is the people. From highly collaborative and supportive teams to our strong client relationships, this is a firm where everyone feels welcome, included – and empowered to do their best work.
G+T's culture is dedicated to the idea of being better by drawing on the expertise and collective knowledge of everyone at every level. This broad range of experiences and values fuels our teams to experiment fearlessly, take risks and adapt old processes to create new paradigms.
More+ Diversity
At G +T, everyone is welcome and included. Hearing different perspectives helps us solve problems, challenge the status quo, and empowers everyone to do their best work. We'll get to know who you are as an individual – and help you find a way of working that works for you.
Whether difference involves gender, ethnicity or how you identify, you can achieve your potential with G+T. The firm has an active and supportive LGBTI community, as well as dedicated networks for women. It's also a meritocracy — as our partnership and senior leadership team prove, your contribution will be rewarded regardless of your work arrangements or who you are.
More+ Support
Mentoring is an important aspect of your professional development and growth at G+T. Every graduate lawyer is paired with a senior lawyer and encouraged to catch up in a way that works for you both. You'll also have a buddy when you first join the firm to help you settle in.
G+T Graduate Program
Gilbert + Tobin
---
Many of our clerks are welcomed into G+T as graduates upon completing their studies, but we also invite interest from law graduates who may have developed their undergraduate experience elsewhere.
As a graduate, you'll complete a formal 12 or 18-month program depending on your location. During this time you will work directly with partners and lawyers across at least two practice areas, and be actively involved in matters. A comprehensive development program, including core legal skills, business development, knowledge management and pro bono work, will complement this experience.
Meet Our Graduates
Gilbert + Tobin
---
See what some of our 2018 graduates have to say about their experience so far.
G+T Seasonal Clerkship Program
Gilbert + Tobin
---
We understand your clerkship is often your first opportunity to experience what it's really like to practise in a corporate law environment — and that it's a pivotal step in your career.
Who are we looking for?
In your penultimate year of university study you can apply for a clerkship in one of our offices. While strong university results and academic achievements count, we're also looking for responsive, dynamic people who align with our firm's culture and values.
We're not a prescriptive firm when it comes to our people; we invite individuality and diversity. We also hold ambition, creativity and entrepreneurial spirit in high regard.
Our people are collaborative, passionate and dedicated — but most of all they enjoy what they do and never forget to have fun. We seek clerks and graduates who will complement our practice groups and don't feel the need to take themselves too seriously.
What will you experience?
You'll work directly with partners and lawyers who will assist with your professional development and challenge you intellectually. While your main focus will be corporate work, everyone at G+T has the opportunity to assist on pro bono matters and participate in firm-wide activities.
As you progress through your rotations you will develop invaluable skills and knowledge and gain first-hand experience of our various practice groups. Understanding the mechanics of legal practice through research, drafting memos, attending court and meeting clients will all help to build your confidence.
You'll also have the chance to jump right in and immerse yourself in a leading corporate law practice. And we'll encourage you to contribute ideas and your own fresh perspective.
How will you learn?
During the clerkship you'll take part in our customised in-house training. The course covers topics such as research, analysis, drafting, developing technical skills, interpersonal effectiveness, teamwork, business development and client orientation. And of course, you'll also gain invaluable learning on the job, on every matter you work on and from the talented people all around you.
Depending on your location, you'll complete two rotations across the firm's practice areas, or a seasonal clerkship over a number of weeks in winter or summer. During this time you can expect to work closely with lawyers and partners in one of our practice areas across a broad range of matters. You'll be given a project that requires research and collaboration with lawyers across the firm on a live issue — and you'll present this to partners at the conclusion of your clerkship.
Native Title secondment
The Aurora Project gives two Sydney summer clerks the opportunity to gain unique experience in working with a Native Title representative body during their winter semester break. This amazing initiative is fully funded by G+T and provides invaluable personal and professional skills for the future.
Meet Our Summer Clerks
Gilbert + Tobin
---
Bryce Craig, 2017/18 Sydney Summer Clerk
"Clerking over the summer provided a fantastic insight into Gilbert + Tobin and confirmed my interest in what the firm has to offer. This was not only what G+T had to offer as a place of employment, but also as a player in the wider legal market and community.
Career wise, the clerkship clarified the diversity of legal work available to young lawyers. As I was particularly interested in the Technology + Digital group going into the clerkship, I was pleased my experience there exposed me to the various roles the group plays within the firm. For example, T+D works closely with groups such as Corporate Advisory and Competition + Regulation in supporting certain technological and contracting components of matters. In addition, there was advisory work particular to the group which reflected the areas of expertise that clients expect from G+T lawyers, such as blockchain projects, initial coin offerings and data privacy. It became clear there were matters on the bleeding edge of industrial change being referred to G+T exclusively for the insight of team members who are deemed industry experts.
Culturally, the warmth of the firm was quite comforting. I knew G+T was known to do things differently but I wasn't sure how this would translate on a day-to-day level. I found everyone I worked or interacted with to have an approachability to them that made work more enjoyable and the adjustment period far shorter than usual.
It's very clear when you start working at G+T they also walk the talk when it comes to inclusion and diversity. The firm has always been a proud advocate for LGBTI+ rights in the community and the firm's support of this is also palpable. During the clerkship marriage equality was finally passed into law and it was amazing to see most of the firm huddled around various TV screens watching the event unfold. All together it meant a lot. Difference is our norm and is celebrated loudly and unapologetically.
Finally, I appreciated there is very much a sense of trust and choice imparted on members of the team. It's across the board, from lateral leadership structures to even something as minor as the dress code. The fact we aren't obliged to wear full suits and ties when we aren't seeing clients reflects a real authenticity about the place that adds up with other things to mean a world of difference to employees every day (especially in the summer heat!)."
Madeline Connolly, 2017/18 Sydney Summer Clerk
"Spending my summer as a clerk at Gilbert + Tobin was an amazing experience that gave me the chance to experience life in a top-tier corporate law firm.
G+T encourages clerks to complete a rotation in both a transactional and a litigation-based group. I was lucky enough to be placed in my top choice practice groups: Intellectual Property and Corporate Advisory.
After a week of training with other clerks my first rotation was spent in Corporate Advisory, within the Mergers & Acquisitions team. I might have suffered through my Corporations class at university but working in the corporate team at G+T was exciting! As a clerk you hit the ground running, helping with due diligence reports, accompanying lawyers to meet clients, collecting documents and sitting in on internal meetings. Even though you might be working on a small piece of the puzzle, it's exciting to know you've contributed to a transaction worth millions of dollars, or which might be covered in the Australian Financial Review!
My time in Intellectual Property was a great change of pace from corporate; as a more litigation-focused team, my work largely comprised of legal research and preparing memos on case law. I was able to indulge my Law & Order fantasies by doing some 'detective' work in document review, compiling relevant emails as evidence for motions we were submitted. I also sat in on meetings with a patent analytics expert, which opened my eyes to just how technical intellectual property law can be.
G+T is still a young firm and you'll often run into one of the founding partners, Danny Gilbert, in the office. G+T prides itself on being innovative, and you'll learn very quickly this is not just a buzzword. Innovation here doesn't only mean being on the cutting edge of technology in legal processes;  it means always thinking about how you could be working differently or smarter. During the clerkship we had the opportunity to participate in a 'Design Jam', a one-day event which saw us divided into teams to create a pilot-platform offering advice to clients on Initial Coin Offerings for cryptocurrencies. As a philosophy major my knowledge of all things 'crypto' was fairly limited. However unlike a university exam, you're not being 'tested' at G+T; everyone works together to pool their knowledge and provide the best outcome for a client. If you're not an expert, someone else in the firm probably is – and they're always willing to help if you reach out. You'll quickly learn that how you think matters far more than what you know.
The most important consideration when choosing where to clerk is the people;  the people you work with are just as important as the work you do. Your colleagues become your friends and to some extent, your teachers. I learnt far more in my two months at G+T than I ever picked up in a lecture theatre. If you're ambitious, like challenging yourself, and are excited to work in a firm that supports its people to be their very best, I might just run into you in the office next summer!"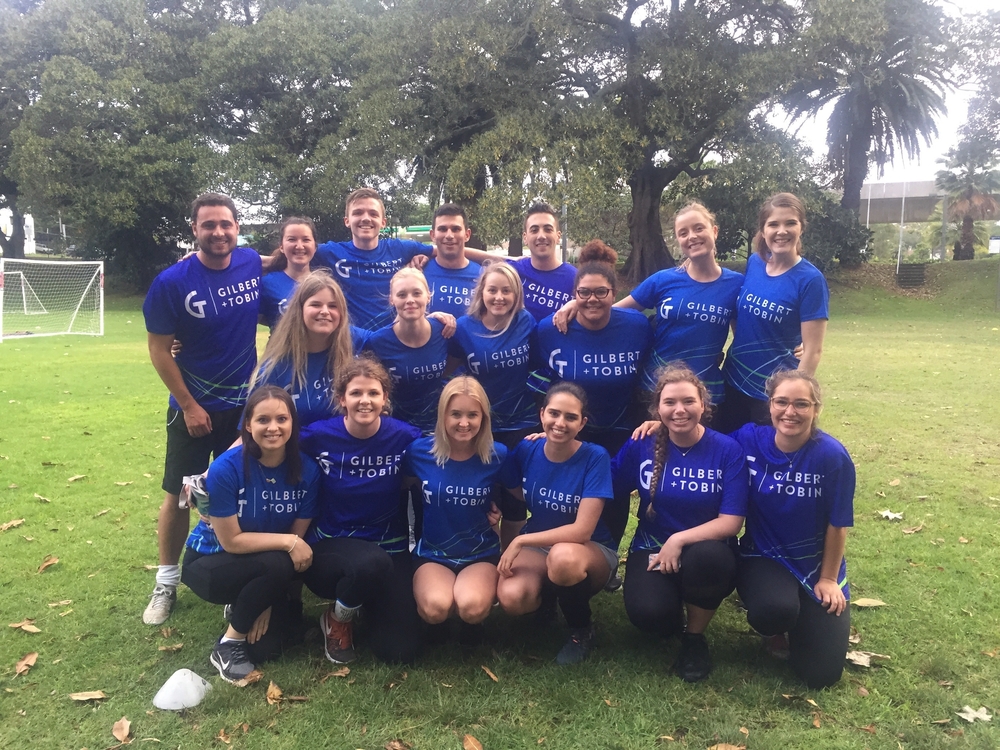 Making a Positive Difference
Gilbert + Tobin
---
We believe lawyers have a responsibility to ensure that the law and the legal system are fair, equitable and accessible to all. In 1996, Gilbert + Tobin was the first law firm in Australia to appoint a full-time in-house pro bono lawyer. We now have two partners and a core group of dedicated lawyers in pro bono full-time, as well as lawyers undertaking pro bono matters across the firm. Graduates are also able to apply for a first rotation position with the pro bono group, starting in February each year.
We are proud advocates of social justice and focus on providing advice and support to marginalised and disadvantaged people and the organisations that work with them. Our pro bono practice covers many diverse areas of law including discrimination, corporate law, property law, administrative law, defamation and public international law — with a particular focus on issues affecting Aboriginal and Torres Strait Islander people, refugees, people with disabilities and the protection of human rights.
Working at G+T means being part of a team that is committed to acting in a socially and environmentally responsible way. Our corporate social responsibility (CSR) program incorporates three key areas: promoting and supporting reconciliation, contributing to our community and environmental sustainability.
Since the firm was established in 1988, we've been committed to promoting and supporting reconciliation with Indigenous Australians. We are committed to achieving practical steps towards reconciliation, including: our cadetship program for Indigenous law students; Indigenous employment program; Indigenous first year law student mentoring program; Indigenous cultural awareness training available to all staff; our extensive contemporary Indigenous art program; participation in national reconciliation week; providing financial support for organisations supporting Indigenous peoples (including Just Reinvest, Shine for Kids, the Cape York Girl Academy and Tribal Warrior Association); hosting visits from Indigenous high school students, especially from the University of NSW Indigenous Winter School and pre-law program; and supporting Indigenous economic development by procuring products from Indigenous businesses certified by Supply Nation.
Community at G+T incorporates a range of activities including charitable giving, financial and in-kind support and volunteering. As just one example, we are a major sponsor of the Gilbert +Tobin Centre for Public Law at the University of NSW. The Centre plays a prominent, independent role in public debate on issues vital to Australia's future including Charters of Rights, federal reform, reconciliation and native title, refugee and migration law and the challenges of responding to terrorism.
We also consistently work on improving our environmental performance. Since 2014 we have been a reporting member of the Australian Legal Sector Alliance; (AusLSA), an industry association that promotes sustainable practices across the legal sector. In 2015 we launched our first certified Environmental Management System (EMS). The priorities of our EMS, as identified by our staff, are energy use, paper use, and disposal of IT equipment.
Why Join G+T?
Gilbert + Tobin
---
We hope you are now inspired to consider launching your career with Gilbert + Tobin — because your interest in us suggests you have the ambition, determination and entrepreneurial spirit it takes to succeed here and to meet the challenges of the future of law.
There has never been a better time to be part of our story. The momentum is exciting – there is so much demand for our work, and you'll have every opportunity to work with interesting clients on significant matters. At the same time, we're positively challenging ourselves to re-engineer how legal services are provided – and that means you'll learn skills and concepts beyond the legal scope.
There's no 'typical' G+T clerk or graduate, or box you need to tick. We actively seek people from all types of backgrounds, and with very individual personalities. What we do have in common is what we hope you already possess. Intelligence. A creative, confident and thoughtful approach to solving complex problems. The ability to build positive working relationships within and between different teams. And above all, a sense of humour.
If you're up for the stimulating challenge of working with Australia's most innovative corporate law firm, then G+T is the place for you.