Goodman Graduate Programs & Internships
We don't believe in good. Or good enough. We don't believe in the short-term or taking short-cuts. We don't believe in putting business before people. Or anything before quality. We believe in great. Although we don't believe we're quite there yet. We believe in the importance of location and sustained growth and doing it right the first time. We believe in having integrity, always. We believe that knowledge is everything and perfection is in the details. That it is th…
View more
Goodman currently has 0 opportunities.
Select the following options:
We don't believe in good. Or good enough. We don't believe in the short-term or taking short-cuts. We don't believe in putting business before people. Or anything before quality. We believe in great. Although we don't believe we're quite there yet. We believe in the importance of location and sustained growth and doing it right the first time. We believe in having integrity, always. We believe that knowledge is everything and perfection is in the details. That it is the little things that add up to make the biggest difference. That's why there's a plus in our logo. It's a reminder to keep going above and beyond for our customers, our partners and our staff. To be the best, we believe, relies on every single one of us working together. To this end, we believe we can be better than good. We believe we can be great.
Global property group listed on the Australian Stock Exchange
We own, develop and manage industrial real estate in 14 countries including logistics facilities, warehouses and business parks. Our investment Partnerships give institutional investors access to our specialist investment management services and commercial and industrial property assets.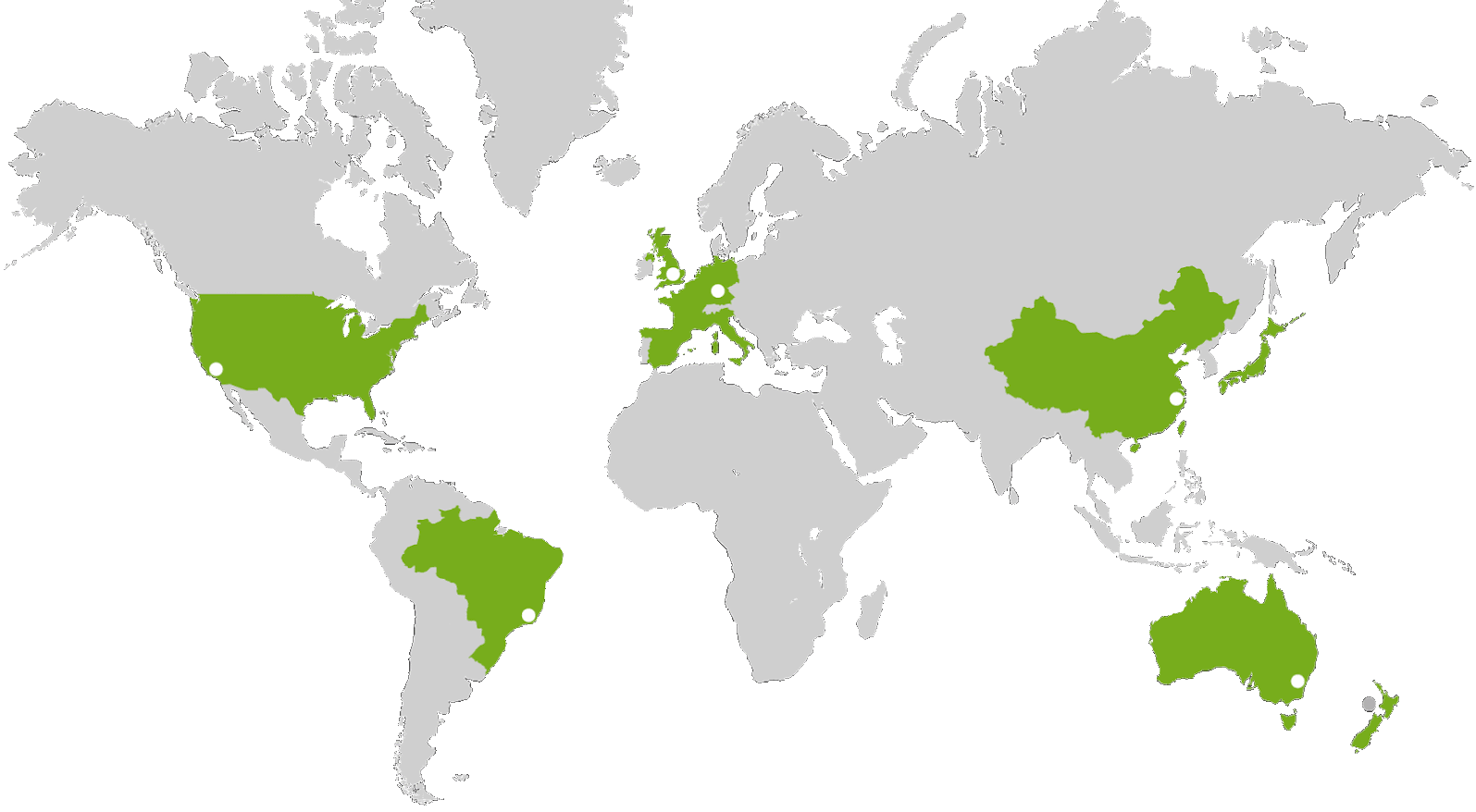 | | | |
| --- | --- | --- |
| 26 | 1,600+ | 14 countries |
| office location | customers globally | global presence |
Goodman in Greater China
Our presence in Greater China started in 2001 via our involvement in the Shanghai Business Park. Our footprint was expanded in March 2005 with the establishment of the Hong Kong office.
In August 2009, Goodman embarked on new strategic relationships with China Investment Corporation (CIC) and Canadian Pension Plan Investment Board (CPPIB) aimed at further strengthening the logistics platform in Greater China. CIC now holds a 9.9% effective stake in the Group.  A joint venture was formed with CPPIB to own and develop logistics properties in mainland China.
| | | |
| --- | --- | --- |
| US$10.9bn | 48 | 4.7m sqm |
| assets under management | business space properties under management | space under management in Greater China |
At Goodman we value relationships. People, not buildings, make our business successful. We employ over 210 people in Greater China in a range of activities and professions including legal, risk management, fund management, property management, building services, leasing, property development, marketing, human resources, finance and information technology.
It's not enough to simply wish for greatness. We need to commit to it for the long term with determination and drive.
At Goodman, we understand the world is constantly changing and to be part of the future we must remain agile and open to new ways of working. It's in this way we aim to give our customers the space they need to succeed by providing sustainable solutions and unparalleled service in high-quality locations. We actively pursue the very best people. And we give those people the space they need to grow and push us all a little further.
We care about the future of the planet and all the people in it. We believe sustainability is our responsibility and we choose to work with people and organisations who feel the same. It's one of the reasons we partner with charities all over the world who are striving to make a difference for those who can't always see a way forward. Greatness is not a singular pursuit. Nor is it one that is easy to reach. But at Goodman our vision is to make it a possibility for everyone by making space for it in everything we do.
Elevate Management Trainee Programme
+ Elevate program is Goodman Greater China's Management Trainee Program
+ Elevate takes dynamic & young management trainees onboard Goodman China for a new discovery & development voyage 
+ It's part of a full talent management strategy for a succession pipeline and a meaningful employee experience 
+ There will be some job rotations for a period of 2 years. During these 2 years, mentors from these departments provides on the job training and meaningful projects for 1 or more candidates to participate   (Department for rotation : Property Mgt, Leasing, Development, Investment and other corporate functions)
+ After the initial 2 years, Trainees will be assigned to dedicated functions for further developments
+ The overall objective of the program is that the trainees will develop a basic understanding of different parts of our business, and develop their career in Goodman
+ To make the program more attractive and fruitful, Elevate will,


+ Introduce a competency based assessment for many candidates
+ job Rotate candidates for various functions in the company
+ Define clearer and more achievable objectives;
+ Maintain a resource for young trainees in some depts for learning opportunities
+ Create a strong career path and development for future leader positions
+ Be participating the Talent Development Centre after the first 2 years
We are looking for management trainee in Real Estate, Asset or Investment Management, Property Leasing, Development or Engineering specialty, and other corporate functions to report duty in September 2021.
We welcome fresh graduates or anyone who has less than 2 years working experience to join this program.  Chinese Returnees are most welcomed and we also would consider candidates from Hong Kong who are willing to be relocated to China for the long run.
We have a unique culture which embraces diversity & inclusions and we are also a caring company for our employees with high level engagement.  Not only we have a nice working environment, but also we provide flexible workplace arrangements and remote working as well as a standard policy.
Join us for a wondering learning experience and a bright career & future!