Grant Thornton Graduate Programs & Internships
Applications for our 2022 graduate opportunities and our 2021/2022 vacation program have now closed. Any additional roles that are made available at a later date will be advertised on here. Applications for 2023 graduate opportunities and our 2022/2023 vacation program will open in February 2022.
Past Grant Thornton Graduate Hiring Statistics
If you're interested in working at Grant Thornton, understanding when they have opened up applications for their graduate programs, graduate jobs and internships is helpful knowledge to have so you know when you might need to apply. Use the below information to see when Grant Thornton hires graduates, but more importantly what graduate degree's and other student attributes they target for their jobs.
---
Job types
Graduate Jobs (81%),

Internships (19%),
Disciplines
Accounting (96%),

Banking and Finance (22%),

Business and Commerce (93%),

Communications (4%),

Consulting (4%),
Locations
Sydney (56%),

Brisbane (41%),

Melbourne (37%),

Perth (30%),

Adelaide (19%),
Work rights
Australian Citizen (100%),

Australian Permanent Resident (100%),

New Zealand Citizen (96%),
Working at Grant Thornton
Grant Thornton
---
We do things differently. Our people have the freedom to drive change and shape their own destinies. We share ideas as well as the responsibility for making them happen. Our fresh thinking and agility helps businesses, communities and our people to flourish.
We are everywhere you want to be
With more than 50,000 people in over 135 countries, we have the reach to take you where you want to go. In Australia, we currently have more than 1,000 driven and energetic professionals working in offices in Adelaide, Brisbane, Cairns, Melbourne, Perth and Sydney. We combine service breadth, depth of expertise and industry insight with an approachable "client first" mindset and a broad commercial perspective.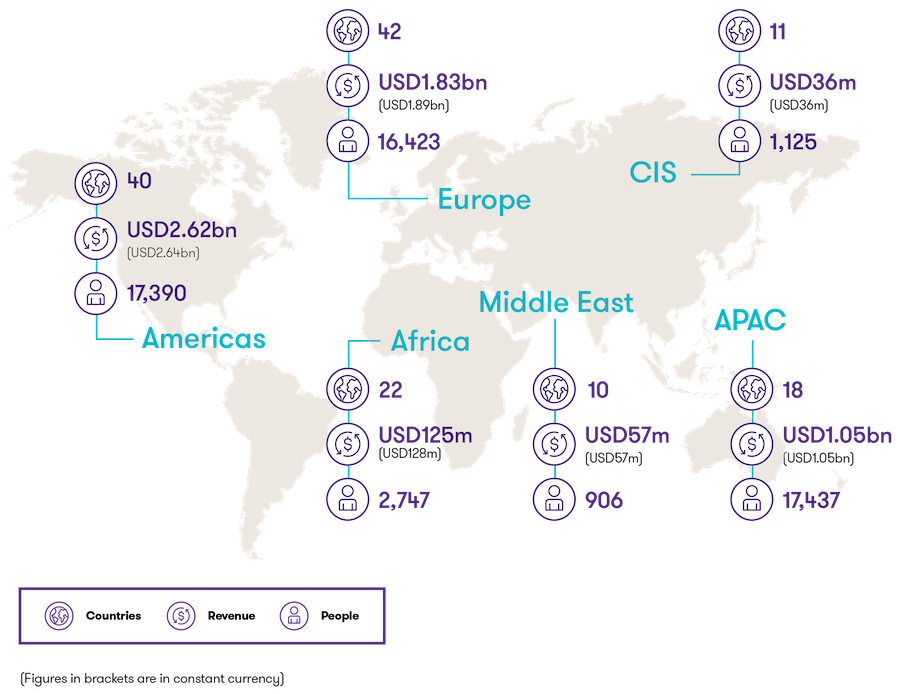 With clear purpose to support our clients
Our fundamental purpose is premised on a simple yet powerful principle: that every day, everyone can make a difference, assisting our clients to achieve their growth aspirations. We unlock the potential for growth wherever we operate.
We are the advocates for our clients on their growth journey, through the range of advisory services we provide, the diversity, curiosity and expertise of our people, and the way in which we invest and share in their aspirations.
And our people to be their best in every way
Openness, transparency and integrity are important to us and we continue to find new ways to support and empower our people. This is underpinned by our CLEARR values – which you will see across our global network. These six core principles outline how our people behave with their colleagues, clients and the world at large.
Collaboration
Leadership
Excellence
Agility
Respect
Responsibility
Graduate opportunities
Grant Thornton
---
BE INSPIRED
BE COURAGEOUS
BE MORE
As a new graduate, we aim to provide you more than just your 'traditional' graduate program; instead we kick start your career as an Associate and support you to turn theory into practice.
You'll receive on-the-job learning, as well as technical and professional skill development through our structured learning programs, by working with our leaders and being involved in client work right from the beginning.
We don't work in silos – meaning you'll get exposure to clients across a broad range of industries. It also means that cross-team and cross-office collaboration is just part of what we do, giving you the opportunity to develop a breadth skills and knowledge, and work with leading minds across the whole Grant Thornton network.
Meet our people
Want the inside scoop on #gradlife at Grant Thornton and what you can expect? Meet some of our current and previous graduates and see where we can take you.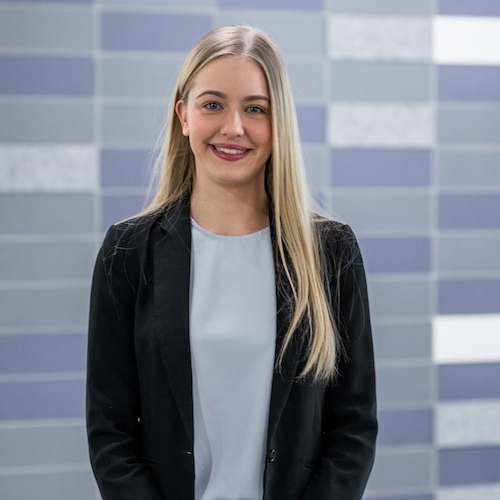 Meet Lexie
Office: Adelaide
Service Line: Private Advisory
Degree: Bachelor of Accounting and Finance
Graduated: 2017
Lexie first joined Grant Thornton in February 2017 through the CA Achiever Placement Program. Having demonstrate her commerciality and a real passion for the work that our Private Advisory team undertakes, Lexie received an offer to commence as a graduate shortly afterwards.
Now as an Associate in the Private Advisory team in Adelaide, Lexi works alongside her team to support a portfolio of private clients – helping them to make the right decisions for their business, their family and for themselves by providing advice that is holistic, practical and commercial.
Compliance work is large part of what our Associates in Private Advisory do and most days involve the preparation of tax returns for companies, trusts or individuals. But it's by using the in-depth knowledge gained about the business during the compliance process that our teams are able to analyse the performance of the business to identify areas of growth and forecast the likely performance of the business into the future – this is where we really get to value-add for our clients!
"I love working at Grant Thornton because I get to come to work every day and work alongside people that I consider my friends. I'm also constantly learning and have the opportunity to be involved in truly meaningful work."
---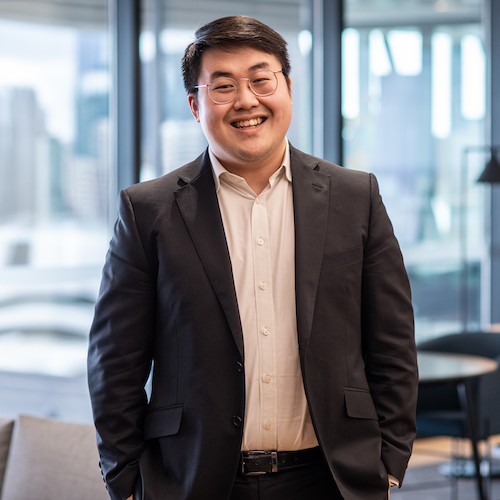 Meet Michael
Office: Melbourne
Service Line: Tax – Corporate Tax
Degree: Bachelor of Laws/Bachelor of Commerce
Graduated: 2018
After completing a vacation program during his university break in 2017, Michael commenced his career at the firm as graduate in the Corporate Tax team in August 2018.
Now as a Senior Associate in the Corporate Tax team, Michael workings alongside his team of tax specialists to deliver tailored advice and insights to his clients, helping them successfully and effectively meet with tax obligations.
In his time as a Graduate and then Associate in Corporate Tax, Michael was mainly responsible for preparing clients' income tax returns, and assisting with advisory work. This often involved plenty of research, complex calculations and spirited discussions to help our clients achieve the best possible outcome.
As a member of the Social Club, Michael also plays an active role in organising regular social activities for our Melbourne office – bowling, laser tag, trivia nights – just to name a few! Michael's top tip for future graduates: "Find somewhere that you really enjoying going to work every day.
"Find somewhere that really appreciates the skills, talents and experiences that you individually have, that makes you unique."
---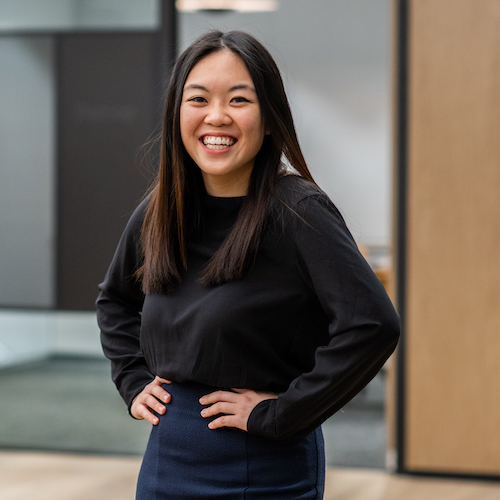 Meet Juen
Office: Melbourne
Service Line: Audit & Assurance
Degree: Bachelor of Commerce (Accounting/Finance)
Graduated: 2017
Having already finished her degree, she launched her career at Grant Thornton in July 2019, joining the Audit & Assurance team in our Melbourne office.
As Associate in our Melbourne Audit & Assurance team, Juen works with both listed and non-listed clients across a range of industries. Her role in Audit & Assurance sees Juen working closely with her team to understand her clients' business, including its profit drivers, operational challenges and key risks
In Audit & Assurance, what your average day looks like will change depending on the time of the year, and whether you are on a client site or not. But one thing you can be certain of is that you will be exposed to a variety of clients who operate within different industries, each offering their own unique circumstances and challenges.
"So far in my experience at Grant Thornton, I've found that it's a very supportive culture. As a graduate, one of the most important things to me is having the opportunity to learn and grow, and I really value that I've been able to do that since joining the organisation."
Vacation experience program
Grant Thornton
---
BE CHALLENGED
BE DIFFERENT
BE MORE.
Our vacation experience program will give you the opportunity to begin your career well before you finish your degree.
The program offers you a unique insight into our business and the opportunity to experience what it's like to provide advisory and consulting services to clients at one of the world's leading professional services firms.
With the opportunity to work in one of our core service lines – Assurance, Tax, Financial Advisory, Consulting and Private Advisory – the vacation experience program will see you working alongside industry leaders to support some of Australia's most dynamic leading and emerging businesses.
As a vacationer, you'll have the opportunity to:
Work on real client engagements
Get involved in our committees and clubs 
Receive mentoring and feedback sessions with your assigned coach
Attend regular networking events and social activities
Participate in projects with a social/community impact
Taking place over 4-6 weeks, our vacation experience program is open to penultimate students who are undertaking either undergraduate or postgraduate studies. The program has openings in each of our Australian offices – Adelaide, Cairns, Brisbane, Melbourne, Perth and Sydney.
We predominantly recruit our graduates through our vacation experience program – so a successful vacationer experience could also fast-track you to a graduate offer!
The application process
Grant Thornton
---
Six easy steps to starting your career at Grant Thornton: 

Application updates
We are fortunate enough to receive thousands of applications for our graduate opportunities and vacationer programs each year. For this reason, assessing each application fairly takes time and we ask for your patience and understanding throughout the application process.
Applications for each office and service line are reviewed at different stages, however we aim to minimise the wait time for candidates wherever possible and will keep you updated at each stage of the recruitment process. If you have submitted an application, please ensure you regularly monitor your email and check your junk/spam mail settings as further updates regarding your application will be delivered via email.
Eligibility
To be eligible for our New Associate roles or our Vacationer Programs, you'll need to meet the following requirements:
For graduates:
You must be: 
in your final year of study, or have completed an undergraduate or postgraduate degree within the last 2 years 
a) an Australian or New Zealand citizen or b) a Permanent Resident of Australia
For vacation students:
You must be:
in your penultimate year of study (i.e. 2nd year of a 3 year degree, 3rd year of a 4 year degree, etc.)
an Australian or New Zealand citizen or b) a Permanent Resident of Australia
2021 application dates and timeline
Applications open: Monday, 22 February at 9.00 am (AEDT)
Applications close: Sunday, 28 March at 11.55 pm (AEDT)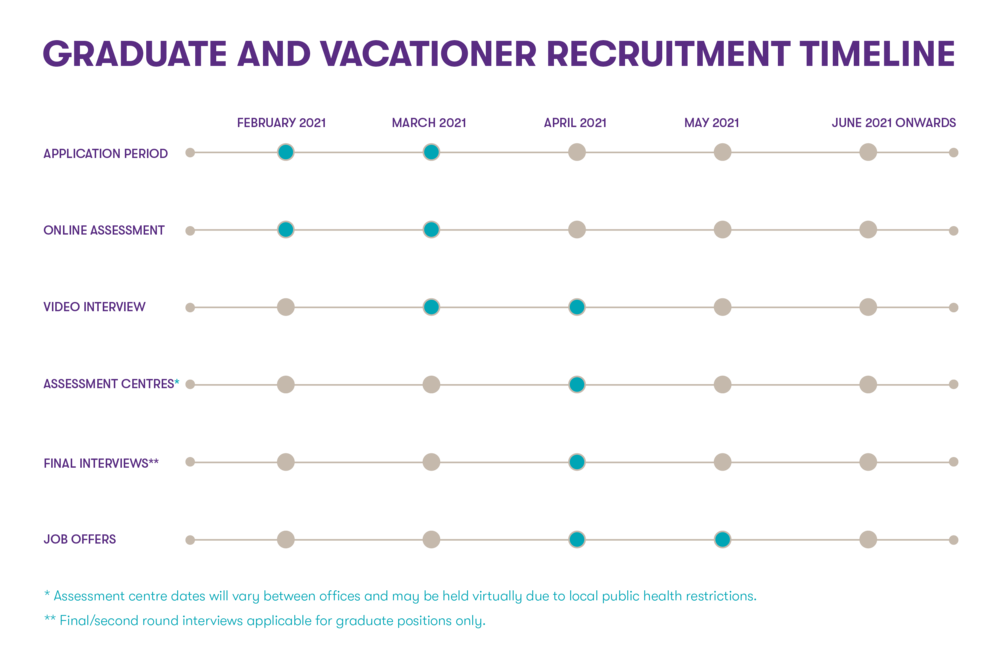 Application tips and tricks
Grant Thornton
---
Online applications
Check your eligibility - eligibility criteria may include academic qualification, degree completion date and residency status
Prepare before you apply - have your resume/CV, academic transcript and cover letter on-hand and ready to go
Double check your response before submitting (be mindful of auto-fill functionality)
Ensure your contact details are correct
Don't leave it until the last minute - submit your application well ahead of the due date to avoid any last minute issues
Resumes/CV
At a minimum, should include your education, work experience (include all internships, work placement and paid/unpaid work) and any extracurricular activities/community activities/volunteering you are involved in 
Remove any unnecessary details (e.g. age, marital status, religion, photos, etc.)
Fonts and formatting – keep it simple, consistent and professional
Online assessments
Make sure you've had plenty of rest and water before starting to improve your concentration
Balance your speed and accuracy
Ensure you have a stable internet connection
Set yourself up in a quiet environment, free from interruptions
Ensure you raise any required adjustments with your graduate recruiter before commencing
Video interviews
Read/listen to the question carefully
Use the preparation time allocated to structure your response, ensuring to respond to each element of the question
Be clear, articulate and keep a steady pace 
Keep it professional - avoid using slang, colloquialisms, jargon
Set yourself up in a quiet environment, free from interruptions
Ensure you raise any required adjustments with your graduate recruiter before commencing
Diversity and Inclusion

Grant Thornton
---
Our people come from diverse backgrounds, with their own unique skills and talents. This helps us create a strong and dynamic organisation where we foster innovation, curiosity and diversity of thought. We not only treat everyone fairly, we celebrate the breadth and diversity of experiences and perspectives that people bring to Grant Thornton.
DAWN (Diversity at Work Now)
DAWN – our Diversity at Work Now committee – seeks to build awareness, headline and celebrate diversity and create an inclusive and welcoming work environment across each office. Local committees in each of our Australian offices drive the celebration of diversity for all our people.
Nationally, DAWN leads the organisation and celebration of events such as:
International Women's Day
NAIDOC Week
Mental Health Week
International Men's Day
Champions for Action
Our Champions for Action are Australian business figures leading the charge for gender diversity. Each Champion has shared a variety of challenges, success stories, advice and practical solutions for addressing gender parity at the senior management level.
Join the conversation.
PRISM - our LGBTI+ & Allies Network

Grant Thornton
---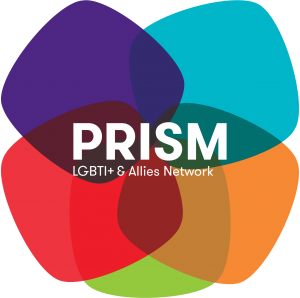 Supporting and empowering the full spectrum of individuality.
We proudly launched PRISM – our LGBTI+ & Allies Network – on Wear It Purple Day 2018. PRISM exists to provide a platform of support for our LGBTI+ employee community and their allies with the aim of creating an inclusive workplace where our people feel they can bring their whole selves to work.
The focus of the network is to promote a respectful, supportive and equitable culture and to work collectively to increase the visibility of LGBTI+ initiatives.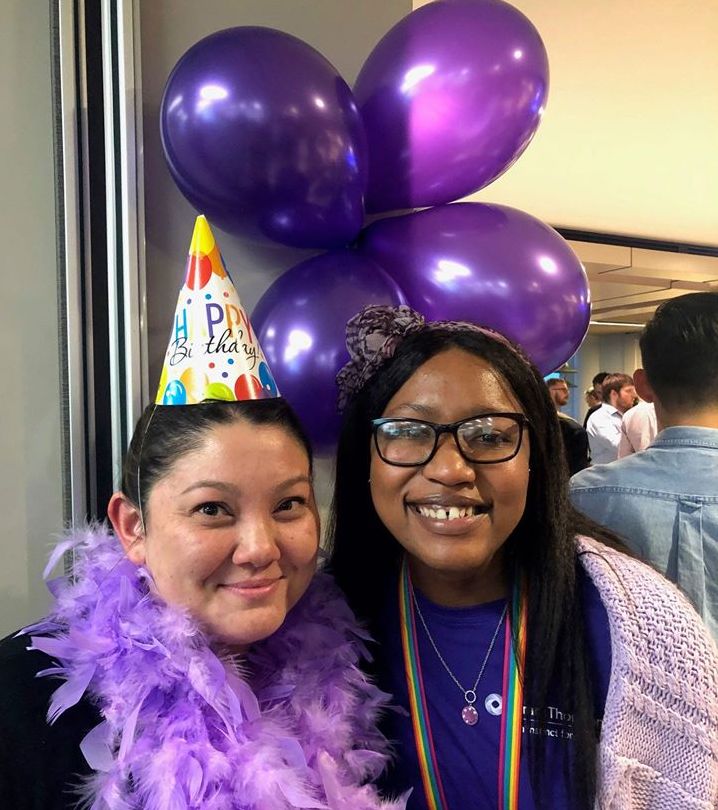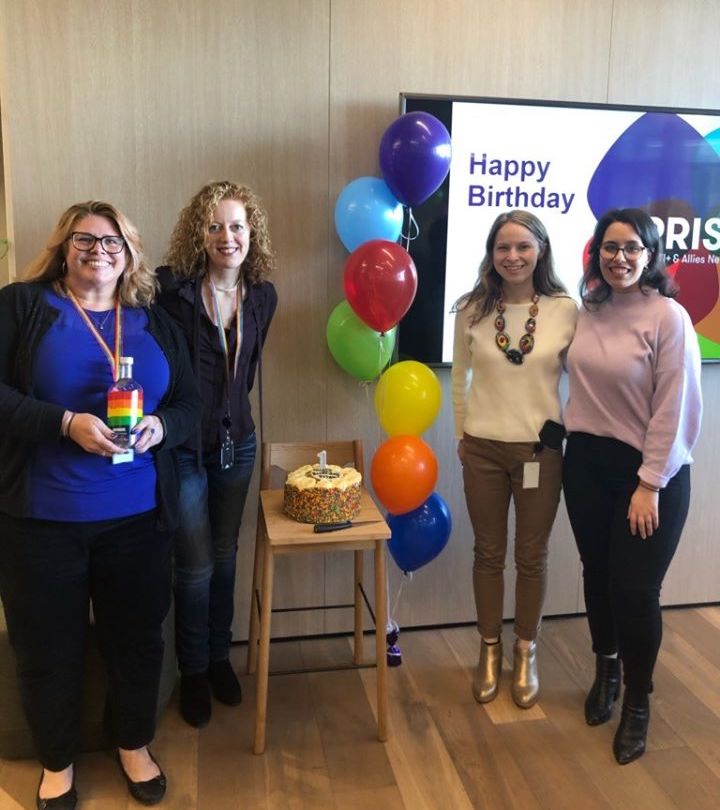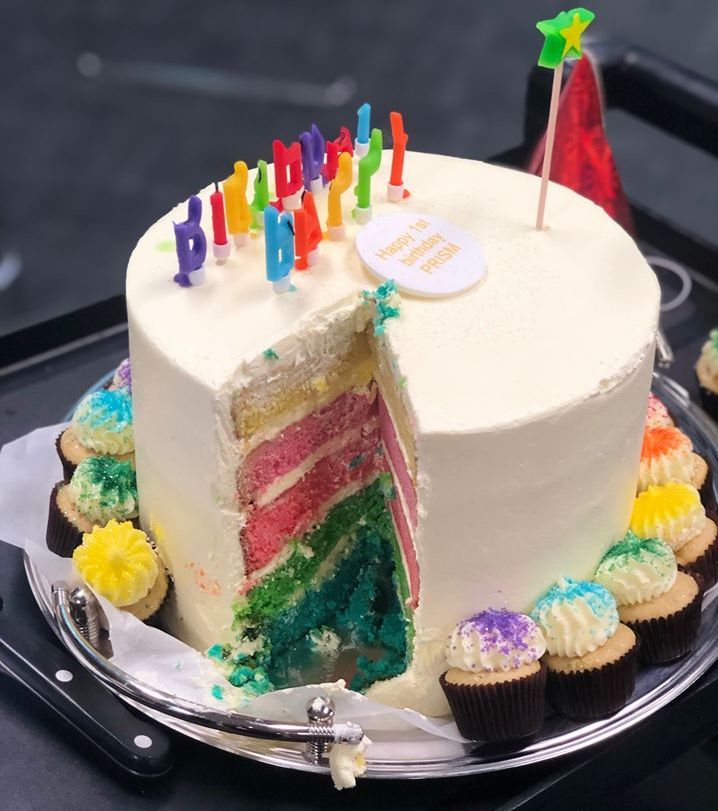 Our diversity partners
Grant Thornton is proud to be associated with a number of organisations that support diversity in our workplace, including:
Diversity Council Australia
Pride in Diversity
Australian Marriage Equality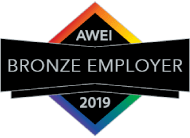 We support diversity in the workforce and recognise the rights of our lesbian, gay, bisexual, transgender and intersex (LGBTI) team members to live and work, free of prejudice and discrimination, with all the essential freedoms enjoyed by other members of our organisation and the broader community.
Disability

Grant Thornton
---
Adjustments to the recruitment process
We recognise, appreciate and harness our people's individual skills and talents. This helps us create a strong and dynamic organisation where we foster innovation, curiosity and diversity of thought.
We are an inclusive employer and committed to ensure our workforce is representative of our diverse society, including those who identify has having a disability. We therefore make reasonable adjustments and adaptions to our recruitment process to ensure it is inclusive for anyone who wishes to apply.
If you require any reasonable adjustments to progress through the recruitment process, please contact Kate Minns, Graduate Recruitment Senior Consultant on 03 8663 6436 or at [email protected] to discuss your application and your individual needs.
Mental wellbeing and support
At Grant Thornton, we are committed to creating a distinctive people experience and positive culture that fosters deep care for our clients and each other. Our PEAK (Positive. Encouragement.Advice.Know-how) program aims to provide a working environment that promotes and supports the mental health and wellbeing of everyone across the firm