Hang Seng Bank Graduate Programs
Founded in 1933, Hang Seng is one of Hong Kong's largest listed companies. Our market capitalisaion as at 30 June 2018 was HKD 375.1billion. With more than 10,000 employees, we serve over half the adult population of Hong Kong – more than 3 million people – through about 270 service outlets. We also maintain branches in Macau and Singapore and a representative office in Taipei.
Hang Seng Bank currently has 0 opportunities.
Select the following options:
Past Hang Seng Bank Graduate Hiring Statistics
If you're interested in working at Hang Seng Bank, understanding when they have opened up applications for their graduate programs, graduate jobs and internships is helpful knowledge to have so you know when you might need to apply. Use the below information to see when Hang Seng Bank hires graduates, but more importantly what graduate degree's and other student attributes they target for their jobs.
---
Disciplines
Accounting (100%),

Administration (100%),

Agriculture (100%),

Architecture (100%),

Actuary (100%),
Work rights
Hong Kong Citizen (100%),

Hong Kong Permanent Resident (100%),

Hong Kong Student Visa (100%),

Hong Kong Work Permit (100%),

Other (100%),
Past Hang Seng Bank Graduate Programs
Check out some of Hang Seng Bank's past jobs they have posted on GradConnection over the last 12 months. Understanding the details about what a graduate employer is looking for well before applications have opened can sometimes be the edge you need to secure your first graduate program.
---
Our sustained business growth, driven by a progressive culture, continues to create development opportunities for our people.
LOCATION
Hong Kong (Hong Kong)
Banking Profile and History
Hang Seng Bank
---
Founded in 1933, Hang Seng is one of Hong Kong's largest listed companies. Our market capitalisation as at 30 June 2018 was HKD375.1billion. In keeping with our name, which means "ever-growing" in Chinese, we are growing alongside our customers.
The Bank's major business activities comprise retail banking and wealth management, commercial banking, and global banking and markets. The Bank also offers a comprehensive range of renminbi services.
Since our founding, our main focus has been the pursuit of excellence for our customers. In Hong Kong, our vast network of around 270 service outlets provides you with quality services.
Established in May 2007, wholly owned subsidiary Hang Seng Bank (China) Limited is headquartered in Pudong, Shanghai, and operates a mainland China network with outlets in the Pearl River Delta, the Yangtze River Delta, the Bohai Rim Region and midwest China.
We also maintain branches in Macau and Singapore and a representative office in Taipei.
Hang Seng Securities, a wholly owned Bank subsidiary, operates a securities investment advisory services joint venture – GZHS Research Co., Ltd. – in partnership with Guangzhou Securities Company in Guangdong province.
Hang Seng Bank and Shenzhen Qianhai Financial Holdings Company Limited established Hang Seng Qianhai Fund Management Company Limited, the Mainland's first onshore foreign‐majority‐owned joint venture fund management company.
As a pioneer of premium service, our staff will always provide you with the personal attention and user-friendly banking you need. Hang Seng Bank is a principal member of the HSBC Group, which is among the world's largest financial services organisations and holds a 62.14% equity interest in the Bank. The Bank offers investors in the United States a Sponsored Level-I American Depositary Receipts Programme.
Further information about Hang Seng is available here.
Career Event Calendar
Hang Seng Bank
---

| | | | |
| --- | --- | --- | --- |
| Date | Location | Description | Time |
| 15 Jan 2021 | Zoom (online) | Live Chat with Management Trainees | 5:00pm – 6:00pm (HKT) |
Fintech Career Accelerator Scheme
Hang Seng Bank
---

Fintech is changing our business and creating exciting possibilities for us all. At Hang Seng Bank, we appreciate the importance of developing young talents as creative think tanks for our constantly evolving and innovative environment. Join us and you too can build valuable expertise at the forefront of a smart, dynamic and innovative banking environment – an environment where you can flourish.
Hosted by the Hong Kong Monetary Authority, Hong Kong Applied Science and Technology Research Institute (ASTRI), and Cyberport, with Hang Seng Bank as a major contributor since pilot year in 2017, Fintech Career Accelerator Scheme (FCAS) is an 6-month / 11-month full time internship placement opportunity for university students to gain digital project exposure.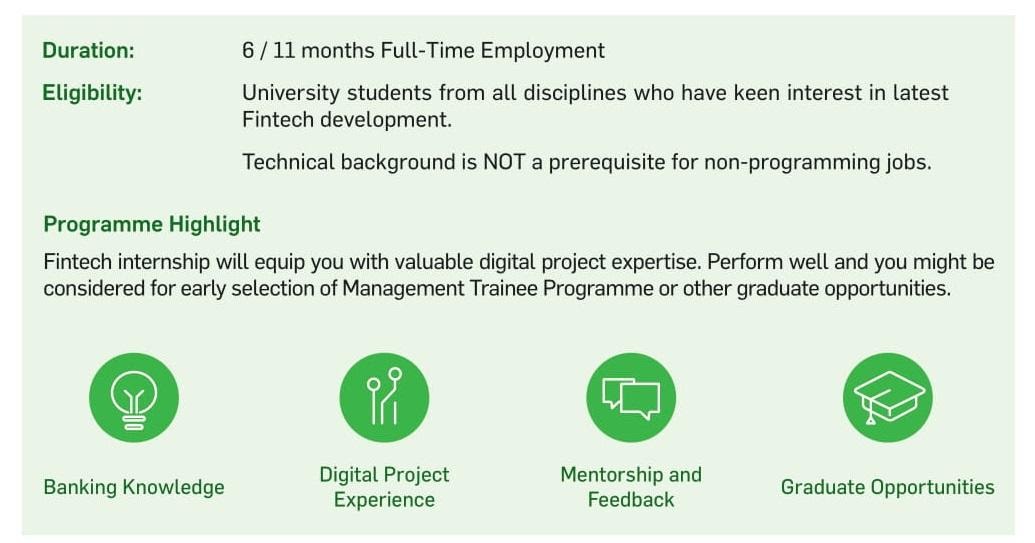 We are currently seeking high-caliber individuals to join our team for the following functions. 
Commercial Banking
Digital Business Services
Financial Control
Hang Seng Indexes Company Limited
Insurance
Wealth and Personal Banking 
Over the course of the placement, you will assist in implementing various Fintech projects including blockchain, artificial intelligence, deep learning, robot advisor, mobile payment/wallet, ad tech, biometrics, cloud computing, big data analytics, or IT security. You will also involve in the planning and development of applications on mobile, IOT and other digital platforms to support new business needs.
Most importantly, you will grow under an environment which does not only advocate technological transformation, but also takes care on incubating creative energy via people-centric, flexible workplace.
Think you are up for the challenge? Join our FCAS Programme and become part of the passionate, creative and open-minded innovation team!
Requirements
Non-final year university students from ALL disciplines who have keen interest in latest Fintech development 
Technical background is NOT a prerequisite for non-programming jobs
Ability to communicate effectively, embrace change and overcome challenges
Ability to bring divergent ideas to create new and innovative solutions
Advocate of openness, teamwork and integrity
Strong desire to learn and able to work in Agile environment
Proficiency in English and Chinese, with fluency in Putonghua an advantage
Good knowledge of application software (MS Word, Excel, Powerpoint) and Chinese Word Processing
Permanent resident of Hong Kong or holding a valid Hong Kong student visa 
For more details, please visit website at https://www.hangseng.com/en-hk/about/careers/internship-opportunities/
Hang Seng Co-op Programme
Hang Seng Bank
---
We are Hong Kong's leading domestic bank. This strong local identity gives our people a powerful sense of pride, purpose and belonging. Join us and you too can become a valuable member of our proudly local team. We welcome all full time university students from different disciplines to join our Winter Co-op Programme.
 
Full-time Co-op experience at Hang Seng Bank will equip you with valuable banking knowledge and skills to work in the real industry, putting you one step ahead of the rest. Perform well and you might be considered for early selection of Management Trainee Programme or other graduate opportunities.


We are currently seeking high-calibre individuals to join our team for the following business functions: 
Audit
Commercial Banking
Digital Business Services
Financial Control
Global Banking
Global Markets
Insurance
Investment Services
Marketing
Risk and Compliance
Strategic Planning and Corporate Development
Wealth and Personal Banking
Your Benefits
Comprehensive Training - Training programs are provided for your good understanding of Hang Seng's core businesses and structure
Mentorship - To support and guide you along the way, an experienced mentor will be assigned to you. He / she will give you regular feedback, advice and encouragement
Potential Career Path - The internship is the beginning of an exciting journey that could take you to future leaderships in the banking industry. Perform well and you may be considered for early selection of Management Trainee or other graduate opportunities 
Requirements:
Non-final year full time undergraduate students, or degree holder with deferred full time master degree offer. All academic disciplines are welcome
Ability to communicate effectively, embrace changes and overcome challenges
Strong desire to learn and resolve problems in new ways
Proficiency in English and Chinese
God knowledge of application software (MS Word, Excel, PowerPoint) & Chinese Word Processing
Permanent residents of Hong Kong or holding a valid Hong Kong work visa
For more details, please visit website at https://www.hangseng.com/en-hk/about/careers/internship-opportunities/
Management Trainee Programme
Hang Seng Bank
---
A Career Where You Can Flourish
Career Opportunities in Management Trainee Programme
Our sustained business growth, driven by a progressive culture, continues to create development opportunities for our people. Join us and you too can gain valuable experience across our business and make significant contributions throughout your career in one of the following nince business / functional streams as 2022 MT:
Commercial Banking
Digital Business Services
Entity
Financial Control
Global Banking
Global Markets
Insurance
Strategic Planning and Corporate Development
Wealth and Personal Banking
You will be exposed to the best global banking practices and flourish in the leading domestic bank in Hong Kong. Most importantly, this three year, fast-track programme will embolden you with the following key exposures:

We are looking for driven individuals who can make that change in taking the Bank to the next level to join as 2022 MT intakes:
Capable of communicating effectively, embracing changes and overcoming challenges with the ability to safeguard positive attitude under complicated situations and remain open to work with others from diverse cultures
Ability to bring divergent ideas together and think deeply and rationally which contributes to creative and innovative solutions
Capable of serving as a role model for displaying openness, collaboration and integrity
Bachelor's degree (Second Hons) or above from an accredited university
Excellent written and spoken English and Chinese
Permanent resident of Hong Kong or holding a valid Hong Kong work visa
If you are ready to rise to the challenge, act now and apply online at our website https://www.hangseng.com/en-hk/about/careers/management-trainee-program/