Hang Seng Bank Graduate Programs
Founded in 1933, Hang Seng is one of Hong Kong's largest listed companies. Our market capitalisaion as at 30 June 2018 was HKD 375.1billion. With more than 10,000 employees, we serve over half the adult population of Hong Kong – more than 3 million people – through about 270 service outlets. We also maintain branches in Macau and Singapore and a representative office in Taipei.
Hang Seng Bank currently has 0 opportunities.
Select the following options:
Past Hang Seng Bank Graduate Hiring Statistics
If you're interested in working at Hang Seng Bank, understanding when they have opened up applications for their graduate programs, graduate jobs and internships is helpful knowledge to have so you know when you might need to apply. Use the below information to see when Hang Seng Bank hires graduates, but more importantly what graduate degree's and other student attributes they target for their jobs.
---
Disciplines
Accounting (100%),

Administration (100%),

Agriculture (100%),

Architecture (100%),

Actuary (100%),
Work rights
Hong Kong Citizen (100%),

Hong Kong Permanent Resident (100%),

Hong Kong Student Visa (100%),

Hong Kong Work Permit (100%),

Other (100%),
Past Hang Seng Bank Graduate Programs
Check out some of Hang Seng Bank's past jobs they have posted on GradConnection over the last 12 months. Understanding the details about what a graduate employer is looking for well before applications have opened can sometimes be the edge you need to secure your first graduate program.
---
Our sustained business growth, driven by a progressive culture, continues to create development opportunities for our people.
LOCATION
Hong Kong (Hong Kong)
Banking Profile and History
Hang Seng Bank
---
Founded in 1933, Hang Seng is one of Hong Kong's largest listed companies. Our market capitalisation as at 30 June 2018 was HKD375.1billion. In keeping with our name, which means "ever-growing" in Chinese, we are growing alongside our customers.
The Bank's major business activities comprise retail banking and wealth management, commercial banking, and global banking and markets. The Bank also offers a comprehensive range of renminbi services.
Since our founding, our main focus has been the pursuit of excellence for our customers. In Hong Kong, our vast network of around 270 service outlets provides you with quality services.
Established in May 2007, wholly owned subsidiary Hang Seng Bank (China) Limited is headquartered in Pudong, Shanghai, and operates a mainland China network with outlets in the Pearl River Delta, the Yangtze River Delta, the Bohai Rim Region and midwest China.
We also maintain branches in Macau and Singapore and a representative office in Taipei.
Hang Seng Securities, a wholly owned Bank subsidiary, operates a securities investment advisory services joint venture – GZHS Research Co., Ltd. – in partnership with Guangzhou Securities Company in Guangdong province.
Hang Seng Bank and Shenzhen Qianhai Financial Holdings Company Limited established Hang Seng Qianhai Fund Management Company Limited, the Mainland's first onshore foreign‐majority‐owned joint venture fund management company.
As a pioneer of premium service, our staff will always provide you with the personal attention and user-friendly banking you need. Hang Seng Bank is a principal member of the HSBC Group, which is among the world's largest financial services organisations and holds a 62.14% equity interest in the Bank. The Bank offers investors in the United States a Sponsored Level-I American Depositary Receipts Programme.
Further information about Hang Seng is available here.
Career Event Calendar
Hang Seng Bank
---

| | | | |
| --- | --- | --- | --- |
| Date | Location | Description | Time |
| 15 Jan 2021 | Zoom (online) | Live Chat with Management Trainees | 5:00pm – 6:00pm (HKT) |
Fintech Career Accelerator Scheme
Hang Seng Bank
---

Fintech is changing our business and creating exciting possibilities for us all. At Hang Seng Bank, we appreciate the importance of developing young talents as creative think tanks for our constantly evolving and innovative environment. Join us and you too can build valuable expertise at the forefront of a smart, dynamic and innovative banking environment – an environment where you can flourish.
Hosted by the Hong Kong Monetary Authority, Hong Kong Applied Science and Technology Research Institute (ASTRI), and Cyberport, with Hang Seng Bank as a major contributor since pilot year in 2017, Fintech Career Accelerator Scheme (FCAS) is an 6-month / 11-month full time internship placement opportunity for university students to gain digital project exposure.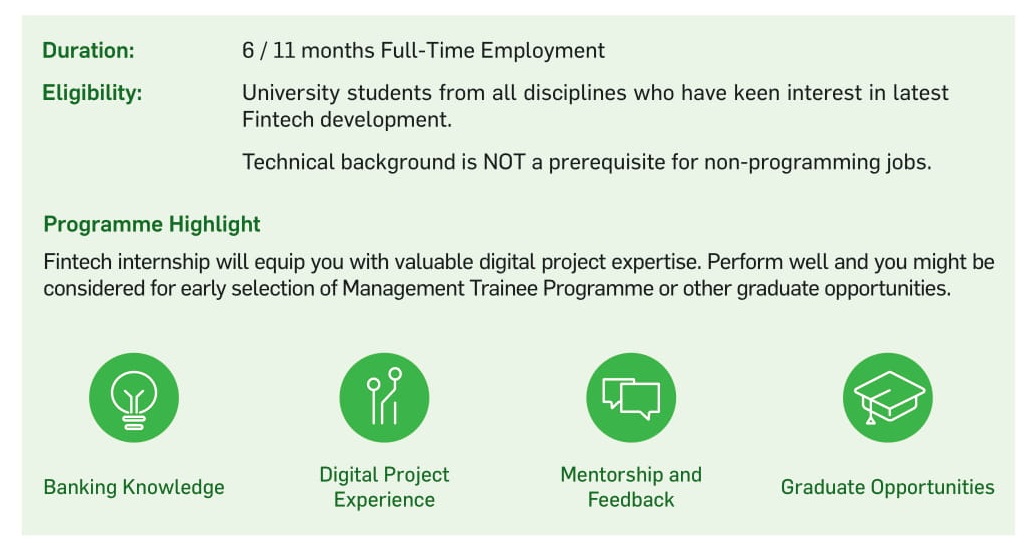 We are currently looking for high-calibre individuals to join our diversified business / functions: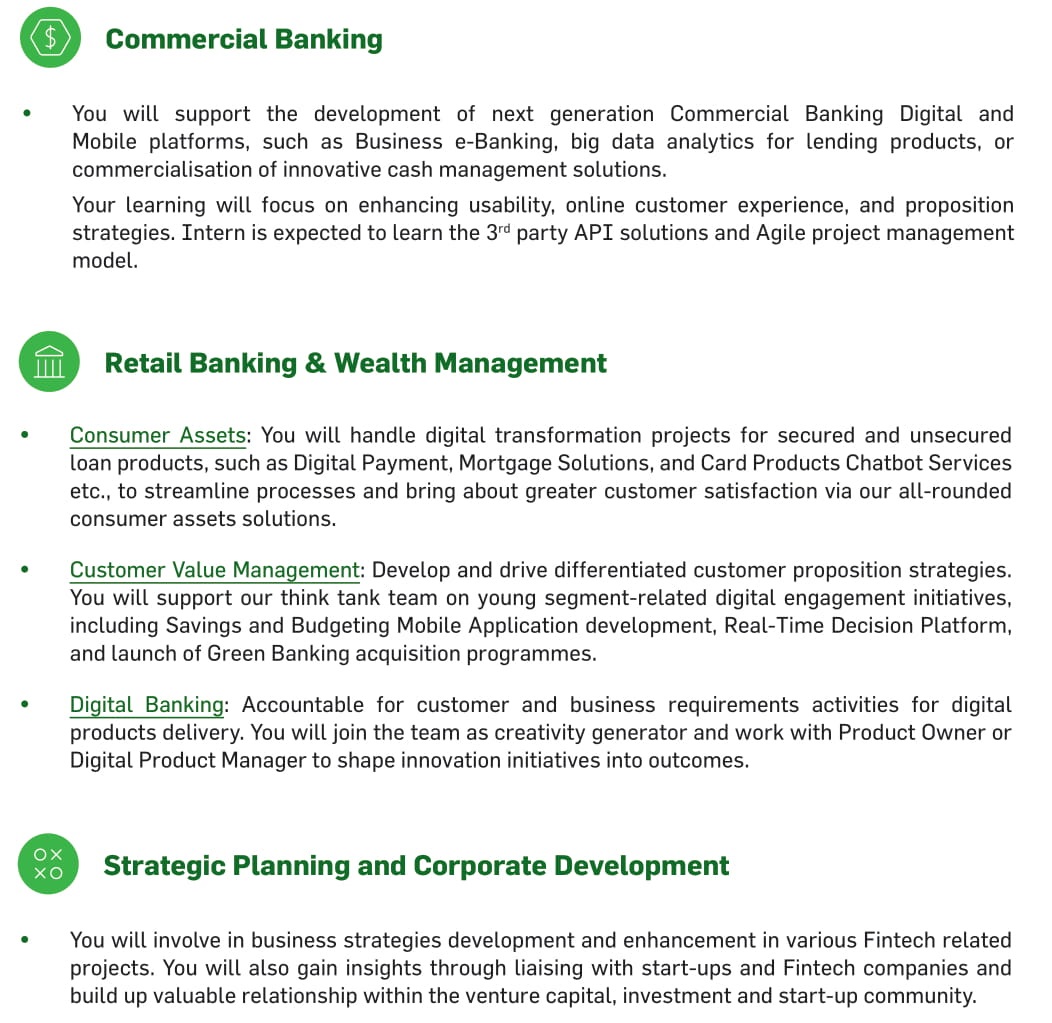 Over the course of the placement, you will assist in implementing various Fintech projects including blockchain, artificial intelligence, deep learning, robot advisor, mobile payment/wallet, ad tech, biometrics, cloud computing, big data analytics, or IT security.
Most importantly, you will grow under an environment which does not only advocate technological transformation, but also takes care on incubating creative energy via people-centric, flexible workplace.
Think you are up for the challenge? Join our FCAS Programme and become part of the passionate, creative and open-minded innovation team!
For more details, please visit website at https://www.hangseng.com/en-hk/about-us/careers/job-openings/
Hang Seng Co-op Programme
Hang Seng Bank
---

We are Hong Kong's leading domestic bank. This strong local identity gives our people a powerful sense of pride, purpose and belonging. Join us and you too can become a valuable member of our proudly local team. We welcome all full time university students from different disciplines to join our Winter Co-op Programme.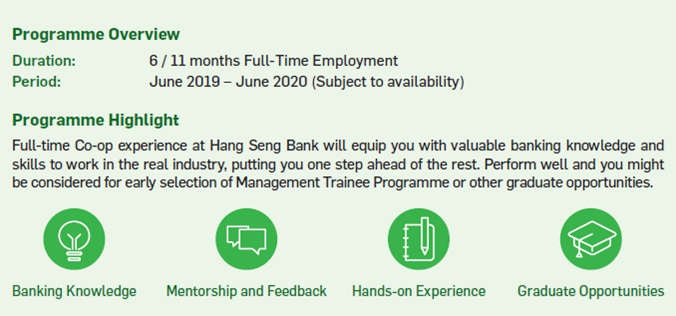 There should be careful consideration before application submission as this full-time programme requires successful candidates to suspend university studies. Last minute withdrawal will not be accepted.
Internship Streams
Audit: Provide independent, objective assurance to management and the Audit Committee over the risk management, governance and control enhancement recommendations for IT, General Banking Operation, and Retail Banking and Wealth Management functions.
Business Development: A newly established team for leading strategic business projects involving Hong Kong and China teams.  The focused areas include Hong Kong and key cities within the Greater Bay Area, and innovative solutions for customer needs.  The team also works closely with other business departments, support functions, and external professionals in exploring and leading our strategic business opportunities and plans.
Commercial Banking: Provide customized financial solutions to a full spectrum of business customers, ranging from small to medium-sized enterprises (SMEs) to large corporations. You will gain valuable relationship management support and product development knowledge.
Financial Control: Work as accountants and business partners in providing financial management, planning, reporting and compliance. You may also gain exposure in shareholders, regulators and external examiners engagement initiatives.
Financial Crime Compliance: Manage financial crime risk by conducting impact analysis of regulatory changes, providing advice to all businesses, driving regional coordination and execution of various compliance projects and assurance tasks.
Global Banking and Markets: Provide tailored financial solutions and relationship management support to major corporate and institutional clients, including corporate lending, structured products, and interest rates, foreign exchange and derivatives trading.
Investment Services: Offer a full spectrum of investment products and services to both private and corporate investors. Our customers can invest in over 400 investment funds managed by reputable international fund houses.
Legal: Provide professional and proactive commercial advice to facilitate our businesses. You will participate in managing risks and protect the integrity and reputation of the Bank.
Marketing: Formulate and implement marketing strategies to build the brand of Hang Seng Bank, work as business partners to acquire and strengthen customer loyalties, and govern the marketing practices across businesses to ensure alignment to the Bank's corporate image.
Operations, Services and Technology: Participate in a professional service delivery team in facilitating the execution of seamless bank operations, IT strategies, and business transformation activities to mitigate risks.
Retail Banking and Wealth Management: We serve over half of the adult population, focusing on consumer assets and wealth management product solutions, retail distribution and proposition strategies. Our one-stop wealth management initiatives are designed for both our affluent and mass integrated account customers.
Risk and Compliance: Maintain a well-balanced risk profile for the Bank while enabling businesses to thrive. You will actively develop and implement robust and customized risk management frameworks.
Strategic Planning and Corporate Development: Our professional Business Strategists are dedicated to formulating Hang Seng Bank's strategies and development plans, and providing recommendations to senior management and supporting strategic business opportunities.
For more detail of our Co-op programme, please visit website at https://bank.hangseng.com/1/2/about-us/careers/internship-opportunities/internship-co-op
Management Trainee Programme
Hang Seng Bank
---
A Career Where You Can Flourish
Career Opportunities in Management Trainee Programme
Our sustained business growth, driven by a progressive culture, continues to create development opportunities for our people. Join us and you too can gain valuable experience across our business and make significant contributions throughout your career in one of the following seven business / functional streams as 2020 MT:
Commercial Banking
Financial Control
Global Banking and Markets
Insurance
Operations, Services and Technology
Retail Banking and Wealth Management
Strategic Planning and Corporate Development
You will be exposed to the best global banking practices and flourish in the leading domestic bank in Hong Kong. Most importantly, this three year, fast-track programme will embolden you with the following key exposures:

We are looking for driven individuals who can make that change in taking the Bank to the next level to join as 2020 MT intakes:
Bachelor's degree or above from an accredited university
Fresh graduates or candidates with less than three years' working experience
Excellent written and spoken English and Chinese
Strong business acumen and analytical ability
Strong self-motivation and drive to achieve excellence
Excellent interpersonal and communication skills
Capable of serving as a role model for displaying openness, teamwork and integrity
Permanent residents of Hong Kong or hold a valid Hong Kong work visa
If you are ready to flourish in the leading domestic bank in Hong Kong, act now and apply online at our website www.hangseng.com/mt.