Hays Graduate Programs & Internships
Hays is the leading global specialist recruiting group. We are the expert at recruiting qualified, professional and skilled people worldwide. As Australia and New Zealand's leading recruiting experts, the trusted consultancy service we offer our clients and candidates, helps them to achieve lasting impact and it's what makes us number one. It's not just our clients and candidates who rate us number one, we were the proud winners of the Best Large Recruitment Company to Work For 20…
View more Hays has no active opportunities at the moment.
See who's currently hiring with our Job Search!
Search for jobs
At Hays, we believe in matching the right candidate to the right job. We do this every single day across more than 30 different industry sectors (specialisms). We're able to achieve this thanks to our talented team of recruitment consultants and Corporate Services professionals. We're always looking for passionate people to help us power careers and organisations.
A career at Hays provides ongoing professional training and development opportunities to enable our recruitment consultants to become experts in their field. Our consultants work in close partnership with senior decision makers and candidates to understand their needs and deliver an outstanding recruitment service.
Our recruitment teams are backed by equally talented Corporate Services professionals. They include IT, Finance, People & Culture, Marketing, Bids & Tenders, Legal, OHS and Service Delivery teams who are fundamental to our trusted consultancy service.
We want the very best people to join our business. Whether you are aspiring or experienced, you should consider a career at Hays if you are driven to help individuals, companies, and industries to succeed.
Graduate Opportunities
Our Associate Recruitment Consultants come from a wide range of educational backgrounds including business, psychology, accounting and law, just to name a few; it's our diverse workplace of people that makes us unparalleled recruiting experts.
As an Associate Consultant at Hays your role is to develop and manage your own portfolio of clients and source high calibre candidates to match your client's expectations. We operate a meritocratic culture and as such, promotion during your career at Hays is based on personal accomplishments and proven success. You will receive regular and structured feedback during your nine-month training programme to ensure you are constantly reaching your commercial potential.
The Hays Associate programme is a 9 month programme comprising of formal classroom training; you will be sent to Sydney twice in your first four months, workshops deliver locally by specialists in their field, structured one-on-one coaching with managers across the business and comprehensive online learning. The typical Hays timeline of promotion will see you transition to a Recruitment Consultant at 9 months, Senior Consultant following an additional 12 months and then into various management opportunities beyond that.
At Hays, there are genuine prospects for you to continuously grow your career and accelerate your career development. If you are passionate about people, ambitious and strive to achieve targets, please contact one of our local internal recruiters to discuss our current career opportunities.
Training that accelerates your career
Hays employ a wide range of people, but they all have one thing in common, the ambition and passion to power the world of work. We don't expect you to be an expert right away, we invest in your learning and development as a priority and offer industry leading training with fantastic career opportunities.
Our training programmes are delivered by our dedicated training team based in Sydney, who implement several training methods to ensure you are given your best opportunity to learn and develop. In the first 9 months of your time with Hays, you will be equipped with theoretical online training, classroom based training and on-the-job training to ensure you are developed and supported to your full potential.
We believe in promoting our people based on merit and endorse transparent promotion criteria to support your career progression and the development of your expertise. With the guidance of our Senior Leaders, the possibilities for your career are endless.
Whichever Hays office you step into, you will experience the energy, buzz and instant camaraderie that defines our culture. We have a team of driven and committed people from diverse backgrounds who are motivated to achieve their goals.
We describe our culture as a meritocracy; a culture that promotes and rewards based on the merit of your personal performance. Achieve and you will be fast-tracked into people or business leadership.
 

Live well, work well
When it comes to life at Hays, our motto is 'live well, work well'. We know that when you feel you can achieve your work and life goals, you are empowered to do your very best. To assist you in maintaining a work and life balance, we support flexibility and offer a vast range of employee benefits that promote health and wellness.
We offer an excellent range of employee benefits including:
Flex@Hays- Choose your start and finishing times and apply for up to 5 additional days leave per year.
Wellness Day- Receive a wellness day each year to spend on yourself.
Wellness@Hays- Our wellness programme includes an annual calendar of themed events, flu vaccinations, discounted health insurance and an Employee Assistance Programme, to name a few.
HaysRewards- Once you reach 2 years' service, you'll be awarded $500 every year to spend on health, fitness and leisure. Use it for anything that enhances your wellbeing, the choice is yours!
Entertainment Book Membership- Once you've reached 1 years' service at Hays receive a yearly subscription to the Entertainment book and take advantage of thousands of discounts across your local region. 
Loyalty Leave- Earn loyalty leave for the time you spend with the business, equating to 30 days annual leave in your 10th year.
Corporate Agreements- with the likes of HCF, MLC, MJ Bale and Specsavers.
Social Events- partake in periodic social events every 4 weeks.
Referral Bonus- Receive $2000 for a successful referral of a friend or family member to Hays.
Parental Leave- Our Parents@Hays program provides working parents with paid parental leave for both mums and dads, a keep in touch program and options for flexible working arrangements.
In addition to the fantastic employee benefits Hays offers, you'll be part of a business that celebrates success like no other. Hays proudly acknowledges the results, energy and passion of our employees through a range of incentives, including awards for personal bests and high performers, our internal recognition scheme and anniversary gifts. Incentives could involve a helicopter ride, a trip to the snow or a lavish dinner.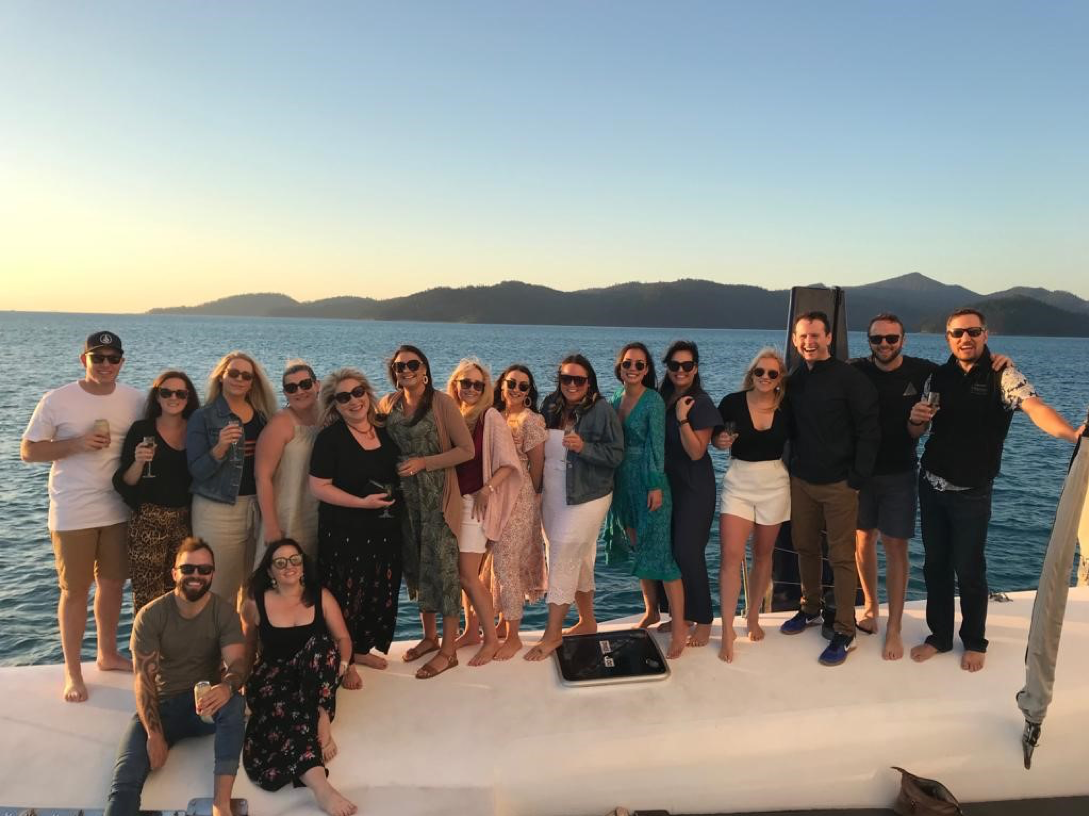 Diversity

Creating an inclusive culture where diversity can thrive.
At Hays, we recognise the value of a diverse and skilled workforce. We know from experience that a diverse workforce made up of different perspectives, combined with an inclusive culture, positively influences performance, creativity and builds the foundation for innovation.
We are committed to creating an inclusive and collaborative workplace that supports our high-performance culture where our people can flourish and succeed. By welcoming people from all backgrounds and embracing our differences, everyone can be themselves at work and reach their true potential.
We are equally committed to partnering with our clients across ANZ to support them in achieving their diversity goals to reflect and enrich the broader markets and communities in which we operate.
As a business, we are on a journey towards a more diverse and inclusive workforce and together, every one of us can learn and evolve.
As part of our ongoing commitment to diversity, we established a Diversity committee in August 2016 that work alongside operations and People & Culture to focus on our five key diversity pillars; Gender, LGBTIQ+, Disability, Indigenous and Ethnicity.
GENDER
At Hays, we are committed to ensuring that both women and men have equal career development opportunities. We are proud of our achievements in gender equality at all levels of the business which we have achieved through creating an inclusive and meritocratic culture.
This is proven by the following key indicators from this year's Workplace Gender Equality Agency (WGEA) report:
65% of our total employee population in ANZ is female
44% of our ANZ board are female
56% of people managers in the business are female
In the last 12 months 83% if employees that took parental leave returned to work. Of those employees, 100% returned on a flexible work arrangement
LGBTIQ+
We are passionate about creating a respectful and inclusive culture where LGBTIQ+ (Lesbian, Gays, Bisexual, Transsexual & Intersex) individuals can be their authentic selves at work. We are proud to partner with Pride in Diversity to engage in meaningful events and initiatives to educate our people on LGBTIQ+ in the workplace.
DISABILITY
Hays are committed to supporting and promoting the inclusion of people with a lived experience of a disability. By developing our business confidence in our internal and external recruitment practices, we seek to better enable employment access to people with a disability.
As proud partners with Australian Network on Disability (AND), we are working to further develop our knowledge, skills and resources to increase accessibility.
INDIGENOUS
Hays is committed to providing increased Indigenous participation and employment opportunities for Indigenous Australians. We are proud to have started our journey with Reconciliation Australia to promote and facilitate respect, trust and positive relationships between the Australian community and Aboriginal and Torres Strait Islander People.
We have introduced the Acknowledgement of Country across our business internally and to our clients to demonstrate awareness and pay respect to the Traditional Owners and ongoing custodians of the land - the Aboriginal and Torres Strait Islander People. We have partnered with organisations across the country to assist in increasing employment opportunities and access to employment for Indigenous Australians including:
Australian Indigenous Mentoring Experience (AIME) - A mentoring programme provided by selected Hays Directors to Indigenous high school pupils to improve their pathways to education or employment.
Aboriginal Employment Strategy - Strategies provided to consultants across key accounts to enable them to increase Indigenous representation within their clients' temporary workforce.
ETHNICITY
At Hays, we recognise the value of a diverse workforce achieved by empowering and embracing the strengths of all our people.
We are proud of our cultural diversity and we will continue to strengthen and embed an inclusive culture throughout Hays. Working towards a greater cultural understanding we believe in harnessing the benefits of a diverse workforce to enable our people and business to thrive.