Hays Opportunities
There is currently 1 opportunity available
Hays is the leading global specialist recruiting group. We are the expert at recruiting qualified, professional and skilled people worldwide. As Australia and New Zealand's leading recruiting experts, the trusted consultancy service we offer our clients and candidates, helps them to achieve lasting impact and it's what makes us number one. It's not just our clients and candidates who rate us number one, we were the proud winners of the Best Large Recruitment Company to Work For 2018 at the Recruitment International awards.
Already have an account on GradConnection?
Login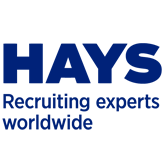 Apply to Hays
Arts and Humanities, Business and
...
Canberra, Sydney, Darwin, Brisbane, Townsville,
...