Hewlett Packard Enterprise Graduate Programs & Internships
Hewlett Packard Enterprise is an industry-leading global technology company with market leading positions in servers, storage, wired and wireless networking, converged systems, services and cloud. We help customers use technology to reduce the time it takes to turn ideas into value.  In turn, they transform industries, markets and lives. Hewlett Packard Enterprise has no active opportunities at the moment.
See who's currently hiring with our Job Search!
Search for jobs
History
Hewlett Packard Enterprise got its start over 75 years ago because of two men who believed in their ideas. In 1939, our founders, Bill Hewlett and Dave Packard, started a revolution in a garage in Palo Alto, California - the original Silicon Valley startup, known as Hewlett Packard (HP).
Working with limited resources, the pair created a series of products—starting with audio oscillators used by sound engineers—sometimes using the Packard family oven to put on finishing touches. Their efforts impressed Walt Disney Studios, one of HP's early customers, and set the course for a legacy of innovation and leadership that has never stopped.
From its origins in a Palo Alto garage, HP grew and evolved significantly into one of the world's leading technology companies.
Hewlett Packard Enterprise today
In order to successfully maintain our market leading status, on 1st November 2015 HP separated into 2 new industry leading Fortune 50 companies. Hewlett Packard Enterprise (HPE) focusses solely on enterprise, both large and small – helping our customers use technology to turn ideas into value – transforming industries, markets and lives. We offer the most complete end-to-end portfolio in the market which spans servers, storage, networking, software, services and solutions. We bring the advantages of that scale, the breadth and depth of our portfolio, to solve our customers' most challenging problems. That's the reason we are the #1 or #2 leader in almost all product categories in which we compete.
We know that what we do is core to the businesses of our customers and partners.  We are innovators at heart – that's in our DNA.  We will continue to bring forth the practical innovation we've always been known for – the pride we feel in inventing new ways to improve how we live and work. We work hard to nurture an inclusive culture where all of our employees contribute to tomorrow's breakthroughs. After all, ingenious ideas and inspired thinking can come from anyone, anywhere, anytime.
And, there are new elements we want to explore, like agility, openness and partnership with our customers. It takes more than great technology to succeed in the world today. It also takes an environment where collaborative people, empowering technology, and transformative ideas come together to carry our customers forward faster. This is at the heart of Hewlett Packard Enterprise.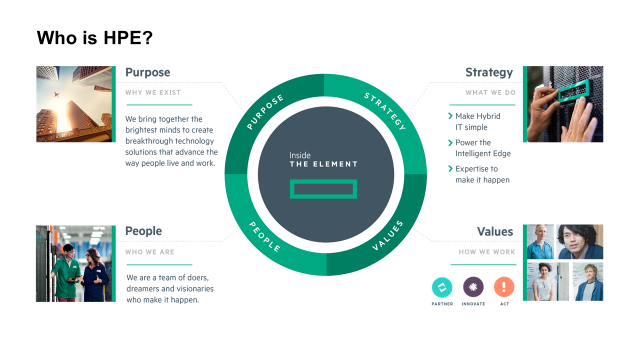 Our Graduate Program 2019
Who are we looking for?
You might not think it, but for a technology company, our biggest asset is our people. People with drive, passion, outstanding communication skills, and commercial acumen to make HPE what it is today, and more importantly, what it will be in the future. We're filled with talented achievers who understand what our customers need even before they do. We're looking for the next generation of HPE leaders, exceptional young people with the drive and determination to create the future of IT.
Interpersonal skills: The ability to value the perspectives of a diverse range of people
Flexibility: Capable of responding to change with speed and agility
Team Player: Ability to form meaningful relationships and collaborate with internal and external stakeholders
Analytical abilities: Able to identify problems and devise solutions
Communication: Having the ability to communicate clearly and confidently across cultural and international divides
Commitment: The dedication to set and achieve goals. You are results-oriented
Personality: An attitude fuelled with positive thinking and a proactive mindset
What do we offer?
Diverse Experience in a Market Leading Company
Joining our Graduate Program for will give you the opportunity to transition from a brand new graduate to a professional with a headstart in the IT industry.
Challenging Assignments
We see our Graduates as future leaders of the organization, thus we want to challenge them to learn and grow. You'll be involved in work that has a real impact on HPE's success, as we believe that hands-on experience is the fastest way to develop.
Supportive Environment
There will be mentors and buddies available to you giving you support along the way, as well as regular feedback on your performance and development.
A Great Culture
HPE prides itself on an inclusive and friendly work environment where employees are able to balance career and a life outside of work.
We have a few distinct paths that you can choose from, depending on your academic and working background – Sales, Technical and Business.
Sales Stream opportunities
If you have graduated within the last 2 years or will graduate within this academic year with a degree in Business, Marketing, Commerce, Arts or Information Technology, this graduate program is for you.
Business Stream opportunities
If you have graduated within the last 2 years or will graduate within this academic year with a degree in Business, Marketing, Commerce, Arts or another business related discipline, this graduate program is for you.
Technical Stream opportunities
If you have graduated within the last 2 years or will graduate within this academic year with a degree in Computer Science, Information Technology, Engineering, Networking or another technology related discipline, this graduate program is for you.
Required Qualifications
Academic Qualifications
You must have graduated within the last 2 years or will graduate within this academic year.
Personal Attributes
We will be looking for a self-starter with a 'can do' attitude who is enthusiastic and flexible. You will also display excellent communication skills and an ability to develop relationships with a wide variety of people.
Experience
No previous experience is required for the majority of roles, however any example where you can prove your ability to drive results or demonstrate knowledge of certain technologies will be greatly beneficial to your application.
How to Apply
The application process is quite simple.
Follow the link below that matches your location and background.
Click Apply
Be guided through the application process in our Recruitment Management System "Workday"
Please ensure you answer all questions in the screening section and upload your transcript
Application Links
Business Graduate, Sydney - https://bit.ly/2IGsE4w
Sales Graduate, Sydney - https://bit.ly/2J5gF3U
Sales Graduate, Melbourne - https://bit.ly/2LslnXQ
Technical Graduate, Sydney - https://bit.ly/2GKh3iV
Technical Graduate, Melbourne  - https://bit.ly/2GLi2iL
Business Graduate, Auckland - https://bit.ly/2LnGnyK
Technical Sales Graduate, Auckland - https://bit.ly/2IGoTjr
FAQs
Q. When do applications for the HPE 2020 Graduate Program open?
A. Applications will open in May 2019
Q. What should I provide in order to apply?
A. Please submit a brief cover letter, an up-to-date CV, a copy of your transcript and proof of work rights for Australia or New Zealand (depending on whether you are applying for a role in Australia or New Zealand).
Q. Can I apply if I hold a Student Visa for Australia or New Zealand?
A. Unfortunately no. As a large number of our clients require Government security clearance you must hold citizenship for the country in which you are applying.
Q. Can you please outline the hiring process for the Graduate program?
A. All applications will be reviewed by our internal Talent Acquisition/HR team. Should you meet the initial criteria, you will be contacted for a telephone interview. If successful after this screening, you will be invited to attend an assessment centre. The final stage will be a face to face interview. These will be held August/September 2019.
Q. If I am successful, when would I start?
A. We anticipate that our graduates will commence in early February 2020.
---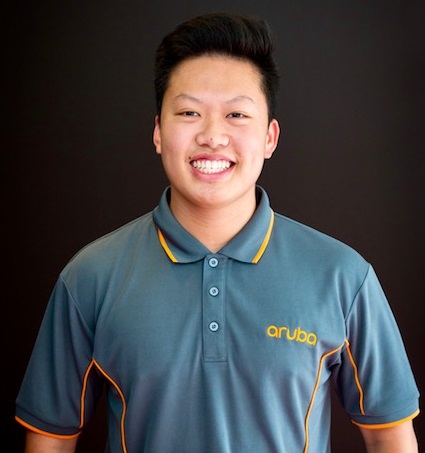 Benson Duong | 2017 Sales Graduate | Aruba | Sydney
What area of the business do you work for? What is your role?
I am currently part of Aruba, a Hewlett Packard Enterprise Company. This area of the business is primarily focused on networking with an aim to deliver a complete end-to-end solution of networking hardware, software, security and support services. I began the Graduate program as a sales support team member of the SMB sales division. I've since moved on to a SMB distribution specialist role where I'm getting to work with our distributors on sales enablement, marketing campaigns, promotions, SMB run-rate activity and bringing exposure/awareness to the market on Aruba's SMB product line.
What's the best part of your job?
The best part of my job is being able to come into work and not only love what you do, but who you work with. Working alongside knowledgeable colleagues with plenty years of experience, it feels encouraging to know that they learn from me as much as I learn from them. The amount of support that my team has given when pushed out of your comfort zone has been incredible. I've felt like part of the greater team since Day One and it feels good to know that the work I do early on has already contributed to the company.
What kind of skills have you developed since joining HPE?
Business acumen and soft skills have been the top two skillsets that I've picked up since joining HPE. Whilst I already had some understanding of business/financial language, it wasn't until putting theory into practice that you are tested on what you know. As part of my induction, HPE provided introductory (and further) training which allowed me to gain the required knowledge and experience on our technology and internal processes. Constant engagement with customers, partners and those outside of our business gives me the chance to network, learn and ultimately, take in the ideas and experiences of others to form a basis for what you want on your career path.
What does it take to thrive in a graduate position at HPE?
Personally, I believe in the phrase that 'you only get out of life what you put into it'. To thrive in a graduate position means being honest to yourself and understanding what you do and don't know.  It is then up to you to decide what you do with that knowledge – no one comes into a graduate position and is expected to know all, and no one in the company expects that either. Triple-downing on your strengths, knowledge and expertise whilst leveraging the resources around you to work on your weaknesses and areas you lack understanding will help in the process of understanding where you want to be day by day.
---
Owen Steer, 2019 Graduate
---
Hannah Doung, 2019 Graduate