Infosys Graduate Programs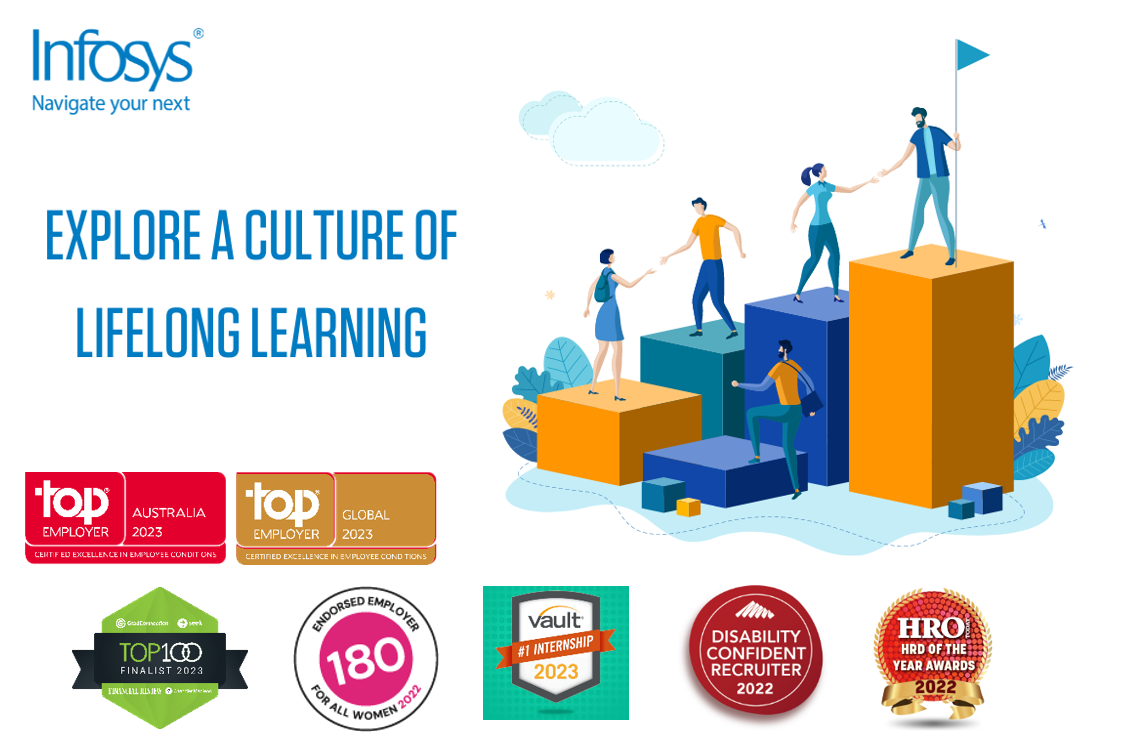 Infosys is a global leader in next-generation digital services and consulting. We enable clients in more than 50 countries to navigate their digital transformation. With over four decades of experience in managing the systems and workings of global enterprises, we expertly steer our clients through their digital journey. We do it by enabling the enterprise…
View more
Online Application


You should prepare to apply by finding where your skills fit and familiarising yourself with how we hire. Apply online by submitting your CV. So go ahead and flex your academic achievements, work history and team experience. Also highlight your interests and your reasons for applying. We'll be assessing all applications immediately. 

Eligibility and HR review


We'll review your CV and one of our friendly recruiters will call you for a chat. Be prepared to talk about the things you put in your CV. Ask questions that you may have, too and we will be progressing candidates who meet the program eligibility criteria to the online assessment.

Online Assessment


This is the stage where we get to know you better and learn a little more about yourself! This assessment is your chance to bring your application to life. You'll be asked q…
View full process Infosys has no active opportunities at the moment.
See who's currently hiring with our Job Search!
Search for jobs
At Infosys, we not only invest in your training upon onboarding, we make a commitment to continue our investment in your learning throughout your career. We offer mentorships, education courses with our partners and we build our leaders on the inside with our Leadership Institute Program.
As a Technology Associate, you will work on exciting projects with some of the largest companies in the world. You'll be met with many new opportunities and do more by becoming a part of the Infosys community. We value lifelong learning, creative thinking and foster an entrepreneurial culture. Come amplify your potential and become your very best while helping us co-create the digital and disruptive future of innovation and technology.
All aspects of employment at Infosys are based on merit, competence and performance. We are committed to embracing diversity and creating an inclusive environment for all employees. Infosys is proud to be an equal opportunity employer.
Online Application


You should prepare to apply by finding where your skills fit and familiarising yourself with how we hire. Apply online by submitting your CV. So go ahead and flex your academic achievements, work history and team experience. Also highlight your interests and your reasons for applying. We'll be assessing all applications immediately. 

Eligibility and HR review


We'll review your CV and one of our friendly recruiters will call you for a chat. Be prepared to talk about the things you put in your CV. Ask questions that you may have, too and we will be progressing candidates who meet the program eligibility criteria to the online assessment.

Online Assessment


This is the stage where we get to know you better and learn a little more about yourself! This assessment is your chance to bring your application to life. You'll be asked questions that will help us get to know you better and you'll play a series of games designed to help us learn more about your strengths and to see if you're a good fit for the area you've applied to. This should take around 60 minutes to complete.

Interview 


Next you will have a technical panel interview with members from the delivery team. Again, this is a two-way process - so please come prepared with some questions to ask while you have this time with the most senior leaders of Infosys!

HR Discussion & Job Offer


This is the last step! Hooray! The final part of our hiring process is a final chat with an Infosys Recruiter to confirm all the details and check in with you based off your interview experience. You'll get a job offer and know all the details about your role—remuneration, start date, work hours, welcome pack and more. See you soon!
Why Join Us?
What Infosys can offer you:
Flexible Working Arrangements
Advanced, anytime anywhere learning platforms
Income Protection Insurance
Health Insurance Benefits
Employee Assistance Program
Discounted Corporate Gym Memberships and many more...
Social Responsibility
To us, the true measure of social change extends beyond philanthropy.
Our social responsibility programs are born out of deep research and designed to be holistic community development programs. With each school, library, hospital or toilet that we've help build, we're building a bridge to the future for the people around us. Our programs are as varied as preserving ancient art forms, to computer science and code literacy for young students. Our responsibility extends to creating a technological future that remains human.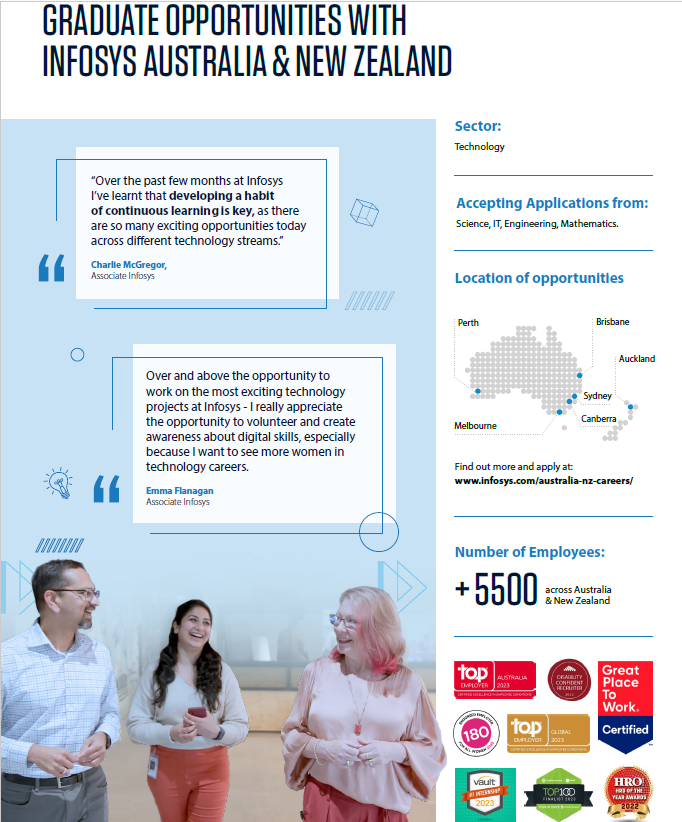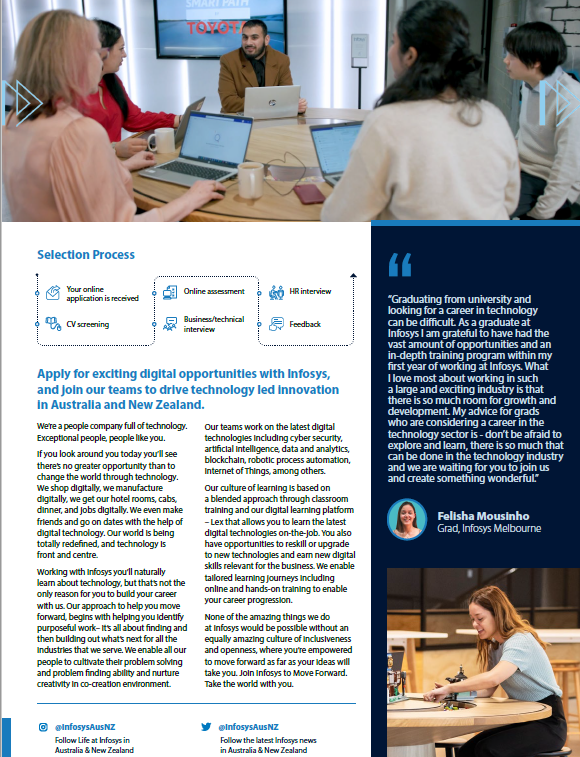 In order to attract and retain competitive talent from all sectors of the community, Infosys' diversity proposition is based in regional legislative compliance, organisational justice, respect for individuals and a work environment that is inclusive for all, whilst maintaining relevance to the needs of the business, our clients and the industry we work within. Infosys' Diversity and Inclusion initiatives are based the focus areas below, and we embrace broader D&I areas within our remit.
Infosys has a constant focus on building mindful awareness and ownership for Diversity & Inclusion into every account and unit in the region, to provide business intelligence and inform decision-making at the account/unit level. Regionally, we actively endorse and participate in Employee Resource Groups (ERG), including IPRIDE, an affinity group instituted to create a safe, inclusive, and respectful network for LGBTQIA+ employees and allies. As a signatory to the UN LGBTI Charter for Business, Infosys is committed to be an inclusive workplace for members of the LGBTQIA+ community.
As an equal opportunity employer, all Infosys recruitment, development and career opportunity processes apply to all regardless of race, colour, religion, creed, gender, national origin, age, disability, marital or veteran status, or any other legally protected status.
Cultural Diversity

Graduate and Intern Programs Hiring local employees with a focus on diversity
Training for employees to build work relationships that are respectful to each other, our clients and the community
Celebrating differences Cultural events and social forums to bring diverse communities together
Corporate Partner of UTS Galuwa Indigenous student outreach
Disability

Accredited as a Disability Confident Recruiter by the Australian Network on Disability
Building accessible learning pathways for people with a disability
Workplace Adjustments to enable people with a disability to participate with equity
Gender Equality

Mentoring and training programs targeting high potential women
Flexible Working enabled for employees onshore and offshore
Accredited membership of WORK180 jobs network to target female talent
WGEA compliant - Leverage industry analysis to identify change opportunities