Jacobs Graduate Programs & Internships

At Jacobs, we're challenging today to reinvent tomorrow by solving the world's most critical problems for thriving cities, resilient environments, mission-critical outcomes, operational advancement, scientific discovery and cutting-edge manufacturing, turning abstract ideas into realities that transform the world for g…
View more
Decide What Role(s) to Apply For


Your interests, skills and career goals should align with the requirements of your chosen role.
If you are in your penultimate year of study, you are best suited to our Summer Internship Program. If you are in your final year of study, you will be eligible for our Graduate Program.
Make sure that you are eligible to work in your chosen role's location (we will require evidence of your working rights).

Online Application


Now that you've determined which role(s) to apply for, it's time to submit your application! Click through to the position's online application form. You will need to complete some questions and attach a number of documents, including:

Your CV –showcase your previous work experience, extra-curricular activities, academic history, volunteer experience and any other qualifications –we're loo…
View full process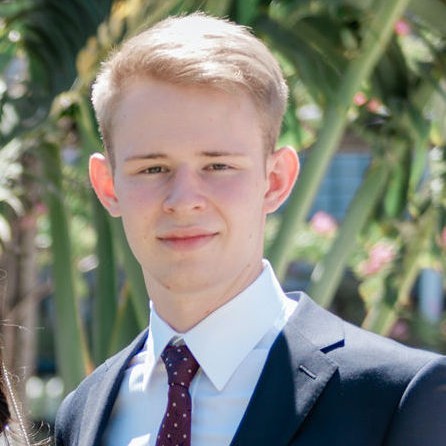 Sam
Bachelor of Cyber Security
Edith Cowan University
Can you let us know what company you are working for and which area of the business you work in or which rotation you are currently in? 
Jacobs - PP&S - Security Team
What was the first 6 months like?  What have you really enjoyed? 
My first 6 months involved  familiarizing myself with my team, how the business operates, the systems we use and the projects we work on.  I've really enjoyed the hands-on approach the Jacobs graduate program takes, been involved in real projects from the start has gave me the opportunity…
View more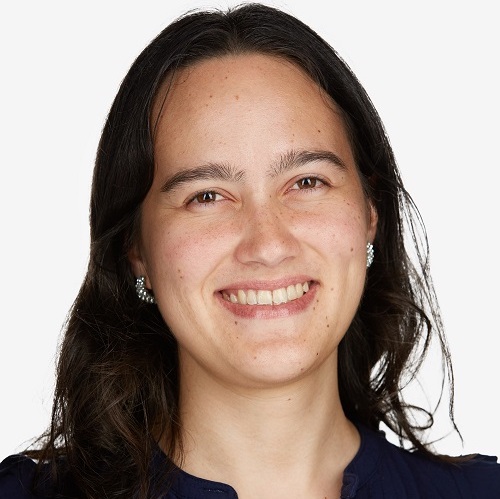 Laura
Civil and Environmental Engineer, Master's Degree in Water Resources,
Monash University
Can you let us know what company you are working for and which area of the business you work in or which rotation you are currently in? 
I work for Jacobs in the Water Resources team in Brisbane office
What was the first 6 months like?  What have you really enjoyed? 
At the start, everything was slow and it started to ramp up as soon as I was assigned to my first project. It was a steep learning curve where I was trying to absorb as much information as I could.
I enjoyed being able to see how the many concepts learnt in Uni started…
View more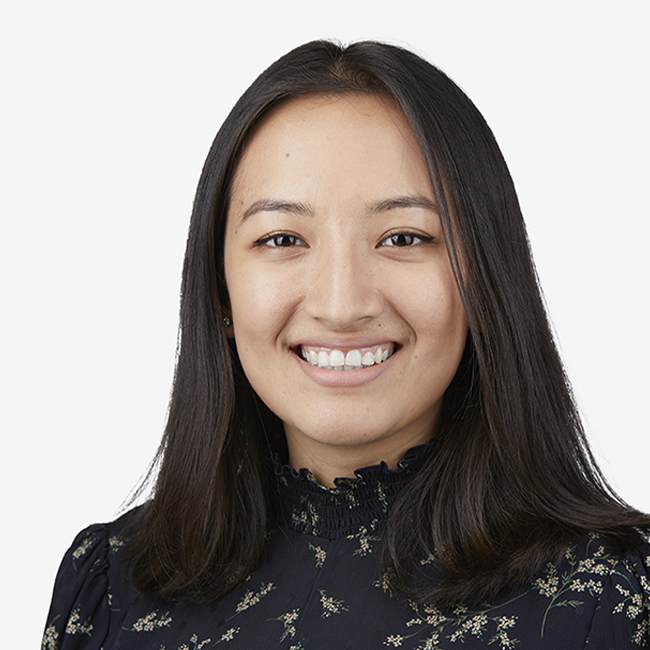 Suvekchhya
Bachelor of Engineering (Mechanical)
University of New South Wales
Can you let us know what company you are working for and which area of the business you work in or which rotation you are currently in?
I am currently working for Jacobs Group Australia in the Built Environment Sector. Specifically, I work in the Mechanical Team within Building services, which focuses primarily in Heating Ventilation and Air conditioning.
What was the first 6 months like? What have you really enjoyed?
The first 6 months of the graduate program mainly involved helping me settle into the new working e…
View more
We live inclusion.
At Jacobs, inclusion powers our collective strength. We believe our differences can broaden perspectives, our connections build confidence, and our collaboration inspires growth.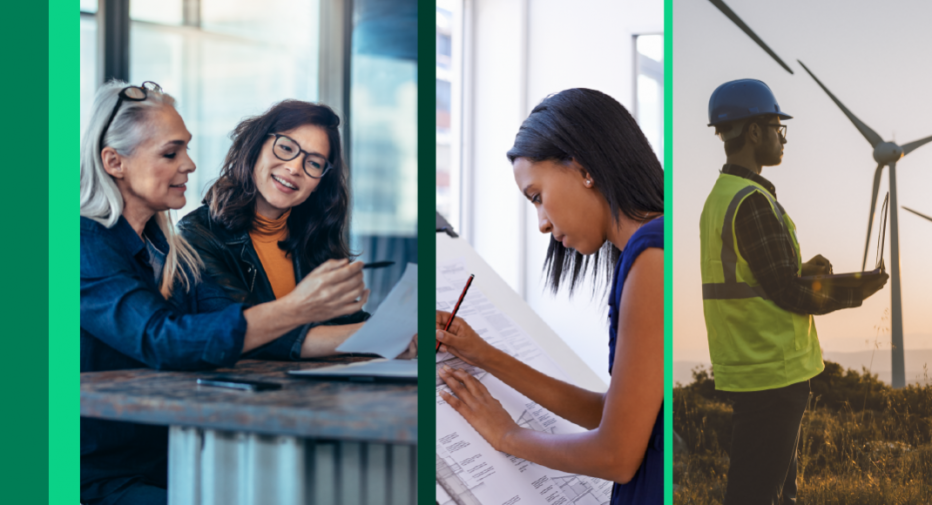 Values
We do things right.

We always act with integrity - taking responsibility for our work, caring for our people and staying focused on safety and sustainability. We make investments in our clients, people and communities, so we can grow together. 

We aim higher.

We do not settle - always looking beyond to raise the bar and deliver with excellence. We are committed to our clients by bringing innovative solutions that lead to profitable growth and shared success. 

We challenge the accepted.

We know that to create a better future, we must ask the difficult questions. We always stay curious and are not afraid to try new things. 

We live inclusion.


We put people at the heart of our business. We embrace all perspectives, collaborating to make a positive impact. Through a strong focus on inclusion, with a diverse team of visionaries, thinkers and doers, we built trust - in each other and across our company. 
Perks & Benefits
myFlex

Supporting our new ways of working, myFlex at Jacobs is about giving you control over how, where and when you work to best full fill your professional and personal priorities.

Professional Subscriptions

Jacobs encourages employees to seek membership of appropriate professional institutions relevant to the discipline in which they are employed and will reimburse annual subscriptions.

Jacobs GO

Jacobs Global Opportunities (GO) is an employee program aimed at facilitating inter-regional and international six month secondments. The objective of this program is to allow connectivity and to grow our global network.

STEAM Volunteering

Help us build the talent of tomorrow – today. Science, Technology, Engineering, Arts and Math – STEAM for short – is at the heart of our business. #STEAMatJacobs is an employee volunteering program to engage students around the world.

Parental and Adoption Leave

Paid parental leave is available to employees who will have the primary responsibility to care for their child.

Jacobs values the contribution to the community made by adopting and foster parents and the commitment of staff who provide care for children. When adopting or fostering a child under 16 years of age, you may be entitled to take adoption and foster leave to enable you to be the child's primary caregiver.

Graduate Network

Your local Graduate Network or the ANZ wide Graduate Network are great places to build your network, and to get access to other development opportunities. They may host lunch and learns or similar events that would be directly applicable to your Graduate Development Program progress. Additionally, they give you a great opportunity to meet other graduates and others in the business. They also have a monthly newsletter and host many social events both ANZ wide and in each local office.

Jacobs Employee Networks

These employee-led and employee-organised groups play a critical role in fostering our Culture of Caring at Jacobs. The shared mission of our employee networks is to celebrate and develop Jacobs' inclusive employee population, facilitate innovation at Jacobs, and contribute to the communities in which we live and work.

Salary Continuance & Life Insurance

Life insurance provides a lump sum payment in the event of an insured member's death or if diagnosed as being terminally ill.
Income Protection insurance provides a monthly payment that will be a replacement of some of your income if you are totally disabled and unable to work as a result of an injury or sickness.

Social Activities

Regular social events and networking opportunities held locally and virtually.

Educational Reimbursements

We will financially support you to undertake relevant post-graduate / undergraduate & other study.

Healthworks

HealthWorks offers enhanced services focused around key areas and supports Jacobs approach to Flexible working. The services include: 1:1 coaching both virtual and face to face, consultations and access to the myHealthworks portal.

Positive Mental Health Champions

Positive Mental Health Champions, training our employees in how to guide staff who have mental health concerns or crises, to the appropriate level of help; support fellow employees; and encourage positive mental health throughout the workplace.

E3 Learning Platform

At Jacobs, there is no limit to what you can be and what you can achieve. Jacobs has launched a new learning experience designed to connect your ambitions with the learning opportunities that can help make them a reality. Our learning portal supports your personal and professional growth with courses tailored to your role and career interests and curated content to help you prepare for our future.

Employee Assistance Program

Your health & wellbeing are important to Jacobs and we want to introduce to you a great benefit that Jacobs offers - our Employee Assistance Program. This program provides confidential counselling service to help you resolve personal concerns, family and relationship issues, stress-related problems or work conflicts issues. The professional service is completely paid by Jacobs and is available to you and your families at no cost.

Collectively

The Collectively℠ Program unites Jacobs' 55,000 visionaries, dreamers and doers in a single platform for charitable giving and volunteering – allowing us to amplify the positive impact we make in our communities every day. We support more than 2 million charities around the globe.

Ally Training

We offer ally training to embolden those within the Jacobs community with awareness and the foundational skills necessary to take daily steps in becoming impacting advocates and allies, actively playing a role in building meaningful diverse relationships while supporting and standing with our diverse community.

Public Holiday Swap

Employees may request to transfer a legislated public holiday to be observed on another working day.

Mentoring

Learn how our experts and industry leaders deliver the boldest solutions for the extraordinary and the everyday.

Health Insurance

Private health insurance plan is provided by the corresponding health insurance providers in Australia and New Zealand for Jacobs employees over a range of health insurance options and discounts to suit your needs.

Lunch and Learns

Weekly Learn and Learns sessions are scheduled to provide opportunities for our interns and graduates to learn more about particular topics or disciplines. 

Buddies

The buddying system is designed to ensure that you receive a consistent level of informal support when starting with Jacobs. Buddies ensure you have the tools and resources available to grow professionally. This 'showing of the ropes' could range from showing where the kitchens/facilities are located on relevant floors, to systems support or simply providing a friendly ear where required.
We deliver impactful global solutions to create a more connected, sustainable world — from intelligence to infrastructure, cybersecurity to space exploration. Our 55,000 employees across 40+ countries work every day, challenging the expectations of today to reinvent the way we'll all live tomorrow. Have a look at some of the projects Jacobs is delivering here – Jacobs Solutions
We see the world as it can be
Challenging today is our response to the increasing complexity our world is experiencing. It calls on us to join forces, putting our knowledge and imagination together to reinvent the way we solve problems and shape the next generation of innovative solutions.
Reinventing tomorrow is our promise and an invitation to raise the bar in everything we do. From the brilliant solutions we create with our clients, to the open and inclusive culture we create for our people. From the positive difference we make in our communities, to the added value we deliver to our shareholders.
Connect with us on LinkedIn, Twitter, Facebook, YouTube and Instagram.
Decide What Role(s) to Apply For


Your interests, skills and career goals should align with the requirements of your chosen role.
If you are in your penultimate year of study, you are best suited to our Summer Internship Program. If you are in your final year of study, you will be eligible for our Graduate Program.
Make sure that you are eligible to work in your chosen role's location (we will require evidence of your working rights).

Online Application


Now that you've determined which role(s) to apply for, it's time to submit your application! Click through to the position's online application form. You will need to complete some questions and attach a number of documents, including:

Your CV –showcase your previous work experience, extra-curricular activities, academic history, volunteer experience and any other qualifications –we're looking for future leaders, so anything that demonstrates your motivation, proactivity and interest in your chosen discipline will go a long way!
A cover letter –tell us about yourself, which specific discipline you are passionate about and where you see your career developing. Remember to proofread for typos!
Your Academic Record.
Evidence of your working rights –attach a scan / copy of your birth certificate, passport or Visa (VEVO check if applicable).

Please note that your application cannot be considered without these documents.

Online Video Interview


If your online application is successful, you will be invited to complete an online video interview. This is a chance for us to find out a bit more about you, your experience and what makes you tick. The interview can be completed anywhere you have a reliable internet connection, and we recommend setting aside half an hour in a quiet location so that you have time to set up and practice. Be prepared to answer some behavioural questions and showcase your passion for the role.

Face to Face Interview


If all goes well, you will be invited in for a face to face interview with one or more members of the team that you have applied to. Come prepared to answer a variety of questions, and don't be afraid to ask us some too!

Offer Extended


Once interviews for the role have been completed, someone will be in touch via a phone call with the outcome of your application.
At Jacobs we value people. Having the right balance of diversity, career and lifestyle enables us to consistently deliver and exceed clients' expectations. Our global culture of caring fosters a workplace where we value the safety, positive mental health, inclusion and belonging of all our employees.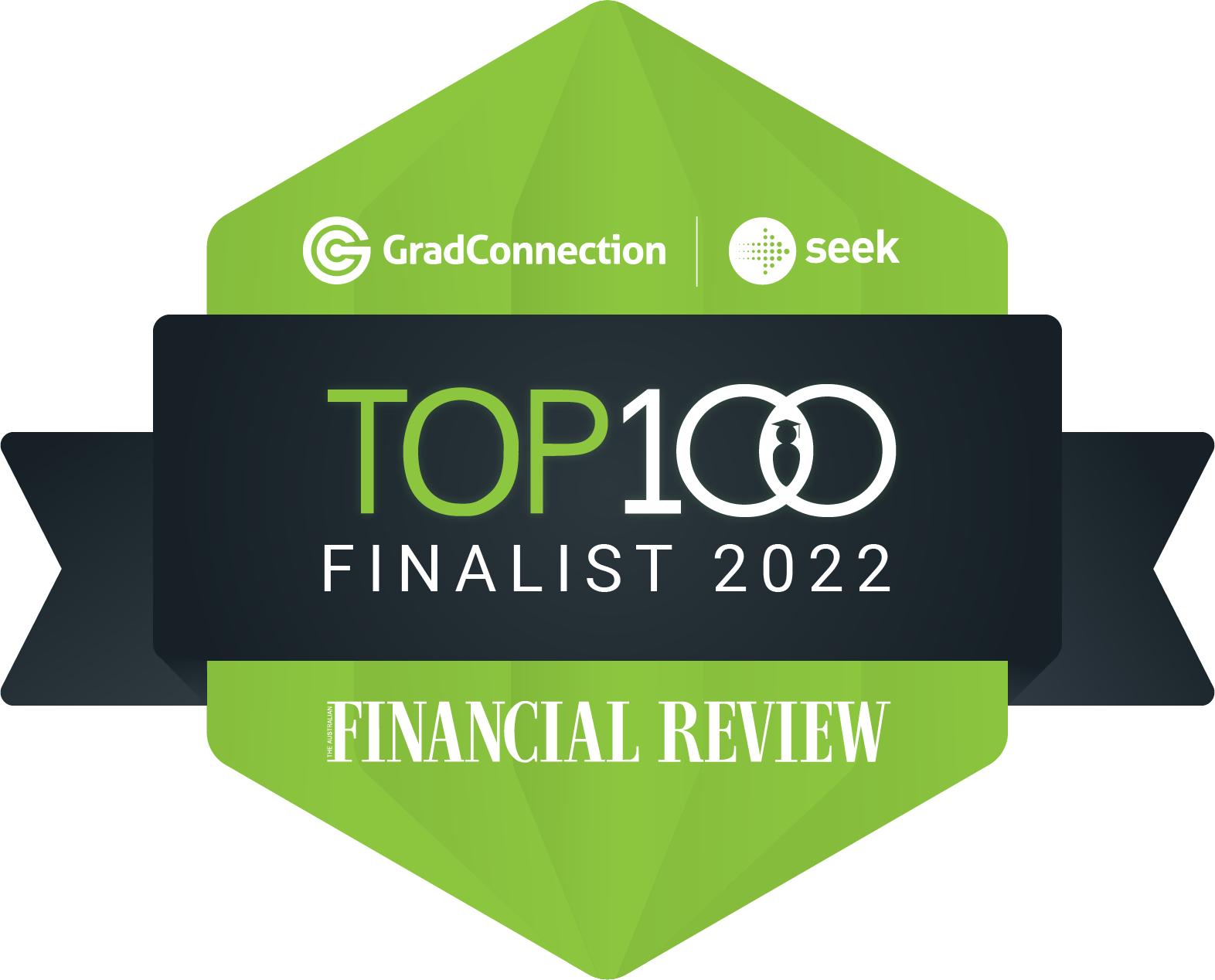 To support your professional growth, Jacobs' flexible working arrangements, extended leave options and a host of social, health and wellbeing events and initiatives will underpin our commitment to you.
Jacobs has recently been voted the number 1 "Most Admired Company" in Fortune Magazine's Engineering and Construction category - Fortune: The World's Most Admired Companies
Design your career with a company that inspires and empowers you to deliver your best work so you can evolve, grow and succeed – today and into tomorrow.
We're invested in you and your success.
Our diverse perspectives and unique backgrounds power our collective strength. By supporting one another and through our culture of caring, we all succeed.
The biggest questions spark our curious minds.
We clear the way for inventive thinking and exploration, so you have the support, means and space to deliver the boldest solutions for the extraordinary and everyday.
We redefine what's possible.
There's something that drives everyone – and we want you to keep evolving your career, discover unexpected opportunities and ensure you can deliver on tomorrow.
"Together, we are building a new Jacobs; inclusive of diverse people, capabilities and perspectives. We are winning in the marketplace, capturing attractive growth opportunities for complex work we are uniquely positioned to perform." - Steve Demetriou, Chair and CEO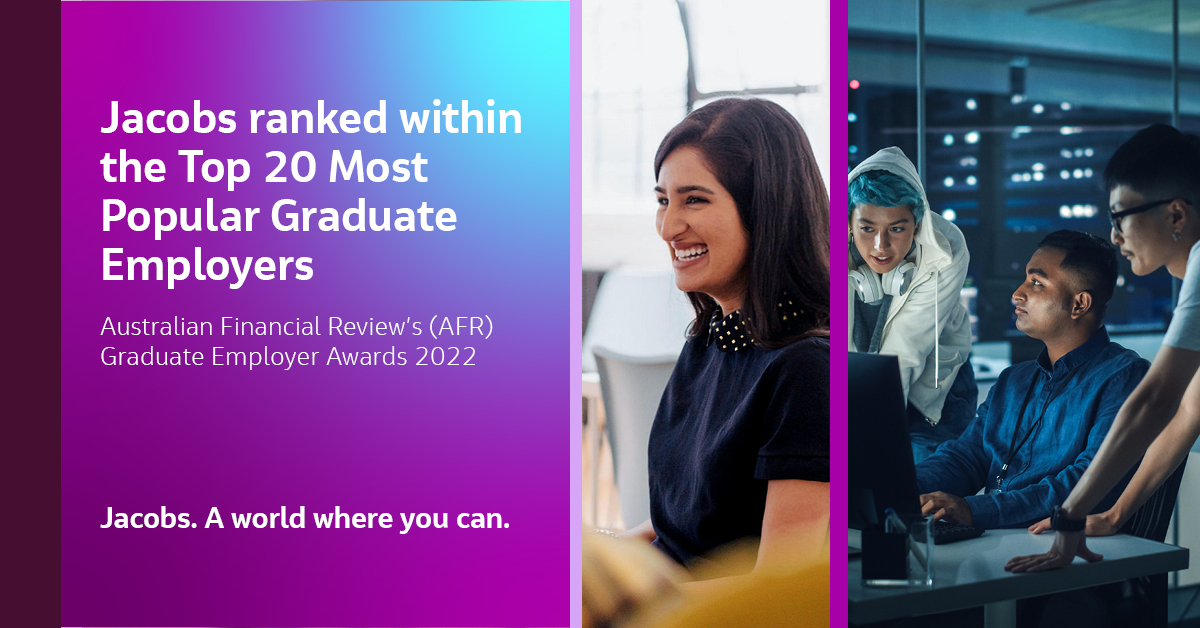 Our Graduate Development Program
Jacobs' Australia and New Zealand Graduate Program runs for up to two years and is designed to equip graduates to become exceptional consultants. Graduates will learn about our organisation, business operations, project management and teamwork, at the same time as developing their business and consulting skills. The Program is designed to develop a core set of professional competencies in graduates of all disciplines through varied work-based experience and on-the-job learning, which is linked to, and supported by, a process of accreditation and recognition for professional achievement.
We see graduates as the future leaders of our business, which is why we're delighted to have placed again in the Australian Financial Review's Top 100 Graduate Employers!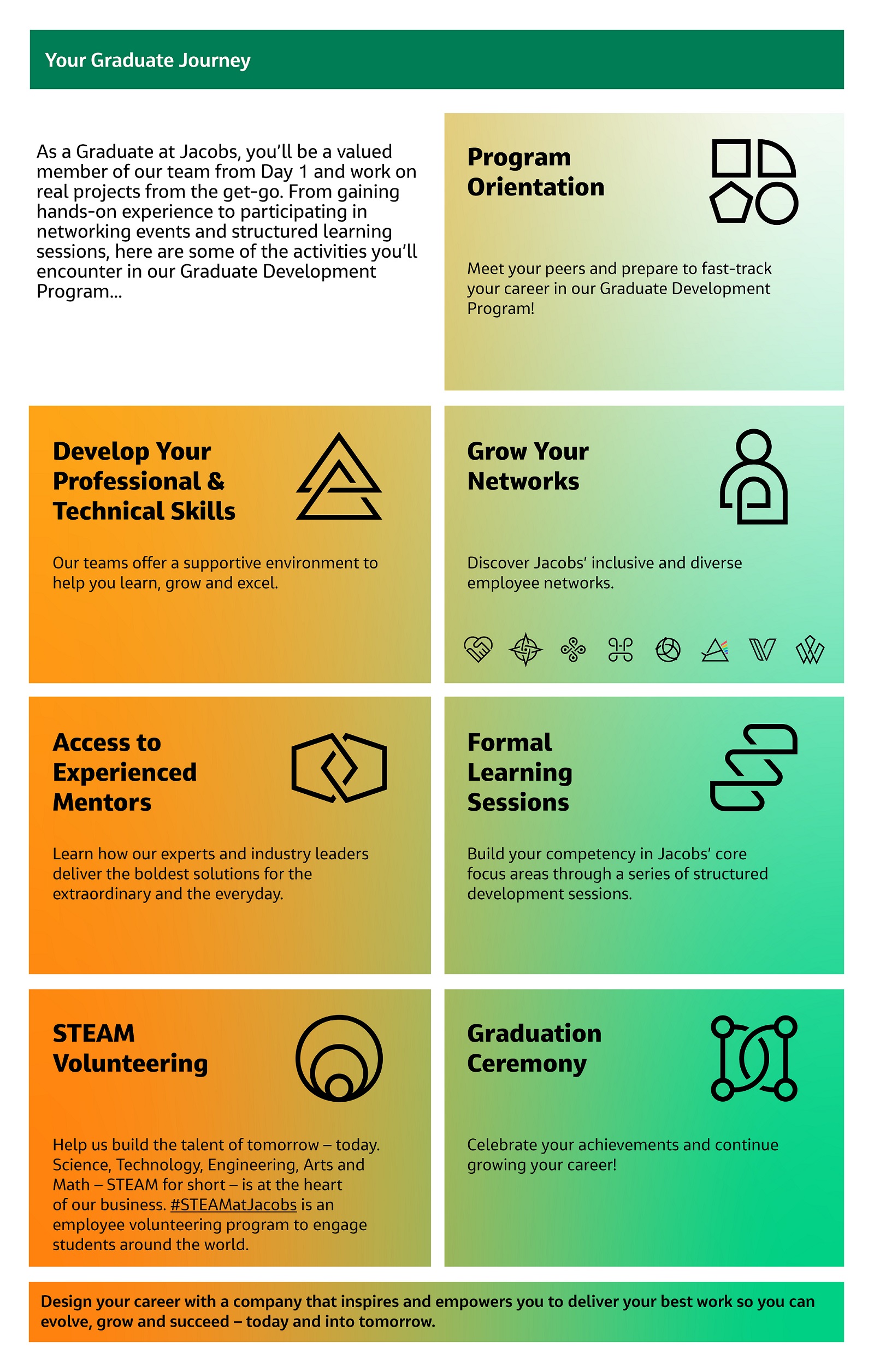 Our teams offer a supportive environment to help you to learn, grow and excel. No matter what drives you, you'll discover how you can cultivate, nurture and achieve your goals – all at a single global company. 
Program Overview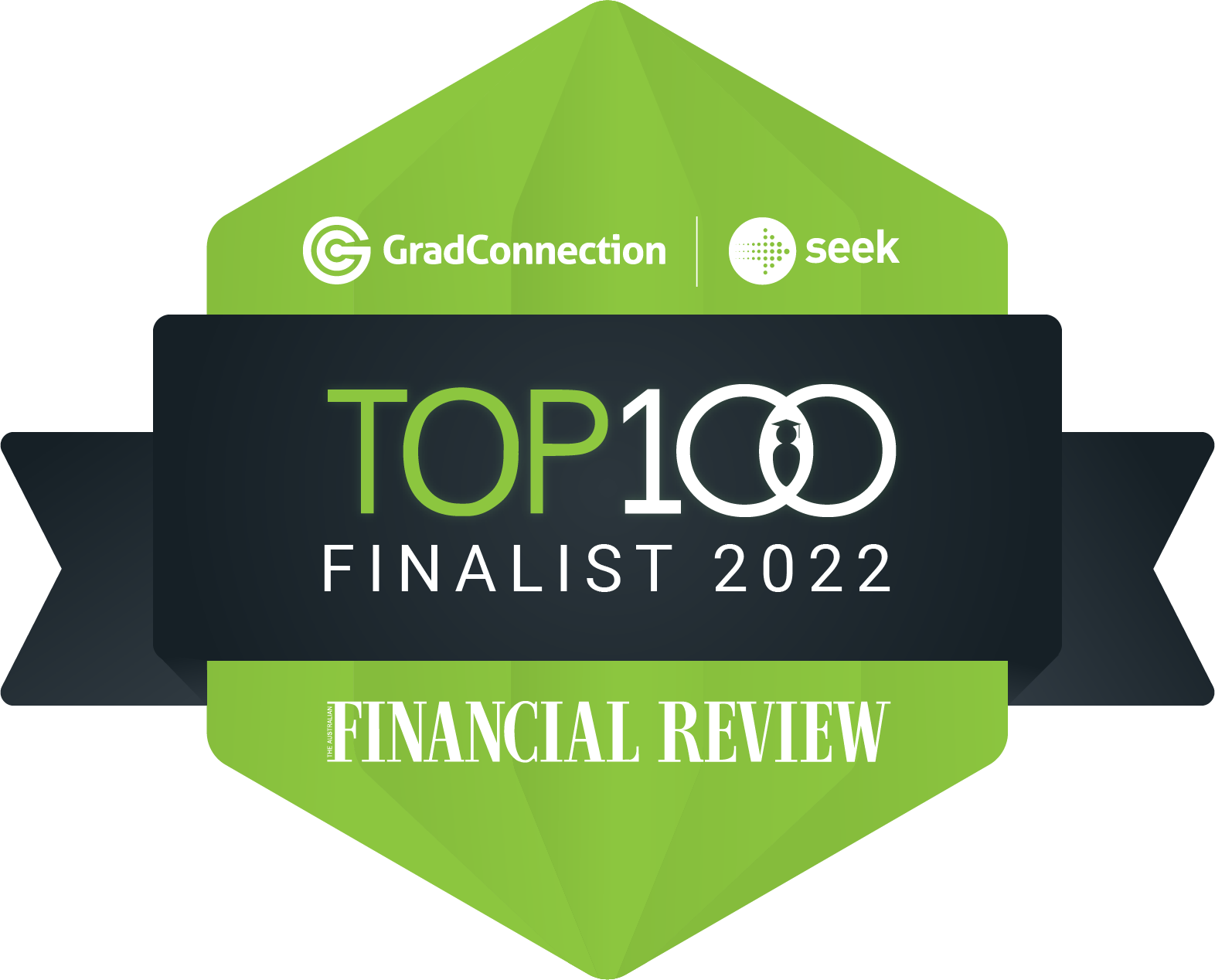 Two-year, self-directed program
Learning and development of future skills
Exposure to various business units and functions
Career pathing opportunities
Exposure to high-level leaders
Networking with other graduates
The Jacobs Internship Program offers students the opportunity to work with us for 12 weeks during the Christmas period break. This is a great opportunity to get some real world experience that will help you make an informed decision about the direction of your post-university career.
Many of our consultants go on to become Jacobs Graduates and enjoy a long and successful career with us.
Applications for the Internship Program will open in late July with the program commencing in November on completion of the University Examination period.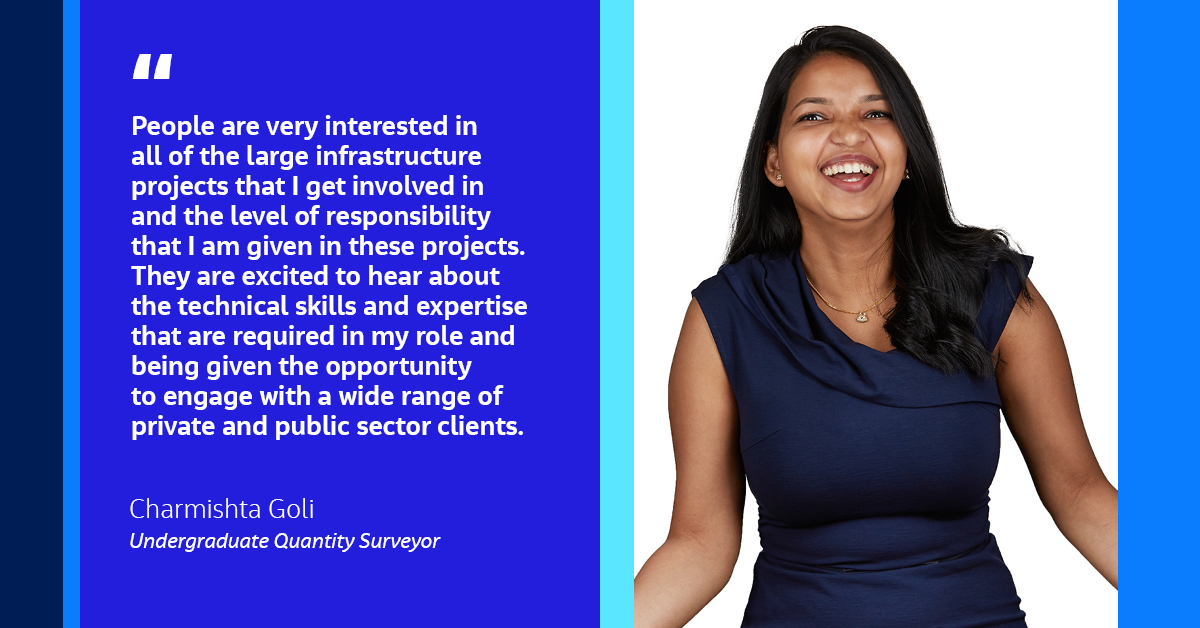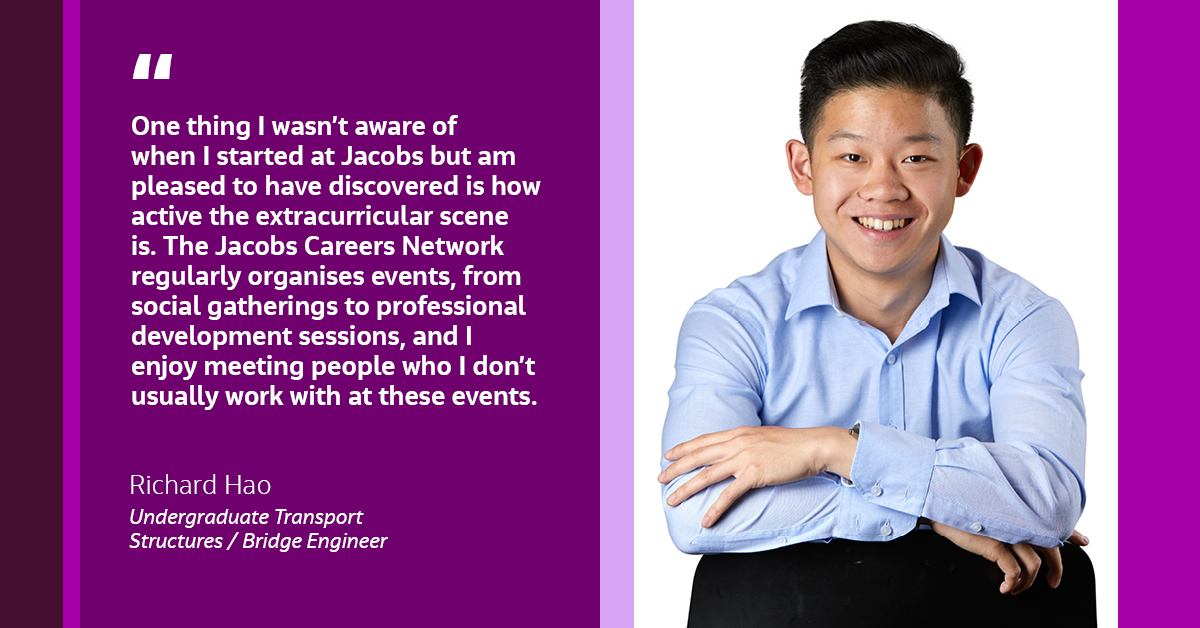 Markets & Services in Australia & New Zealand
At Jacobs, we are dedicated to tackling our clients' toughest infrastructure and technology challenges with optimism and imagination. Below are the markets and services that we offer and operate in Australia and New Zealand. Find out more about our markets and services here.
At Jacobs our Engineers & Scientists are highly sought after for their specialist knowledge and experience in a specific discipline or technology, which allows them to build upon a deep understanding of what is possible and push the boundaries in search of ever more innovative solutions for clients. As a Graduate at Jacobs you will gain exposure to a range of disciplines, but your career will see you develop into a specialist in a field/discipline so be prepared to talk about your area of real passion during this process.
Jacobs Graduates get to work on large complex projects so they are technically inquisitive, they like to work in teams and learn to see things from another perspective, they will ask questions and challenge the norm and expect their input to be taken seriously, they communicate exceptionally well, and they are the future of Jacobs.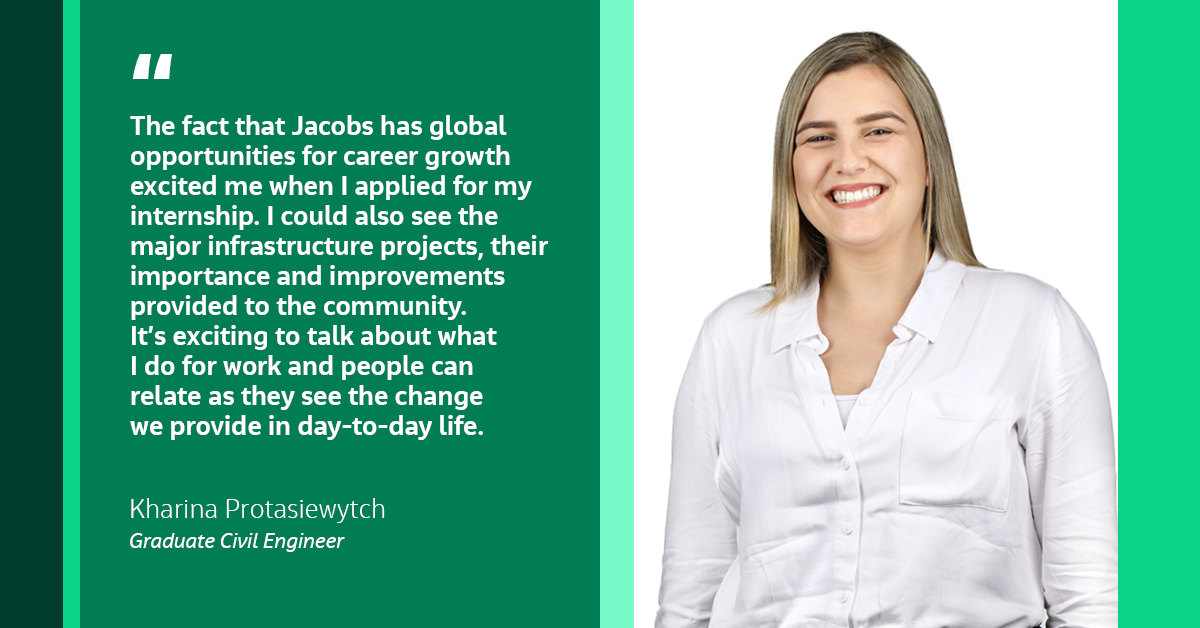 Frequently Asked Questions
WHAT IS THE STARTING SALARY FOR A GRADUATE?
The salary that a graduate receives will depend on the market rate, type of degree (hons, masters, PhD) and whether or not the graduate has had prior professional work experience.
WHEN WOULD A GRADUATE EXPECT TO COMMENCE EMPLOYMENT IF THEY WERE OFFERED A POSITION?
Graduates will typically start in January or February however other start dates can be negotiated with your hiring manager.
WHAT SORT OF GRADUATES ARE JACOBS LOOKING FOR?
We look for graduates who enjoy a well-rounded mix of studies, professional associations, work-life balance and community care. We work in teams so teamwork is paramount as is being passionate about developing your career.
HOW MANY GRADUATES DOES JACOBS EMPLOY?
Each year the number of graduates we employ varies dependent upon the projects we are currently working on. It is really important that graduates get their application in early, and pay attention to the details of their applications. 
WHAT ARE THE HOURS OF WORK?
We work a 40 hour week, with most people working the core hours of 8am to 5pm with a lunch break. Start and finish times are flexible by negotiation with your Manager.
DOES JACOBS OFFER INTERNSHIP WORK?
We offer internship employment at Jacobs. Applications will be open through our website in approximately August each year.
WHAT IS THE SELECTION PROCESS LIKE FOR GRADUATES?
Each year we receive many thousands of expressions of interests from graduates seeking to join our program. It does take time for us to carefully consider each application. Jacobs will contact you to advise whether or not your application has been successful. Applications open in March on Jacobs' careers website and GradConnection. On occasions we get requirements for graduates outside these times due to new project wins or changes in business needs. You may be contacted by Jacobs at other times of the year. Please see the "Application Process" tab for a full breakdown of the selection process.
DOES JACOBS CONSIDER GRADUATES WITH PREVIOUS POST-STUDY EXPERIENCE?
The Jacobs Graduate recruitment program is designed for undergraduates who are looking to enter the workforce. However, we do consider graduates who have 1-2 years' experience for some positions.
DO YOU TAKE ON INTERNATIONAL STUDENTS?
If you are eligible to work in Australia and New Zealand for the duration of the graduate program then you will be considered.
BACHELOR OR MASTER QUERIES – DO MASTERS GRADS QUALIFY, ESPECIALLY IF THEY HAVE PREVIOUS EXPERIENCE?
Masters is highly regarded at Jacobs. The Jacobs Graduate recruitment program is open to Bachelor, Masters and PhD students who are just entering the workforce.  We do employ graduates who have experience into the business on an as-needed basis.
Sustainability at Jacobs means ensuring long-term business resilience and success while positively contributing toward the economy, society and the environment.
From the way we operate our business, to the work we perform with clients and other organisations, we continue to look at ways we can make a positive environmental, societal and economic difference for businesses, governments and communities around the world. 

A Sustainable Future
Aligned with the United Nations Sustainable Development Goals (UN SDGs), PlanBeyond™ is our approach to sustainability — planning beyond today for a more sustainable future for everyone. We advance innovations that improve energy efficiency, resilience, conservation, reuse and reclamation of vital air, land and water resources.
"Since we launched PlanBeyond in 2019, our world has transformed in ways once unimaginable. The COVID-19 pandemic exposed just how interconnected we all are. And how fragile life can be. We must act – now and collectively – to improve health, protect our world from climate change, reduce inequalities, and ensure no one is left behind.  
As a purpose-led company, we know we have a pivotal role to play. We consider it not only good business but our duty to channel our expansive capabilities in resilient infrastructure, clean water, green energy, social value and beyond, toward benefitting people and the planet. 
As our business shifts, so do our sustainability ambitions. The future of Jacobs is one that not only integrates environmental, social and governance considerations into our operations – but into the hearts and minds of every employee and into every client solution we deliver."
– Steve Demetriou, Jacobs Chair & CEO
PlanBeyond 2.0
PlanBeyond 2.0 is our refreshed sustainable business strategy. Aligned with our purpose to create a more connected, sustainable world, it is being fully integrated into our business model and company strategy. We know we will be more successful if we make decisions guided by both profitable growth and positive impact.
As part of PlanBeyond 2.0, we have developed six Sustainable Business Objectives to sit at the heart of company strategy. Aligned with the UN SDGs most relevant to our business, these define our aspirations for how we as an organization and we as individuals can each play a part in creating a sustainable future for all.
From the way we operate our business, to the work we perform with clients and other organizations, we continue to look at ways we can make a positive environmental, societal and economic difference for businesses, governments and communities around the world. In 2020, EBI also recognized our work with six business achievement awards for leadership and outstanding performance in Climate Action, Justice & Equality, COVID Response, Hydrogen Economy, Nature-based Design, and Adaptation and Resilience Solutions.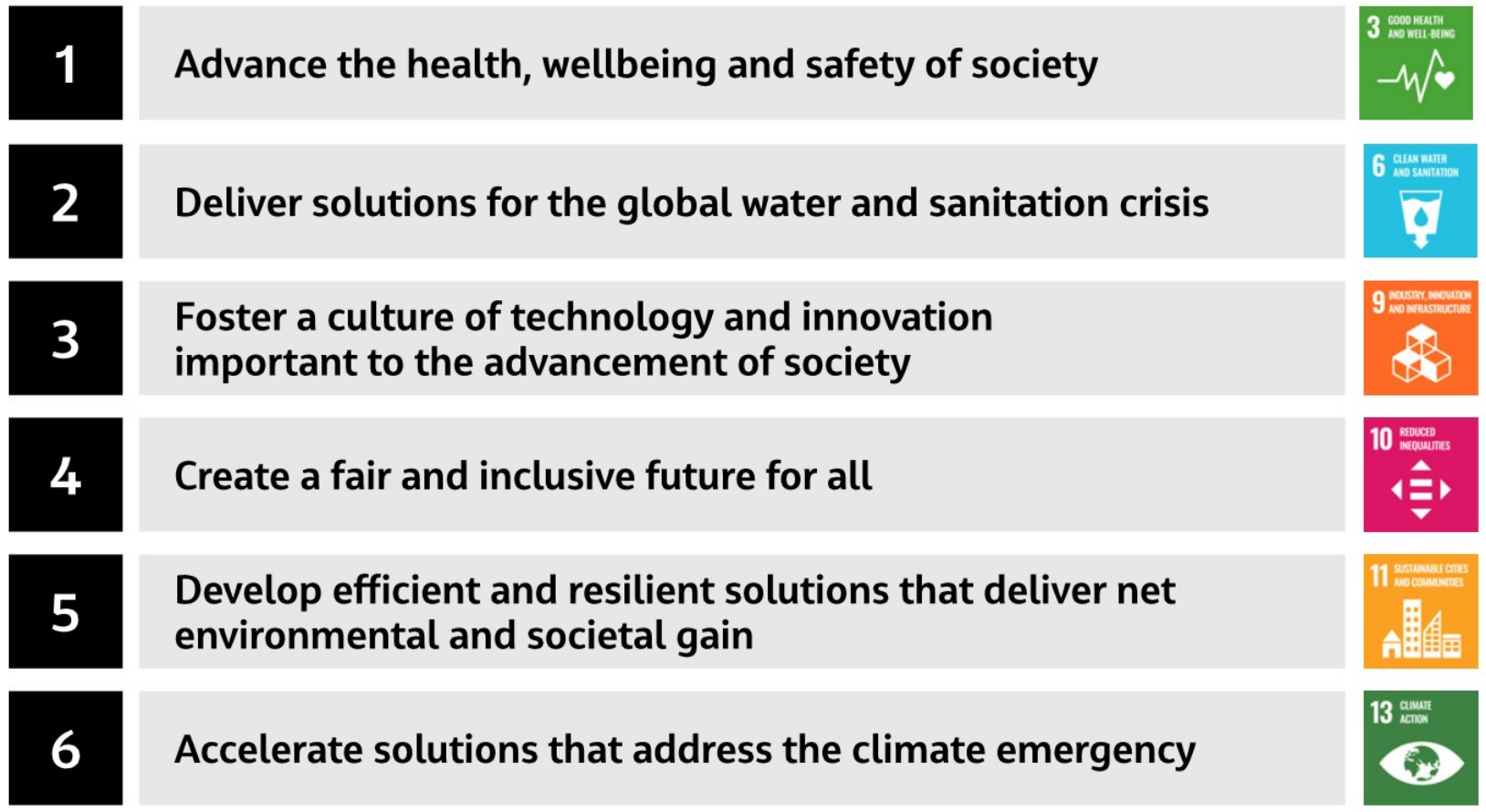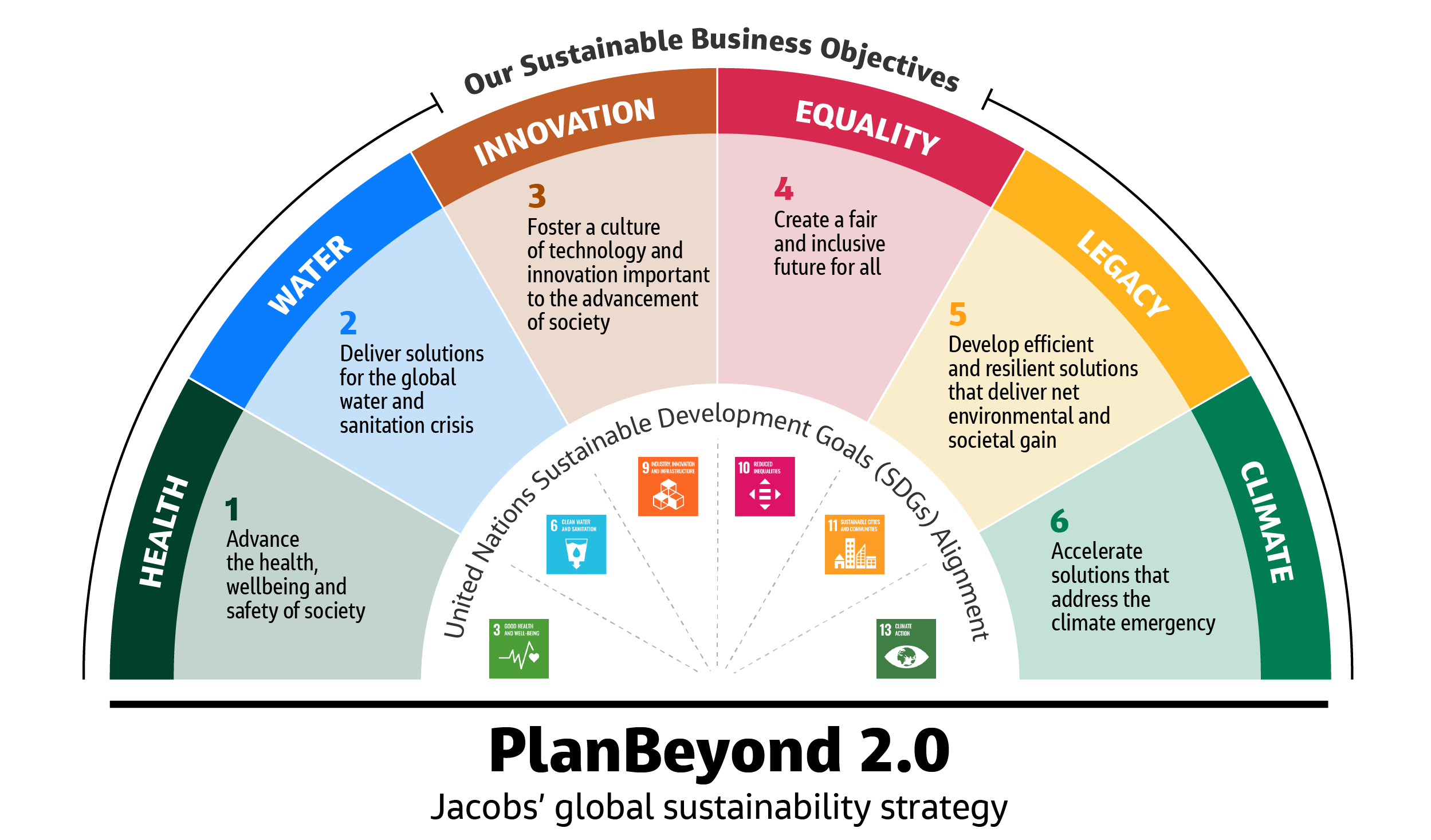 Find out more about PlanBeyond 2.0.
Inclusion & Diversity

At Jacobs, we understand that "inclusion" is a verb, not a noun. It means being transparent and taking action on our statements, commitments and initiatives that drives meaningful, measurable change both in our company and in the communities that we serve. 
It means creating a workplace where our differences are accepted, celebrated and harnessed to bring the innovative, extraordinary solutions clients demand from us. It means creating a culture of belonging where everyone can thrive - a culture that we call TogetherBeyond?. 
Employee Network Groups
Our Jacobs Employee Networks play a critical role in fostering our Culture of Caring in the work they do. The groups are centered around offering employees an opportunity to collaborate with others around the world who share similar interests and explore opportunities that relate to their specific goals. 
The shared mission of our employee networks is to make, celebrate and develop Jacobs' diverse employee population, provide career enriching development opportunities for all levels of talent, assist in the attraction and retention of top diverse talent, facilitate innovation at Jacobs, and contribute to the communities in which we live and work. 

ACE: providing information, resources, and networking opportunities regarding physical, mobility and cognitive disabilities to disabled staff and to staff who provide caregiving services.
Watch the video and learn more

Careers Network: empowering our employees across all career stages to maximize their potential and make Jacobs the industry leader and workplace of choice.
Watch the video and learn more

Enlace ("link" in Spanish): leveraging the company's unique and vibrant Latino talent contributing to our company's growth profitable strategy, attracting and retaining Latinos, while fostering leadership, community involvement, diversity and cultural pride. 
Mira el video y aprende más/Watch the video and learn more

Harambee ("working together" in Swahili): positively impacting the black employee experience through recruitment, development, and retention of black talent.
Watch the video and learn more

OneWorld: providing an inclusive environment that actively nurtures and supports our diverse employees and clients across all ethnicities and cultures.
Watch the video and learn more

PRISM (LGBTQI+ group): creating an environment where our people feel able and empowered to bring their whole self to work.
Watch the video and learn more

VetNet: advocating for veterans and current military reserve members, including support for transitioning veterans.
Watch the video and learn more

Women's Network: accelerating a cultural shift by empowering women and promoting gender equality.
Gender Equality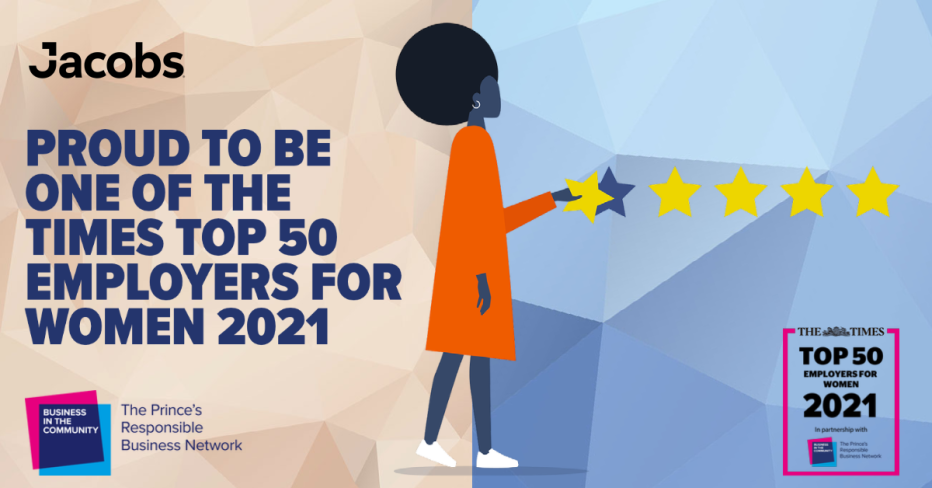 Jacobs is proud to share it has been recognised as one of the Times Top 50 Employers for Women, and awarded Employer of Choice for Gender Equality by Australia's Workplace Gender Equality Agency for the fifth year running. Steve Demetriou is one of 70 Catalyst CEO Champions for Change, a commitment that enshrines our dedication to advancing women in the workplace and leading for equity and inclusion. We recognise and are committed to achieving gender equality and flexibility in all our Australian workplaces.
Jacobs Women's Network: Working Together for Gender Inclusion
The Jacobs Women's Network serves to foster an inclusive environment where gender diversity and equality drive profitable growth. Jacobs' Women's Network aims to accelerate a cultural shift by empowering women and promoting gender equality.
Disability Inclusion

At Jacobs, we live inclusion. It's not about numbers, statistics or quotas - it's about every one of our people and the collective strength we take from their unique perspectives, ambitions and dreams.
We strive to provide a safe, accessible and inclusive workplace for people with disabilities and those who care for someone with a disability. Jacobs understands and embraces the diverse needs of its staff, leverages their talent and works together to deliver truly inclusive solutions to create a connected, sustainable world.
In 2021, we celebrated the following key milestone achievements for our disability inclusion strategy:
Jacobs recognised as "Best Place to Work for Disability Inclusion." We received our first top score of 100 in the 2021 Disability Equality Index (DEI), a national benchmarking tool on corporate policies and practices related to disability inclusion and workplace equality.  
Jacobs is part of the The Valuable 500, the world's biggest community for disability business inclusion. 
We were recognised in Forbes' Best Employers for Diversity 2021.
For three years in a row we've received a top score of 100 on the Human Rights Campaign's Corporate Equality Index (CEI).
Our ACE employee network marked 1,000 members globally. ACE – which stands for Access. Connect. Empower – champions accessibility, community and opportunity for caregivers and employees with disabilities. The network provides information, resources and networking, runs awareness events and advocates for positive change. Anyone in the company can join ACE to be a better ally and learn more. One of our eight employee networks, ACE plays a critical role in fostering our Culture of Caring and championing disability inclusion. 
In 2021, our ACE network, along with our employee giving and volunteering program, Collectively™, teamed up to sponsor an assistance dog through Assistance Dogs Australia. 
ACE members also successfully advocated for Jacobs to become a founding sponsor of the Institute of Neurodiversity which promotes acceptance, community and advocacy for those living with autism, dyslexia and other different learning and thinking styles. 
Jacobs earned successful accreditation from Employers for Carers with the Carer Confident Level 1 Active award.
Our ACE employee network also introduced Jacobs to PurpleSpace's Purple Light Up campaign, a global movement that celebrates and draws attention to the economic contributions of the 386 million disabled employees around the world. 
We also recently showcased two partnerships between Jacobs and organistions devoted to promoting inclusive hiring practices – including the National Business and Disability Council (NBDC), whom we partnered with to hire five interns during the summer of 2021, and the Australian Network on Disability, through which nine of our senior leaders mentor jobseekers with disabilities.
Our employees will relentlessly continue advocating for better accessibility, outcomes and opportunities for people with disabilities in line with our values and as part of our commitment to the business objectives laid out in our new PlanBeyond sustainability strategy.
Indigenous Programs

At Jacobs, we believe in the power of inclusion and diversity as an imperative in the workplace. This requires a balanced contribution and behaviours from a diverse pool of people sourced from all walks of life to enable individuals and organisations to thrive. Jacobs respectfully acknowledges the Aboriginal and Torres Strait Islander people as Australia's First Nation people and traditional custodians of the lands on which we live and work, paying respect to their Elders past, present and emerging.
Jacobs' vision for reconciliation is that all Aboriginal and Torres Strait Islander peoples are empowered to participate in building a future where their histories and cultures are visibly acknowledged, included and celebrated. In 2019, we are celebrating a decade of formalised commitments, through Reconciliation Action Plans, that create opportunities to grow and collaborate with Aboriginal and Torres Strait Islander peoples in our business and industry.
We deliver meaningful outcomes for advancing the mutually beneficial exchange of knowledge and resources in a context of partnership and reciprocity. We contribute to Closing the Gap by promoting and celebrating Aboriginal and Torres Strait Islander people's cultures, supporting self-determination, and allowing each unique group to create spaces and encourage connectivity between identity and place, designing and building places that broaden the inclusivity of Australian communities.