Jardine Matheson Graduate Programs and Jobs
Jardines is a diversified Asian-based group with a broad portfolio of market-leading businesses. Our diverse portfolio spans a wide range of sectors including premium property, first-rate motors, modern retail, world-class hotels and state-of-the-art engineering and construction.
Jardine Matheson currently has 0 opportunities.
Select the following options:
About Jardines
Jardine Matheson
---
We have been guided by Rare Talent since 1832. William Jardine and James Matheson were visionary leaders, adventurous entrepreneurs, and innovative thinkers. Qualities like these led our business through almost 200 transformative years of economic cycles, along with industrial and technological revolutions. Since our founding, we have doubled down and expanded our operations across industries, and in the process made ourselves an indelible part of Asia's success story.
Today, we're one of the top 200 publicly-traded companies in Asia, and a member of the Fortune Global 500 with over 460,000 employees. Our uniquely diverse portfolio of industry-leading businesses spans a wide range of sectors including motor vehicles and related operations, property investment and development, food retailing, health and beauty, home furnishings, engineering and construction, transport services, restaurants, luxury hotels, financial services, heavy equipment, mining, energy and agribusiness.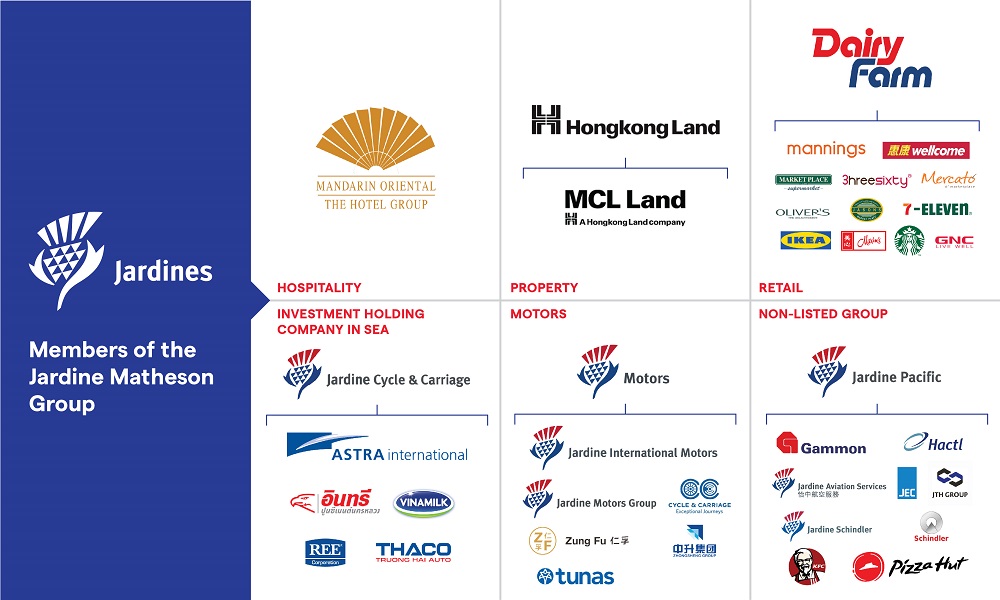 Jardine Executive Trainee Scheme (JETS)
Jardine Matheson
---
Are you a Rare Talent?
We're looking for Rare Talent to join our Jardine Executive Trainee Scheme (JETS). If you aspire to become a business leader, dare to challenge the status quo, and are deeply curious to learn new things, then you could be the Rare Talent we're looking for.
Why join JETS?
JETS develops exceptional graduates into world-class leaders for our businesses across Asia. Our diverse portfolio will provide you with the exposure you need to cement business fundamentals and build general management capabilities that will prepare you to lead not only our business, but also our people.
Leveraging our scale, expertise, market knowledge and networks, we are a Group of over 460,000 individuals that collaborate across businesses to bring the best of Jardines to our customers as one. If you have an inquiring mind and can bring disruptive thinking to create customer-focused solutions to make change, to make a positive impact in the communities we serve, you'll fit right in.
The JETS 6-3-2-1 Journey
The immersive JETS experience is a blend of interactive virtual and face to face learning sessions, on-the-job exposure, mentoring, coaching and job-relevant coursework that will provide you with broad exposure to the Jardines business. It'll be a challenging life, and it won't be for everyone. You'll be asked to maximise every learning opportunity while being held accountable for business results.
The JETS journey will take you through 6 critical leadership and business experiences across 3 years in 2 industries. You'll also get 1 overseas assignment designed to give you exposure in both mature and developing markets.

Requirements
A final year student or recent graduate with a degree from any disciplines
Have less than 2 years of full-time work experience
Strong commitment to contribute to Jardines' success in Asia
Clear aspiration to become tomorrow's business leader
Ability to make sound judgement based on strong analytical thinking
Dare to challenge status quo and generate disruptive ideas
Keen to engage, motivate, and align people to drive for success
Deeply curious to learn new things
Self-reflective and open to learn from experience and feedback
Possess the energy, passion, and perseverance to drive for results
Application process
Programme details & application: careers.jardines.com

Jardine Internship Programme
Jardine Matheson
---

Join the Jardine Internship Programme to get a sense of what it's like to work here, experience Jardines for yourself. Our internship is designed for you not only to get exposure to our business and our work, but also to experience our culture of lifelong learning, cross-team collaboration, senior leadership engagement and all kinds of social events.
You'll learn from our people, while participating in live projects and real business challenges. The skills, experiences, feedback and relationships gained during your internship will help you to become a Jardine Executive Trainee (JET). Successful interns will be a step ahead in the JETS application process.
Applications for Jardine Internship Programme 2020 are closed. Follow our social pages for more info on Jardine Internship Programme 2021.
Student Events
Jardine Matheson
---
Wonder what inspired our trainees to join JETS, and how they spend their days in our businesses around the world? Sign up to our student events to ask any questions you may have about starting a career at Jardines. Don't miss the chance to learn from their unique experiences and perspectives.
Sign up here: https://careers.jardines.com/events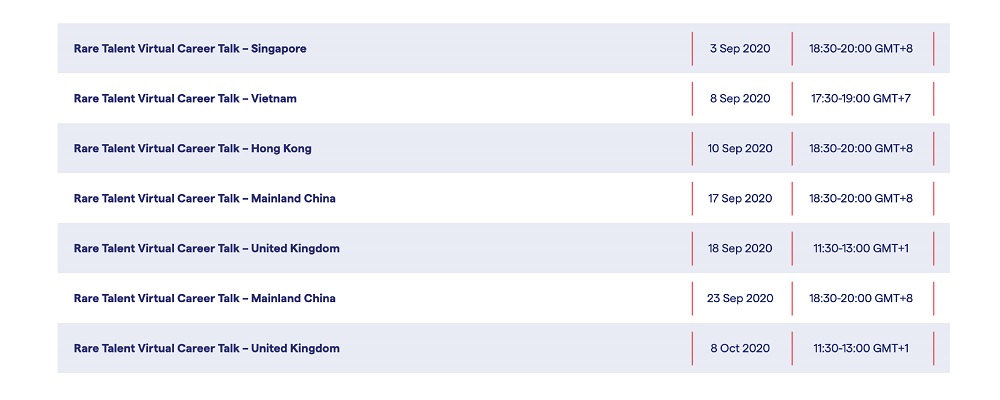 Rare Talent Academy
Jardine Matheson
---

Register Our Rare Talent Academy webinars will help kick-start your career preparation. We can help hone your skills and enhance your prospects in becoming a future business leader. Students from all backgrounds and majors are welcome to join.
Learn more: https://careers.jardines.com/rtacademy
Elements of culture that bind Jardines together
Jardine Matheson
---

People
People are our foundation and priority. We are working hard to build a culture of lifelong learning to ensure our people continue to develop new skills they need for the future. We know how important it is to create an engaged and healthy workforce. We're constantly exploring new ways to use technology to deliver a positive and more personalised employee experience for all our colleagues, helping them to thrive at work and at home.
Collaboration
We believe the whole is greater than the sum of its parts and diverse thinking solves problems faster. We work together across the Group to learn from each other and from external partners to unlock new opportunities across brands and geographies. These ecosystems help us pool together expertise to tackle future consumer demands.
Innovation
We're always looking for smarter ways to deliver better customer experiences. Leveraging digital technology to accelerate growth, we're transforming our core functions, how we do business and how we connect with our customers to build innovative, customer-centric and data-led businesses.
Sustainability
Doing the right thing and being a good corporate citizen is part of our DNA. Leveraging our scale and expertise between businesses, we're committed to improving the communities we serve by driving sustainable practices that make a difference to the environment, education, mental health and more.