Jones Day is a global power house with 42 offices and more than 2,500 lawyers. Jones Day is the largest law firm in the United States and one of the ten largest law firms in the world. It is recognized as one of the most elite law firms in the world and holds approximately half of the Fortune 500, Fortune Global 500, and FT Global 500 as clients. 
Jones Day has grown rapidly within the Australia market over the last 8 years. With four offices nationally in Brisbane, Sydney, Melbourne and Perth, further growth is planned for Australia.
We are hiring Summer Clerks for our Sydney office for 2022/2023. Jones is a global power house with 42 offices and more than 2,500 lawyers. It is recognized as one of the most elite law firms in the world and holds approximately half of the Fortune 500, Fortune Global 500, and FT Global 500
The Firm's 125 years of sustained growth—in experience, reputation and successful client interaction—have been built by its dedication to a 'One Firm Worldwide' philosophy, which fosters the creation of interoffice and cross-practice teams, assembled to ensure that clients receive the best possible guidance and representation, without regard to barriers conventionally imposed by geography, borders, time zones or language.
Australia
Jones Day's presence in Australia has grown significantly. The Firm has added new offices in Melbourne, Perth and Brisbane over the last five years in addition to our office in Sydney, reflecting our commitment to expanding our service to the Australian market. Our lawyers work in a dynamic and stimulating multidisciplinary environment by collaborating with colleagues from different practices and different offices worldwide. We continue to attract many of the legal industry's most highly regarded and sought-after lawyers while maintaining our focus on promoting internal talent through the ranks.
The New Lawyers Group
Jones Day recognizes that many law students leave law school not knowing which practice they want to enter. We also believe that a more well-rounded lawyer is a better lawyer and that a wide range of experience is valuable to a new lawyer. Accordingly, many years ago Jones Day created the New Lawyers Group, which allows new associates to gain exposure to different practice areas and lawyering styles at the Firm before making a commitment to a specific-practice. We provide extensive training through the New Lawyers program. Each November, we bring together new associates from across the Firm at the "New Lawyers Academy" in Washington for three days of hands-on training and meetings with Firm leaders. In addition to helping them understand Jones Day's culture, organization and operation, the Academy gives our new lawyers the opportunity to meet their peers in the Firm's other offices.
A Culture of Client Service and Collaboration
Jones Day's commitment to client service means our lawyers work together in a collaborative atmosphere where teamwork is essential, respect for and from colleagues is the norm, and credit is shared for a job well done. In fact, every facet of the Firm is structured to promote an environment that's client-focused, but also professionally fulfilling for lawyers at any career stage.
We expect our lawyers to focus completely on a client's needs, with the full support and encouragement of their peers. We recognize that partners and associates alike contribute to the Firm in a variety of ways, and we reward lawyers for their overall contributions to the Firm and for promoting the Firm's values.
What we look for
Jones Day
---
Jones Day seeks leaders who see and seize opportunities. We look for well-rounded, motivated individuals with the potential to develop into exceptional lawyers and leaders in the profession, and who will embrace the Firm's principles and values. To this end, we look for a record of academic excellence, demonstrated leadership, superior written and analytical abilities, strong interpersonal skills, and interest in our Firm.
Our successful lawyers demonstrate a commitment to client service, a flexible and creative approach to legal practice, the ability to rise to a challenge, a spirit of teamwork and responsibility, and a willingness to grow and adapt in response to the demands of a dynamic professional marketplace.
We are growing
Jones Day Australia has doubled in size over the last three years, and we are committed to further growth within the Australian market. We continue to attract the industry's most highly regarded and sought-after partners and associates, whilst maintaining our focus on driving internal talent up through the ranks to partnership.
'COLLABORATIVE, NOT COMPETITIVE' CULTURE. Our One Firm Worldwide structure fosters teamwork and discourages competition between offices and lawyers.
Working at Jones Day
Jones Day
---

Sarah Loewy – Law Graduate
Since starting as a Graduate six months ago, I have been really fortunate to work on a large litigation matter with a close-knit team of lawyers. My day generally consists of assisting the team with a variety of tasks, including conducting discovery, assisting in the preparation of witness interviews and affidavits, undertaking legal research, preparing materials for Court hearings and attending team meetings to discuss the progress of the matter. I take time out during the day to have lunch with colleagues in our break room overlooking Sydney Harbour, go to the gym with colleagues or attend one of our regular New Lawyers Group training sessions. Each day presents new challenges and opportunities to learn so I always feel engaged. In addition to local training, Jones Day sends all Graduates to Washington D.C. for the New Lawyers academy to support us in our development and encourage us in building relationships with international Partners and our global cohort.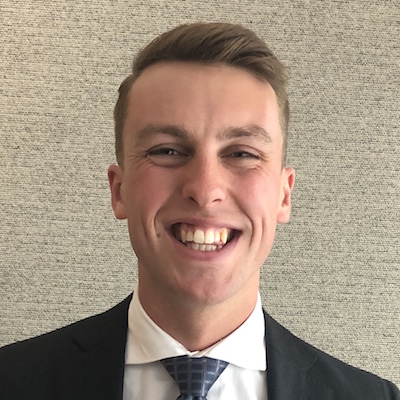 Paddy Clark – Summer Clerk
My clerkship with Jones Day provided me with an incredible opportunity to experience real life inside a global law firm with a rapidly growing presence in Australia. A typical day during my clerkship involved completing legal research, drafting documents, attending meetings with clients and Counsel and accompanying lawyers to Court. The lawyers I worked alongside always explained the broader context of the task I was doing, making the work significantly more interesting for me and confirmed I was making a meaningful contribution during my time with the firm. The size of the Jones Day Sydney office has provided me with the very best of both worlds: great one-on-one experience with both senior lawyers and partners, and working on nationally and internationally significant matters thanks to the standing of the firm globally. The other clerks and I formed a close knit group and often shared lunches and drinks together after work, as well as being involved in the many social events included in the Jones Day clerkship Program.