We're Team Kmart, one of Australia's leading retailers!  We're on a mission to make everyday living brighter for our customers by improving the Kmart shopping experience – every time and everywhere they engage with us.
Kmart currently has 0 opportunities.
Select the following options:
Past Kmart Graduate Hiring Statistics
If you're interested in working at Kmart, understanding when they have opened up applications for their graduate programs, graduate jobs and internships is helpful knowledge to have so you know when you might need to apply. Use the below information to see when Kmart hires graduates, but more importantly what graduate degree's and other student attributes they target for their jobs.
---
Disciplines
Accounting (25%),

Administration (38%),

Arts and Humanities (25%),

Aviation (13%),

Banking and Finance (13%),
Locations
Melbourne (100%),

Canberra (13%),

Darwin (13%),

Brisbane (13%),

Perth (13%),
Work rights
Australian Citizen (100%),

Australian Permanent Resident (100%),

New Zealand Citizen (100%),
Past Kmart Graduate Programs
Check out some of Kmart's past jobs they have posted on GradConnection over the last 12 months. Understanding the details about what a graduate employer is looking for well before applications have opened can sometimes be the edge you need to secure your first graduate program.
---
As a Data Engineer Graduate at Kmart, you'll work on solving exciting retail problems and opportunities by leveraging data analytics and using engineering tools.
POSITION START DATE
Feb 2022 (approx)
As a Data Scientist Graduate at Kmart, you'll work on solving exciting retail problems and opportunities by leveraging data analytics and building analytical models.
POSITION START DATE
Feb 2022 (approx)
As a Finance graduate at Kmart, you'll work across our three core Finance functions to support the business to get things done.
POSITION START DATE
Feb 2022 (approx)
As a Marketing graduate at Kmart, you'll join the team who are responsible for the total customer journey.
POSITION START DATE
Feb 2022 (approx)
As a People & Capability graduate at Kmart, you'll help to support and guide team members across the business, by ensuring Kmart is a great place to work and grow together!
POSITION START DATE
Feb 2022 (approx)
As a Supply Chain graduate at Kmart, you'll work on projects that focus on on projects and processes to support and optimise the performance of our supply chain.
POSITION START DATE
Feb 2022 (approx)
As a Technology graduate at Kmart, you'll work on projects with the aim of providing world class technology at low cost and seeing technology drive growth for our business.
POSITION START DATE
Feb 2022 (approx)
Join the Kmart Graduate Team for a Q&A session as we answer all of your questions around our upcoming Graduate Program.
We're Team Kmart, one of Australia's leading retailers!  We're on a mission to make everyday living brighter for our customers by improving the Kmart shopping experience – every time and everywhere they engage with us.
We're the place where families come first for the lowest prices on everyday items – it's our vision and it's what we do with passion. Today, Kmart has more than 300 stores and over 40,000 employees across Australia and New Zealand – it truly is an exciting time to be a part of our Kmart family – and there's never been a better time to join us than now!
Our history
Kmart was established over 50 years ago, in 1969, with the opening of its first store in Burwood, Victoria. Today, Kmart now operates over 300 stores throughout Australia and New Zealand, we are a $7B business and serve between 3.5 to 4 million customers each week, and up to 7 million customer per week during the Christmas period!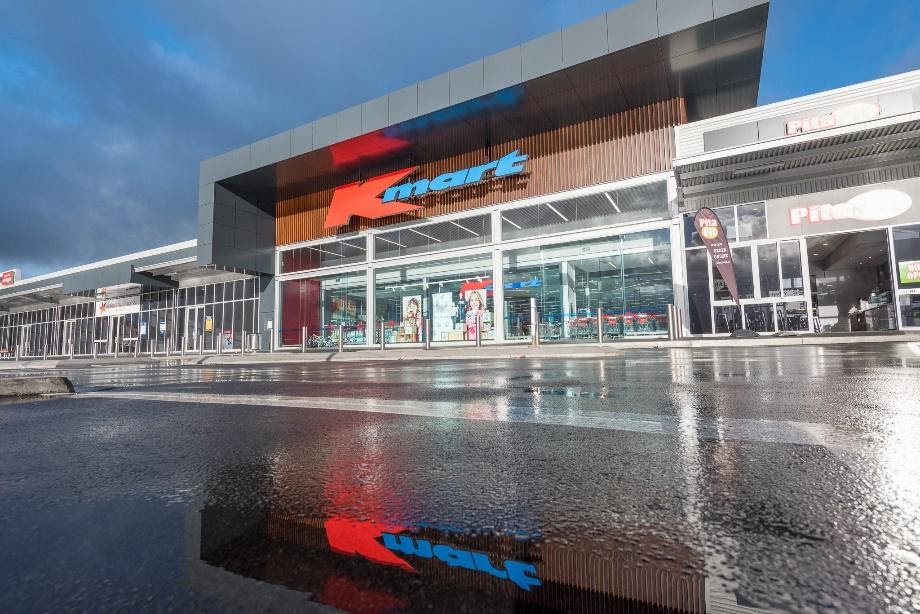 Our Values

Think Customer – we put the customer at the heart of everything we do
Take Care – we take care of ourselves and those around us
Live Integrity – we do the right thing
Grow Together – we achieve the best results together
Reach Higher – we are relentless in our pursuit to be better
Why Kmart?
We know that graduates will be pleasantly surprised by the vast career potential that the retail industry holds! 
Think of retail jobs, and you'll likely think first of the cashiers and retail assistants you're likely to see when you enter a store. These team members perform a vital function and makeup the majority of employees in the retail sector. However, there are a whole range of careers that support behind the scenes — from buyers and designers, to legal counsel, marketing to human resources, information technology, accountants, data experts and supply chain specialists - they all have an important role to play.  As a Kmart graduate you will discover first-hand the endless career opportunities available!
We are looking for the brightest stars to join the Kmart Graduate Program! Your 18-month Graduate Program will fast track your growth and development.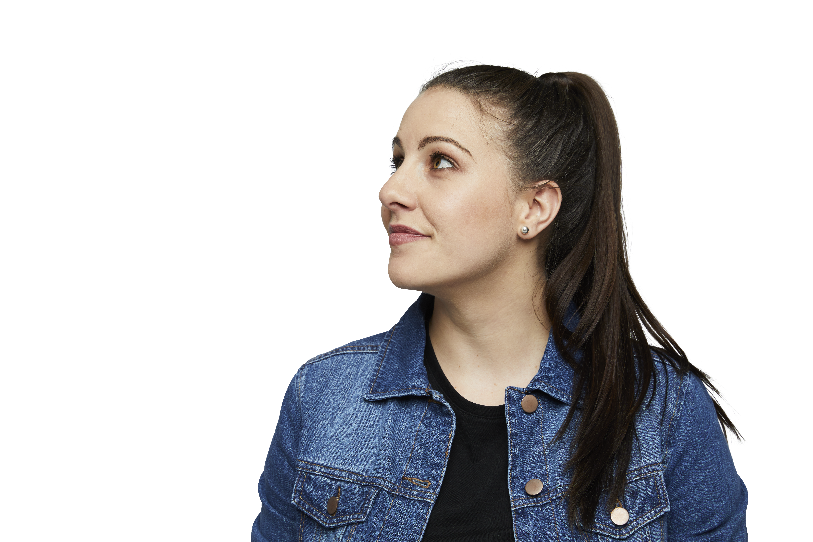 Our program provides you with:
A comprehensive, structured development program that will support you in getting established in your career, as well as enable you to build and leverage your expertise to begin your journey to becoming a future leader.  
Various rotations to expose you to a variety of teams within your function to build your skills, knowledge and networks, whilst working on real, challenging projects.  
Support from a network of fellow graduates and buddies to help guide you on your journey
Exposure to inspiring senior executives and leaders from across the business
On successful completion of the graduate program, a supportive transition into a permanent role in the business 
See how our team members describe their career at Kmart!
Grow your career with the Kmart Graduate Program! 
The Kmart Graduate Program is a key component of our business talent strategy and a pipeline to our next generation of leaders. We are looking for potential future leaders who have the passion, energy, motivation, and capabilities to drive themselves and our organisation to reach higher! We are entering an exciting phase of our business and have a range of tangible and exciting projects that you will get to work on.
If you are someone who can hit the ground running, devour new challenges, and generate innovative ideas with passion and enthusiasm, then we want you! We need graduates from a diverse range of degrees, who have an appetite for success, are driven and self-motivated to grow and develop as real future leaders. We will provide a competitive, high-performance environment that supports and nurtures those willing to succeed. Our roles provide an opportunity for graduates to learn on-the-job, tackle challenging projects, move across various teams and gain exposure to senior leaders. 
What Amazing Looks Like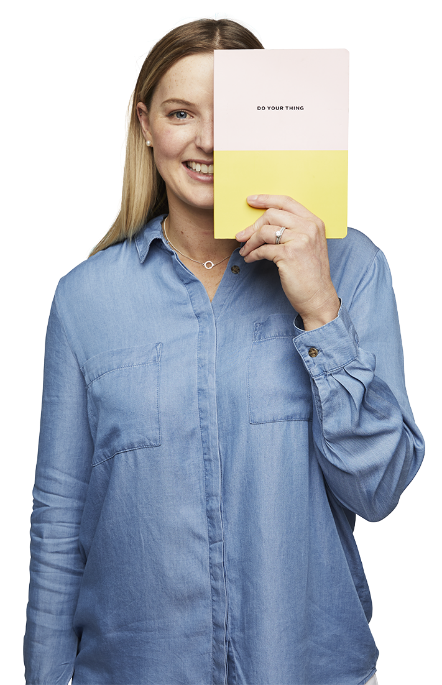 We don't just want good…we want AMAZING! The capabilities we are looking for in our graduates are:
Innovative
Creating new and better ways for the organisation to be successful. 
Collaborates
Building partnerships and working collaboratively with others to meet shared objectives.
Drives Results
Consistently achieving results, even under tough circumstances.
Curiosity
Actively learning through experimentation when tackling new problems, using both successes and failures as learning opportunities.
Awareness of Self & Others
Using a combination of feedback and reflection to gain a productive insight into personal strengths and weaknesses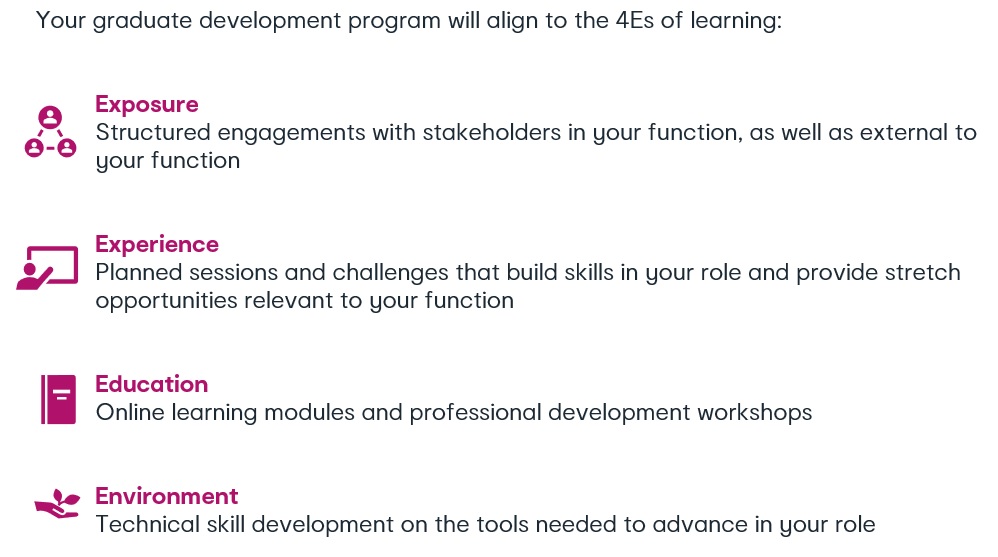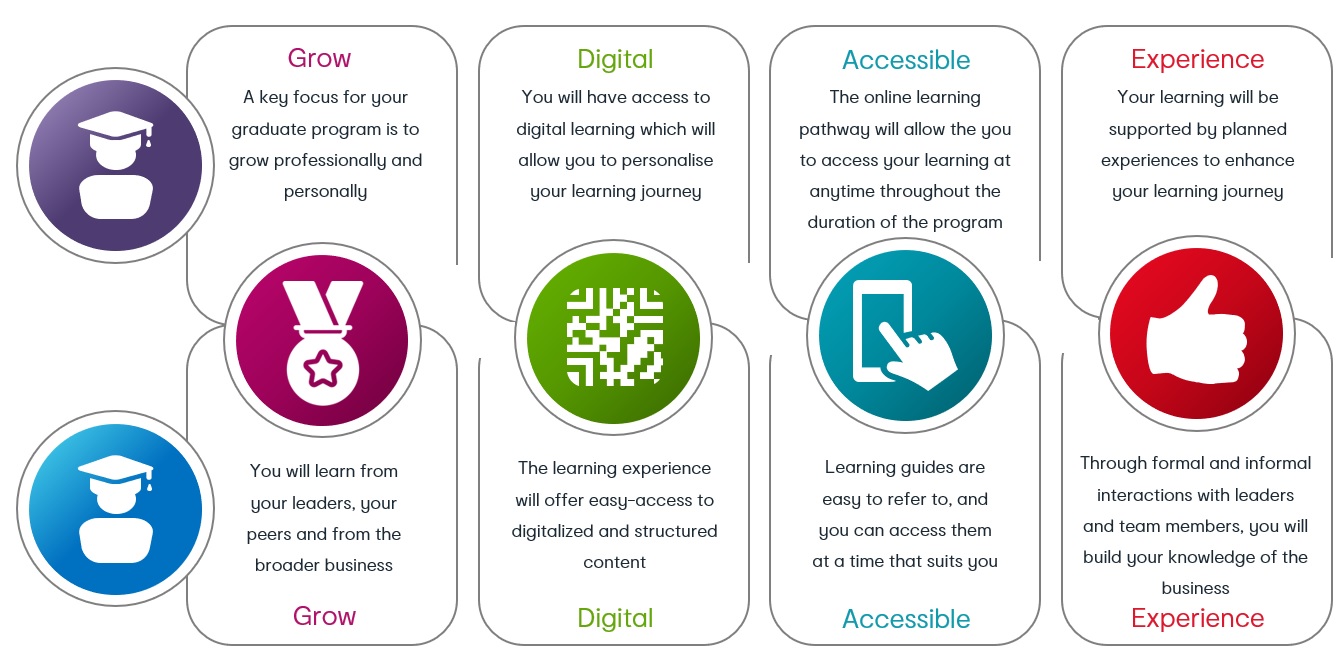 Now that we have captured your interest, let us tell you more about what you can expect as part of our recruitment process and some helpful hints for each stage.
Complete an online application form
This helps us capture information about your skills, background, and experiences. We want to hear why you are the right fit for us! Make sure you check to see that you are eligible for the program and share relevant details with us as well as your motivation for applying!
Applications close Monday 27 September.
Online assessments 
This stage of the recruitment process helps us understand more about who you are, not just your skills, but your preferred ways of working. 
Online assessments will occur week commencing Monday 27 September.
Video interview 
The video interview is an online interview where you will record your responses to a range of questions for us to view. It allows us to get a better understanding of who you are and your communication style. We will also be looking for several competencies that we want to see in our graduates and that are important to us! 
Video interviews will occur week commencing Monday 4 October. 
Assessment Centre and Interview
The Assessment Centre gives us the chance to meet you and an opportunity for you to interact directly with us! You will participate in a range of activities during the session, but most importantly, this is an opportunity for you to learn more about Kmart as a company, see who you would be working with and gain a stronger understanding of what your day to day could look like at Kmart.
Assessment Centres and interviews will occur week commencing Monday 25 October.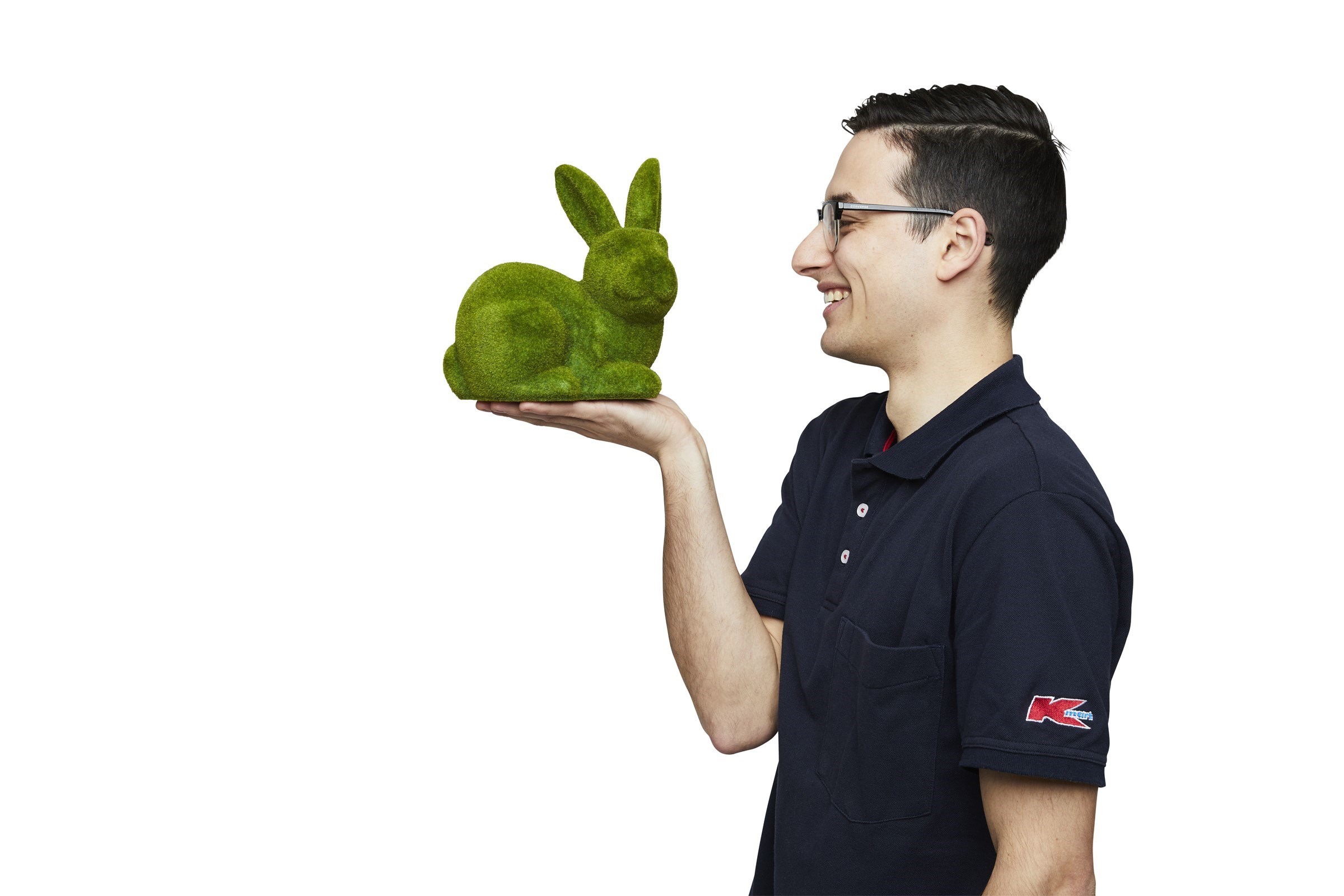 People & Capability - Sarah
Technology - Dara from Talent & Engagement Team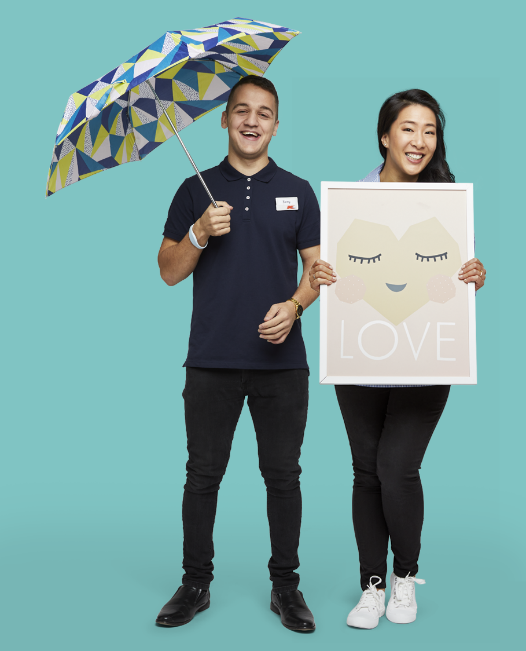 As a Kmart Graduate you will be afforded flexibility, autonomy and accountability in your role.
In addition, you'll receive excellent remuneration, inclusion in company bonus scheme & access to Wesfarmers share plan and an amazing benefits program too!
…and last but not least, you will also receive a free Club Catch membership for catch.com.au and your very own discount card for Kmart, Target, Officeworks and Bunnings!
Diversity & Inclusion

Kmart
---
At Kmart we're on a mission to make everyday living brighter. That means fostering an inclusive environment for all of our team members, customers and communities in which we operate so that everyone – no matter their gender, ethnicity, indigeneity, thought, experience, religious beliefs, education, age, disability, family responsibilities, sexual orientation and gender identity - can feel respected and safe.
Our People Strategy is to ensure Kmart is a great place to work and grow together and a key element of this is to be progressive in creating equality in our workplace; enabling us to innovate, make better business decisions and create the most value for our team members, our customers and our wonderful Kmart communities. 
Did you know we're a part of something bigger?
Owned by Wesfarmers Limited, the Kmart Group, is creating an even more satisfying shopping experience for all of our customers, no matter where they are in the world.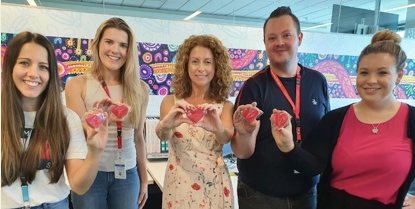 Our team is family
The Kmart family stretches right around the world, and it's only because of our employee's hard work, support, patience and dedication that we can truly make everyday living brighter for our customers. If you would like to join our Kmart family then please check out our graduate roles available, we'd love to hear from you!
LGBTIQA+

Kmart
---
Earlier this year Kmart Group launched the Pride Network and online LGBTIQA+ Awareness Training.  We have also recently partnered with Pride in Diversity to support and grow the Kmart Group Pride Network in FY22. We are looking forward to furthering our journey through inclusive leadership, awareness, education and celebration.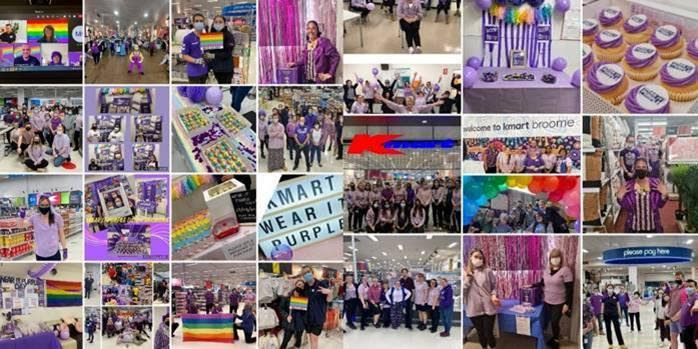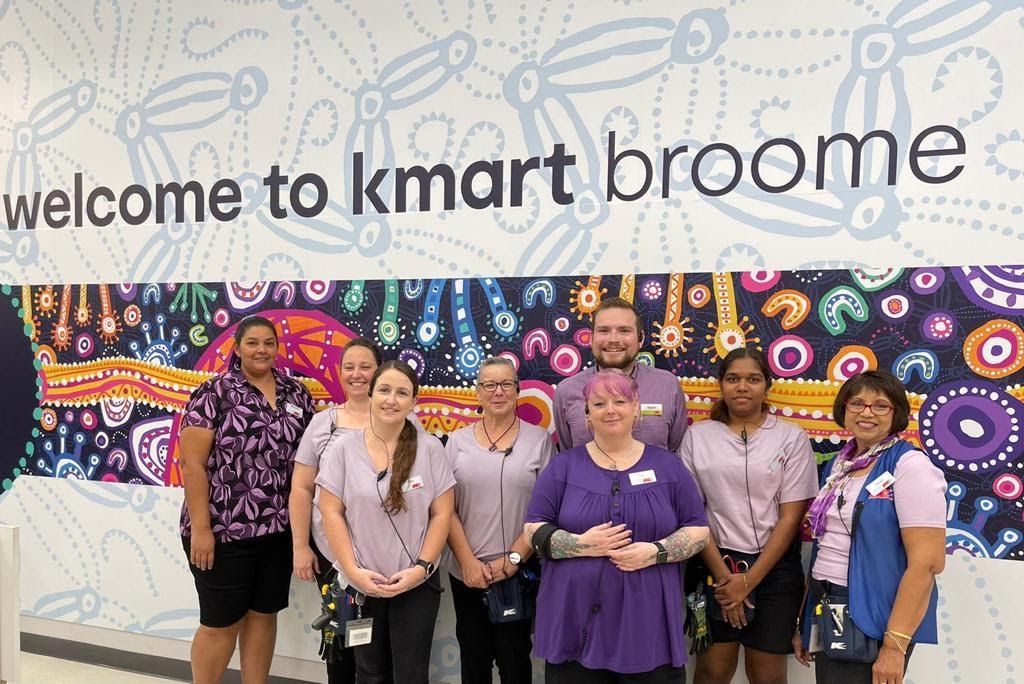 Disability

Kmart
---
At Kmart we are focused on creating an accessible and inclusive environment for both our customers and team members. As such, we are focused on initiatives to increase accessibility for our customers and team members in addition with focusing on employment through our employment program which places a strong emphasis on ability, not (dis)ability.
"Working with Kmart has not only enhanced my people skills but has also given me a feeling that I can positively contribute to something every day. I'm so grateful to have teammates who support and encourage me every step of the way." Elisha Bourman Bath, Customer Greeter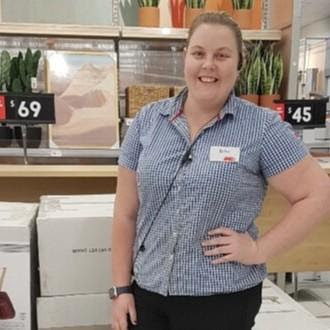 You can also check out Lachlan's story, since filming in 2018 Lachlan has moved to one of Brisbane's larger stores to grow his career and was also a finalist in Kmart's 2020 Queensland annual awards program, 'KAwards'. 
Accessibility
Kmart have also introduced Quiet Space which offers customers and team members an opportunity to shop in a low-sensory environment with reduced noise, lighting and distractions from 3.30pm to 5.30pm every Wednesday in selected stores. This initiative was collaboratively brought to the Kmart environment from the Facilities, Property, Marketing, Technology, Corporate Affairs, People & Capability and Operations Teams. As part of this project Kmart worked with community partners to implement sensory maps which are available on the Kmart website. 
Gender Equality

Kmart
---
Kmart Group aim to achieve 40 per cent women in leadership roles, 40 per cent of men in leadership roles and 20 per cent of either gender or identifying as gender diverse in leadership roles* by 2030 across all areas of the business.
Currently, over 40% of business functions fall within the 40:40:20 gender balance range with an organisational ratio of 43 per cent women in leadership roles and 57 per cent men in leadership roles.
Kmart is focused on enhancing leadership team focus, explicit targets and quarterly reporting of progress across all functions.  Last year, Kmart Group introduced our Flex Where, Flex When, Flex Well offering for our corporate offices encouraging our team members to utilise a range of flexible working options. Kmart also offers paid parental leave regardless of gender with 12 weeks for primary carers and 2 weeks for secondary carers.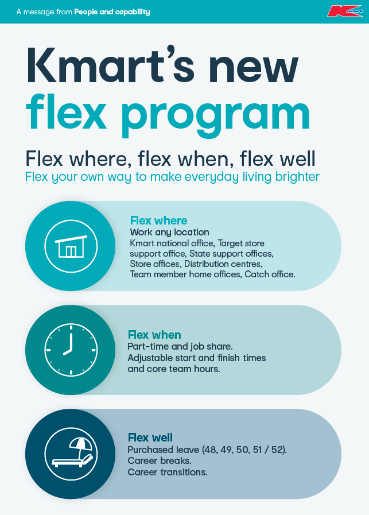 Kmart believe in creating awareness and educating the workforce, as part of this commitment we celebrate a number of inclusive dates throughout the year through virtual and in-person events. Featured below, is an International Women's Day celebration held at Kmart National Office.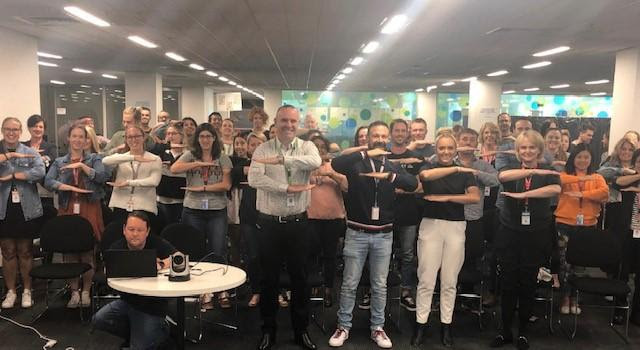 Check out Suganya's story as she talks about her own career journey in Technology at Kmart. Suganya shares experiences of her parental leave, flexibility and professional development: https://au.work180.co/blog/getting-a-thrill-out-of-fixing-bugs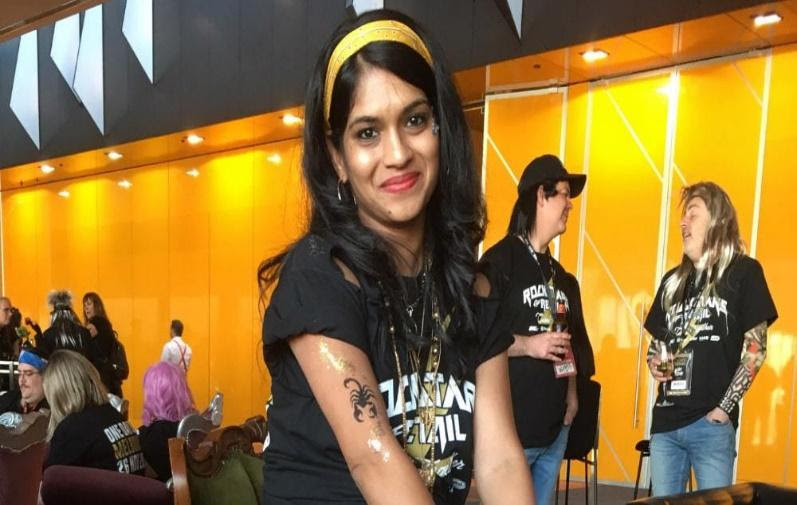 *We define gender balance in leadership role as at least 40 per cent females and 40 per cent males. Leadership roles are defined as manager-grade and above, including all buyers, planners and store managers (not including assistant store managers).
Aboriginal & Torres Strait Islander

Kmart
---
We are committed to understanding, supporting and celebrating Aboriginal and Torres Strait Islander culture. We are focused on creating employment opportunities for team members with Indigenous backgrounds and ensuring that our teams reflect the diversity in the communities in which we operate. Kmart have introduced our Deadly Store Network which focuses on building cultural confidence, cultural safety and retention within our workforce. Kmart also have an Indigenous Employment and Engagement team supporting our workforce. 
Kmart achieved three per cent representation of Aboriginal and Torres Strait Islander Peoples in September 2020 and continues to grow this now having over 3.5% representation of Aboriginal and Torres Strait Islander representation.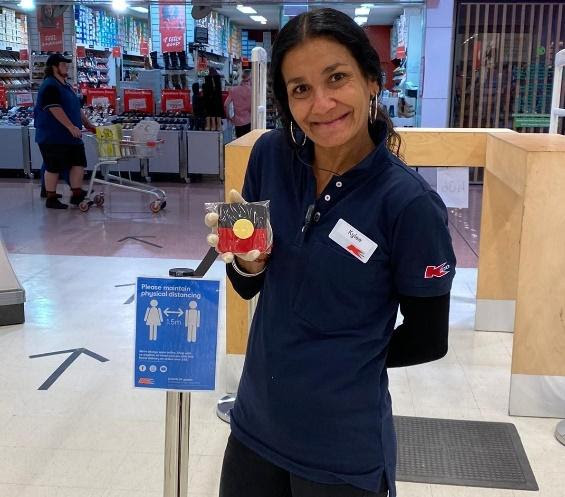 As part of Kmart's commitment to Aboriginal and Torres Strait Islander employment, Kmart launched the Employment Pathways Program in partnership with the Australian Retailers Association, Yarpa Indigenous and Employment Hub NSW Land Council, Target and Officeworks. You can watch the graduation video here:
Ignite the Wonder
Equally important with these activities, is how Aboriginal and Torres Strait Islander customers feel about shopping in our stores. Kmart engaged creative agency Gilimbaa to create a piece of Indigenous artwork to express Kmart's acknowledgement and celebration of Indigenous culture, peoples and connection to communities. The artwork titled 'Ignite the Wonder' has been installed at five stores with more on the way.
This beautiful artwork was created by Indigenous artist Rachael Sarra. Kmart's vision is for Ignite the Wonder to be our voice of support, recognition and acknowledgment of Aboriginal and Torres Strait Islander peoples and their rich and diverse culture.
Together with Gilimbaa we wanted to capture the meaning and essence of the artwork, so please enjoy this short video, or see below for details on each of the elements that come together to make, Ignite the Wonder.
Images: "Ignite the Wonder" by Rachel Sarra – Gareng Goreng Artist. Glimbaa Creative Agency
About the artist Rachael Sarra
"The connection to my culture and the spirit of my ancestors ignites a purpose within. This connection lives in me, in my mind and in my spirit. It is an energy. Filling me with joy, warmth and wonder. This connection is for all of us, for all of us to feel, for all of us to share. So, I painted this feeling, I painted this place."