Lander & Rogers Graduate Programs & Part Time Student Jobs
Lander & Rogers is a leading independent national Australian law firm with offices in Melbourne, Sydney and Brisbane. We are proud to be the trusted adviser to many of Australia's largest and most recognisable organisations, including publicly-listed, private and Australian subsidiaries of global companies as well as local, state and federal government agencies and departments.
With over 500 people nationally and seven broad areas of practice, the firm covers a range of industry s…
View more
Are you in your final year of studies of a Bachelor of Laws or Juris Doctor? If so, we want to hear from you! Enrol in the 2024 Sydney Graduate Program at Lander & Rogers.
An exciting opportunity has arisen within our Catering team for a Boardroom Waiter. Our Catering team play an integral role in the delivery of all catering requirements within the firm, ensuring a seamless delivery of service for all meetings and client events.
Lander & Rogers is a leading independent national Australian law firm with offices in Melbourne, Sydney and Brisbane. We are proud to be the trusted adviser to many of Australia's largest and most recognisable organisations, including publicly-listed, private and Australian subsidiaries of global companies as well as local, state and federal government agencies and departments.
With over 500 people nationally and seven broad areas of practice, the firm covers a range of industry sectors, with a focus on financial services, insurance, government, infrastructure, real estate and retail and supply chain.
At Lander & Rogers, we believe legal services are about much more than just the law – they are about great people, sustained excellence and exceptional client service. We have a reputation in the legal market as a provider of premium legal services, and as a sought-after employer. We are renowned in Australia for our down-to-earth and friendly workplace culture.
Opportunities abound for those starting out in the law through Lander & Rogers' seasonal clerkship program in Melbourne, which is a direct pathway into the firm's graduate program. We also go to market annually to recruit for the graduate program in Sydney.
Seasonal clerk and graduate programs build on university education in a range of practical ways including structured training, workshops and mentoring, but mostly by doing real work for real clients.
If you have the acumen to tackle complex and interesting legal scenarios, energy to absorb new concepts and willingness to work productively and collaboratively with different people, Lander & Rogers is the place for you.
Successful candidates spend the year developing and honing their legal skills and understanding the business. You will undergo four rotations, spending three months at a time in separate practice areas – providing you with a breadth of experience to inform your preferred specialisation.
You'll be well looked after throughout your graduate year. In each rotation you'll be partnered with a buddy who will welcome you to the firm and provide you with day-to-day support. You'll also be assigned a supervising senior lawyer who will make sure you:
experience a variety of challenging work
work with clients to speed your learning process
receive practical coaching to hone your skills
get regular feedback on your progress
are being supported to make a successful transition into the legal profession
Your practical work will increase in complexity as your skills, experience and confidence grow.
While you're undergoing rotations, you'll complete a part-time Graduate Diploma of Legal Practice with The College of Law. This will include training in areas including property, litigation, client interviewing, and negotiation.
This program is designed to help you understand what it's like to practice law at Lander & Rogers. You'll develop a feel for why people work here, where they've come from, and what they do when they're not being lawyers.
Clerkships happen during the university holidays (Nov/Dec, Jan/Feb and June/July). You'll spend four weeks in one of our practice areas, working closely with a senior and junior lawyer who will guide and mentor you.
Your work will likely involve:
researching points of law and summarising your findings
drafting correspondence, court documents, and sections of commercial agreements
reviewing and analysing legislation and case law
observing our lawyers in action (including meetings, mediations and court proceedings)
attending practice group discussions
You will also attend:
practice group case study sessions to build your understanding of our areas of expertise
careers sessions to map out your career possibilities
workshops on practical skills (e.g. writing and taking instructions)
social opportunities (e.g. weekly coffee catch ups, staff drinks, sporting and wellbeing activities)
Note: We only host seasonal clerks in our Melbourne office.
At Lander & Rogers we aim to ensure our recruitment process is as smooth as possible.
When applying for a role with Landers, you will be asked to submit a cover letter, your CV and an academic transcript. We will also ask you to answer some standard application questions. We also issue psychometric testing and video interviews prior to be invited through to an in person interview.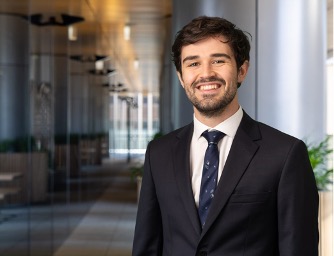 Ayrton Roy
Lawyer
University of Melbourne, Juris Doctor 2019
What's your job about?
I am a newly admitted lawyer at Lander & Rogers in the firm's Melbourne office. Lander & Rogers is an independent national law firm in the CBD with practice groups in a number of different areas of law. Currently, I am in the family law team, which is my final rotation through the firm's practice groups as part of the 2021 graduate program.
Describing a normal day at my job is a bit difficult, since as a graduate lawyer you assist a number of different partners and lawyers on their files. This week, for example, I've been drafting a client affidavit for an urgent court application, carrying out legal research to support our submission in an ongoing appeal hearing, reviewing discovery and sitting in on a mediation with a senior partner.
Next week, however, I will be interviewing a new client, drafting a brief to a barrister for a matter that is going to court and heading down to the Family Court to review some subpoenaed medical records.
What's your background?
I grew up in Auckland, New Zealand, before moving to Melbourne for university at the end of high school. In 2014, I started an undergraduate Arts degree at the University of Melbourne. I enjoyed the degree, but I knew it was not what I wanted to do long term. A tutor in one of my politics subjects was doing the Juris Doctor at Melbourne Uni and she encouraged me to find out a bit more about the law and whether it might be a good fit for me. What instantly appealed to me was that the law required similar skills to my Arts degree (writing, critical thinking, researching etc.), but these skills were applied in a very practical way to people's problems.
In 2017, I started the Juris Doctor at the University of Melbourne and ended up graduating in June 2020. During the degree a real turning point for me was when I started working part-time as a paralegal at a Community Legal Centre and then the Legal Services Board. The chance to immerse myself in the legal world helped me realise that a career in the law was something I wanted, not just a set path I was following. I ended up in my current role after doing a clerkship at Lander & Rogers in November of 2019 before applying and being accepted into the graduate program for 2021.
Could someone with a different background do your job?
Absolutely! The legal world, and a job at a commercial law firm, is not about your background (besides having a law degree!). The nature of the job, dealing with difficult legal and factual scenarios as well engaging with clients from a range of different business and personal backgrounds, means that what is required is the appropriate attitude and skills. The ability to think on your feet and adapt to new situations, as well as being able to apply the critical thinking you have developed and honed at law school, is far more important than your background.
What's the coolest thing about your job?
My favourite part of the job is working on court applications or proceedings. The litigation process is fascinating and the types of cases that proceed to the court room often have interesting points of contention between the parties that do not have an obvious answer. Working with the rest of my team, and any barrister we have briefed, to develop strategy and devise the strongest legal argument for your client is intellectually stimulating and rewarding. Seeing a client pleased with the result and thankful that their legal problem has been resolved will always make me thankful to be in the career that I am.
What are the limitations of your job?
The unpredictability of legal situations and the way your clients will respond to them, as well as the quick pace at which a commercial law firm operates, means that some days you will find yourself with a larger workload or longer hours than you anticipated. While a good workplace will always provide you with the appropriate support in these situations, it's something to be aware of when deciding how predictable you want your working day to be.
3 pieces of advice for yourself when you were a student...
Get involved, and not just in academic-related activities. This is not for the sake of slapping things on your CV, but because finding out what you are passionate about and want to do with your life requires exposure to different experiences and, most importantly, different people. Often the path is only obvious when we look backwards.
Do not let setbacks deter you. Everyone fails at some point. I wish I could tell my younger self not to get hung up on what I missed out on, but to instead focus on what I can still do in the present.
Get lots of sleep, eat well and exercise. Everything is easier when you feel good!
---
Mayomi Kondasinghe
Lawyer
University of Technology Sydney, Bachelor of Laws 2020
What's your job about?
Lander & Rogers is an Australian law firm that specialises in a variety of practice areas, including corporate law, insurance law, family law and property law.
As a graduate in a rotational program, my day really depends on what team I'm in. Generally, I can get work from a variety of people in the team - anyone that needs a helping hand - which is a fantastic opportunity to get a comprehensive understanding of the different work and issues that come up in a practice group. My days are always different; they can involve going to client meetings to take instructions or chat about next steps, negotiations with opposing parties, court hearings, drafting letters and documents or researching niche or nuanced areas of the law. Recently, I had the opportunity to work on marketing material regarding COVID-19 and how it, as well as all the government regulations, affects the workplace. It was fantastic to see my research work be presented in one beautiful and professional package and promoted heavily on socials.
Lander & Rogers maintains a truly supportive environment, and everyone is always friendly and willing to help. I'm never in the dark and can approach a friendly face whenever I need to.
What's your background?
I grew up in Western Sydney and had a pretty average upbringing: public school, tutoring, selective high school and then university.
During my first couple of years at uni, I tutored primary and high school students, which I absolutely loved doing. After that I started my first job in the legal industry at a boutique law firm specialising in conveyancing. The firm had a sole director/solicitor so I had a lot of room to learn and grow my skills, as well as opportunities to innovate. Since then, I've held a few different positions in different organisations, including an associateship, before starting as a graduate at Lander & Rogers in March 2021.
I had thought for a few years that I wanted to be a family lawyer. However, the true benefit of a rotational program was made clear to me as I realised that family law in private practice is not where I want to be.
One bit of comfort that I want to offer anyone reading this is:
Don't stress if you struggle to find your feet when starting out. I found my first year of uni to be a bit overwhelming and was disappointed when I felt that I was underperforming compared to my friends. I can assure you that, if you take a moment to reassess, put in the work and keep your spirits high, things will get better.
Could someone with a different background do your job?
Yes - I truly believe that anyone who has strong critical thinking skills and an ability to read carefully and process information would be able to do the same job that I do. Law school certainly helped me to refine these characteristics and to grow accustomed to the type of language used in the legal industry. I think that with time and experience in the field, these skills will naturally develop even further. Although, it is important to note that there is a significant amount of duties that come with being a lawyer and, for that reason, it is important that lawyers have adequate training through a university course.
What's the coolest thing about your job?
I love the drive to produce high-quality work for clients. While this can be a stressor, particularly when the work has an impending deadline, I thrive off the adrenaline to bunker down and get the work done and get it polished so that it is presentable and easily digestible. Ultimately, I view the legal field as a client-driven, professional services industry.
What are the limitations of your job?
I'll be completely transparent - Lander & Rogers fosters an incredible environment and I have very rarely been under pressure. I have only worked extra hours on evenings or weekends on a few occasions, and usually as a service to myself to ease my workload during typical business hours. Speaking from past experiences, I would say that one of the biggest limitations in the legal field can be the politics (i.e. power dynamics, cliques, etc.) however, I do not believe that is unique to the legal field and this is not something that I have experienced at Lander & Rogers.
3 pieces of advice for yourself when you were a student...
1. Enjoy your time and go easy on yourself. If that means allowing yourself to stay in bed and binge Netflix - so be it! However, if you do choose to have that lazy day, balance it with experiences; meet up with friends, explore your neighbourhood and then explore the world.
2. Don't cave to the pressure of taking the same path as your peers. Everyone has their own journey and things will happen for you with time. There is no need to fit a mould of the perfect, career-driven student.
3. Invest positive energy into the learning process - it can truly be fun!
---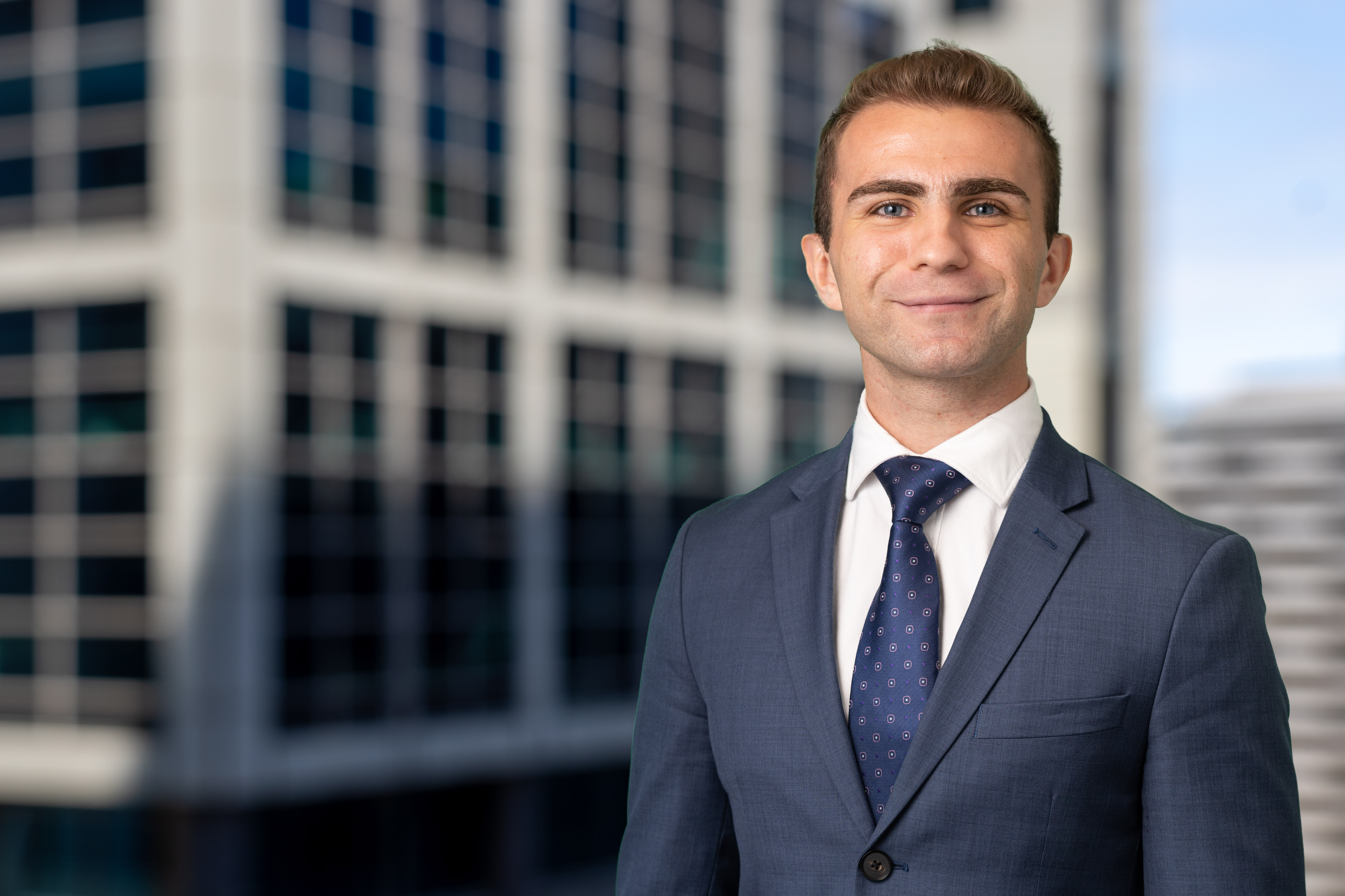 Edison Ponari
Graduate Lawyer
University of Melbourne, Juris Doctor 2020
What's your job about?
Graduate lawyers at Lander & Rogers rotate through four of the firm's practice areas. After the morning coffee ritual to get the day started, the rest of the day varies depending on which team you are in at the time. One of the best things about Lander & Rogers is the diverse range of work each practice area undertakes, and the high level of responsibility you are given as a graduate lawyer.
Generally, during my rotations I would conduct research tasks, draft and review contracts, liaise directly with our clients and other parties, and draft letters of advice. My rotations through the different teams have also afforded me the opportunity to work with amazing lawyers who always took the time to provide feedback and advice to help develop my skills as a legal practitioner.
On joining Lander & Rogers I joined the Social Committee, and attend monthly meetings to help prepare for any upcoming social events at the firm. This has been a great way of meeting other people and expanding my role from pure legal work.
What's your background?
I was born in Albania and moved to Melbourne at the age of five. I grew up in the northern suburbs, went to primary school in Reservoir and high school in Bundoora. I studied a Bachelor of Arts and a Juris Doctor at Melbourne University.
Throughout my studies I worked in hospitality and played competitive soccer. I only started working in a casual role in the legal industry towards the end of my law degree. I was concerned I would have to stop playing once I started full-time work; however, this hasn't been the case and Lander & Rogers has been supportive in me balancing both work and sporting commitments.
I joined Lander & Rogers as a graduate in 2021 after completing the first-ever virtual clerkship in 2020, and am now in my second year at the firm. As a grad I rotated through the Corporate, Insurance Law & Litigation, Compensation Law and Real Estate & Property teams and will decide on which team I settle in soon!
Could someone with a different background do your job?
Yes. While it is a competitive area of professional services, there are now more opportunities than ever to become a lawyer. Hiring practices have changed and are always evolving to ensure everyone applying for roles is given an equal chance regardless of their background. Key skills and characteristics I have seen in a lot of great lawyers are a personal drive to continuously improve and learn, the ability to openly communicate with others and having a healthy dose of empathy.
What's the coolest thing about your job?
My favourite thing about my job is the people I work with at Lander & Rogers. Since joining, the people I've met have been incredibly supportive in my learning and have exposed me to a broad range of mentally stimulating and factually interesting tasks. This has included working on a litigation matter that went before the Supreme Court for a claim in a novel area of law, coronial inquests, agreements for property developments that you can physically see being made, and advising our sporting body clients.
What are the limitations of your job?
As a lawyer, the work can be mentally demanding and a common problem in the legal industry is the risk of burn-out. However, during my time at Lander & Rogers, the leadership, committees and people within the different teams have always provided a broad range of support and services to ensure we are focusing on our mental and physical health.
3 pieces of advice for yourself when you were a student...
After deciding to leave my international holiday for after I graduated, which was then postponed by COVID, my biggest advice is to go on exchange or travel as soon as you can. Professionally, find a mentor who works in an area you are interested in and build a relationship with them. There have been many difficult times when the calming words of someone who has been there before have helped me. Finally, take time out at points throughout the year to reflect on and appreciate what you have achieved. Even if they are small, every win helps you stay grounded and motivated.
Sam Cleeve
6:30am - Alarm
Alarm goes off. Eyes are blurry, brain still asleep, but by some miracle I find myself driving to the gym. It's packed. I can only guess everyone had the same thought as me - there was zero chance they were coming after work.
Headphones in and The Grade Cricketer podcast on. I try not to think about work or the day ahead. It helps keep me fresh for when I eventually arrive at my desk.
8:00am - Desk
There's a parallel universe where I am on a train stopping all stations to Flinders Street. The other passengers would quickly identify me as a freshly minted graduate - new suit, new shirt, polished shoes and an oversized tie.
Instead, I'm getting changed into a t-shirt and shorts. I open my laptop and thankfully I only have a handful of emails from the night before. Nothing urgent. Some mornings I will watch TV but today I'm keen to get cracking.
Task list time - daily meetings at the top, then work tasks, followed by administrative matters, personal or otherwise. Next to each task I estimate how long it will take - a challenge of sorts to beat throughout the day.
8:30am - The hardest task
I force myself to close Microsoft Teams, our internal chat platform. The grad chat is blowing up with some great stuff, but my first task awaits - drafting a trust deed.
Generally, I tackle the task I am dreading the most or the one I am least familiar with. As a grad, every day seems to present an unfamiliar task and today is no exception. What on earth does a trust deed look like?
I search our internal precedents and voila, I find the perfect template. I follow the partner's instructions and draft the relevant clauses. "ABN" autocorrects to "CAN", a cruel trick Bill Gates plays on junior lawyers to improve their attention to detail. I edit it and remind myself for the 100th time to change the default setting.
10:00am - Socialising in a pandemic 
Trust deed is finished and in the partner's inbox. I reward myself with a 10-minute break messaging people and reviewing Teams chats. 10 minutes turns into 20. OK. Time to get back to it.
I call our seasonal clerks. They are doing their clerkship virtually and I remember from my online clerkship how isolating it can be. They are both super impressive and I am hopeful they'll get offers.
10:30 - Meeting prep
Our big 12:00pm meeting is creeping closer. We act for a potential buyer in a competitive bid to acquire a company. We are meeting with the seller's representatives and their financial and legal advisors.
Prep for this meeting commenced five days ago and our list of questions is set. We will have 90 minutes. My role? Chief-Note Taker (unofficial). The meeting won't be recorded so my notes will actually be important. A transcript of sorts is required. Fingers crossed there aren't any quick talkers.
I have several tasks to complete pre-meeting. We need to check the shareholders in the data room documents match the seller's ASIC company search. I put my head down for an hour.
12:00pm - Go time
I click the meeting link - 25 online already. Am I feeling brave? Do I go in with my camera on? Microsoft Teams turns it off for me - clearly Chief Note-Taker isn't an important enough position.
Meeting starts with some chit chat and introductions. The questions are ready to go on my second screen, but you know what they say about best-laid plans.
The seller wants to start with question 5, then 8, then back to 2. OK. I scroll down. Chaos ensues. The seller talks at 2x speed and his advisors at 2.5x. I look like Jim Carrey in Bruce Almighty. My notes are all over the shop. I revert to a blank email so I can record the meeting chronologically. Is this innovative?
1:30pm - Lunch
90 minutes later. My fingers are numb, but the meeting was a success. Lunch time. Today's lunch is leftover salmon and salad. My lunches are not usually this healthy, but it does the trick.
Lunch breaks fluctuate for a grad. Personally, if I have a lot on, I will work through or take a short break. Not because I am asked to, but because it helps to keep the momentum going. Other days I take a full hour.
2:00pm - Post-lunch dawdle 
I cut lunch a bit short. I am eager to clean up my notes. I am surprised how legible they are - they seemed like pure dribble during the meeting. Notes sent to team.
On Teams and 10 minutes turns into 20, again. I receive a message from my supervisor. She's checking I'm not overloaded. I tell her I am fine, which I am, but it's reassuring to know people at work have your back. Being a grad can be tough, but knowing people are invested in your development makes a big difference.
2:30pm - Research
Research - the epitome of the grad life. Today's topic? How to apply to remove an ASIC business name registration. Research tasks are hit-and-miss as a grad. You can spend a whole day going down a LexisNexis rabbit hole or you can find the answer straight away. Today's experience is closer to the latter.
ASIC's website has a nice breakdown of the process, but as with all research, there are a few gaps. Eventually I'm satisfied with my findings. I spend a little too long colour coding my memo and send it to the partner.
3:30pm - Grad group chat
I log onto the group call - it's buzzing. The chat rarely revolves around work but today the grads are retelling their experiences at a mediation and talking about a potentially vexatious litigant.
From Day 1 our grad group has got on like a house on fire and it's made full-time work so much more enjoyable. I love the group and feel grateful to be part of it.
4:00pm - The late afternoon grind
Energy levels are dipping. My attention turns to a due diligence report. I'm reviewing registered trademarks, patents and designs owned by the client. It's surprisingly confusing. Different databases show different statuses for the patents and some of the titles are in foreign languages. The German translations are hilarious, and I send them on to a few people. I annex the tables to the DD report and draft our recommendations, grading the issues high, medium or low-risk.
As a grad, there is safety in knowledge your work will be reviewed. I try not to rely on this process, but inevitably I will make mistakes and the final product that goes to the client will be flawless.
6:30pm - Wind up
I won't send my work off - I want to review it in the morning as my brain is starting to fade. Time to wind up. My task list is complete save for some personal admin matters. I can push those into tomorrow (more likely the next day or the next).
I double-check my billing, a daily thorn in my side. I don't know why it grinds my gears so much. What narrative do I write for the research task? Does it sound impressive enough? In the end, I default to writing exactly what I did.
Log off. It's unlikely I will check my emails before tomorrow. I try to actively manage the separation between my personal and work life - it helps keep me motivated for the next day.
7:00pm - Dinner
I call my girlfriend from the supermarket - what would you like for dinner? Agnolotti. We share the cooking responsibilities and eventually find ourselves in front of the TV. Tennis with a side of Big Bash tonight.
I walk her through my day. She's not as amused by the German translations as me, but humours my immaturity. I pat myself on the pack for going to the gym as I slouch further into the couch.
10:00pm - Bed
Lights off. I try not to think about work. There are nights when it's unavoidable - an urgent task due in the morning or a hectic week coming up. I take advantage of the nights when this isn't the case. I remind myself I have my whole life to be working and it's important to keep something in the tank.
---
Ben Mescher
6:15am
Despite easily being able to sleep for another hour or two, my alarm rudely interrupts me and gets me out of bed.  I roll out of bed and get into some running gear to start my day. 
I chuck in the AirPods and put on one of my favourite podcasts, the Grade Cricketer, and (slowly) charge out of the house for a jog around the streets of Collingwood and around the MCG. Given that the flow of our days can be a little unpredictable as a junior, I find that the morning is the best time of day for a bit of exercise before jumping into my work.
7.30am
I've arrived home from my run, had a shower and a spot of breakfast. Because I am going into the office today, I text one of the lawyers in the team from my previous rotation, Commercial Disputes, to see if she is also going into the office. She lives nearby, so when we are both going in we walk to the office together. 
Dani is going into the office today, so we meet up at 7.30am and set out for the 30-minute walk. We chat about our weekend plans and the developments in some of the more interesting files that I worked on during my rotation.
8.15am
After walking in, I am met by a couple of my fellow graduates who I get a morning coffee with each day. We trundle down to Bonnie (a great local coffee spot) and, because it's my turn today, I order our three coffees. We discuss how our days are looking, and what our thoughts are on which team we may eventually settle in - given it is time for us to decide which area we would like to work in going forwards!
8.45am
I'm at my desk now and do a quick run through my inbox and Teams messages to see what shape my day will take.  I flag anything that will require some work today, and update my to-do list.
It looks like today should be a fun one. I am currently in the Workplace Relations & Safety team, which has a really broad range of work and plenty of court and Fair Work Commission hearings going on at all times. I have been invited to attend an unfair dismissal hearing in the FWC this afternoon and will help out with the submissions for another one that runs next week.
Otherwise, my (busy!) day consists of:
Calling a new pro bono client to gather information and offer preliminary advice on their potential unfair dismissal claim, which we have received through our Fair Work Commission pilot program
Drafting a chronology of events for an anti-discrimination protections claim
Grabbing a coffee with my rotation buddy and supervisor to check in on how my rotation is going, and what I am working on
Drafting an updated handbook for one of our international clients on the developments in Australian employment law over the past 12 months
Researching for and drafting our submissions for the upcoming unfair dismissal hearing; and
Attending today's FWC hearing to take notes and observe.
10.30am
I have called our new pro bono client and collected some further information in relation to his dismissal. Unfortunately, because he did not work for the required period to pass the claim threshold, I have to advise him that his only recourse will be obtaining Commonwealth support while seeking new employment. I give the Senior Associate who is supervising the file a call to recap and see what other information I could have gathered, which is a fantastic chance to debrief.
I have also made a start on the chronology of events, which basically entails going through the court documents that have been lodged and any correspondence with the client, to track the entire history of their relationship with the organisation. 
12.30pm
We are each assigned a mentor at the start of our graduate year to guide us into full-time work and be a constant point of contact outside of our rotations (which change every three months). I chose my mentor, Gregg, because he was someone I really enjoyed working with throughout my clerkship in the Corporate team. Gregg has asked me if I want to have a call with him, so we chat for about 20 minutes about how my current rotation is going. I find these chats particularly helpful, because Gregg has gotten to know me quite well over the year.
After our coffee, I heat up my leftover stir fry for lunch and sit down in the lunch area of our new office with three or four other graduates, and a few other lawyers who come in and out. The stir fry isn't much good (I cooked it)!
2.00pm
I'm back at my desk and ready to attend our unfair dismissal hearing. I log on to the court-run Teams call, and am pleasantly surprised to find that the issue in today's hearing, an out-of-time jurisdictional hearing where the applicant filed outside of the time window available, is the same issue I am writing submissions on later!
The hearing goes for about two hours and includes one of our partners cross-examining the applicant, which is a great experience to watch and ask her about afterwards. I send through my notes at the end of the hearing and get going on my own submissions.
4.00pm
I am able to find our submissions from today's hearing on the system, which is great because it gives a perfect template for the ones I am drafting. The drafting takes an hour and a bit, and I send it off to one of our senior associates before jumping on a call with my buddy and supervisor.
In this call, we chat about what work I am currently doing, and what other parts of the team I should be exposed to while I am still in the first half of my rotation. We decide that because I have not done any work in workplace investigations or OH&S yet, I should reach out to the specialists in our team to see what I can get involved in.
5.30pm
I'm beginning to wind up my day, with my last piece of work being the bulletin update for one of our international clients. Luckily, our team does these quite often for several clients, so I am able to pull up a few precedents and work off those. I then do a broad search through our employment law databases to see if I am missing anything, and what developments might be specifically relevant to this client. 
By the time that I finish up, it is about 6.15pm and I am keen to get home! I hop on the tram and listen to some music to cap off the day.
6.30pm
I recently moved out to a share house with three of my best friends in Collingwood, so when I arrive home we are all keen to catch up and cook dinner together. We cook up some pasta and get upstairs for MAFS and a glass of red wine. We see if there is any sport on that we can watch and talk a bit of rubbish. I call my girlfriend to see how her day was, and arrange to have dinner together tomorrow!
10.00pm
I wind up the day by hopping into bed and reading for half an hour before going to sleep. It's a great way to cap off the day before doing it all again tomorrow!
---
Samantha Worth
7.30am - Wake up
Today I am working from home, so my alarm is set for 7.30am. I get dressed then head out to meet a friend for a pre-work walk and coffee catch up. I'm back home by 8.30am, make some breaky and start my day.
8.50am - Kick off the day
The first thing I do when I sit at my desk is check up on any emails or Teams messages I may have missed from the day before and have a read of the news. I then look at my weekly to-do list and extract a few tasks that I'd like to work on for that day.
I am currently rotating through the Compensation Law team. The first task I do is draft answers to interrogatories (which is a fancy word for questions) that were asked by a plaintiff in a work injury matter. This requires me to review previous advices, our defence, and any discovered documents. I also keep a running list of any further information we may need from the client so I can send them a follow-up email. I then have a catch-up with my supervisor to get her up to speed with where I'm at. We bounce some ideas off each other and develop some strategies for how we can best answer the questions.
11.00am - Catch-up
I have a catch-up scheduled with a junior lawyer in my team, who wanted to see how I'm settling into the rotation. We of course debrief the Australian Open final and have a general social catch-up too! I then head back to work and smash out the interrogatories before lunch.
1.00pm - Free Pilates
I usually take a full hour for lunch break, particularly when working from home! On Monday, Wednesday and Friday Lander & Rogers organises a free virtual Pilates class. It's Wednesday, so I log into the Zoom link and sweat it out for 45 mins, then make a quick lunch and cup of tea, and make my way back to my desk for 2pm.
2.00pm - Reviewing medical documents
Part of the work we do in Compensation Law is reviewing a plaintiff's medical records to gain a better understanding of their medical history (pre- and post-injury). I put my scientist hat on and summarise key medical reports, expert opinions, operation reports and clinical notes. I have a couple questions while doing this, so give my supervising partner a call to clarify any points of confusion.
3.00pm - Client call
I jump on a Teams call with a client at 3.00pm, so I can witness them sign an affidavit. They ask a few questions about next steps, but the meeting is otherwise pretty brief. It's always a good confidence builder and a bit of fun being one-on-one with a client! I write a quick file note about the call so we have a record of it saved to the file.
3.30 - Arvo chit-chats
At 3.30pm a couple afternoons a week, the grads catch up for 30 minutes. This definitely helps break up the day while we are working remotely and is a great time to hang out with the other grads and hear what everyone is up to. And we discuss the latest episode of Euphoria, of course.
4-5.30pm - Final push
I spend the rest of my afternoon finishing reviewing medical documents and summarising my key findings in a table. There's a seasonal clerk in my team at the moment, so I give her a call to make sure she's settling in ok. I tick some tasks off my to-do list, close down all my documents and log off for the day.
5.30pm - After work
I usually finish work around 5.30pm, and chill on the couch, scroll through socials and watch some Gossip Girl re-runs. I usually have a flick through some cookbooks to decide what to make for dinner and then walk to my local grocery store to collect some ingredients. My partner and I crank up some tunes and spend an hour or so prepping dinner in the kitchen. We then meet a couple of mates for a post-dinner ice-cream at Messina.
9.30pm - TV and bed
My day always ends with some TV bingeing on the couch. Reality TV is my after-work outlet, so I plonk on the couch with a cup of tea, some chocolate, and catch up on the latest episode of Below Deck. I then hop into bed and am usually out cold straight away!
Lander & Rogers offers a range of benefits to encourage professional development and ongoing learning, connection with colleagues, staying healthy and community involvement.
We value our people and understand the importance of maintaining a healthy, balanced and fulfilled lifestyle.
We provide opportunities to stay active, with subsidised weekly bootcamp and yoga classes. We also make time to connect with each other at weekly staff drinks and other social events.
To support our people's broader professional and personal needs, we offer financial assistance for postgraduate study, paid parental leave, and opportunities to give back to the community through pro bono and community initiatives.
Benefits of working at Lander & Rogers include:
Career
tailored learning & development activities
secondments
flexible work arrangements
postgraduate study financial assistance and study leave
staff referral scheme
pro bono and community involvement
celebrating milestones and anniversaries
Wellbeing
professional counselling services through our Employee Assistance Program
paid parental leave
corporate rates for private health insurance
annual flu shots and bi-annual skin checks
in-house massages (subsidised)
fresh fruit in the office
life skills workshops
option to purchase additional annual leave
Socialising
Friday night drinks
family events
practice group dinners
mid-year and end-of-year celebrations
Fun and fitness
fun runs and walks
group fitness (subsidised)
yoga/pilates (subsidised)
triathlon teams
tennis tournaments
football, soccer and netball teams
Diversity & Inclusion

We see a diverse and inclusive environment as essential to our collective success and we are committed to providing a supportive environment where the unique backgrounds of our people are recognised and celebrated. Harnessing these talents helps us to connect with each other, our clients and ultimately deliver better business outcomes.
We have implemented a broad range of initiatives to promote gender equality including key targets in the areas of Inclusive Leadership, Flexibility, Talent, and Pay Equity.
Leadership
We regularly train our senior leaders with Inclusive Leadership programs to encourage being vocal about building a diverse and inclusive workforce and challenging systems that hinder an inclusive environment. Ultimately, we want to create a workplace where everyone feels safe to be themselves and express their point of view.
Flexibility
We recognise the importance of flexibility for our people. Delivering great client service doesn't have to be compromised by the when and the where of how we work. We know that leading a balanced life leads to happier, healthier people and clients. We offer flexible working arrangements to everyone. Our partners and people have access to many different types of formal and everyday flexible work.
Talent
We are committed to identifying a pipeline of diverse talent and establishing programs for mentoring and leadership development. We regularly review everything from recruitment, learning and development, and promotions to ensure gender equity.
Pay Equity
We conduct rigorous gender pay gap analyses each year to measure pay equity. We set specific action plans where required and continue to monitor our progress in this area.
Gender Equality

In 2020 we were named an Employer of Choice for Gender Equality by the Federal Government's Workplace Gender Equality Agency. The firm was recognised for a range of initiatives designed to promote gender equality through pay equity, flexible work practices and tools, gender neutral parental leave opportunities and the promotion of women to positions of leadership.
As citation holders, we will continue to work hard to forge a more gender-balanced world, where we can celebrate everyone's inclusion, raise awareness against bias, and always take action for equality.
"We want to create a culture where senior leaders don't look at gender equality as a women's issue, but a business issue and a fairness issue — essential for economies and communities to thrive, and enabling everyone, regardless of their gender to share equally in the opportunities the world has to offer." – Genevieve Collins, Chief Executive Partner.