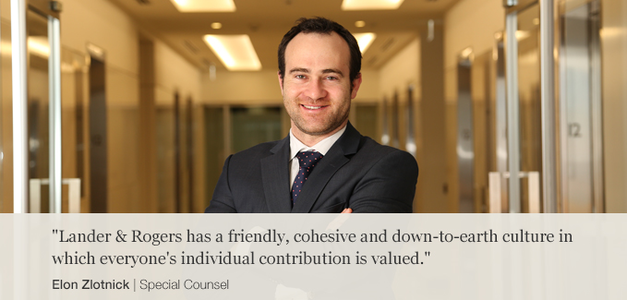 Lander & Rogers Graduate Programs and Jobs
Here at Lander & Rogers, we're proud to be an independent Australian law firm with some of the sharpest legal minds in the country advising publicly listed and private organisations, all levels of government, and individuals.
Be Excellent. Be Genuine. Be Vital. Exceptional. Together.
Lander & Rogers currently has 0 opportunities.
Select the following options:
Welcome to Lander & Rogers. We're a successful, forward thinking, growing law firm, with offices in Brisbane, Melbourne and Sydney.
We offer a distinctively happy workplace, achieved through selectively recruiting people who think and act collaboratively. We invest in the professional and personal growth of our people and ensure a healthy work life balance is achieved.
Our areas of practice
Corporate
Commercial Disputes
Compensation Law
Family & Relationship Law
Insurance Law & Litigation
Property, Projects & Infrastructure
Workplace Relations & Safety
Lawyers
Lander & Rogers offers challenging and rewarding opportunities for lawyers in a range of practice areas. We offer significant prospects for career progression, and our manageable size means your individual contribution won't go unnoticed. Check out our work areas to find out more about the diverse and interesting work our practice groups undertake. We aim to recruit and retain high calibre lawyers who have a collaborative, friendly, and enthusiastic style of engaging with others.
Personal Assistants
Lander & Rogers offers a distinctively happy and supportive work environment, where everyone's contribution is valued. Personal Assistants represent one of the key support structures for our legal practice groups.
What does it take?
We are looking for personal assistants who possess:
excellent typing and document formatting skills
clear and confident communication skills
a positive can-do attitude
the highest levels of professionalism, energy, flexibility and enthusiasm and who are team players!
Business Services
Our success relies heavily upon the support provided to lawyers and legal work areas by our Business Services Group, which includes:
Facilities
Finance
Human Resources
IT
Library/knowledge management
Marketing & Business Development
Precedents
Reception & Catering
What are we looking for?
We aim to provide first rate service to our clients, so we're looking for smart people who exhibit a collaborative, friendly, and enthusiastic style of engaging with others.
What do we offer?
Top quality work
Competitive salaries
Secondment opportunities
Structured Learning & Development
Financial assistance for post graduate study
Opportunities to develop broader business skills, such as management, business development and leadership skills.
It's not all about work though!
We encourage our staff to get involved in community-based activities. We also offer networking opportunities and a range of sport and lifestyle activities (like yoga, bootcamp, netball and massage), as well as regular social and family events.