Lendlease Graduate Programs & Internships
No matter who you are, if you have the drive and talent to progress, when you are part of Lendlease, you're going places. Our people are the greatest contributors to our success and underpin our ability to create innovative and sustainable places around the world.
Architecture
and 10 others
Hires applicants with degrees in
Engineering Civil Structural
Engineering Environmental
Be the first to know when our applications open for our Graduate Program in July 2022! We recruit Graduates from a range of disciplines such as Construction Management, Engineering, Business/Commerce, Property, Architecture, Project Management and Information Technology.
Architecture
and 9 others
Hires applicants with degrees in
Engineering Civil Structural
Engineering Environmental
Be the first to know when Lendlease has Undergraduate opportunities available and apply to our Expression of Interest now! We look for students who have completed their second year or further from a range of disciplines such as Construction, Engineering and Business Support.
Past Lendlease Graduate Hiring Statistics
If you're interested in working at Lendlease, understanding when they have opened up applications for their graduate programs, graduate jobs and internships is helpful knowledge to have so you know when you might need to apply. Use the below information to see when Lendlease hires graduates, but more importantly what graduate degree's and other student attributes they target for their jobs.
---
Job types
Graduate Jobs (72%),

Internships (26%),

Entry Level Jobs (2%),
Disciplines
Accounting (7%),

Administration (11%),

Architecture (2%),

Banking and Finance (13%),

Business and Commerce (20%),
Locations
Melbourne (50%),

Sydney (48%),

Brisbane (28%),

Perth (17%),

Darwin (15%),
Work rights
Australian Citizen (100%),

Australian Permanent Resident (100%),

New Zealand Citizen (98%),

Australian Bridging Visa (2%),
Our Story
Lendlease is a globally integrated real estate and investment group with core expertise in shaping cities and creating strong and connected communities.
Being bold and innovative characterises our approach and doing what matters defines our intent.
We create award-winning urban precincts, new communities for older people and young families just starting out, retail precincts, and work places to the highest sustainability standards. We are also privileged to create essential civic and social infrastructure including state-of-the-art hospitals, universities and stadiums around the world.
Lendlease has been entrusted with many projects of public, cultural and social significance: constructing the Sydney Opera House, creating the National September 11 Memorial & Museum in New York, and restoring and renovating historic buildings such as London's Tate Britain and National Theatre.
As we expand our experience and our footprint, we aspire to continue creating places people want and care about, and providing value for securityholders and the broader community.
Headquartered in Sydney, our people are located in four operating regions: Australia, Europe, the Americas and Asia.
Lendlease Purpose & Strategy
We believe in finding better ways
We create places that leave a positive legacy with a focus on safety, innovation and sustainability.

Our values
Our core values guide our behaviours and underpin our Code of Conduct. These are the values we live by every day.
Respect - Be dedicated to relationships
Integrity - Be true to our word
Innovation - Be challenging in our approach
Collaboration - Be one team
Excellence -Be exceptional in everything we do
Trust - Be open and transparent
As a Lendlease Graduate our hope for you is this:
You will be ready to navigate real world situations armed with an arsenal of knowledge that enables you to adapt to future needs quickly.
You are a curious and forward-thinking individual who brings to the table a blank canvas to develop and grow.
Whether you're new to our industry or have been learning the ropes already, you have a hunger to learn and explore the many opportunities available to you. You have a fresh take on the world, with a keen interest in making your mark on Lendlease. You are ready to take on the next challenge but will need guidance to pave the way for your success. You are eager to grow and connect ideas on best practice to navigate our changing environment.
You strive to be customer focused, embrace an enterprise mindset and focus on building resilience and flexibility in the face of change, challenges, setbacks and pressure.
Why our Graduate Program?
No matter who you are, if you have the drive and talent to progress, when you are part of Lendlease, you're going places. Our people are the greatest contributors to our success and underpin our ability to create innovative and sustainable places around the world.
Our goal is to build capability for future growth across our global regions. Our program supports this goal with an aim to transition a university graduate to a Lendlease Graduate who has foundational skills, knowledge and tools to navigate real world situations and adapt to future needs quickly.
The two-year early-career talent program is built around rotational experiences that enable graduates to practically apply their learnings and enhances their knowledge and skills within our industry. Technical job-family learning is embedded into on-the-job development depending on the program stream and graduates are expertly coached to develop a development pathway that is specific to them. Simply put, the Lendlease Graduate learns through doing.
Over two years the Lendlease Global Graduate Program will kick start your career and support your transition to the workplace. We have specifically taken a global approach, so that we create a consistent experience for all our graduates, no matter where in the world you are or which program stream you are part of. The development that you will get on our program will provide you with the foundational skills, knowledge and tools to navigate the workplace and help you adapt to the challenges and opportunities that are ahead.
Graduate Program
Lendlease
---
The Global Graduate Program supports the professional and personal development of all newly employed Lendlease graduates through a structured and supportive environment. The purpose of the program is to transition a university graduate to a Lendlease Graduate who has foundational skills, knowledge and tools to navigate real world situations and adapt to future needs quickly. It is designed to expand their insight and general knowledge of our industry whilst providing the opportunity for graduates to gain practical experience in a range of sectors across the construction, property and infrastructure industry.
Strategic approach to recruitment

Graduate positions are linked to key business capabilities required for future growth of Lendlease

2-year program with rotational experiences

Provide new experiences, broad skill development and greater business understanding

Competitive market pay

Underpinned by a highly competitive graduate compensation framework

Bespoke learning program

Immersive and holistic experience where learning is anchored in real work, and a combo of highly individualised experiences with collective elements to strengthen ties with peers

Strategic approach to recruitment

Support structure A ready-made support web bridging the gap between university and workplace, including a Buddy, Mentor, dedicated Program Manager, Peer Network and access to senior leaders

Governance framework

Key business network dedicated to supporting the Global Graduate Program in their region by boosting development opportunities, opening doors and going into bat for our graduates at all levels of the business
Graduates undertake a minimum of two rotations through the business over two years to ensure they are exposed to as many varied opportunities and activities as possible, with a view that they obtain the skills and competencies required to progress further in their career at Lendlease. Throughout the Program, graduates are exposed to and work with all levels of management and are also supported by the People & Culture (P&C) teams.
What is perhaps the most unique proposition of our program is the immersive and holistic learning experience designed with our graduates in mind. Our graduates will start on a journey of self-development and self-discovery as they enter the first year of the program which is centered around curiosity. The first year is to discover our business, discover how you work with others and start building the foundational soft skills to help you transition into the workplace. The learning program is a combination of highly individualized experiences through a guided Choose Your Own Adventure learning stream, that we help our graduates build into an individual development plan designed to accelerate their development. It is paired with group Collective learning that explores self, using behavioural assessment tools and focuses on three key aspects:
Understanding self
Building team connections and
Cultivating stakeholder relationships.
Each learning interaction is intentionally built over time in a program of learning. In between the learning interactions are small guided peer-coaching sessions that will bring what you've learnt in the Collective Learning to your real-life working environments. Graduates will then shift gears in Year 2 to concentrate a higher responsibility to self and others, and to be ready for the next step in your career post-program. You will be given opportunities to prove your readiness to learn and to lead others in Year 2 and we will challenge you with new learning experiences that increase your responsibility to not just your own learning, but to others as well.
Construction – careers in Construction harness the expertise in infrastructure, design, development, investments and management to deliver a project from conception to completion. This includes site construction management, commercial, design and project management. Graduates in the Construction field will specialise in site construction management across a variety of project sizes and values, commercial management or design and project management which could be focused on a region or specific sector such as but not limited to health, defence, education, retail or commercial.
Property – careers in Property are involved in the development of communities, inner city mixed-use developments, apartments, retirement, commercial assets, and social and economic infrastructure. Careers in Property branch over development, investment management (fund and asset), retail, stakeholder and community engagement.
Digital
Create, design, code and build new products. Start your career with our Digital business where you will manage the latest technology and be part of a team that is developing new digital products and services that will transform and disrupt the property and construction industry. Autonomous cars? Now is the time for autonomous buildings.
At the heart of our new investment is Podium – an industry first property lifecycle platform that's designed to simplify the complex interdependencies in the built world. It delivers a powerful solution that provides our industry with insights, clarity and performance never experienced before.
Lendlease Digital also support the wider Lendlease Group with technology services and digital products that enable our people to do their best work.
In the Lendlease Digital Graduate Program, you will have the unique opportunity to manage the latest technology, create and design new products for our market. These experiences will create new and differentiated skill sets that will help set you apart and truly be a "unicorn" of the IT industry. The Lendlease Digital Graduate Program is a two-year development program that incorporates rotations providing you with hands on experience as a Product Analyst, Software Engineer and Data Analyst.
Lendlease Digital – Digital Twin Summit
Lendlease Digital – Smart Communities
Application Process
Lendlease
---
Below is a guide to our Graduate application and assessment process.
1. Submit your application

Submit online application, CV, transcripts and right to work. Make sure you include details about work experience, education and extracurricular activities.

2. Complete a video interview

Our dedicated graduate recruitment team carefully consider all applications received and will look at a variety of aspects such as academic achievements, related work experience, extracurriculars or volunteer work as well as a good motivation and fit to our business. Selected candidates are invited to complete a video interview.

3. Attend an assessment session

Selected candidates are invited to one of our assessment centres which will include a group assessment activity and a 1:1 interview with the business. This is where you can shine amongst your peers and share with us the reason why you want to join Lendlease as a Lendlease Graduate.

4. Commence Graduate Program

If you are successful you will receive a phone call from our recruitment team to offer you a position withing our program and all you need to know about joining Lendlease. You are then set to join the Lendlease team!
Enterprise Support
Lendlease
---
Enterprise Support – a career in Enterprise Support will have you supporting the functional aspects of our business. Below are the key functions that are covered under Enterprise Support:
Corporate Affairs & Marketing
Finance
Health & Safety
Legal
People & Culture
Risk & Insurance
Supply Chain & Procurement
Employee Profiles
Lendlease
---
Meet some of our current graduates and see what they have to say about their experiences on the Lendlease Graduate program and how their degree has helped them get to where they want to be. 
---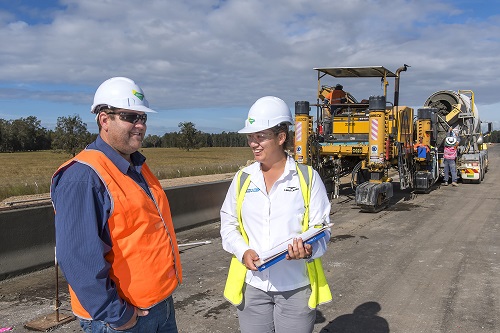 Angela Greenlees
Lendlease Graduate Program Stream

Engineering (Site Engineer, OH2Ku)
Degree and University

Bachelor Civil Engineering with Architecture, UNSW
Were you a member of any university societies?
Yes – CEVSOC (Civil and Environmental Engineering Society) and WIESOC (Women in Engineering Society)
What have you found to be your most valuable learning opportunity since joining Lendlease? (either on the job or a formal course)
I truly feel like I'm learning every day on the job, but the Influencing Skills Training session that we did as part of the structured grad training program was the most valuable for me. I'm still developing my influencing skills and it's a useful talent to have under your belt.
Have you faced a situation where you have been asked to work on something that you were not particularly looking forward to, but it ended up being a valuable learning experience?
I've never had a negative outlook on a situation before it began – I find that your attitude going into a task influences the work that you do. I was nervous about my presentation, but a big part of the learning experience was realising that I had built up a huge support network in my project team. Everyone was so willing to help me along the way, and they were all proud of me afterwards!
What have you enjoyed most about working at Lendlease?
The culture onsite and within Lendlease is one of support. Everyone here wants to see you succeed and we all want to share in your success!
What is the most challenging task you have faced since joining Lendlease?
Learning how to manage stakeholders in a continuous cycle. Every time you have a disagreement or a differing view you should be thinking in long term time frames. Every conversation that you have will influence the outcome of future negotiations.
What advice would you give to students considering applying for the Lendlease graduate program this year?
Apply! You have nothing to lose and everything to gain. It's a fantastic program and a great company to work for.
---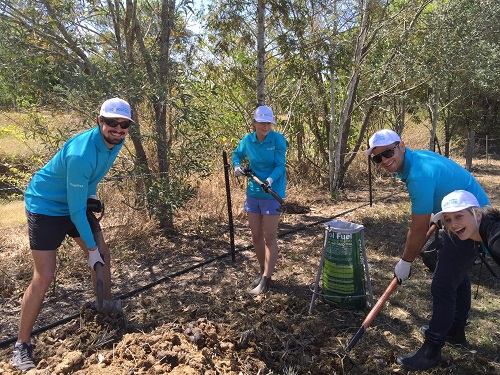 Johnny Incampo
Lendlease Graduate Program Stream
Property Development
Degree and University
Bachelor Property Development and Real Estate - Griffith University
What made you decide to accept a graduate role with Lendlease and to choose the particular program stream?
I was attracted to Lendlease being such a diverse organisation and I believed that career growth and opportunities for various experiences would be made available as a graduate. 
I chose Property Development as I could see an opportunity to add value to a development in managing the design and outcome to ensure if benefits the users and other key stakeholders for generations to come. The opportunity to leave a legacy behind motivates me to deliver the best outcome/s.
What does a typical day look like for you? (Be realistic – are you onsite/in the office early? Is your role varied?)
I attend site once a week with the chance to be involved on the ground with the construction teams. The balance of the week I am in the office, attending meetings and often at consultant's offices or dealing with external stakeholders i.e Government departments. Often, I am onsite for inspections during installations of key items or to conduct safety assurance visits.
What work have you been most proud of since joining Lendlease?
Delivering a pitch to the Lendlease Innovation Committee for an idea that I devised and delivered the first phase of a business plan for. The innovation could see our project benefit for years to come.
What have you found to be your most valuable learning opportunity since joining Lendlease? (either on the job or a formal course)
I had the opportunity to assist with coordinating a formal design competition to find an Urban Designer/Master Planner to develop the proposed Town Centre for a project I was working on. Similar to a tender process I learnt valuable aspects of placemaking, true urban design and considerations for end users in the developments we establish.
What advice would you give to students considering applying for the Lendlease graduate program this year?
If you enjoy working as part of a team and aspire to be involved in delivering great outcomes for users of developments and in addition would love to work in a proactive, positive and flexible work environment, then don't wait apply now.
---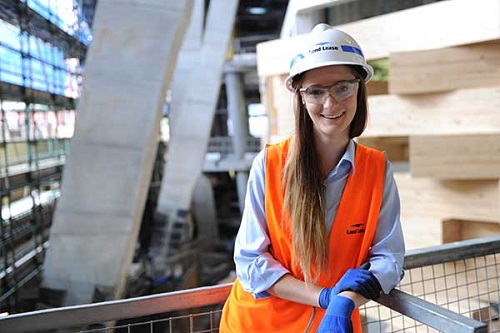 Magdalen Corr
Lendlease Graduate Program Stream
Building
Degree and University
Bachelor of Construction Project Management UTS
Were you a member of any university societies?
I competed at five University Games for the UTS Women's Football Team.
What made you decide to accept a graduate role with Lendlease and to choose the particular program stream?
I chose Lendlease not only for the exciting projects but the social conscience the company operates with. The choice to work in the building business was easy for me as I knew I wanted onsite exposure to compliment my studies (Bachelor of Construction Project Management). I did not feel a great deal of pressure however when selecting my program stream because I knew that Lendlease would guide me through the process to ensure I found the right fit.
What work have you been most proud of since joining Lendlease?
Every day is different for me and that's one of the reasons why I love my job so much. I'm onsite early and working with Lendlease site management and subcontractors to achieve the days tasks. Then it's back in the office planning and working with consultants to ensure we are all working towards the same objectives. The key focus areas for my role include managing quality, budget, time/programme and safety.
What work have you been most proud of since joining Lendlease?
Though there have been a lot of very proud personal moments, for example presenting to the Lendlease board, I believe the thing that has given me the most pride and satisfaction was being a part of a team who completes a project on time, on budget, safely and that is of a superior quality. Walking around Sydney now I can point out a few buildings to family and friends and say that I was a part of the team who built that. It's a great feeling.
What have you found to be your most valuable learning opportunity since joining Lendlease? (either on the job or a formal course)
I have been very lucky to have had a great deal of varied opportunities during my time here at Lendlease. I worked on the first Frank Ghery designed building in Australia, attended Forum15 (Lendlease's global employee workshop) and presented to the Lendlease board.
Though the most valuable learning opportunity for me is in my day to day work. I have a fantastic manager and a great team who support my learning and development. They give me the opportunity to test my skills in tackling problems while supporting me through it.
What advice would you give to students considering applying for the Lendlease graduate program this year?
I would highly recommend applying for the Lendlease Graduate Program. I was attracted to Lendlease because of the large scale projects and opportunities but I stayed because of its people and culture. There is no better place for graduates in this industry.
---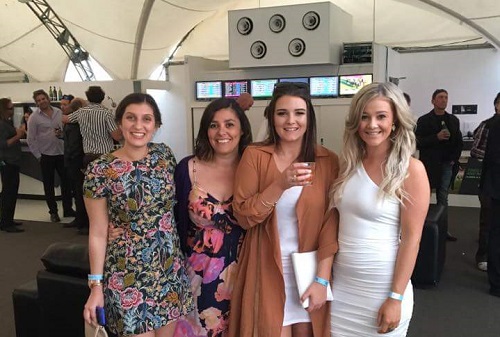 Samantha Singh
Lendlease Graduate Program Stream:

Services
Degree and University:

Bachelor of Mechanical Engineering, Griffith University
Were you a member of any university societies?
Griffith Honours College, Golden Key Society, PASS (Peer Assisted Study Session) Mentoring and Treasurer of Camping Boating and Fishing Club.
What made you decide to accept a graduate role with Lendlease and to choose the particular program stream?
There were multiple reasons why I chose to accept Lendlease's Graduate Program over other companies. For me starting my career with an Australian company was important. I felt they would have the same values and ethics as myself while focusing on the development and growth of my home country. Although Lendlease as a company was extremely appealing due to their significant growth internationally within the last few years, it was their two year Graduate Program that offered the greatest appeal. Coming out of university I didn't feel I had experience in industries to know what field I wanted to specialise in. Therefore, the opportunity to take two twelve month rotations across diverse projects provides me with the exposure and development any engineer would need entering the industry.
What work have you been most proud of since joining Lendlease?
Since joining Lendlease I am most proud of the preconstruction design review process I created. Prior to starting on the NBN project I had no experience in telecommunications. However, during my time I have development an in-depth knowledge of the technology and was solely responsible for reviewing the designs prior to construction. When it became time for me to rotate to my next project I established a preconstruction review process that was implemented into the preconstruction phase of the project. I am most proud of this as I was able to identify issues within the designs and prevent delays in the construction process which allowed us to meet deadlines as smoothly as possible.
What have you found to be your most valuable learning opportunity since joining Lendlease? (either on the job or a formal course)
My most valuable learning opportunity since joining Lendlease was when I was sent by my project manager on the Gold Coast to assist the team in Sydney. During my time in the Sydney office I was able to experience the manner in which their team completed the same work. It taught me the importance of diversity in the work place, as this was a different team of people completing the same project yet their approach was quite different to that of the Gold Coast. I was able to learn about their processes and techniques and take the knowledge I gained through this experience back to the Gold Coast to assist us in our approach.
What advice would you give to students considering applying for the Lendlease graduate program this year?
Lendlease is a company filled with an enriching culture. It encourages professional and personal development which I think is essential as a graduate. For any graduates considering Lendlease's Graduate Program I would advise them to become a part of it. If you thrive off new experiences and the opportunity to join and actively participate in diverse and challenging projects Lendlease's Graduate Program is perfect. As a graduate with Lendlease you become an essential member of every team and take on the responsibility of rewarding and challenging work that you wouldn't think a graduate would do. You are treated like any other member of the team with the same responsibilities and expectations, which creates a very rewarding work life.
---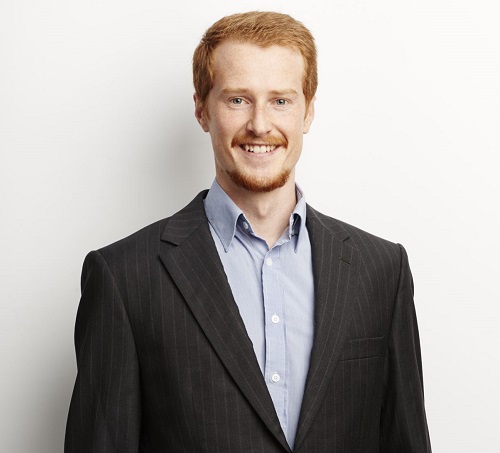 Lachlan Lord
Lendlease Graduate Program Stream
Corporate Functions (Finance)
Degree and University
Bachelor of Accounting UTS
What made you decide to accept a graduate role with Lendlease and to choose the particular program stream?
I was lucky enough to complete an internship with Lendlease in my first year of University in the Lendlease Building Finance team. The people I met and values of the company resonated with me strongly which persuaded me to join when finishing my degree.
What does a typical day look like for you? (Be realistic – are you onsite/in the office early? Is your role varied?)
I work in the Internal Audit team in Group Finance so there is no typical day! Our team works towards deadlines so it is up to me when my day starts and finishes as long as my work gets done. This suits my lifestyle because I can also work flexibly and remotely. I also try to visit site to make sure I speak to a cross section of people in the business and meet new people.
What work have you been most proud of since joining Lendlease?
Working with people across the business on Community Day. Each year Lendlease fund community projects and every employee across the globe takes a day out of our schedules to help-out. It's an amazing experience and great to give back.
What have you enjoyed most about working at Lendlease?
The work culture is great! It has even improved in the short amount of time that I have been here so I can't imagine where it can get to here from here. Flexible working, work gatherings and high performing teams and mentors make me want to continue to work here.
What advice would you give to students considering applying for the Lendlease graduate program this year?
Don't be afraid to be yourself. Everyone has a unique way of viewing the world and workplace and Lendlease really respects that.

A Day in the Life Of a Graduate Engineer
Name: Akhil James
Business Unit: NSW BUILDING
Position: SITE ENGINEER
Current Location & Project: Sydney Pl. Circular Quay Tower
Tell us about you – Where and what degree you studied, what are your hobbies outside of work?
Finished Bachelor of Construction Project Management degree with First Class Honours at the University of Technology, Sydney in Jan 2020.
Enjoy taking my dogs for a walk, listening to music and playing competitive indoor and outdoor cricket.
As a Lendlease Graduate Site Engineer, can you tell us what your role/s have involved to date?
I'm a Site Engineer as part of the structures team who is involved in the planning, coordination and delivery of the core stairs and lobbies in the High Rise and Mid Rise Cores, which utilise a combination of conventional formwork & self-climbing jumpforms. I am also responsible for planning and delivery of the C-core jump form and the amenities slab (above the Low-rise core). This involves reviewing design documentation/ reinforcement schedules, tracking programme and undertaking QA checks for the structure trades required for compiling pre and post-pour QA documentation which is important to receive structural certification at the end of the project. I also prepare and issue a Short Range Programme (SRP) for the Core and Amenities slab weekly and issue the Builder's Brief daily.
In addition to the above, I manage the Doors and Door Hardware contract which has about 1100 doors on the project. The contract admin activities involve sending package out for tender, conducting tender interviews, awarding tender to applicable sub- contractor, assess and process monthly progress claims and any variations as well as collect relevant safety documentation for sub-contractor's commencement on site.
5.15 AM
Wake up time! Morning shower and get ready to drive off to the train station.
6.45 AM
Walk through the office door, greet the team and look through my list of activities that are happening today. Most of the days include a concrete pour in an area I'm looking after, so prepare the relevant pre-pour Inspection and Test Plan paperwork, get my PPE on and head off to site. Relevant formwork certificates, and ITP signatures are collected prior to commencing the concrete pour around 7:30am.
7.45 AM
As the concrete pour commences, I like to catchup with my area foreman to run through activities for the day, drawings for an upcoming concrete pour and status of outstanding RFIs we are chasing up. I will take notes of any issues raised in terms of safety, programme or buildability to be raised for discussion with the design consultants and my managers.
During the pour, we are normally installing formwork in one area and tying reo in another. I walk and inspect these areas for a morning status update to be included in our programme.
10.00 AM
Now I login to my email and action any outstanding tasks. This may involve sending updated drawings to relevant trades or raising RFI's based on potential issues on site. I believe a good RFI includes as much information from existing site conditions as possible, so I create digital mark-ups with supporting photos which are sent to relevant parties from whom we are seeking additional information or design clarification.
10.45 AM
With the immediate tasks to complete now actioned, I go through reinforcement schedules uploaded to a share drive by our steel supplier. This is cross checked with the structural drawings to ensure all reinforcement components documented by our structural designer has been scheduled, some instances it's not and I return the schedules with comments to be revised and resubmitted.
12.00 PM
I head back to site and observe how the works are going. This normally involves answering any questions or queries the steel fixer has about the areas they're tying steel, then we agree a time for the third party engineer inspection.
12.30 PM
Time for Lunch! Carrot juice, chicken salad and a box of fruit keep me going for the rest of the day. This time mainly involves around catching up on sport highlights and any trending news around the world and of course eating!
1.00 PM
Another check of emails then jumping into a meeting with SPE, CM, GF for any potential issues (resourcing, time, safety) encountered on site and agree on resolution.
2.30 PM
Head back to site for a final internal inspection of the area that had reinforcement tied. Raise any defects for the steel fixer to close out in preparation for the third party engineer inspection.
3.30 PM
Time for third party engineer inspection of area tied. We cross check the design drawings with what's been completed on site, sometimes the design doesn't work on site, so I would've raised an RFI in the previous day for rectification detail. This is then reviewed on site and signed off. If the third party engineer picks up any additional defects, it is noted down for steel fixer to amend in response to the Site Inspection Report (SIR).
I then take a status and final walk of my work fronts. Progress photos for the afternoon as well as photos of rectified defects are taken for record keeping purposes.
5.00 PM
Back to the office, defect close out report is compiled and sent across to the third party engineer for formal sign off for tomorrow's concrete pour.
I'm responsible for sending out the daily builder's brief, so I contact the General Foremen, Foremen and Site Managers to compile a comprehensive document that lists activities happening around the entire job tomorrow. This includes combining exclusion zone mark-ups and registers and well as adding information on a key activity happening tomorrow i.e. Crane climb or Hoist service which may impede some sub-contractors works the next day. Finally, rapidly changing Covid-19 updates are included and the Builder's brief is sent out to all trades for discussion in tomorrow morning's prestart with their workers.
5.30-6.00 PM
Anywhere, between 5:30-6pm, I call it a day and pack up. Normally use the time on the train to unwind and listen to music or read a book.
How did you hear about the Lendlease Graduate program and what made you apply?
I heard about Lendlease's 12-week undergraduate learning program with a focus on Digital Engineering whilst in my penultimate semester of university. Being someone with an interest to develop and learn additional skills in this field, I wanted to gain exposure and knowledge from an industry leader on a milestone project, so Lendlease was the place to go! After successfully completing the 12-week programme, I was privileged to streamline into the 2 year grad program where I've gained valuable site experience.
What has been you most rewarding experience since joining Lendlease?
There have been various milestones and rewarding aspects of the project so far, however, I feel the most valuable and rewarding experience is witnessing and implementing theoretical skills and lessons learnt in university into day to day site activities. In particular, the current project has offered me insight in a project's lifecycle, for example, witnessing constraints being overcome in the following; demolition and archaeology in 'Jackson's On George' building, excavation of the sandstone 'yellow block' in the basement, establishment and climbing of jump form systems, erection of structural steel tower, façade installation and subsequently the commencement of the various services and fit out activities. All of this could only be accomplished with a coordination, planning and execution by a diverse team of professionals. Being a part of the meetings and planning sessions has reinforced my knowledge of building a milestone project like Circular Quay Tower.
My involvement in the planning and delivery of the structural elements in the Low-rise Lift Motor Room, L25 amenities slab and the C-core jump form have been the highlights of my graduate journey so far. These activities presented various constraints in programme, cost, quality and safety, however working with an experienced team of leaders, we were able to overcome and successfully deliver.
What difference has this experience made for you (i.e. personally, your career, or in the community)
Personally, this experience has provided an intrinsic motivation and drive to do better. It has instilled skills like patience and conflict resolution, time management, site safety and quality management which can only be taught through practical experience. I can say boldly that I have used these skills to develop in personal life also.
What do you like most about working for Lendlease?
The experience of working with a diverse group of gifted minds has to be the best thing working in Lendlease. Each person has a story of their own and shares with each other. A sense of family can be taken in amongst the team. This helps in keeping difficult situations calm and helps provide reasonable methods to resolve challenges.
What role and/or project would you like to work on in the future?
I would love to utilise skills and knowledge learned on this graduate journey to one day lead a diverse team of construction professionals to successfully deliver a milestone project in Sydney, interstate or even overseas.
What is one piece of advice you would give to an incoming Graduate?
Remember, you can achieve anything you truly believe you can accomplish. Attitudes like; "it's too hard", "can't do", "don't like to do" will be a hindrance in your growth and career progression. Always give it a fair go and manifest the best possible outcome. The team around you will surely help you out!
It would also be really appreciated if you could take some photos of yourself at your desk and onsite to give the undergraduates an idea of what your workplace looks like.
SITE PHOTOS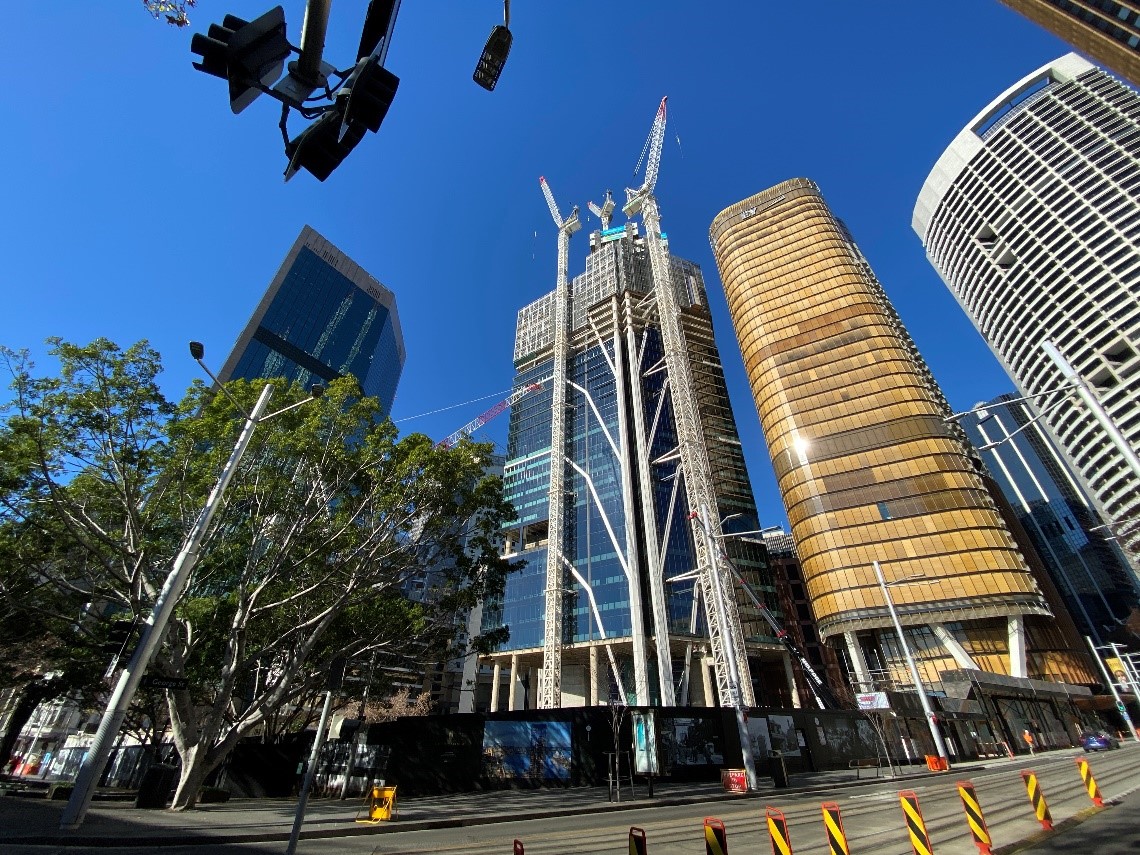 General Front View of Sydney Pl. Circular Quay Tower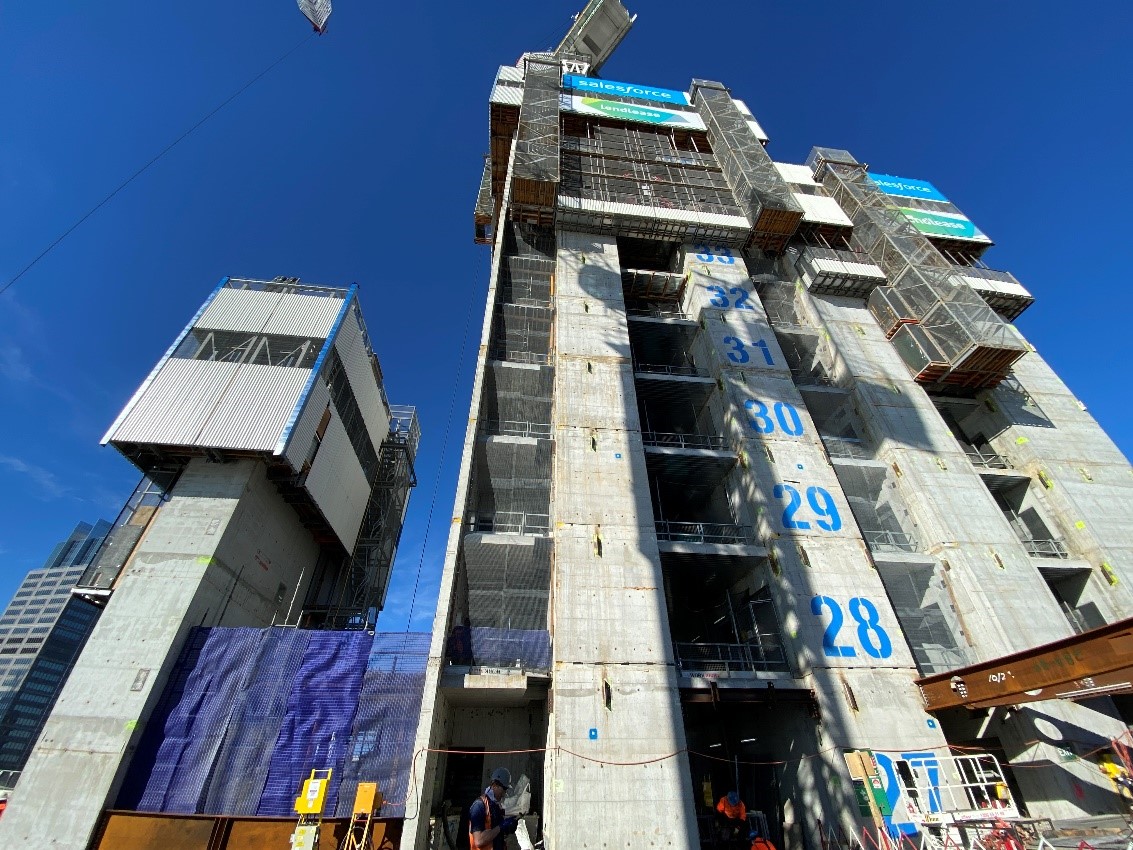 C-Core Jumpform (Left), High-Rise Jumpform + Lobbies (Centre) and Mid-Rise Jumpform + Lobbies (Right)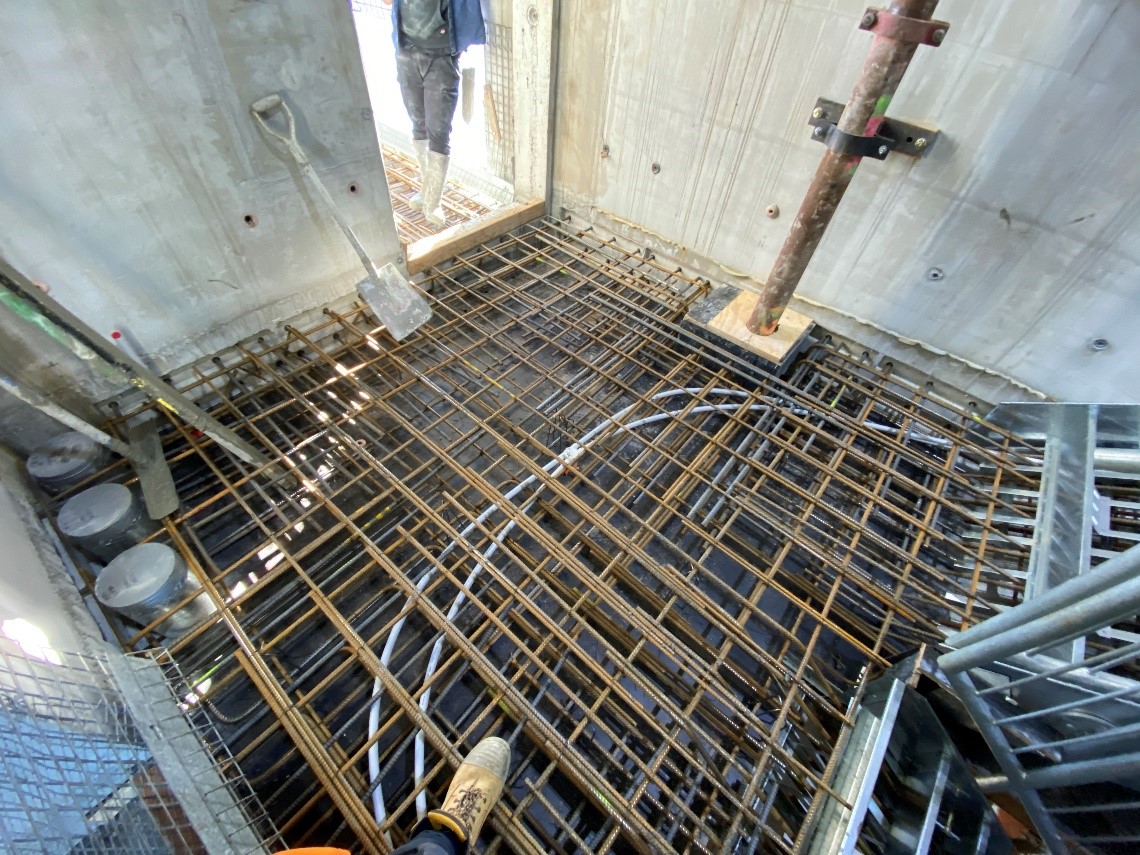 Core-Stair Inspection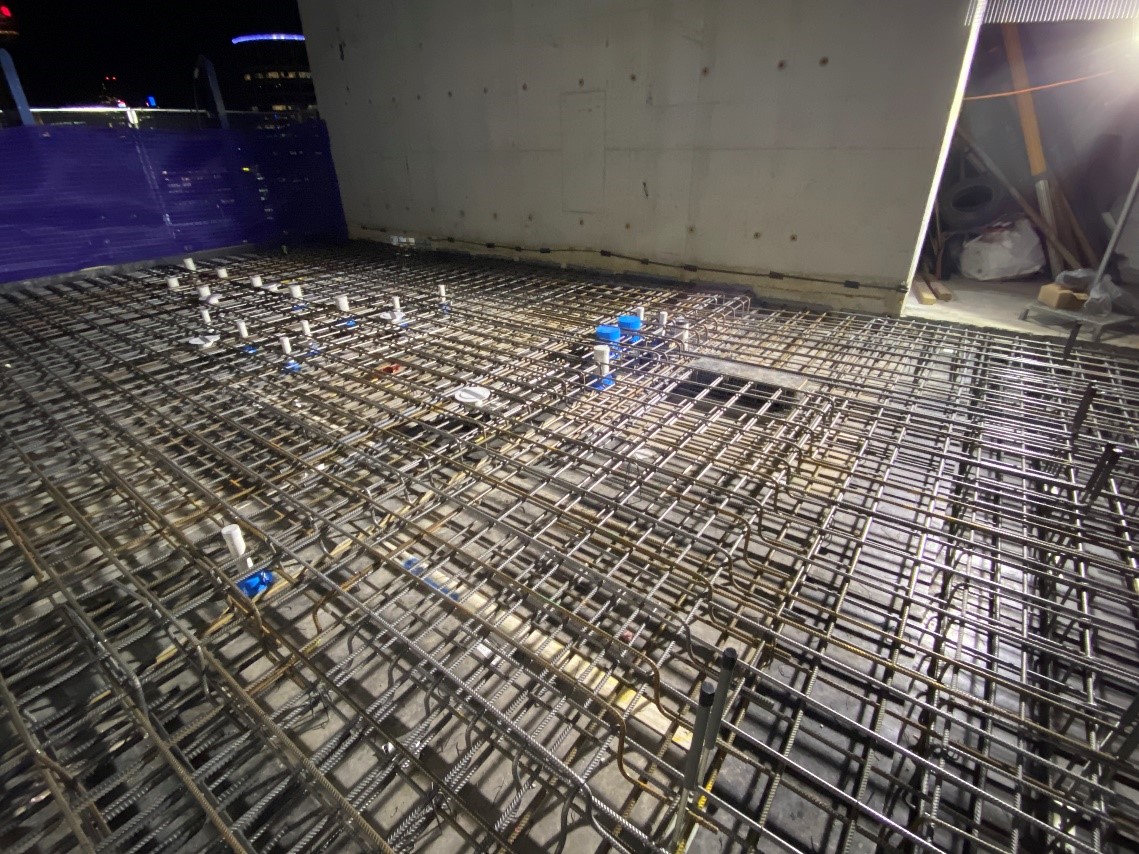 Amenity Slab Inspection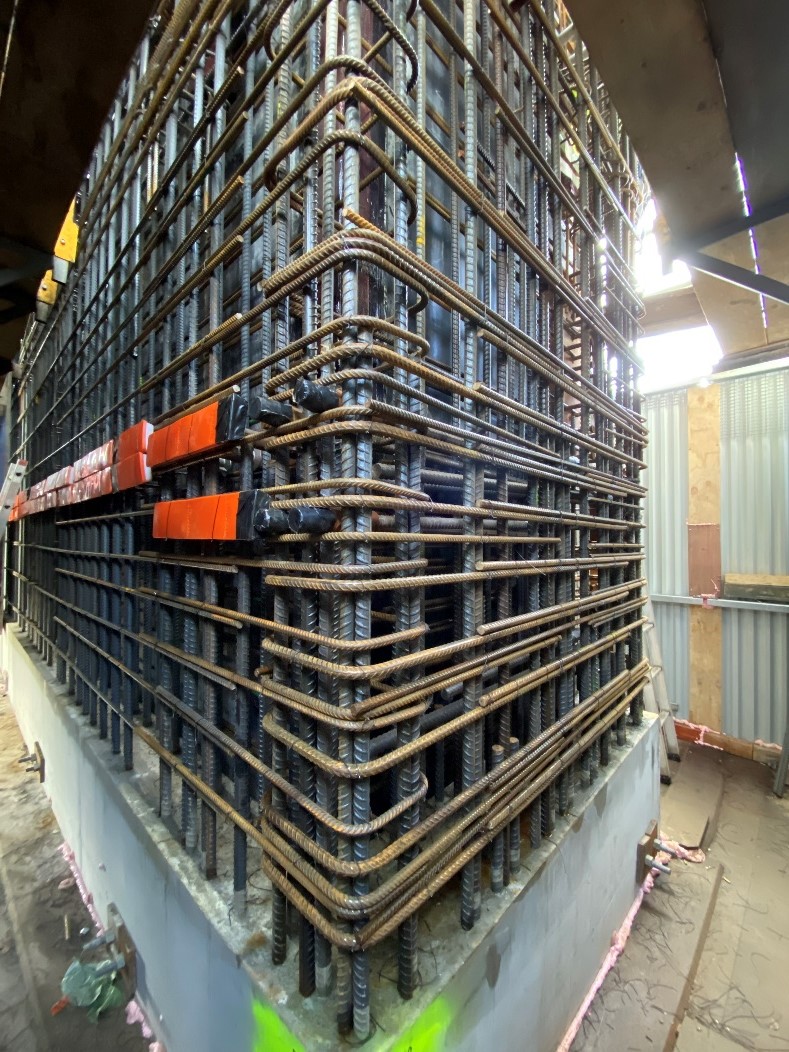 C-Core Inspection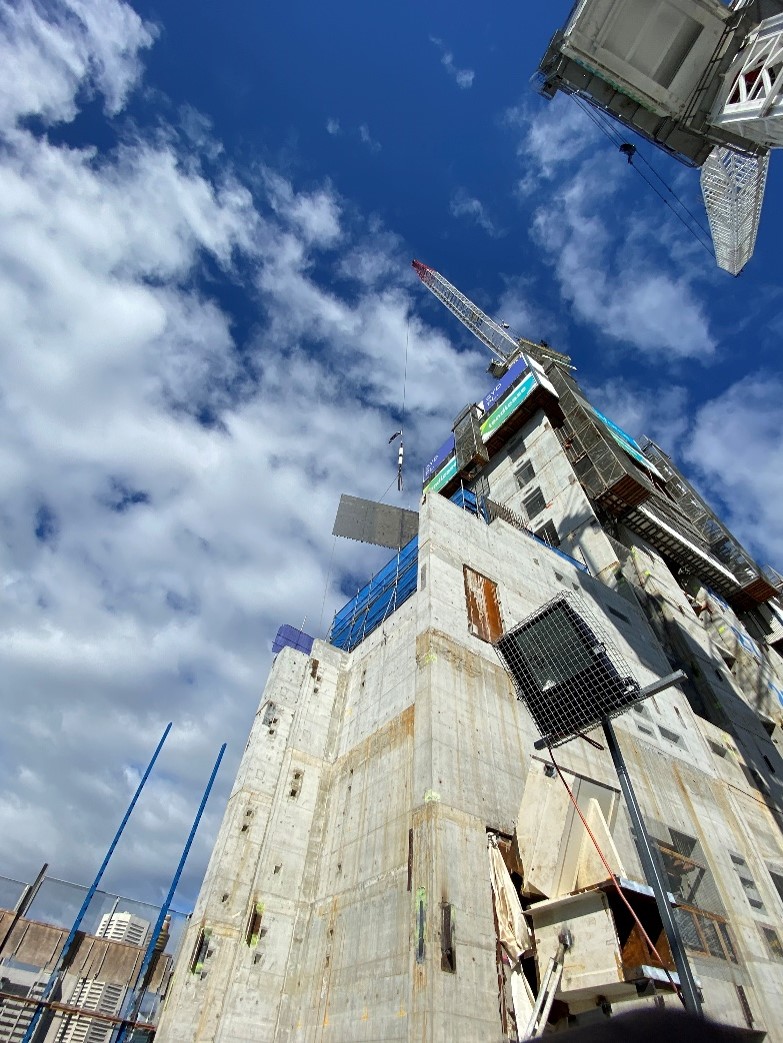 C-Core Jumpform Assembly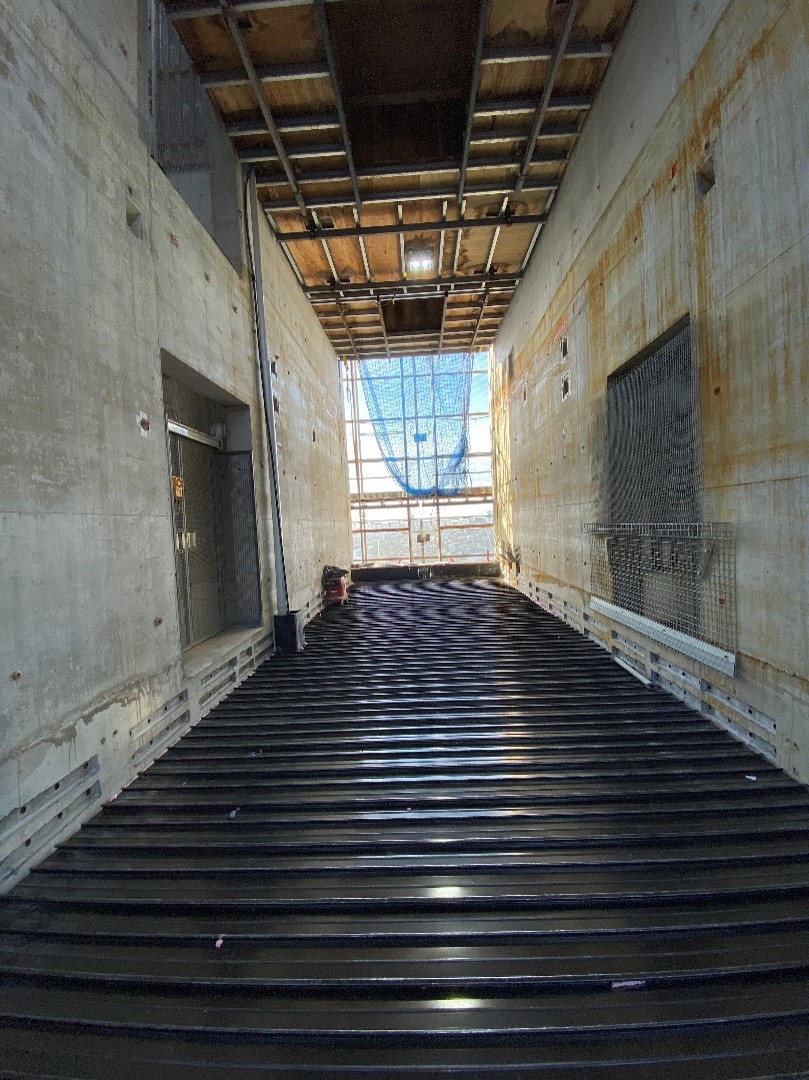 Core Lobby Non-Conventional Formwork Install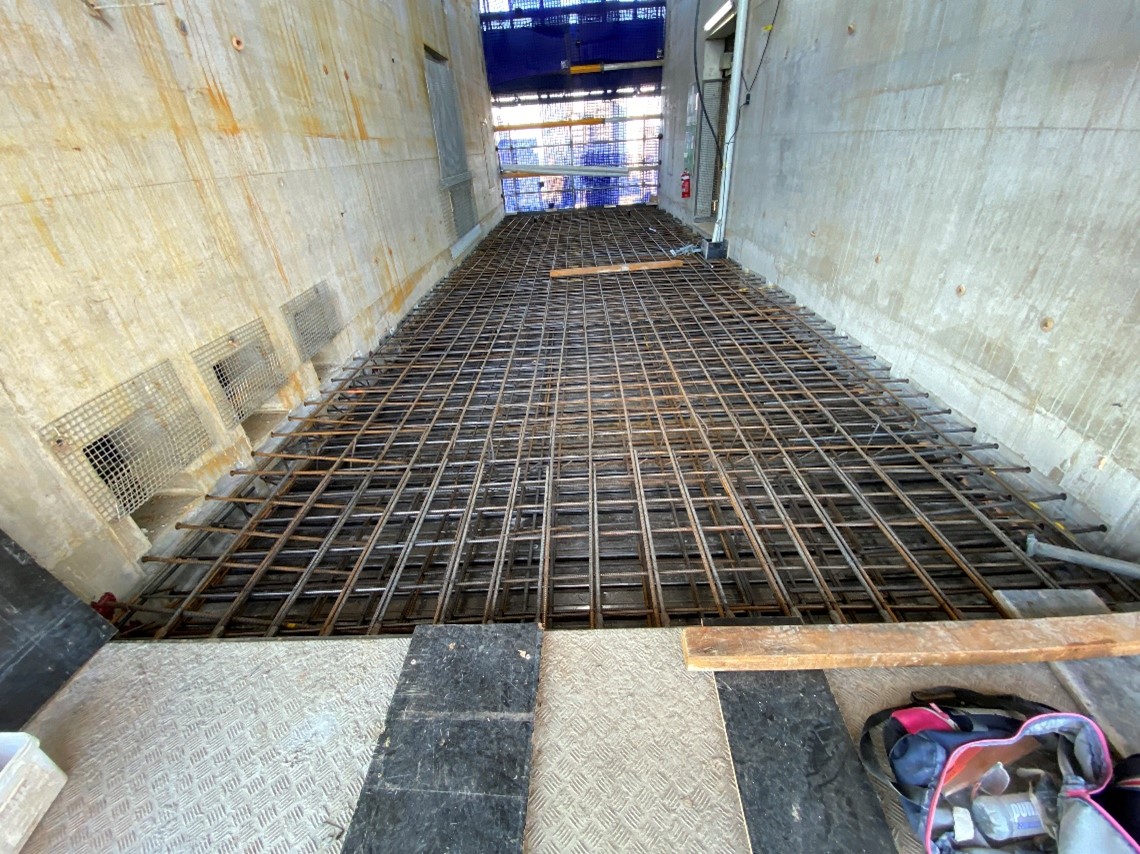 Core Lobby Inspection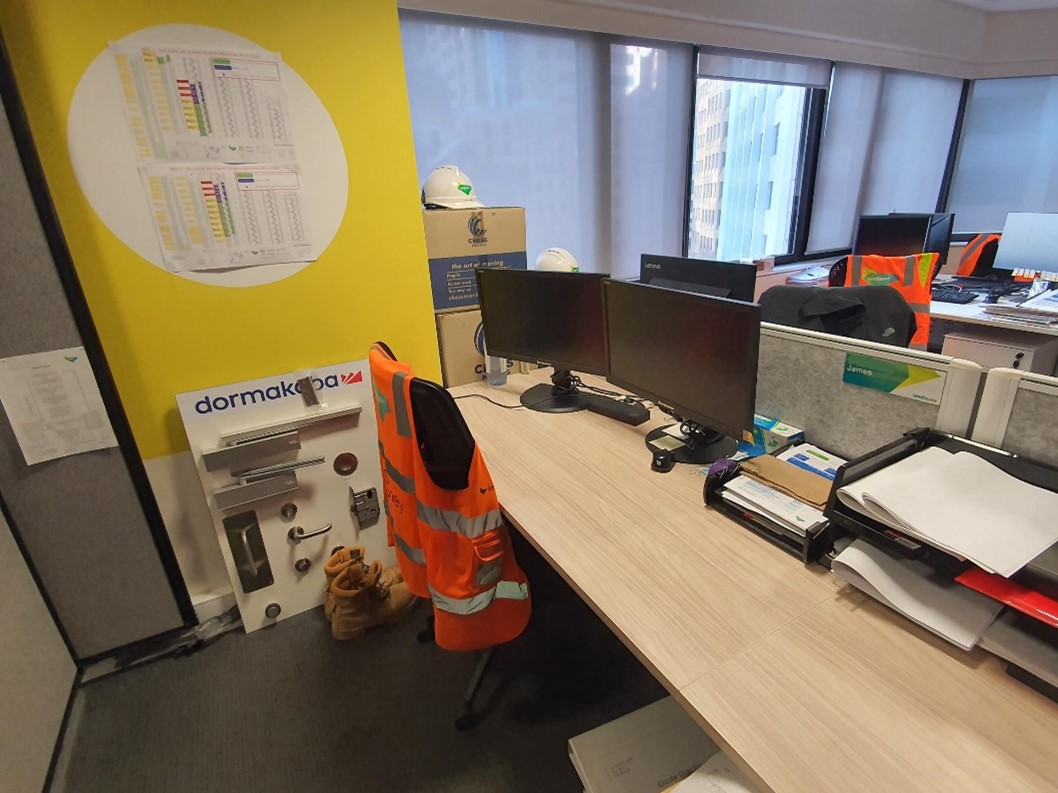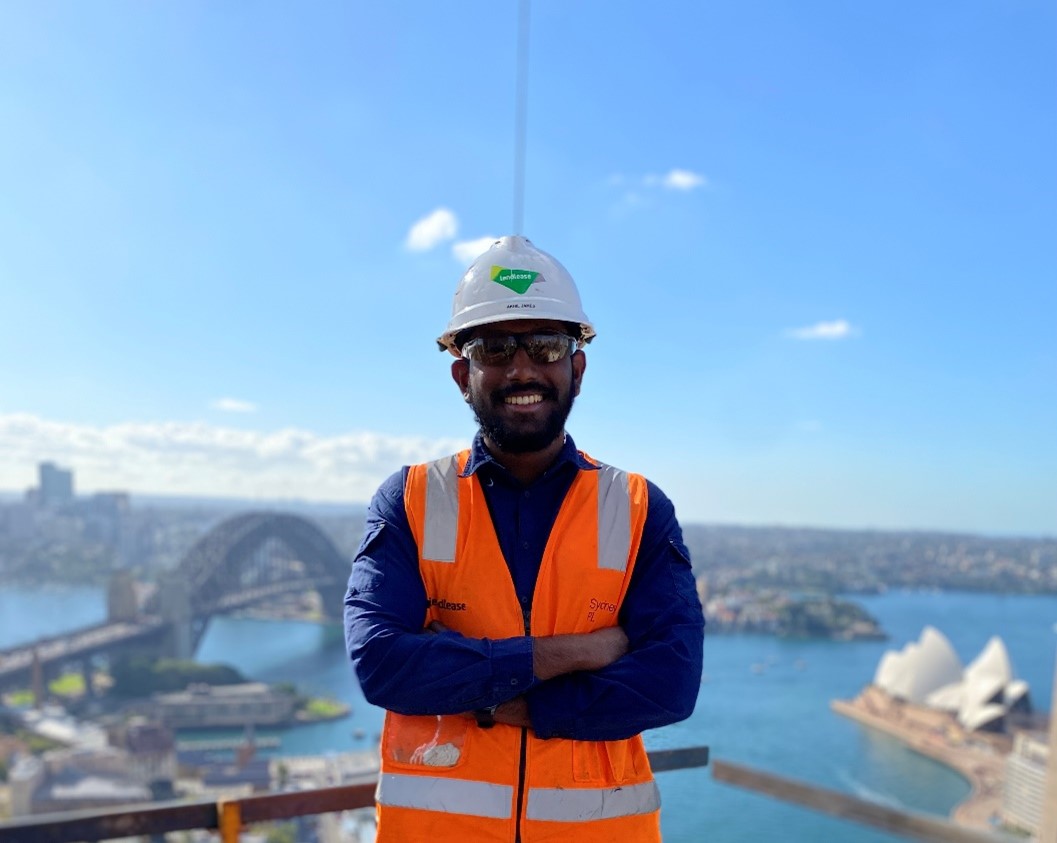 Perks & Benefits
Lendlease
---
Lendlease Employee Health and Wellbeing
Our Benefits
We offer our employees something more, with opportunity to grow in every role.
Lendlease employees have a 5 in 7 working roster for project based roles, 3 extra days leave for wellbeing, free annual flu vaccinations and health checks, access to the Employee Assistance Program and Mental health support and options to salary sacrifice, as well as variety of flexible work and parental leave options.
A Graduate role with Lendlease is permanent role designed as a strong foundation to build your successful and enriching long term career with us. Throughout your two years on the Global Graduate program and beyond you will have access to the numerous benefits that Lendlease provides to employees and enjoy a culture that cares about you.
Health & Wellbeing
We are committed to taking care of the people that keep our company thriving. We offer benefits and initiatives that will enhance your health and wellbeing, from nutrition and subsidised exercise programs, to wellbeing leave, to a suite of mental health programs offered to all employees and their families
Balance
We believe that if people are healthy and happy at work, they will deliver their best performance. We offer many ways to balance your career and your personal life, including options to work flexibly, purchase additional annual leave, and extensive family support benefits.
Recognition
We believe high performing employees drive business growth. We support our people through ongoing engagement, by providing learning and development opportunities for future career progression and by recognising and rewarding exceptional achievements.
Innovation
Innovation is in our blood. We're backing ourselves, investing in innovation and want to empower everyone to innovate. Ideas don't have to be big – if the idea results in a change that adds value, we're supporting it.
Inspiring Workplaces
We create the best places for our employees. You'll work with smart, passionate people in innovative workplaces that are modern, collaborative and facilitate agile working, with healthy snacks and plenty of breakout areas for social connection.
Lendlease Foundation
Lendlease Foundation is a dedicated function focused on nurturing and supporting our social responsibility, enriching the lives of our people and their families, and aiding charities and communities where we have an involvement.
Diversity and Inclusion

Lendlease
---
Diversity & Inclusion at Lendlease
We believe that when we respect and harness differences and when inclusion is part of how we behave every day, we can create happier as well as more creative, innovative and productive teams.
Lendlease supports diversity and inclusion in the workplace. We want everyone to come to work and feel safe, empowered and motivated to be the best they can be, as the person they are.
We have a range of policies, programs and initiatives to support our Diversity & Inclusion strategy and our key focus areas:
Embedding flexible work
Driving greater gender equity
Building inclusive workplaces
Inclusive Workplace
Lendlease strives to be a place where our employees feel valued and heard. We know diversity and inclusion is as important to people's wellbeing as it is to Lendlease's success and future innovation.
Flexible Work
At Lendlease we encourage flexible ways of working and empower our leaders to think differently about where, when and how work is completed in order to meet professional and personal goals. 
Types of flexible working arrangements include:
work from home
flexible hours
additional purchased annual leave
part-time hours
job sharing and
career breaks
Our performance discussions include a conversation each year around wellbeing and flexibility.
LGBTIQ+

Lendlease
---
LGBTI (Lesbian, Gay, Bisexual, Transgender, Intersex) at Lendlease
In 2018, Lendlease was awarded the Australian Workplace Equality Index (AWEI) Platinum Employer, recognising our long-term efforts in driving workplace inclusion for our LGBTI colleagues.
Our teams are diverse; primarily because of the different people we employ but also due to the environments where our people work. More than half of our team work in non-traditional offices, such as construction sites or retail centres. Considering this, we take advantage of days of significance, such as Wear it Purple Day and IDAHOT Day, to ensure our message of inclusion reaches our entire team, regardless of how remote they may be. We have team meetings, generate conversations, help educate and most importantly have fun.
Wear it Purple
Wear It Purple is a youth-led organisation that supports and empowers rainbow (including sexuality and gender diverse) young people. Founded by two Australian teenagers, the annual Wear it Purple Day has grown into a global celebration of diversity, inclusion and pride.
IDAHOT Day
The International Day Against Homophobia, Transphobia and Biphobia is observed on May 17 and aims to coordinate international events that raise awareness of LGBT rights violations and stimulate interest in LGBT rights work worldwide.
Disability Support

Lendlease
---
All Abilities at Lendlease 
Places can only be their best when they are accessible. Lendlease is committed to creating accessible places, both for our customers in construction design, but importantly also, for our employees in workplace design.
Workplace Adjustments
Lendlease is committed to creating accessible places that are barrier-free for our customers and employees. We have processes in place and where possible, approve individual adjustments to support the varying needs of our employees, including people experiencing disability, injuries or who have another reason that may require a workplace modification.
Memberships
Lendlease is a member of the Australian Network on Disability (AND), a peak body on disability and accessibility in Australia.
Mental health
Lendlease places a major focus on mental health which forms a crucial part of our Health & Wellbeing Framework. For more information on mental health and wellbeing initiatives, visit the Lendlease Foundation.
National Relay Service (NRS)
The NRS, an Australian Government initiative, is a telephone service than can facilitate our connection and engagement with employees and customers who are deaf, or who have a speech or hearing impairment.
Visit http://relayservice.gov.au/ for further details about the NRS service.
Lendlease ran the National Relay Service training across Victoria and New South Wales for any employee who interacts with others via phone, including recruitment specialists, and customer service teams.
International Day of Persons with Disability
Lendlease acknowledges the UN-sanctioned International Day of Persons with Disability, a day that raises awareness on how we can create a more inclusive and equitable world for persons with disabilities.
PACE Mentoring Program
Lendlease is a supporter of the PACE Mentoring Program, which connects jobseekers with disability to mentors from leading organisations, aiming to help them gain experience in a workplace setting, develop skills and expand their networks.
Gender Equality

Lendlease
---
Gender Equity at Lendlease
At Lendlease, we recognise that there hasn't always been an equal playing field for women and we are committed to ensuring everyone has access to the same opportunities and resources to reach their full potential.
Attracting and retaining women at Lendlease is about finding the right people for the right roles, and making sure our women have the support and encouragement to be their best. To do that, we have a range of initiatives in place including leadership and other development programs, generous paid parental leave schemes, support for parents and flexible work practices to name a few.
Lendlease has a clear action plan to address gender pay gaps. We are committed to achieving pay parity and rigorous pay equity reviews are undertaken annually.
In recognition of our ongoing efforts, the Workplace Gender Equality Agency (WGEA) has awarded Lendlease as an Employer of Choice for Gender Equality (EOCGE) for the last 3 years.
Aboriginal & Torres Strait Islander People

Lendlease
---
Lendlease Reconciliation Action Plan
Indigenous Employment & Career Development at Lendlease
Our Reconciliation Vision:
Our vision for reconciliation is one in which all our employees acknowledge and celebrate the proud heritage of Australia's First People and promote opportunities for career development, sustainable business growth and economic participation of Aboriginal and Torres Strait Islander Australians within our sector.
We have partnered with a number of Indigenous organisations to create more inclusive workplaces for Aboriginal and Torres Strait people.
Programs include:
Online Cultural Awareness Training through Arrilla
Face to Face Training by Mirri Mirri
Indigenous intern program with CareerTrackers
Australian Indigenous Mentoring program with AIME
Young Indigenous Pathways (YIP)