Lendlease Graduate Programs & Internships
No matter who you are, if you have the drive and talent to progress, when you are part of Lendlease, you're going places. Our people are the greatest contributors to our success and underpin our ability to create innovative and sustainable places around the world.
Past Lendlease Graduate Hiring Statistics
If you're interested in working at Lendlease, understanding when they have opened up applications for their graduate programs, graduate jobs and internships is helpful knowledge to have so you know when you might need to apply. Use the below information to see when Lendlease hires graduates, but more importantly what graduate degree's and other student attributes they target for their jobs.
---
Job types
Graduate Jobs (69%),

Internships (27%),

Entry Level Jobs (2%),

Part Time Student Jobs (2%),
Disciplines
Accounting (6%),

Administration (10%),

Architecture (12%),

Banking and Finance (12%),

Business and Commerce (19%),
Locations
Melbourne (52%),

Sydney (48%),

Brisbane (33%),

Perth (25%),

Darwin (21%),
Work rights
Australian Citizen (100%),

Australian Permanent Resident (100%),

New Zealand Citizen (94%),

Australian Bridging Visa (2%),
Lendlease is a globally integrated real estate and investment group with core expertise in shaping cities and creating strong and connected communities.
Being bold and innovative characterises our approach and doing what matters defines our intent.
We create award-winning urban precincts, new communities for older people and young families just starting out, retail precincts, and workplaces to the highest sustainability standards. We are also privileged to create essential civic and social infrastructure including state-of-the-art hospitals, universities and stadiums around the world.
Lendlease has been entrusted with many projects of public, cultural and social significance: constructing the Sydney Opera House, creating the National September 11 Memorial & Museum in New York, and restoring and renovating historic buildings such as London's Tate Britain and National Theatre.
As we expand our experience and our footprint, we aspire to continue creating places people want and care about, and providing value for securityholders and the broader community.
Headquartered in Sydney, our people are located in four operating regions: Australia, Europe, the Americas and Asia.
We believe in finding better ways
We create places that leave a positive legacy with a focus on safety, innovation and sustainability.

Our values
Our core values guide our behaviours and underpin our Code of Conduct. These are the values we live by every day.
Respect - Be dedicated to relationships
Integrity - Be true to our word
Innovation - Be challenging in our approach
Collaboration - Be one team
Excellence -Be exceptional in everything we do
Trust - Be open and transparent
Whatever matters most to you. Whatever you want to achieve – professionally, personally and for the people and places around you – you can do it with Lendlease. 
Our Program offers a whole range of learning and development opportunities in Construction, Digital, Enterprise Support and Property Development. And it's open to graduates from a wider variety of degree disciplines than you might think. Whichever Stream or team you join, you can keep on growing and making the progress you want. There's nothing to stop you, and everything to enable you. 
With our focus on digital and innovation, you can think creatively on industry-transforming work. You'll apply the expertise you gain to a range of life-improving, community-connecting projects. And you'll help us create safe, sustainable places that leave a positive legacy for generations to come. 
You'll be based here in Australia. But you'll work with a global outlook, collaborating with international colleagues on projects that help create a better world for everyone. You'll play your own, meaningful, part in protecting the environment through our commitment to sustainability and Mission Zero targets. 
This is a place where people matter. So you'll thrive in a supportive, inclusive environment that takes care of your wellbeing too. In everything we do, we believe in finding better ways. 
Join us and do your right thing.
Why our Graduate Program?
Our goal is to build capability for future growth across our global regions. Our program supports this goal with an aim to transition a university graduate to a Lendlease Graduate who has foundational skills, knowledge and tools to navigate real world situations and adapt to future needs quickly.
The two-year early-career talent program is built around rotational experiences that enable graduates to practically apply their learnings and enhances their knowledge and skills within our industry. Technical job-family learning is embedded into on-the-job development depending on the program stream and graduates are expertly coached to develop a development pathway that is specific to them. Simply put, our Lendlease Graduate learns through doing.
Over two years the Lendlease Global Graduate Program will kick start your career and support your transition to the workplace. We have specifically taken a global approach, so that we create a consistent experience for all our graduates, no matter where in the world you are or which program stream you are part of. The development that you will get on our program will provide you with the foundational skills, knowledge and tools to navigate the workplace and help you adapt to the challenges and opportunities that are ahead.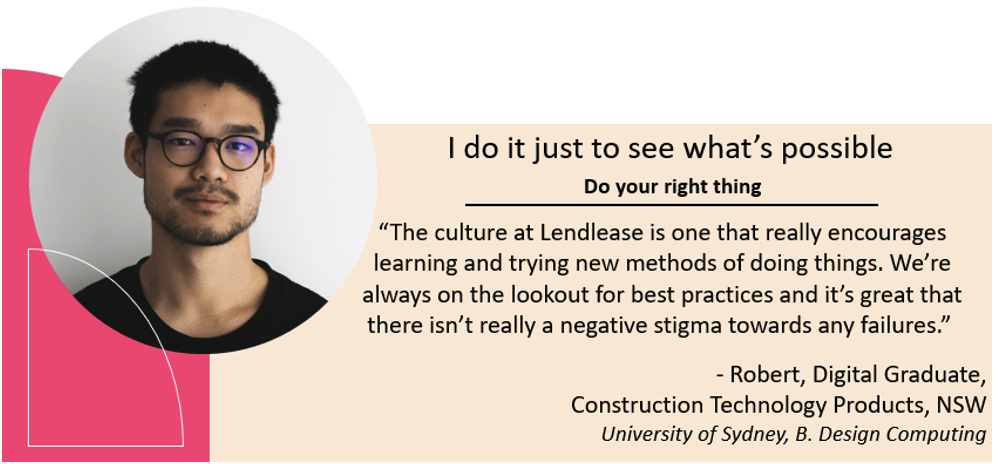 Career paths
Our Program offers a whole range of learning and development opportunities in Construction, Digital, Enterprise Support and Property Development. And it's open to graduates from a wider variety of degree disciplines than you might think. Whichever Stream or team you join, you can keep on growing and making the progress you want. There is nothing to stop you, and everything to enable you.
Want to know where your skills can take you? Lendlease accepts various degrees that are eligible for our Graduate program.

Graduate Program
Lendlease
---
The Global Graduate Program supports the professional and personal development of all newly employed Lendlease graduates through a structured and supportive environment. The purpose of the program is to transition a university graduate to a Lendlease Graduate who has foundational skills, knowledge and tools to navigate real world situations and adapt to future needs quickly. It is designed to expand their insight and general knowledge of our industry whilst providing the opportunity for graduates to gain practical experience in a range of sectors across the property and construction industry.
Strategic approach to recruitment

Graduate positions are linked to key business capabilities required for future growth of Lendlease

2-year program with rotational experiences

Provide new experiences, broad skill development and greater business understanding

Competitive market pay

Underpinned by a highly competitive graduate compensation framework

Bespoke learning program

Immersive and holistic experience where learning is anchored in real work, and a combo of highly individualised experiences with collective elements to strengthen ties with peers

Support Network

A ready-made support network bridging the gap between university and workplace; including a Buddy, Mentor, dedicated Program Manager, Peer Network and access to senior leaders

Governance framework

Key business network dedicated to supporting the Global Graduate to bat for our graduates at all levels of the business
What is perhaps the most unique proposition of our program is the immersive and holistic learning experience designed with our graduates in mind. Our graduates will start on a journey of self-development and self-discovery as they enter the first year of the program which is centred around curiosity. The first year is to discover our business, discover how you work with others and start building the foundational soft skills to help you transition into the workplace. The learning program is a combination of highly individualized experiences through a guided Choose Your Own Adventure learning stream, that we help our graduates build into an individual development plan designed to accelerate their development. It is paired with group Collective learning that explores self, using behavioural assessment tools and focuses on three key aspects:
Understanding self
Building team connections and
Cultivating stakeholder relationships.
Each learning interaction is intentionally built over time in a program of learning. In between the learning interactions are small, guided peer-coaching sessions that will bring what you've learnt in the Collective Learning to your real-life working environments. Graduates will then shift gears in Year 2 to concentrate a higher responsibility to self and others, and to be ready for the next step in your career post-program. You will be given opportunities to prove your readiness to learn and to lead others in Year 2 and we will challenge you with new learning experiences that increase your responsibility to not just your own learning, but to others as well.
Undergraduate Program
Lendlease
---

Our 12-week Lendlease Building Undergraduate Program over Summer (November to February) is a hands-on, immersive learning experience that introduces you to some of the industry's brightest minds, giving you insights into areas such as construction, design, digital and sustainability
What you need to know:
This program is suitable for students in their penultimate (second last year) of study in a related degree
You must complete an application form and submit your academic transcript, and proof of Australia residency or citizenship 
The recruitment process and subsequent offers will conclude by October.
We value diversity and are committed to creating inclusive experiences for all of our people and candidates. We encourage everyone to bring their whole selves to work and embrace different ways of working through flexibility.
** Applications open 1 August 2022
Be challenged. Learn from the brightest in their field.
Choose to make an impact!

Careers in Construction harness the expertise in infrastructure, design, development, investments and management to deliver a project from conception to completion. This includes site construction management, commercial, design and project management. Graduates in the Construction field will specialise in site construction management across a variety of project sizes and values, commercial management or design and project management which could be focused on a region or specific sector such as but not limited to health, defence, education, retail or commercial. 
Roles within our Construction Unit:
Site Engineer: Working onsite on one of our Building projects, you will be part of the wider construction project team. You will be responsible for a specific trade package where you will coordinate and manage contractors and suppliers to ensure construction is completed within schedule and cost. You will also be involved in supporting the project across safety, quality and management of project documentation.
Commercial: You will undertake rotations within various commercial functions to develop a holistic understanding. You will gain exposure to bids and proposals through Precontracts & Tenders; learn about Head contracts and sub contracts through Legal; develop skills in forecasting, cashflow management and reporting within Project Finance. You will also be placed within one of our construction projects to undertake procurement, contracts administration and project reporting. 
Cost Planning: You will learn key skillsets in providing quick and accurate measurement of quantities, contributing to the production of conceptual and detailed cost plans, estimates and value engineering on a range of major projects, as well as learning how to reduce risk and analysing data in controlling design to a defined set of cost parameters. Through this you will develop an understanding of market conditions with regards to applicable rates, subcontractors, supply chain and our competitors.
Design and Engineering: Working within our integrated design and engineering team (architecture & urban design, structural, services, environmental, digital modelling), you will work across a broad range of projects and sectors. You will collaborate with project teams (design and delivery) and other functions (procurement, planning and cost- planning) to deliver best practice project strategies and outcomes that encompass people, process, technology and information considerations.
Safety: You will become a specialist in Safety through developing comprehensive knowledge of how the business designs, implements and embeds our principles of safety and methodology at both a project and corporate level. You will undertake analysis to identify safety and wellbeing issues to inform and develop new strategies and initiatives, support current safety programs and gain advisory experience within one of our Building projects.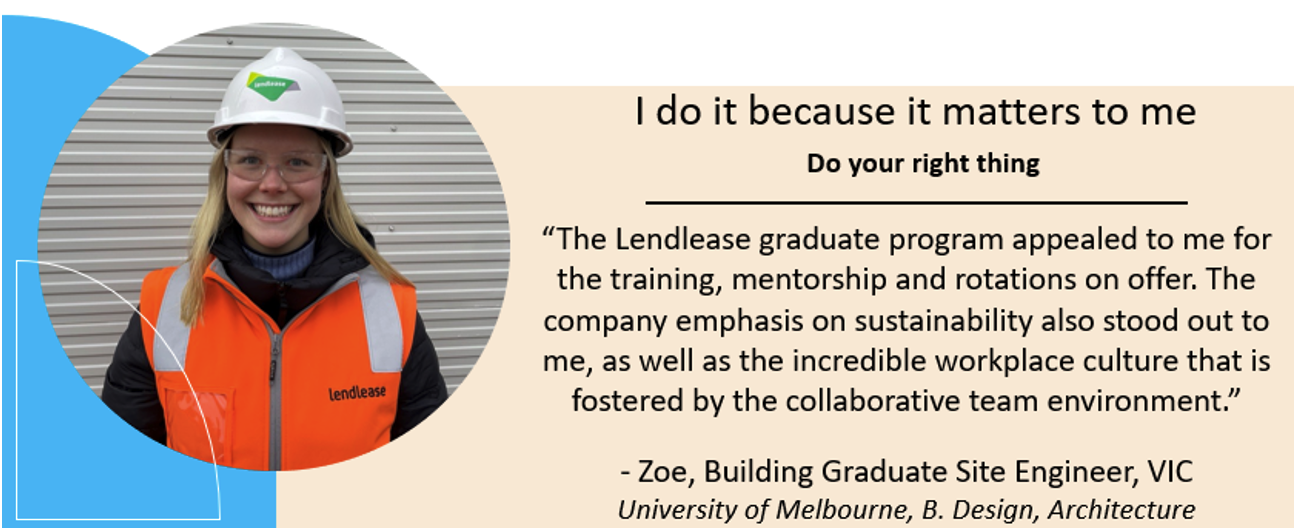 Investment Management
Lendlease
---
At Lendlease our investment professionals manage approximately A$40.0 billion globally in property assets. We invest on behalf of our pension funds, sovereign wealth funds, investment managers and insurance companies, offering our investment partners access to quality property assets.
In partnership with governments, private clients, joint venture partners and investors and with investment in design and new technologies, we have a proven track record in invigorating places and creating and managing complex, mixed use property developments. These range from residential apartments and shopping centres to commercial precincts and retirement living communities. 
The Development segment of Lendlease is involved in the development of communities, inner-city mixed-use developments, apartments, retirement, commercial assets, and social and economic infrastructure.
Apartments: Smart thinking about how we design and build apartments helps foster a sense of belonging and community. Through our expertise in developing the best urban places, combining apartment buildings, retail and workplaces, we help people to live better within thriving, authentic urban places – and with work and play nearby. 
Retail: We are a leader in the retail space, with our successful model offering an integrated and comprehensive property platform for investors. Our specialists engage in all facets of the business, from land purchases, masterplanning, mixed use development, design and construction, through to asset management. 
Retirement Living: Lendlease is one of Australia's largest owners, operators and developers of senior living communities. Our retirement communities offer more than just accommodation – they focus on creating the best places in which to live. 
Superb dining, retail and entertainment facilities are typical features of our developments, while we also offer a range of services and activities that focus on the mind and body. Our homes are a great place for seniors to enjoy their retirement years while exploring the culture and highlights of their local community. 
Urban Regeneration:  Urban Regeneration allows us to help cities solve these challenges by revitalising unused and underutilised spaces and turning them into places people want to live, work and play in. 
Using our integrated delivery model and global scale, we partner with cities, governments and communities to create the best shops, workplaces, apartments and public areas and to deliver spaces that are functional, enjoyable and foster genuine connection between people and place. 
Communities: From urban villages in exclusive waterfront locations to large, fully planned communities with integrated town centres, our goal is to deliver the best places that offer lifestyle benefits for current residents and future generations. We work in consultation with the local community, businesses, councils and our partners with the aim that every development we create is a landmark project. 
Enterprise Support
Lendlease
---
A career in Enterprise Support will have you supporting the functional aspects of our business. Below are the key functions that are covered under Enterprise Support:
Corporate Affairs and Marketing: You will be offered challenging and diverse opportunities to build your knowledge and experience, while being exposed to the full spectrum of corporate affairs. Rotations include Digital Marketing, Communications, Government Affairs and Brand & Production.
Finance: Finance graduates will have the opportunity to develop a broad understanding of how Lendlease operates, through rotations across our businesses. Graduates will gain experience working within both finance business partner roles (project and/or head office) and finance functional roles (such as Finance Services, Management Reporting, Treasury, and Internal Audit). We will support you to complete post-graduate studies and attain a professional qualification in Accounting or Finance.
People & Culture: You will build a strong foundation of knowledge in our human resources function through rotations with our operational support and business support teams, and exposure to our Group Centres of Excellence including Compensation, Benefit & Performance, Learning & Development and Talent & Resourcing
Practices: Practices is a new, formalised approach at Lendlease that will align Global strategic priorities across our regional businesses and create global networks of people to share knowledge to improve project outcomes. You will build foundational knowledge in business improvement and cultural change initiatives, as well as developing skills in how to interact with a diverse range of individuals. Practices graduates will be motivated by challenge and change whilst being driven to deliver results through your resourcefulness. 
Risk: You will be part of a specialist risk community where focus will be on the development of your knowledge and understanding across Risk and Insurance both within our Group Function as well as in the core business areas. You will help embed risk management practices into the business to help drive the organisation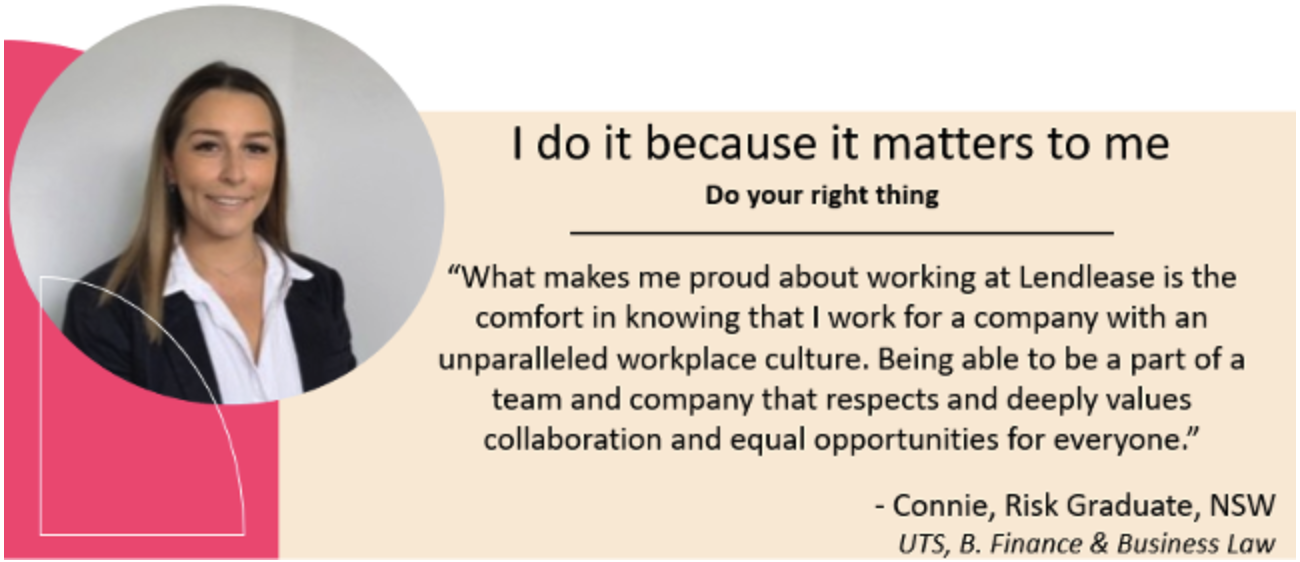 Lendlease Digital is a global business unit that harnesses over 60 years of Lendlease applied experience to create digital solutions that transform how and what we build. In the Lendlease Digital Graduate Program, you will have the unique opportunity to manage the latest technology, create and design new products for our market. These experiences will create new and differentiated skill sets that will help set you apart and truly be a "unicorn" of the IT industry.
Autonomous cars? Now is the time for autonomous buildings. At the heart of our new investment is Podium – an industry first property lifecycle platform that's designed to simplify the complex interdependencies in the built world. It delivers a powerful solution that provides our industry with insights, clarity and performance never experienced before.
Lendlease Digital also support the wider Lendlease Group with technology services and digital products that enable our people to do their best work.
Graduate Opportunities within Digital:
Data Analyst: Discover, interpret, and analyse patterns hidden within multiple data sets. In your rotation as a Data Analyst you will contribute to the delivery of high quality data analysis and generate actionable insights to help support the business with decision making.
Product Analyst: Gather user requirements, build and communicate key insights about future product opportunities. During your Product Analyst rotation you will be part of an agile and collaborative team that is responsible for delivering and improving our digital product and service offerings at scale.
Software Engineer: During your Engineering rotation you will join a team of highly skilled software engineers and gain experience creating digital products and services. You will learn all about software development, the cloud infrastructure that supports it and translate customer requirements into technical outcomes.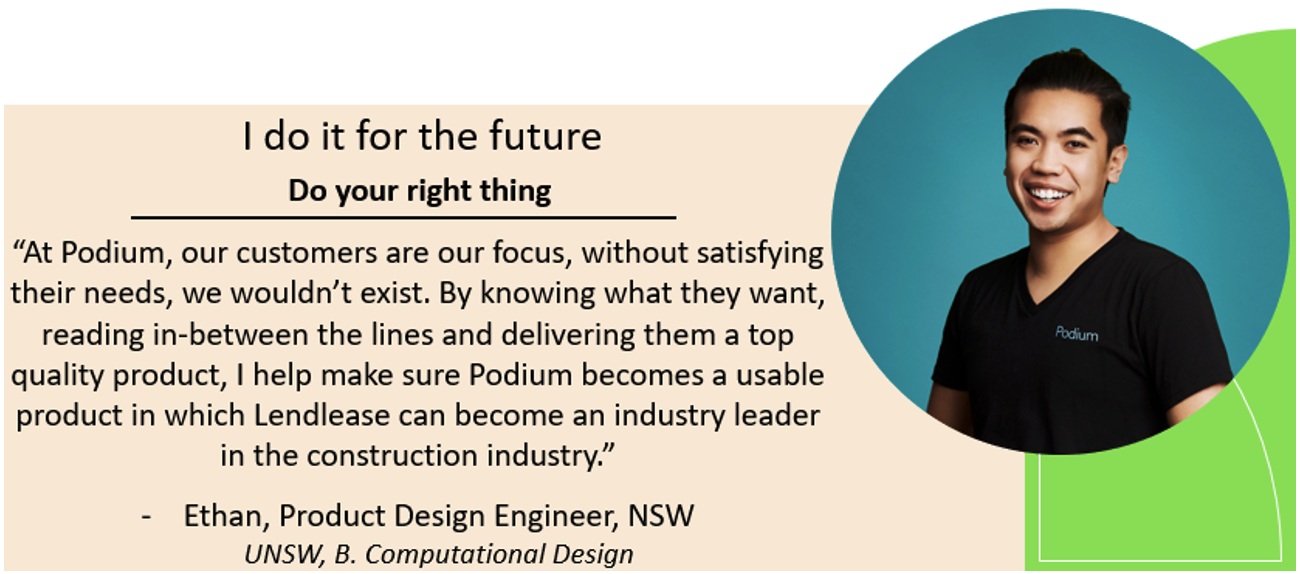 Application Process
Lendlease
---
Below is a guide to our Graduate application and assessment process.
1. Submit your application

Submit online application, CV, transcripts and right to work. Make sure you include details about work experience, education and extracurricular activities.

2. Complete the Blended Online Test

We want to get to know you more holistically – we'll take a look at cognitive ability, personality and situational judgement. You'll be able to complete this in one sitting and receive feedback on your performance. 

3. Complete a video interview

Complete the video interview at a time convenient to you. We'll be covering questions across the breadth of our Lendlease Graduate Agilities and also give you a real insight into the Grad roles and expectations.

4. Attend a virtual assessment session

Selected candidates are invited to one of our assessment centres which will include a group assessment activity and an individual interview with the business. This is where you can shine amongst your peers and share with us the reason why you want to join Lendlease as a Graduate. 

5. Commence Graduate Program

If you are successful you will receive a phone call from our recruitment team to offer you a position within our program and all you need to know about joining Lendlease. Congratulations!
Employee Profiles
Lendlease
---
Meet some of our current graduates and see what they have to say about their experiences on the Lendlease Graduate program and how their degree has helped them get to where they want to be. 
---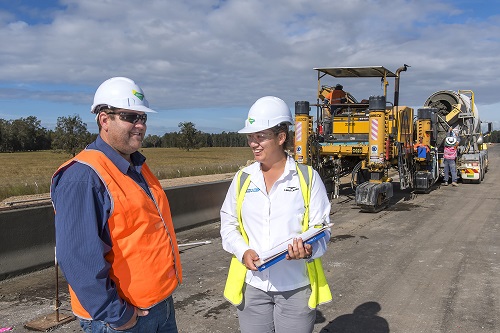 Angela Greenlees
Lendlease Graduate Program Stream

Engineering (Site Engineer, OH2Ku)
Degree and University

Bachelor Civil Engineering with Architecture, UNSW
Were you a member of any university societies?
Yes – CEVSOC (Civil and Environmental Engineering Society) and WIESOC (Women in Engineering Society)
What have you found to be your most valuable learning opportunity since joining Lendlease? (either on the job or a formal course)
I truly feel like I'm learning every day on the job, but the Influencing Skills Training session that we did as part of the structured grad training program was the most valuable for me. I'm still developing my influencing skills and it's a useful talent to have under your belt.
Have you faced a situation where you have been asked to work on something that you were not particularly looking forward to, but it ended up being a valuable learning experience?
I've never had a negative outlook on a situation before it began – I find that your attitude going into a task influences the work that you do. I was nervous about my presentation, but a big part of the learning experience was realising that I had built up a huge support network in my project team. Everyone was so willing to help me along the way, and they were all proud of me afterwards!
What have you enjoyed most about working at Lendlease?
The culture onsite and within Lendlease is one of support. Everyone here wants to see you succeed and we all want to share in your success!
What is the most challenging task you have faced since joining Lendlease?
Learning how to manage stakeholders in a continuous cycle. Every time you have a disagreement or a differing view you should be thinking in long term time frames. Every conversation that you have will influence the outcome of future negotiations.
What advice would you give to students considering applying for the Lendlease graduate program this year?
Apply! You have nothing to lose and everything to gain. It's a fantastic program and a great company to work for.
---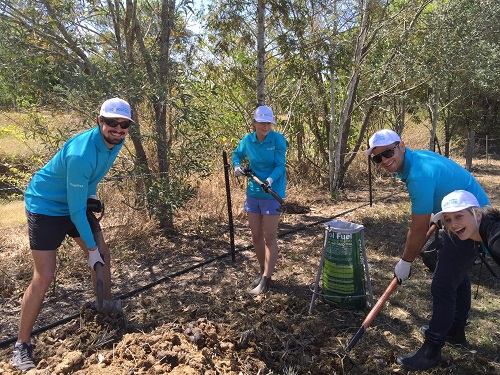 Johnny Incampo
Lendlease Graduate Program Stream
Property Development
Degree and University
Bachelor Property Development and Real Estate - Griffith University
What made you decide to accept a graduate role with Lendlease and to choose the particular program stream?
I was attracted to Lendlease being such a diverse organisation and I believed that career growth and opportunities for various experiences would be made available as a graduate. 
I chose Property Development as I could see an opportunity to add value to a development in managing the design and outcome to ensure if benefits the users and other key stakeholders for generations to come. The opportunity to leave a legacy behind motivates me to deliver the best outcome/s.
What does a typical day look like for you? (Be realistic – are you onsite/in the office early? Is your role varied?)
I attend site once a week with the chance to be involved on the ground with the construction teams. The balance of the week I am in the office, attending meetings and often at consultant's offices or dealing with external stakeholders i.e Government departments. Often, I am onsite for inspections during installations of key items or to conduct safety assurance visits.
What work have you been most proud of since joining Lendlease?
Delivering a pitch to the Lendlease Innovation Committee for an idea that I devised and delivered the first phase of a business plan for. The innovation could see our project benefit for years to come.
What have you found to be your most valuable learning opportunity since joining Lendlease? (either on the job or a formal course)
I had the opportunity to assist with coordinating a formal design competition to find an Urban Designer/Master Planner to develop the proposed Town Centre for a project I was working on. Similar to a tender process I learnt valuable aspects of placemaking, true urban design and considerations for end users in the developments we establish.
What advice would you give to students considering applying for the Lendlease graduate program this year?
If you enjoy working as part of a team and aspire to be involved in delivering great outcomes for users of developments and in addition would love to work in a proactive, positive and flexible work environment, then don't wait apply now.
---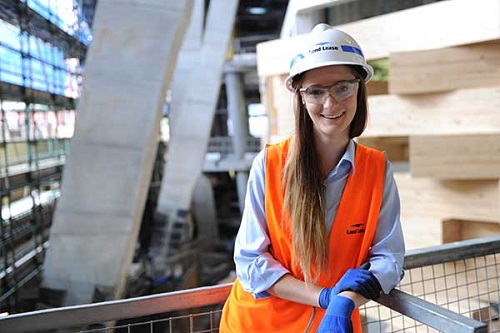 Magdalen Corr
Lendlease Graduate Program Stream
Building
Degree and University
Bachelor of Construction Project Management UTS
Were you a member of any university societies?
I competed at five University Games for the UTS Women's Football Team.
What made you decide to accept a graduate role with Lendlease and to choose the particular program stream?
I chose Lendlease not only for the exciting projects but the social conscience the company operates with. The choice to work in the building business was easy for me as I knew I wanted onsite exposure to compliment my studies (Bachelor of Construction Project Management). I did not feel a great deal of pressure however when selecting my program stream because I knew that Lendlease would guide me through the process to ensure I found the right fit.
What work have you been most proud of since joining Lendlease?
Every day is different for me and that's one of the reasons why I love my job so much. I'm onsite early and working with Lendlease site management and subcontractors to achieve the days tasks. Then it's back in the office planning and working with consultants to ensure we are all working towards the same objectives. The key focus areas for my role include managing quality, budget, time/programme and safety.
What work have you been most proud of since joining Lendlease?
Though there have been a lot of very proud personal moments, for example presenting to the Lendlease board, I believe the thing that has given me the most pride and satisfaction was being a part of a team who completes a project on time, on budget, safely and that is of a superior quality. Walking around Sydney now I can point out a few buildings to family and friends and say that I was a part of the team who built that. It's a great feeling.
What have you found to be your most valuable learning opportunity since joining Lendlease? (either on the job or a formal course)
I have been very lucky to have had a great deal of varied opportunities during my time here at Lendlease. I worked on the first Frank Ghery designed building in Australia, attended Forum15 (Lendlease's global employee workshop) and presented to the Lendlease board.
Though the most valuable learning opportunity for me is in my day to day work. I have a fantastic manager and a great team who support my learning and development. They give me the opportunity to test my skills in tackling problems while supporting me through it.
What advice would you give to students considering applying for the Lendlease graduate program this year?
I would highly recommend applying for the Lendlease Graduate Program. I was attracted to Lendlease because of the large scale projects and opportunities but I stayed because of its people and culture. There is no better place for graduates in this industry.
---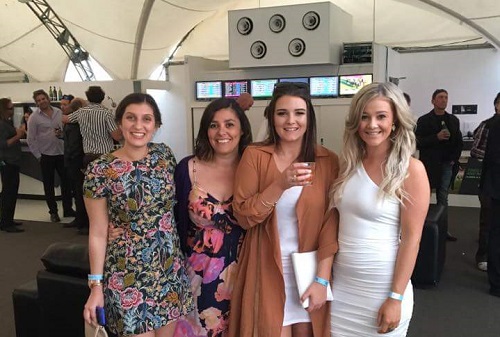 Samantha Singh
Lendlease Graduate Program Stream:

Services
Degree and University:

Bachelor of Mechanical Engineering, Griffith University
Were you a member of any university societies?
Griffith Honours College, Golden Key Society, PASS (Peer Assisted Study Session) Mentoring and Treasurer of Camping Boating and Fishing Club.
What made you decide to accept a graduate role with Lendlease and to choose the particular program stream?
There were multiple reasons why I chose to accept Lendlease's Graduate Program over other companies. For me starting my career with an Australian company was important. I felt they would have the same values and ethics as myself while focusing on the development and growth of my home country. Although Lendlease as a company was extremely appealing due to their significant growth internationally within the last few years, it was their two year Graduate Program that offered the greatest appeal. Coming out of university I didn't feel I had experience in industries to know what field I wanted to specialise in. Therefore, the opportunity to take two twelve month rotations across diverse projects provides me with the exposure and development any engineer would need entering the industry.
What work have you been most proud of since joining Lendlease?
Since joining Lendlease I am most proud of the preconstruction design review process I created. Prior to starting on the NBN project I had no experience in telecommunications. However, during my time I have development an in-depth knowledge of the technology and was solely responsible for reviewing the designs prior to construction. When it became time for me to rotate to my next project I established a preconstruction review process that was implemented into the preconstruction phase of the project. I am most proud of this as I was able to identify issues within the designs and prevent delays in the construction process which allowed us to meet deadlines as smoothly as possible.
What have you found to be your most valuable learning opportunity since joining Lendlease? (either on the job or a formal course)
My most valuable learning opportunity since joining Lendlease was when I was sent by my project manager on the Gold Coast to assist the team in Sydney. During my time in the Sydney office I was able to experience the manner in which their team completed the same work. It taught me the importance of diversity in the work place, as this was a different team of people completing the same project yet their approach was quite different to that of the Gold Coast. I was able to learn about their processes and techniques and take the knowledge I gained through this experience back to the Gold Coast to assist us in our approach.
What advice would you give to students considering applying for the Lendlease graduate program this year?
Lendlease is a company filled with an enriching culture. It encourages professional and personal development which I think is essential as a graduate. For any graduates considering Lendlease's Graduate Program I would advise them to become a part of it. If you thrive off new experiences and the opportunity to join and actively participate in diverse and challenging projects Lendlease's Graduate Program is perfect. As a graduate with Lendlease you become an essential member of every team and take on the responsibility of rewarding and challenging work that you wouldn't think a graduate would do. You are treated like any other member of the team with the same responsibilities and expectations, which creates a very rewarding work life.
---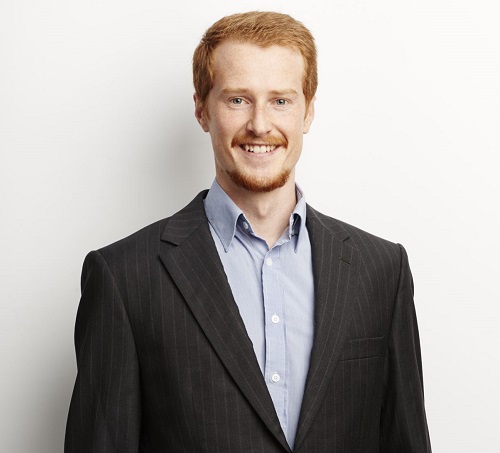 Lachlan Lord
Lendlease Graduate Program Stream
Corporate Functions (Finance)
Degree and University
Bachelor of Accounting UTS
What made you decide to accept a graduate role with Lendlease and to choose the particular program stream?
I was lucky enough to complete an internship with Lendlease in my first year of University in the Lendlease Building Finance team. The people I met and values of the company resonated with me strongly which persuaded me to join when finishing my degree.
What does a typical day look like for you? (Be realistic – are you onsite/in the office early? Is your role varied?)
I work in the Internal Audit team in Group Finance so there is no typical day! Our team works towards deadlines so it is up to me when my day starts and finishes as long as my work gets done. This suits my lifestyle because I can also work flexibly and remotely. I also try to visit site to make sure I speak to a cross section of people in the business and meet new people.
What work have you been most proud of since joining Lendlease?
Working with people across the business on Community Day. Each year Lendlease fund community projects and every employee across the globe takes a day out of our schedules to help-out. It's an amazing experience and great to give back.
What have you enjoyed most about working at Lendlease?
The work culture is great! It has even improved in the short amount of time that I have been here so I can't imagine where it can get to here from here. Flexible working, work gatherings and high performing teams and mentors make me want to continue to work here.
What advice would you give to students considering applying for the Lendlease graduate program this year?
Don't be afraid to be yourself. Everyone has a unique way of viewing the world and workplace and Lendlease really respects that.
Day in the Life - Graduate Site Engineer, Building
Lendlease
---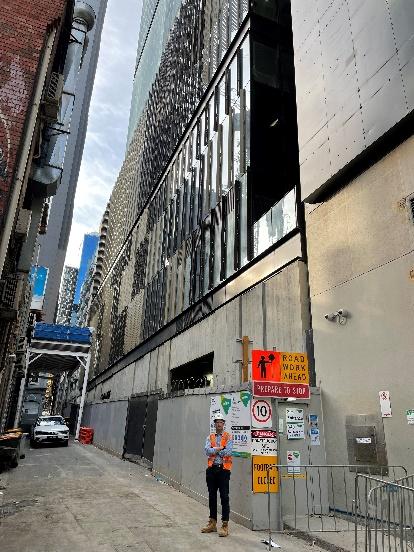 Name: Declan Marrows 
Role: Graduate Site Engineer
Business Unit: Building
Project: 140 Lonsdale
State: VIC
Introduction  
My name is Declan Marrows and I have recently commenced the Global Graduate Program (February 2022) with Lendlease in Melbourne, Victoria. I begin my professional journey as a Graduate Site Engineer, working on the 140 Lonsdale Street Project in the CBD, a 20-storey commercial office building.
What does your day look like? 
5:45am
First alarm, unsuccessful.
6:00am
Second alarm, time to get up. Morning shower, grab laptop bag then out the door to walk to train station. Muesli bar on the go.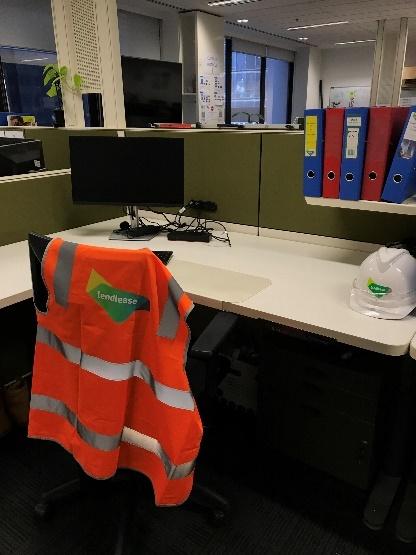 7:00am.
Arrive at the site office, greet the project team, and complimented by a round of 'mornings' in unison. Instantly reminded by the Foreman that they have been in the office well before me. Time to check my emails and plan my activities for the day. I use this time to respond to anything urgent and create a bit of a to do list for the day and what I want to achieve. 
7:30am
Coffee Number 1. I have finally built up the courage to utilise the impressive site coffee machine, an upgrade from instant to say the least.  
7:40am
First site walk for the day, switch the RM's for steel caps and engage PPE. I am currently tracking the progress of the ground floor area where we are fitting out the areas and installing items such as wall stone, ceiling grid/tiles and joinery. I will discuss with the site Foreman about what works are happening on site for the day and if there are any design/procurement issues that may be halting the construction.  
8:30am
Back in the office. This time is dedicated to sending out any RFIs (Request for Information) to clients/architects about any issues/design queries that may have been raised on site by the supervisor or trade engineers. I will also chase up any outstanding RFIs and correspondences that need closing out. 
10:30am
Meeting time. We have a weekly subcontractor meeting which involves all subcontractor project leads gathering in the site office with Lendlease Foreman and the Site Manager to discuss upcoming works to be aware of and provides a forum for raising concerns. During the meeting we will review a 2-week look ahead of the project, safety issues, covid updates and the subcontractors forecasted labour resources. I will record and distribute all items discussed to the parties involved.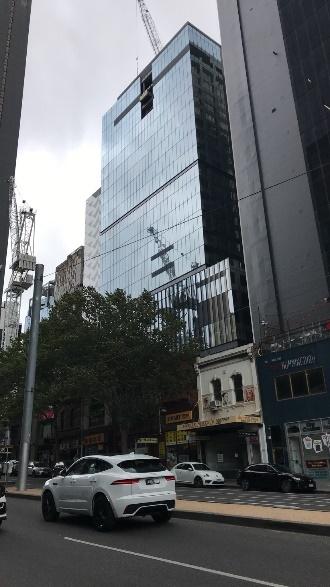 11:30am
As the construction industry is quite unpredictable, this time might involve a mixture of activities. This time could involve being called back on site for an inspection or meetings in the office with other Lendlease engineers.  
12:30pm
Lunch time. Walk on down to the notorious 'Kenny's Bakery' for their signature pork roll. Lunch time in the office consists of socialising with project team and reviewing the site footy tipping results. Coffee Number 2. 
1:00pm
Architect defect walk. We are currently in the defect stage on various levels of the project and are starting to invite the clients to come to site and perform their defect inspections. This type of inspection consists of meeting up with the area supervisor and clients on site to record any defects the client may identify. Once we have completed the walk, I will generate a defect report and issue it to the relevant trades and monitor the closing out of these items.  
2:30pm
Ground floor planning session in site office. I will meet with the Construction Manager, Senior Project Engineer, and the area supervisor to discuss the progress of the Ground floor construction. I am required to generate a programme for the area which we go through in detail and flag any changes/delays or areas in which we can fast-track the process. We will also discuss any design queries; materials lead times and any labour issues that may be preventing works from proceeding.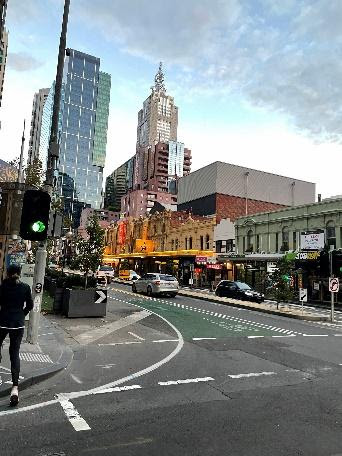 3:30pm
PPE back on. Final site walk for the day. This will be a brief walk through to assess what task is complete for the day, mostly for tracking of key items/areas and to confirm that the follow-on trades are able to commence in the upcoming days. 
4:00pm
Return to the office. I use this time to check and respond to any new emails as well as any outstanding RFIs. This time is dedicated to coordinating with other engineers about anything that has been raised during the day. I will also do a brief plan for the following days works and prepare any site documentation that is required for the next day.  
5:00 - 5:30pm
Anywhere between 5 and 5:30 I will pack my stuff up and walk to the train station to head home. I will have a quick bite to eat then head off to footy training before retiring on the couch in front of the TV. 
Perks & Benefits
Lendlease
---
At Lendlease the variety of opportunities we can offer means that no matter who you are, it's a place where you'll connect, where you'll progress and where you'll matter. 
Lendlease employees have a 5 in 7 working roster for project-based roles
Health & Wellbeing Program (including free annual flu vaccinations and health checks)
3x extra Wellbeing days per year
Access to the Employee Assistance Program and Mental health support 
A variety of flexible work and parental leave options.
Community Day provides a day out of the office to work with colleagues to give back to our local communities
A Graduate role with Lendlease is a permanent role designed as a strong foundation to build your successful and enriching long term career with us. Throughout your two years on the Global Graduate program and beyond you will have access to the numerous benefits that Lendlease provides to employees and enjoy a culture that cares about you.
Day in the Life - P&C Advisor, People & Culture
Lendlease
---
Name:  Jessica Coleman
Role: P&C Advisor
Business Unit: People & Culture
Project: Retirement Living
State: National Role
Introduce yourself 
What is your name, what is your role and what area of the business do you work in, including region and project? 
My name is Jessica Coleman. I am a People & Culture Advisor for the Retirement Living Australia and I also act as a Business Partner for the WA region. In addition to all of that I sit as Co-Chair for our internal LGBTQ+ employee network Lendlease Pride.
What does your day look like?   
7.45 am
I typically wake up to my kettle boiling (thanks to my google morning routine and my Wi-Fi enabled Kmart kettle). I then quickly grab a cup of early grey whilst I get dressed whilst my cats harass me for their morning feed. On Mondays I like to wear my Lendlease rainbow laces because I like to get a bit of Pride work done. 
Next, I head downstairs to get them their food and take my vitamins/ scoff a piece of toast with lime marmalade. Once all that is done, I quickly check TripView to check my train times and then run out the door to catch my train!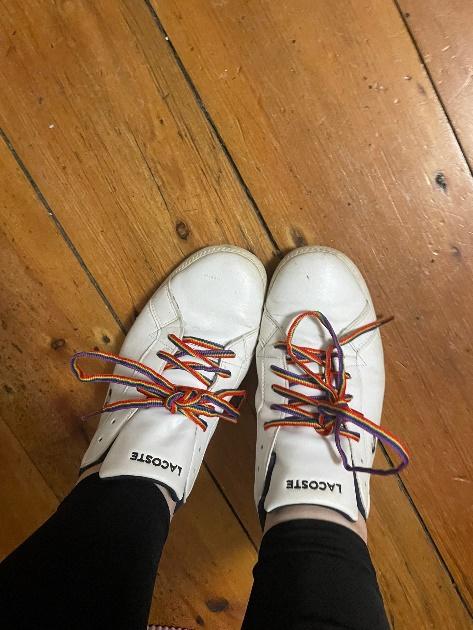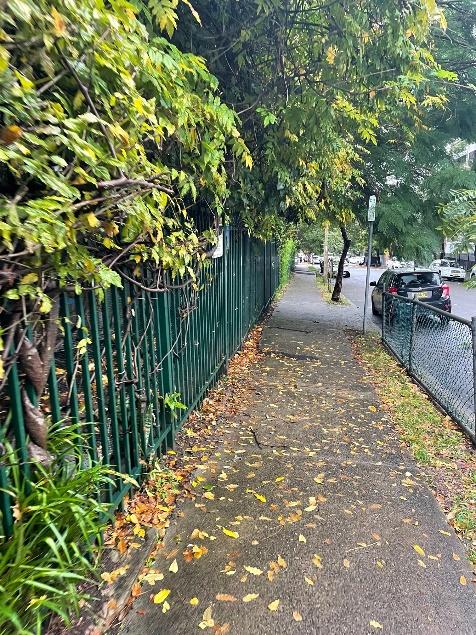 8.20 am
As I arrive at Lewisham station I pop on my mask, and pop in my air pods. Typical morning commute tunes are Belle and Sebastian, the Goon Sax or The National. If I'm in a more focused mood I might listen to a podcast (I'm in the middle of the 4th arc of Serial). I take the train until Wynyard, where I typically walk through the station to International Tower 2 in Barangaroo.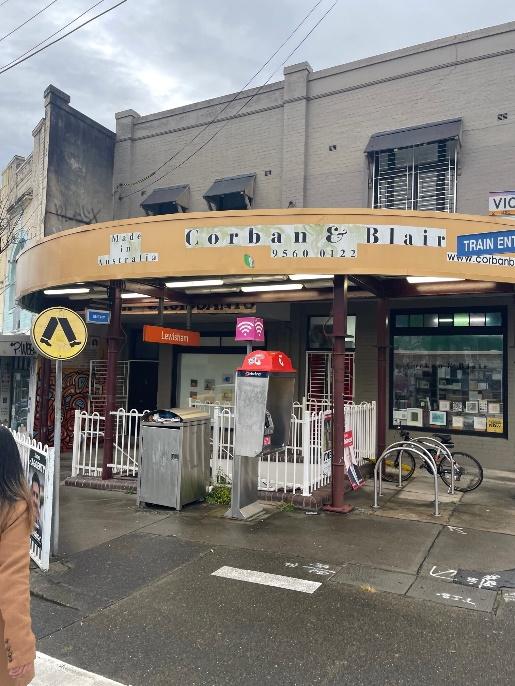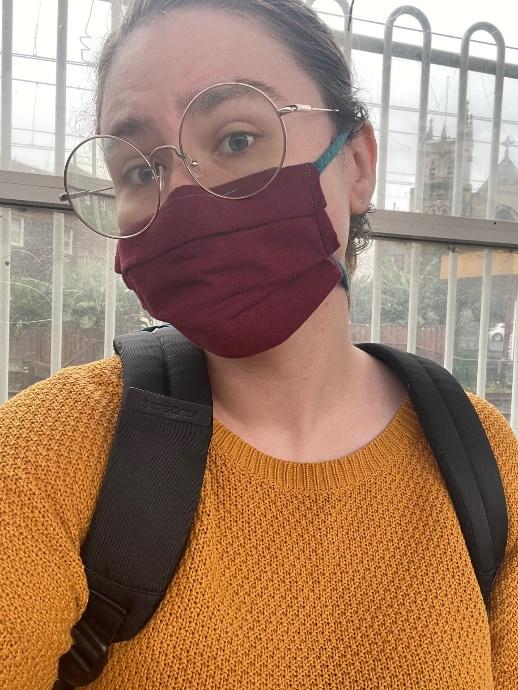 8.50 am
Once I reach my building, I grab a an almond late (and a muffin if I need a sugar hit) from Toby's Estate. I then get the lift to Level 16 where I sit down at the desk I booked for the day. I usually book my desk the week before in our Lendlease desk booking app.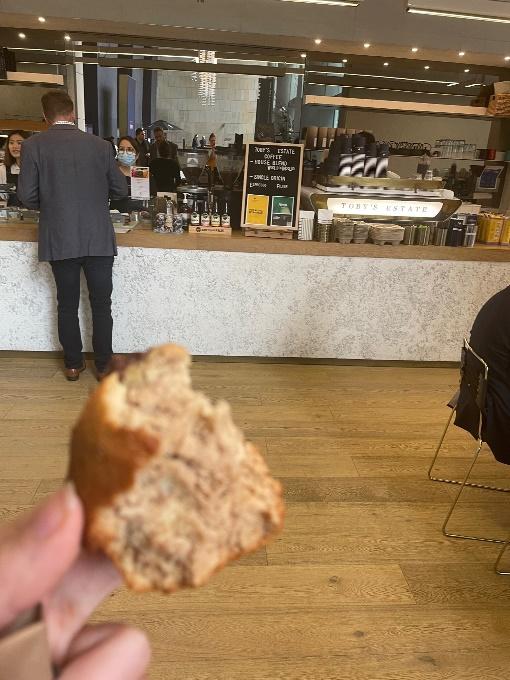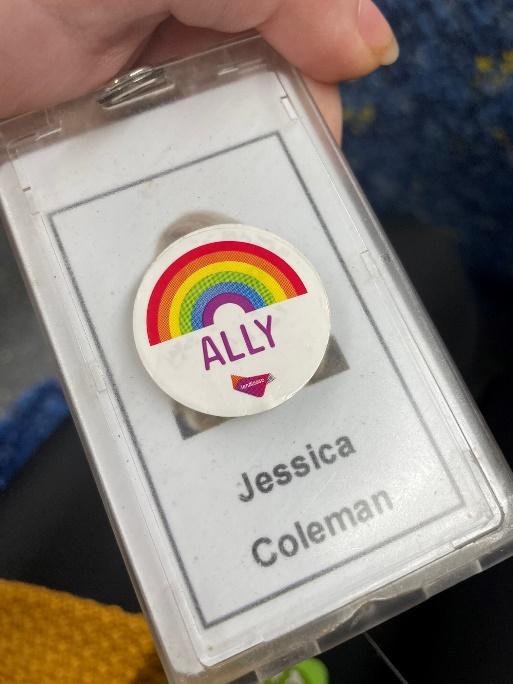 You arrive on site/in the office, how do you begin your day? How do you prepare for the day ahead, what does this include? 
9.00 am
Emails and a snack:  Typically, the first thing I do when beginning my day is sit down and check my emails at my desk. Today I grabbed a banana to munch on from the communal fruit bowl first.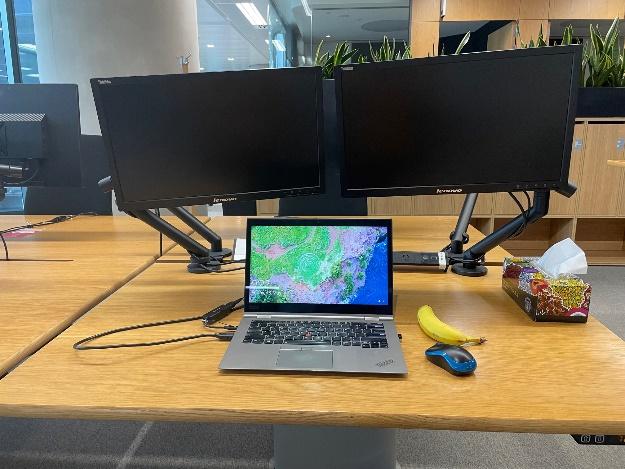 9.30 am
Mentorship Catch Up (as Mentor):  After this, I caught up with an employee who I have been mentoring in the team to better understand People & Culture career pathways. On Mondays, we typically have a chat in the morning to check in on how she is going, and I talk through some different tasks she can assist with during the week to broaden her understanding. I really love being able to do this as it reminds me of my time on the grad program acting as a buddy in my second year (but obviously with more of a career focus).  
10.30 am
Retirement Living Team Catch Up: Next I have a virtual team meeting with the Retirement Living People & Culture team. We are spread between Melbourne and Sydney so it's a good opportunity to talk about what we have all been working on and bounce ideas off each other when dealing with difficult situations and projects. We also like to share a lot of photos (and GIFs). 
12.00 pm
External Stakeholder Meeting: Next I have a meeting with an external vendor we are looking to create a learning program with. I talk through our requirements as a business and we discuss what they can provide for us. I like these meetings as they give me insight into what the market is doing.  
1.00 pm
Lunch: I like to get lunch from Toby's Estate (very boring) or sometimes I will get the lunch special at our internal café PURE. 
2.00 pm
Data analysis: I have a lot of reporting in my role so I will typically do around 2 hours reporting and report interpretation every day. If there is one thing I would recommend before going into a People & Culture role it would be to watch a lot of Excel tutorials! Today it was going through retention and turnover statistics and trying to find trends for the Retirement Living business. 
4.00 pm
Phone Calls: I like to make sure my stakeholders (largely village managers and their staff) know who I am and that I am contactable. Therefore, I typically try to call or MSTeams video call the village managers I support to talk through queries and issues they may email me about. Whilst this takes up time, I think it is worth it to build our relationship. Sometimes I will chunk these calls into 1 hour; or I might make them throughout the day if I want to break up heavier work. I also get a bit of leeway to do this in the afternoon as I look after villages in WA!
5.30 pm
Pride Network Sharepoint Update: Sitting as co-chair for our internal Pride Network I am responsible for updating our microsite with any specific initiatives we are working on. This month it is providing employees information about support for those who have experienced Domestic and Family Violence in line with LGBTQ+ Domestic Violence Awareness Day. Whilst I update this, I also add information to our Strategy document which we are in the process of formalizing. This work is incredibly important to me, and a passion project I have taken on in addition to my role. 
6.30 pm 
Take the train home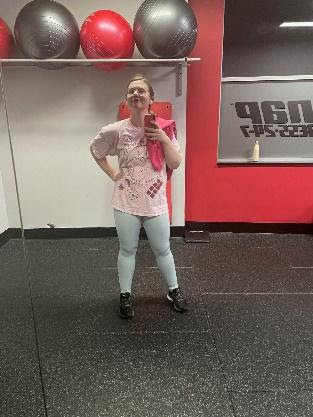 You have finished work for the day, what do you do in the evenings to relax and unwind? Does this include any post work activities? 
7.00 pm
Dinner: My husband is an excellent cook so typically we have a big meal when I come home. Tonight, however he is on night shift (he is a paramedic) so I make a quick stir-fry and pop the leftovers in the fridge for when he gets home in the morning. 
8.00 pm
Gym: After my food has settled, I try and head to the gym for a quick workout. I like that the gym is empty at night so I can dance around and be silly if I want to. I find that working out also makes sure I can focus during the day at work. 
9.30 pm
Wind Down in Bed: Once done with my quick gym session I get home and get changed. I then all pile into bed with our 2 cats where I will usually read a chapter of a book. I am just finishing Conversations with Friends by Sally Rooney. 
Day in the Life - Site Engineer, LLB
Lendlease
---
Name: Michael Moore
Role: Site Engineer
Business Unit: LLB
Project: 150 Lonsdale Street
State: VIC
Introduce yourself 
What is your name, what is your role and what area of the business do you work in, including region and project? 
My name is Michael Moore. I started with Lendlease in late 2015 as a vacation intern. I was then kept on as a part time undergrad whilst I completed my University studies. I commenced the LL grad program in 2020 and completed this in Feb 22. I am a site engineer for the VIC building business. I currently work on the 150 Lonsdale St re-development. It is a smaller job for LLB and quite different to what we normally build and my previous projects. I am in my final week at 150L and will be moving to a new project for the business; 51 Flinders Ln to help setup the site and commence on site works. 
What does your day look like? 
My day starts at 6am. I hit snooze on my alarm until about 6 30am (sometimes a little longer!). After getting ready for work I walk to my current project. The walk lasts approx. 15-20mins. I usually arrive to site at 7am to start my workday. 
If it is an RDO, my day starts a little later, and I arrive to work around 8am.
You arrive on site/in the office, how do you begin your day? How do you prepare for the day ahead, what does this include? 
7am
I arrive at site. I greet the team and make my morning coffee before anything else. I then go through some emails and take phone calls as the guys get setup onsite. 
8am
I go for a site walk and check which trades are on site, ensuring we have labour working on the critical activities for that day. I chat to my area foreman and help solve any small issues the workers have as they begin their day.
9 30am
I make my breakfast at 'smoko time' in the site kitchen. If I am busy, I eat it at my desk whilst responding to emails, design issues etc. If I have time, I like to sit with the foreman and other engineers and have a chat. 
10am
I continue with daily tasks such as sorting design issues, talking to consultants, helping subcontractors, and participating in meetings.
As the day continues, I am constantly called to site to look at a detail or help the foreman resolve onsite issues. 
12 30pm
I have my lunch with the rest of the team. We talk about what is happening at work as well as personnel and share banter. Having a good team on a construction site is critical, as the hours can be long, and the work is stressful. But with a good team it is bearable and enjoyable to work together.
The afternoon consists of more daily work activities. Typically, I work more from my desk in the afternoon as the workers are setup and know what they are doing. It is a good time to conduct more site meetings and assess progress claims.   
4pm
The afternoons are more boisterous in the office as the workers have gone home and the foreman are at their desks. Everyone banters with each other and finalizes their work. We discuss works for the next day and get things ready for the next morning.
5 30pm
I typically try to leave work around 5 30pm. I walk home and use it as time to unwind from the busy day.
You have finished work for the day, what do you do in the evenings to relax and unwind? Does this include any post work activities? 
Each night after work is usually slightly different. Some nights I cook dinner for my partner and myself. I clean up and then relax on the couch to watch some Netflix or similar before going to bed.
Other nights I like to go for a run before dinner to get some exercise in. Another option is to go to the driving range and hit some golf balls.
On Fridays we like to enjoy a few beers after work with the work team to celebrate another week of progress. Often, I will continue with more dinner / drinks with friends. Other times I am exhausted from the week and like to fall asleep on the couch watching the footy / movie.
Day in the Life - Project Engineer, Building
Lendlease
---
Name: Yen Lai
Role: Project Engineer
Business Unit: Building
Project:  Geelong Arts Centre
State: Victoria
Introduce yourself 
My name is Yen, I am a Project Engineer working in the Building (VIC) division at the Geelong Arts Centre. 
What does your day look like? 
It's Monday morning, you wake up and are about to start your day. What does your morning consist of before you arrive at work? 
It is a non-RDO day so time to go to Geelong.
5:15am wake up and I am on the road by 6am.
I have a coffee in hand to keep me awake for the 1hour drive to Geelong.
By the time I park the car, I check my emails on the 10min walk to the office.
I say my hello's and good mornings, and catch up with everyone at the coffee machine.
I go through my to-do list and emails for an hour, before heading out to site for a progress walk and status the current works. After logging some Enablon observations, it is back to the desk to resolve outstanding steel design queries with the contractor and consultants.
I spend most of my time coordinating and resolving façade interfacing details – this is a special project with 3 different contractors each doing specialist trades. Glazing, façade cladding, and glass reinforced concrete. 
Between meetings, replying to emails and reviewing details with shop drawings, it is the end of the day and back on the road (anywhere between 6-7pm).
You arrive on site/in the office, how do you begin your day? How do you prepare for the day ahead, what does this include?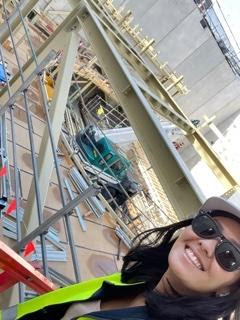 I arrive at the office any time between 7-to-7:30am, catch up on emails for an hour followed by a site walk.
The rest of the day, on either side of lunch, I will be in meetings or taking phone calls from contractors asking questions, details, or a status of shop drawings for consultant review.
Project is coming along nicely.
Given the amount of detail and work in the façade design, coordination across the trades takes up most of my time to ensure the deliverable outcomes match the design intent.
You have finished work for the day, what do you do in the evenings to relax and unwind? Does this include any post work activities? 
Dinner with the family is my ongoing relax and unwinding method.
Because I get home so late, I refuse to take my laptop home to do anymore.
With the little time I have left, I either read a book, have a crack at learning 1 thing with crotchet, or watch a bit of tv before bed.
A community can't thrive if the world around it doesn't. At Lendlease, we take our responsibility to the planet seriously. That's why we're embarking on Mission Zero: our commitment to absolute zero carbon by 2040.
Climate change. It's the biggest problem we're facing. But we're also part of that problem. 
We create millions of places to live, work and play for communities around the world. But the reality is that our industry releases around 40 per cent1 of carbon emissions that threaten life as we know it. 
As leaders in our space, we take responsibility. That's why we've made it our mission to reach net zero carbon emissions by 2025 and ABSOLUTE zero by 2040. Our industry's most aggressive targets. By far.
Positive Social impact
We've set ourselves a target to create $250 million of social value by 2025.
We're doing this through our shared value partnerships and Community Grants program, which are supported by the Lendlease Foundation, as well as other initiatives, such as FutureSteps, which is funded by the business. Importantly, our social value target focuses on initiatives that go above and beyond any project or asset contractual obligations.
We've engaged global experts to put in place rigorous methodologies to measure and report on the social value we create. Take a look at #alittlehelptothrive
We report the progress against our target each Financial Year. At FY21, we had already created $47.3 million of social value through the work of our shared value partnerships.
Partnerships in Australia 
Great Barrier Reef Foundation 'GBRF' 
Australian Red Cross 
OzHarvest
Settlement Services International 'SSI' 
Landcare
The Australian Business and Community Network 'ABCN' 
Community Engagement
Our Community Engagement Lendlease Foundation Community Grants Australia The Lendlease Foundation Community Grants program is an initiative to aid not-for-profit community organisations and charities that deliver impact across the following areas:
Diversity and Inclusion

Lendlease
---
Diversity & Inclusion at Lendlease 
Lendlease supports diversity and inclusion in the workplace. We want everyone to come to work and feel safe, empowered and motivated to be the best they can be, as the person they are. 
Lendlease is committed to providing an inclusive workplace, where all employees can be their true and best self at work. We encourage and embrace diversity and inclusion in thought and experience, building stronger teams and better outcomes.
We offer workplaces that unite diverse minds; where respect, equal treatment and equal opportunity are just the norm.​
We strive for our workforce to reflect the diversity of the communities in which we work; and for everyone to feel they belong.​ 
We remain committed to supporting under-represented groups and providing a wide-range of inclusion initiatives, so that everyone is supported to thrive.​
We have a range of policies, programs and initiatives to support our Diversity & Inclusion strategy and our key focus areas:
Embedding flexible work 
Driving greater gender equity 
Building inclusive workplaces 
Inclusive Workplace 
Diversity & Inclusion is one of our guiding principles, because we know that when we get it right, our people and our business will thrive.
We drive an inclusive team culture where trust and psychological safety are prioritised.  Because we believe that when people feel respected and value, when they feel safe to contribute their ideas and truly be open, without hiding parts of their identity; that is when they will flourish.
Flexible Work 
At Lendlease flexibility and wellbeing are part of the way we operate, setting us up for success in an increasingly agile world.  We empower our leaders to work with the team to organise how, when or where we work to deliver in the most effective way in order to meet customer, team and individual outcomes. 
Types of flexible working arrangements include: 
work from home 
flexible hours 
additional purchased annual leave 
part-time hours 
job sharing and 
career breaks 
Our performance discussions include a conversation each year around wellbeing and flexibility.
Day in the Life - Graduate Site Engineer, Building & Defence
Lendlease
---
Name: Luke Syme
Role: Graduate Site Engineer
Business Unit: Building, Defence
Project: EST0121PH5B
State: WA
Introduce yourself 
What is your name, what is your role and what area of the business do you work in, including region and project? 
My name is Luke Syme, I am a Graduate Site Engineer working on the EST0121PH5B Defense project in Perth WA.
What does your day look like? 
It's Monday morning, you wake up and are about to start your day. What does your morning consist of before you arrive at work? 
6:00AM: Wake up and have a shower
6:15AM: Make a Coffee and get ready for work
6:40AM: Leave for Work
You arrive on site/in the office, how do you begin your day? How do you prepare for the day ahead, what does this include? 
7:00AM: Arrive at Work
7:05AM: Review list of actions required from previous week
7:15AM: Read emails and create a list of further actions for the day
7:30AM: Complete Site Inductions and give contractor access to the base
8:00AM: Site walk with Construction Manager, Site Manager or Senior Project Engineer
8:30AM: Speak with Subcontractors and Supervisors regarding issues onsite. Issues usually involve conflicting design documentation or coordination between trades (e.g., Services and ceilings & partitions)
9:00AM: Resolve issues through reviewing design, speaking with consultants, or speaking with supervisors
10:00AM: Start working on list of actions and tasks. Some tasks include procurement, reviewing shop drawings, reviewing samples, chasing up subcontractors and consultants for submissions or information
12:00PM: Lunch 
You have finished work for the day, what do you do in the evenings to relax and unwind? Does this include any post work activities?  
5:00PM: Finish work
5:15PM: Go to the Gym
6:30PM: Head Home
7:00PM: Get home and have a shower
7:30PM: Dinner and unwind
9:30PM: Go to bed 
Day in the Life - Assistant Development Manager, Retirement Living
Lendlease
---
Name: Lucas Toms
Role: Assistant Development Manager
Business Unit: Retirement Living
Project: Glenaeon 
State: NSW
Introduce yourself 
Hi, my name is Lucas Toms, I work within Lendlease Development in the Retirement Living Asset class. I am based in Sydney Australia working from Barangaroo. My role entails both office and site work. The project I am working on is Glenaeon Retirement Village, where we are renewing a portion of a 35-year-old existing village, by replacing 35 original units with 55 brand new units spread across three buildings. Development Management is an expansive role that allows me to gain experience in everything from planning, procurement, and stakeholder engagement to civil works, built form and delivery. I am currently in my third year working for Lendlease, having experience in both the Communities business, and Retirement Living. 
What does your day look like? 
It's Monday morning, you wake up and are about to start your day. What does your morning consist of before you arrive at work? 
Monday morning, a crucial day to set the mood for how the week is going to play out 
5.30am wake up 
At the start of the week my excitement to tackle the week is high so I make sure I am up nice and early to get a coffee in and do a quick meal prep before heading to the gym before work 
6.00am Gym or morning walk 
I train at CrossFit Botany, and it is one way to get a huge sweat in before work, if I am going to work in the office for the day, I find it so beneficial to exercise before work to tick that off my list and start the day with good intentions.
On the days that I am not at the gym I will make sure that I get a morning walk in, the importance of moving before walk is huge. It helps to take the stress out of the day and clear the mind. Not every day do you wake up with motivation to do these things, but a personal victory before the day has started is crucial  
7.00am Second coffee breakfast and out the door. 
I love my coffee so I am home to make a coffee, eat my breakfast and get out the door to commute to work. My commute consists of a bus then train to Barangaroo. I find this time beneficial as I am able to put my headphones in listen to music and turn off for a bit preparing for a big day ahead 
8.30 arrive to Barangaroo 
Working at Barangaroo is amazing, the precinct is so vibrant and full of people at all hours of the day. I am always inclined to walk down to the waters edge and have a sit down. There I will scroll through my emails and see what I have on for the day so I can briefly plan what lies ahead for me in the day. 
9am work starts 
If I have done all the things above before the day has started, I know that I am in for a good day, I have made sure ive put myself first and that I am in a good mental space to take on a full day of work in a good headspace and a driven manner 
You arrive on site/in the office, how do you begin your day? How do you prepare for the day ahead, what does this include? 
Development management allows for days that you are both on site and in the office all in one day, lets see how this would play out 
9.00am Arrive to the office
Walking into the international towers has a feeling like no other, the big revolving doors and open foyer brings a sense of professionalism and excitement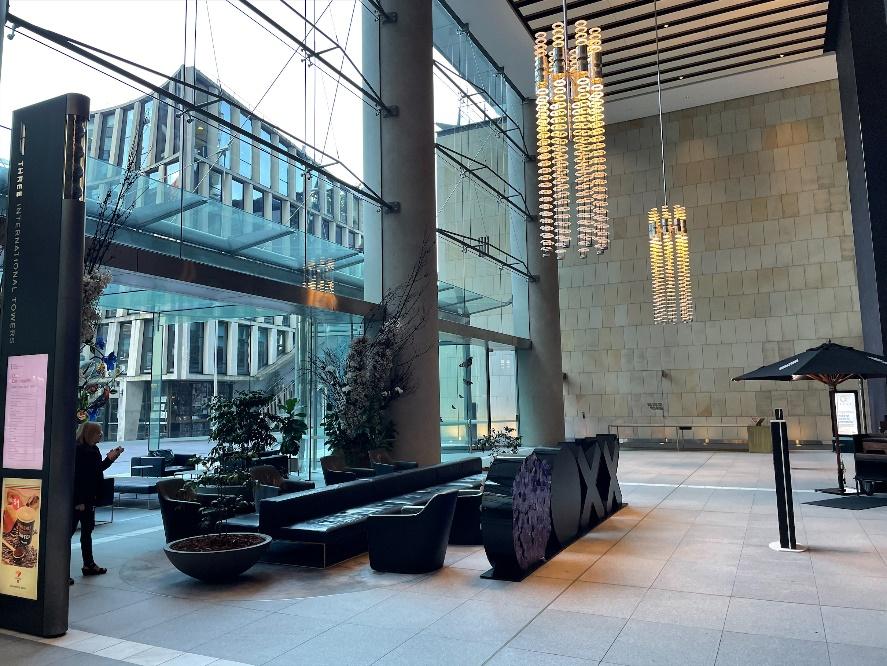 Arriving on level 17
The level I work on is 17 which is a vibrant level, as I walk in im straight to the fruit bowls that Lendlease provides every day where Ill grab my favorite fruit for the day before it all goes. After a quick hello to the team and a scan of who is working in there for the day, ill set up my desk for the day. The way we work is a hot desk system that allows for collaboration on open desks, where communication is easy.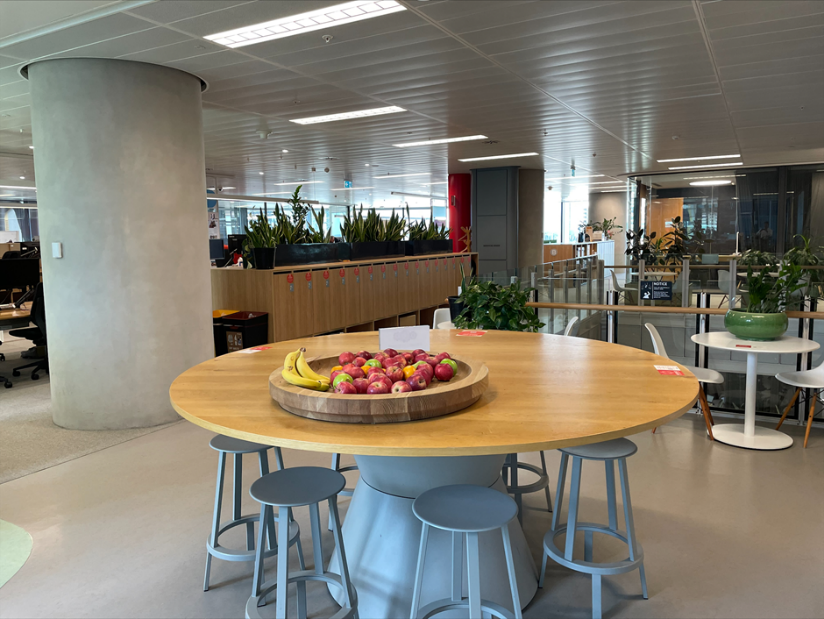 10 am meetings
Normally I will start the day with a quick meeting with my boss to map out what the critical items are for the day. 
11am travel to site 
From the office we will travel to site, which is in Belrose, the change of scenery is amazing and makes the day so enjoyable.
12pm arrive at site for site walk 
Every week the development team is taken for a site walk by Lendlease building to show progress of works on site and talk through some of the emerging issues on site. This allows the development team to stay across all works. For myself, the learnings that come from on site if paramount to any office day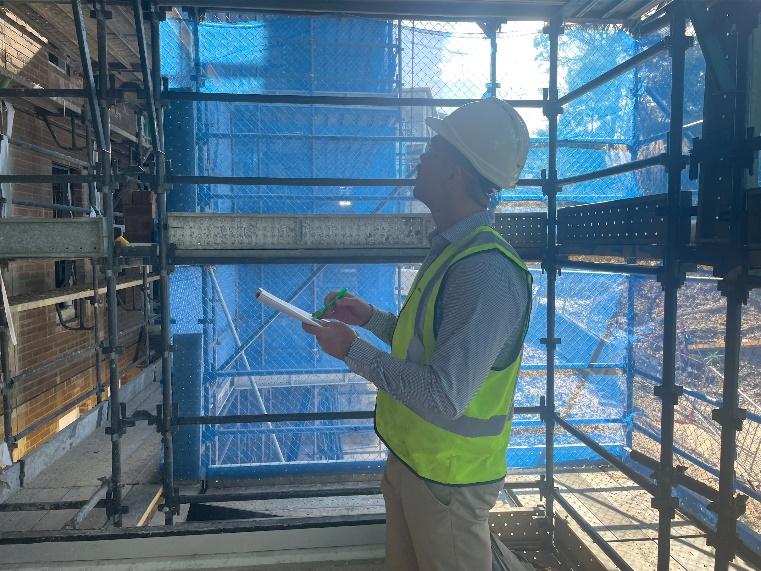 On this day we were discussing the finishes on the soffit, where the paint that was chosen was showing too many imperfections so we had to strategize if either a new paint coat or patching would have to be done. 
2pm back to the office
After a successful site walk and issues solved it is back to the office to see out the rest of the day, being off the laptop for that time normally a fair few email have come through so a some focus time is crucial. I will jump into one of the many quiet pods scattered on every level to smash out my work.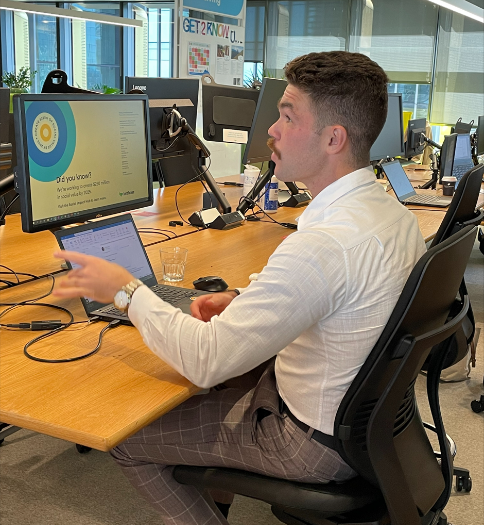 3.30 Afternoon coffee NEEDED!
My favorite coffee shop at Barangaroo is in tower one, I will walk down and grab a piccolo to see the afternoon out. After grabbing the coffee, I will walk back along the harbor side to clear the mind and take in the surrounds, especially on a beautiful day.
4-5.30pm make sure the critical items have been completed 
The final part of the day will be scanning through the to do list to make sure that everything I have planned to do has been accomplished and if not to action it for first thing the next morning. 
You have finished work for the day, what do you do in the evenings to relax and unwind? Does this include any post work activities? 
After work the commute home is a terrific way to start to unwind, I will put my headphones in and listen to some music to relax. Once I return home, in the summertime and daylight savings I do my best to either fit a surf in or go for a swim at the beach. Then after that its straight to dinner and a bit of Netflix before I wrap up the day by preparing for the next. Preparation is key in order to be efficient! 
LGBTIQ+

Lendlease
---
We support all diverse genders, identities and sexualities, including lesbian, gay, bisexual, transgender, queer and everyone under the LGBTQ+ rainbow.
Lendlease have been actively involved in the Australian Workplace Equality Index (AWEI) since 2011 achieving Platinum Employer status in 2018.  We are one of only 7 organisations in Australia to be recognised for our long-term efforts in driving workplace inclusion for our LGBTQ+ community. Lendlease partner with organisations to ensure our policies are inclusive and represent our LGBTQ+ employees.
As one of founding organisations for InterBuild a volunteer organisation that was established to promote positive change for LGBTQ+ people in property and construction industry. Lendlease have been involved in a number of key projects to support and drive changes within the industry.
Our Australian Pride Network are an active and celebrated community both internally and externally.  They support the LGBTQ+ community, all leaders and teams across the broad sites and office locations that we work and operate by sharing their lived experiences when it comes to decision making.  They support significant days of celebration and importance for the community, such as:
Wear it Purple Day and IDAHOT Day. As a network they participate in events, team meetings, generate important conversations, help educate and have fun in doing so. 
Disability Support

Lendlease
---
All Abilities at Lendlease 
All Abilities at Lendlease  
Places can only be their best when they are accessible. Lendlease is committed to an strive to create barrier-free workspaces, so that people of all abilities can have fulfilling carers. Both for our customers in construction design, but importantly also, for our employees in workplace design. 
Workplace Adjustments 
Lendlease is committed to creating accessible places that are barrier-free for our customers and employees. We have processes in place and where possible, approve individual adjustments to support the varying needs of our employees, including people experiencing disability, injuries or who have another reason that may require a workplace modification.
Memberships 
Lendlease is a member of the Australian Network on Disability (AND), a peak body on disability and accessibility in Australia.
Mental health 
Lendlease places a major focus on mental health and wellbeing which forms a crucial part of our Health & Wellbeing Framework including an extensive Mental Health First Aiders Network. 
National Relay Service (NRS) 
The NRS, an Australian Government initiative, is a telephone service than can facilitate our connection and engagement with employees and customers who are deaf, or who have a speech or hearing impairment. 
Visit http://relayservice.gov.au/ for further details about the NRS service. 
Lendlease ran the National Relay Service training across Victoria and New South Wales for any employee who interacts with others via phone, including recruitment specialists, and customer service teams.
International Day of Persons with Disability 
Lendlease acknowledges the UN-sanctioned International Day of Persons with Disability, a day that raises awareness on how we can create a more inclusive and equitable world for persons with disabilities.
PACE Mentoring Program 
Lendlease is a supporter of the PACE Mentoring Program, which connects jobseekers with disability to mentors from leading organisations, aiming to help them gain experience in a workplace setting, develop skills and expand their network 
Gender Equality

Lendlease
---
At Lendlease, we want a 'gender balanced workforce and acknowledge that it will take more than just policies and procedures to achieve that. We are raising the bar to create a level playing field.
We strive to overcome the societal norms that hinder equality, by encouraging everyone to challenge gender stereotypes particularly in area's that have been traditionally dominant in male representation.
Attracting and retaining women at Lendlease is about finding the right people for the right roles, and support their continued development and success.  We do this by; ensuring our policies and benefits support individuals and families regardless of gender, learning and development programs to support our future leaders, corporate memberships such as; National Association for Women in Construction (NAWIC) and Property Council of Australia (PCA). The Gender Inclusion Network is a passionate and active community that supports the business, leaders and individuals to create equality with active engagement across numerous events and initiatives.
Lendlease has a clear action plan to address gender pay gaps. We are committed to achieving pay parity and rigorous pay equity reviews are undertaken annually.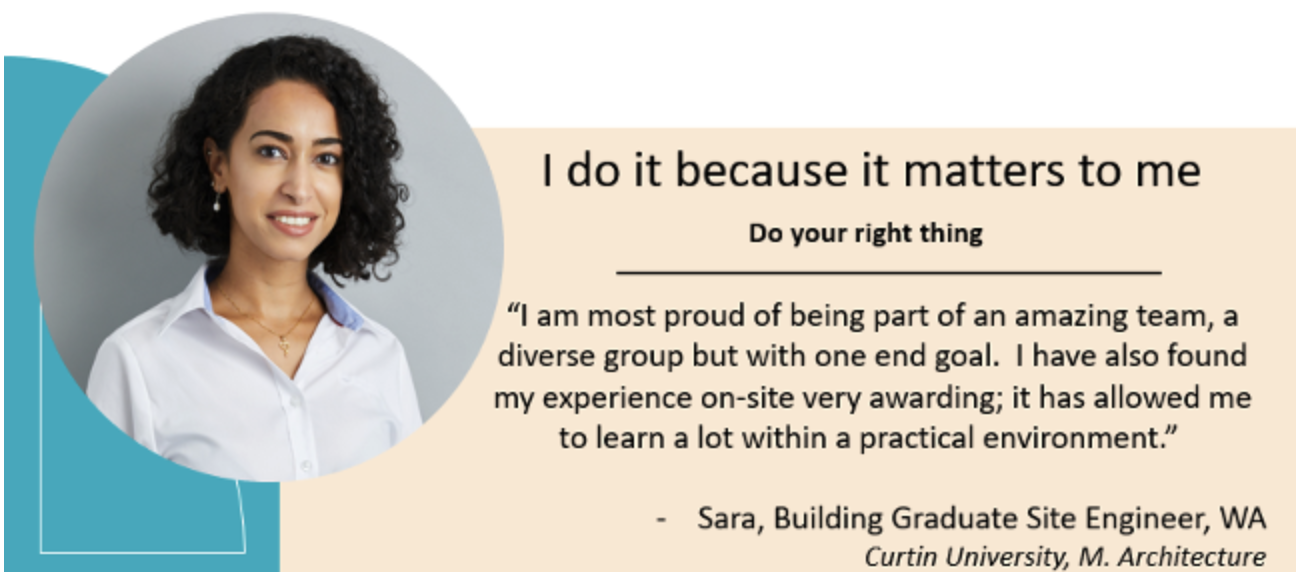 Aboriginal & Torres Strait Islander People

Lendlease
---
First Nations Engagement, Attraction, Employment and Career Development at Lendlease
Through our Elevate Reconciliation Action Plan, we acknowledge and celebrate the proud heritage of Australia's First People.  
Lendlease will promote opportunities for career development, sustainable business growth and economic participation by continuously building on our community engagement strategy nationally respecting community connections, kinships, relationships-song lines and pathways for employment led by Elders, leaders, and trusted educators in partnership with LL businesses.
We will continue our partnerships with various First Nation organisations to create more inclusive workplaces one our First Nations people have been engaged in the workplace.  These programs include:
Face to Face Training by Mirri Mirri;
Supporting early careers through Undergraduate Internship opportunities with Career-Trackers; and
Working closely with NASCA to actively work towards collaborating to create whole communities of healthy and prosperous First Nations young people.
Community and Stakeholder Engagement

Engage with first nations community to promote careers at Lendlease

Attraction

Attract First Nations Talent to lendlease

Assessment and Selection

Increase First Nations applicants through the recruitment process
Lendlease acknowledges the traditional owners of country throughout Australia and recognise their continuing connection to land, waters and community. We pay our respects to them and their cultures and to Elders past and present.