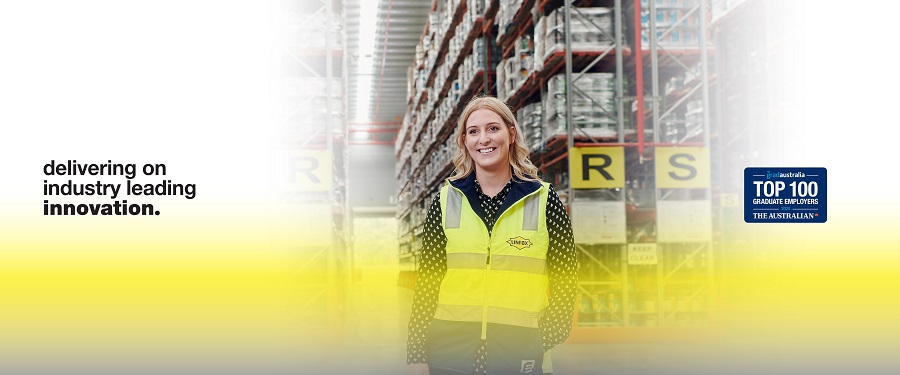 Linfox Graduate Programs & Internships
Looking for a career in logistics? For 60 years Linfox has delivered products and operated warehouses for customers in the Retail, Government and Defence, Resources and Industrial, Fast Moving Consumer Goods (FMCG) and Linehaul sectors across the Asia Pacific region.
Linfox currently has 0 opportunities.
Select the following options:
Past Linfox Graduate Hiring Statistics
If you're interested in working at Linfox, understanding when they have opened up applications for their graduate programs, graduate jobs and internships is helpful knowledge to have so you know when you might need to apply. Use the below information to see when Linfox hires graduates, but more importantly what graduate degree's and other student attributes they target for their jobs.
---
Job types
Entry Level Jobs (48%),

Graduate Jobs (33%),

Internships (19%),
Disciplines
Arts and Humanities (48%),

Business and Commerce (57%),

Computer Science (5%),

Cyber Security (5%),

Economics (10%),
Locations
Sydney (62%),

Melbourne (19%),

Brisbane (14%),

Regional New South Wales (14%),

Perth (5%),
Work rights
Australian Citizen (100%),

Australian Permanent Resident (100%),

New Zealand Citizen (76%),
In 2016, Linfox celebrated its 60th anniversary since founder Lindsay Fox started the company with one truck, carting coal in winter and soft drinks in summer. Today, Linfox employees 24,000 people and operates in ten countries across the Asia Pacific region. Linfox is an organisation that provides opportunities for growth, challenges and development.
If you are looking for an exciting career in logistics with a growing multinational business, the Linfox Graduate Program could be the opportunity you have been waiting for to launch your logistics career. Our graduate roles are based in Melbourne, Sydney, Brisbane and Perth.
Our two-year development program across operations focuses on transport logistics, warehouse and distribution and has been designed to challenge and reward our graduates.
We are looking for people that want to do something different, have a passion for logistics and are keen to experience operational roles.  People who are great communicators, show initiative, have excellent problem solving skills and the ability to work under pressure. We value other key qualities such as resilience, the ability to work in a team and leadership potential.
Are you ready for the Linfox opportunity? You know our brand thanks to our iconic red trucks, now you have the opportunity to understand our capabilities and be part of our great culture.
You don't need a qualification in logistics, just a passion to build a career in supply chain solutions.
The opportunity is yours to take!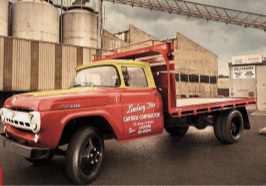 Our Graduate Program
Linfox
---
We have one main stream in our Graduate Program – Operations.
With over 175 sites across Australia alone, our program is focused on transport, warehousing and distribution. We're committed to delivering service excellence and adaptable supply chain solutions and many of our sites operate 24/7 to ensure our customers receive their products on time.
Our graduates work with management on daily operations to ensure our sites run efficiently and effectively.  This can involve managing teams of operators, gaining operational experience in receiving and inventory, planning and organising loads and fleet for deliveries or being accountable for risk and compliance reporting.
Graduates can also work across our Commercial, IT, Innovation, Finance and Supply Chain Solutions teams during rotations, to help gain a broader understanding of our end to end business. Meeting deadlines is a key priority for our business so working within teams and being accountable for the work you do is essential.
Graduates receive a full time / ongoing contract, a mentor, a buddy, four different rotations focusing on different customers, products or services, a supportive peer network, the opportunity to travel and responsibility for critical projects or a team of people.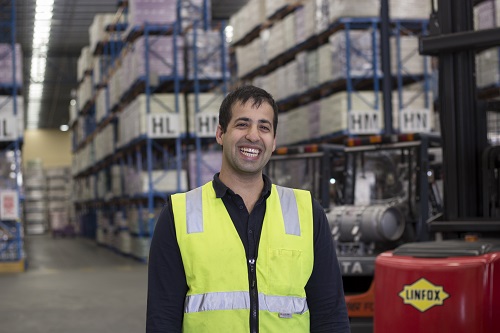 We are looking for people who want to build their careers in operations; you'll be based in operational sites in either transport or warehousing.  The rotational program provides you with the skills you need to be an operational leader of the future and build your career.
Where do our graduates end up post program?
Graduates have progressed into roles such as National Operations Managers, Regional Transport Managers, Site Managers, Operations Managers, Transport Schedulers, Commercial and Finance Analysts.
The scope of roles is significant, so if you want to build a career in logistics, Linfox is the organisation.
Here's what some of our recent graduates have to say about their experience on the Graduate Program.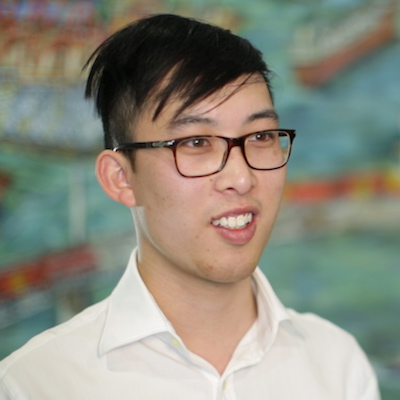 Dennis Lo, Fleet Controller – Fuels, Resources & Industrial
Bachelor of Accounting and Finance, Masters of Supply Chain
I started the Linfox Graduate Program with a rotation in Retail Operations. You're encouraged to make the most of your opportunities, and from early on I supervised a team of drivers and helped to implement a new business initiative.
I enjoyed this operational experience for many reasons, but most of all for the customer interaction. It gave me a great foundation for my development within the program. My next rotation was with the finance and commercial team with our Resources and Industrial business unit. This was particularly interesting as the business unit has recently been awarded a number of new contracts with fuels customers.
The experience I gained through the program was invaluable, and helped me to land my current role as Fleet Controller within Resources and Industrial, where I oversee the operations for one of our fuels customers and manage a team of drivers.
---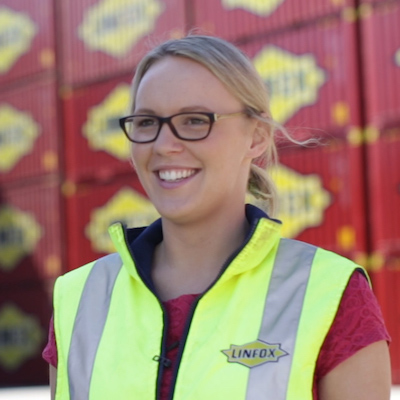 Tina Dreher, Optimisation Analyst - Linehaul
Qualifications - Bachelor of Business – Human Resources and Econometrics
I wasn't sure if I wanted to work in logistics but the Linfox Graduate Program seemed really interesting and offered a lot of variation; every day would be different.
From my first rotation in Retail Transport, I knew I wanted to work with a dynamic transport operation. When I was offered the opportunity to complete my final rotation in Darwin as part of the Linehaul Transport Operations team, I was thrilled. Living away from home and working in a different environment allowed me to develop my skills in contingency management, while facing operational challenges unique to the Northern Territory.
The exposure I received to both Retail and Linehaul Transport Operations throughout the program allowed me to combine operational knowledge with the skills gained from my degree.
These experiences led me to my current role at Linehaul West Melbourne as Customer Optimisation Analyst where the strong customer and operational focus completely complements my experience and analytical abilities.
---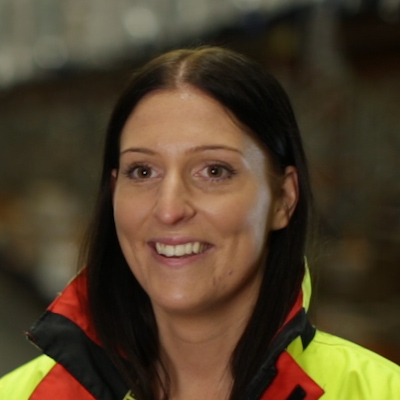 Emily Reuter, Commercial Analyst - Retail
Bachelor of International Business
One of the first things I noticed when I joined the Linfox Graduate Program is that you really feel like you are a part of the team.
The program is all about getting involved in different operations. I was lucky enough to have three hands-on rotations in Warehousing, Transport and Commercial/Finance contracts.
I was able to draw on the knowledge acquired during my degree and gain experience in the end to end operations of a chilled warehouse and a transport site that services over 200 stores daily. I had exposure to the site's daily operations including load planning, customer interaction and negotiation, budgeting, weekly financial reporting and driver safety.
In my final rotation within a Retail Transport operation I was given the opportunity to work alongside senior members on a tender submission for an interstate Retail Transport contract, which paved the way to my current role as a Commercial Analyst within Retail.
Graduate Development
Linfox
---
As a graduate, it can feel like there is so much to learn.  We provide the support and development needed to start and successfully continue your journey as a graduate.
Graduates are provided with a two-year comprehensive development plan which incorporates the core operational skills graduates develop throughout each rotation. Both structured and on-the-job learning is offered through a variety of mediums and ensures the continuous growth of our graduates.
As a graduate you will attend four professional development Melbourne based conferences over the two-year program.  These conferences are a great opportunity to network with your graduate cohort from across Australia and New Zealand and continue to build on your business knowledge.
Linfox offers its own Linfox College for employees.  With 24/7 access to an online learning portal for soft skill development, learners can access over 400 modules focusing on topics such as leadership, communication, coaching and mentoring, desktop applications and operations.

A global company with family values
Many will know the story of a company that started with one man and one truck almost 60 years ago.  Linfox is owned by an iconic Australian family, however more than two-thirds of our growing team is based in Asia. We work with the world's largest natural resources company, the world's two largest consumer goods companies and one of the world's largest retailers.
 Linfox Logistics is part of the broader Fox Group which includes
Linfox Property Group
Linfox Airports
Linfox Armaguard
Fox Classic Car Collection
Graduates are part of the family and the role they play helps to drive our business further.  It's important they share the same values as our organisation: integrity, teamwork, accountability, courage, fairness, trust and openness, mutual support and respect and uncompromising standards.  We hold these qualities in high regard and demonstrate them in everything we do.
Giving back
Linfox has a proud tradition of providing financial and in-kind support to a range of community organisations through the Fox Family Foundation and our business.
The Fox Family Foundation manages the family's charitable donations. Recent recipients include the Fight Cancer Foundation and the Sacred Heart Mission.
Linfox also provides responsive support through in-kind logistical services to communities affected by natural disasters, including people impacted by bushfires in Australia, and floods across Australia and Asia.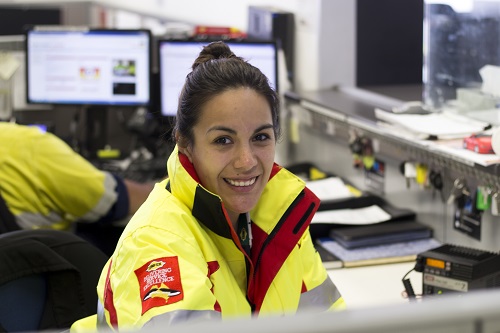 Let's face it, not everyone is suited to work in our environment, so our process is all about giving you as much information as we can, to make sure you are making the right decision about joining our Graduate Program and vice versa.
We want people who have:
A genuine interest in transport and logistics
Strong interpersonal and communication skills
Leadership potential
Resilience
The ability to think on their feet
Strong analytical and problem solving skills
Degree/disciplines
We recruit graduates from all disciplines. For us, it's about having the passion to work in the logistics industry.
The application process is very simple:
Step 1: Visit our job opportunities page at www.linfox.com  and register so you can complete the online application and submit a copy of your CV.
Step 2: If you're successful we will invite you to attend a group assessment which gives us the opportunity to provide you with further insights into our program and organisation. You will also take part in group activities and get the chance to listen to one of our current graduates tell it like it is!
Step 3: Have you have ever been into a warehouse or visited a transport yard?  If we think you may be right for our program, you will be invited to attend a site visit and chat with one of our site or operational managers.  This gives you the chance to see just what the working environment is like. We have sites that employee four employees, to over 600 employees. It's a real eye opener and helps you decide if we are right for you.
Step 4:  A behavioural interview is held with a senior leadership team member, during which you will be asked several behavioural questions in line with our values.  Our values are important to us and are embedded in our day to day operations at every site.
Step 5: If you are successful in the behavioural interview, we will complete two reference checks.
Step 6: The last stage in our process is a meeting with one of our executives, we call them Presidents here at Linfox and this is a great opportunity for you to ask questions.  If all is well, we will then make you an offer.
How to apply:
Check our available opportunities or download our jobs app.
When to apply:
Applications are now open and close 12 April.
Eligibility:
have completed your undergraduate or postgraduate studies in the last 3 years, or currently be completing them
have Australian citizenship or permanent residency (including New Zealand citizenship) at the time you apply
Have a current driver's license and access to a vehicle at time of commencement
Minimum one year's work experience in any industry.
Position locations:
Positions available in Melbourne, Sydney, Brisbane and Perth.
Further information:
Please visit our website www.linfox.com or contact [email protected] for more information.
Commercial
Operations
Technology
Senior Management
Overarching