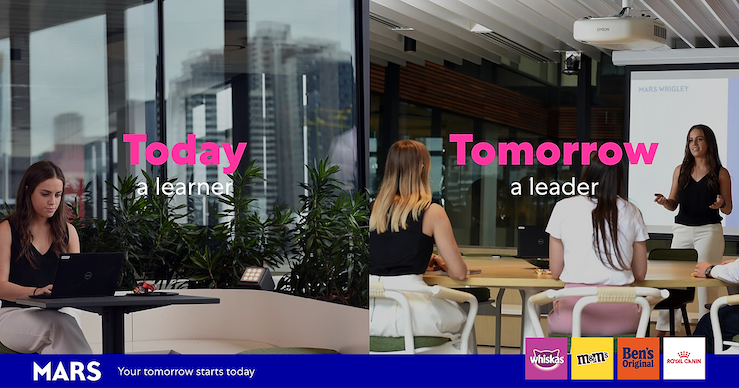 Mars Australia Graduate Programs & Internships
In 2022, Mars is bringing back a fresh and improved Graduate program offering – Mars Functional Leadership Experience! There will be streams in Engineering, Research & Development, and Sales & Marketing.
Mars Australia currently has 0 opportunities.
Select the following options:
Past Mars Australia Graduate Hiring Statistics
If you're interested in working at Mars Australia, understanding when they have opened up applications for their graduate programs, graduate jobs and internships is helpful knowledge to have so you know when you might need to apply. Use the below information to see when Mars Australia hires graduates, but more importantly what graduate degree's and other student attributes they target for their jobs.
---
Job types
Graduate Jobs (70%),

Internships (30%),
Disciplines
Administration (20%),

Arts and Humanities (10%),

Business and Commerce (20%),

Communications (20%),

Engineering (40%),
Work rights
Australian Citizen (100%),

Australian Permanent Resident (100%),

New Zealand Citizen (100%),
What do M&M's®, Pedigree®, Extra®, Royal Canin®, MasterFoods®, Skittlesv®, Schmackos®, Skittles®, and Snickers® have in common? They're all made by Mars!
Mars is behind some of the best loved brands in the world across multiple segments including Mars Pet Nutrition, Mars Wrigley, Mars Food and Mars Edge. We're a family business that's been making products for people (and the pets that people love) for more than 100 years. We're 100,000 self-proclaimed Martians—we're pet obsessed, confectionery lovers, foodies, dream chasers and community builders— working across more than 75 different countries.
Here in Australia, we're a family of over 2,200 associates spread across mutlitple locations including Ballarat, VIC, Melbourne, VIC, Sydney, NSW, Wodonga VIC and Wyong, NSW.
We're a diverse, extended family that wakes up every morning ready to make an impact—on our business and on the world. And, we do it by keeping The Five Principles at the heart of everything we do: Quality, Efficiency, Responsibility, Mutuality and Freedom. These principles inform our decisions and unite us across geographies, languages, cultures and generations.
Why join Mars?
As a Mars Associate, you can count on our commitment to your growth and development as you work across our world-famous brands. Our Associates come from a diverse range of backgrounds and are as different as our products, so we tailor our mentoring and coaching to each individual. We're here to support you today so that you can build a better world tomorrow. Working at Mars gives you an instant sense of belonging. Our Associates learn from their talented colleagues and build their careers working on well-loved brands like M&M's, Snickers and Pedigree. They also enjoy some great perks including competitive benefits packages, fun freebies and bringing pets to work (depending on the office).
The Five Principles:
The Five Principles form the foundation of how we do business today and every day. With 115,000 Mars Associates working in 80 countries across the globe, clear direction and a moral compass are essential. The long-term future of our business and the planet depends on us to stand for more and take bold action. That's why we take every opportunity to make a positive impact in this ever-changing world by leveraging our guiding philosophy that has always differentiated us — The Five Principles.  
We put The Five Principles at the center of every decision we make. This means:  
We are committed to Quality of work and contributions to society.  
We embrace our Responsibility (as individuals and a company) to act now.  
We base decisions on Mutuality of benefit to our stakeholders.  
We harness the power of Efficiency to use our resources to maximum effect.  
We have the financial Freedom to make our own decisions, unrestricted by motivations of others. 
We know that what we do is only as good as how we do it, and our actions help us build a better world for generations to come.
Because we like to have fun!
Mars will support you to help you grow and thrive, while following the Five Principles system, but it's important to join our team knowing that we also like to have fun! From Wellbeing initiatives, bake offs, events that bring the team together such as brand launches, dogs in the office (certain locations), and fun freebies – these are just a few of the ways we celebrate the work we do together! 
Graduate Program
Mars Australia
---
The Mars Functional Leadership Experience is a two year graduate program that was created with the purpose of developing tomorrow's leaders today. With streams in Engineering, Research and Development, and Sales, the program consists of two assignments which are aligned with your individual development needs and business opportunity. For 2022, we will open applications in July, for a start next January.
What makes us stand out from the rest? Our focus on your development and our flexibility for your next step to be right for you. We don't have forced rotations into functions or to timelines that may not suit you – we move you into your second assignment at a time, and into a role, that is right for you. Supported by a team of Associates who care about your progression, you will also have regular connections as a graduate cohort, and access to graduate specific Skills Pathways and Learning and Development opportunities. 
Internships & Clerkships
Mars Australia
---
Mars Australia will offer internships at our Mars Food site in Wyong. Our internship is a three-month program which will run from December 2021 – February 2022. In line with the experience we offer in our graduate programs, you will have the opportunity to work on real business projects that enable you to produce real results with the business! Under the guidance of a supportive Line Manager and with the support of a Buddy, you will experience what it is like to work at Mars. As part of the experience, you will take part in a Mars Orientation, develop your own Personal Development Plan (which will be presented back to our leadership team at the completion of your internship – giving you the opportunity to show and reflect on what you have learned), and work alongside a cohort of interns who are experiencing Mars for the first time as well! 
Application Process
Mars Australia
---
Our application process is a five stage experience designed to ensure that we are learning all about you through each stage! You will be kept up to date and informed of next steps at each stage of the process.