NTT Graduate Programs & Entry Level Jobs
Applications for our Graduate Program will open mid year.
Hello NTT Graduate. Hello Future!
Every day at NTT we help our people, our clients and our communities do great things with technology.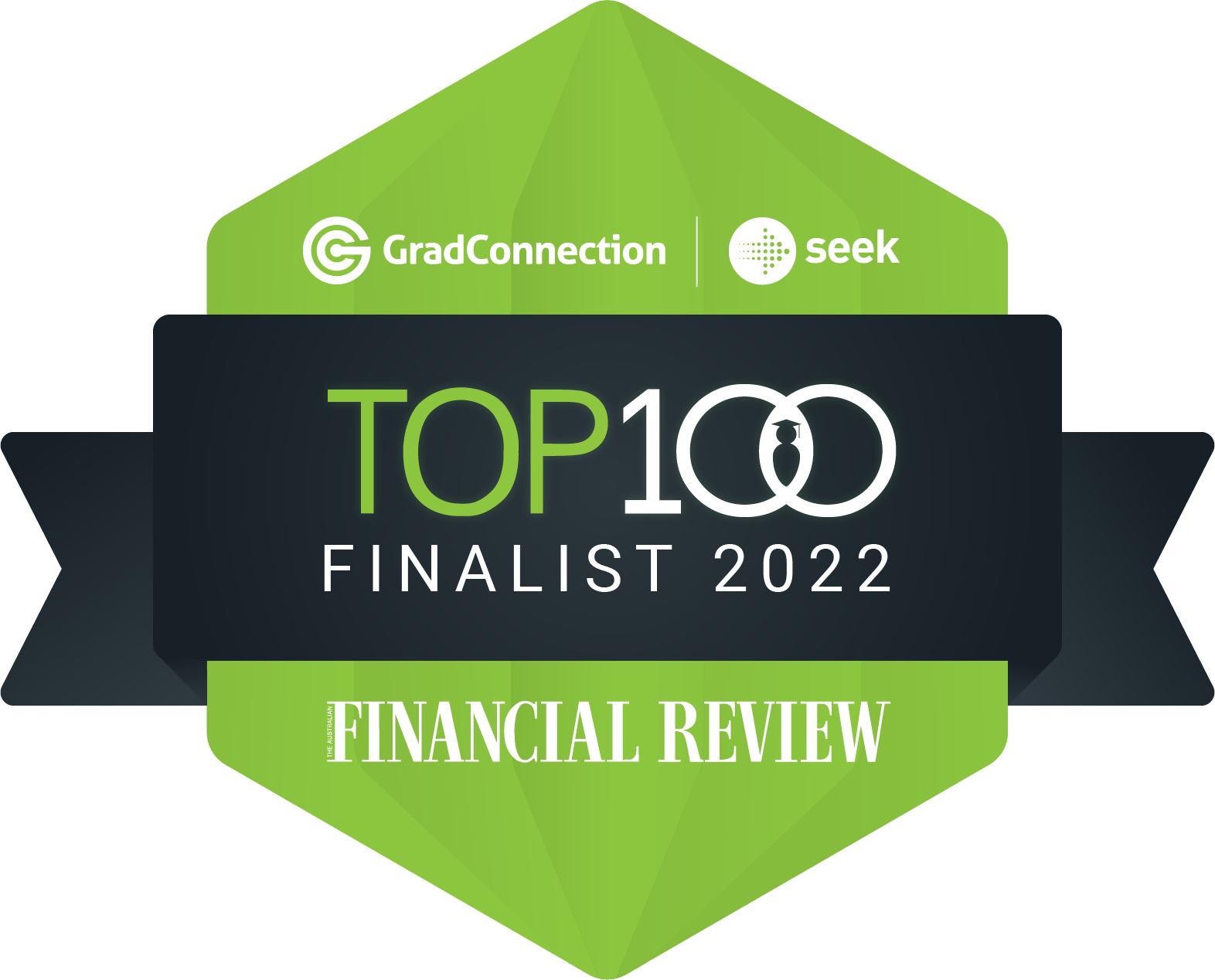 Together, we deliver experiences that support our graduates and help them thrive in a challenging, fast paced business ecosystem.
We believe in investing in the future, and part of our future is you.
NTT's graduate development program offers diverse and exciting work that makes an impact in the world now and in the future. We are proud to be an AFR 2021 Top 100 Graduate Employer and 2021 Top 75 Graduate Employer.
Arts and Humanities
and 3 others
Hires applicants with degrees in
At NTT we believe that by using innovative technology we can solve global challenges and create a world that is sustainable and secure. We are looking for curious people, from diverse backgrounds, that are keen to work in a fast-paced and agile environment.
Past NTT Graduate Hiring Statistics
If you're interested in working at NTT, understanding when they have opened up applications for their graduate programs, graduate jobs and internships is helpful knowledge to have so you know when you might need to apply. Use the below information to see when NTT hires graduates, but more importantly what graduate degree's and other student attributes they target for their jobs.
---
Disciplines
Accounting (29%),

Actuary (29%),

Administration (19%),

Arts and Humanities (29%),

Banking and Finance (29%),
Work rights
Australian Citizen (100%),

Australian Permanent Resident (100%),

New Zealand Citizen (90%),
NTT is a leading, global technology services company.
We believe that together we do great things.
In a constantly evolving world, technology doesn't stand still. And nor do we. Every wave of change is an opportunity to transform our clients businesses, so they can reshape the outcomes of tomorrow. We've combined the capabilities of 31 remarkable companies to become one, leading technology services provider. Together, we help our people, clients, and communities do great things with technology to enable a more secure and connected future. 
We work with organizations around the world to shape and achieve outcomes through intelligent technology solutions. 
For us, intelligent means data driven, connected, digital, and secure.
Through our full range of unparalleled capabilities, we empower our clients people, strategy, operations, and technology, while our platforms provide a single view across their environment. This gives them better insight to make the right decisions at the right time and achieve their business modernization and transformation goals. 
We believe in our people. They're not only diverse and inspiring, but also experts at what they do and committed to partnering with our clients. As a global technology services provider, we employ 40,000 people to be where our clients are based, across 57 countries. By bringing together the world's best technology companies and emerging innovators, we work together to deliver sustainable outcomes for our clients and the world. 
Innovation is part of our DNA. We believe it's key to what makes us different. So, we strive to move forward, challenge the status quo, and drive excellence through the technologies we integrate and the services we deliver around the world. The result is connected cities, connected factories, connected healthcare, connected agriculture, connected conservation, connected mobility, and connected sport. 
Together we enable the connected future.
Great things, change things
We asked our graduates what excites them about working at NTT, and overwhelmingly they tell us it's the incredible opportunities we open up for them:
"NTT encourages innovation through diversity … there is an unimaginable wealth of opportunity" - Claudia, Managed Services
"The opportunity to explore the current world of technology, such as blockchain, software-defined networks, or artificial intelligence" - Mason, Intelligent Infrastructure
"7 months in and I already have the Azure AZ-900 certificate and the Power BI certificate" - Veronica, Digital Business
"Involved in UX design for a big client in the health industry and conducting data migration for the Government has been a highlight" - Daniel, Digital Business
"I was given responsibilities in a few projects early on, showing that NTT trusted my abilities and ideas." - Ben, Digital Business
Together, we do great things. 
We partner with organisations across the globe to shape and achieve ethical outcomes through technology. As a global technology leader, NTT believes in innovation and helping society.
We are looking for bright, passionate graduates to help us create a better future. We've got more than 40,000 people across more than 70 countries who are diverse and inspiring, and experts in what they do.
Working with NTT, our graduates have a greater sense of purpose and understanding how the work they are doing is making an impact for our clients and the community where they live and work.
We're committed to building on our strong culture of inclusivity and have created a workplace where people of all races, abilities, genders, sexual orientation and gender identities are accepted.
At NTT, our diversity makes us stronger and we want you to bring your best, authentic self to work.
Be part of something bigger
Our two-year structured program includes:
Coaching and mentoring by industry leaders and experts 
Being paired with a buddy from day one 
Accessing a world-leading online learning platform
Attending an annual two-day national graduate conference
Participating as part of a team in quarterly innovation week
Solving real world business problems and working on strategic projects
Working in a state-of-the-art digital workplace
Engagement with our graduates from around the world
At NTT, we are Purpose-led, Performance-driven and Technology-enabled.
As a graduate, what does that mean?
Purpose-led
Through technology and innovation, we deliver a secure and connected future that empowers our people, clients and communities. We are working hard to create a better, more sustainable world. Our Heads, Hearts, and Hands (HHH) program is designed to enable the connected future for the communities where we operate, and is aligned with the UN's Sustainability Goals. HHH offers our people opportunities for personal growth and development by raising money and volunteering for causes we are passionate about.
Performance-driven
As a graduate, you'll be gaining valuable experience, in some cases working directly with our clients. In fact, you are joining a performance-driven organisation where we are forever challenging ourselves and wanting to be better. NTT has a world-class culture of innovation through collaboration, giving you the opportunity to solve new problems regularly with new teammates who are incredibly skilled and talented, in the process learning new skills yourself. We also believe in diversity to spark innovation; diversity of thought, diverse cultures, life experience and business context. 
Technology-enabled
NTT Ltd. was created as a result of 31 companies coming together to enable the connected future. A future where ideas, people and technology work together to change the world.
Like technology, NTT doesn't stand still – we use every wave of change as an opportunity to transform how humans live and work. We also believe that you have a vital part to play in changing the world. This is why we invest in our graduates, so you develop to be the best and brightest in the business. 
Just because we're a technology company doesn't mean you need to be a 'techie'. 
We need all types of people with all types of skills to help us succeed. At NTT, our strength lies in our differences, not in our similarities. That's why we actively promote our culture of diversity and welcome ideas from everyone in all areas of our business.
NTT's Graduate Program
Learning and Development
NTT
---
Putting you on the path to a successful professional career
NTT has a world-class culture of continual learning.
To help you develop further professional and business skills to accelerate your career.
Depending upon which part of the business you join, you will experience a variety of formal and informal placements, teamed with key activities to develop both functional and technical expertise across the NTT business. We guide you in choosing your own adventure based on your strengths and passions, creating the opportunity for multiple career paths.
We encourage you to build your own brand, drive your own career and create opportunities through networking.
We offer multiple paths to enrich your learning, including:
In-house educational events, such as our Annual Graduate Conference
Access to our interactive online learning portal which offers an extensive range of programs to build general business and specialist skills
Cross business exposure, Innovation Weeks and client projects
Volunteering opportunities, networking activities and social events
At NTT, we're here to learn and be curious. It's what keeps us fast, flexible and relevant, and we're always ready to take bold steps into the future. We'll provide you with the opportunities, training and development you need to change the world.
The only question you need to ask yourself is, "How will I make a difference?"
Launch your career in a global company committed to excellence and innovation as we transform with the market and the world.
Online application > Eligibility and Application Review > Video Interview > Assessment Centre > Final Interview > Offer
1. Online Application
This application is our first step in getting you know you! We look at your experiences across previous work, opportunities taken for growth and learning, extracurricular or volunteering work, academic achievements, your interests and passion for technology. 
You will be asked for your preferred graduate role and location. Please note, not all roles are available in all locations. Please refer to the Job Opportunities tab on our profile for full break down of roles and locations.
Some helpful tips when completing your application:
Do your research
Submit your application early
Be sure to stand out in your written responses – tell us what you are passionate about!
Take your time
Please use the 'Ask a Question' button on our profile to enquire about the application process. 
2. Eligibility and Application Review
At this stage, we'll review your application for eligibility and suitability for your preferred graduate role.
We welcome applications from graduates with a variety of backgrounds and passions. Just because we're a technology company doesn't mean you need to be a 'techie'. We need all types of people with all types of skills to help us succeed. At NTT, our strength lies in our differences, not in our similarities.
Business, Commerce, Information Systems, Information Technology, Computer Science, Engineering, Mathematics, Criminology, Psychology, Law, Economics to name a few.
If you love a technical challenge and are excited by exploring the art of the possible, NTT can offer you an exhilarating and rewarding career.
Don't worry if you only meet some of the graduate role requirements – if you have a positive, can-do attitude, we can further develop any additional skills or knowledge you need.
To be considered for our graduate program:
You must be an Australian or New Zealand citizen or hold Australian permanent residency status at the time of application. 
You must have attained successful completion of your degree within the last three years. We will also consider post graduate qualifications. 
If holding an overseas qualification, provide documented evidence confirming the qualification is recognised in Australia. Attach proof of your English proficiency testing at time of application. 
3. Video Interview or Phone Screen
Candidates who progress, will either receive a phone call for a 10-15 minutes phone screen or a link to complete a one-sided video interview.
Instructions will be provided at this stage on how to record and complete the video interview.
Some tips for video interviews:
Set up early, choose a well-lit room and remove distractions
Dress for success – business attire
Be aware of your tone and body language
Prepare for frequently asked questions
Be your authentic self!
4. Virtual Assessment Centre
Successful candidates will be invited to attend a virtual assessment centre. Our virtual assessment centres are a two-way process; we will continue to get to know you, and as a candidate you'll to get experience our culture, understand more about what we do at NTT and be provided the opportunity to ask questions and network with current graduates.
What to expect at an assessment centre: depending on the role you have applied for you may be asked to participate in a group activity or individual presentation, which will be followed by an individual interview. We will be in touch to provide this detail.
5. Final Interview
Candidates who progress to final interview will also be asked to complete an online assessment. 
6. Offer
Congratulations and welcome to the NTT family! We'll be in touch regarding your formal offer and onboarding.
FAQ:
Q: When should I apply? 
Applications for our graduate programs will look to open in February and July each year.
We may at times have other opportunities available for an immediate start, so be sure to check back in regularly.
Q: Which role should I apply for?
With a variety of exciting vacancies, each requiring specific skills, apply for the role that best aligns with your background, career goals and what you are passionate about. 
Q: How will I know I have been successful at each stage?
You will receive email correspondence from application through to virtual assessment centre. If you are invited to final interview, we will be in touch personally. 
Q: How far through my degree do I need to be to apply for a graduate role?
We are looking for both final year students and those who have graduated within the last three years.
Q: What results do I need to have achieved?
We are looking for students with a minimum of a credit average. 
Please use the 'Ask a Question' button on our NTT profile to enquire about the application process.
For more tips on landing your preferred graduate role, take a look at the following post written by graduate Ryan, Intelligent Cybersecurity.
5 things only successful Graduates do to land Jobs after University.
Graduate Testimonial - Mitch
Graduate Testimonial - Hanna
Matthew Topping
Graduate Consultant, Digital Business
Biography: 
I joined NTT during the July intake of 2020, joining the Digital Solutions team in Queensland.
During my time studying Computer Science & Marketing at university, I grew interested in the growing adoption of the cloud and computational challenges of big data problems. During my interviews, I had the opportunity to speak to key leaders in the Brisbane office, and it was clear that NTT was thinking about these digital trends and identifying how the company could utilise them to help solve their client's problems. 
After working as a Graduate Consultant for 7 months, on projects across 3 industries, NTT has provided me key career development, whilst also engaging with new and exciting technology that has the potential to change the market.  
Working at NTT also supports a healthy work life balance that allows me to continue the hobbies that I love.  Outside of work I enjoy playing music. I have been playing the Bass Guitar over 10 years and continue to enjoy playing it most evenings. I also enjoy videography and skimboarding at the beach. 
Some Graduate Pointers:
Remember you have value.
It is hard to understand the value you can bring to an organisation when you have just left university. It is important to remember that as a new entrant into the industry, you have the freshest ideas and have studied what is much closer to the forefront of the industry. NTT openly embraces the value of a new perspective, which is what you can bring along with your foundation knowledge.
Don't be afraid to have a differing opinion.
Your new ideas need to be heard! We all know that it is easy to say yes and agree, but challenging the norm is what drives innovation. NTT is always looking to stay in-front of the curve, so bringing new ideas into organisation has great value.
Embrace change.
The technology is always a moving target, and as a consultant you are never going to be serving the same industry sector for an extended period. Use NTT's learning culture to continue to upskill and enjoy the diverse range of industries you will get to experience when working with clients. That is arguable the most interesting and rewarding part of the job!
Day in the life of an NTT Graduate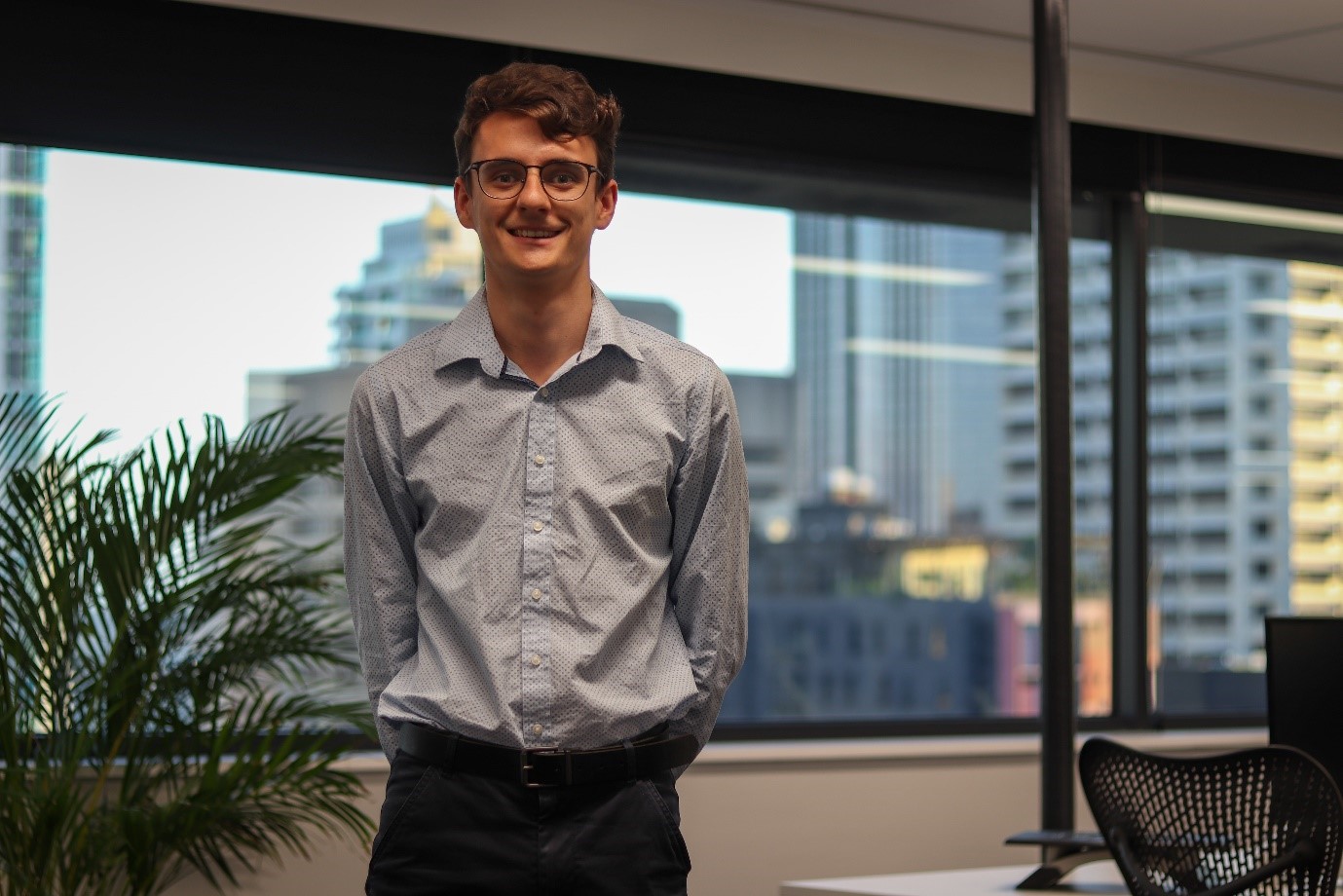 8:00am
Working and coffee culture certainly go hand in hand. This is my first point of call for every morning. The soothing nature of a warm beverage helps me start the day relaxed, and it has the bonus of a caffeine kickstart! 
8:30am
Before any stand-up meetings, I like to hop on and check any emails I have received overnight and review my calendar, so I am aware of my schedule. This is a great way to prioritise your day and stay on top of your workload. As old-school as it might be in the modern age, I write my tasks down, and tick them off as I go throughout the day.
9:00am
Within the first hour or two, I will have a stand-up meeting with my current project team to run through everyone's work for the day. Although these meetings typically last 10-15 minutes, they are critical to our team's workflow. All tasks are kept track of on an agile board, so I tend to only take essential notes in these meetings, allowing me to fully focus on listening.
9:15am
Time to start my task for the day! First point of call is to get up the agile board and assign any tasks to myself and set them to the correct status. I log into the current Dynamics 365 environment I am working in and start making changes in the team's solution.
11:00am
There is some clarification required for some of the development work that is being completed today. We have organised a quick 30-minute call to run through the changes with the client to ensure that the build is meeting their requirements.
12:00pm
It's time for our Dynamics team meetup! The boarder Dynamics team come together to listen to presentation by team members about work that is going on across our client portfolio. Today I am presenting a piece on Embedded Power Apps and how to improve their efficiency.
1:00pm
After having a bite to eat whilst listening to the other presentations it is back to billable work. 
2:00pm
An afternoon coffee is due, so I have reached out to the grads to see if anyone would like to have a coffee break at the same time. A couple of the available grads and myself head down to a local coffee shop to catch up on the work we have been doing in our areas of the business.
2:30pm
I am keen to close out my tickets for today, so this afternoon I have booked some time into my calendar to get my head down. Key items for today include the automation of email notifications for an internal team when a new record become available in the database.
5:00pm
All work items for today have been finished off. I quickly sort out any admin tasks like updating the agile board and updating my timesheet before logging off. 
6:00pm
It is super important to unwind after a day at work. I like to go for a run in the evening to help clear my mind and get my exercise for the day. 
7:00pm 
It's important to have a collection of interests in combination with work. As a result, I will always try and spend some time on my hobbies in the evening. For me that is usually, playing some guitar, playing some video games with my brother, or going for a drive to find some urban landscapes to photograph.
Our Intelligent Capabilities and Success Stories
NTT
---
In a constantly evolving world, technology doesn't stand still. And nor do we. Our clients constantly grapple with competing priorities. They're faced with unprecedented disruption to innovate, remain relevant, drive profitability, and transform the business digitally. Yet, this needs to be done all while running day-to-day operations. Every wave of change brings opportunities to reshape our clients' business and set the pace of transformation.
We partner with organizations globally to shape and achieve outcomes through intelligent technology solutions. For us, intelligent means data driven, connected, digital and secure. 
Our go-to-market themes aim to address the core challenges and focus areas of organizations, globally right now, and into the future.
Intelligent Business
We find better ways of doing business to give our clients the competitive edge. Improve their operational efficiency and deliver better value to their customers by unlocking the potential of new and emerging technologies, insights from data analytics, and optimizing our clients' enterprise-wide applications. 
Intelligent Cybersecurity
With unsurpassed threat intelligence, we help our clients to predict, detect and respond to cyberthreats, while supporting business innovation and managing risk. We help them to avoid downtime and build an agile and predictive security ecosystem across their users, devices, applications and infrastructure.
Intelligent Infrastructure
We deliver networking, data center and cloud infrastructure solutions that drive business agility. We enable the rapid deployment of new technologies and services, and provide data-led intelligence. Our highly automated processes and Managed Services help keep our clients' business agile, optimized and secure, ensuring user and customer satisfaction across a hybrid environment.
Intelligent Workplace
We create a modern workplace environment that ensures a seamless workflow and optimized applications which increase the efficiency of our clients' teams and enhances their customers' experience. It accelerates the integration of new technologies and applications and strengthens their ability to innovate. We help our clients deliver the best experience for their employees and customers securely, regardless of their location or device.
Client Success Stories
City of Las Vegas and Sustainable Cities
ISPPC and NTT work together to create a hyperconnected hospital
Heads, Hearts, and Hands (HHH) program
Get involved in local initiatives, that align to UN's Sustainability Goals. Together we have an incredible opportunity to make a difference in the world. Innovation for the future defines who we are, but it's not just about technology. It's also about the ideas we have to find better ways to live.
Health & Wellbeing
We are committed to your health and wellbeing. Healthy minds and bodies help us have better relationships with ourselves and others, meet our goals more quickly, and deal with stress and change more easily. 
Our Wellness Program provides resources to help make everyday choices that support physical and mental wellbeing. When we have healthier, happier people at work, our business also thrives.
COVID-19 remains a focus around the world. We continue to make our company decisions in line with relevant government requirements, and with health, safety and wellbeing as our priority. 
State of the Art Offices
As a business we recognise that great ideas happen when our people actively collaborate and create strong relationships with each other and with our partners and clients. So we've made sure that our spaces facilitate this. Our offices are state-of-the-art environments that incorporate Smart Workspaces, enabling our people to create, imagine and deliver innovative, world-leading solutions.