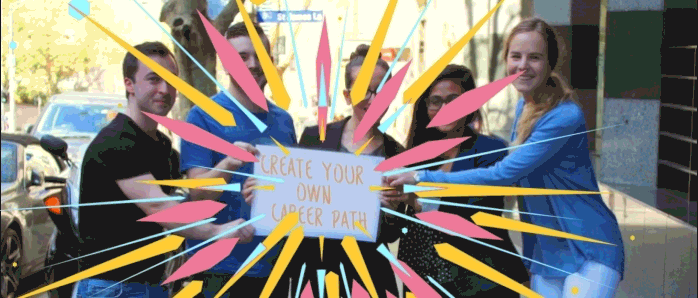 We create HR technology people across the world love to use. When you apply to our grad program, you're using our software and who knows, soon you could be building it, supporting, implementing or selling it! Carve out a unique career path with us.
PageUp currently has 0 opportunities.
Select the following options:
Past PageUp Graduate Hiring Statistics
If you're interested in working at PageUp, understanding when they have opened up applications for their graduate programs, graduate jobs and internships is helpful knowledge to have so you know when you might need to apply. Use the below information to see when PageUp hires graduates, but more importantly what graduate degree's and other student attributes they target for their jobs.
---
Work rights
Australian Citizen (100%),

Australian Permanent Resident (100%),
Past PageUp Graduate Programs
Check out some of PageUp's past jobs they have posted on GradConnection over the last 12 months. Understanding the details about what a graduate employer is looking for well before applications have opened can sometimes be the edge you need to secure your first graduate program.
---
Information Technology
and 1 other
Hires applicants with degrees in
Does your dream graduate role have you planning and coordinating projects in a fast-paced tech environment? Then you've certainly come to the right place! Join us on our journey and kick-start your career with a global software provider that truly values its people.
We create technology people love to use. Hundreds of thousands of people all over the world use our software every day. When you apply to our grad program, you're using our software. Chances are you've already used it if you've applied to alternate grad programs or for casual work at one of the major Australian retailers. We like to think of ourselves as enablers of career destiny, allowing companies to attract and recruit great people and ensuring they can keep developing those people by leveraging our performance, learning and development and succession management modules. We were founded in Melbourne in 1997 and now span Australia, USA, UK, Europe and South East Asia. There are now more than 160 of us, over 250 clients and we are still growing!
Our Vibe
If you've had the pleasure of meeting any of us, then you will know we are among the friendliest people you've ever met! It is often the first thing candidates tell us after they have spent just a few minutes in our reception area. We are proud that we offer an environment where people feel they can be themselves because of that open and collaborative spirit.
When it comes to work, we work fast and we put in some serious effort. With rapid growth comes change and that is the norm at PUP. We are used to ambiguity and not having all the answers but we don't stop until we find an answer that works! Our career paths are fluid, they can take unexpected and exciting turns as new roles evolve as we grow larger and enter new markets.
We'd all agree that we are a very social bunch, we even have a committee whose sole purpose is to organise surprises, parties and sporting events, the Puparazzi we call them. Many of us have made lifelong friends; we truly believe we work with the best people.
Our Grads
From day 1 we will give you work that directly contributes to our business success, for a grad developer that means getting stuck into code that makes our product and for our grad analyst or coordinator roles that means working across business-critical projects. We will give you the support to get you up to speed fast and accelerate your own career.
Our most successful graduates have seized every opportunity; they're proactive, champion positive change, regularly contribute insight to open forums, take full ownership of their work and make a special effort to build networks across our global business.
Create Your Career Path. Apply now!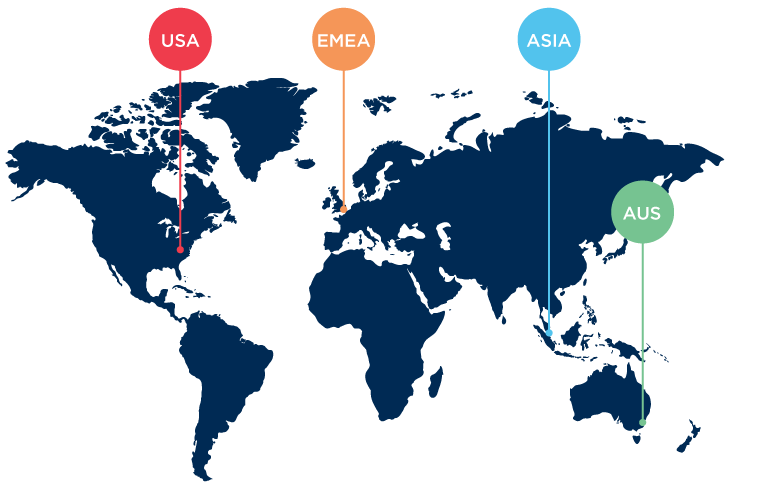 Create Your Own Career Path
PageUp
---
The Makeup of A PageUp Grad
PageUp
---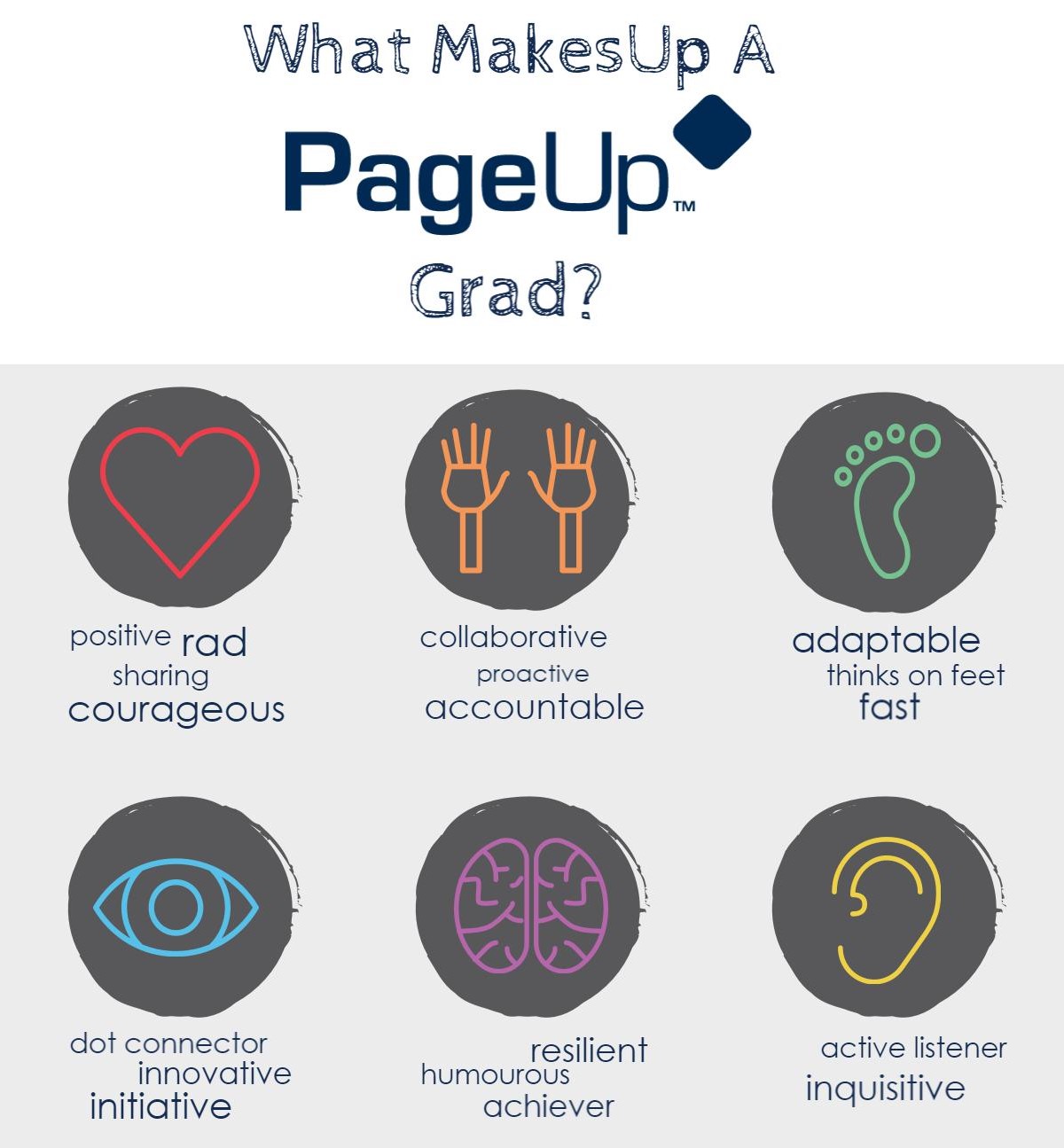 Want to go back in time and meet some of our previous graduate? Start here...
---
---
HandsUp If You Want to Give to the Community
PageUp
---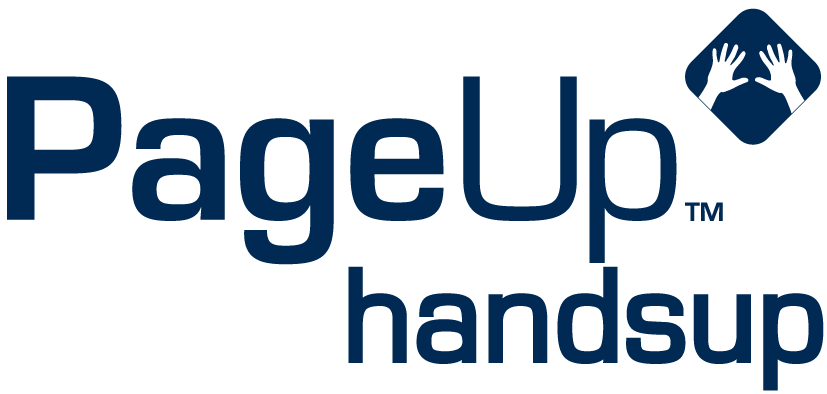 Our inspiration for HandsUp came from our employees, and is firmly based on our core value of WEValYOU. This value underpins the way we interact and support each other, our clients, our partners, suppliers and of course our communities. 
Community engagement has always been important to us and we are committed to encouraging our people to help make a practical difference to the world we live in.
We strive to ensure PageUp remains a great place to work and a great place to be able to give back to the community. 
The HandsUp workplace volunteering program complements this commitment by providing a platform for PageUp to participate in both skilled and unskilled volunteering opportunities.  
Perks of PageUp Life
PageUp
---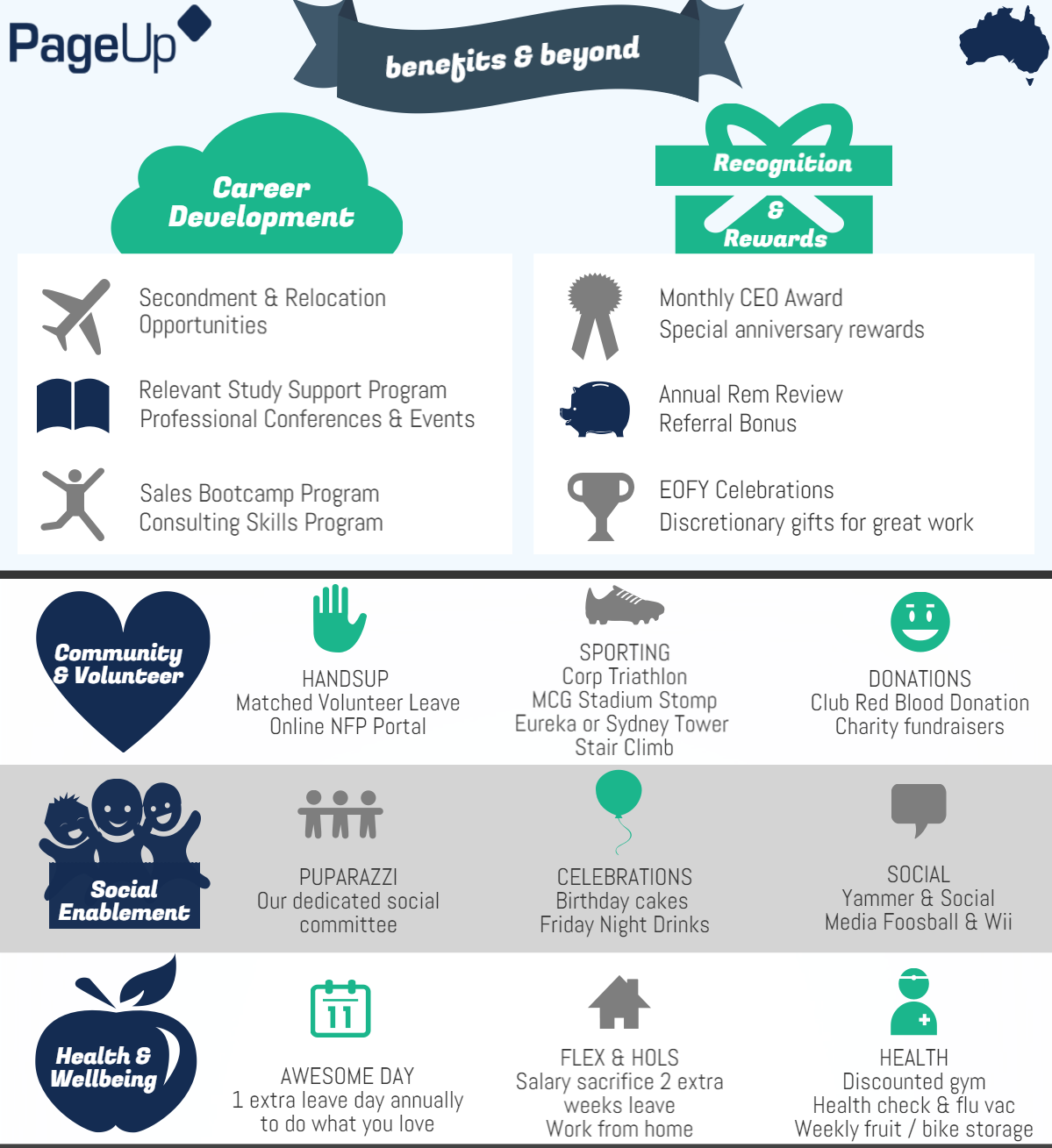 Recruitment Process
PageUp
---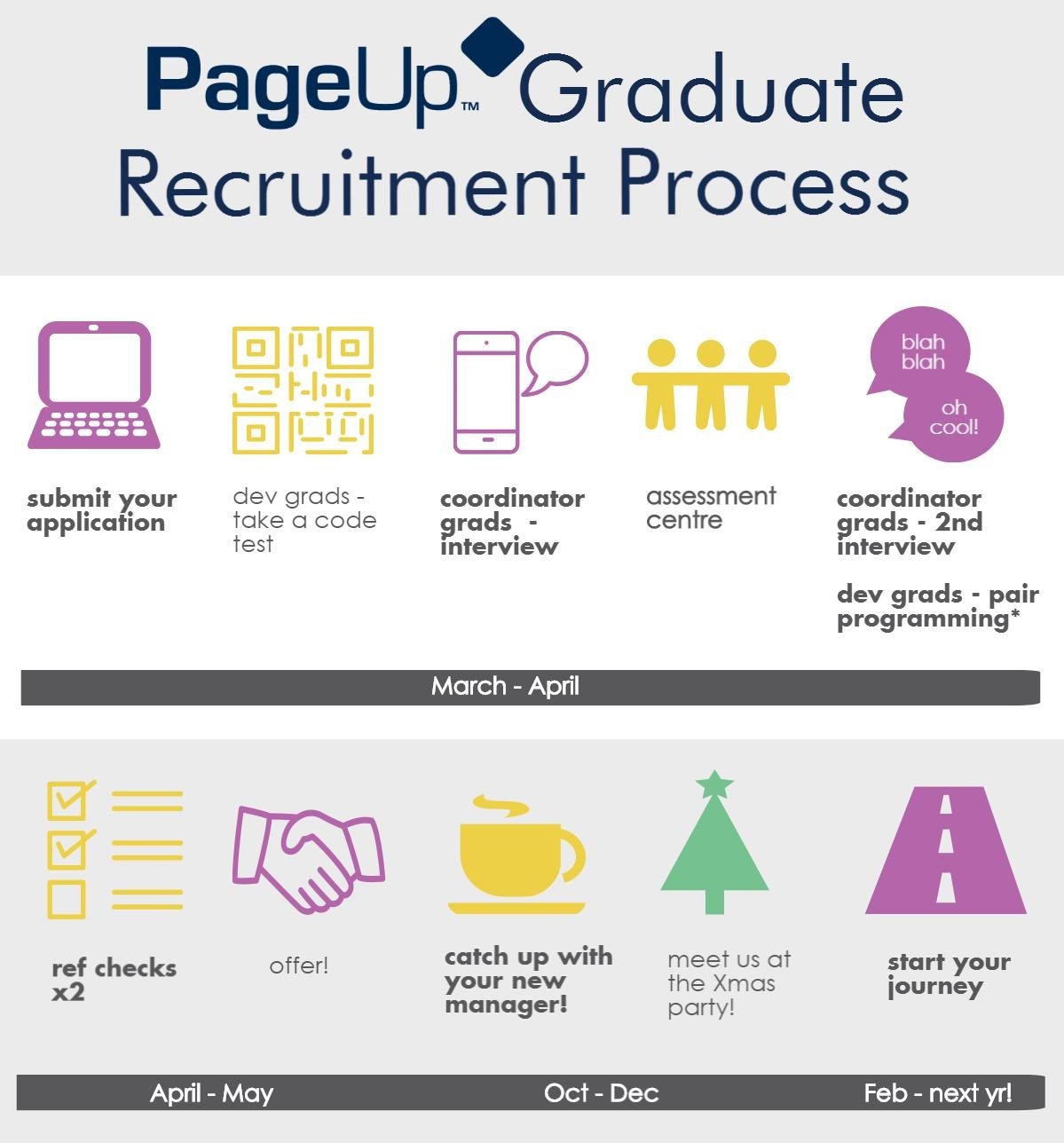 Diversity & Inclusion

PageUp
---
It comes down to our company values, naturally we are an equal opportunity employer and value diversity. We do not discriminate based on race, religion, colour, national origin, gender, sexual orientation, age, marital status, veteran status, or disability status.
Belief – We can do anything we set our minds to
Clients – Our clients are the centre of our universe
We ValYOU – We value everyone's contributions
Integrity – We do the right thing
Zing – We add creative sparkle and wow!
We recognise that our business success reflects the quality and skill of our people. As we continue to grow as an organisation on a global scale, we are committed to finding, developing and retaining our key talent to ensure our continued growth and success. We recognise that each employee brings their own unique capabilities, experiences and characteristics to their work and we value such diversity at all levels of the company and in all that we do. We work hard to connect people to their future through our products, services and our supportive and open environment. We strive to create and encourage a supportive and understanding environment in which all our people can realise their maximum potential within the company, and, where each person is valued for their skills, experience, opinions and ideas. Our values are the foundation of our culture and are strongly embedded in all that we do.
In Our Recruitment
We believe that people who come from many different cultural, linguistic and national backgrounds provide us with valuable knowledge for understanding complex international markets. Our well-established recruitment practices ensure that all candidates (whether they are internal or external, and irrespective of personal characteristics including gender, ethnicity, sexual orientation, work status or disability) are treated fairly and are evaluated objectively against a combination of key competencies, skills, motivational and cultural fit, tailored specifically for each of the roles on offer. We regularly recruit University Graduates into our business as part of our succession planning strategy (including IBL placements for Swinburne students). Graduates will often stay with our business for many years as they progress through to into more senior roles.
In Our Career Development and Promotion
We reward excellence and all employees are promoted based on their performance and in line with their career aspirations. Our people managers are regularly trained in our Performance Management processes to ensure that employees are treated fairly and are evaluated objectively. We regularly engage in conversation with our people to understand their career aspirations and work to create personal development plans for every person irrespective of personal characteristics such as gender, ethnicity, sexual orientation, work status or disability. All roles are advertised internally before sourcing externally which provides opportunities for our people to apply for new roles. We strongly encourage promotion and as we continue to grow will be able to build upon the current international exchange opportunities which we have been able to offer in Singapore, London and the United States.