Pitcher Partners Graduate Programs & Internships
Working at Pitcher Partners is quite unique – it's a place where you make lifelong friends and where you feel as though you really belong. Pitcher Partners genuinely care about their staff – that's why we were named one of the Top 50 Companies to work for in Australia.
Pitcher Partners currently has 0 opportunities.
Select the following options:
Past Pitcher Partners Graduate Hiring Statistics
If you're interested in working at Pitcher Partners, understanding when they have opened up applications for their graduate programs, graduate jobs and internships is helpful knowledge to have so you know when you might need to apply. Use the below information to see when Pitcher Partners hires graduates, but more importantly what graduate degree's and other student attributes they target for their jobs.
---
Job types
Graduate Jobs (71%),

Internships (29%),
Work rights
Australian Citizen (100%),

Australian Permanent Resident (100%),

New Zealand Citizen (71%),
Past Pitcher Partners Graduate Programs & Internships
Check out some of Pitcher Partners's past jobs they have posted on GradConnection over the last 12 months. Understanding the details about what a graduate employer is looking for well before applications have opened can sometimes be the edge you need to secure your first graduate program.
---
Apply now to join our amazing 2022 Graduate Experience Program, where you will have the opportunity to work across 3 different practice groups!
POSITION START DATE
Mar 2022 (approx)
Apply now for our Melbourne Summer Vacation Program designed for penultimate students who want to experience life at Pitcher Partners!
POSITION START DATE
Sep 2021 (approx)
Apply now to join our amazing 2022 Graduate Experience Program, where you will have the opportunity to work across 3 different practice groups!
POSITION START DATE
Mar 2022 (approx)
Apply now for our Melbourne Summer Vacation Program designed for penultimate students who want to experience life at Pitcher Partners!
POSITION START DATE
Sep 2021 (approx)
We have an exciting opportunity to join the Audit Division as a Graduate in 2022.
We have an exciting opportunity to join the Private Business Family Advisory Division as a Graduate in 2022.
We have an exciting opportunity to join the PBFA & Audit Divisions as a Graduate in 2021.
About Pitcher Partners
Pitcher Partners
---
Pitcher Partners is an independent association of firms located in Adelaide, Brisbane, Melbourne, Newcastle, Perth and Sydney. Its founding mission to be the leading firm servicing the middle market has not changed since 1991. Over almost three decades, Pitcher Partners has experienced outstanding growth and success working with clients from a broad range of industries. Across Australia, Pitcher Partners has over 110 partners and more than 1,400 staff.
As one of Australia's leading professional services firms, Pitcher Partners specialises in providing a range of accounting and business advisory services to middle market businesses, including privately owned, foreign controlled, government owned and not-for-profit organisations. We have the resources and depth of expertise of a major firm, but with a boutique firm feel. 
Our clients trust our people for their breadth of professional experience, depth of technical expertise and, most importantly, the level of personal understanding and involvement we bring to their affairs.
Whether you're looking for vacation, internship or graduate program experience, at Pitcher Partners you will have the opportunity to shape a career pathway that suits your interests and expertise. 
Making careers personal
Your career should be your calling, not just a job. As a full-service firm, Pitcher Partners provides you with opportunities to build breadth of experience, cultivate deep technical expertise and chart a clear path to leadership and career progression. Our people work with a broad range of businesses on matters such as deal advisory and transactions, investment advisory, audit, taxation advice, international taxation matters, cross-border business structuring, internal audit, and data and analytics projects, to name a few.
As a graduate, you will work on a variety of projects across diverse industries and clients. With a solid grounding and experience with one of Australia's leading accounting and business advisory firms, you'll find your passion and begin to personalise your career pathway. 
Starting a new job can be daunting, but our warm and friendly culture will immediately put you at ease. Care is one of our core values, and this is reflected not only in how we engage with our clients but also in how we look after our people. You will also be matched with a buddy, join other graduates throughout the year for social events and engage in valuable learning activities. 
Our foundational learning journey includes technical learning experiences, business acumen training and professional development opportunities. 
A graduate program with a difference
When you join the Melbourne firm's graduate program, you will benefit from a comprehensive 24 month program that builds your breadth and gives you the opportunity to undertake three experiences across the different areas of accounting and business advisory within the firm. 
 
Across each 8-month experience, you will have the chance to learn about a different area of the firm, build your networks, work with a variety of clients and build your technical knowledge.
At the end of the program, you'll know exactly where and how you'd like to deepen your technical expertise as you set a plan for career progression and chart your pathway to leadership.
Make your career personal with Pitcher Partners.
To learn more about the Melbourne Graduate Experience Program click here
Our Programs
Pitcher Partners
---
Pitcher Partners is an independent association of firms so you will need to apply to your selected program through a specific firm.
Find out more about each of the available programs below and discover which one is right for you.
Vacation programs – A four to eight-week program offered during the summer university break for students about to embark on their final year of university.
Internship/cooperative placements – A program designed for students who wish to gain practical experience before completing their degree, often as part of their coursework.
Trainee program – For students who are currently studying or have completed university within the last two years.
Cadetship – A program offered over the first through to the final year of study. It is designed to help students gain practical industry experience while completing a university degree.
Graduate – For graduates who are in their final year of study or have completed their degree within the past two years and are ready to join our development program and commence their ongoing career with Pitcher Partners. 
Our Practice Areas
Pitcher Partners
---
Pitcher Partners practice areas encompass the following services:
Business Advisory and Assurance
Business Recovery and Insolvency Services
Consulting
Corporate Finance
Data and Analytics
Investment Services
Pitcher Pharmacy
Private Business and Family Advisory
Risk Services
Superannuation
Tax Advisory
Wealth Management
The services offered by Pitcher Partners vary across each firm. Visit the careers page for each of our firm locations to learn which services your desired firm offers. 
Business Advisory and Assurance
Pitchers Partners enables middle market businesses to navigate the complexities of their industries and the wider market by identifying opportunities and risks and recommending solutions. By applying a risk-based audit and review methodology, a thorough understanding of the challenges facing a business is achieved, pinpointing areas where they need expert support, advice and action.  
Assurance engagements can include assisting with the preparation of monthly management accounts, year-end reporting, income tax returns and activity statements. We also offer general advice to enable boards of directors, audit committees and business owners to make informed business decisions and bring clarity to day-to-day operations. 
Business Recovery and Insolvency Services
Whether a business is undergoing cessation, liquidation or bankruptcy, Pitcher Partners Business Recovery and Insolvency Services (BRIS) professionals achieve maximum recovery levels and strengthen businesses well into the future. Team members deal in a professional and sensitive manner with various stakeholders, often in an aggrieved state. 
Activities in the BRIS team can involve collecting records from the insolvent for analysis, preparing and reviewing detailed correspondence and statutory forms, liaising with legal representatives, attending court hearings, securing assets and negotiating with stakeholders.
Consulting
Organisations rely on the expertise of consultants to tailor insightful and practical solutions that help them navigate choices, challenge, change and disruption. 
Consulting services offer varied and rewarding career paths. Using agile, innovative thinking to deliver commercially relevant strategic planning, the team helps middle market businesses and government bodies navigate feasibility studies, viability studies, contract negotiations, financial analysis and modelling, tailored IT solutions and organisational reviews.
Corporate Finance
Corporate transactions are part of the progress towards a goal – be it growth, higher profitability, improved market share or competitive advantage. Pitcher Partners has extensive experience providing independent, well-informed advice to public and private sector clients at board level on business transactions and the valuation of business assets. 
Work in this team is focused on assisting business owners in the process of structuring a merger or acquisition transaction, carrying out the due diligence and valuation of business assets for sale by a business owner, or calculating the commercial value of shares or intangible assets.
Data and Analytics
Data and Analytics professionals specialise in the delivery of evidence-based insights that help organisations improve customer experience, streamline operations, improve the effectiveness of distribution channels, reduce risks and increase profitability. 
Work in this team appeals to those who are interested in developing skills in data mining, modelling and extracting value from data. With data becoming increasingly invaluable to running a successful organisation, our client base is broad and spans a range of sectors. 
Investment Services
Investors rely on insightful yet practical recommendations to make the best financial decisions and achieve their goals. Investment Services professionals provide financial advice to business owners, executives and affluent individuals and families who are looking to build, grow, protect and manage their wealth. 
Work undertaken is varied and can include strategic wealth management advice, investment planning and strategic asset allocation, investment portfolio management, tax minimisation strategies, retirement and estate planning and personal and business succession insurance.
Pitcher Pharmacy
Pitcher Pharmacy provides in-depth and specialised solutions to help pharmacists manage and grow their business. Core accounting and taxation skills are just the start of this unique and specialised service. Backed by an extensive knowledge of the pharmacy industry, its people and the business of pharmacy, the Pitcher Pharmacy team help businesses grow profits, generate cash flow and implement technology solutions.
Private Business and Family Advisory
Private Business and Family Advisory team members work predominantly with privately run businesses, including family businesses, entrepreneurs and high net worth individuals. Large and small businesses have the comfort of retaining control and decision-making power, knowing that all day-to-day administration and monitoring is being undertaken by a dedicated professional and experienced team.
Team members specialise in monthly and quarterly reporting assistance, annual compliance, preparation of management accounting, financial statements, income tax returns and business activity statements. Additional services are offered in forecasting, budgeting, superannuation and investment holding structuring.
Risk Services
The Risk Services team assess the activities and risks facing businesses and make recommendations for their improvement. The team aims to reveal the untapped potential of businesses and support their continuous improvement. 
Work can include enterprise risk management, internal audit, disaster recovery and business continuity planning, advanced data mining and specialised information technology security assurance. Risk Services experts also support their colleagues in Audit and Assurance through a broad range of risk management services.
Superannuation
An ideal superannuation strategy builds and supports wealth for retirement whilst ensuring regulatory requirements are met, and concessional taxed structures are not compromised. The Superannuation team works with trustees, government agencies, members and employers in all segments of the industry: large fund compliance, self-managed funds, administration, employer obligations, member retirement planning and estate planning. Specialist advice includes tax effective benefit strategies, asset protection strategies, estate planning considerations and expert business advice. For those who desire the freedom to control the direction, investment profile and services provided to their fund, Pitcher Partners can assist in establishing and maintaining a self-managed super fund.
Tax Advisory
Pitcher Partners team of experienced professionals manage a range of taxation issues. As legislative experts with longstanding institutional relationships with the ATO, we advocate for effective tax legislation that benefits middle market businesses and organisations. 
Our tax consultants advise on income taxes, capital gains taxes, international taxes, transaction taxes and employment taxes, all in the context of structuring transactions and organisations to legitimately minimise their taxation liability.
Wealth Management
Business owners, executives and affluent individuals and families who are looking for assistance to build, grow, protect and manage their wealth can receive tailored, expert support from Pitcher Partners' wealth management consultants. The Wealth Management team provides strategic advice, advising on investment planning and strategic asset allocation and investment portfolio management, tax minimisation strategies, retirement and estate planning and personal and business succession insurance.
How to Apply
Pitcher Partners
---
How do I apply?
Once applications are open you will need to apply online via our website.
When do applications open?
| Firm | Program | Application Open Date | Application Close Date |
| --- | --- | --- | --- |
| Adelaide | Vacation (2021/22 program) | 1 March 2021 | TBC |
|   | Undergraduate | Applications closed | Applications closed |
|   | Graduate | Applications closed | Applications closed |
| Brisbane | Vacation (2022 program) | 8 February 2021 | 10 March 2021 |
|   | Graduate (2022 program) | 8 February 2021 | 10 March 2021 |
| Melbourne | Vacation (2021/22 program) | 22 February 2021 | 31 March 2021 |
|   | Internship (2021 program) | Applications closed | Applications closed |
|   | Graduate (2022 program) | 22 February 2021 | 31 March 2021 |
| Newcastle | Student Trainees | Check our vacancies for opportunities. | Check our vacancies for opportunities. |
| Perth | Graduate (2022 program) | 1 February 2021 | 21 March 2021 |
| Sydney | Vacation (2021 program) | TBC | TBC |
|   | Cadetship (2021 program) | TBC | TBC |
|   | Graduate (2022 program) | TBC | TBC |
Put your best foot forward with these three simple interview tips from a recruiter.
Getting social
Personal journeys
Work life balance
Meet Tom
Our Recruitment Process
Pitcher Partners
---
Submit your online application
Complete an online application covering your work experience, leadership and team experience, extra-curricular activities, academic results, eligibility to work and more.
Undertake online assessment
This timed interactive online assessment is designed to determine your fit with Pitcher Partners, while providing you with insight into the firm's culture and values. The assessment includes multiple-choice and free-text responses.
Participate in a phone interview
An early-careers representative will call you to discuss your application in further detail.
Join an interactive assessment session
Successful candidates are invited to a short interactive assessment session, group activity and individual interview. There will also be an opportunity to network and meet Pitcher Partners people.
Be allocated to a practice group
Successful candidates will be provisionally matched with the Pitcher Partners practice group that best suits their skills, experience and aspiration.
Undertake an individual interview
Representatives of the practice group you have been progressed with, will meet you to take you through a behavioural-based interview.
Receive an offer
Successful applicants will be notified if and when they qualify to join a student career's program. Those candidates who were unsuccessful will also be contacted at this time.
A Day in the Life
Pitcher Partners
---
Name: Katherine Meredith
Job Title: Analyst – Business Advisory & Assurance
University: La Trobe University
Degree qualification: Bachelor of Accounting
Year of graduation: 2020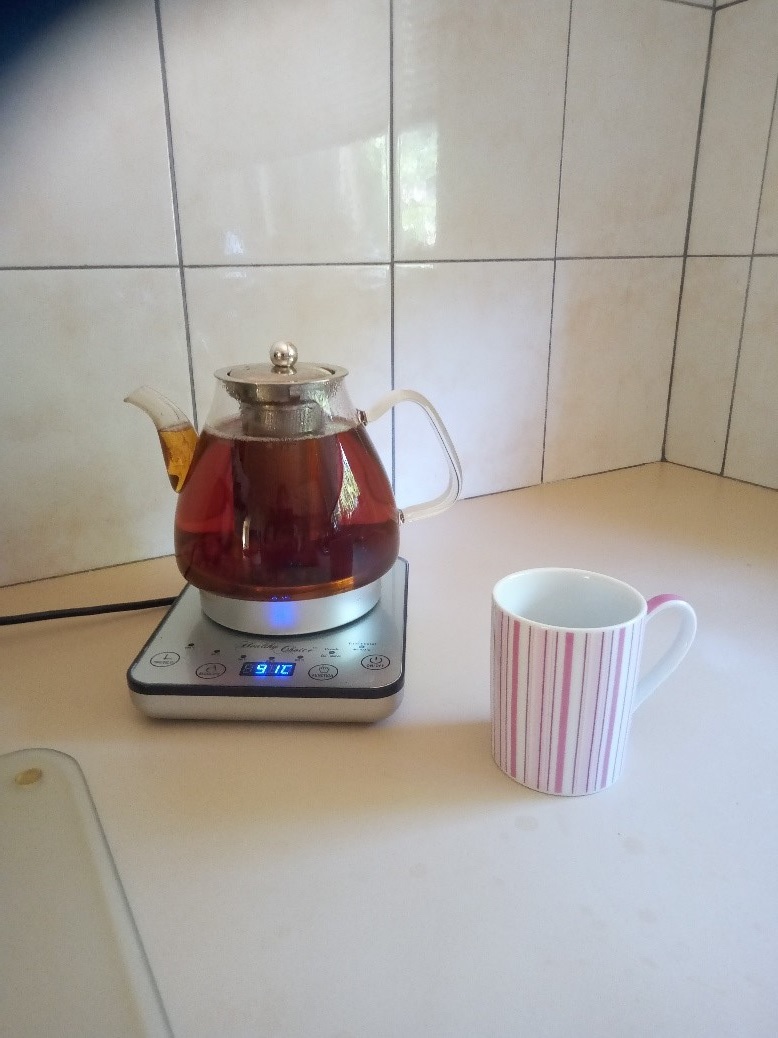 6:30
The first thing I hear each morning is my alarm. The sun is streaming through my window, and my cat is asleep at my feet. I'll grab my phone and do a quick check on the news in bed before I get up. The most important part of my morning ritual is my cup of tea. If I don't have it, I can't function. Thankfully today I am working from home so I can  drink my tea and have a leisurely piece of toast. 
8:30
I start work. First thing. Emails. I check through to see if anything has changed while I was away from my computer. Then I read through my list of tasks from the night before to plan my day. I check to see if my client has given us the support we requested for the audit and send a few follow-up emails.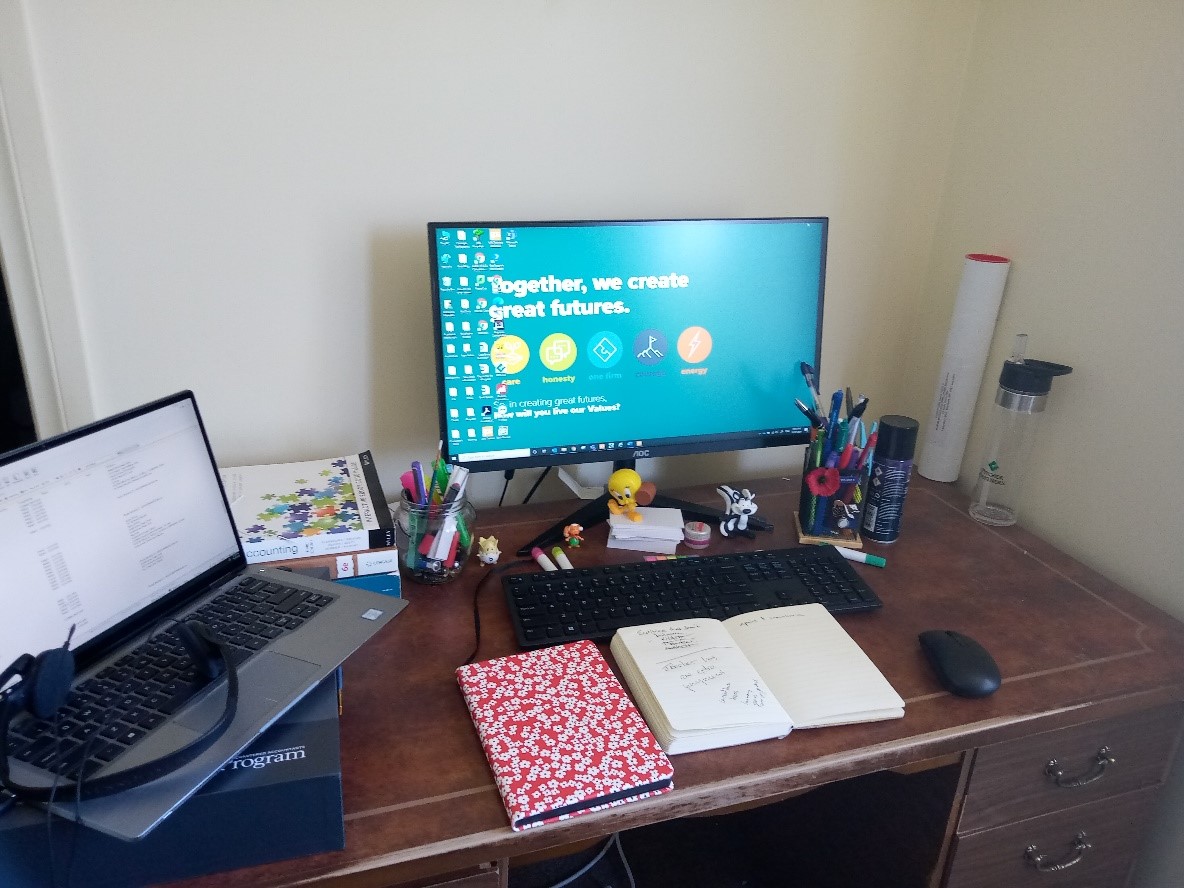 9:00 
Today I am speaking with our client's payroll manager to discuss how they run their payroll system. I prepare for the meeting by going over last year's notes and prepare a set of questions. Then the meeting commences on Teams, our videoconferencing and messaging software. We all catch up with some general chit chat before getting to the business of the meeting, and asking my questions. I get the necessary information and note down our client's answers to update the workpaper later.
12:00
I catch up with my manager and the rest of the team to give them a rundown of the meeting, mentioning any issues that I noted that we may need to check when we are doing field work.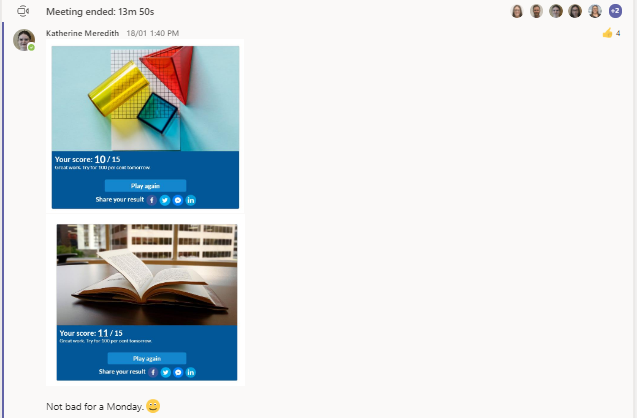 12:30
The most important part of the day. The daily lunchtime quiz. Anyone within our group can join and participate. This year I was asked to be quiz master. We always use a New Zealand quiz and we often have to rely upon our New Zealand colleagues for the answers. It's a lot of fun and we learn lots of interesting facts. After the quiz it's off to make myself a healthy wrap and catch up with my flatmates.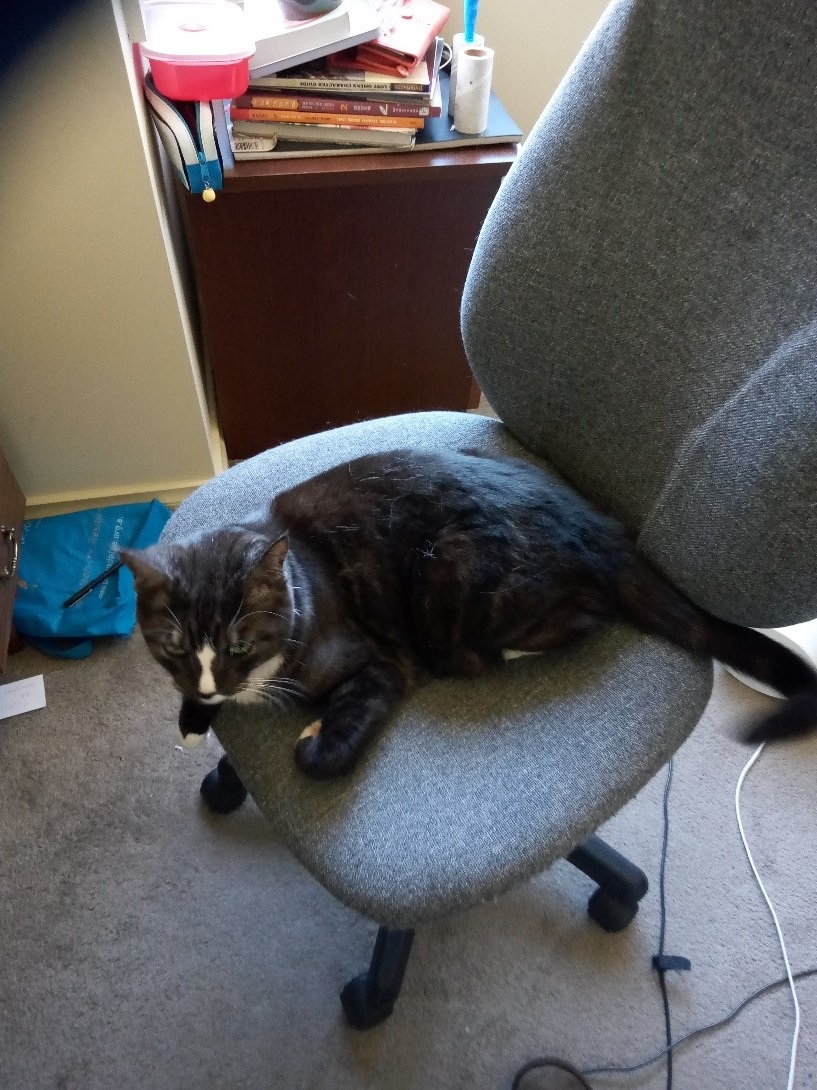 1:30
After dislodging my cat from my chair it's time to get back to work. I spend some time updating the workpaper I had a meeting about earlier by going over my notes and updating what has changed from the prior year. I spell check it and do a once over before I send a message to my AIC (Auditor in charge) to let them know it's complete.
4:00
I need to call the ATO this afternoon. This means spending some time listening to hold music until the call is picked up by one of their agents. I am following up on a previous request to check on the progress. I give them my reference number and we discuss the request. No luck today. Still not done. I send an email to my Manager with the details of the call and the reference number.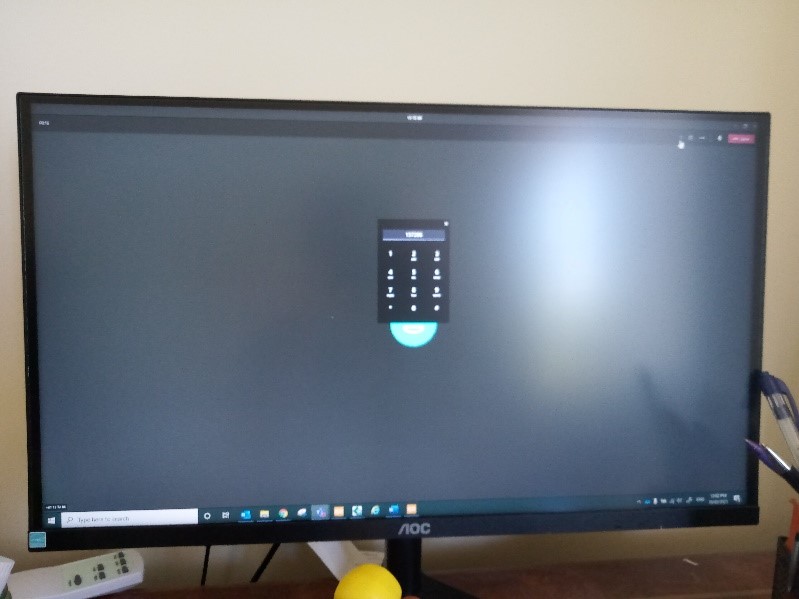 5:15
Work's done for the day. I write my list of remaining tasks, numbering them in priority. I finish off my time sheet and close my laptop. Time to relax for a little while on the couch before starting my study time for CA. I try to do at least an hour each night, so I don't have to spend all of my weekend studying. 
7:00
I am called for dinner. Wasn't my night to cook so one of my flatmates made dinner for the household – lucky me! Today it's a chicken and apricot tagine with couscous. YUM! We enjoy dinner and catch up on each other's day.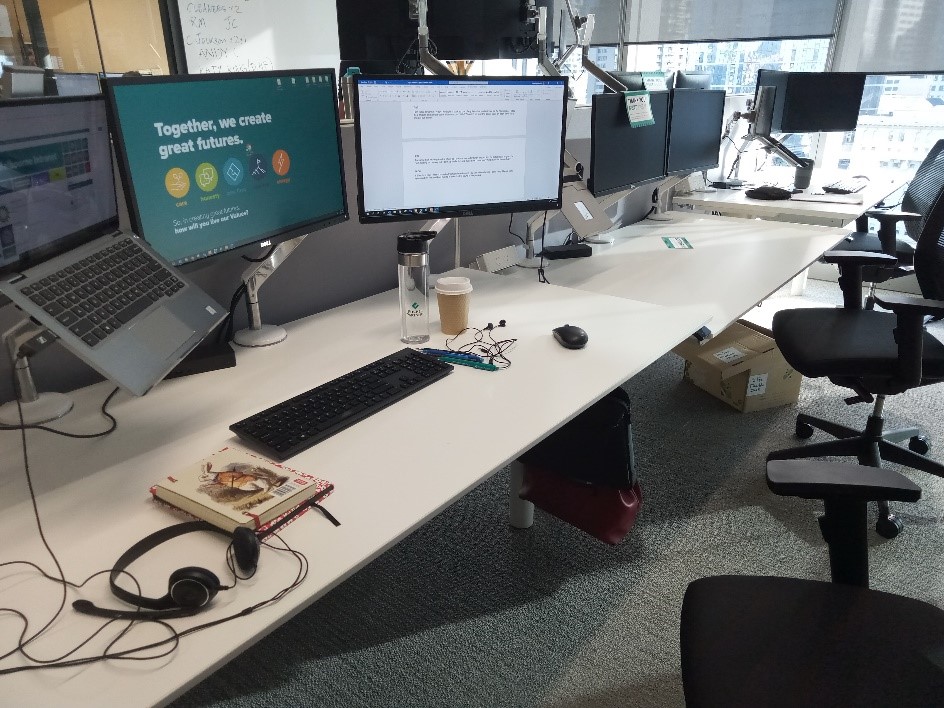 9:00
Tomorrow I am heading into the office, so I prepare a wrap for lunch and put it in the fridge ready to grab the next morning on my way out. I pack up my laptop and make sure I have everything ready for the next day. 
10:30
It's bedtime now. I retreat to my bedroom and watch some YouTube videos before I go to sleep. My cat curls up around my feet and I am rocked to sleep by the sound of her purring. So, I am ready for the next day's work.
---
Stefano Alderuccio
Analyst – Insolvency at Pitcher Partners Melbourne.
Stefano Alderuccio studied a Bachelor of Accounting / Bachelors of Laws and Diploma in Languages (Italian) and is now an Analyst in Insolvency at Pitcher Partners Melbourne.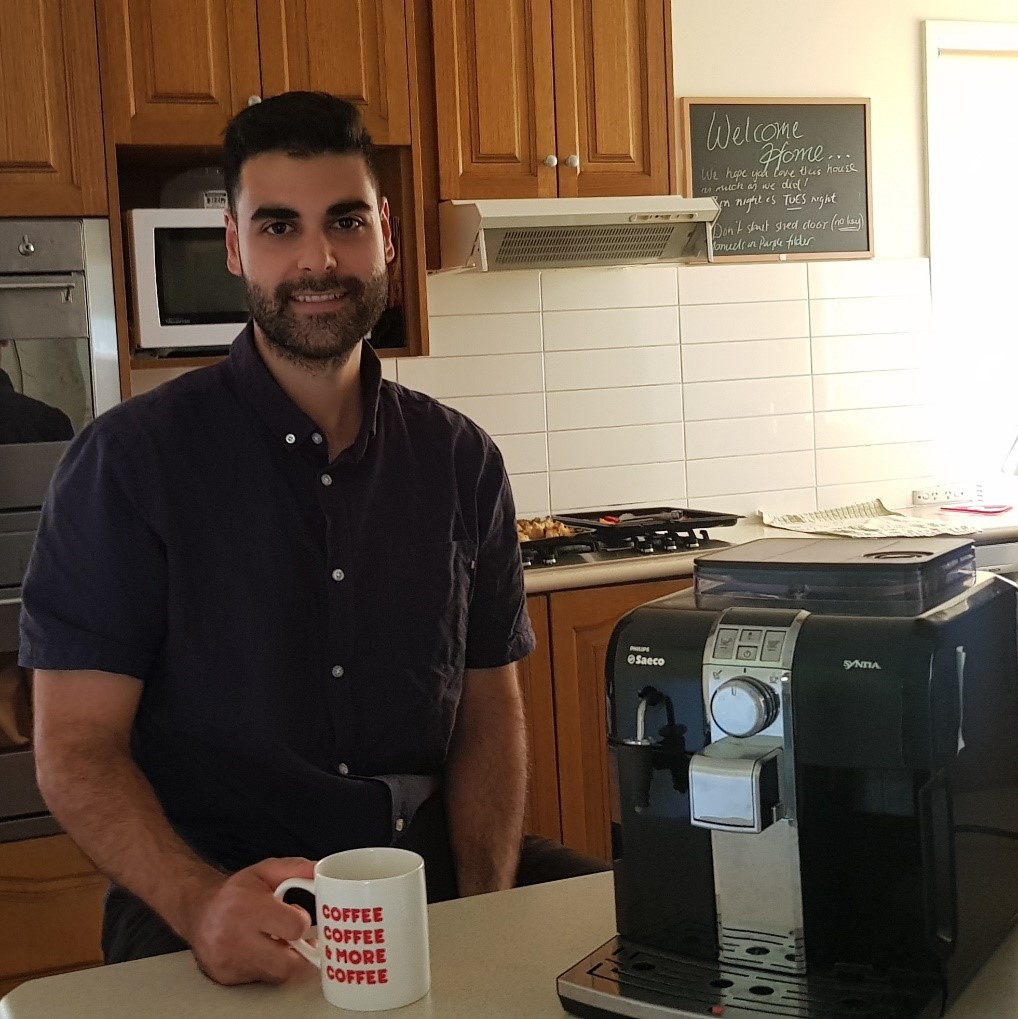 8am  
Whether you're working from, the office or, in this case, working from home, routines are essential. 
Even though the work commute has shrunk from 60 minutes to 60 seconds it's still important to get ready for work and have breakfast.   
8.30am 
It's time to head into the home office and start the workday. A key work-from-home tip is to have separation between work and living, if possible. Try to set up a dedicated workspace. And, if you have the room, a work space that isn't in your bedroom. I found working in a separate room broke up my workday and gave me the space to relax and switch off in the evenings and on the weekend.
To start my day, I check my emails and add items to my to do list, and highlight items based on priority and what tasks I should do today.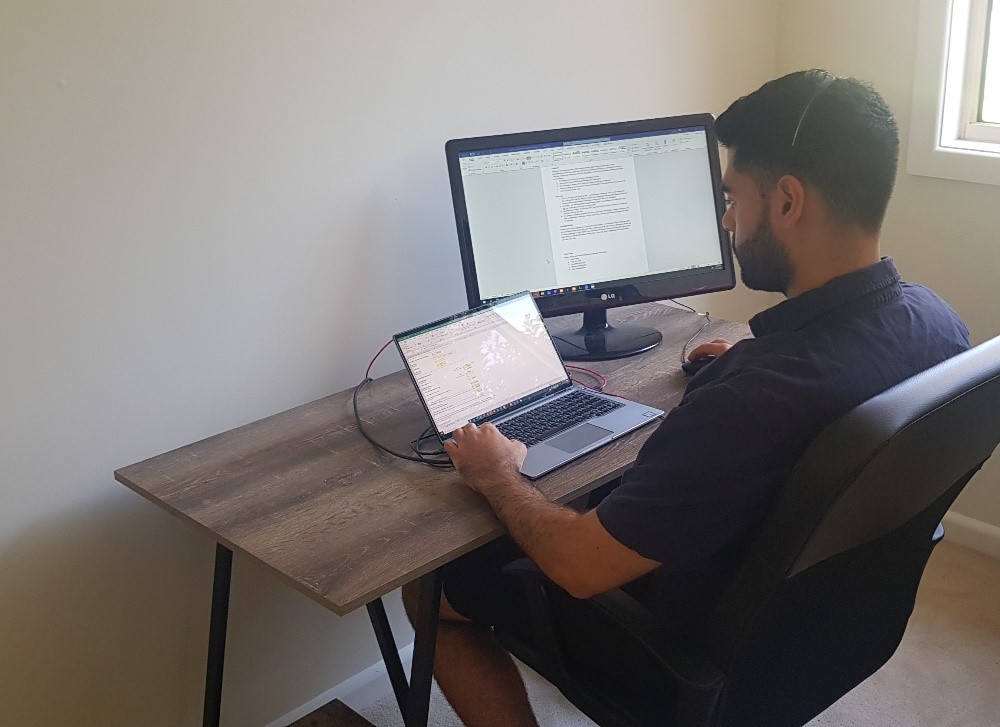 9am 
My first task of the morning is drafting letters to banks requesting bank statements. The purpose of requesting bank statements is to undertake bank statement reviews, where we can examine the company's statements to identify any transactions that we would like to know more about. If the funds have been improperly transferred to avoid paying creditors for example, it may be a potential claim that we can make to claw back money for creditors.  
10.00am  
I then have a Microsoft Teams meeting with some colleagues and a Director. In the meeting, the Director explains that there will be opportunities for us to undertake advice work on behalf of a client to assess relevant solvency and risk issues that may arise in with a firm's suppliers.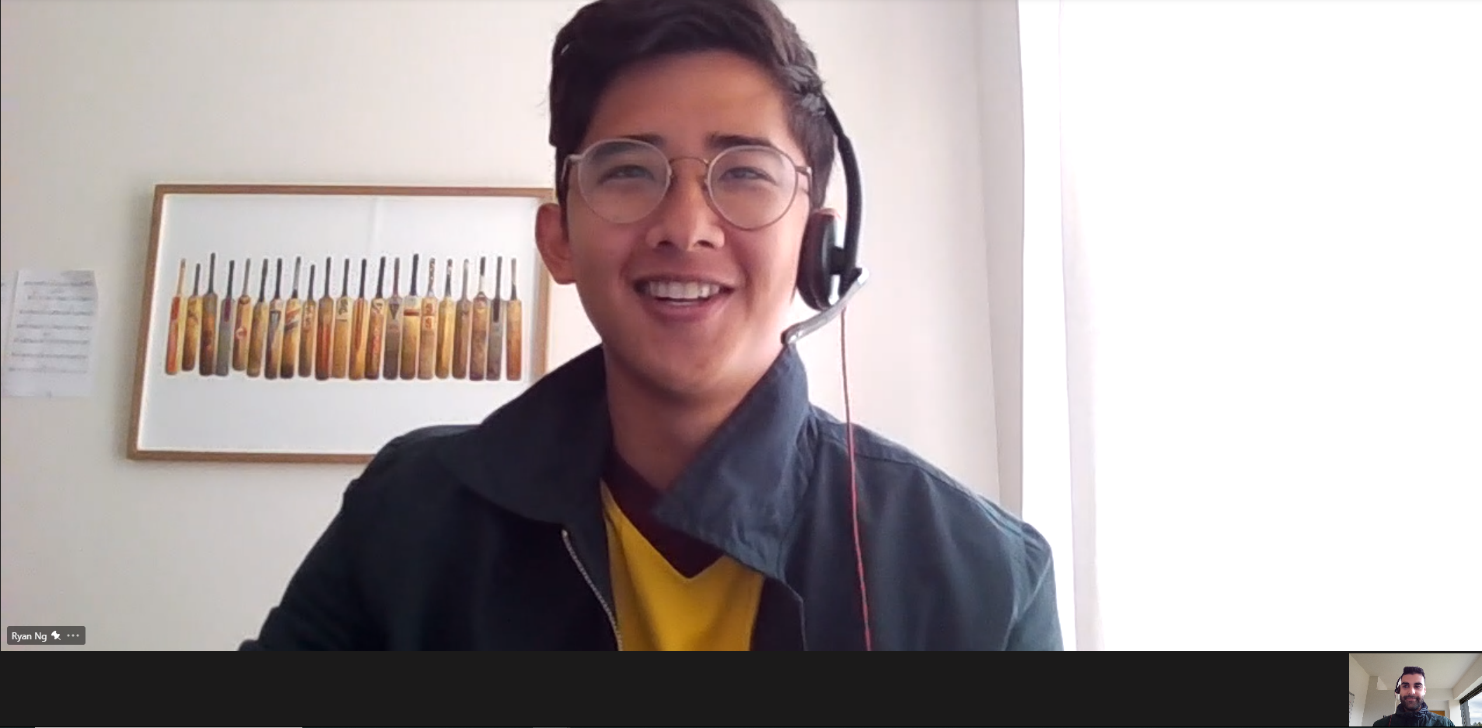 10.30am 
So, given there's no office water cooler chats, I still like to check in with someone from my division over Teams. This morning I have a quick chat with Ryan where we discuss what we are working on currently, anything new we've learnt and our plans for the weekend. We also discuss our earlier meeting. This is a great time to grab a coffee, tea or snack and charge through the morning. 
10.45am
I receive a call from a colleague asking if I have capacity for a task, which I do and gladly accept. I query the timeframe for the task, as some items will be urgent, whereas others not so urgent. Working out what's a priority as soon as possible helps you to plan so you can avoid missing any deadlines. Even though we can't communicate in person, asking questions is easy, and functions like sharing your screen ensure you and your colleague can be looking at the same document at the same time. 
11am
A not so urgent task that I decide to undertake is an Income Assessment, to determine how much income a bankrupt company has earned and whether they have reached their income assessment threshold in order to contribute to their bankrupt estate. 
12.30pm
It's time for lunch and I am fortunate enough to have my partner as a work from home buddy. We always try, weather permitting, to go for a half hour walk to get some fresh air and hopefully enjoy the sunshine! 
We head back inside and have some leftover risotto for lunch while chatting.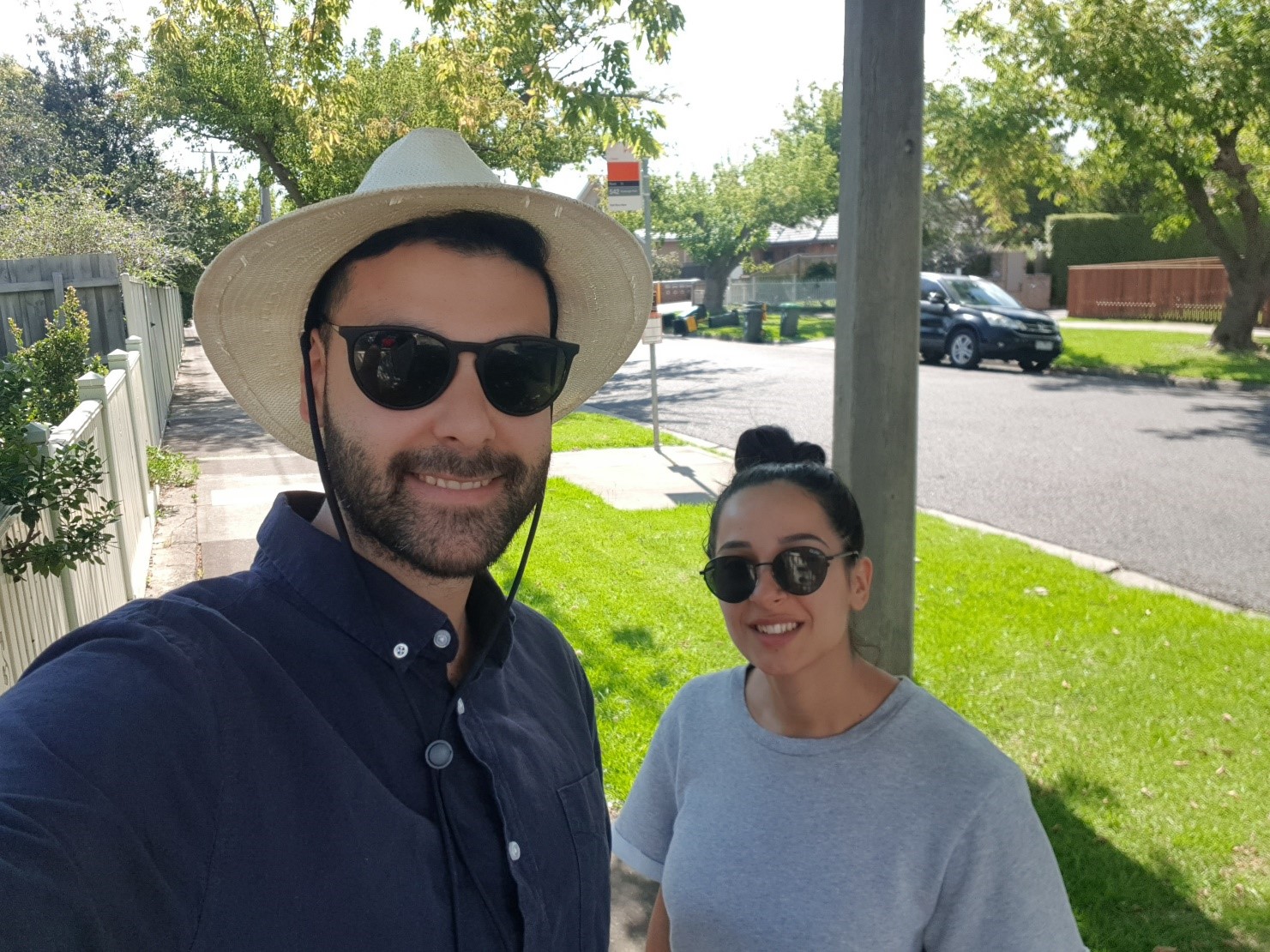 1.30pm 
Another Teams meeting this time with a partner and manager to discuss a current liquidation. It seems like there are a few hold ups with this one and the partner needs to make some calls to get the file moving along again.  
2.30pm
It is time to call the ATO and follow up once again on an updated Proof of Debt to be submitted by the department. It seems like there will be a dividend in the liquidation, but before this can occur, we need updated Proof of Debt paperwork from creditors. 
5pm
I check my emails for the last time today and organise my to do list in preparation for the next day's work. I have now realised that being organised now will save you later on when things are busier, and you don't have as much time to prepare.
6pm
It's time for some exercise and I have recently signed up to F45 to work off a thoroughly enjoyed summer break.
8pm
After dinner it's time to get stuck into some CA study. It's now my second unit and I realised following my first that it is best learnt by chipping away at it and studying multiple nights of the week in smaller blocks rather than in one big chunk over the weekend.