Reece Group Graduate Programs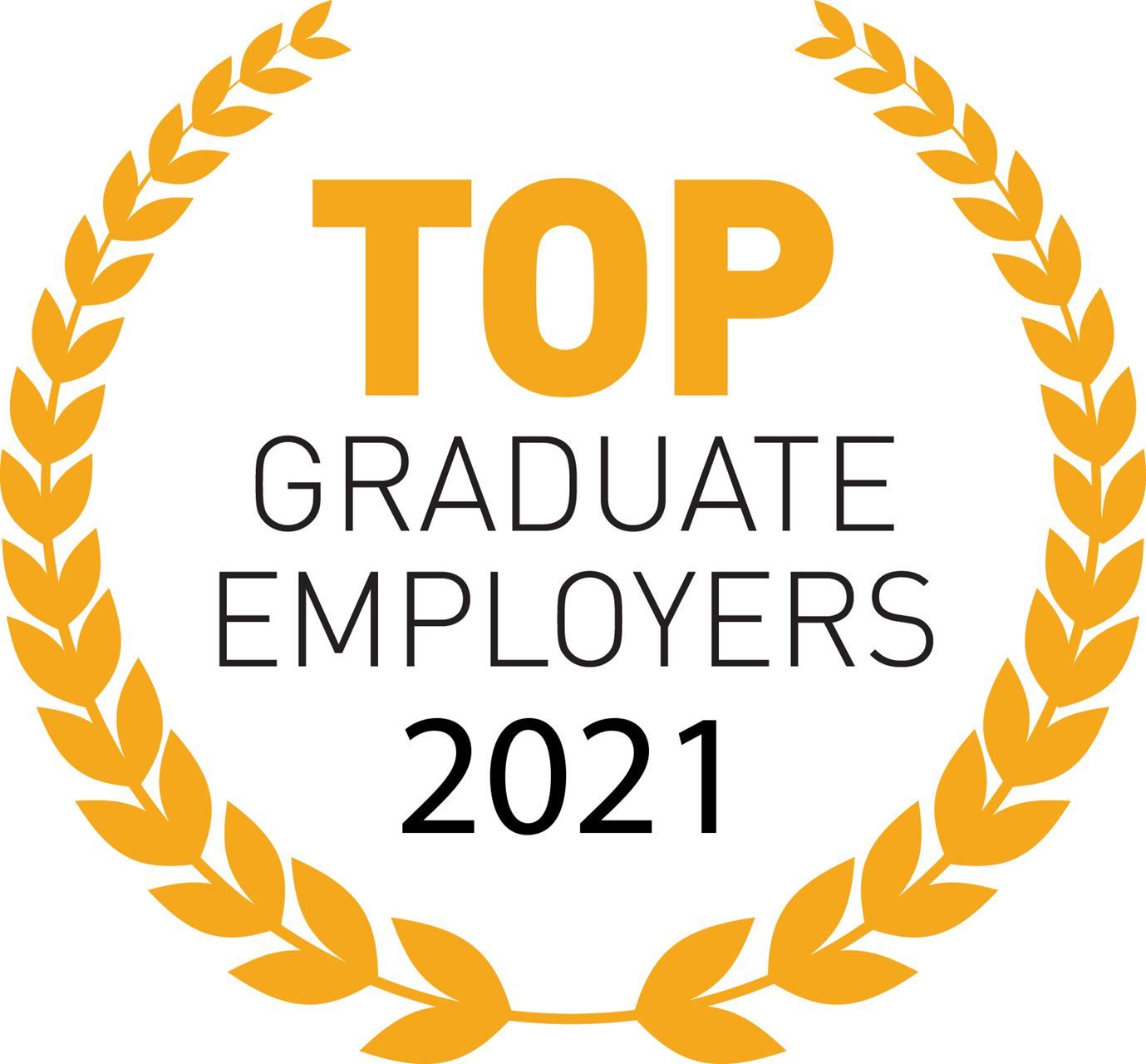 The Reece Group is a leading supplier of plumbing, waterworks and HVAC-R products in Australia, New Zealand and the United States.
Established in 1920, the company has a portfolio of specialised business units servicing the plumbing, bathroom, building, civil, irrigation, heating, air conditioning and refrigeration industries.
Listed on the Australian Securities Exchange (REH), Reece employs approximately 8,000 people and operates 800 branches that supply more than 300,000 products to trade and residential customers.
Reece Group currently has 0 opportunities.
Select the following options:
Past Reece Group Graduate Hiring Statistics
If you're interested in working at Reece Group, understanding when they have opened up applications for their graduate programs, graduate jobs and internships is helpful knowledge to have so you know when you might need to apply. Use the below information to see when Reece Group hires graduates, but more importantly what graduate degree's and other student attributes they target for their jobs.
---
Disciplines
Arts and Humanities (6%),

Business and Commerce (83%),

Customer Service (6%),

Economics (6%),

Engineering (28%),
Locations
Melbourne (61%),

Regional Victoria (17%),

Canberra (11%),

Sydney (11%),

Brisbane (11%),
Work rights
Australian Citizen (100%),

Australian Permanent Resident (100%),

New Zealand Citizen (100%),
Reece is nothing without our people and our customers.
Our customers aren't just plumbers, they're designers, builders, tastemakers and protectors of our most vital resource, water.
And like our customers, we're not just taps, baths and hot water units. We're design thinkers, logistics specialists, coders, developers, brand experts and an extension of our customers' businesses.
Reece grads join a company with a 100-year track record. From a single supply truck in Melbourne's east to the largest plumbing, bathroom and HVAC-R suppliers in Australia and New Zealand, to a global company following a US acquisition in 2018. We start small and think big. Ideas, people, products, ways of doing things. We ask ourselves every day: what greatness did I achieve?
And so, we ask you: Are you ready to help us achieve greatness?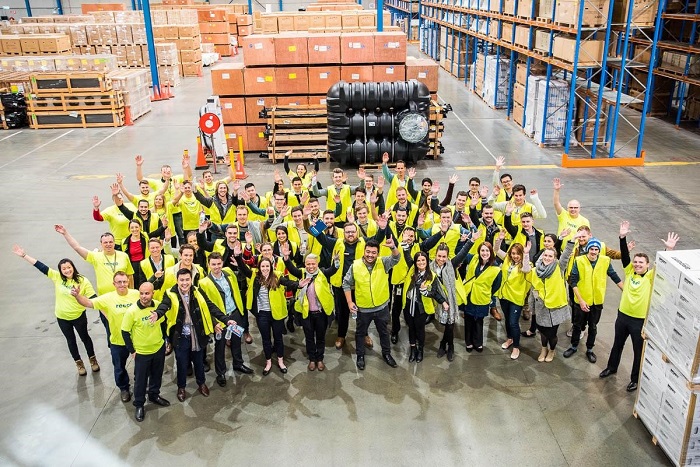 Marketing Graduate Programs
Reece Group
---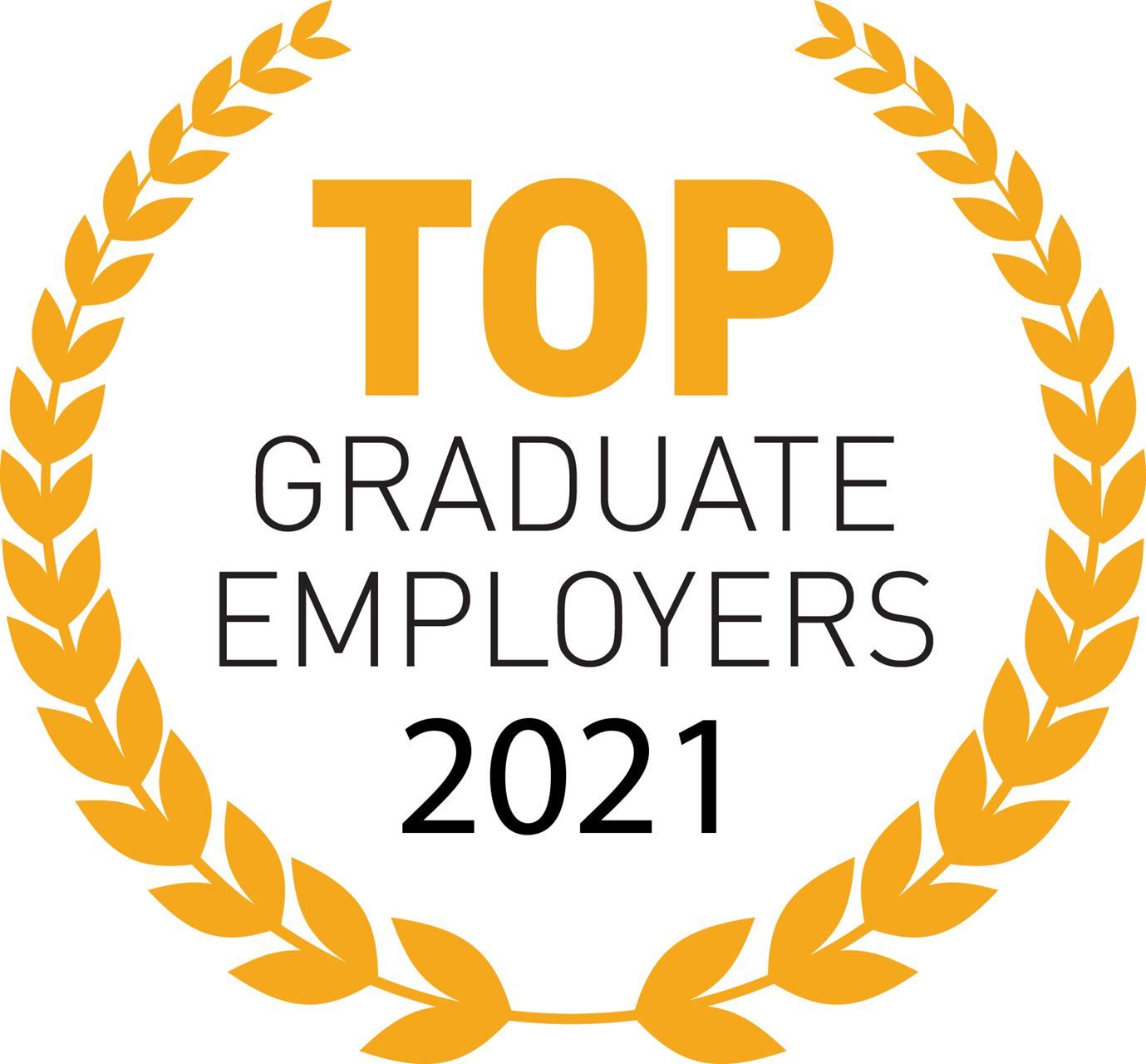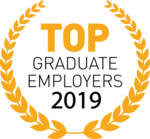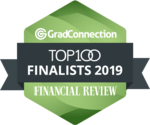 Upon completion of the program, Graduates will be working on real projects and have established themselves as a member of our Marketing or Product Marketing teams.
Here's a breakdown of the program:
In your first year, you'll immerse yourself in the business working within one or more of our +800 stores to become an expert in our products, learn who our customers are and gain an understanding of our unique and world class systems
You're allocated a mentor from the Marketing or Product Marketing team from day one to guide your growth and development through the program
Throughout the program you'll follow a grad training plan, and receive feedback and support from your mentor and manager as well as ongoing on the job training
In year two, you'll transition into to the Reece Support Centre (that's what we call Head Office) into either the Product Marketing, Brand Marketing, Digital Marketing or Business Unit Marketing teams, and you will start working on real projects that will build your capabilities and make use of your branch experience.
In-Store Sales & Leadership Program
Reece Group
---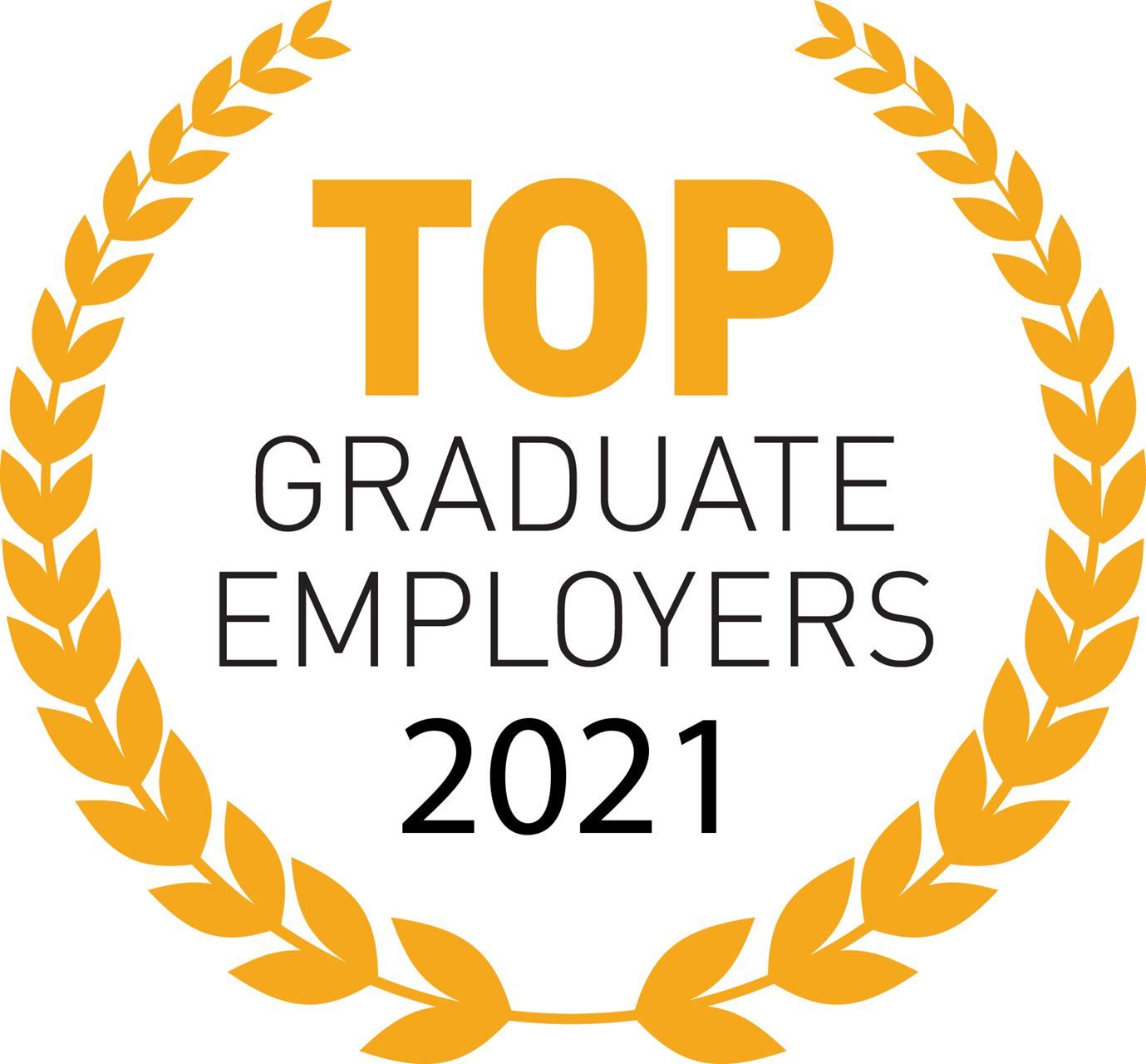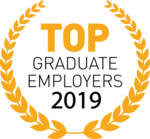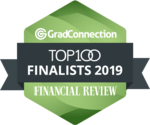 This program will help you develop your leadership, business development and sales skills so that you can be a future leader in one of our stores. Help improve the lives of our customers and people by striving for greatness every day.
Here's a breakdown of the program:
Your growth and development will be guided by a dedicated Region Leader as your Mentor
Your learning and development will consist of on the job training as well as face to face/online training related to products and customers
In your first year, you'll immerse yourself in the business working within one or more of our +800 stores to become an expert in our products, learn who our customers are and gain an understanding of our unique and world class systems
In year two, your day to day experience will cover key business activities such as pricing, auditing and growing your own accounts to develop the core capabilities required for a future leadership positions
Year three and beyond, you'll have the opportunity to apply for an Assistant Manager position with the ultimate goal of becoming a future Regional Leader
Where Are They Now?
Reece Group
---
With hundreds of different roles, starting your career with Reece as a Graduate, can take you far. We're growing nationally and internationally that includes 8 world class businesses, over 600 stores and 5,000 people which means you'll have incredible opportunities to learn, grow and achieve amazing things.
We have a strong history of graduates dating back to the 90s and we understand the importance of investing in their growth and development. We see our graduates as the next generation of leaders, and as such, we offer our grads a permanent position from the very start. Many of our grads have moved on to leadership roles shortly after their 2-year program.
HEAR WHAT OUR GRADS HAVE TO SAY
Morgan, Digital Marketing (Assistant)- Former Marketing Graduate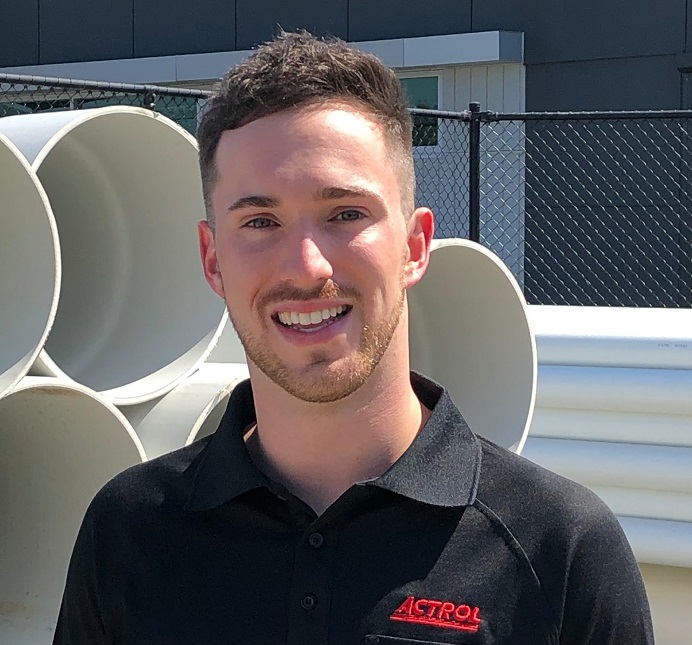 Why did you apply for the Marketing Graduate Program?
Reece offers you a career, more so than many other employers. Loyalty appeals to me and it's reassuring as a Graduate that a multi-national company like Reece is willing to make the commitment to new employees beyond the generic 2-3- years of department rotations. Reece is an interesting business, pure and (not so) simple. Operating across APAC and more recently in North America too, it's stimulating as a young Marketeer to have access to learn across so many different industries and customer segments.
What surprised you most when you got to the Reece Group?
The scale of the business is much greater than I expected. I had no idea just how many different industries, businesses, product portfolios and customer segments the business operated in. Aside from the scale, the nature of the people at Reece is refreshing. I remember in my first month or so with the company I had a conversation with our Chairman – it doesn't matter who you are at Reece, the commitment to the customer is paramount. We're all here for the same reasons. People are hands-on and humble and it makes for a great culture of innovation and opportunity. The ownership you experience as a Graduate was also somewhat unexpected. Given every employee experiences the branch / customer environment, you feel like you can hit the ground running. As a young professional, this was exciting, you feel listened to and can add value upfront.
How does the Reece Group support your career progression?
Due to the size of the Reece business, employees can move around and carve out a career path that is mutually beneficial. You certainly don't feel penned in. Reece are renowned for their long tenure and for promoting from within. You certainly feel valued and it gives you the confidence to try your hand at new things. Progression is up to you in most cases. Is that too much responsibility? I don't think so. It encourages those who have a passion to step forward. Your efforts don't go unnoticed in my opinion.
---
Amy, Branch Manager – Former Assistant Manager

What surprised you when you got to the Reece Group?
The friendliness of the team I was working with and the culture within the business was different from companies I worked for in the past.
How does the Reece Group support your career progression?
I have been supported by a few certain individuals whom I can say have helped me progress my career into the position I currently hold. You do need to have the drive and be able to apply yourself to get where you want to go.
What's the culture like?
It reminds me of a family, everyone is looking out for others and helping each other out.
What's the most important element of work to you at the Reece Group?
Delivering on our promise of customer service is the most important part of my job at Reece. It is the backbone of our business that differentiates us and our competitors and the main reason our customers shop with us day in day out.
What role are you working towards?
I would love to have my own branch and be a store manager one day. I see myself in management and have worked hard to get where I am since starting with the Reece group.
---
Jacob, Security Operations Analyst - Former reecetech Graduate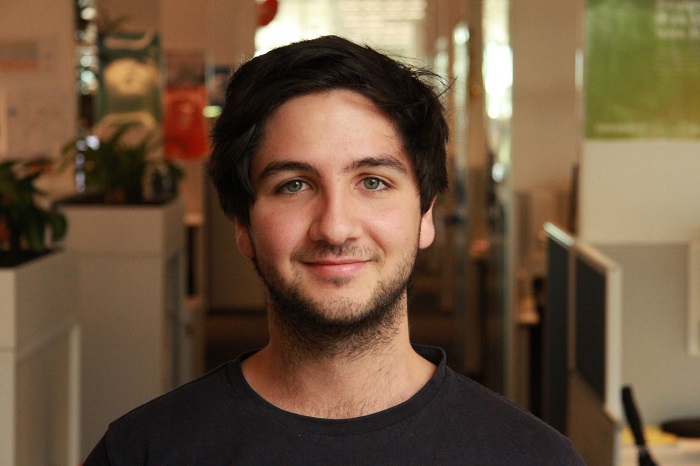 What's the culture like?
The culture at Reece utilises a work/play balance. The work side is always full of jobs to do and projects to complete. Even though people have full schedules, they are willing to put time aside for you to help you. The play side incorporates many Facebook communities, groups, hackathons, World Plumber's Day, and other celebrations. It feels like we're celebrating something new every second week.
How does the Reece Group support your career progression?
They provide support for me to enrol in certification courses.
Reece allows me to attend social gatherings to give me the opportunity to build relationships with vendors and other IT Security staff.
They give me the option of flexible hours, providing me with the freedom to manage my work/life balance.
What role are you working towards?
Down the line I'm hoping to become a manager. Aside from being a good people person and being able to relate with them, there're the challenges of taking on more responsibility, working outside my comfort zone, and viewing my tasks from more of a strategic and business-oriented angle.
reecetech Graduate Program
Reece Group
---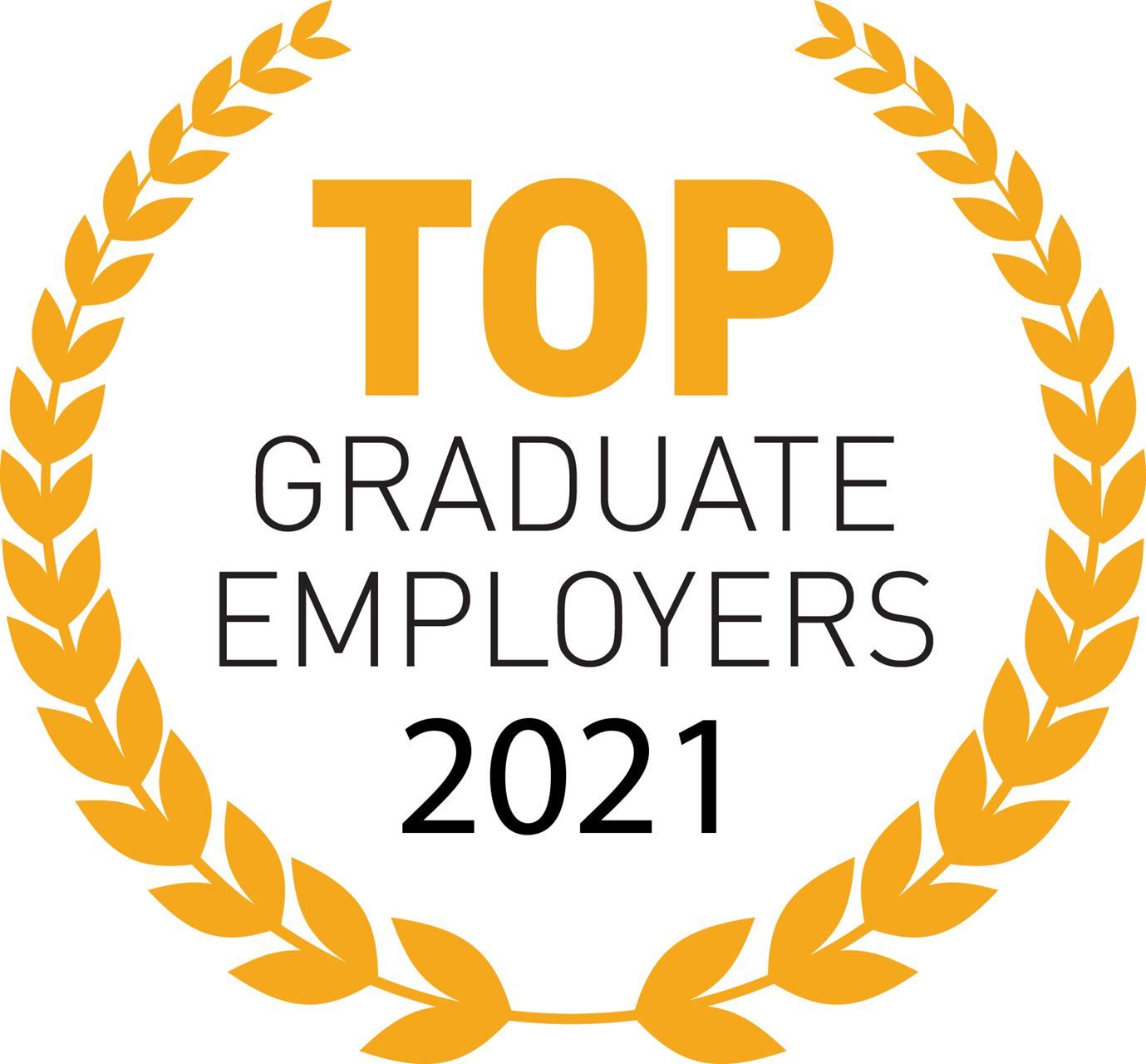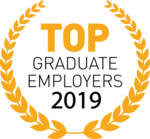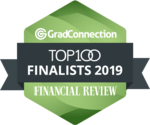 On completion of the Graduate Program, you will have gained a broad exposure to reecetech and all its departments, gained an understanding of the other parts of the business and developed your skills further. You'll have a role within one of the 10 core areas of specialisation.
Here's a breakdown of the program:
As a reecetech Graduate, you'll be immersed in the heart of our business. Your two-year graduate program will involve the first 12 months spending time in departments outside of reecetech, such as the branch network, warehouse, BI as well as rotations through various reecetech departments such as:
Software development
Quality Assurance
Infrastructure
Information Security
Architecture
Web and Mobile Development
Business Analysis
Networking
Service Delivery
Dev Ops
The second 12 months will have you focusing on developing your skills relevant to your position. Your experience will be tailored to suit you and your strengths, and you'll be expected to challenge yourself to learn all aspects of the business in order to set the foundation for a successful career within the reecetech team.
Kevin – Marketing
Reece Group
---
Name: Kevin De Guzman
Current Position: Marketing Graduate
Degree & University: Bachelor of Commerce/Bachelor of Arts, Deakin University; Master of Marketing, Deakin University
Every day is different in the first year of the Marketing Program at The Reece Group. In your first year as a graduate you are based in the branch system to learn the company's culture, values, policies and procedures, the various products, customers and their needs as well as the various strategic business units. I am currently based at their Actrol Refrigeration branch Mulgrave. Below is a rough insight to my typical day.
5:00am
Every morning my first alarm would go off at 5:00am. I get up and start my day, packing everything I need and have breakfast before heading to my local gym for a quick workout.
8:00am
I start work at 8:00am and begin my morning by checking the 'Work in Progress' screen for any outstanding items from suppliers or upcoming orders that are due. I then check my personal work email for graduate updates as well as the branch emails for any orders.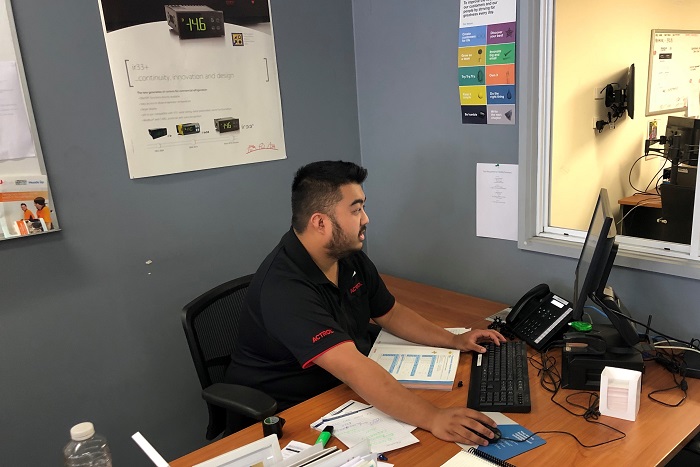 10:00am
Around 10:00am we hold our daily 'huddle', a meeting in the branch with all the staff. These meetings cover any news items, how the branch is going in budget, any big projects or coming up as well as quarterly themes for the business.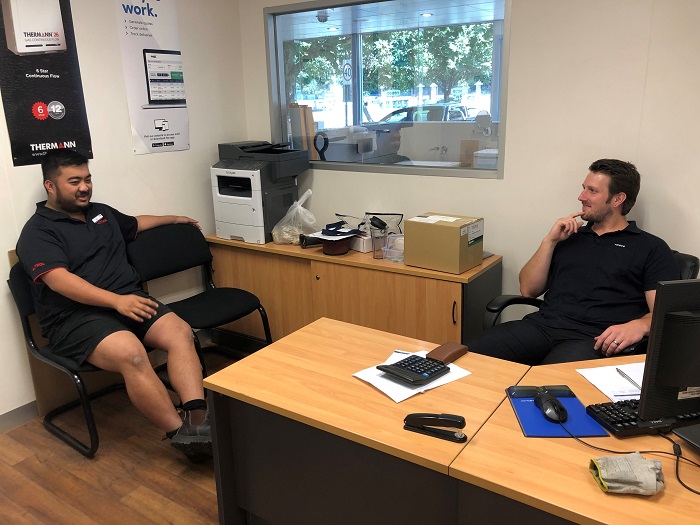 1:00pm
On this day, I caught up with Adam, Branch Manager of Reece Plumbing Box Hill. I began my Reece journey at that branch; as such, Adam has been a big influence on my time with the Reece Group and has been a valuable mentor. It was also great to catch up with the other branch staff there as I spent my first 6 months of the Graduate Program at the Box Hill branch.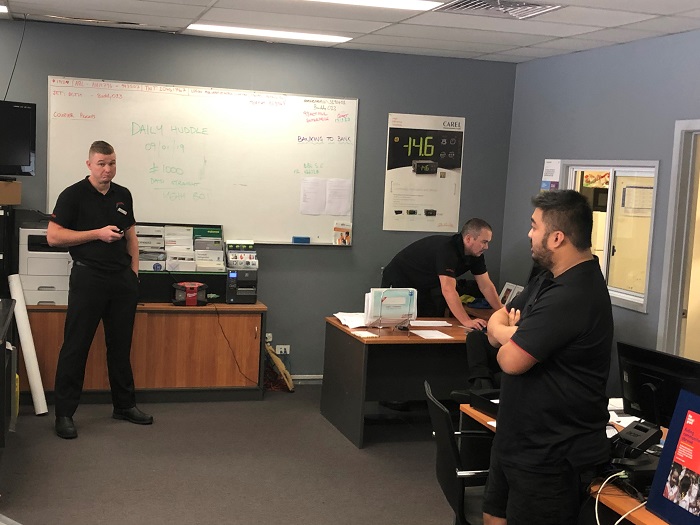 2:00pm
I was able to go out to site with Shaun from Actrol Mulgrave to deliver 730 kg of R134a refrigerant to a customer. The customer was pumping gas into a portable refrigeration unit which was to be sent to Northern Australia to service a mine.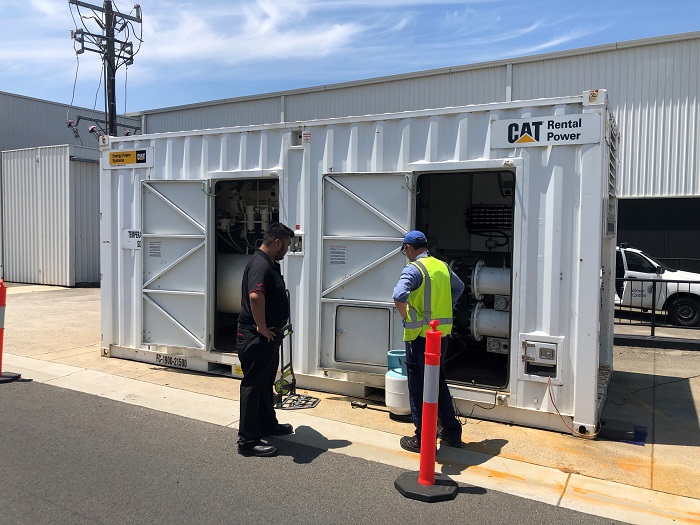 5:00pm
I finish work in the branch at 5:00pm. After work I usually head home unless I have dinner plans with friends or social sport on that evening. As soon as I get home, I make dinner and either watch some Netflix or read a book.
Alexander – Marketing
Reece Group
---
Name: Alexander Panagiotopoulos
Current Position: Marketing Graduate
Degree & University: Commerce Degree (Marketing and Management Majors), Deakin University
6:15am
I wake up around 6:15 this morning, as I must prepare my lunch for the day and pack my bag for footy training. My work clothes are ready from the night before which makes the morning much easier. I jump in the shower, brush my teeth, get changed, do my hair and get ready relatively quickly. I take my time to make breakfast and get my lunch ready. Around 7:00am, I make myself a coffee for the road. I double check I have everything I need and I'm out the door at 7:15am. I drive into work against traffic to Doveton so it's a very easy drive!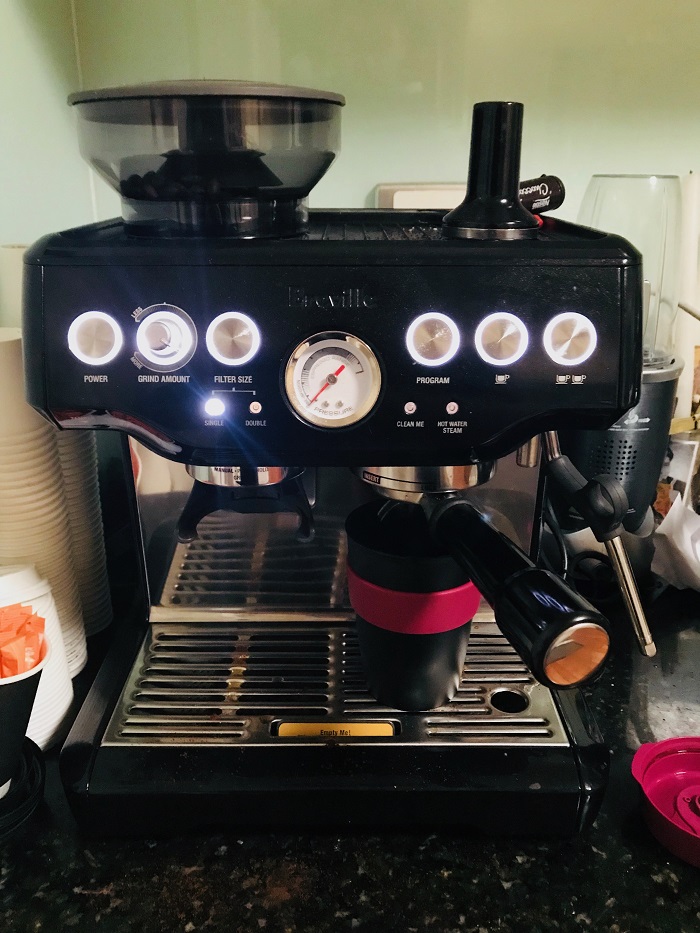 7:40am
I walk into work and put my food away ready to start the day and say g'day the boys who have started before me! Usually greeted by some banter I then jump on the computer and check the emails, first the branch emails and then my own work email. We have events logged onto the online calendar for the branch, so we know when people will go out to see customers or have a day off etc. it helps us plan the day.
I then go through my diary to see what I've written the previous day. I need to call two customers today about special orders to finalise some details. There is another reminder that I need to release a customer order that must be delivered to site today as well.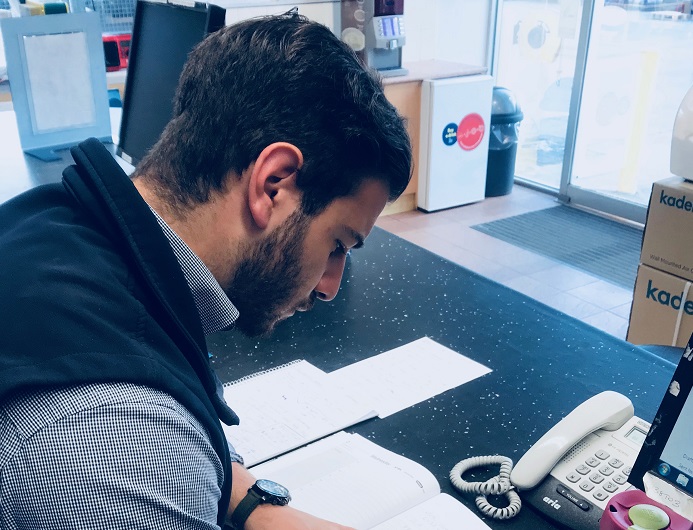 Once it quietens down, we have our branch daily huddle. We discuss what we have on for the day and everyone has time to speak about what they have coming up or any issues they would like to raise. We also go through the previous day in terms of budget and other reports. We discuss the targets for the day and the week, while also going through any important reminders for the branch or that's happening with Reece as a whole.
Of course, if the phone rings or customers come into the branch the huddle is put on hold and we come back to it. After the huddle we have a busy rush of customers again that goes on for about 45 minutes. I call the two customers to grab those final details and release the customer order for delivery for tomorrow.
I go through the stock ordering for the day with the 2IC, Grant, he shows me the most efficient way to order stock without raising stock levels too high, considering minimum quantities and keeping track of average product sales. This will be vital for me to understand for my buying role down the track.
I have a banana and coffee at 11:00am to get me through to lunch.
Around 11:30am I take some time to do the daily stock count, we do it on a phone making it simple and quick. This helps us constantly stay on top of stock levels and makes stocktake a 10x easier!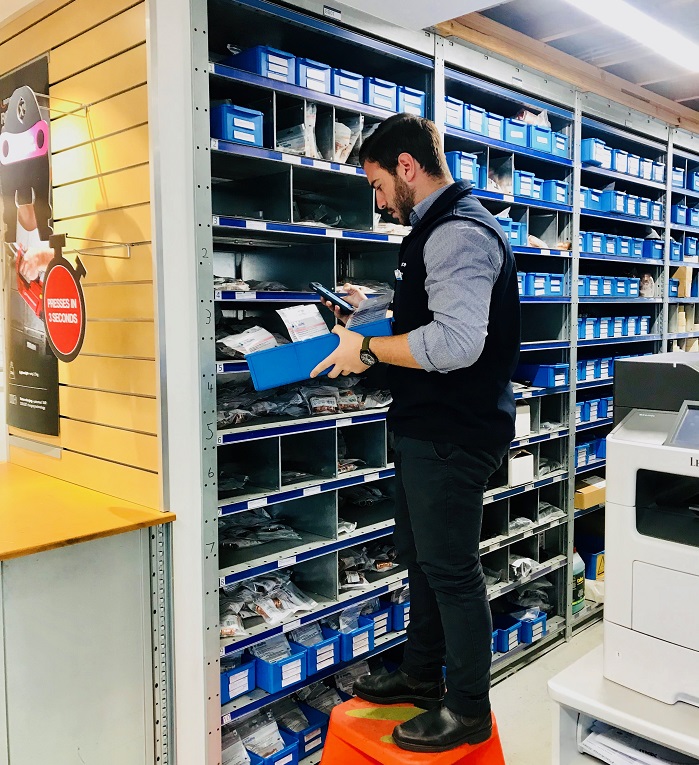 12:00pm
I go for lunch at 12:30pm today and I have left overs from dinner last night, its steak and broccoli so I'm not complaining! Other days lunch could be tuna salad if I'm in a rush which is not as interesting!
When I return from lunch our warehouse and supplier stock has arrived. We double check and receipt the stock to make sure everything's correct, then put it away. This is always important as some stock will be for customer orders and some will be just replenishment, so it's always vital to double check.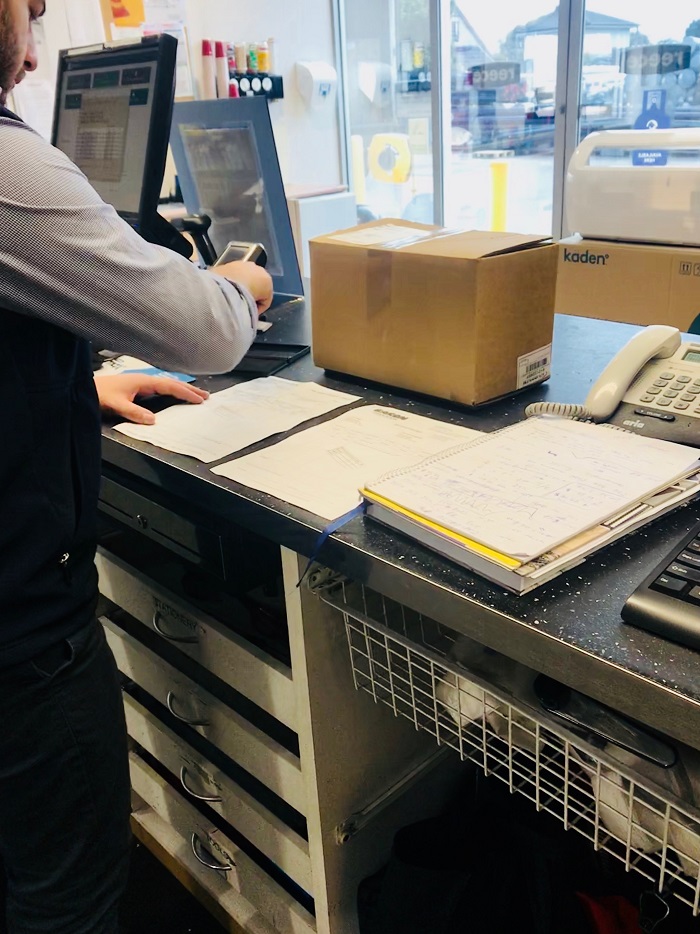 Around 1:45pm the Branch Manager, Dean, takes some time to run me through the reports for the branch, providing more of an insight into different aspects and sections of the business. Dean specifies the reports that will be relevant to me when I go into head office for my merchandising role in few months.
Dean then reviews my progress for the Start, Stop, Keep program. It's a review of goals that I have previously set and want to fulfil while at work. I had previously set them in September so now we review how I'm going and if I have achieved them. For example, we review my 'Start being more punctual arriving to work earlier'. As someone who is goal driven I appreciate these opportunities to work on myself at work and on a personal level.
I take some time to go through a self-audit check for the store, making sure that everything is done correctly, appropriate signage is up and labelled etc. These are vital to keep the store in an appropriate manner, ensure procedures are followed, safety is maintained, and we are ready for when we are audited.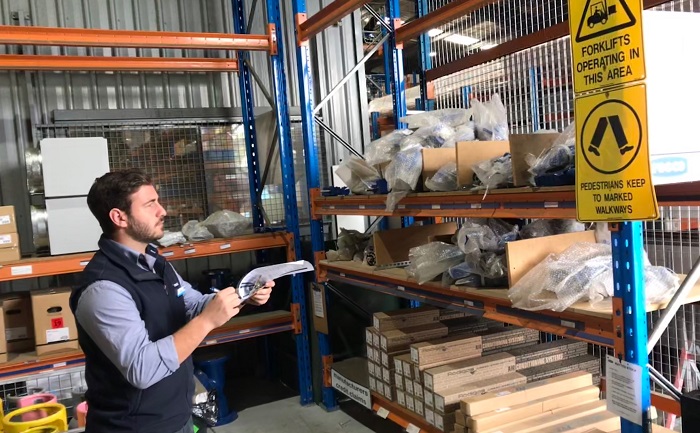 3:30pm
At 3:30pm I speak to a customer on the phone about a hard to find part for an evaporative cooler he is chasing. I call multiple suppliers to locate the part to try and find the best price for him and turnover time. After locating the part, I send him through a quote and call him to make sure he receives it.
In the quieter parts of the day I run through previous Marketing Updates, so I can further familiarise myself with categories and brands I'll be working with in the future.
At 4:30pm we make sure the branch is clean and I write down in my diary what I have on for the next day. At 4:45pm I do the banking which usually takes about 10-15 minutes.
5:00pm,time to go! 
We all say goodbye and make our way home. Today I have footy training, so I head towards Kew! Takes about 50 minutes in traffic now that I know which way to go, I've learnt that through trial and error…
After a decent training, I head home arriving at 8:30pm. I quickly have something to eat and have a shower. Tonight for dinner we have grilled fish and salad (so a good day food wise). This is late for me to eat but I don't get a choice when I have footy! Over dinner I spend some time with the family speaking about our workdays and catching up. After dinner I prepare food for the next day and get my uniform ready. I put my gym clothes in a bag ready for the next day as well. I'm a bit more prepared this time.
I brush my teeth and jump into bed at 9:30pm and watch an episode of David Attenborough- Planet Earth II on Netflix, and relax after a long day. It's a such an interesting show to watch and always seem to fascinate me every new episode I watch. I set my alarm for 5:30am the next morning so I can go to the gym before work (Wish me luck….)
I check my phone and it says 10:30pm…. Time for bed, another big day awaits.
Ashley – Marketing
Reece Group
---
Name: Ashley Morling 
Current Position: Marketing Assistant, previously Marketing Graduate
Degree & University: Bachelor of Business (Marketing) at RMIT University
6:00am
My alarm goes off. Lucky, I'm a morning person and there's no need to hit snooze. I wake myself up by taking my dog for a walk at a nearby park and eating brekky – fruit, yoghurt and granola. I get ready, hop in my car and listen to the radio news for the drive in. It's Wednesday, so I head to our creative agency for our weekly catch-up.
8:00am
After finding a park in Collingwood, I grab a coffee at a trendy café, check my emails and plan the big day ahead.
8:15am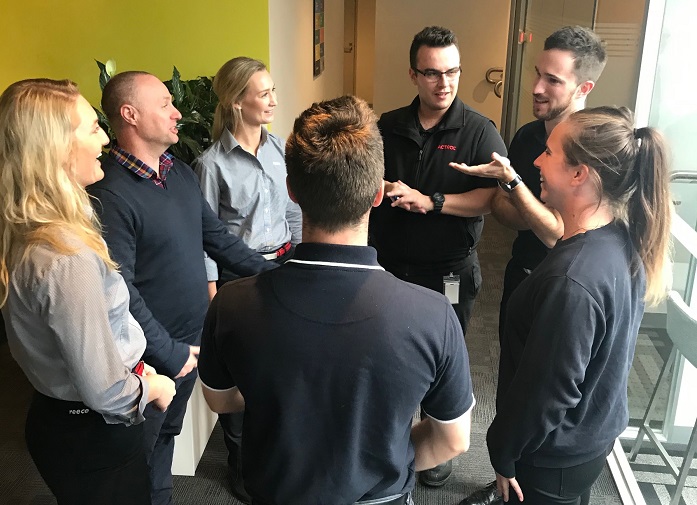 Every morning, we keep a positive rhythm going with our Daily Huddle. This is a stand-up meeting where we go around a circle and talk about our key highlights from the day before, plus what we want to achieve today.
8:30am
The catch-up with our creative agency begins! Today, I'm briefing instore collateral and customer development packs for the upcoming Smart Irrigation Season. This is a campaign where we focus on clever ways to manage water more effectively by using smart products. We require unique designs for posters, flyers, promo items and more. I present to the room and we discuss questions, feedback and the next steps in bringing this vision to life.
10:00am
I stop by the Richmond branch to help set up a new display for our pool equipment brand, Henden. I have a chat to staff and customers about how they're going. It's important to connect with our target audience and keep them front of mind. I head over to our Burwood office, organise my desk and settle in.
12:00pm
Lunchtime! I usually heat up my food in the kitchen and hang out with some friends from other teams. I've scored well with delicious pasta leftovers from the night before. It's beautiful and sunny, so we sit outside on the balcony for some fresh air.
12:45pm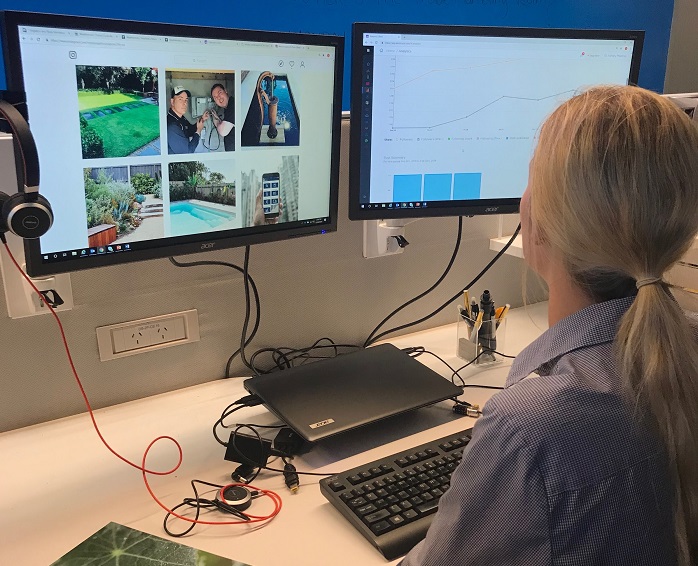 I lock in time to explore social content for the Irrigation & Pools Instagram page. This involves liking and commenting on posts we've been tagged in and sharing our customers' amazing outdoor projects. Today, I'm also doing some research into how we can use hashtags more effectively.
1:30pm
Next week, we're exhibiting at the Splash! Pool & Spa Expo on the Gold Coast. I meet with my Manager to go over the final details. We make a phone call with our stand builder to work out logistics and ensure products and brochures are set to be delivered for the event. Flights are booked and we're ready to go!
2:00pm
I meet with our Internal Communications Advisor to discuss all things Smart Irrigation Season. We go over the key objectives of the campaign and what resources we need to provide our branches with so they can execute it with confidence. We start to develop a timeline and mock up videos that we can create to capture the attention of and inspire our staff.
3:00pm
It's the Annual Super Bowl Ad Review! To celebrate in true Reece style, we have a fun and interactive session where each member of the team votes for a 'Touchdown' or best commercial and a 'Fumble' or worst commercial. We exchange thoughts on what worked, what didn't work and the various learnings we can consider for our own future campaigns.
4:00pm
Next month, we're running an exclusive tool promo for Landscapers. I put together a list of our customers and build a targeted eDM. After testing the design and links on multiple platforms, I schedule it in to be sent. I update tasks on my Trello board and pack up my things.
5:00pm
As I head home for the day, I put on some upbeat music to lessen the woes of being stuck in peak-hour traffic.
6:00pm
Tonight's menu is BBQ and salad. After washing the dishes, I enjoy winding down with a cup of peppermint tea and a bit of Brooklyn-99.
Amy – Operations
Reece Group
---
Name: Amy Whitburn
Current Position: Branch Manager (Previous n-Store Sales & Leadership Graduate)
Degree & University: Bachelor of Business (Marketing/HR majors), Flinders University
5:30am
Sometimes it can be hard getting up early (especially if you're not a morning person!) but it's nice to start the day with a coffee & breakfast outside in the sunshine before getting ready to come to work.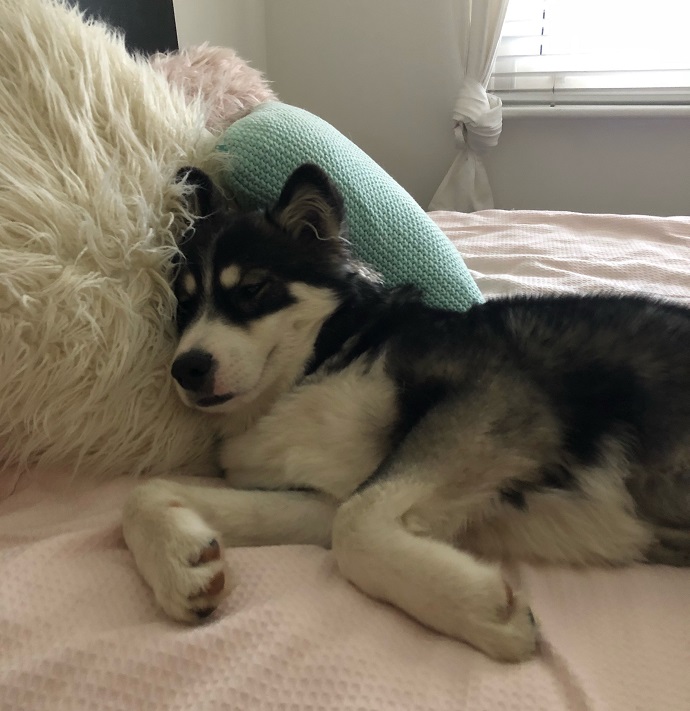 7:30am
I like spending my mornings planning the day and getting started on jobs I may be working on (all fuelled by a few coffees of course!). Our store is generally very busy in the mornings with plumbers stopping by on the way to their jobs to collect materials. I also like to tackle any reports in the mornings before getting too busy in the day's activities.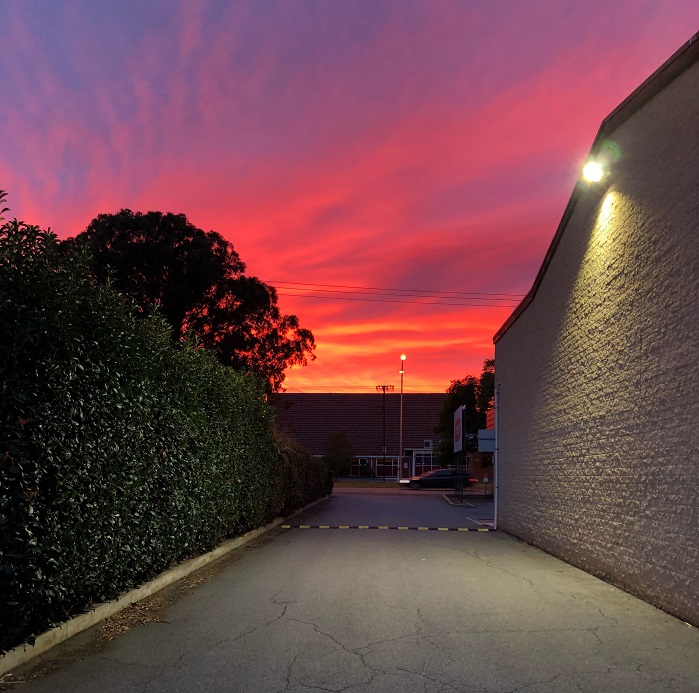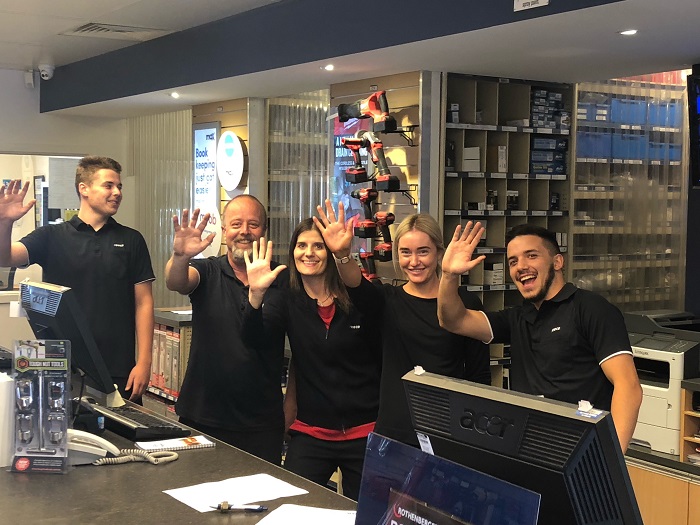 2:00pm
Afternoons include a routine desk tidy to keep my workspace clean and logical as it can sometimes get overwhelming and hectic in branch. The ability to multi-task in the Reece Group is an important skill to acquire. Our afternoons can also get quite busy with plumbers grabbing materials. The afternoon can be spent in the branch, out doing customer development, training staff & serving customers.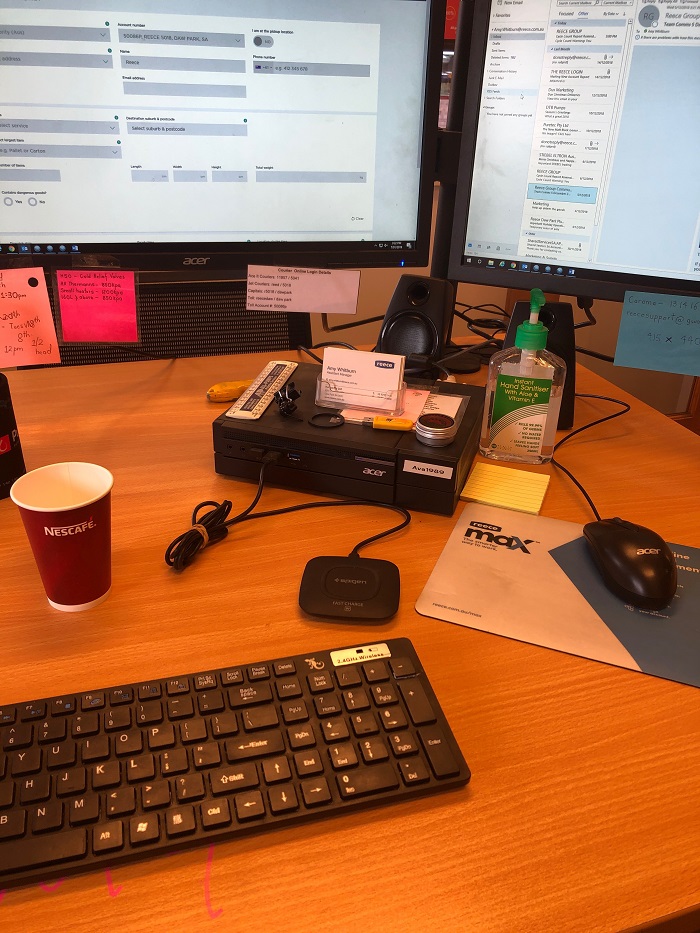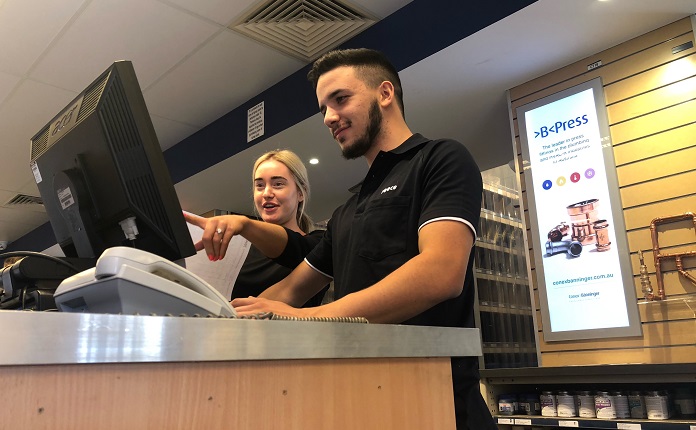 5:30pm
I look forward to getting home after finishing work to see my fiancé Zak & our two dogs, Ava & Zuri. I like to cook something yummy for dinner and spend the rest of the evening on the couch watching sports, movies or Netflix and playing games with the dogs.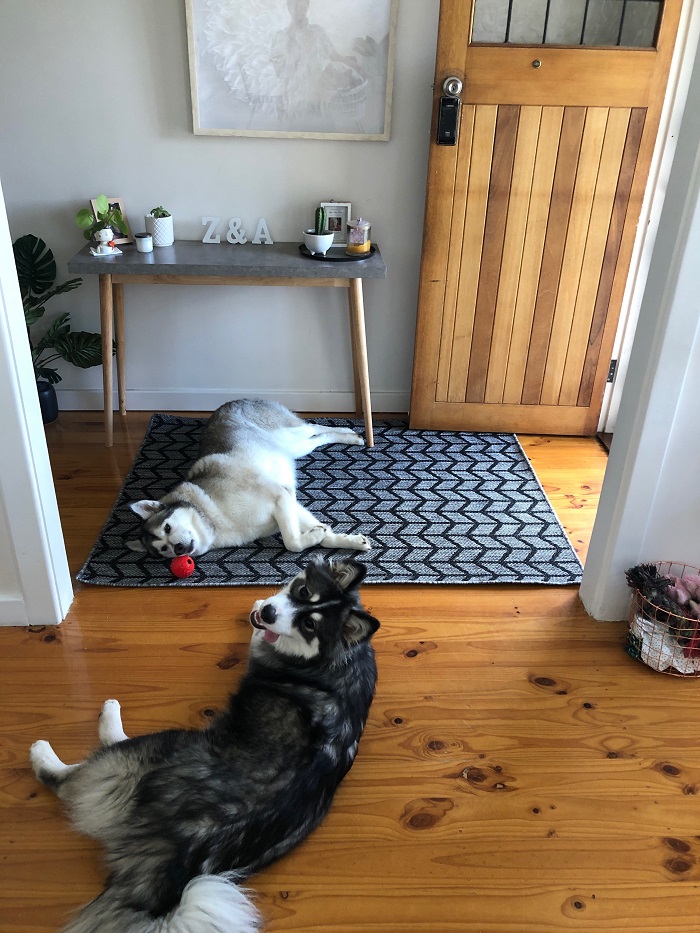 Barry – Operations
Reece Group
---
Name: Barry Anderson
Current Position: Account Specialist (Previous Operations Graduate)
Degree & University: Double Major in Business strategy and Marketing Communications, Monash University
6:30am
I wake up at 6:30am, and start getting ready for the day. Depending on if I am seeing customers and who the customers are, will dictate what uniform I will wear. I check my calendar to prepare for the day ahead. Today I have 2 customer meetings. My colleague (Jarryd) and I are hosting a site BBQ for a customer at 8am and then I am meeting another customer who is a very funny casual character. For both meetings a Reece Trade Polo shirt would be ideal (If my meeting was in a more formal setting or head office, I would wear an ironed button up Reece shirt).
8:00am
Jarryd and I have arrived at a customer site in Keysborough by 8am to prepare a BBQ for their tradespeople and site managers. After the BBQ, we gave a small speech to the people who attended, thanking the customer for a great year as business partners. This is an important part of being an Account Specialist, doing things for our customers they may not be expecting but highly value. After the clean-up, it's around 10am so we head back to the office to catch up on some office work.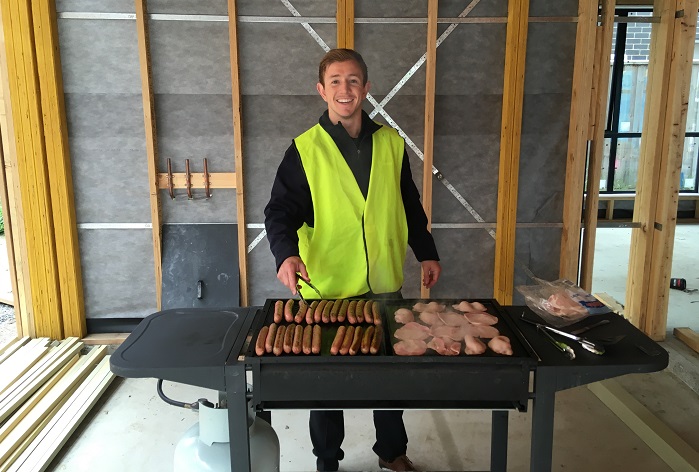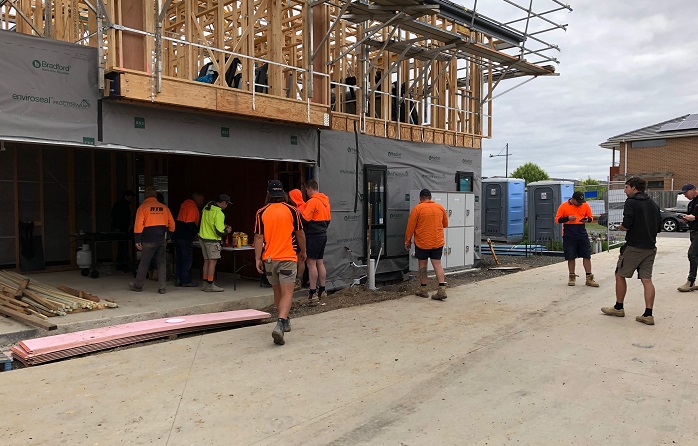 10:30am
Its 10:30am and time to catch up on some office work. At Reece we flexi-desk so I find the seat which will best suit my purpose for the day. Today I am preparing a quote for and product presentation for a customer so a seat near the other Account Specialists would be best suited in case I have questions. Once I have finished the quote and product selection, I sit down and have lunch with colleagues. After lunch I collect my things and head off to meet the customer I prepared the quote for. I have built a great relationship with this customer and understand his business enough to know how Reece can add value.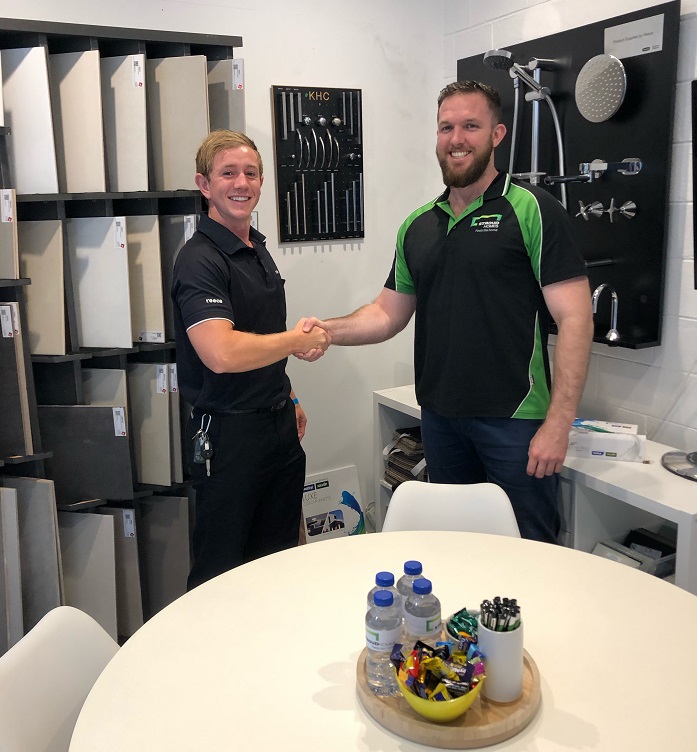 2:00pm
Today has been a big day, I get back to the office around 2pm and need a coffee. While all the information is still fresh in my head from the meetings today, I record all customer related information in 'Salesforce'. Being out of the office for most of the day means that I have not had much time to catch up on emails, so this time must be productive.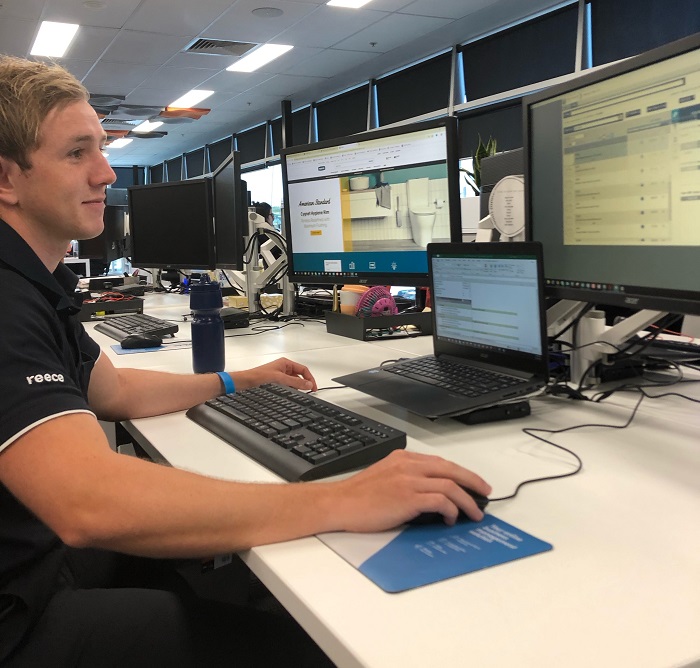 4:00pm
At 4:00pm I am hosting a team huddle to discuss how we can reduce waste within our business. We define waste as anything that our customers and people do not value. The meeting was a success with everyone's ideas going up the 'War on Waste' board which we will continue to expand on in the coming weeks.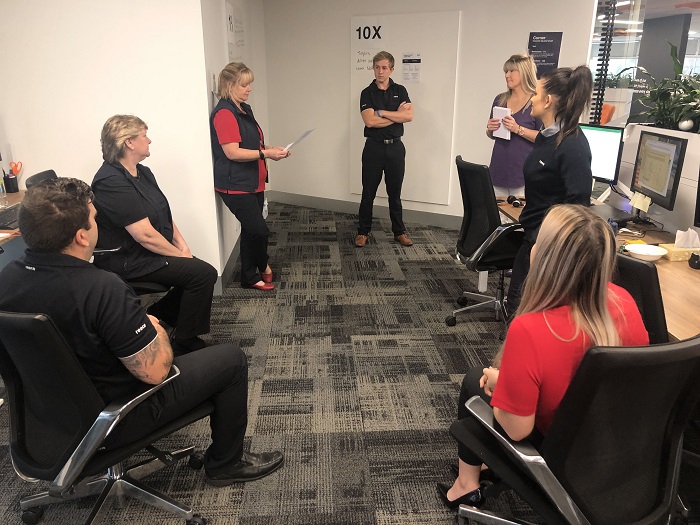 5:00pm
Before I know it, it's 5:00pm. I get into my gym gear at work and head off. During work I get a mental exercise then after work I get physical exercise. For me, this is the perfect recipe for a balanced lifestyle, allowing me to tackle every day with enthusiasm and a positive attitude.
Michael – reecetech
Reece Group
---
Name: Michael West
Current Position: Security Operations Analyst (Previous reecetech Graduate)
Degree & University: Bachelor of Information Communication Technology (Network Security), Swinburne University
6:30am
This time sees the first attempt of getting up and ready for the work day ahead! The morning routine is almost always aided by music which helps overcome the heavy eyes after waking up. The commute to work (located in Burwood) is currently a 20-minute drive however, with the head office relocation to the more central, Cremorne (Richmond), I am looking forward to the train commute to catch up on podcasts.
8:00am
I aim to get to work by 8:00am to start my day. The kitchen facilities provided at work means that breakfast is usually prepared there and had with colleagues in the main kitchen area. After all the "good mornings" and a quick catch up with the team, the day begins!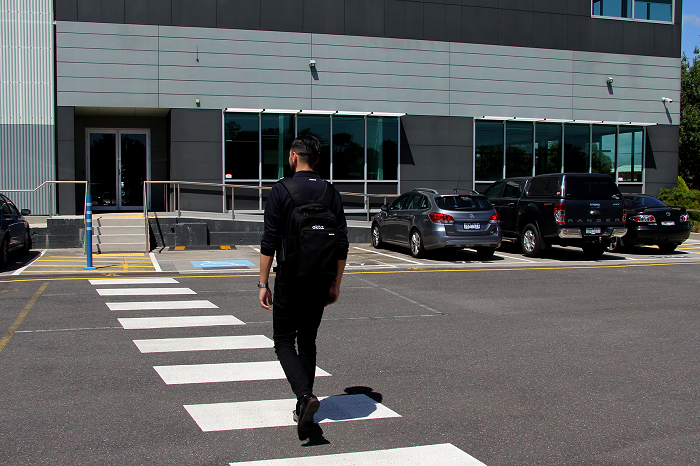 8:30am
The initial actions of the morning are all about catching up on emails, overnight security events and network changes that may have occurred the night before to understand next actions.
Working within the Cyber Security Team, the first point of call today is to follow up with the team, how the firmware upgrade of the firewalls went last night. Always good to hear, it was a successful update!
As it is the start of the week, I will be spending most of the morning compiling reports and providing analytics to the team as well as working on a presentation to address a security event that happened late last week.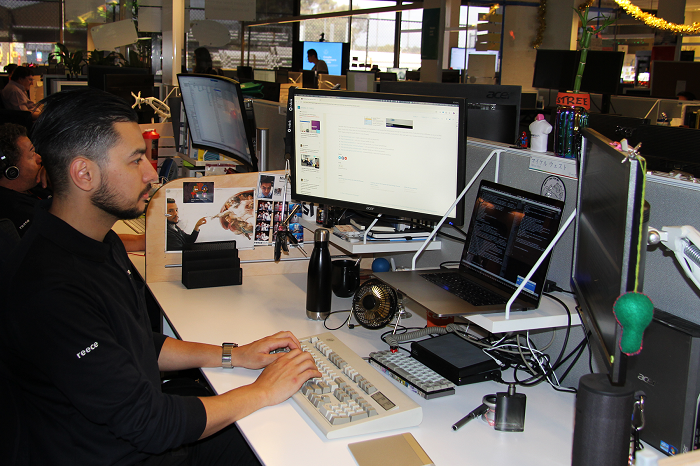 Provided there are no major incidents during within the network, the day will usually consist of a mixture of the following:
Project work: Longer planned pieces of work with the aim to accomplish OKRs (Objective Key Results), probably better known as KPIs within other business. These are milestones that we look to complete by the end of the quarter. This can be anything from investigating a new log source into our SIEM (Security Incident Event Monitoring) to introducing a new security platform.
BAU (Business as usual): These are dynamic pieces of work that pop up during the day and week, that are either initiated by a security event or requests from other teams.
Meetings: These meetings can be anything from new projects started from other teams that require cyber security advice, discussion and planning of projects or implementation of technical configuration to one of the many platforms managed by the Cyber Security Team.
12:00pm
Discussion amongst the team has begun to understand whether everyone has brought in lunch or whether to head down to some of the local cafes. Today the verdict is souvlaki!
1:00pm
I am now heading over to a meeting to discuss and plan with the networking team surrounding further segmentation of our core network to continually uplift our security posture. One thing that I personally enjoy, is the discussion amongst other teams as I believe it builds up the relationship and helps understanding of how different teams play a part in the bigger picture. Not only this, but it aids understanding to know who to approach with future engagements within the business.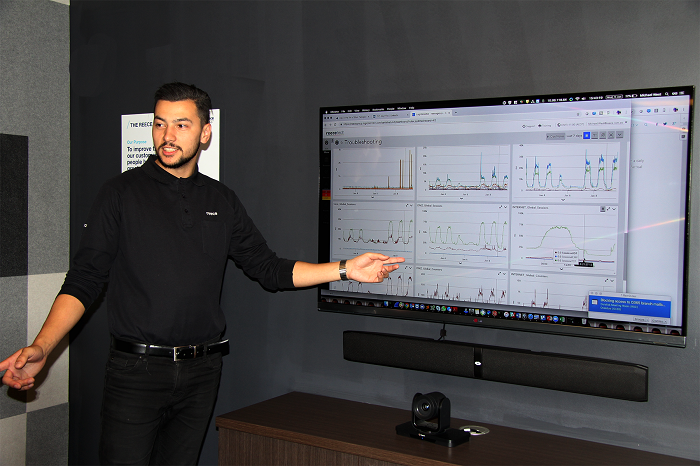 2:00pm
While its fresh in my mind, I like to act on planning out what was discussed in the meeting to implement into the network. Due to the nature of the systems managed within the team, there is always the potential for misconfiguration that can affect the entire network. In order to mitigate the risk as much as possible, I put together a change request that outlines all the aspects that will be created or modified within the systems.
I have scheduled for this change to occur this Thursday after hours.
3:30pm
A large portion towards the end of the today is spent working through our identity management system to help streamline and automate an outdated process. Working closely with a team member, we go through the logical methods available to take to be able to implement, determine which is the best fit for our environment both now and moving forwards as well as begin the configuration within the platform.
This development will ultimately form the new way both computers and users within the network authenticate in a more secure and automated manner allowing for us to move on to the next big thing!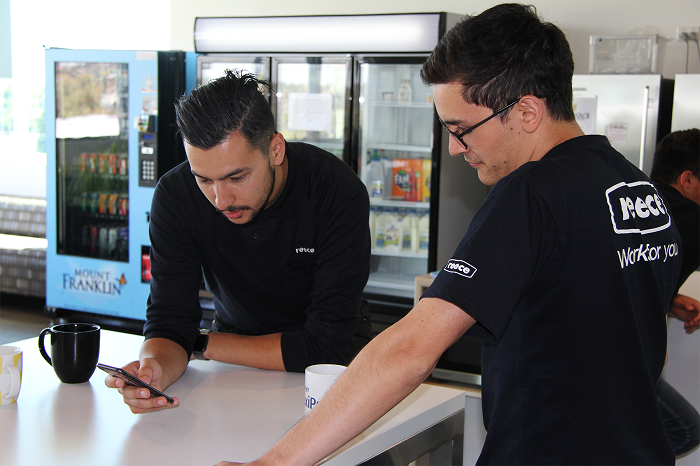 5:30pm
Time to head home! Although I am driving home hitting the peak hour traffic, with the weather coming into summer and music through the speakers, it isn't too bad.
6:30pm
After getting home and settling in, I look to preparing dinner for the night and relaxing for the rest of the night.
Zaeem – reecetech
Reece Group
---
Name: Zaeem Siddiq
Current Position: Mobile Applications Developer (Previous reecetech Graduate)
Degree & University: Master of Information Technology, Monash University Australia
6:30am
Good morning! After waking up I prepare my breakfast and get ready for the day.
7:30am
I leave my house and travel to the Reece Support Centre.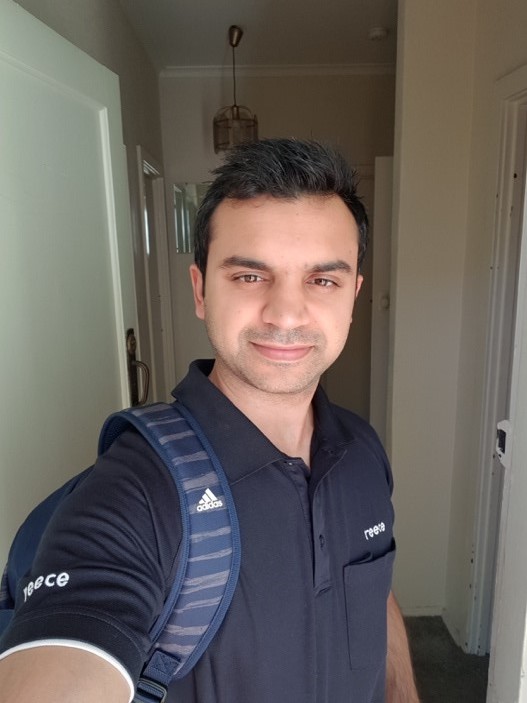 8:00am
After reaching the office, I always have a wonderful welcome from reception.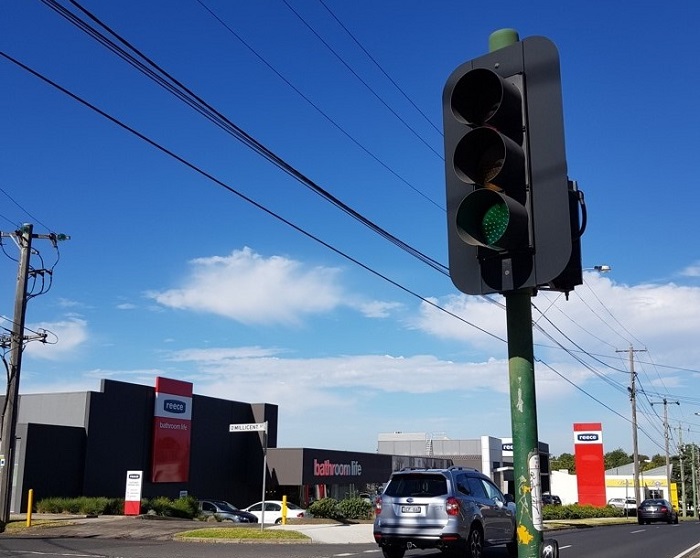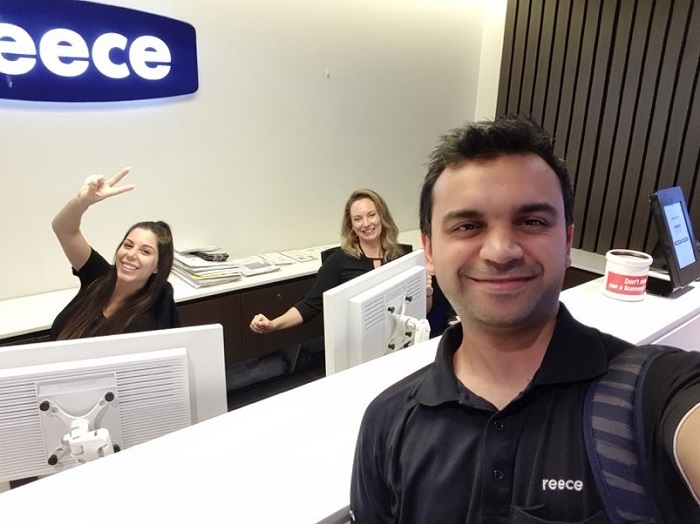 Every morning, before I open the lid of my laptop, I fuel up my body with some caffeine.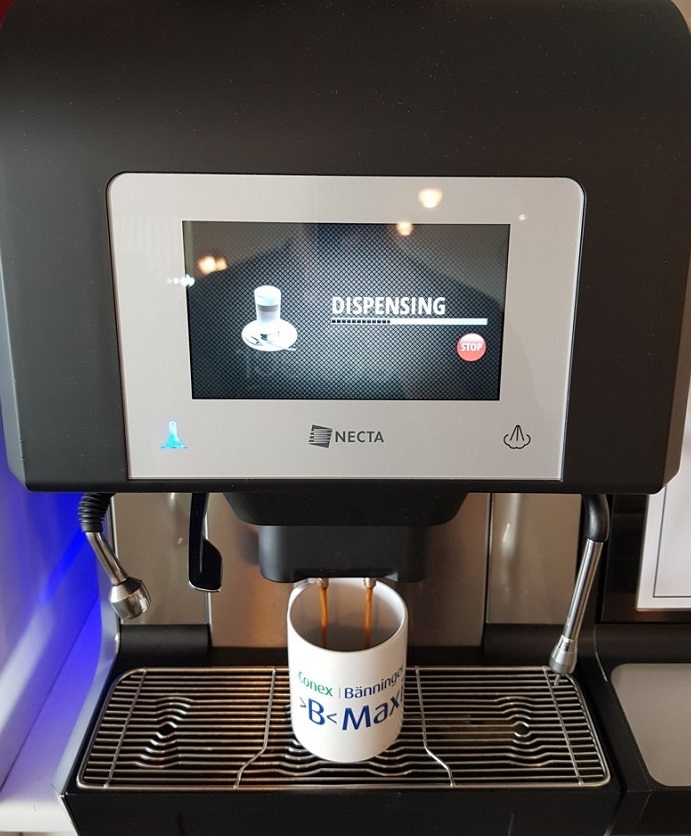 Then I start my work!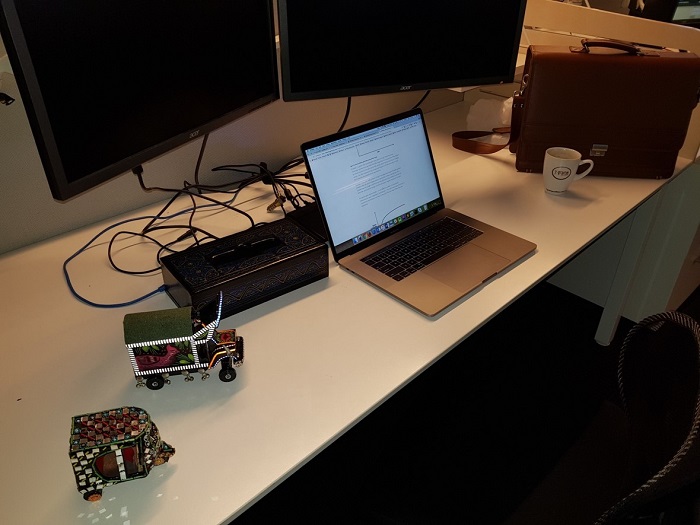 9:00am
Time for our quick 10-minute stand-up meeting where the whole team, along with Digital Marketing team, shares their progress. (Kai says hello as he had joined in from home). Today we discussed about a new project.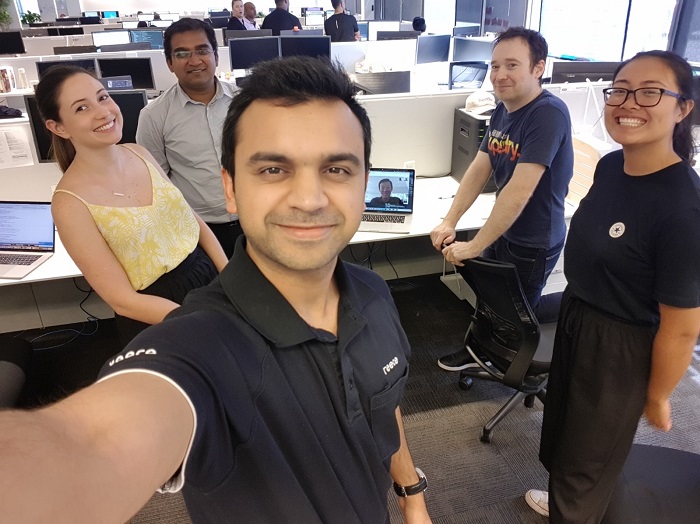 12:00pm
Lunch time! I walk over to the local café for a delicious bagel.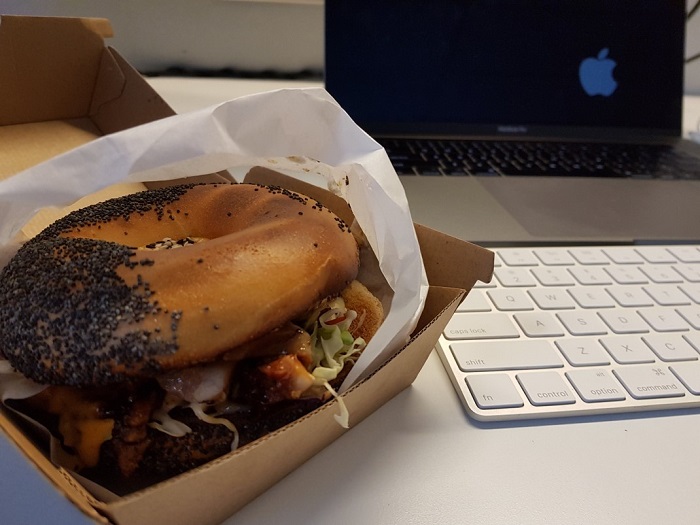 2:00pm
After lunch, it's time for my second coffee of the day where I see my manager and have some casual discussions with him.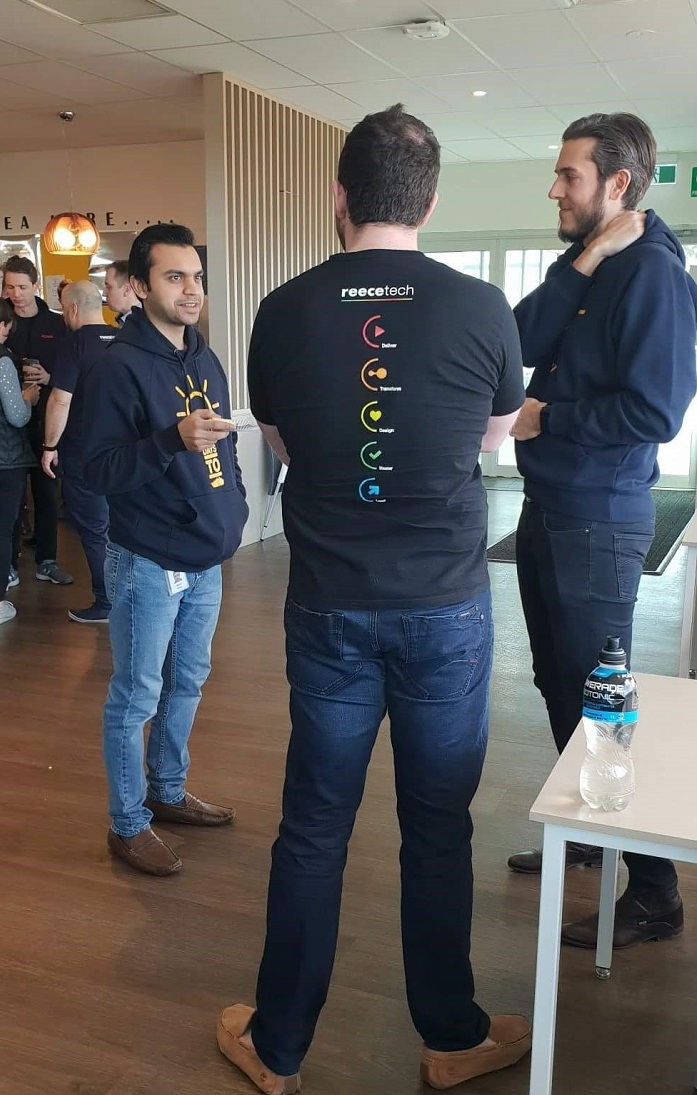 3:00pm
I visit our NDC (National Distribution Centre) today with my team to gather requirements for the new project I was working on earlier today.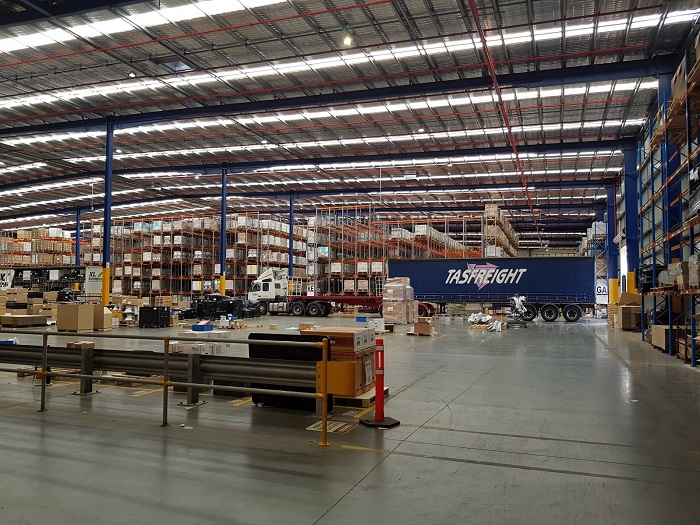 4:00pm
After our trip to the NDC, Lily and I work on a feature in the new mobile app which we discussed in today's stand-up meeting. Usually one of us does the programming while the other keeps an eye for mistakes. This is called pair-programming.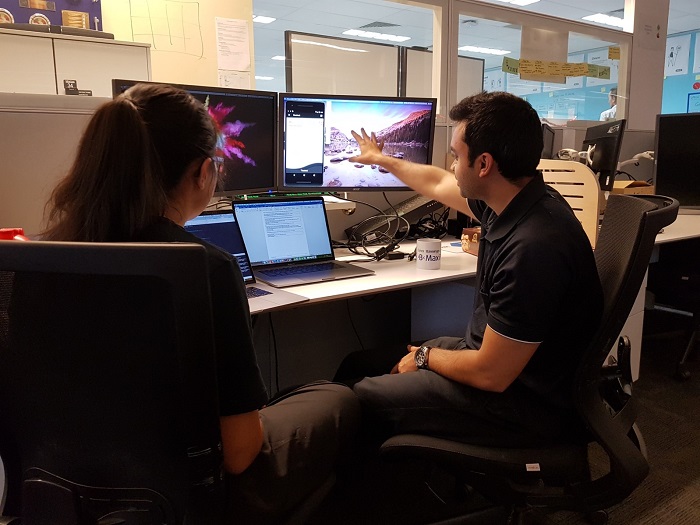 5:00pm
That's all for today! Time to pack up and head to the gym then prepare some egg fried rice with chicken Manchurian!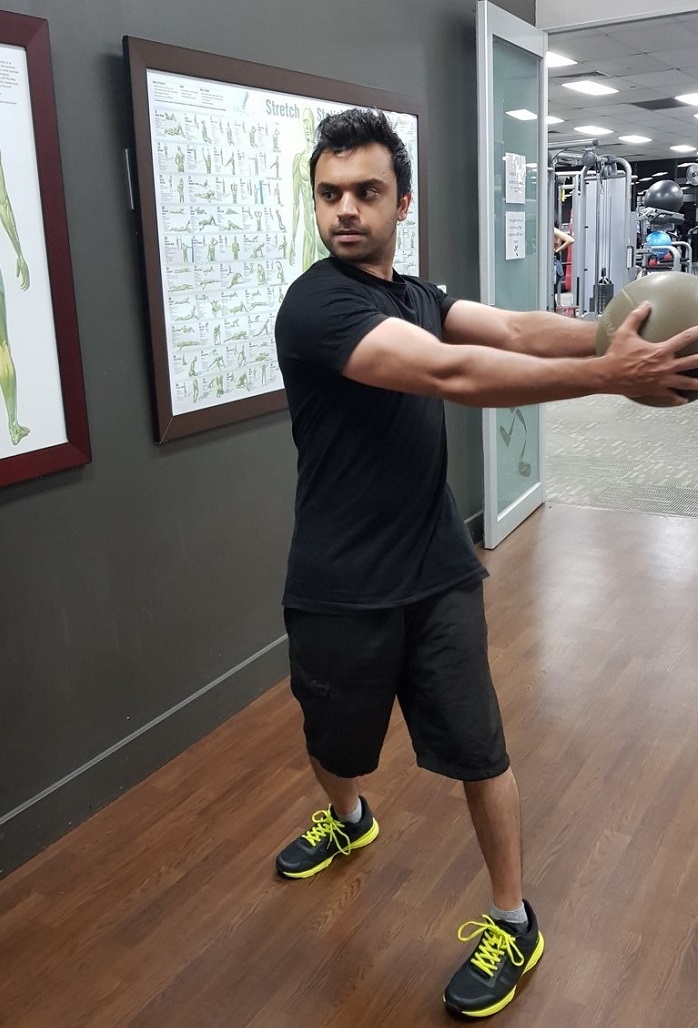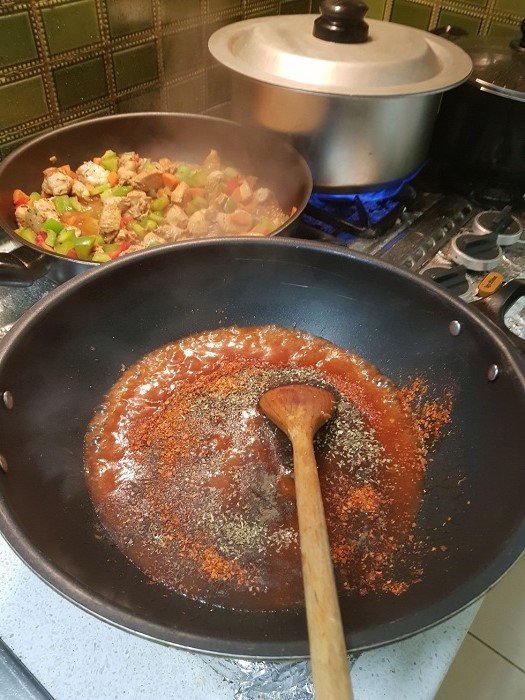 What's In It For You
Reece Group
---
Your experience will be tailored to suit you and your strengths
We're growing nationally and internationally which means you'll have incredible opportunities to learn, grow and achieve amazing things
Work for a company with a World Class Employer Satisfaction Score
Work in an environment where innovation and creative thinking is fostered
Be exposed to and gain deep understanding of all facets of the business
Work with a team who will support you and who want to see you succeed
Be a valued member of the team with opportunity to have input on projects with real business outcomes
3-day induction in Melbourne where you get to connect with senior leaders and other grads
Eligible to receive profit sharing after your first year
We strive for greatness in our work every day. And to help us do this, we're guided by 10 values. We call it The Reece Way.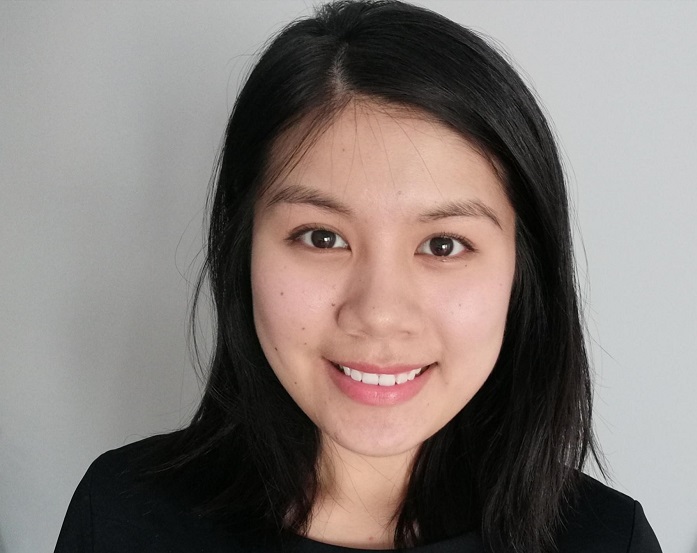 Melissa, Category Coordinator – Former Marketing and Supply Graduate
"The Reece culture is very different from the other places I've worked at, Reece is like one big family. Everyone here is very laid back and down to earth, no one is too busy to help you out. You will see the chairman walking around the office and visiting branches to see what everyone is up to while getting excited when there are new projects on the horizon. You don't see this kind of passion with just any company.
We all do our best to help our customers and we have a lot of fun doing it."
---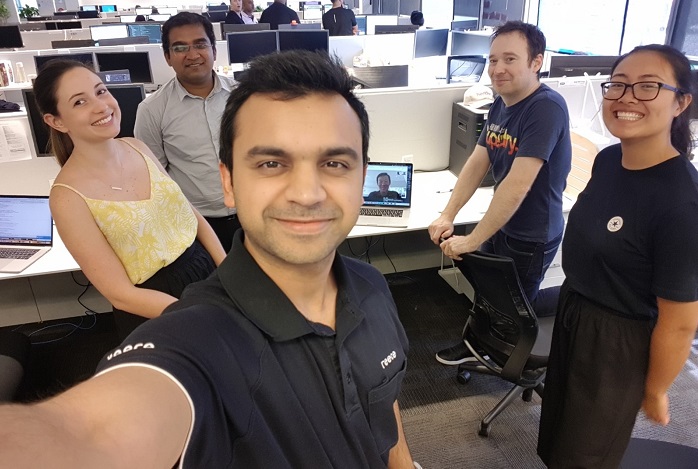 Zaeem, Mobile Applications Developer – Former reecetech Graduate
"To sum up the culture, working at Reece is like working at home with family. If you find your ships stuck in a storm, the whole team is there to support and sail you through it. Even if you have zero experience in any underlying task, they will guide you through it. If you want to work on a task, just raise your hand and you will surely be given an opportunity to lead the way. The managers will have one to one meetings with you to make sure that you are feeling comfortable or if you want to share anything. Like I said, you will be treated like family here."
---
Barry, Account Specialist – Former In-Store Sales & Leadership Graduate
"One of the main things that stands out from a culture perspective is the amount of fun people have at work. The office is a fun environment where people freely talk to each other, whether it be about work or their personal lives. This creates a great environment to work in where you can bond creating a real sense of camaraderie."
---