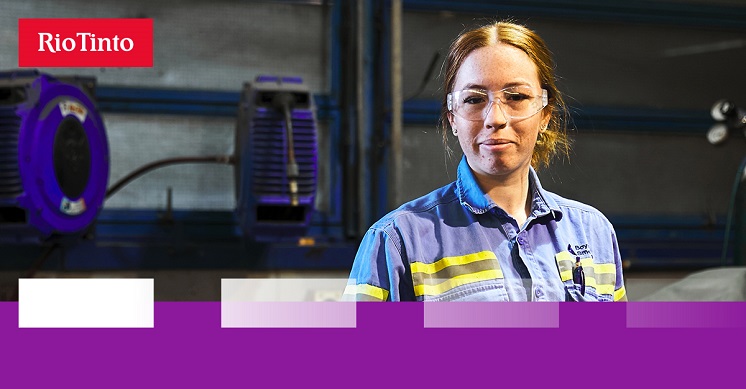 What if from day one you didn't just watch things happen, you made things happen? 
What if you didn't just make an impression, you created a legacy? 
What if you didn't just start a job, you transformed an industry?
From day one, our graduates help us transform the way we do things, making a better tomorrow for all of us. We love fresh ideas and new thinking and our grad program gives you the tools to innovate and invent -- to pioneer progress for you and us.  
We're looking for graduates and students from a range of degrees for different areas across our business including: 
Engineering – All degrees 
Sciences – Geoscience, Environmental 
Technology – Data Science, Software, Computing, Robotics 
Humanities – Arts, Law, Health & Safety, Archaeology 
Business – All degrees 
We're also looking for continuing uni students to join our 2021 Vacation Program and experience day-to-day-life at Rio Tinto. The best part, it gives you the opportunity to secure a grad position at the end of the program. 
About Us 
Every idea, every innovation, every little thing the world calls 'progress' begins with a first step, and someone willing to take it: explorers, inventors, entrepreneurs. Pioneers. 
For nearly 150 years, Rio Tinto has been a company of pioneers –generations of people spanning the globe, all with the grit and vision to produce materials essential to human progress. Our iron ore has shaped skylines from Shanghai to Sydney. Our aluminium –the world's first to be certified "responsible" –helps planes fly and makes cars lighter. Our copper helps wind turbines power cities and our boron helps feed the world and explore the universe. Our diamonds help us celebrate the best parts of life.  
Including you 
We particularly welcome and encourage applications from Aboriginal and Torres Strait Islander people, women, the LGBTI+ community, mature workers, people with disabilities and people from different cultural backgrounds. 
We are committed to an inclusive environment where people feel comfortable to be themselves. We want our people to feel that all voices are heard, all cultures respected and that a variety of perspectives are not only welcome –they are essential to our success. We treat each other fairly and with dignity regardless of race, gender, nationality, ethnic origin, religion, age, sexual orientation or anything else that makes us different. 
Eligibility: 
Graduate Program – final year of study/have recently graduated 
Vacation Student Program – penultimate year or students in 2nd or 3rd year 
Next steps… 
Join us and pioneer a career that will not only build your future, but drive progress for us all, apply today  #itbeginswithyou 
26-02-2021
Job type:Graduate Jobs
Disciplines:

Accounting, Actuary, Administration, Arts and Humanities,

...

Work rights:

New Zealand Citizen, Australian Working

...

Locations:

Brisbane, Regional Queensland

Closing Date:29th Mar 2021, 12:59 pm
Search
Enter an employer or university you want to find in our search bar.