RSM Graduate Programs & Internships
RSM Australia offers the combined benefits of a big firm including extensive networks, training and career opportunities within a highly supportive, people orientated workplace. This combination provides a great environment to build your skills and confidence.
Past RSM Graduate Hiring Statistics
If you're interested in working at RSM, understanding when they have opened up applications for their graduate programs, graduate jobs and internships is helpful knowledge to have so you know when you might need to apply. Use the below information to see when RSM hires graduates, but more importantly what graduate degree's and other student attributes they target for their jobs.
---
Job types
Graduate Jobs (89%),

Internships (11%),
Disciplines
Accounting (88%),

Banking and Finance (18%),

Business and Commerce (52%),

Computer Science (1%),

Cyber Security (2%),
Locations
Sydney (22%),

Perth (17%),

Melbourne (14%),

Regional New South Wales (12%),

Brisbane (11%),
Work rights
Australian Citizen (100%),

Australian Permanent Resident (94%),

New Zealand Citizen (52%),
RSM Australia offers the combined benefits of a big firm including extensive networks, training and career opportunities within a highly supportive, people orientated workplace. This combination provides a great environment to build skills and confidence.
Globally, our presence spans more than 810 offices in over 120 countries. Within Australia, we employ over 1,300 people across 32 offices in both metro and regional areas. Our broad reach means that we can provide opportunities for everyone, everywhere.
At RSM, we understand that starting your career is an exciting challenge. In our 100 years of service, we have met many challenges along the way and have succeeded to become the largest nationally owned mid-tier accounting Firm in the country.
We offer a number of opportunities for Students to connect with us, through our Graduate, Vacation and Undergraduate Programs. These programs have been designed to provide you with a combination of business and technical skills, supporting you in becoming our next generation of leaders!
Please visit our website or read through our profile for further information on RSM.
As one of the largest mid-tier accounting firms in Australia, we provide meaningful opportunities for students across the country in both metro and regional areas. We believe in a culture that rewards our employees with work/life balance, clear career progression, and meaningful work.
We are passionate about investing in your career early, and believe in providing formal and experiential training, technical and professional development opportunities, as well as on-the-job coaching and mentoring, to develop you to achieve your best.
At RSM, we offer career opportunities for motivated and enthusiastic Graduates in Assurance & Advisory, Business Advisory, Risk Advisory, Corporate Finance, Tax Services, Digital Services, Financial Services and Restructuring & Recovery.
We believe you are the best person to know where your career should start, so we give you the opportunity to nominate your first and second division preference.
If you are in your graduating year, completing a relevant bachelor's degree and identify with our values, then apply today for our Graduate Program. All you need to do is click apply to complete our short application form and upload your CV, cover letter and academic transcript.
Graduate Program applications open each year in March.
Check out the Student Opportunities section of our website www.rsm.com.au/careers for key dates in relation to our Graduate opportunities.
For any other available opportunities, visit our website or the available opportunities page here on GradConnection!
Grad COLAB
COLAB is a jam-packed week of professional development, technical training, collaboration, and networking! 
COLAB forms part of our 12-month Grad Development Program 'myGRAD Journey', where you will learn more about yourself, your cohort, the firm, and our values!
Our Vacation Program is an opportunity for you to get a head start on your accounting career by putting your theory into practice in a supportive environment. RSM's Vacation Program involves up to 2-4 weeks of paid employment to gain practical experience during your university Summer and Winter semester breaks. A Vac placement with us gives you the opportunity to experience firsthand who we are and what we do.
At RSM, we believe you are the best placed person to know where your accounting career should start. We offer motivated and enthusiastic students the opportunity to experience Assurance & Advisory, Business Advisory, Risk Advisory, Corporate Finance, Tax Services, Digital Services, Financial Services and Restructuring & Recovery.
As a valued member of our team you will experience support from your peers, work on a diverse range of tasks, and have access to senior leaders who will guide and mentor you along the way! Typically Vacation placements are offered in the Melbourne, Perth, Regional WA, Sydney, Canberra and Brisbane offices.
WA applications open each March – Summer/Winter Vacation Program
VIC/NSW/QLD applications open each July – Summer Vacation Program
Our Undergraduate Program offers you paid full-time or part-time employment to gain practical experience while completing your degree at University. This program could put you ahead of the rest and give you a head start with on-the-job training, helping you to hit the ground running in the early stages of your career. A great opportunity to further develop your skills and gain relevant industry experience!
For any available opportunities, please visit our website www.rsm.com.au/careers or see them here on GradConnection!
At RSM, we are committed to making our recruitment process as straight forward as possible.
We understand you have a lot going on between studying, part-time jobs, friends and family commitments so we have made sure the application process doesn't take up too much of your time.
We have outlined the standard process below so you can see what will be involved at each stage of the process.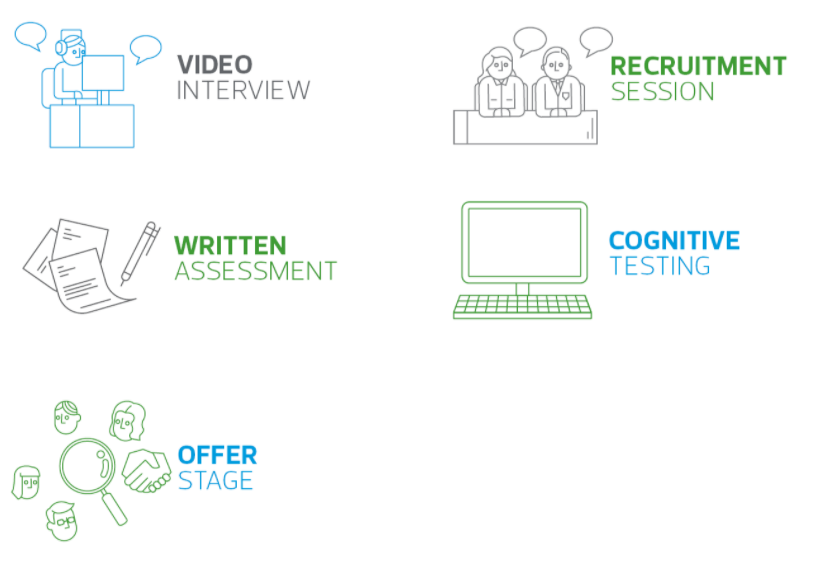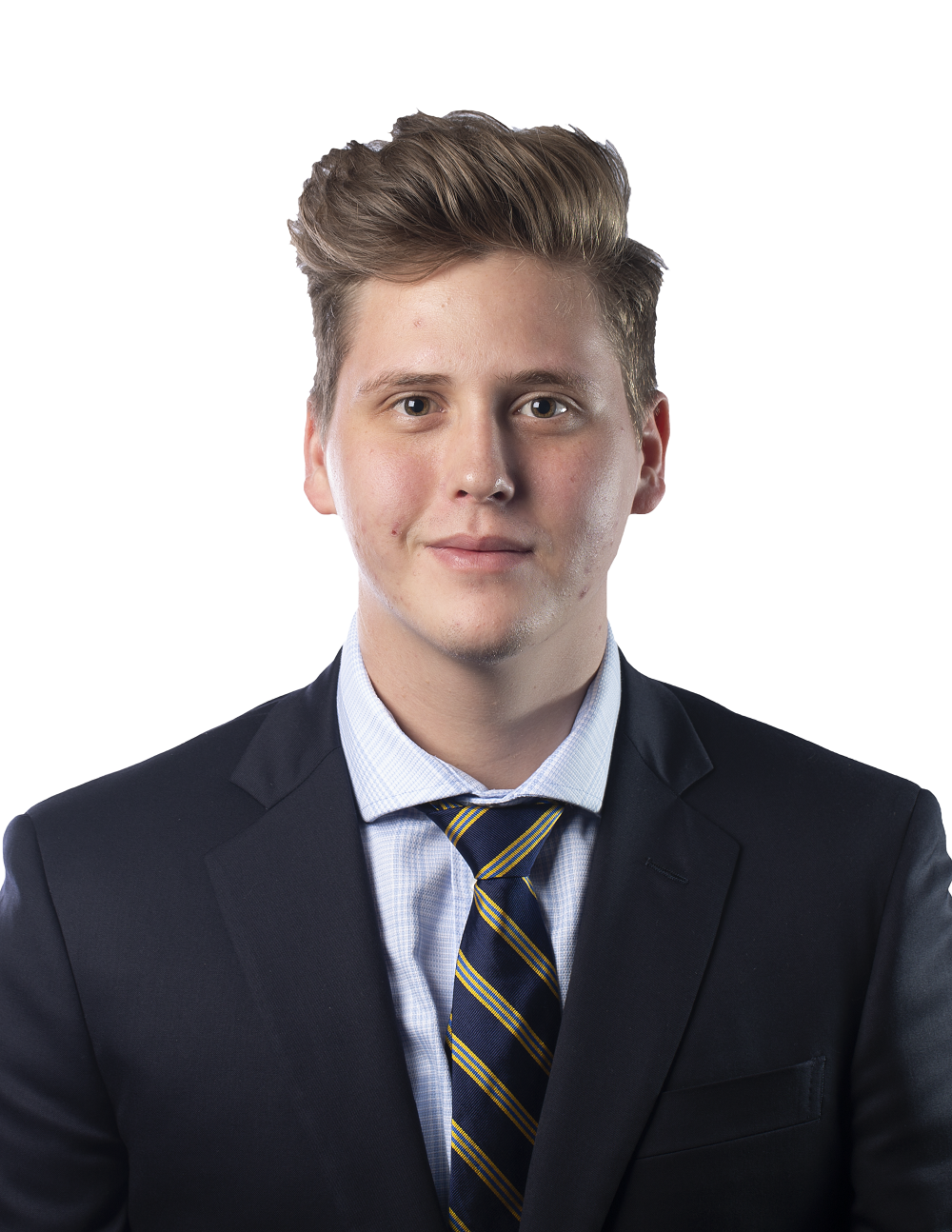 Gary deMuelenaere | Graduate | Business Advisory | Brisbane
5:30am
Monday's are the hardest days to get out of bed. I'm definitely not a morning person, but if I can score a free lift to the bus stop to save me the walk you better believe I'll be awake! Time to get ready for work. Still half asleep I try pick out the outfit for the day. Do I want to wear the blue or grey suit today? What shirt do I want? This almost takes as long as it does to do my hair!
6:20am
The bus arrives. Time to choose the music for the trip. I either go on YouTube to utilise their auto play function or choose an album to listen to…depending on what I'm vibing for the day. Once I've figured out this clearly difficult decision, I'm out like a light. Miraculously I've never missed my stop, somehow always waking up just in time to get off the bus.
7:30am
I get into work early to make sure I'm able to get through all the work of the day…and to try and get something done before everyone else comes in and I jump at the opportunity to show them the memes I've collected over the weekend. Dylan is already there, utilising our firms flexible working arrangements. We catch up for a while. Slowly everyone starts to come in. A bunch of us go to the kitchen, grab a coffee, talk about the weekend and anything interesting that will be happening throughout the week.
8:30am
The day has officially begun. The first thing I do is to look at my workflow for the week. I assess whether I will have enough work to keep me going for the week. This allows me to better plan for the week and prepares me for our team's weekly workflow catchups.
9:30am
The team and I meet up for half an hour each week to discuss the jobs that we currently have on, the status of these jobs (i.e. client queries, review, completed, etc.), assign additional work and discuss any issues/matters that need to be raised with the superiors.
Up until lunch my day mainly consists of working through tax sensitive accounting issues for clients, preparing financials statements and discussing any tax issues the client may be facing with my manager, regularly going to the kitchen for coffee refills.
12:30pm
Lunch time! A bunch of us all go to lunch at the same time, some bringing food from home and others go and buy food. We all meet up in the staff hub. Lunch times are always great, you get a chance to talk to people that you may not get a chance to in everyday work life and get to catch up with everyone, with a bit of friendly office banter thrown in the mix.
5:00pm
Home time already? The day's flown by! I finalise everything I've been working on for the day, say goodbye to everyone and start the walk to the bus. I get ready for the peak hour traffic home, put some music on and slowly fall asleep for the trip home. I start planning out my night. Am I going to go hangout with mates? Am I going to go to the gym? I decide to do both.
7:30pm
After eating dinner with the family, I message a mate and both head to the gym. Nothing better than getting in some exercise after a full day of work! We finish up and have the rest of the night to hangout.
10:00pm
I get home and start to get ready for bed. I put some Netflix on to wind down after the day. Ready to do it all again tomorrow!
---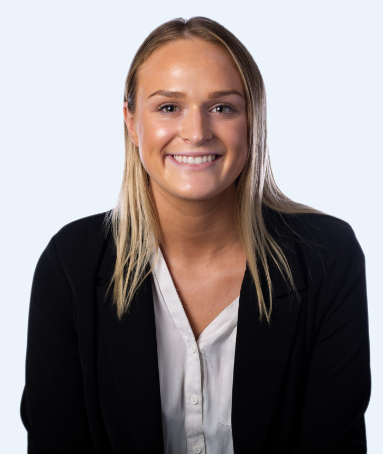 Jamie Roubin | Graduate | Risk Advisory Services | Sydney 
6:00am
Having already delayed my alarm twice, I quickly get up and change into my gym gear.
6:30am
I walk just over 20 minutes to get to the gym in time for my 6:30 Pilates class. I do this class around 3-4 times per week and find it puts me in a really good mood for my day (though I do get a little tired by 3pm) 
7:30am
I have a quick shower and change into my pre-packed work clothes. I'm quite fortunate that my gym is around the corner from work, so I can attend the later sessions and not be late!
8:00am
I make my way up to level twelve, after grabbing a large almond flat white from the café on the ground floor. I check my emails and make some toast with the bread provided by RSM. As I have a 10 am meeting I'm sure to have a quick breakfast. 
8:30am
I have a look over the questions I prepared last night for the client – a leading provider of drinking water for Sydney, and ensure I have multiple copies of the scope printed out.
8:45am
I head out with my manager to meet at the Client's office (it's a bit of a trek).
10:00am
We get to the Client's office and meet with our direct contact. We first go over the scope where we are conducting a review of the environmental management plan's currently in place at the client site, and the governance surrounding their implementation. We request a number of documents, some the client is able to provide on the spot, but I keep a list of my requests on OneNote throughout the meeting in case one is forgotten. 
11:00am
We are provided a tour of the site and head off walking around the different areas of the Plant. It's quite interesting having the ability to see all the different facets of creating potable water. At the end of our tour we advise the client of the next individual we would like to speak with after lunch.
12:00pm
My colleague and I head to grab some lunch from a nearby café (I had a delicious chicken wrap) and head back to the client site. I revise the notes I have taken from the previous meeting and compile a list of documents I have requested/plan to request.
1:00pm
We meet with the second individual from the Plant. He is able to provide us with detailed understanding of the roles and responsibilities of the site, and who is responsible for implementing and reviewing the environmental plans. I was pretty happy when this meeting ended as I received answers to all the questions I prepared. My manager was happy with my questions too! We head back to the office to debrief.
2:30pm
My manager and I have a quick debrief regarding the meetings we had, and how we want to approach the technical testing component of the review. I want to ensure I don't fluctuate from the scope. 
3:30pm
It's coke-zero-o-clock. I head upstairs to grab a $2 coke zero to keep my energy up for the remainder of the day. Once I sit down with my caffeinated beverage, I look over the documentation provided by the client and start setting up my testing work papers. Through my analysis I compile an RFI (request for information) which consists of requests for documentation or information for any queries I have come across.
5:00pm
I've finalised the RFI document and sent it off to the client, hopefully they'll be able to start actioning my requests tomorrow. 
5:30pm
I head off for the day and meet up with a few friends for Taco Tuesday. There are so many places for a $2 taco in the Sydney CBD and I'm fortunate to have a few friends who work nearby.
7:30pm
After satisfying myself with tacos, I head home to catch the start of Survivor and hang out with my Greyhound, Chloe. Hopefully my favourite doesn't get blindsided this episode, but who really knows once it gets to the final five?
9:00pm
I've kept my eyes open long enough to see my fav survive another tribal council. On that note, its bed time. I have an early start tomorrow as I'm driving out west to audit a few lights for a clients' Energy Savings Scheme claim.
---
Are you interested in what our Graduates do on a daily basis? Click the link below to explore video from each of our divisions! 
https://www.rsm.global/australia/careers/student-opportunities/day-in-the-life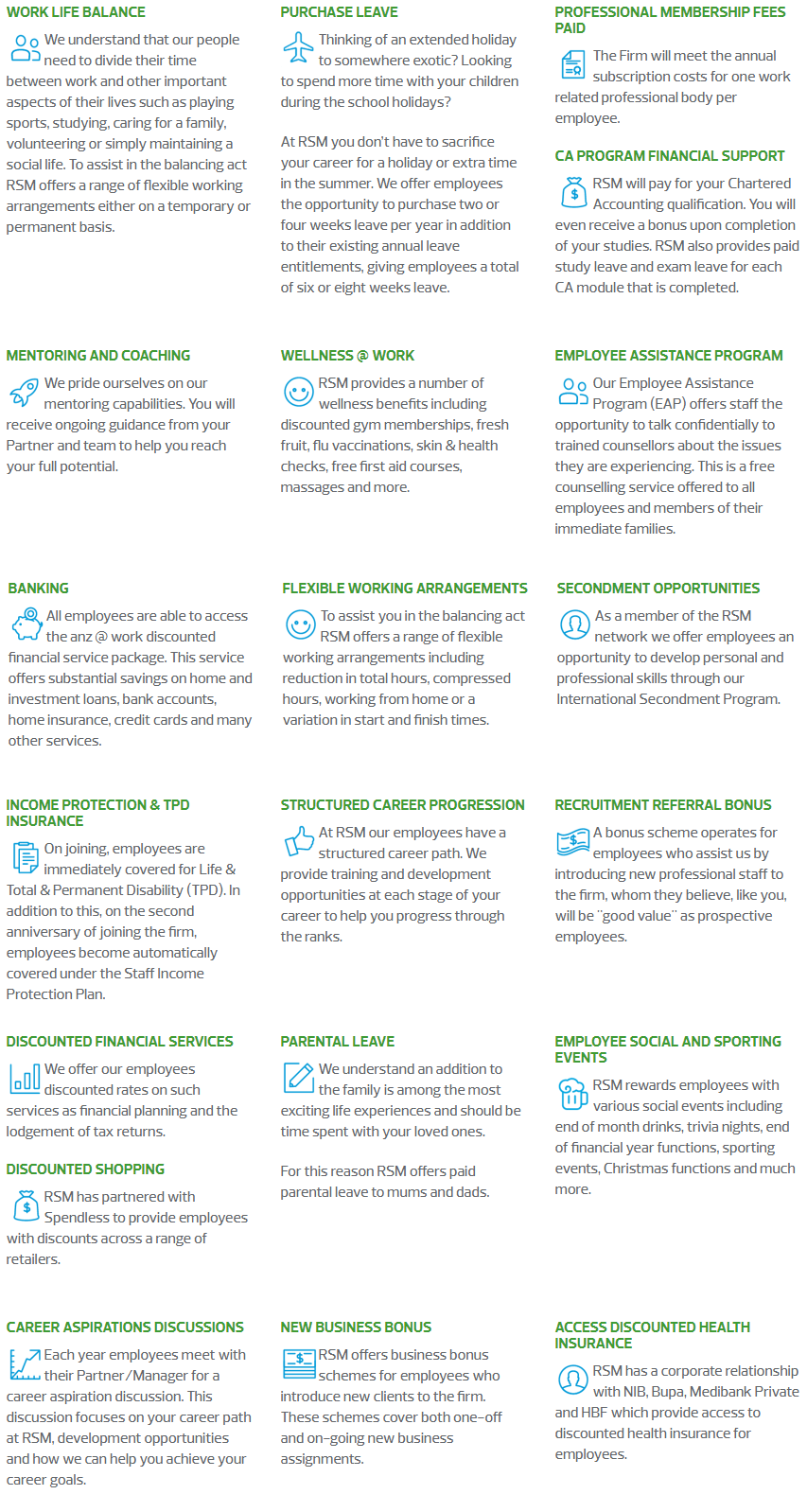 To view some further benefits we offer our Graduates click here!