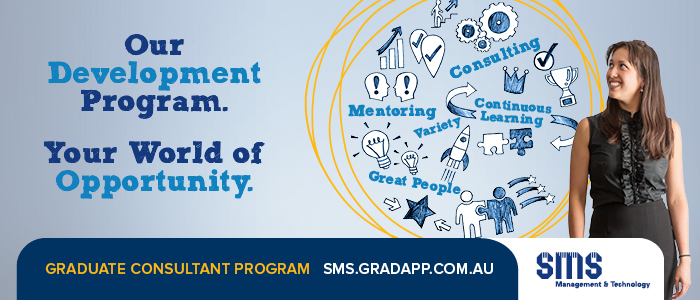 SMS Graduate Programs and Jobs
SMS Management & Technology (SMS) ASX Listed is Australia's leading consulting, technology and systems integration company.
SMS currently has 0 opportunities.
Select the following options:
A leader in advisory, solutions, managed services and recruitment, SMS cultivates innovation, digital, mobile and design-led business and technology capability to empower organisations across all industry sectors. With over 1400 staff across the Asia Pacific, SMS promotes and delivers next-generation customer-centric outcomes for our clients.
WHAT WE DO
We work in partnership with industry experts, government bodies and trade associations to gain the widest possible market and industry view. Through our partnerships with the world's leading technology providers, SMS can deliver you unprecedented solutions that produce real results. Our success is built on the success of our clients. Our purpose is to help our clients achieve their vision by working as partners to deliver excellent service with the highest levels of integrity. That is, and will continue to be, the foundation of our success, today and into the future.
The best way to gain an insight into the culture and work of an SMS consultant is to hear directly from our people. We invite you to review our video to find out more about what our consultants do on a day-to- day basis.
Sameen Javed, Consultant – Information Data Management, Victoria
Sameen is a consultant whose primary interest lies in the fields of data warehousing, business intelligence and data structures & analysis. Sameen joined the SMS graduate program in 2013 as part of the Information and Data Management Capability.
Elliott Miller, Consultant – Systems Integration, Victoria
Elliott is a Technology Consultant in the Applications Development capability who focuses on building complex Web and Mobile Applications using a variety of open source technologies. Elliott joined the SMS graduate program in 2013 following a successful IBL placement with SMS while at Monash University.
Juliette Maeji, Consultant – Business Performance Improvement, Queensland
Juliette is a consultant in the Business Performance Improvement practice who has worked in a variety of government organisations in project management, PMO and business analysis. Juliette joined the Graduate Program in 2013.
Frequently Asked Questions
SMS
---
Why should I apply to SMS?
The SMS Young Professionals Program is the chance of a lifetime. Unlike many programs out there, our aim is to get you out and working on a client project soon after your career journey begins.
You'll work as a consultant from day one within a supportive professional community. Over 18 months, you will be provided with the building blocks to equip you with the formal, technical and soft skills required to be an outstanding consultant. Above all, it is the on-the- job learning and exposure to a variety of industries and clients that will propel your career to the next level.
What are the available graduate opportunities?
Our graduates step directly into a supported consulting role and can choose to join either our management or technology practices. The management practices incorporate 'Business Performance Improvement' and 'Program and Project Services'. The technology practices incorporate 'Systems Integration' and 'Information and Data Management'. Further information on these practice areas is available on our website.
What does SMS look for in a Graduate?
We are interested in more than just your academic record. At SMS we employ energetic, interesting and driven people who are looking for the best projects, the best colleagues, the best culture and the best opportunities. We are looking for well-rounded candidates with excellent written communication and interpersonal skills, who will work well in a team, and are enthusiastic and motivated to learn. It is important to have a positive attitude and a strong desire to deliver the highest standard of client service.
What would my work/life balance look like?
At SMS our consultants work a professional day, however as is the nature of consulting, your hours will vary according to the project or engagement in which you are involved. Commitment and hard work is recognised, and so is the need for a balance between work and your interests and commitments outside work.
Does SMS have a dress code?
Our office dress policy is professional business attire. As a provider of professional service to our clients, we are expected to look the part.
What will my salary be as a graduate?
SMS' graduate salary is market competitive. The exact details of your remuneration package will be provided to you when you are offered a position with us. The benefits of a career with SMS are more than just a salary. SMS not only offers great work opportunities but a unique culture, a supportive work environment and extensive career progression opportunities.
Am I eligible to apply?
Only those eligible to work in Australia indefinitely and without restriction, that is, an Australian citizen or permanent resident of Australia, will be considered for our graduate intake. There is no requirement for you to have had any relevant work experience, nor is there a minimum academic requirement, however both are factors that will be considered when we assess your application.
How do I apply?
Apply via the button or via our website.
What is the selection process?
At SMS, we have a five stage recruitment process that gives us an insight into the person you are – and also gives you a greater understanding of the work we undertake and the culture that defines who we are. We believe that recruitment is a two way process and is as much about you choosing us as it is about us choosing you.
The stages of our recruitment process are as follows:
Application Screening
Cognitive testing
Video screening
Assessment Centre
Final Interview
How should I prepare for the selection process?
We encourage you to review our website and familiarise yourself with SMS, including what we do and which practice you would most like to join. Throughout the process, but especially at the Assessment Centre stage, it is important that you remember to be yourself and to demonstrate why you're excited about the opportunity to work for SMS. We will be looking for professionalism in the way you present yourself, your ability to work as a member of a team and strong communication skills.
It is also important that you have reviewed your application and CV details and are prepared to talk about your experiences; especially those which best illustrate your strengths.
Will there be any on the job training/support?
Your development will start on day one, when you will participate in our two week graduate specific induction and training period. This will be the start of your participation in our 18 month 'Young Professionals Program'. This initial induction period will help you to settle in to your first professional role. You will learn about our Company and the work that we do, meet with lots of different people and also learn what it takes to be a consultant. As a Graduate you're not expected to know your job inside-out on your first day. Supporting you will be your Practice/Site Leader who acts as a coach and mentor.
The focus of your initial training in our Young Professionals Program will be on developing general consulting skills and competencies that will supplement your on-the- job learning from experts in the field. We want you to experience working on a client project soon after your career journey starts with us so that you can learn from practical experience and from our highly experienced team.
How will I know if I have been successful?
We will notify everyone who applies to the graduate program, the outcome of their application via phone or email throughout each stage of the selection process.
Our Development Program
SMS
---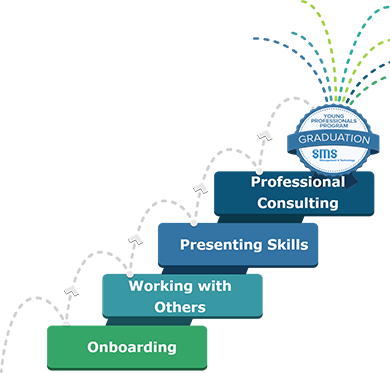 SMS Young Professionals Program is unlike many programs out there, our aim is to get you out and working on a client project soon after your career journey begins. When you join SMS, you'll work as a consultant from day one within a supportive professional community. Over 18 months, you will be exposed to projects and industry groups that are of interest to you and you'll learn from your Practice Leader and other consultants who are passionate about what they do.
Professional Development
Your 18-month 'Young Professionals Program' will begin with a graduate specific induction and training program, during which you will learn about our company and the work we do, meet plenty of new people and hear about what it takes to be a consultant. Over the course of your Young Professionals Program we will provide you with a range of learning opportunities that equip you with the formal, technical and soft skills required to be an outstanding consultant.
However it is the focused on-the-job learning and exposure to a variety of industries and clients you'll get with us that will take your career to the next level. Your role as a consultant will naturally expose you to a variety of technologies and industries, as well as teams across all areas of the business. Of course you won't be expected to know your job inside-out from your first day. You'll have a Practice Leader, a Mentor and plenty of other professionals who will be there to support you over the long term