Teach For Australia Graduate Programs & Internships
Be the change you want to see
It's a sad reality that not every child in Australia has access to the education they deserve. Children from the lowest income households are on average three years behind in school by the time they're 15. We want to fight educational inequity – and make sure that any student who wants to learn can get access to world-class teachers. And we do that through people like you.
By working with Teach for Australia, you'll be cr…
View more Teach For Australia has no active opportunities at the moment.
See who's currently hiring with our Job Search!
Search for jobs
Be the change you want to see
It's a sad reality that not every child in Australia has access to the education they deserve. Children from the lowest income households are on average three years behind in school by the time they're 15. We want to fight educational inequity – and make sure that any student who wants to learn can get access to world-class teachers. And we do that through people like you.
By working with Teach for Australia, you'll be creating the change you want to see in the world – addressing social injustice around educational inequity, while inspiring the next generation of students.
Our award-winning Leadership Development Program means you'll work as a teacher in secondary school level classes ranging from Year 7 to Year 12. You'll get a full salary and benefits for two years, while also studying for a Master's degree and receiving one-on-one coaching and mentoring.
Teaching to Lead
You'll be teaching in subject areas that are directly related to your previous studies – whether you've just graduated or are more than 10 years out – and you'll become part of a dedicated community committed to tackling educational inequity.
It's not just the students who'll benefit from your impact; you'll develop and hone your leadership skills on a  personal, professional, and academic level. And after two years on the program, you'll be an exceptional leader set up for contributing to society and the broader community. Your Teach for Australia experience will be a life-changing one.
Our 2 year program is made up of several components to make sure you're well supported and set up for success.
National Initial Intensive
Our program kicks off in November 2022 with a 6 week residential training program. It will fast track you to prepare for and give you the foundations for entering the classroom. It's here you'll complete a portion of your Master's and get to connect with peers from within your cohort and beyond.
Teaching & leadership development
Once you begin teaching in 2023, you'll develop your teaching and leadership skills throughout the program through first-hand teaching experience, continuing your Master's and one-on-one coaching and mentoring.
Earning your Master of Teaching
Delivered in partnership with ACU and embedded within the program. Associates will complete a nationally accredited and internationally recognised Master of Teaching (Secondary) (Leading Learning) in 2024. You'll already be changing lives for the better by this time too!
Teach For Australia Associates don't start out as teachers. In fact, they come from all academic disciplines and career backgrounds. Throughout our selection process, we look out for eight competencies that we know help make excellent teachers and leaders.
Here's a quick overview of the selection process and what we're looking for.
Register your interest
Register your interest here and a Teach For Australia recruitment team will get in touch to help you through the application process. We strongly encourage you to attend an application workshop before submitting your application so that you have the best chance of success.
Online application & assessment
This is a great opportunity to explain why you want to participate in the program and to showcase your experience. We want to get to know more about you as a person, so you'll be offered an interview (via video call) if your online application is successful.
Selection Day
If you progress to this stage, you'll be invited to a day of assessment activities including a sample teaching lesson, a mock parent-teacher interview, and group activities. These will be hosted virtually (via Zoom) or in-person wherever possible. You'll be continually assessed, and have several opportunities to demonstrate your motivations, skills, and experiences.
We're looking for candidates with these 8 key attributes:
Leadership: Have you made meaningful contributions during university, extracurricular activities and/or work? Have you demonstrated leadership of people or processes in your endeavours?
Commitment to our vision and mission: Are you eager to bring about change and make a difference in the lives of the students you teach? Do you passionately and actively believe in the power of education as a force for social justice?
Communication and influencing ability: Are you a clear and confident communicator? Are you able to influence and motivate others? Do you have maturity and presence? Are you an active listener?
Problem solving: Are you able to think critically, analyse information and generate relevant solutions to problems? Can you adapt quickly to new information?
Organisational and planning ability: Are you able to plan, organise and prioritise your activities effectively to meet deadlines?
Resilience: Got what it takes to work hard and show optimism when overcoming obstacles? Do you relish a challenge, and are you driven to succeed?
Humility, respect, and empathy: Do you operate with humility? Do you show respect and empathy towards others? Do you look for the best in the people around you?
Learning and self-evaluation: Are you open to learning from others and do you seek out opportunities to do so? Do you take ownership for development with regards to your own performance?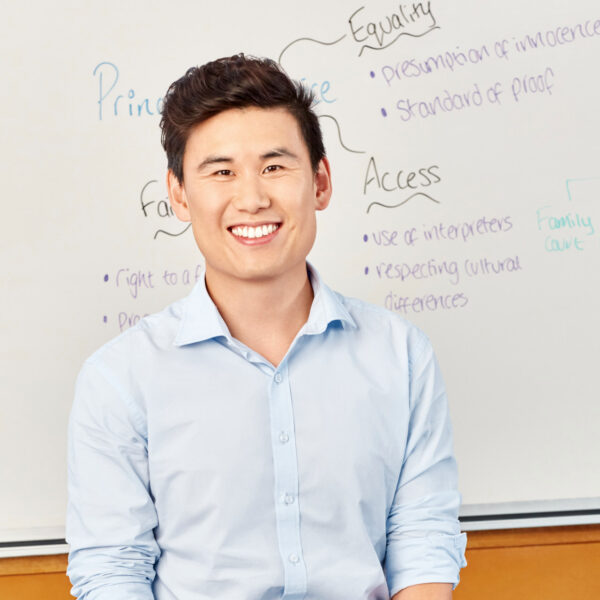 A little bit about Jun
Life Before Teach for Australia
Law
Teaching Areas
Legal Studies, Chinese –Mandarin, English as an Additional, Humanities
Current Employment
Policy Manager at the Department of Education (Victoria)
Jun wanted to do something meaningful and impactful in his life. Originally from Brisbane, he was considering his career options in law and diplomacy. Teaching wasn't on his list until he learned about Teach For Australia.
"I never intended to be a teacher until I found Teach For Australia, where I could work towards a bigger goal of systemic change and impact," he says.
"My placement was in the northern suburbs of Melbourne. My school was very multicultural and diverse which made the place really interesting. I had a wonderful experience at my school and loved working with all the different type of students as well as interacting with the different parents."
"I learnt that I was quite capable of adapting to situations quickly and that I could lead. It really set up an orientation in myself that I could do anything and helped me to apply for my senior positions after the Leadership Development Program."
Jun is now a Policy Manager at the Department of Education in Victoria, committed to a vision of an Australia where all children, regardless of background, achieve an excellent education.
"I know that to address educational inequity, it requires multiple players in multiple sectors. But the thing I miss about teaching is interacting with young people each day and helping them grow and learn."
---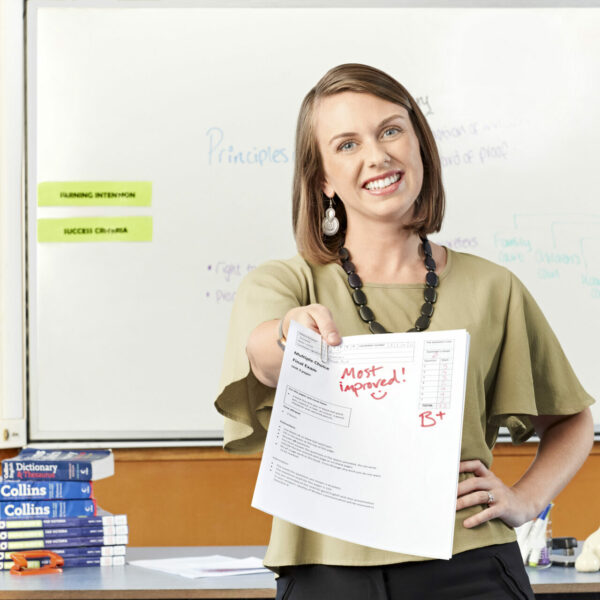 A little bit about Kath
Life Before Teach for Australia
Manager at Ernst & Young
Teaching Areas
Legal Studies, Accounting, History
Current Employment
Classroom Teacher at Mill Park Secondary College
After nearly nine years in the corporate world, Kath realised that she wasn't doing what she loved.
"I had plenty of time working for commercial gain," she says, "and knew I wanted a renewed focus on doing something that is beneficial to society as a whole."
She wanted a career with more social interaction, and less time sitting behind a desk. Kath wanted to pass on the opportunities she had in her education to another generation of students, but Kath didn't want to put her life on hold to change careers.
"A priority for me was to not feel that I was taking a step backwards in my professional life, and taking two years out of paid work to attend a conventional Masters degree," Kath says.
"The draw of the Leadership Development Program is that it throws you in to work straight away – and that very much suited me."
"The most rewarding part of the program is that I get to form new connections every day with those who are either in the education system (students) or are passionate about improving it (Associates, staff, other teachers).
"To be able to guide my students through subjects that I love and to see them become interested in and motivated to pursue the subject is really something."
Welcome to the team
Teaching isn't easy. It's demanding of your time, experience, and patience. But for those up for the challenge – the rewards can truly be life changing. Our program sets a high bar too but we set you up for success with a comprehensive network to support your professional development and to help maintain your health and wellbeing. You'll be working with a great team of supporters including your:
Teaching and Leadership Adviser (TLA)
An experienced teacher who will provide rigorous one-on-one coaching, regular classroom observations and pastoral care to guide your development as a teacher and leader throughout the program.
ACU Academic Mentor
They will support and supervise your progress throughout the degree and guide your achievement of the Australian Professional Standards for Teachers.
School Mentor
This is an experienced teacher at your placement school who will provide day-to-day practical support and help with integration into life at the school and within the local community.
We'd also encourage you to get involved with the Teach For Australia community – a national network of leaders who share best practice, emotional support, and collaboration towards achieving change. Associates can also connect with the global network of leaders around the world as part of the Teach For All network, with ACU Student Services, and our Alumni so you can discuss international education and classroom best practice, school leadership, social innovation, and policy.
If you're successful on Selection Day, we'll extend you a conditional offer. Next comes placement in a real school – and this is where your skills really get a chance to shine. We place Associates exclusively in schools serving low socioeconomic communities, working in the regions and communities that need the most support.
Working in close collaboration with fellow Associates, teachers, school leaders and the community, you'll usually be placed with other Associates within the same school, or in schools nearby.
The placement process begins in September and runs through until December. Once you've been placed, we encourage you to get in touch with your school and plan for potential relocation before starting teaching in early 2023. (Some Associates may start training at National Initial Intensive before their placement is confirmed.)