Thales Graduate Programs & Entry Level Jobs
We're inventing the future, right here, right now, at Thales. By combining the curiosity to explore, the intelligence to question and the vision to create, we're transforming the world around us.
Thales currently has 0 opportunities.
Select the following options:
Past Thales Graduate Hiring Statistics
If you're interested in working at Thales, understanding when they have opened up applications for their graduate programs, graduate jobs and internships is helpful knowledge to have so you know when you might need to apply. Use the below information to see when Thales hires graduates, but more importantly what graduate degree's and other student attributes they target for their jobs.
---
Job types
Graduate Jobs (95%),

Entry Level Jobs (5%),
Disciplines
Accounting (10%),

Business and Commerce (10%),

Computer Science (48%),

Cyber Security (5%),

Defence (5%),
Locations
Melbourne (33%),

Sydney (33%),

Brisbane (14%),

Regional Victoria (10%),

Benalla (5%),
Work rights
Australian Citizen (100%),

Australian Permanent Resident (24%),

New Zealand Citizen (5%),
We're inventing the future, right here, right now, at Thales. By combining the curiosity to explore, the intelligence to question and the vision to create, we're transforming the world around us.  Solving mind-bending problems in critical environments – on smartphones, train trips and even in the sky – is core to our work.
Our work touches all of our lives, every single day. Everywhere it matters, we deliver. From our high-capacity SATCOM systems which allow airline passengers to use their mobile and get online at 30,000 feet to protecting the information systems of 19 of the world's 20 largest banks and safeguarding billions of transactions each year, the scope and scale of our problem-solving abilities know no bounds. Whether it's constructing resilient infrastructure to fortify homeland security or providing in-flight entertainment systems that help you laugh and cry your way from one side of the world to the other, our 80,000 employees across 56 countries around the world made it happen. We employ 3,500 employees in 35 different locations across Australia. Join us as the next generation of leaders at Thales and you can expect to come face to face with innovation, collaborate on projects that really matter, and learn from the best.
If you're a graduate who's keen to embark on a stimulating engineering, business of finance career, or an undergraduate looking for an insightful internship, we have a range of opportunities on offer for the brightest talent.
Join us, and together we can ponder positively perplexing problems across Aerospace, Maritime, Transportation, Defence and Security. Together, we will conquer the confusingly complex and translate it into ingenious, game-changing solutions. Together, we'll fire your imagination and fulfil your potential. So join us. Because together, we are Thales.
Apply now at www.thalesgroup.com/en/career
Thales Graduate Program
Thales
---
Graduates are the future of our business
Whether you're involved in creating the myriad systems and products our customers need, or are driving success in one of our business functions, you'll play a vital role in our organisation. In return, we'll make sure you get all the investment, encouragement and support you need to reach your full potential.
Engineering & Technology Programmes
Ingenuity and innovation are what make our business tick and keep us at the forefront of a very competitive industry. From Aerospace, Maritime and Transportation to Defence and Security, we bring our expertise to the widest range of technical challenges. And the opportunities we offer the best and the brightest are as diverse as our business itself. So whatever your background – be it in engineering, mathematics, physics or technology – you can rely upon being stretched and challenged in any one of our key disciplines. The Engineering Graduate Development Programme runs parallel to your engineering role and forms the backbone of your professional development and will be supplemented by a structured training plan. You'll also be set challenges that you'll complete as part of a team with graduates on other sites, giving you and your peers the chance to innovate for the organisation and put your learning into practice.

Business & Finance Programmes
Of course, engineering doesn't have a monopoly on breaking new ground and doing things differently. We also need the biggest business brains to keep things running like clockwork.  Our Business and Finance Programmes will give you an invaluable insight into our business, plus the chance to complete a host of exciting challenges. Any degree discipline is acceptable for our Business Programme, although a finance-related degree is a must for our Finance Programme. We also look for stand-out ambition, intellect and commercial savvy.  On our Business and Finance Programmes, you will be allowed to shape your career, develop your own personal effectiveness and work towards a relevant professional qualification.
Graduate Scheme Requirements
Thales
---
Being yourself means being the right fit.
Nurturing talent and giving it the freedom and space to grow is one of the things we do best here at Thales. We look for people who can bring us the right mix of flexibility and innovation, analytical thinking and problem solving, communication skills and self-confidence. People who aren't afraid to take responsibility and who can bring us impressive business insight or technical prowess.  People who are at their best working as part of a team and forging the strong working relationships that make all of our lives – and jobs – easier.  As far as the basics are concerned, you'll need at least a credit average. Apart from that, security clearance may be required to undertake work on many of our projects. You can find out more details about which roles this applies to on our website.
Learning & Development
Thales
---
We're committed to refining raw graduate potential into the innovative, effective professionals who will grow our business.
Our Graduate Development Program, in conjunction with on-the-job training, is intended to transform your talents. The main training elements will be interactive and experiential, allowing you time and space to explore the areas in which you excel and those you need to develop. Not only will you be provided with excellent training from the brightest minds in our organisation, you'll have access to further technical and professional learning opportunities and courses to broaden and deepen your expertise. Throughout the program, you'll also have the opportunity to work with fellow graduates on innovation projects, enabling you to develop new skills whilst building important networks with fellow graduates and business leaders. In addition to this, as part of our graduate program you will have the opportunity to work on a highly recognised fundraising program for Thales supporting Legacy Australia.
Support
Over the course of the program, you'll cover a lot of ground and be given progressively more complex tasks and responsibility – but you'll have plenty of support. You will be given a mentor throughout the graduate program and also guidance along the way from your local HR teams. Role-specific training will be arranged by local HR departments and your line manager. Our own corporate university (called The Learning Hub) also runs courses and you'll have access to a range of over 3,000 e-learning modules too.
Career
Our graduate program is for 2 years but you won't be offered a 2 year contract - you will be coming on-board as a permanent employee of Thales and can apply for any of the myriad opportunities within our diverse, global organisation. We also support memberships throughout your career with relevant organisations such as Engineers Australia and the Australian Institute of Project Management.
Diversity & Inclusion

Thales
---
We hire people from a variety of backgrounds and take active steps to fight all forms of discrimination. Diversity is a way of life for a global, multidisciplinary organisation like Thales. We actively promote interaction between staff members with different backgrounds, cultures and experiences and we recognise that diversity and cohesion translate into better performance.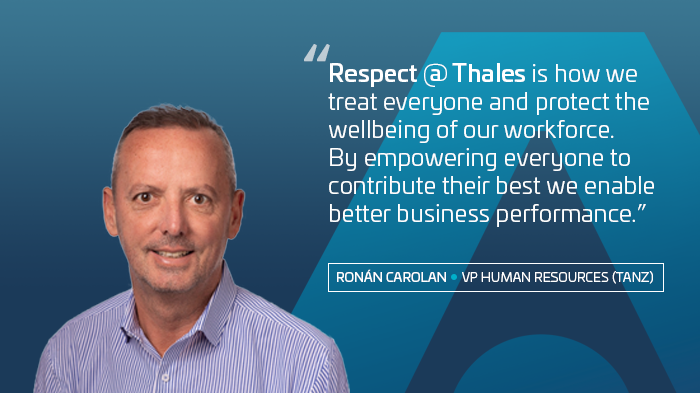 We are a global organisation, and our diverse range of employees across our 56 countries of operation help us to understand our customers better. Plus, having four or five nationalities working together in the same team generates a range of different points of view that can inspire new ideas and promote innovation!  Every member of a Thales team has an equal voice.
Thales has long been engaged in the fight against all forms of discrimination based on age, disability, gender or prejudice, and our employees share this commitment. 
We actively promote equality of opportunity in recruitment, development and career advancement.  Faced with the fourth industrial revolution, Thales has a unique opportunity with generations of employees from all over the world, of all backgrounds, to thrive in a world driven by data, artificial intelligence and robotics.