Thales Graduate Programs & Internships
Thales is an engineering and technology company focused on solving tomorrows problems with innovative solutions. Our markets include digital identity and security, defence and security, aerospace and space.
Thales currently has 0 opportunities.
Select the following options:
Past Thales Graduate Hiring Statistics
If you're interested in working at Thales, understanding when they have opened up applications for their graduate programs, graduate jobs and internships is helpful knowledge to have so you know when you might need to apply. Use the below information to see when Thales hires graduates, but more importantly what graduate degree's and other student attributes they target for their jobs.
---
Job types
Graduate Jobs (92%),

Internships (5%),

Entry Level Jobs (3%),
Disciplines
Administration (11%),

Business and Commerce (5%),

Computer Science (19%),

Construction (3%),

Cyber Security (11%),
Locations
Sydney (32%),

Melbourne (27%),

Rydalmere (19%),

Melbourne - CBD and Inner Suburbs (11%),

Orchard Hills (5%),
Work rights
Australian Citizen (92%),

Australian Permanent Resident (32%),

Australian Skilled Migration Visa (485) (22%),

Australian Student Visa (22%),

Australian Working Visa (19%),

New Zealand Citizen (11%),

Other (3%),
We're inventing the future, right here, right now and we want you to be a part of it! By combining the curiosity to explore, the intelligence to question and the vision to create, we're transforming the world around us.  Solving mind-bending problems in critical environments – on smartphones, train trips and even in the sky – the problems are endless and you get to create the solutions of tomorrow.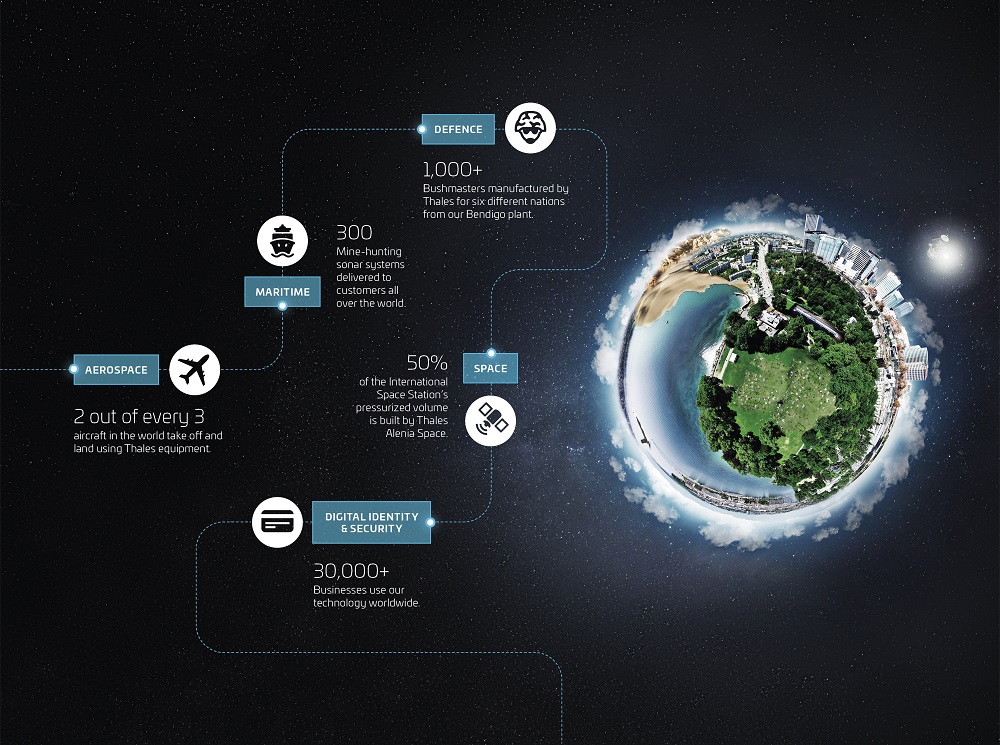 So what do Thales do? 
Simply put, we solve complex problems and create future technologies for our clients in the Aerospace, Maritime, Transportation and Defence and Security industries. The work you do at Thales will impact the lives of many on a daily basis.  From our high-capacity SATCOM systems which allow airline passengers to use their mobile and get online at 30,000 feet to protecting the information systems of 19 of the world's 20 largest banks and safeguarding billions of transactions each year, the scope and scale of our problem-solving abilities know no bounds. Whether it's constructing resilient infrastructure to fortify homeland security or providing in-flight entertainment systems our 80,500 employees across 56 countries around the world made it happen.
We employ 3,800 employees in 35 different locations across Australia. Join us as the next generation of leaders at Thales and you can expect to come face to face with innovation, collaborate on projects that really matter, and learn from the best.
Thales is a global high technology leader investing in digital and "deep tech" innovations – connectivity, big data, artificial intelligence, cybersecurity and quantum technology – to build a future we can all trust, which is vital to the development of our societies. We are excited to be part of the team assisting the Australian Government deliver its $2 billion dollar investment in the Australian Defence Force. Not only can we offer interesting and ground breaking work, we believe every individual at Thales deserves to be supported and nurtured in their career, after all we all want to be the best person we possible can be. 
TRAINING & DEVELOPMENT 

The graduate learning and development journey consists of structured training modules, underpinned by self-directed
learning activities and on-the-job training. We begin every graduate program with an induction and end with a Graduate Conference. These events usually held in our Sydney Olympic Park or Melbourne office! It's a fantastic way for you to meet graduates from across Australia and build connections Australia wide.  
Throughout the program graduates have access to the Graduate Alumni, Business Unit Champions as well as allocated Mentors and Buddies, supporting them during their On-boarding and 2 year extensive training pathway.
As part of the delivery of the program graduates are required to work in project teams, developing innovative solutions for business and customer related problems. These projects are aimed at stretching not only your technical skills but also your management and soft skills. 
CAREER PROGRESSION
A unique aspect of the Thales graduate program is that we offer all participants a full time contract. We are committed to developing talent therefore on the completion of the program further development opportunities are available for those who are able to demonstrate the required aptitude, behaviours and commitment.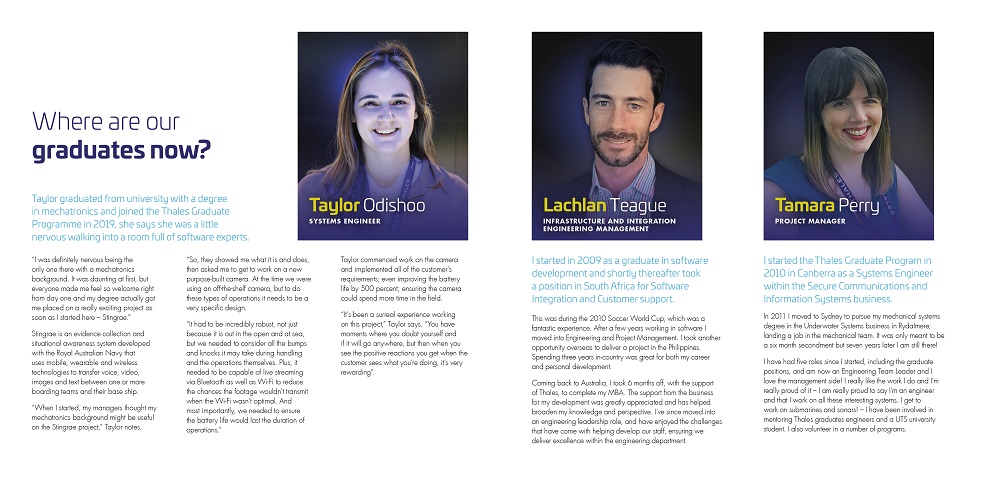 The Thales Graduate Program is made up of two major streams. No matter which stream you're involved in you will have the chance to create innovative systems and products people rely on every day. 
ENGINEERING AND TECHNOLOGY PROGRAMS
The opportunities we offer the best and the brightest are as diverse as our business itself. So whatever your background – be it in engineering, mathematics, physics, IT, cyber security, computer science or technology – you can rely upon being stretched and challenged in any one of our key disciplines. 
BUSINESS AND FINANCE PROGRAMS
Our Business and Finance programs will give you an invaluable insight into our complex business, plus the chance to complete a host of exciting challenges. Any degree discipline is acceptable for our business program although a finance-related degree is a must for our Finance Programme. We also look for stand-out ambition, intellect and commercial savvy.
Entry streams include; Project Management, Sales, Marketing & Strategy, Communications, Purchasing and Legal. 
Our Graduate Programmes are underpinned by a formal learning and development program which sees you complete multiple modules to ensure you develop your skills to become a leader of tomorrow.  Along with this you'll also be set challenges that you'll complete as part of a team with graduates on other sites, giving you and your
peers the chance to innovate for the organisation and put your learning into practice. In previous years our graduates have had the chance to present these ideas to the Executive Leadership Team and even have dinner with the CEO! 
The Thales Graduate Program is a two year program beginning in February each year. Recruitment for the program is completed in March and July of every year. Keep an eye out for applications at www.thalesgroup.com/en/career

Internships & Clerkship
Thales
---
As an intern at Thales, you'll step right into our world. Thales recruit interns year-round to work across all of our businesses. Whilst we accept many disciplines, Engineering is our most in demand.  
You can expect to come face to face with big innovations, collaborate on real projects and learn from the best. In fact, every internship with Thales is tailored to the project and area you join. Not only will you gain world-class experience, you'll be ready to step up to new challenges with confidence – maybe even taking on a graduate position in the future.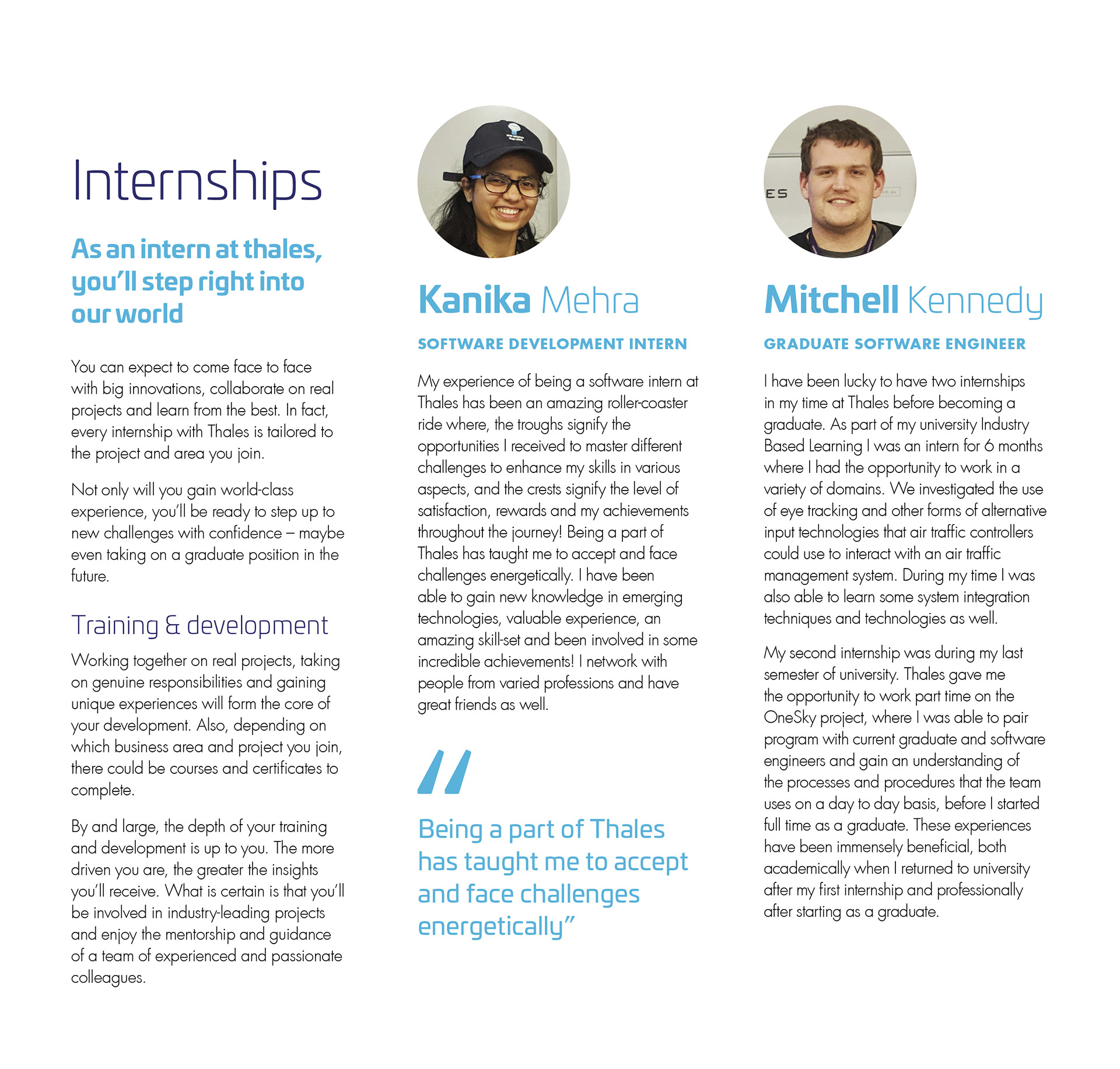 TRAINING & DEVELOPMENT
Working together on real projects, taking on genuine responsibilities and gaining unique experiences will form the core of your development. That said, depending on which business area and project you join, there could be courses and certificates to complete. What is certain is that you'll be involved in industry leading projects and enjoy the mentorship and guidance of a team of experienced colleagues.
Application Process
Thales
---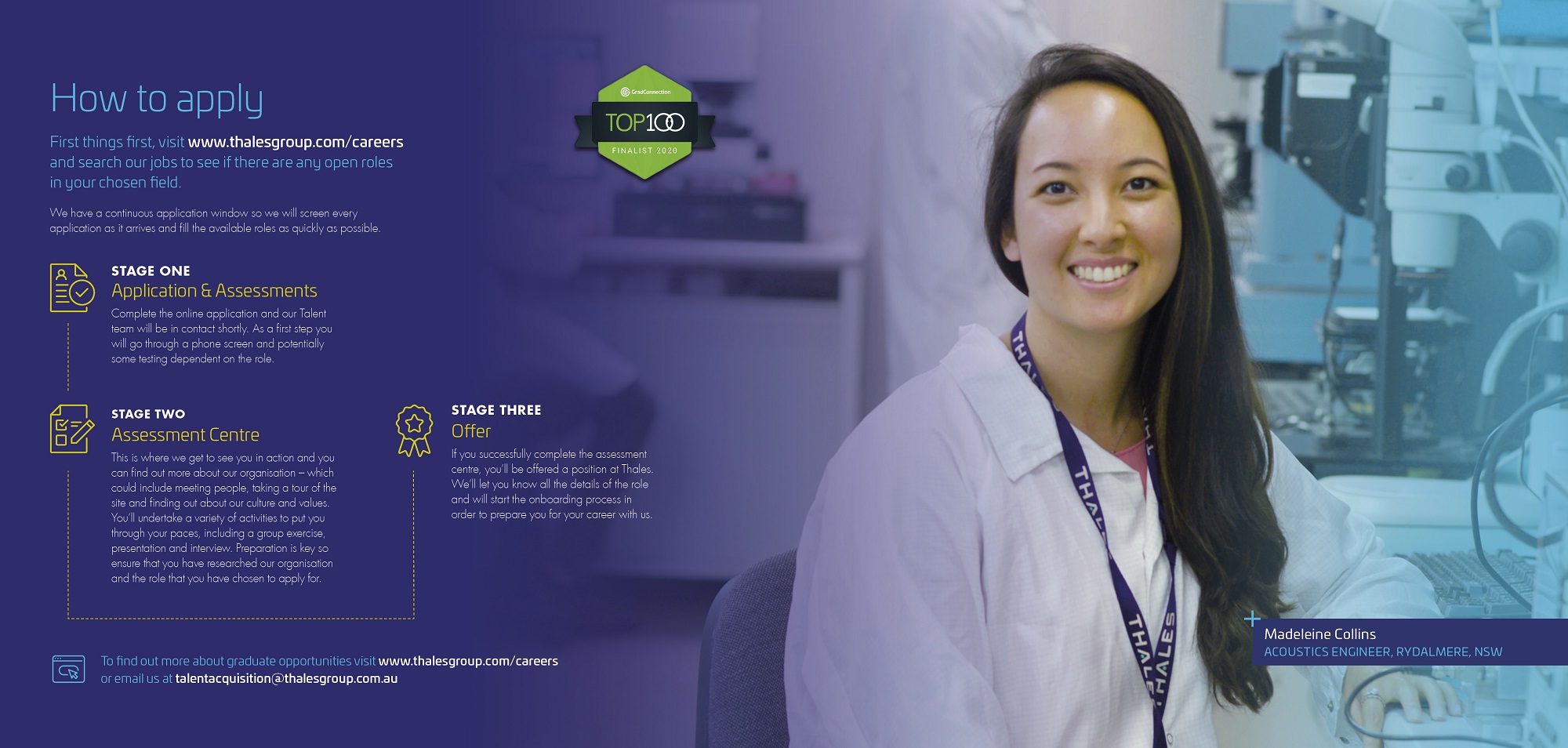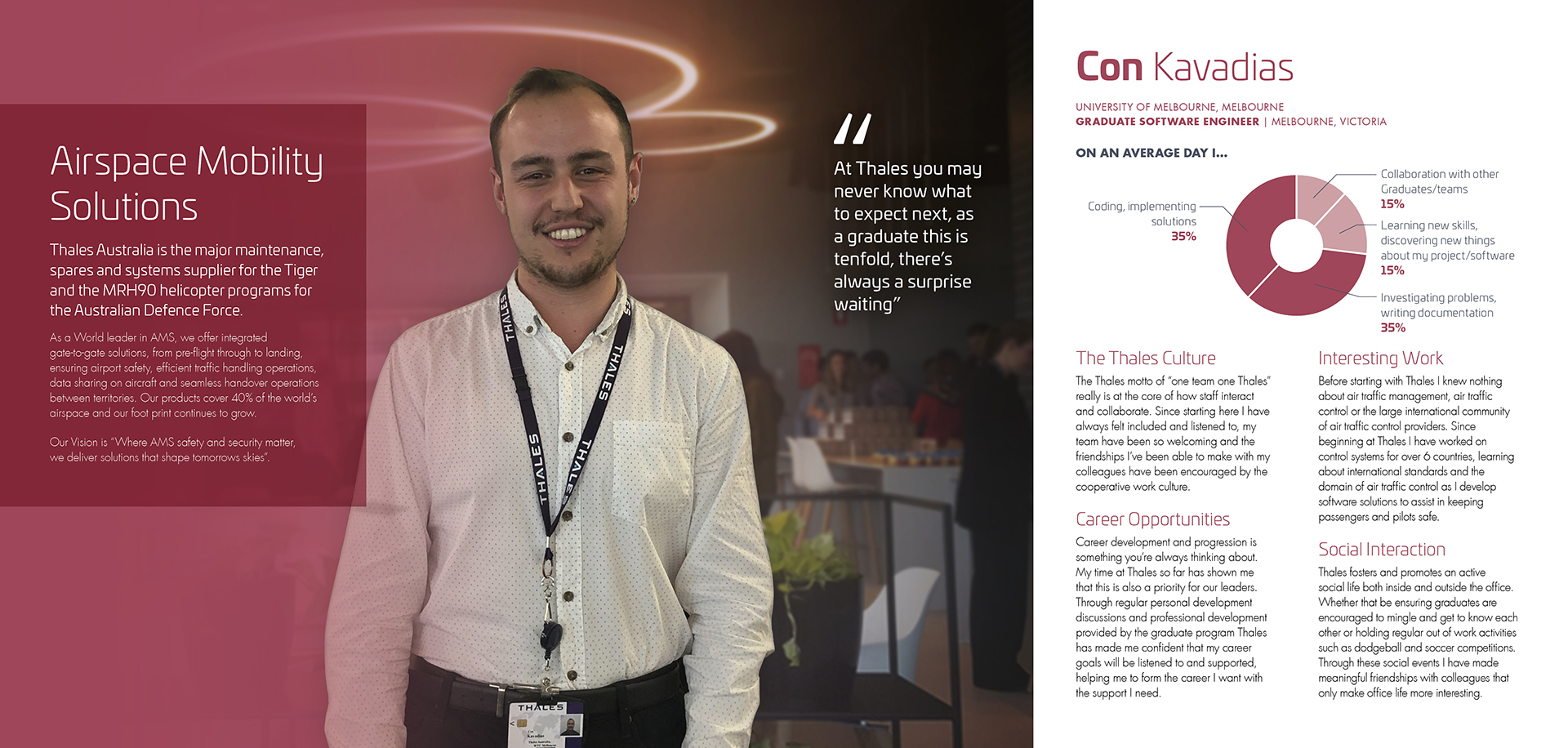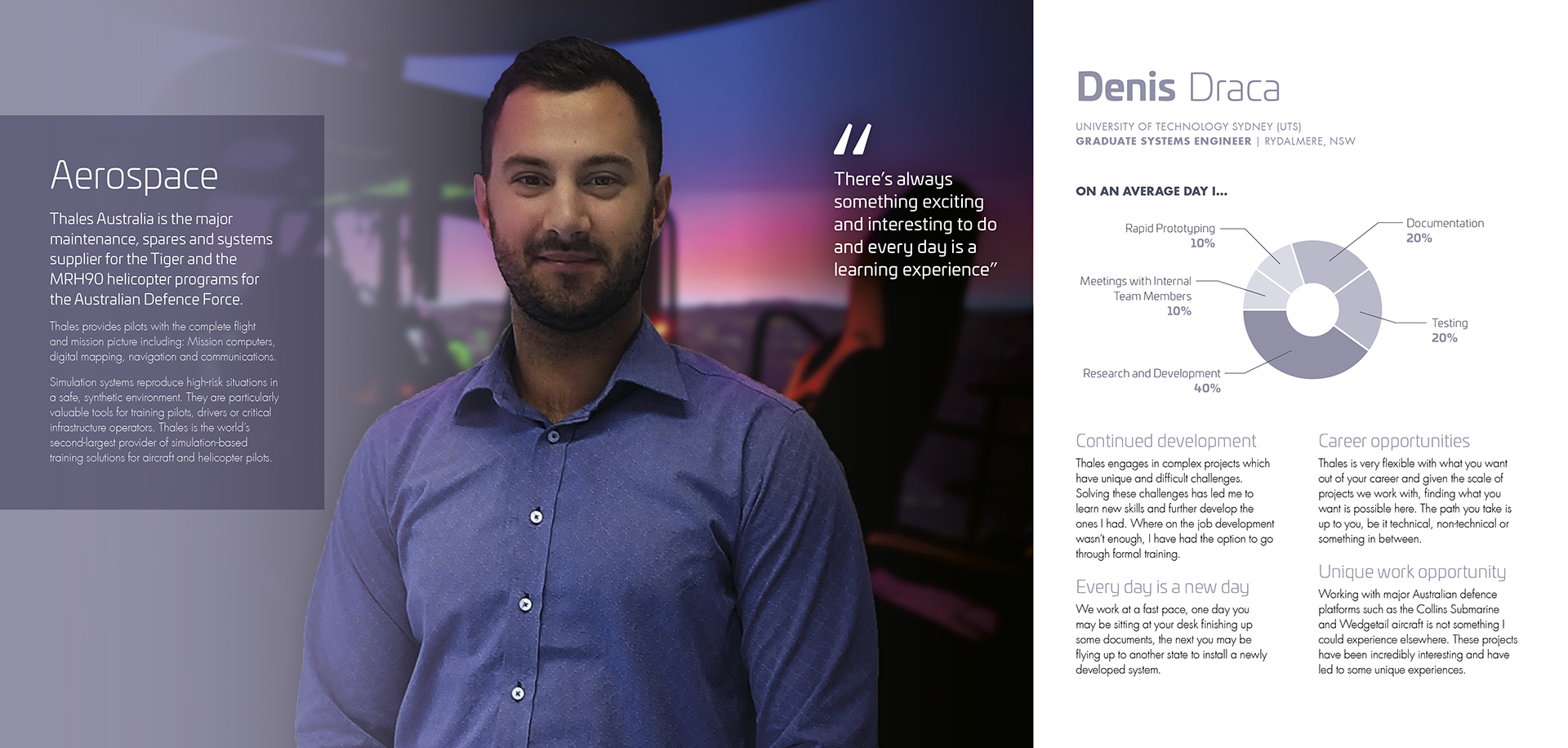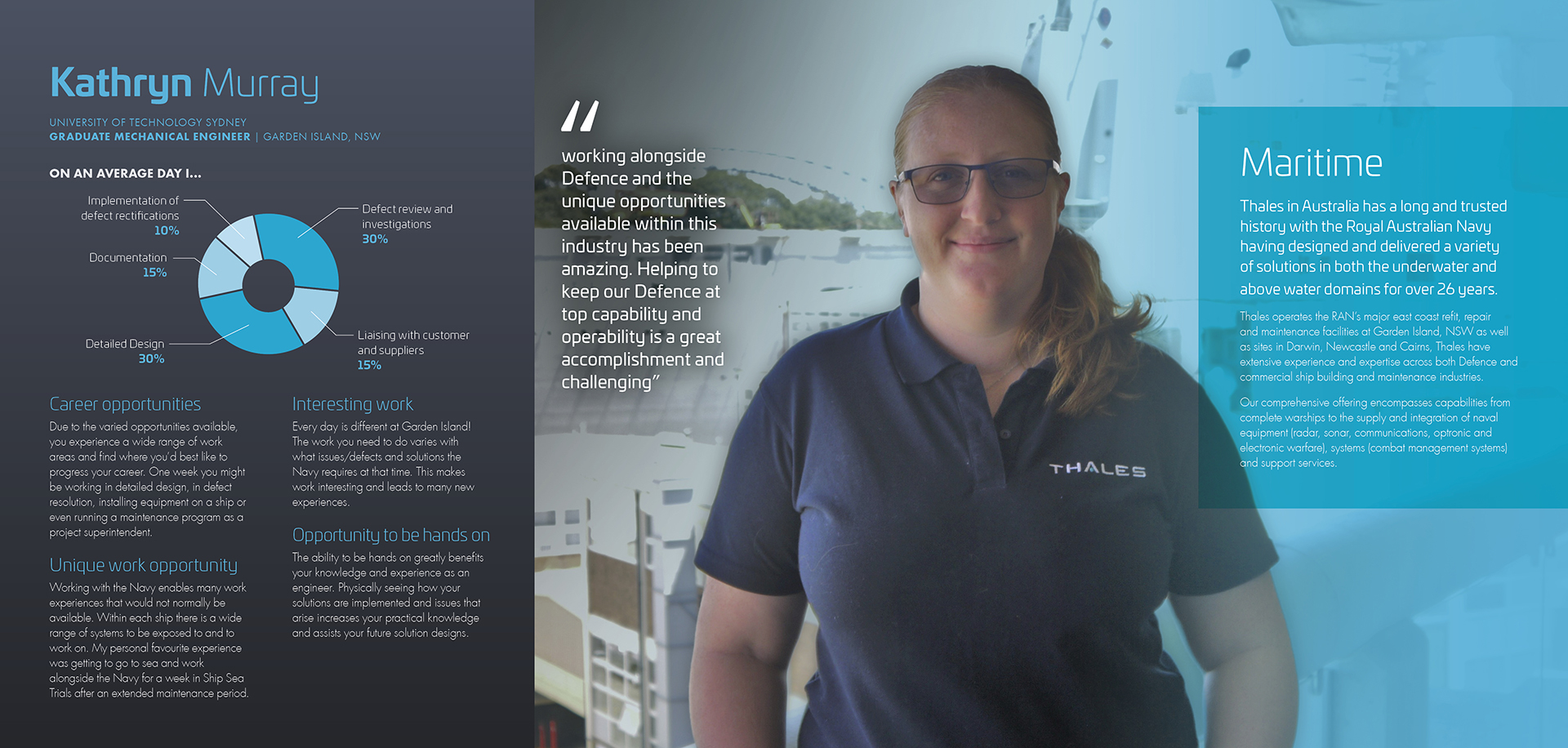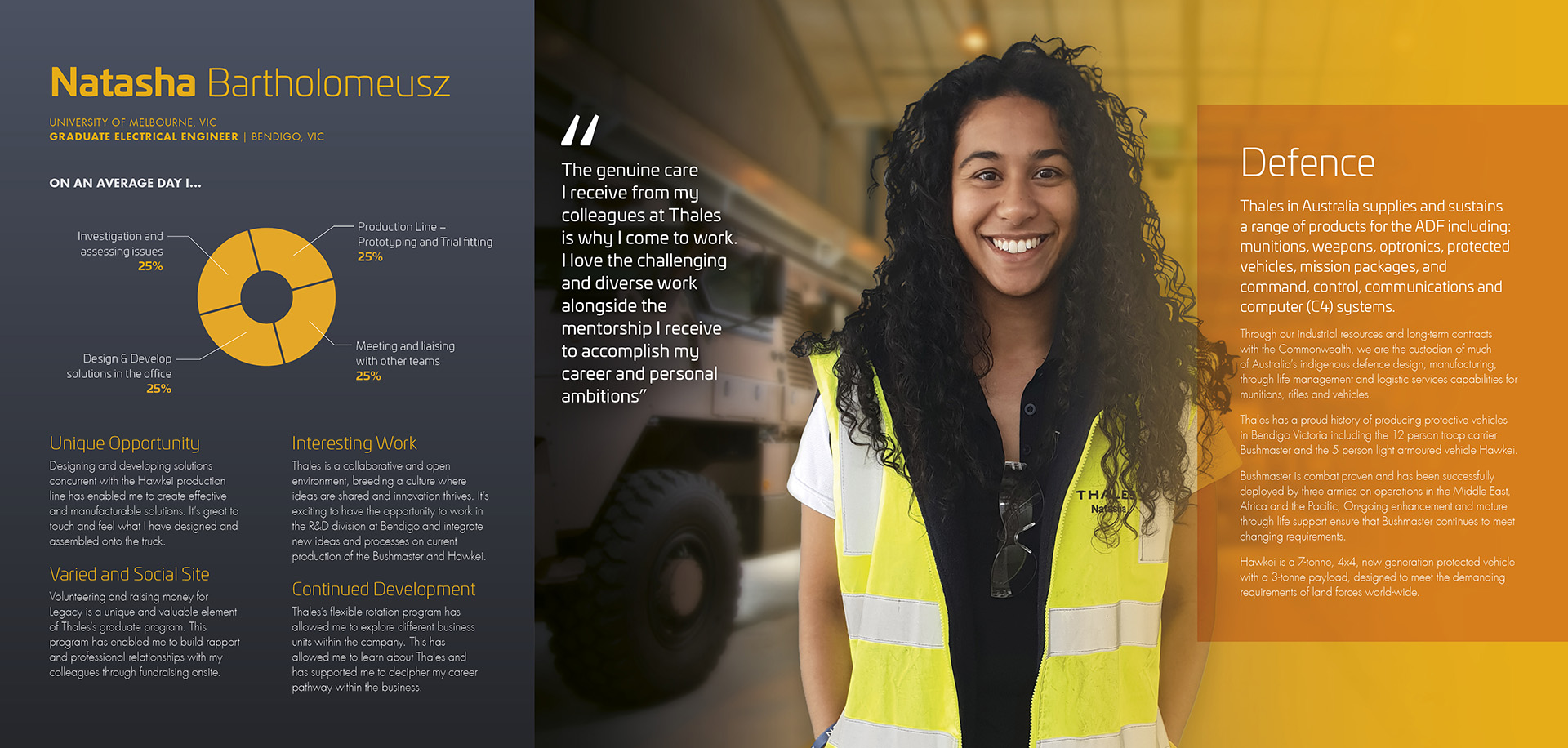 At Thales we offer a range of perks to our employees, some of the highlights include: 
The ability to work flexibly through our [email protected] policy! Choose the right mix of office and home based work to suit your lifestyle 
Many of our sites have their own social clubs - after all work needs to be fun!
Two paid volunteer days to use with out partner organisations (ie. Career Trackers, Legacy Kookaburra Kids and more) 
We have a great Diversity and Inclusion program which holds regular events so we can all be celebrated 
If you want to be part of additional Learning & Development or Mentoring programs we have a wide range available
Diversity & Inclusion

Thales
---
To us, the 'right fit' means being yourself
In the ever-evolving global workplace, we firmly believe that simply having a diverse workforce is not enough; we have to create an inclusive environment where everyone can reach their full potential regardless of nationality, gender, age, sexual orientation, culture, educational background, religion, or disability. 
For us, this means building conversations around respect every day and making it a part of our culture and part of our company values. We know that creating this shared respect for one another enables everyone to feel valued and included. Our Diversity & Inclusion strategy is therefore defined as [email protected]
What does [email protected] look like? A place where everyone's values and views are respected, where contributions from everyone, at all levels of the business, are encouraged and where any concerns are raised quickly and openly. Thales is committed to promoting and maintaining an inclusive culture that will enable all of us to be ourselves, do our best, and remain truly passionate about the place that we work. These are the commitments we make to our people.
Gender Equality

Thales
---
At Thales, we believe that equality is an integral part of the success of the business and is also a major contributor to the wellbeing of our employees. We are committed to providing equal opportunities, equal pay and equal access to workplace conditions to all people at Thales.
Some of our initiatives in this space include:
ThalesFlex - Thales values flexibility and is committed to supporting our employees to find the most effective and efficient ways of working. Our employee flexibility program called 'ThalesFlex' covers areas such as the place you're working, how you work, leave arrangements and role flexibility.
'Parents at Work' - Thales has become an employer member of Parents at Work, a membership-based organisation providing work and family education and policy advisory services. The goal for this partnership is to bridge the work and home divide by embedding flexibility, wellbeing, parental transition and wider caring services to enable workplaces and their people to thrive.
First Nations

Thales
---
Our vision is for a future where Australia's First Nations peoples are valued, accepted and have equality in our society, where together we are walking forward and creating the future. We value First Nations custodianship of the land and rich heritage and want to see this preserved and celebrated for generations to come.
Our commitment to reconciliation is documented in our Reconciliation Action Plan, which formalises our commitment to forming authentic relationships of mutual respect with Aboriginal and Torres Strait Islander Peoples within the communities we operate in so that we can create long lasting opportunities.
As part of our commitment to First Nations people Thales take part in the CareerTrackers program. Each year we engage 10 interns across our business units to work at Thales. These internships are a fantastic opportunity to gain real world experience whilst still studying at University. We offer our most capable interns opportunities in our Graduate Program once their university studies are completed.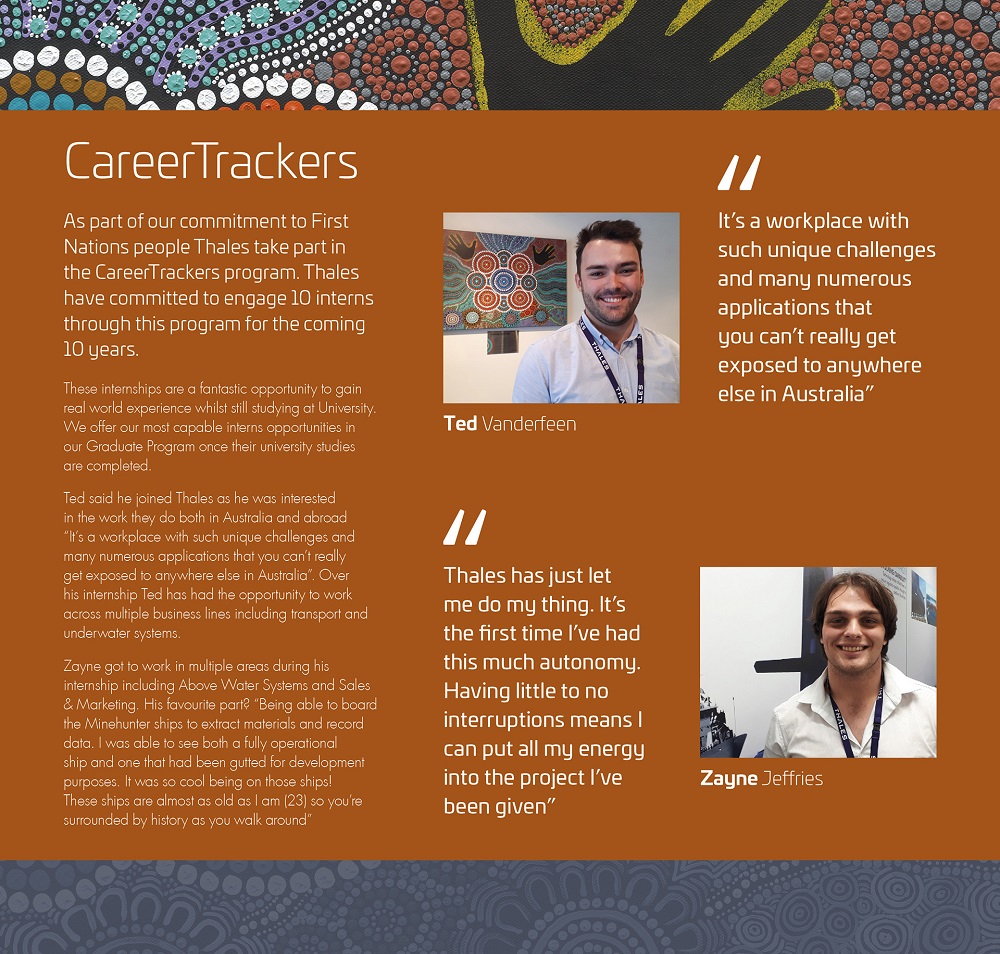 Thales is a proud partner of the Clontarf Foundation; a not-for-profit organisation whose mission is to improve the education, discipline, life skills, self-esteem and employment prospects of young Aboriginal and Torres Strait Islander men.