The University of Melbourne Graduate Programs & Internships
At the University of Melbourne, we understand that it takes people with passion, integrity and commitment to make the world a better place. The University of Melbourne has no active opportunities at the moment.
See who's currently hiring with our Job Search!
Search for jobs
Melbourne Graduate Program
The Melbourne Graduate Program allows recent graduates to launch a professional career that makes a difference.
Two-year program
Three rotations across diverse roles
Guaranteed ongoing employment at the end of the program
Starting salary of $71,816 per annum plus 17% superannuation (total package of $84,025)
Graduates from all universities eligible to apply
The University of Melbourne is a public-spirited institution that makes distinctive contributions to society in research, learning and teaching and engagement.
You're probably familiar with the work academics do to prepare students for their careers, advance knowledge and change lives. But did you know there are a host of professional staff who also support the University's core business? In fact, they make up about half of our workforce.
The Melbourne Graduate Program allows recent graduates to launch a professional career that makes a difference.
Working for the University of Melbourne means working in a dynamic, world-class organisation. Over two years in the Melbourne Graduate Program, you will have three rotations across a broad range of professional services teams to give you exposure to different functions of the University and broaden your skill set. The program will provide you with the tools, skills and support to accelerate your professional development and to kick-start your career at the University. At the end of the program we will work with you to find a permanent, ongoing role within the University.
Our Roles
The professional roles available at the University are diverse. As part of a generalist program, graduates work in roles that develop broad technical and professional skills in a variety of professional areas. These include Human Resources, Finance, Marketing, Procurement, Research Support, Student Services and more. You will contribute from day one with responsibilities in a real team to challenge and develop your skills.
There are eight positions available for graduates to commence in 2021, so you will be part of a tight-knit and well supported cohort. We welcome applications from graduates of any University and encourage graduates from all disciplines to apply, as the work is diverse across many professional service areas make a world of difference if you want to make an impact with your work and build a career you can be proud of, the University of Melbourne is the right choice for you.
Staff benefits
With summer festivals,public lectures, theatre, excellent sporting facilities and galleries -all on your doorstep -the University is an exciting place to work in the heart of Melbourne. Being a professional staff member at the University gives you access to a generous staff benefits scheme including health and wellbeing services, sporting facility discounts, libraries, 17% superannuation and more.

At the heart of what we do is a belief in lifelong learning. 
Our Graduate Program provides a structured development program to help you increase your professional skills, your understanding of self and others and to empower you for your next steps. These activities enable you to accelerate your personal and professional development and expand your network through interacting with leaders and fellow peers of the graduate cohort.
Tailored development activities include: 
Orientation program to introduce you to your peers, managers and new working environment
Leadership lunches with University senior leaders, to gain understanding of what they do and how they built their career
Professional Development workshops and learning events to develop critical skills
Cohort activities to benefit from each other's experiences, ideas and feedback
A buddy from a senior Graduate cohort to help you settle into the University and provide ongoing support
Access to a diverse community of Graduate Program alumni, to help you build your network
A career mentor in the second year to provide you with guidance in preparing for your next steps
Support to find an ongoing role after the program within the University
Diversity

Our strength is in the diversity of our people. Their knowledge, passion and commitment are essential to the University of Melbourne's success.
The University of Melbourne is committed to fostering an inclusive environment where diversity is celebrated.
To support this goal, we've identified five focus areas:
Achieve population parity for Indigenous employees by 2020 
Increase representation of women at senior levels, in STEMM and in the professoriate 
Through our membership of Pride in Diversity, eliminate discrimination based on sexual orientation, sexuality or gender
Disability employment and mental health and inclusion
Build a more culturally diverse workforce
More information on Diversity and Inclusion at the University please visit this page.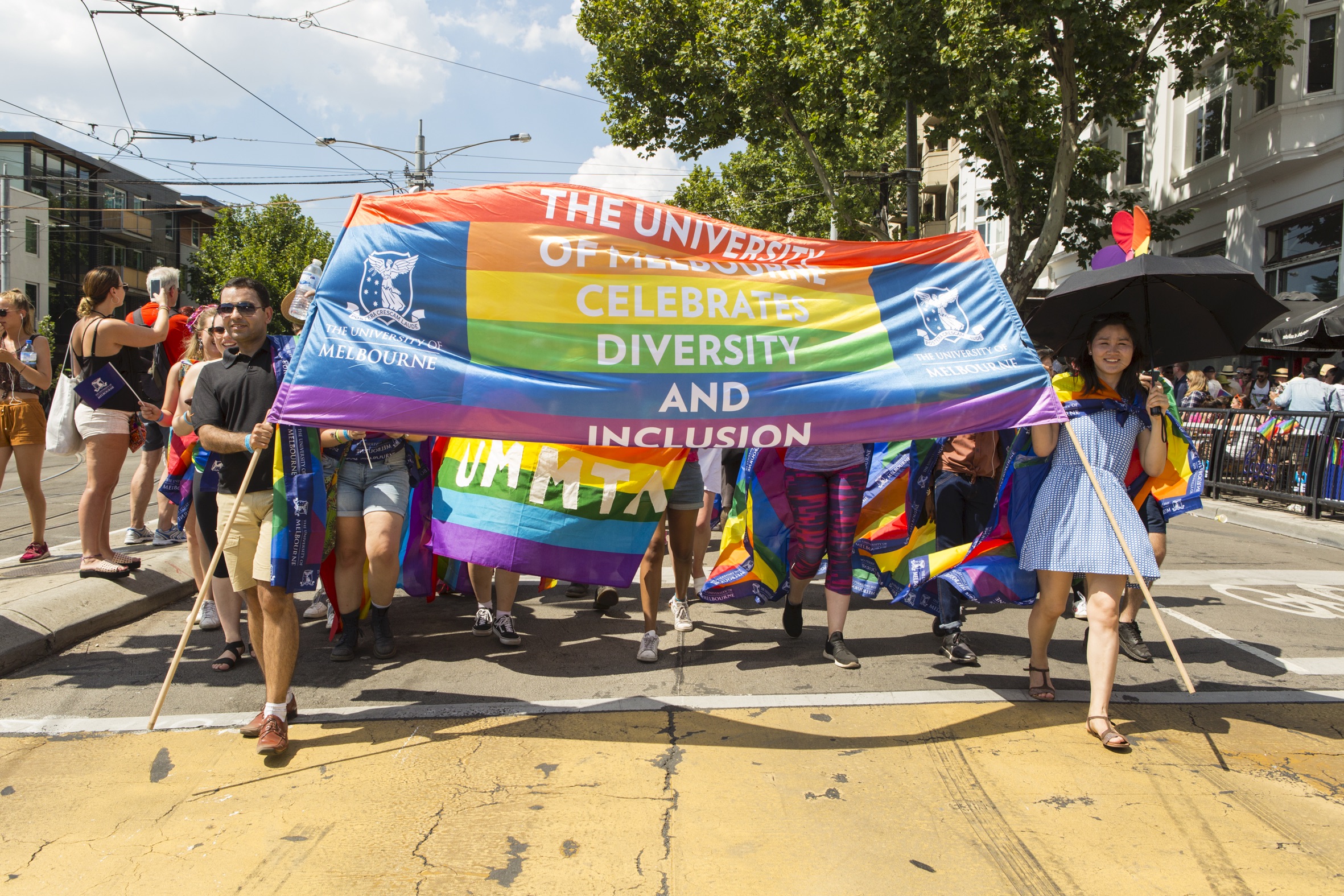 The University of Melbourne is an equal opportunity employer and our recruitment process focuses on essential skills and abilities. We encourage and welcome applicants from a diverse range of backgrounds, including Aboriginal and Torres Strait Islander peoples, people from culturally and linguistically diverse backgrounds and people living with a disability.
The University values its people and is committed to attracting, developing and retaining diverse talent. We actively promote diversity and inclusion in the workplace and do not discriminate based on age, sex, carer or parental status, disability, race, religious belief, sexual orientation, gender identity or other characteristics. We are committed to supporting our employees to balance their work and life commitments.
If you have a disability and require additional support or adjustments throughout the recruitment process, please contact [email protected].
Indigenous Employment
The University of Melbourne is committed to becoming a leading employer of choice for Indigenous Australians; we currently have over 130 Indigenous staff working in Academic and Professional roles. New staff are invited to join the Indigenous Staff Network, which meets on a bi-annual basis to support and connect with one another.
Our Indigenous employees can access the support of a dedicated Indigenous employment officer based at Murrup Barak, Melbourne Institute for Indigenous Development.
If you identify as Aboriginal and/or Torres Strait Islander and require further information or support preparing your application, please contact [email protected]. To find out about Indigenous Employment more broadly at the University of Melbourne, please contact the Indigenous Employment Officer at [email protected].
Application and Eligibility
How to Apply
Applications are now open for the 2021 program. You can apply via our website before 9 March.
Key Dates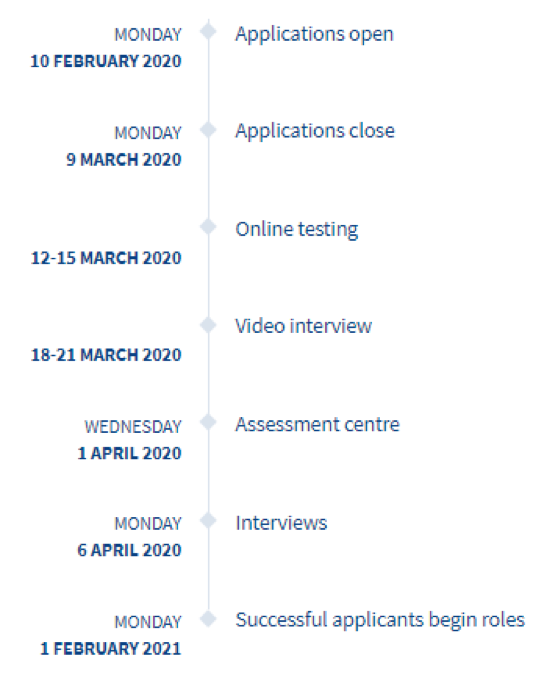 Eligibility
To be eligible, you must satisfy the following criteria:
At minimum, a three-year university undergraduate or postgraduate degree from any university completed in either 2018, 2019, or due to complete in 2020
You must be an Australian or New Zealand Citizen or have Australian Permanent Residency status at the time of application
A credit average of 65 or higher Graduates from all universities are eligible to apply, as long as they meet the requirements above.
Graduate Profile
We are looking for graduates who can demonstrate competency in the following areas:
Problem Solving
Driving Results
Building Relationships
Learning Agility
Organising
Professional Growth
Flexibility
Further Information
If you have further questions, please contact us at [email protected].
We look forward to receiving your application!