Ventia is one of Australia and New Zealand's largest essential services providers. This places us in a unique position as we significantly contribute to the functioning of our communities. Whether it is providing water, electricity or the NBN to your homes, or helping our Australian Government with managing our bushfire response, there is a multitude of opportunities for our people to contribute to our purpose of making infrastructure work for our communities.
Ventia currently has 0 opportunities.
Select the following options:
Past Ventia Graduate Hiring Statistics
If you're interested in working at Ventia, understanding when they have opened up applications for their graduate programs, graduate jobs and internships is helpful knowledge to have so you know when you might need to apply. Use the below information to see when Ventia hires graduates, but more importantly what graduate degree's and other student attributes they target for their jobs.
---
Disciplines
Accounting (50%),

Business and Commerce (50%),

Communications (50%),

Compliance (33%),

Engineering (33%),
Locations
Wellington (100%),

Auckland (100%),

Brisbane (100%),

Christchurch (100%),

Darwin (100%),
Work rights
Australian Citizen (100%),

Australian Permanent Resident (83%),

New Zealand Citizen (83%),
Past Ventia Graduate Programs
Check out some of Ventia's past jobs they have posted on GradConnection over the last 12 months. Understanding the details about what a graduate employer is looking for well before applications have opened can sometimes be the edge you need to secure your first graduate program.
---
Make your mark at Australia and New Zealand's leading infrastructure and services organisation. Broadspectrum design, fund, construct, operate, and maintain major projects and infrastructure assets across diverse industries.
We are now looking for Accounting & Finance Graduates to join our two-year graduate program, commencing in January 2021.
You will have many opportunities to establish relationships with clients and senior stakeholders of the business. In addition to this, your rotations will take you out of your comfort zone by giving you the chance to work in both corporate and field-work environments.
While you will be engaged as an Engineering Graduate, we recommend for you to rotate through our different teams and operate outside of your discipline (Safety, Digital Services, Business Improvement) for one of your rotations.
You will have many opportunities to establish relationships with clients and senior stakeholders of the business. In addition to this, your rotations will take you out of your comfort zone by giving you the chance to work in both corporate and field-work environments.
A #SpectrumGrad is a future leader of Broadspectrum, whether it be as a manager or as a thought leader within your field. If you have a vision for the future and want to shape communities, bring it to life at Broadspectrum.
Our future is exciting. Our vision is to lead the way in essential services by harnessing the power of technology and being sustainable in all that we do. We believe we contribute to stronger communities by making them safer and more sustainable. Our clients know they can count on us to not only get the job done, but to do the right thing.
We believe that having graduates in our workforce is key to our success. Our #VentiaGrad program encourages you to explore many areas of our business and will provide you with exposure to different projects, locations and teams. Our aspiration is developing our #VentiaGrads into our future leaders.
At Ventia, we want to be known for our talented and engaged people. Our #VentiaGrad Program is a great opportunity for you to build strong working knowledge and relationships across our organisation and not just in one particular field!
A #VentiaGrad is a future leader of Ventia. You are joining us because you believe in our vision, values and are passionate about making a difference.
We also look for these qualities in our #VentiaGrad:
Resilience
Learning agility – the ability to adapt and work in many environments
A motivation to find solutions to new challenges
Ability to build and maintain strong working relationships
A collaborative mindset
Ventia's Graduate Program was developed by Broadspectrum and has been successfully placing graduates in the business for the past four years. Our graduates have gained experience working across Australia and New Zealand.
The #VentiaGrad program is a two-year program consisting of three rotations over a two-year period, commencing in January each year.
We offer opportunities for graduates in a wide range of disciplines including: Business, Communication, Construction, Engineering, Environmental, Finance, SHEQ (Health & Safety), Marketing, Procurement and Project Management.
This could see you working as part of a construction delivery team contributing to mobilisations and shutdowns, getting exposure to how we win and negotiate work or rolling out automation and innovation project initiatives across Australia and New Zealand.
Along your journey we will provide you with extensive learning and development opportunities through face-to-face and virtual training, workshops, case challenges and more.
Here is a snapshot of what some of our grads achieved at our annual Ventia Innovation Case Challenge.
Application Process
Ventia
---
Applications from potential graduates are submitted throughout July and August each year, with initial screening conducted to ensure you fulfil the basic eligibility criteria in terms of work rights, graduation date, relevant degree and values alignment. 
The assessment process then includes an online assessment, video interview, second round assessment and participation in the assessment center in September. Placement offers are made in October and November each year. 
During that assessment process, leaders across our business are submitting their own proposals to have a Ventia graduate join their team for either 6 or 12 months. 
1. Application: July - August
Submit your application by clicking on the Graduate Job ad that best matches your qualifications. Please watch out for an acknowledgement of your application, as this will contain important information on next steps.
2. Initial screening: July - August
The initial screening is conducted to ensure you fulfil the basic eligibility criteria in terms of work rights, graduation date, relevant degree, and values alignment. We view your CV, Cover Letter and Academic Transcript. 
3.Online assessment: July - August
The online assessment(s) measures the top competencies required to thrive as a #VentiaGrad. The main purpose is to evaluate if Ventia is the best place for you and your growth, which is why it is very important to answer as accurately as possible. 
4. Video interview: August
The video screening is a short interview conducted with pre-determined questions. If successful you will be sent a link with further instructions, and at a time suitable to you, simply record the answers to the questions. Remember, this is an interview. We recommend that you treat it as professionally as you would a real face-to-face situation.
5. Second round online assessment – August
The top performers from the first round of assessments, will then be invited to complete a second round of online assessments. These assessments test your cognitive ability and emotional intelligence through a series of questions, and online games. 
6. Assessment Centre: September
You then have the chance to be invited to an assessment centre. The assessment centres are run for half a day in different locations in Australia and / or New Zealand (or may be held online depending on restrictions on travel and social distancing).  It is a great opportunity to meet senior stakeholders as well as other #VentiaGrads. Make sure you prepare appropriately, and keep in mind that this is just as much an opportunity for you to get to know Ventia better, as it is for us to get to know you. This day is designed to be fun.
7. References, Police checks and medical checks: September - October
We will request to speak to one or two of your referees. We will also send you instructions on how to conduct the police and medical check to ensure we meet our health and safety requirements.
8. Job offer: October - November
Congratulations, you are becoming a #VentiaGrad!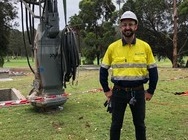 Tyson, Bachelor of Engineering Honours (Mechanical)
Mechanical engineer graduate Tyson joined Ventia's graduate program at the start of 2020 and has completed two six-month rotations in that time. His first rotation was working in the maintenance team for Easternwell in Western Australia, including a stint in the far north-west in Newman.
"The opportunity to visit an operational site so early in my career was amazing," Tyson says. "Being able to see how the work you're doing impacts and benefits the teams working on the rigs was eye-opening."
Tyson's second assignment was in our Water business in Sydney, delivering project management on a team delivering large periodic maintenance projects for our client. He says he enjoys project management as he likes problem solving and it plays to his strengths, which include good communication skills.
"Having a generous mentor I think has been key to my enjoyment and success on this second rotation," Tyson says.
"Getting feedback is critical to helping you develop as a young graduate, and I have certainly learned and grown more confident in my work during this period."
---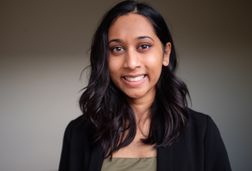 Manisha, Bachelor of Business (Marketing and Management)
Manisha completed a Bachelor of Business and has since completed the first two of her three rotations with Ventia. She spent six months with our Safety team and the most recent rotation was in the Brand, Marketing and Communications team.
Manisha says the opportunity to work on large internal campaigns has been the highlight so far.
"Collaborating with the Safety team for 'Safe for Life Day', from the initial planning conversations through to the execution, was an exciting process which allowed me to apply first-hand the theory I had learnt throughout my degree" she says. "And working in the marketing team over the past six months as we go through a rebrand of our business due to the integration of Broadspectrum into Ventia has been a unique learning experience which has broadened my understanding of corporate marketing"
Manisha says that being on a graduate program is a great way to transition from studying into full time work.
"It's ok to make mistakes and being open to asking for help is an important part of the learning process," Manisha explains.
As a grad you find others are willing to share their experience and knowledge, they're excited to help you develop and learn.
"This has been the perfect environment in which to grow."
Diversity & Inclusion

Ventia
---
We celebrate and embrace diversity across our business - diversity in background, age, gender, skills, experience and thought. We believe in the value that diversity brings to our business. Every day we work across diverse communities in Australia and New Zealand. It's important that our workforce reflects this diversity to ensure that we understand the communities in which we operate and reflects our commitment to all our stakeholders. Diversity within our teams also ensures that we bring to the table new ideas and perspectives, harnessing the know-how of our people to get the job done.
Ventia's Sustainability Council supports our commitment to improving diversity and inclusion throughout our operations. We are an equal opportunity employer and have a zero-tolerance approach to bullying, violence, discrimination and harassment.
Through the work of the Council, we're committed to progressing workplace gender equality across our business and providing our employees with access to the same rewards, resources and opportunities regardless of gender.
We are also corporate member of Diversity Council Australia (DCA).
Aboriginal and Torres Strait Islanders

Ventia
---
Our Aboriginal and Torres Strait Islander participation approach is at the core of our business and is the way we support Aboriginal and Torres Strait Islander people and the communities in which we work. Our approach is aligned to the communities and sectors that we work in, and grounded in how we work with our clients and engage with the communities in which we work.
We also recognise and celebrate the heritage and culture of New Zealand, where our teams engage with local iwi and communities across the country. In 2020, we established the Te Ara o Rehua working party to enhance Maori and Pasifika participation across our New Zealand business. The working party will develop a framework that will focus on areas such as Maori employment and procurement.