Ventia Graduate Programs & Internships
Our future is exciting. Our vision is to lead the way in essential services by harnessing the power of technology and being sustainable in all that we do. We believe we contribute to stronger communities by making them safer and more sustainable. Our clients know they can count on us to not only get the job done, but to do the right thing.
We believe having graduates in our workforce is key to our success. Our #VentiaGrad program offers graduates opportunities in a wide range of disci…
View more Ventia has no active opportunities at the moment.
See who's currently hiring with our Job Search!
Search for jobs
Ventia is one of the largest essential services providers in Australia and New Zealand. We are proud to provide the services that keep infrastructure working for our communities. Our Service capability spans the full asset lifecycle - from design, minor capital works and operations maintenance, asset and facilities management, through to decommissioning - complemented by technology-enabled solutions. Whether it's connecting people to faster networks, remediating contaminated land, keeping traffic flowing and our hospitals and schools running, our clients never switch off - so neither do we.
Our future is exciting. Our vision is to lead the way in essential services by harnessing the power of technology and being sustainable in all that we do. We believe we contribute to stronger communities by making them safer and more sustainable. Our clients know they can count on us to not only get the job done, but to do the right thing.
We believe having graduates in our workforce is key to our success. Our #VentiaGrad program offers graduates opportunities in a wide range of disciplines including: Business, commerce, project management, construction, engineering, environmental & sustainability, finance, SHEQ (Health & Safety), and so much more.
Our graduate program encourages you to explore many areas of our business and will provide you with exposure to different projects, locations and teams across a 2 year period. Our aspiration is developing our #VentiaGrads into our future leaders.
Our Graduate Program is vital to building the capability of our emerging leaders, diversifying our workforce and bringing fresh ideas into our business. We'll challenge you to be innovative and driven through face-to-face and virtual training, workshops, case challenges and more to help shape your career at Ventia.
Throughout your two-year journey, you will have the opportunity to learn about the many different parts of our business such as defence, social infrastructure, transport, telecommunications and so much more. Your rotations will take you out of your comfort zone by giving you the chance to work in both corporate and in-field work environments, providing you with the opportunity to identify your goals and focus areas through meaningful work assignments, projects and networking. As a #VentiaGrad, you will be provided with ongoing mentoring, peer support and a variety of learning opportunities to accelerate your development.
Ventia's graduate program has been successfully placing graduates in the business for the past five years. Our graduates have gained experience working across Australia and New Zealand.
The #VentiaGrad program is a two-year program, consisting of three rotations over a two-year period, commencing in January each year. Our graduate program could you see working as part of a construction delivery team contributing to mobilisations and shutdowns, getting exposure to how we win and negotiate work or rolling out automation and innovation project initiatives across Australia and New Zealand.
At Ventia, we want to be known for our talented and engaged people. As a future leader of Ventia, we are looking for these qualities in our #VentiaGrad:
Resilience
Learning agility - the ability to adapt and work in many environments
A motivation to find innovative solutions to new challenges
Ability to build and maintain strong working relationships
A collaborative mindset
Attending project meetings at the site of a brand-new community aquatic centre, coordinating letterbox drops to inform residents of pending roadworks, learning how to use large landscaping equipment and addressing the concerns of concerned community members. These are some of the many activities Ventia's CareerSeekers university interns have experienced during 2020's summer intake. Ventia's multi-year agreement with CareerSeekers was initially set up with a focus on providing opportunities to mid-career professionals, but due to the pandemic interrupting programs across Australia in 2020, we adjusted plans and welcomed university students.
The internships give students the chance to learn about the Australian workplace, link their studies to practical experience and develop relationships with industry mentors.
For more information on CareerSeekers or how to get involved, contact CareerSeekers.
https://www.careerseekers.org.au/
https://www.ventia.com/projects/on-the-job-experience-key-for-careerseekers
1. Application: June - July 
Submit your application by clicking on the Graduate Job ad that best matches your qualifications. Please watch out for an acknowledgement of your application, as this will contain important information on how to complete the online assessment(s).
2. Initial Screening: July
The initial screening is conducted to ensure you fulfil the basic eligibility criteria in terms of work rights, graduation date, relevant degree, and values alignment. We view your CV, Cover Letter and Academic Transcript.
3.Online Assessment: July
The online assessment(s) measures the top competencies required to thrive as a #VentiaGrad. The main purpose is to evaluate if Ventia is the best place for you and your growth, which is why it is very important to answer as accurately as possible.
4. Video Interview: August
The video screening is a short interview conducted with pre-determined questions. If successful you will be sent a link with further instructions, and at a time suitable to you, simply record the answers to the questions. Remember, this is an interview. We recommend that you treat it as professionally as you would a real face-to-face situation.
5. Assessment Centre: September
You then have the chance to be invited to an assessment centre. The assessment centres are run as an online session and are a great opportunity to meet senior stakeholders as well as other #VentiaGrads. Make sure you prepare appropriately, and keep in mind that this is just as much an opportunity for you to get to know Ventia better, as it is for us to get to know you. This session is designed to be fun.
6. References, Police Checks and Medical Checks: September - October
We will request to speak to one or two of your referees. We will also send you instructions on how to conduct a medical check to ensure we meet our health and safety requirements. There could also be a requirement to complete a Police Check, depending on where you commence.
7. Job Offer: October  
Congratulations, you are becoming a #VentiaGrad!
Erin Kenny - Graduate Engineer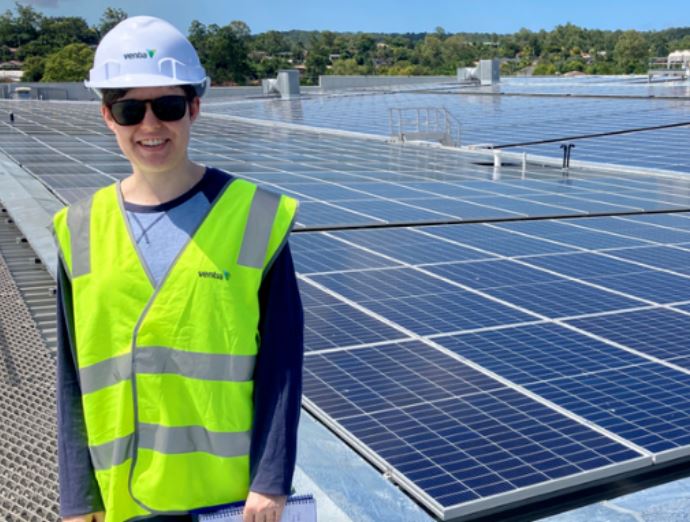 Why did you choose to apply for Ventia?
I chose to apply for Ventia as I was interested in the variety of opportunities available
What is your favourite thing about your current role at Ventia?
I love working on energy-based initiatives - there's a nice cross-section of standard technical issues as well as social and environmental points to consider.
What has been your biggest learning experience while on the graduate program?
That there are no stupid questions - there is a gap between what you learnt in uni and what you need to know in your role, and that's ok, as long as you ask and learn.
What makes you excited to come to work every day?
That I get lots of variation in what I do - each day I could be doing something new.
What advice do you have for an incoming graduate coming into Ventia?
Don't be afraid to disagree with your manager - you can challenge them on points you don't accept, and start a discussion.
A day in the life of Neha Bisen, Engineering Graduate
5:30 AM
I wake up at this time so that I can fit in about 45 minutes of brisk walking around my suburb. Although it's a cold and very difficult wake up, now that Winter is fast approaching, it helps start my day with a lot of fresh air and increased energy.
6:30 AM
Begin getting ready for work. Putting in a bit of extra time into your professional appearance will go a long way!
8 AM
Begin my journey on the train to work! I put on some of my favorite music or read a book and make the most of this downtime.
8:30 AM
I tune in to a daily catch-up meeting with the whole team of the project. This meeting occurs on Microsoft Teams and involves an update from all the leads from various departments.
9 AM
Arrive at the North Sydney office after an hour train journey from home. The North Sydney Office has a hot desk set up in which you can essentially select a new desk daily. I love picking the desk shown in the image as it has plenty of sunlight and a great view.
9 - 9:30 AM
It's a Tuesday! This means that breakfast is provided for all employees. The lovely ladies at Reception help provide a whole spread of breads, spreads, cereals, and fruits! My fellow Graduate buddy, Janet and I utilise this breakfast time to catch up with each other, plan our workday and update our to-do lists.
10:30 AM
The project that I am assigned to for my current rotation is in the Mobilisation phase, hence, the team is working hard to recruit and finalise a list of subcontractors for various jobs. Today I'm working on drafting some overarching contracts to send to Subcontractors. The list of Subcontractors is endless, and an intense amount of focus is required to get through each contract. It's time to pop in my airpods, put on some soothing music and get
to business!
12:30 PM
Lunch time! I assume this is everyone's favourite time of the day? Well, it definitely is mine! One of the perks of working in North Sydney are the endless beautiful views with lots of greenery. Our favourite spot to have lunch is Wendy's Secret Garden in Lavender Bay.
2 PM
Time to attend a meeting with my Manager to discuss my progress with the draft contracts. An upside to starting your professional career as a Graduate is the endless support and guidance that you receive from your managers. I have had nothing but the best managers during my current rotation!
3:30 PM
Time to finish up my workload for the day and figure out what tasks I have to leave to be completed tomorrow.
5 PM
Finished for the day! Time to head home and have a relaxing evening.
Burning Questions with Ventia Grads
We reached out to the current group of Graduates in the Ventia Grad Programme from their varying degree disciplines and within different rotations, to ask them some burning questions, as requested by students.  Thank you to the Ventia Grads for their time and effort.  Let's see what they have to say!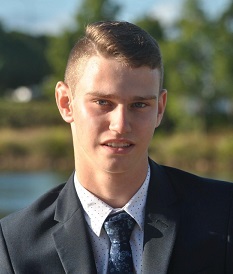 Joshua
University of Queensland
Bachelor/ Master of Engineering (Electrical)
Can you let us know what company you are working for and which area of the business you work in or which rotation you are currently in? 
Infrastructure Services - Sydney Water HV Maintenance Contract
What was the first 6 months like?  What have you really enjoyed? 
My first six months at Ventia were spent in the Environmental and Sustainability branch of the business. This involved working with a team to deliver packages of work for local councils and The Department of Defence to analyse and mitigate bushfire risk from an ecological perspective.
Was your position with the Ventia Grad Programme as you expected it to be? Did anything take you by surprise?
My current rotation on the Sydney Water HV Maintenance contract has largely been as expected, however, has encapsulated a wider range of tasks than expected.
Everyone is keen on maintaining work/life balance, with that in mind what is the longest day you have put it and have you worked weekends at all?
The longest day I have worked was 10 hours as we had multiple site visits that spanned 100s of km. Personally, I have not had to work any additional Saturdays or Sundays as my workload has been well managed in the confines of the typical work week.
On a day to day basis, what do you work on?
At the moment, my day to day involves supporting the High Voltage Specialist with corrective and breakdown maintenance of various high voltage electrical equipment. Additionally, I also aid in the formulation of case studies to highlight current initiatives or explore alternative solutions to provide additional value to our client.
Have you worked on any projects at Ventia?
During my first rotation, I worked on three main projects, this included Fire Scar Analysis (Department of Defence), Fire Management Strategy (Toowoomba Regional Council) and Bushfire Hazard Risk Mitigation Strategy (Gympie Regional Council). During my current rotation, on the Sydney Water contract, I have put together prefeasibility design pieces, performed case studies and provide assistance to provide value for our client.
What systems do you use for your role in the graduate programme?
During my first rotation, I predominately worked with a Geographic Information System (QGIS) and my current rotation has given me some exposure to Asset Management Software (Maximo).
What sort of support are you provided at Ventia?
I am very thankful for the support I received during the shift from my first rotation to my second rotation. For a bit of background context, I was supposed to have relocated to WA, however, with border restrictions, I was not allowed in. Ventia made very prompt arrangements to find a suitable replacement that would work given the COVID restrictions at the time.
What skills do you think you need to succeed in your role and do they differ from what you envisioned?
Overall, I think there is more of a focus on the soft skills surrounding my role opposed to my engineering skillset. I found inter-personal, networking, time management and creative thinking to be stronger influences on my success.
What are the best perks or benefits at Ventia?
Ventia offers a few unique perks centred around learning and development. This includes having a dedicated Graduate Mentor (senior leadership), Emerging Leaders Conference, Learning Centre (online learning portal) and Graduate Case Challenge.
We believe in the value that diversity brings to our business. Every day we work across diverse communities in Australia and New Zealand. It's important that our workforce reflects this diversity to ensure that we understand the communities in which we operate and reflects our commitment to all our stakeholders. Diversity within our teams also ensures that we bring new ideas and perspectives to the table, harnessing the know-how of our people to get the job done.
Ventia's sustainability council supports our commitment to improving diversity and inclusion throughout our operations. Through the work of the council, we're committed to progressing workplace gender equality across our business and providing our employees with access to the same rewards, resources, and opportunities regardless of gender.
In support of our commitment to improving diversity across our organisation, our Sustainability Council and our independent Indigenous Advisory Board (IAB) progress our commitment to improving access to employment opportunities for Aboriginal, Torres Strait Islander and Maori peoples in the locations we operate, and participation in reconciliation within our communities.
Our journey doesn't stop there. At Ventia, we embrace diversity as we know it and is key to the success of any team. Each year, we celebrate our culturally diverse teams and the extraordinary people that make us who we are on International Women's Day, National Reconciliation Week, Harmony Week and NAIDOC Week.
We are also a corporate member of Diversity Council Australia (DCA)
Learn more about Diversity at Ventia here: https://vimeo.com/321660961
Ventia's Diversity and Inclusion Working Party supports the Sustainability Council.
We are addressing areas such as; developing and retaining a gender diverse workforce, pay equity, facilitating and promoting a flexible workplace, leadership accountably to creating an inclusive and fair workplace for all genders, and representation of women in leadership and management roles.
The Ventia Board has endorsed a target of 40% female representation across the organisation with strong focus on women in leadership and management roles by 2023. The Working Party is embedding these targets and actions in the D&I Action Plan for each sector.
Aboriginal & Torres Strait Islander People
Our Indigenous engagement and participation approach is at the core of our business and is the way we support Aboriginal and Torres Strait Islander people and the communities in which we work. Our approach is aligned to the communities and sectors that we work in and grounded in how we work with our clients and engage with the communities in which we work. Our continued commitment to increasing our cultural and historical awareness and building our relationships with Indigenous communities and organizations is strengthened by our collective focus and combined efforts through our Reconciliation Action Plan (RAP).
In 2016, Broadspectrum (now Ventia) formed an Indigenous Employment Team who aim to achieve significant and sustainable growth in the number of Aboriginal and Torres Strait Islander men and women employed by Ventia, its related entities and subcontractors. Our Indigenous Employment Team consists primarily of Aboriginal and Torres Strait Islander employment specialists, located across Australia. The team is passionately committed to creating employment opportunities for Indigenous people nationwide.
We also recognise and celebrate the heritage and culture of New Zealand, where out teams engage with local iwi and communities across the country. In 2020, we established the Te Ara o Rehua working party to enhance Maori and Pasifika participation across our New Zealand business. The working party will develop a framework that will focus on areas such as Maori employment and procurement.
As part of our commitment to building awareness, appreciation and respect for Aboriginal and Torres Strait Islander cultures and heritage, Ventia has a Cultural Awareness Training program that all members of every team complete. It's a commitment outlined in our Broadspectrum - A Ventia Company Elevate Reconciliation Action Plan. It is also fundamental to our purpose of making infrastructure work for our communities.
The online Cultural Awareness training program is available to all Ventia employees in Australia. By increasing your cultural awareness, you can help us to build our capacity to deliver services in culturally sensitive ways and to create culturally safe workplaces.
In addition to this, our leaders have access to a twice-yearly seminar that focusses on teaching leaders how to build and sustain a culturally inclusive workplace.