Ventia is one of the largest essential services providers in Australia and New Zealand. We are proud to provide the services that keep infrastructure working for our communities. Our Service capability spans the full asset lifecycle – from design, minor capital works and operations maintenance, asset and facilities management, through to decommissioning – complemented by technology-enabled solutions. Whether it's connecting people to faster networks, remediating contaminated land, keeping traffic flowing and our hospitals and schools running, our clients never switch off – so neither do we.
Kickstart your Data Engineering career with Ventia and the Australian Defence Force
Past Ventia Graduate Hiring Statistics
If you're interested in working at Ventia, understanding when they have opened up applications for their graduate programs, graduate jobs and internships is helpful knowledge to have so you know when you might need to apply. Use the below information to see when Ventia hires graduates, but more importantly what graduate degree's and other student attributes they target for their jobs.
---
Disciplines
Accounting (23%),

Administration (31%),

Banking and Finance (23%),

Business and Commerce (31%),

Communications (31%),
Locations
Perth (54%),

Adelaide (46%),

Darwin (46%),

Melbourne (38%),

Regional New South Wales (38%),
Work rights
Australian Citizen (100%),

Australian Permanent Resident (62%),

New Zealand Citizen (62%),
Past Ventia Graduate Programs
Check out some of Ventia's past jobs they have posted on GradConnection over the last 12 months. Understanding the details about what a graduate employer is looking for well before applications have opened can sometimes be the edge you need to secure your first graduate program.
---
Ventia's Defence Base Services (DBS) team are seeking to engage a qualified & suitably experienced Regional Environmental Manager to oversee the planning and delivery of a broad environmental and sustainable land management program of works across our sites for Defence in Western Australia.
Ventia are currently seeking a Graduate Project Manager to support their Defence Base Services contract in Darwin, NT
Ventia's Defence Business have a rare and exciting opportunity for a motivated graduate to gain Project Management experience in a Graduate Project Manager role.
LOCATION
Regional Tasmania
Escape the city and join our family oriented community in the great SA outback. Adventure awaits, New Job, New Town, New Friends!
Ventia require a qualified Engineering student for an exciting Graduate Project Manager entry level role within the Defence Services sector, based in Perth WA
POSITION START DATE
Sep 2021 (approx)
Challenge yourselves. Shape communities. If you have a vision for the future, bring it to life at Ventia.
POSITION START DATE
Jan 2022 (approx)
Challenge yourselves. Shape communities. If you have a vision for the future, bring it to life at Ventia.
POSITION START DATE
Jan 2022 (approx)
Challenge yourselves. Shape communities. If you have a vision for the future, bring it to life at Ventia.
POSITION START DATE
Jan 2022 (approx)
Challenge yourselves. Shape communities. If you have a vision for the future, bring it to life at Ventia.
POSITION START DATE
Jan 2022 (approx)
Challenge yourselves. Shape communities. If you have a vision for the future, bring it to life at Ventia.
POSITION START DATE
Jan 2022 (approx)
Challenge yourselves. Shape communities. If you have a vision for the future, bring it to life at Ventia.
POSITION START DATE
Jan 2022 (approx)
Challenge yourselves. Shape communities. If you have a vision for the future, bring it to life at Ventia.
POSITION START DATE
Jan 2022 (approx)
Challenge yourselves. Shape communities. If you have a vision for the future, bring it to life at Ventia.
POSITION START DATE
Jan 2022 (approx)
Our future is exciting. Our vision is to lead the way in essential services by harnessing the power of technology and being sustainable in all that we do. We believe we contribute to stronger communities by making them safer and more sustainable. Our clients know they can count on us to not only get the job done, but to do the right thing.
We believe having graduates in our workforce is key to our success. Our #VentiaGrad program offers graduates opportunities in a wide range of disciplines including: Business, Communication, Construction, Engineering, Environmental, Finance, SHEQ (Health & Safety), Marketing, Procurement and Project Management.
Our graduate program encourages you to explore many areas of our business and will provide you with exposure to different projects, locations and teams. Our aspiration is developing our #VentiaGrads into our future leaders.
Our #VentiaGrad program is a great opportunity for you to build strong working knowledge and relationships across our organization and gain exposure to a wide range of disciplines.
Along your journey we will provide you with extensive learning and development opportunities through face-to-face and virtual training, workshops, innovation challenges and more.
Ventia's graduate program has been successfully placing graduates in the business for the past five years. Our graduates have gained experience working across Australia and New Zealand.
The #VentiaGrad program is a two-year program, consisting of three rotations over a two-year period, commencing in January each year. Our graduate program could you see working as part of a construction delivery team contributing to mobilisations and shutdowns, getting exposure to how we win and negotiate work or rolling out automation and innovation project initiatives across Australia and New Zealand.
At Ventia, we want to be known for our talented and engaged people. As a future leader of Ventia, we are looking for these qualities in our #VentiaGrad:
Resilience
Learning agility – the ability to adapt and work in many environments
A motivation to find innovative solutions to new challenges
Ability to build and maintain strong working relationships
A collaborative mindset
Internships & Clerkships
Ventia
---
Attending project meetings at the site of a brand-new community aquatic centre, coordinating letterbox drops to inform residents of pending roadworks, learning how to use large landscaping equipment and addressing the concerns of concerned community members. These are some of the many activities Ventia's CareerSeekers university interns have experienced during 2020's summer intake. Ventia's multi-year agreement with CareerSeekers was initially set up with a focus on providing opportunities to mid-career professionals, but due to the pandemic interrupting programs across Australia in 2020, we adjusted plans and welcomed university students.
The internships give students the chance to learn about the Australian workplace, link their studies to practical experience and develop relationships with industry mentors.
For more information on CareerSeekers or how to get involved, contact CareerSeekers.
https://www.careerseekers.org.au/ https://www.ventia.com/projects/on-the-job-experience-key-for-careerseekers
Application Process
Ventia
---
Applications from potential graduates are submitted throughout July and August, with initial screening conducted to ensure you fulfil the basic eligibility criteria in terms of work rights, graduation date, relevant degree and values assignment.
The assessment process will then include an online assessment, video interview, second round assessment and participation in the assessment centre in September. During the assessment process, leaders across our business are submitting their own proposals to have a Ventia graduate join their team for either 6 or 12 months.
Placement offers are made in October and November.
1.  Applications: July
Submit your application by clicking on the graduate job advertisement that best matches your qualifications. Please look out for an acknowledgement of your application, as this will contain important information on next steps.
2.  Initial Screening: July – August
The initial screening is conducted to ensure you fulfil the basic eligibility criteria in terms of work rights, graduation date, relevant degree, and values alignment. We will review your CV, cover letter and academic transcript.
3.  Online Assessment: July – August
The online assessment measures the top competencies required to thrive as a #VentiaGrad. The main purpose is to evaluate if Ventia is the best place for you and your growth and development, which is why it is important to answer accurately.
4.  Video Interview: August
The video interview is a short interview conducted with pre-determined questions. If successful, you will be sent a link with further instructions to record your answers to the questions at a time that is suitable for you. We recommend that you treat your video interview as professionally as you would if it were a face-to-face meeting.
5.  Assessment Centre: September
The assessment centres are run for half a day in different locations across Australia and New Zealand (or online depending on travel restrictions and social distancing). It is a great opportunity to meet senior stakeholders as well as other graduates in our organisation and learn more about Ventia.
6.  Pre-employment checking: September – October
Prior to an offer being made, you will be required to undertake our pre-employment checking process. This will include reference checks, criminal record check and a medical assessment to ensure we meet our health & safety requirements.
7.  Job Offer: October – November
Congratulations, you are becoming a #VentiaGrad!
Courtney Brown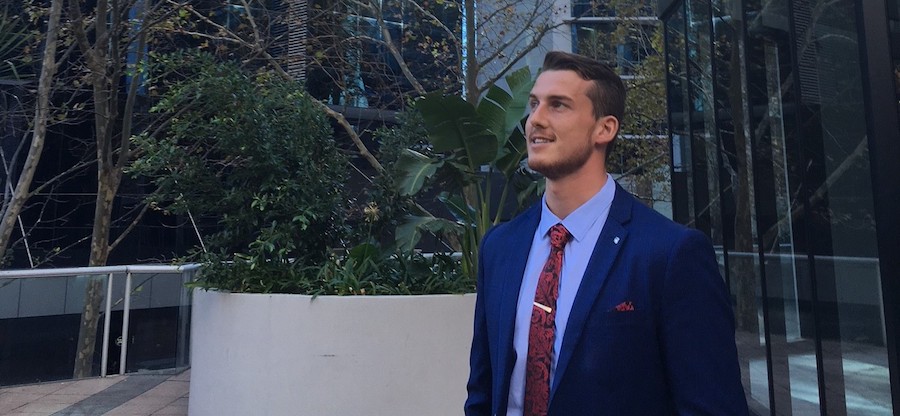 1. Tell us about your role?
Working in Business Development and Marketing was an interesting opportunity to gain experience outside of my engineering comfort zone. My role was incredibly diverse, from the start I was involved in 4 teams; working in BD with maritime and real-estate incubators, assisting in an office relocation and developing a marketing asset for the company. 
The Incubators were a great opportunity to get an understanding of business development; a 'start-up' mentality with the support of a multi-national. I was exposed to commercial strategy and adaptability and agility of incubator projects. Equally the office relocation highlighted the value of open communication and logistics within the company. Moving 300 people involved a lot of combined effort and collaboration was key.
2. What has been your biggest learning experience so far in the program?
My biggest learning experience so far would have to be that its ok to fail and not be the best at a task. With a supportive team, clear communication and putting your hand up for help, you can fail and learn faster without letting anyone down. Being surrounded by a helpful and very experienced team really made me feel comfortable to fail fast and soak up the opportunities to learn and develop.
Another learning experience that came my way was managing high demand periods. When working across 4 teams I often experienced sudden increase in workload based on the different team's requirements. By discussing expectations and priorities with the managers I could navigate these 'busy' times and meet my deadlines for deliverables without compromising work quality. Clear communication is key. This was a great experience, increasing my confidence in my capabilities and move outside the comfort zone without jeopardising performance.
3. What makes you excited to come to work every day?
My team were a key contributor to my drive and passion coming to work every day, the people I have worked with over the last 6 months have been amazing! I have had ownership and accountability of the full projects whilst still having a support network, of highly skilled mentors, if I needed assistance. They took the time to get to know me and where I want my career to go and encouraged and challenged me to develop my skills. The graduates also formed part of the team and support network as we regularly discussed the experiences we had had so far and how we had been challenged, creating a great sense of comradery.
4. What makes the #SpectrumGrad program so special?
The #SpectrumGrad program gives you exposure to the whole company and really nurtures your career aspirations. I was often working on projects that I had a direct influence and accountability on, and I was provided with lots of opportunities to network and learn from leaders within the business.  Given the small intake of graduates each year you're never treated like a number and your input has a significant impact on the team you work with.
I have had the opportunity get to know a really great group of people, quickly becoming friends in a new environment. The graduates and the steering committee support you through the exciting and challenging experiences such as moving away from home, settling into your new role and mentoring along the way. Often other graduates have been through the same experience and can 'shed some light' on the great and challenging parts of the program.
5. What advice do you have for an incoming graduate coming into BRS?
The graduate program is a great opportunity to explore and advance your skillset.  Given Broadspectrum has such a large range of working areas you can really challenge yourself in completely different fields for each rotation. With a good attitude and determination, you will be able to learn and absorb really rewarding experiences whilst developing your career. The networks and relationships you nurture will form the basis for your career so make good use of the opportunities ahead.
Always ask; questions, for help, guidance, mentorship or anything that you don't understand, the team here is always willing to help or to recommend the right person. There is so much knowledge around you that is easily accessible with a quick discussion or email, so don't hesitate. What you bring to the table is highly valued, our diversity and experiences all have a value add so even though you're new to a team, don't be afraid to speak up your ideas.
---
Nero Levinson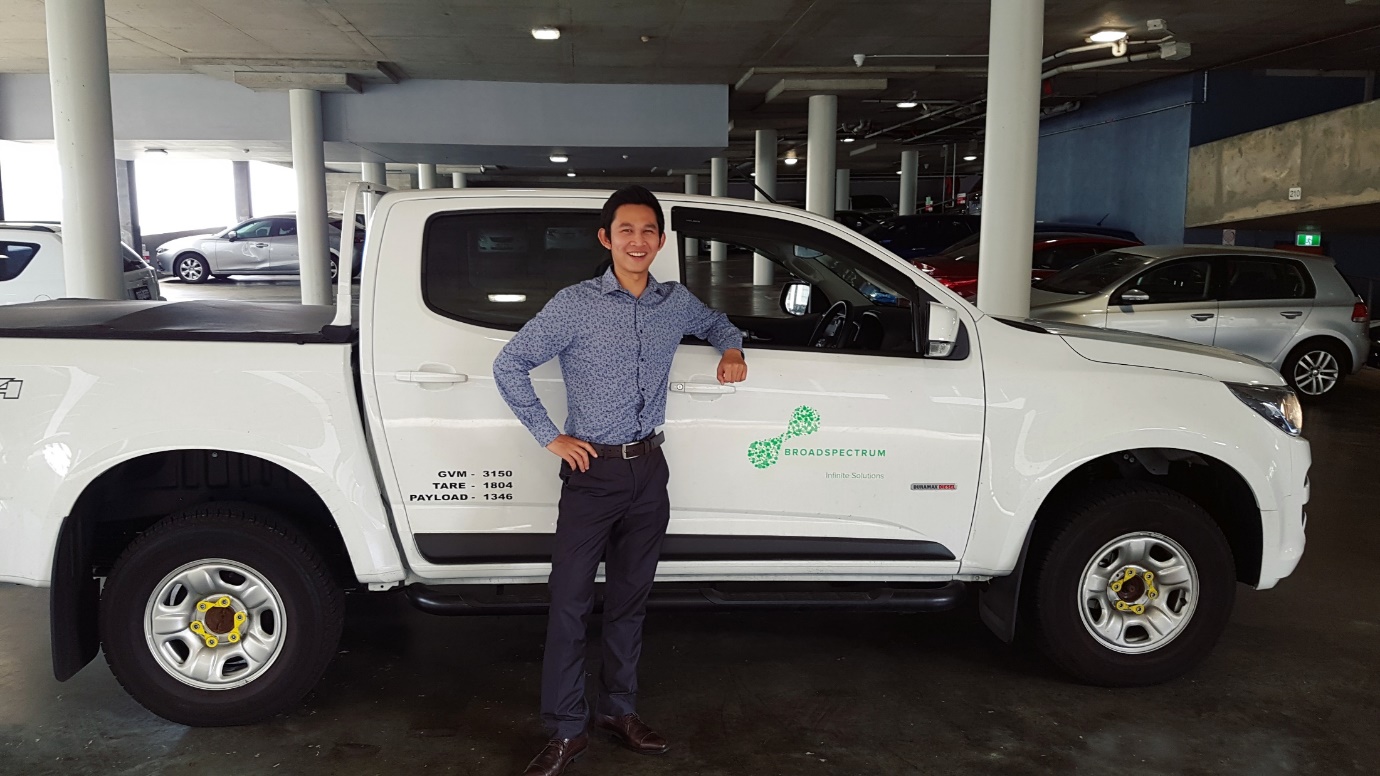 1. Tell us about your role?
I am the Project Portfolio Coordinator of Centre of Excellence for Resources, a newly created CoE based in Australia. I coordinate a portfolio of innovation projects that could significantly improve our operational efficiency and capabilities, as well as collaborating with the rest of our business units and our other CoE's around the world to share best practices and expertise. This is my second rotation as part of the #SpectrumGrad Program where I was lucky enough to be supported in my relocation from Perth to Sydney! 
I also gain hands-on technical experience by acting as a technical contributor to chosen projects from the portfolio which includes developing Virtual Reality and Augmented Reality systems, as well as drones and remote sensor data processing (IoT) for a range of disruptive applications.
My other responsibilities include regularly presenting the progress of our projects to senior leaders and innovation management forums, facilitating workshops, presentations, recommending new initiatives, and building relationships with our partners and clients as part of various pilot projects.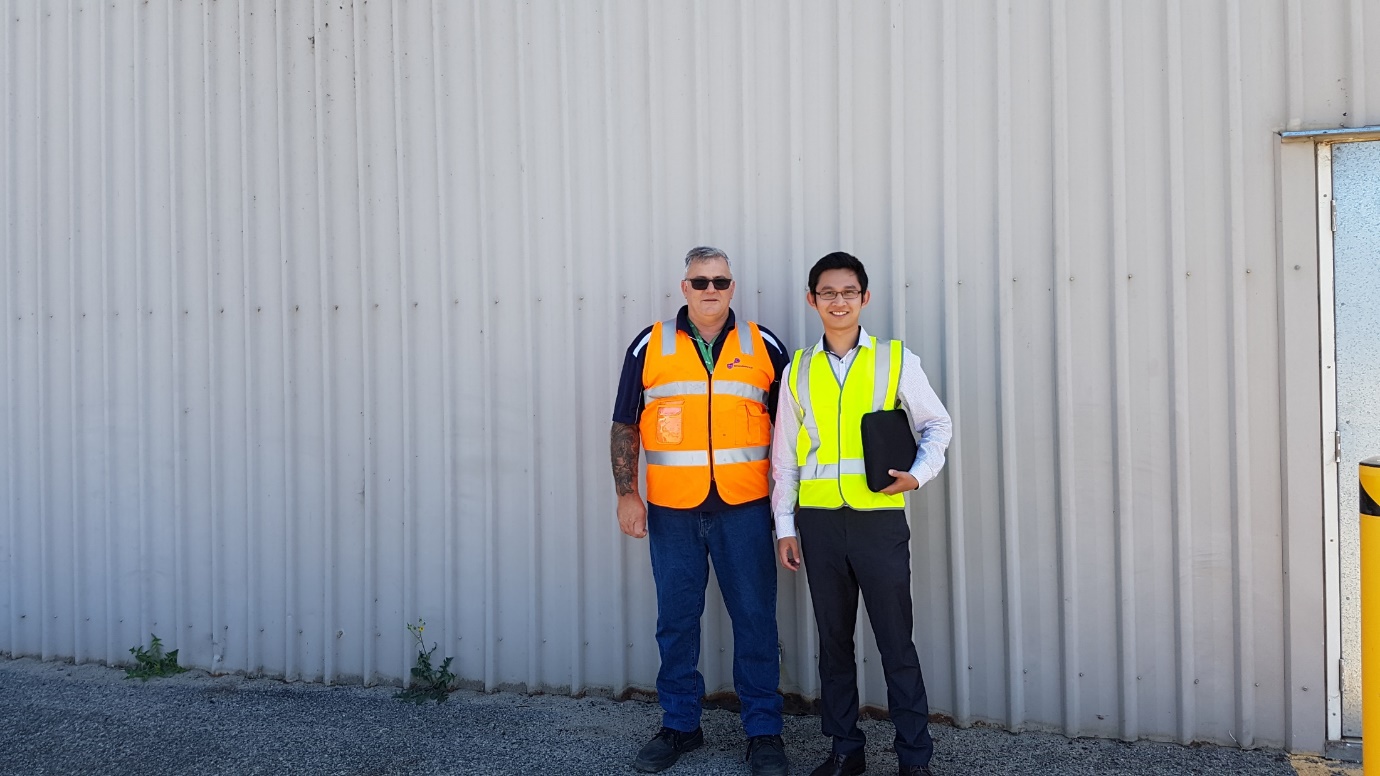 2. What has been your biggest learning experience so far in the program?
Hmm.. it's hard to pick the biggest learning experience as there's just so many new things I am learning every week! If I'd have to pinpoint a single experience, I would say it came right in the beginning of the #SpectrumGrad program, during the 3-days #SpectrumGrad Forum where we had senior leaders of the business and other experts came to talk to us. 
During the forum, Dean Pritchard, our company director, held a collaborative discussion session about what it means to be a leader, and it defined my attitude going into my rotations. Traditionally, we think of leadership as those displayed by managers and people higher up the ranks. However, the theme of the message from Dean and other speakers is clear: we can and must act as leaders from Day 1. We need to think like a leader in order to be a leader, to guide our self-learning. Leadership is an action, not a position, and we learned about the skills and behaviours exhibited by great leaders. I learned that we should never underestimate our ability to influence people and the business because we are "just" graduates. We were told clearly that we were not recruited just to contribute technically to the business functions, but to also bring fresh ideas, look at things with a critical eye and challenge the status quo, and to consistently drive for positively change in our company. We are to work on the business, not just the in the business. It was an empowering 3-days induction into the company that led myself and other graduates to enter our positions around ANZ with invigorated confidence to take on the new challenges?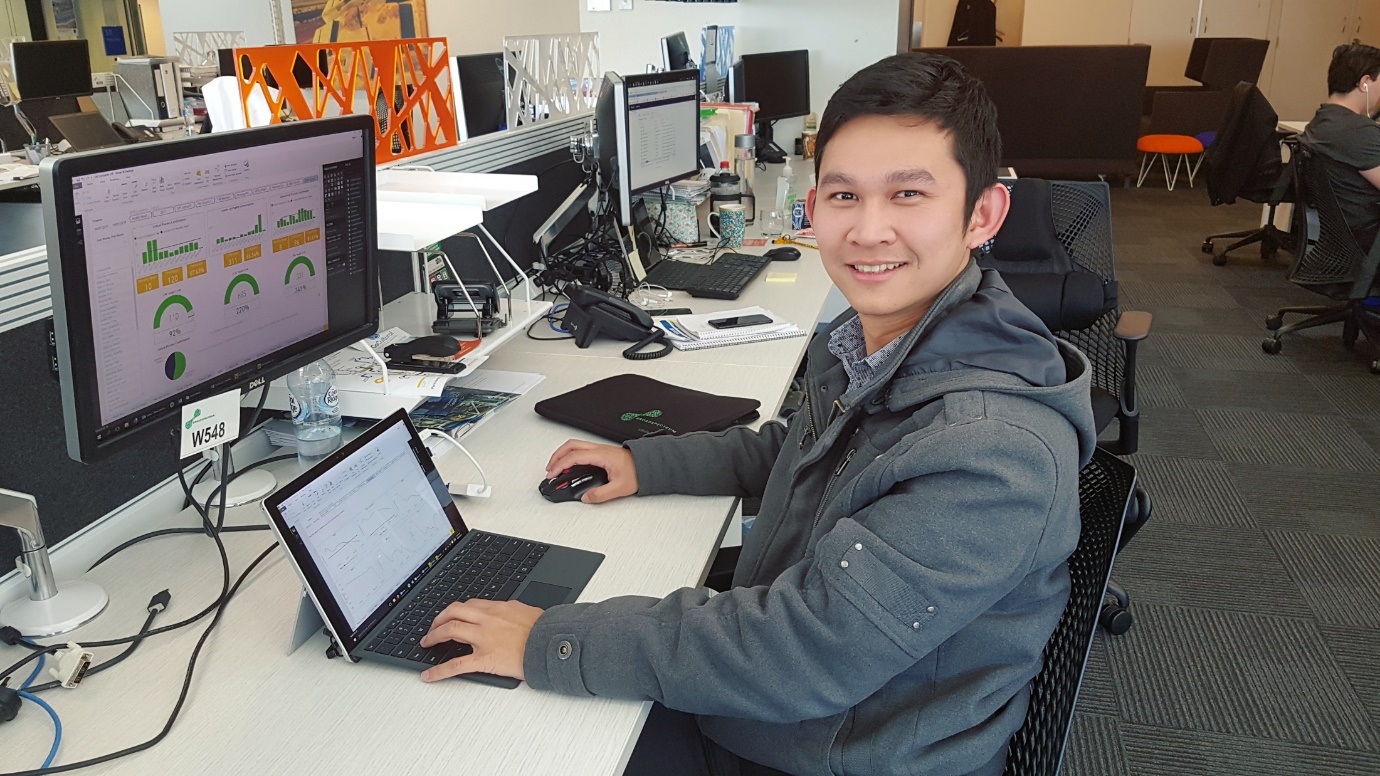 3. What makes you excited to come to work every day?
Where do I even start? This is a dream role and I couldn't be at a better place in Australia as a freshly graduated mechatronics engineer. Instead of being forced to go down a traditional engineering path which is quite common for Mechatronic graduates, I get to utilise my holistic understanding of mechanical, electrical, computer and control systems to work on a portfolio of converging tech projects. Working at the frontier of technology is always very exciting as there's an immense amount of opportunities to be realised in emerging tech. I feel that we are at an inflection point where a lot of these technologies are moving beyond proofs of concept and has just started becoming feasible to be implemented for business purposes. 
I get a great sense of purpose and fulfilment coming to work everyday knowing that I am working on new systems that nobody else in the industry has successfully implemented yet on a commercial scale. It also plays well into my competitive side and I am very driven to help push our company to be the first to utilise these systems in the field and gain a competitive edge in our markets by being the forefront leader in innovation. 
Working in the Centre of Excellence also gives me a double advantage of working for a large corporation while having the feel of a start-up where lean interdisciplinary teams are focused on developing and implementing new technologies.
I am also lucky to have a manager who is very supportive and consistently pushes me to greater heights. The level of freedom, responsibilities, collaboration and the initiatives I can take are much greater than what one would typically expect for a first graduate role, so it is a steep learning curve that I enjoy as well. 
My role is both very technical, as well as being relationship and people-focused as collaboration is a key part of my job. It is a perfect combination of my passion for engineering and collaboration, and I am very fortunate to be get this kind of opportunity so early on in my career.
4. What makes the #SpectrumGrad program so special?
Because Broadspectrum is involved in so many different sectors, you get exposed to many different industries through the different rotations, and you can really figure out what you want to do with your career. You also get a chance to build a diverse network across industries and get an in-depth understanding of how we operate in those spaces. #SpectrumGrad is not just a typical entry-level graduate program because you get to work on the business, not just in the business. You get meaningful work and serious responsibilities from Day 1 and the projects you work on are set to help you learn and grow as quickly as possible.
Although Broadspectrum has a large number of employees, the #SpectrumGrads get a lot of exposure internally as the #SpectrumGrad program is well known and heavily supported across the leadership teams. Because the #SpectrumGrad cohort is also purposely small, each #SpectrumGrad is watched and driven carefully by the Graduate Steering Committee which includes the highest senior leaders. 
5. What advice do you have for an incoming graduate coming into BRS?
Don't be shy/afraid to ask questions! As a graduate, there will be a lot of things you wouldn't understand in the beginning so you should be asking a lot of questions. It's good to be prepared though, so have a think first about the questions that you might ask in meetings, presentations, workshops or even in casual conversations. It shows that you care and are eager to learn.
Keep a journal - track what you have learned, what challenges you faced, what accomplishments you achieved etc. and set a time aside to reflect upon your experiences regularly. Sometimes you learn lessons only upon reflection and not at the exact moment they happened. 
Network! As a #SpectrumGrad, you are expected to build a wide personal network across different areas of the business so that you get a holistic understanding of how the company operates. The #SpectrumGrad program supports this by providing you with multiple rotations and through other initiatives as well, but it is ultimately up to you to drive your own personal development and expand your network! Keep in constant touch with the other #SpectrumGrads as well so that you can utilise each other's networks.
Be available and flexible – I believe that as graduates, we should prioritise learning and growing as fast as possible, and that means being available for opportunities and being flexible. Relocating during the graduate program may be necessary to do a role that's perfect for you so don't get too attached to physical locations, at least in the beginning years of your career.
Attitude is everything – and don't underestimate yourself! Too often, a lot of graduates underestimate their potential to impact in the first years, because they think that graduate positions are just a way to learn the ropes, doing only what they are told, and that they can't do anything critical for the business. I think that belief is really damaging and it really limits oneself.
Build networks, influence people, take initiatives; the world is more malleable than you think, and #SpectrumGrad gives you a perfect platform for it.
---
Cian Dawson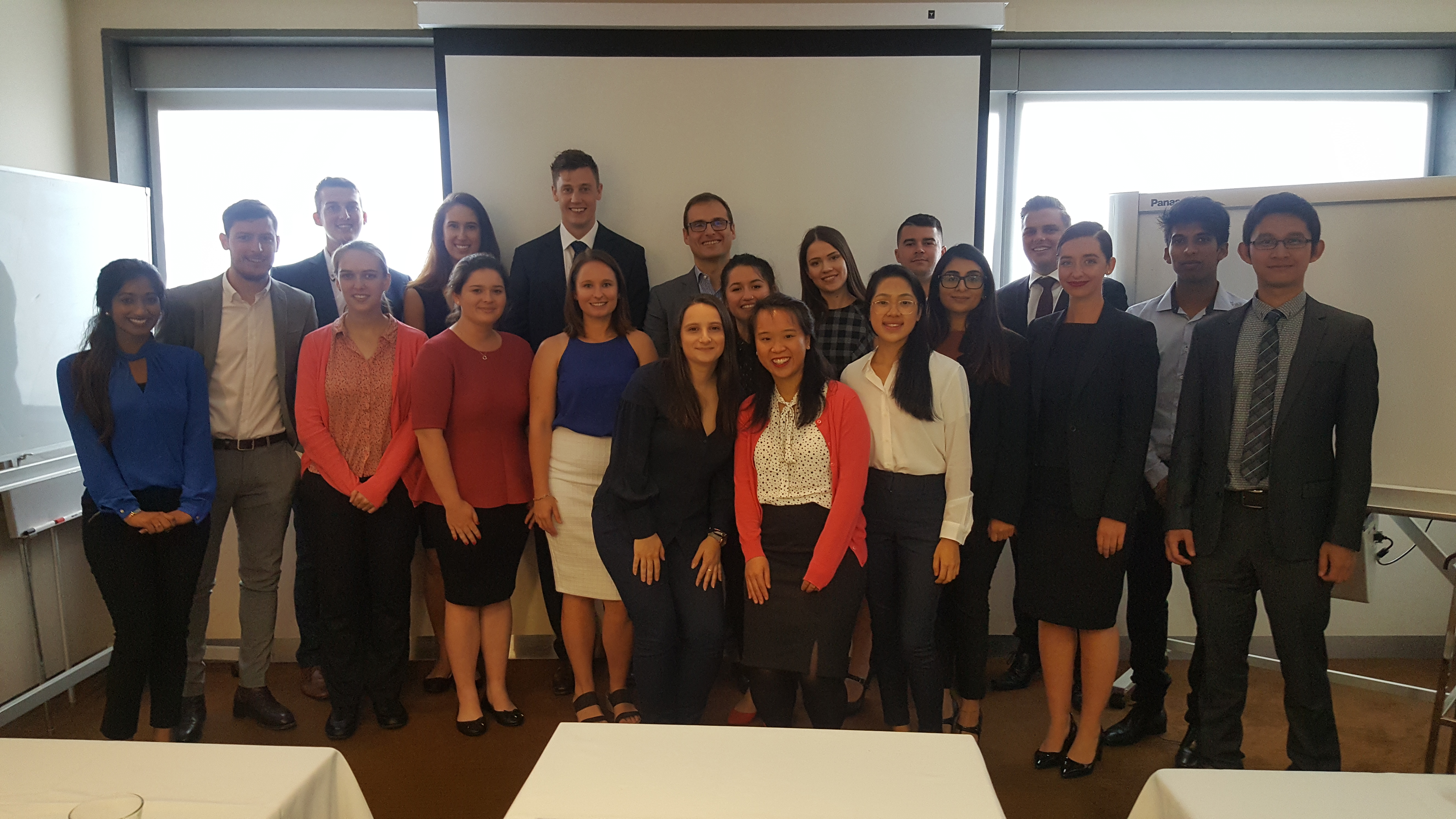 1. Tell us about your role?
For my first #SpectrumGrad rotation, I worked in the Strategy and Growth Team for Skout Solutions – Broadspectum's Talent Acquisition function. Having the right people recruited at the right time, with the right skills is crucial to Broadspectrum's successful contract execution. Hence, completing a placement in Skout Solutions has provided me with a broad overview of the types of contracts Broadspectrum works in, and the types of labour we engage around Australia and New Zealand. 
I worked closely with the Contract Development Manager to preparing material for bids, creating and running assessment centres to recruit talent for our contracts and reporting on the progress of our mobilisations. I also worked closely with the operations team in improving the Mobilisation tool box to increase the accuracy and readability of our bids and reports. This has provided efficiencies in the bid, mobilisation and close out process of our contracts. 
My main project for this rotation was to create a portfolio of marketing collateral for Skout Solutions for internal and external distribution. The purpose of this was to increase awareness of Skout's brand and capability amongst our internal and wider stakeholders. This project gave me the opportunity to harness my communication, strategic marketing and graphics skills to create these resources for the Skout team. As a result of this marketing collateral, the Skout Team now has an increasingly recognisable presence in Broadspectrum offices around ANZ, and online channels.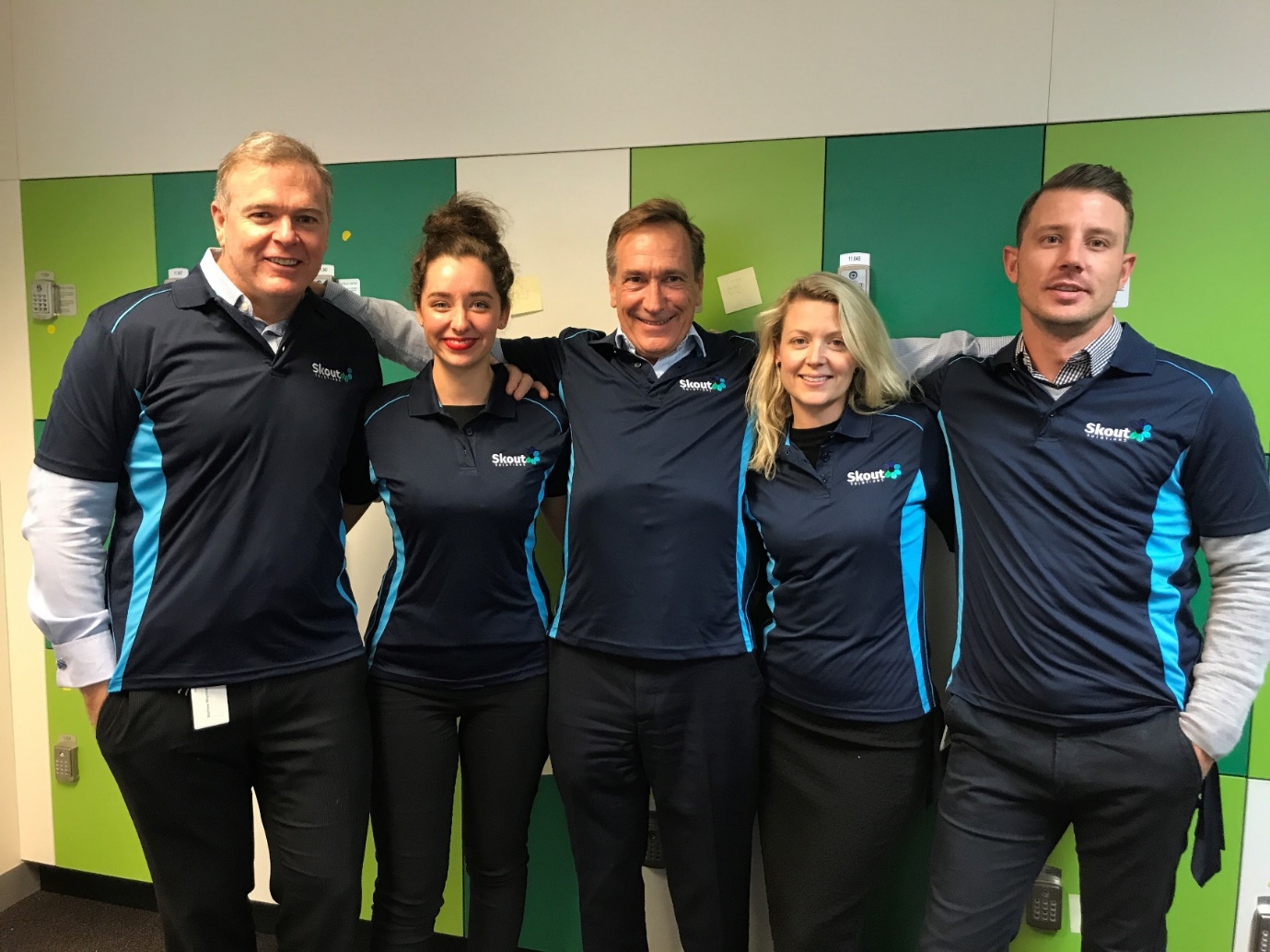 2. What has been your biggest learning experience so far in the program?
My confidence has grown since being in the #SpectrumGrad program. When I first started at BRS, I was really worried about wasting people's time and not wanting to be perceived as unintelligent in front of managers and senior leaders. However, through the support of my Manager at Skout and Graduate Program Managers, I have realised that it was ok to spend time with senior leaders learning about their business, professional journeys and challenges. In fact, as a Graduate it was expected that I would reach out and learn from our leaders! Since I have overcome this insecurity, I have felt comfortable asking questions. I have become more articulate, assertive and comfortable in the corporate environment which has enabled me to build my network within the company, and develop a more critical understanding of the business. 
3. What makes you excited to come to work every day?
I love coming into work each day knowing that I am guaranteed to learn something new about our business, all while I develop my skills and contribute meaningfully to my team. I loved working with the Skout Team, as everyone was so engaged and my managers were genuinely invested in my growth and development. I thoroughly enjoy talking to different areas of the business to learn more about the exciting contracts that Broadspectrum is working on, and the innovative solutions we provide to our clients across the public and private sectors.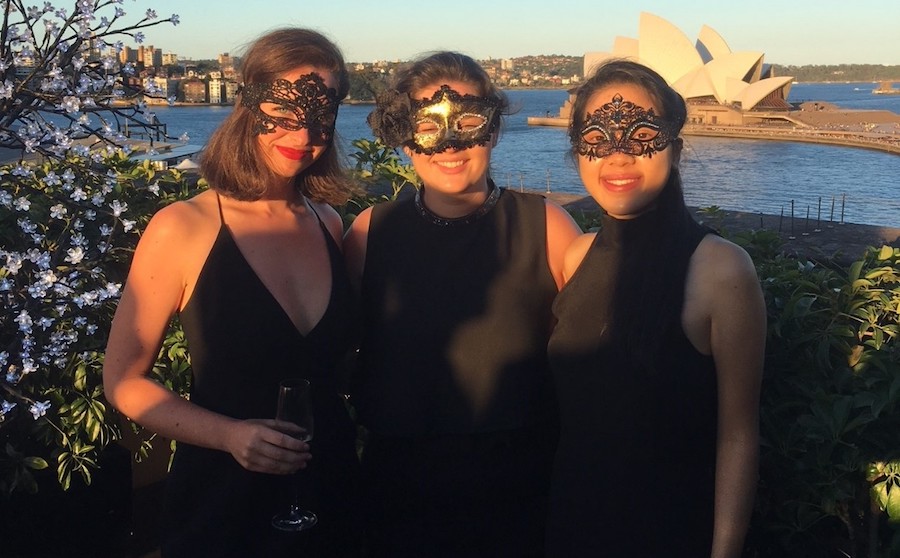 4. What makes the #SpectrumGrad program so special?
The relocation component of the #SpectrumGrad program is what sets the Broadspectrum Graduate program apart from our competitors. I am originally from Melbourne and relocated to Sydney for my first rotation. For my second rotation, I have moved from Sydney to Toowoomba, QLD to gain more operational experience in the Resources sector. Relocating for work has provided me with significant opportunities for personal and professional growth. Moving away from family and friends at home has forced me to broaden my social network which has been extremely rewarding. I believe this experience has helped me mature, and further develop my resilience and positive mindset.
Being a #SpectrumGrad is a huge privilege. As one of the 10 graduates around ANZ, you have tremendous opportunity to meet and work with senior leaders on diverse programs all around the business. For example, I had the opportunity to MC a panel discussion with senior leaders for International Women's day in front of the North Sydney Head office, including our CEO. 
The three rotations over the 24-month Graduate program allows #SpectrumGrads to experience diverse areas of the business and contribute in a variety of capacities. I was hired as a HR/Business graduate however I have already worked in a Marketing capacity, I have supported a Strategy business unit and am now heading into a commercial/contracts position. You are not limited by your area of study at University- rather BRS invests in your development to maximise your potential. 
5. What advice do you have for an incoming graduate coming into BRS?
Have a positive attitude, a growth mindset, and say YES to any opportunities that come your way. 
At times it can be challenging being a Graduate, as you feel like a very small fish in a very big pond. I would encourage all new Grads to maintain a positive, can-do mentality and tackle challenges with a smile. Seize any opportunities which are presented to you, and to be proactive in seeking out unique opportunities for yourself.
6 months ago, I never would have thought that I would move to regional Queensland to work in the Oil & Gas sector! Through keeping an open mind I am embarking on this professional and personal challenge and am looking forward to continuing my development through the #SpectrumGrad program.
The program is what you make of it – if you give it 110%, in return you will experience an extremely unique and stimulating 24 months.
---
Ena Augustin 
1. Tell us about your role?
As an Analytics Reporter on the Defence Base Services contact, my main role is to investigate data and gather insightful information that can potentially help better the capability of the service delivery and customer engagement within contract. This largely involves me putting my research skills, numerical reasoning and natural curiosity to good use, as I engage and ask questions to people around the business searching for answers.
As I work closely with one of the Senior Leaders on the contract, my working weeks never look the same. I have been exposed to all areas of the contract, all the way from day-to-day operations to corporate strategy. As a person who loves learning different types of things, it has been very beneficial as it has allowed me to understand the business from a very holistic level.
My role has also allowed me to gain Project Management and Business Networking experience, as I help co-ordinate projects that involve members from all areas of the contract. Through these responsibilities I have gained transferable skills that can applied to any future rotation or role I take on.
2. What has been your biggest learning experience so far in the program?
The biggest learning experience I have had so far is that communication is key. While this is something quite simple, I have a much deeper appreciation and understanding of it. I constantly see demonstrations of how well things can work when communication is utilised well and the consequences of when it isn't. Understanding the different ways to communicate information to different people in different roles is vital to achieving set outcomes.
Having said that, that at the end of the day, everyone in the organisation is a human being and there to do their job well and make a difference. I am constantly reminding myself that as I learn to be more confident with my contributions and recognise that people will give me the time to listen if I ask for it. Therefore, balancing the right communication that delivers the right information, while still considering that on the receiving end is a person, has been something I am constantly being mindful of.
3. What makes you excited to come to work every day?
The diverse experience I am constantly exposed to is what drives my excitement to come into work every day. I come into work, buzzed on a double shot coffee, not knowing who I am going to meet or what I am going to learn. I am also very lucky that I have a lot of open people around me who are always willing to answer my questions and discuss ideas. Every day, I have a better understanding of what the business aims to achieve and the different kinds of people within it driving them.
4. What makes the #SpectrumGrad program so special?
Coming straight into the program, I certainly did not understand the magnitude of the types of work Broadspectrum does across the whole business. With diversity of work, comes diversity of experience. There is truly something for everyone in this program.
As a relatively small cohort, we all given all kinds of amazing opportunities to work in a variety of different roles and a tremendous number of people always willing to support us You really will get all that you put in.
Additionally, the opportunity to relocate for work is definitely a compelling factor. As the types of work Broadspectrum does is vast, so are the locations we do them in. Personally, I am the most excited to learn when I am exactly where all action is happening. Therefore, the relocation opportunities I know will enhance my overall experience. As my first rotation has been in my home city, I am yet go through the relocation process, but it is a journey I am eagerly looking forward to.
Diversity & Inclusion
Ventia
---
We believe in the value that diversity brings to our business. Every day we work across diverse communities in Australia and New Zealand. It's important that our workforce reflects this diversity to ensure that we understand the communities in which we operate and reflects our commitment to all our stakeholders. Diversity within our teams also ensures that we bring new ideas and perspectives to the table, harnessing the know-how of our people to get the job done.
Ventia's sustainability council supports our commitment to improving diversity and inclusion throughout our operations. Through the work of the council, we're committed to progressing workplace gender equality across our business and providing our employees with access to the same rewards, resources, and opportunities regardless of gender.
In support of our commitment to improving diversity across our organisation, our Sustainability Council and our independent Indigenous Advisory Board (IAB) progress our commitment to improving access to employment opportunities for Aboriginal, Torres Strait Islander and Maori peoples in the locations we operate, and participation in reconciliation within our communities.
Our journey doesn't stop there. At Ventia, we embrace diversity as we know it and is key to the success of any team. Each year, we celebrate our culturally diverse teams and the extraordinary people that make us who we are on International Women's Day, National Reconciliation Week, Harmony Week and NAIDOC Week.
We are also a corporate member of Diversity Council Australia (DCA)
Learn more about Diversity at Ventia here: https://vimeo.com/321660961
Ventia's Diversity and Inclusion Working Party supports the Sustainability Council.
We are addressing areas such as; developing and retaining a gender diverse workforce, pay equity, facilitating and promoting a flexible workplace, leadership accountably to creating an inclusive and fair workplace for all genders, and representation of women in leadership and management roles.
The Ventia Board has endorsed a target of 40% female representation across the organisation with strong focus on women in leadership and management roles by 2023. The Working Party is embedding these targets and actions in the D&I Action Plan for each sector.
Aboriginal & Torres Strait Islander People
Ventia
---
Our Indigenous engagement and participation approach is at the core of our business and is the way we support Aboriginal and Torres Strait Islander people and the communities in which we work. Our approach is aligned to the communities and sectors that we work in and grounded in how we work with our clients and engage with the communities in which we work. Our continued commitment to increasing our cultural and historical awareness and building our relationships with Indigenous communities and organizations is strengthened by our collective focus and combined efforts through our Reconciliation Action Plan (RAP).
In 2016, Broadspectrum (now Ventia) formed an Indigenous Employment Team who aim to achieve significant and sustainable growth in the number of Aboriginal and Torres Strait Islander men and women employed by Ventia, its related entities and subcontractors. Our Indigenous Employment Team consists primarily of Aboriginal and Torres Strait Islander employment specialists, located across Australia. The team is passionately committed to creating employment opportunities for Indigenous people nationwide.
We also recognise and celebrate the heritage and culture of New Zealand, where out teams engage with local iwi and communities across the country. In 2020, we established the Te Ara o Rehua working party to enhance Maori and Pasifika participation across our New Zealand business. The working party will develop a framework that will focus on areas such as Maori employment and procurement.
As part of our commitment to building awareness, appreciation and respect for Aboriginal and Torres Strait Islander cultures and heritage, Ventia has a Cultural Awareness Training program that all members of every team complete. It's a commitment outlined in our Broadspectrum - A Ventia Company Elevate Reconciliation Action Plan. It is also fundamental to our purpose of making infrastructure work for our communities.
The online Cultural Awareness training program is available to all Ventia employees in Australia. By increasing your cultural awareness, you can help us to build our capacity to deliver services in culturally sensitive ways and to create culturally safe workplaces.
In addition to this, our leaders have access to a twice-yearly seminar that focusses on teaching leaders how to build and sustain a culturally inclusive workplace.