White & Case Internships & Clerkships
Over the past 100 years, White & Case have built an unrivalled network of 44 offices in 30 countries. That investment is the foundation for our client work in 180 countries today.  Our teams in Melbourne and Sydney work with clients in every state of Australia and around the globe on all aspects of the energy, infrastructure and mining & metals sectors, and on high-profile public market and private equity M&A transactions.
Application need to be made during the application window, directly via our careers website: www.whitecase.com/australiagrad
Initial application:

Second stage:


Psychometric testing
Prerecorded video interview

Final stage:


2X individual partner interviews

…
View full process
Adelaide
and 14 others
Available locations
Regional Northern Territory
Regional Western Australia
Our Virtual Learning Program is a great opportunity to discover life as a White & Case graduate and experience the stimulating and challenging reality of working as an international commercial lawyer.
Application need to be made during the application window, directly via our careers website: www.whitecase.com/australiagrad
Initial application:

Second stage:


Psychometric testing
Prerecorded video interview

Final stage:


2X individual partner interviews
Graduate Program 
Join a diverse group of globally minded graduates for our 18-month program. Expect to take on real responsibility, learn non-stop and feel supported at every stage. Build friendships and personal connections that can last a lifetime.
Three different seats
You will rotate through three six-month rotations: two domestic and one overseas. You can choose rotations across any of our Australia teams including Antitrust, Debt Finance, Disputes, Corporate M&A, Land, Environment & Planning, Projects, Project Finance, and Tax.
Live and work overseas
Most of our clients are multinational organisations, so almost everything you will work on will cover more than one jurisdiction. To complement the global mindset that underpins everything that we do, we encourage and support a six-month seat rotation in one of our offices across Asia-Pacific and beyond. Experience living in a different country, gain valuable insight into the working practices of another jurisdiction and build professional contacts that will last throughout your career.
Support and development
Our graduates are assigned a supervisor, mentor and a buddy for each rotation, whose job it is to expand the skills, knowledge and experience you need to become the best lawyer that you can be.
Your training includes some formal elements, to support your qualification to practice, such as completing modules of the Practice Legal Training provided by the College of Law over the course of the first six months of the program. We also run in-house training, specialist seminars and workshops for graduates, which you are encouraged to attend.
Global Culture
We're shaping an environment where people thrive, feel they belong and are supported to make their mark. It's important that this work never stops and that everyone who works at White & Case contributes to our diverse, inclusive and welcoming culture.
"My decision to join came down to White & Case offering great work in a supportive environment."
-    Sebastian Cross, Associate, Melbourne
Our values
Pioneering, united, human—these are the three values that shape our distinctive culture and differentiate us from others. They capture the unique spirit of our Firm, and guide the behaviours and actions that enable us to deliver on the promises we make to our clients and our people.
Diversity & Inclusion
The diversity of our lawyers is a source of strength, and the nature of our clients' needs requires collaboration across borders. We attract people who value learning about different cultures, experiences, languages and viewpoints.
Our mission is to continue to build upon this strength and create an environment where all who work here are encouraged, assisted and inspired to reach their potential. Our commitment to inclusion has made us an employer of choice worldwide.
Affinity networks
Our affinity networks are open to everyone, including allies. Join a welcoming, friendly community dedicated to identifying personal and professional development and networking opportunities, including coaching and mentoring. Our networks are also forums to raise concerns, challenges or provide feedback and to advocate for change.
In Australia, we have the following local affinity networks and committees:
Spectrum LGBT+ Affinity Network
ALLiance Women's Network
Reconciliation Action Plan Committee
Global Citizenship
Global Citizenship comprises pro bono, volunteering, charitable giving, legal education and environmental sustainability. It helps us fulfil our responsibilities to the global community with the greatest possible impact. 
Lawyers from every office and practice participate in pro bono work; last year, we dedicated more than 110,000 hours to pro bono legal services. As graduates and associates in our Melbourne or Sydney office, you will have unparalleled opportunities to participate in cutting-edge pro bono work on the issues that matter to you — both locally and internationally, with many of the world's leading NGOs.
As a graduate in Australia, you will have unparalleled opportunities to do cutting-edge pro bono work on the issues that matter most to you—both locally and cross-border—with many of the world's leading NGOs.  
Examples of Australia pro bono projects:
Justice Connect – Support for Domestic Building Legal Service
Structuring advice for foreign not-for-profit organisations entering Australia
World Bank - Benchmarking Infrastructure project
Creating a disaster risk management law index for the International Red Cross
Corporate and structuring advice for charities operating in Australia such as the Motor Neurone Disease Association of NSW
Reviewing and updating legal compliance registers for the Western Region Centre Against Sexual Assault
We offer a summer and winter vacation clerkship in our Melbourne office and a winter clerkship in our Sydney office. 
As a part of our four-week programs, you'll be welcomed into our team, where you'll undertake a number of meaningful and challenging tasks.
Throughout the program, you can expect to:
Complete substantive, real work for real clients
Contribute to our ongoing pro bono matters
Learn about the Firm and our practice areas in Australia and the wider Asia-Pacific region
Discover our graduate program, including our overseas seat opportunities
Join in social events, network and get to know our people
Have continual support and feedback through your allocated supervisor, mentor and buddy
"My clerkship experience helped me develop a more well-rounded understanding about life as a lawyer"
-    Alistair Leung, Graduate, Sydney
We typically recruit our future graduates through our clerkship programs.
Our Virtual Learning Program is a great opportunity to discover life as a White & Case graduate and experience the stimulating and challenging reality of working as an international commercial lawyer.
You'll gain insight into the fast-paced innovative projects our teams work on and gain valuable skills on true-to-life legal tasks. This experience will be recognised on our application forms and will demonstrate your interest in law and White & Case.
Join our Australia virtual learning program or any of our global virtual learning programs here.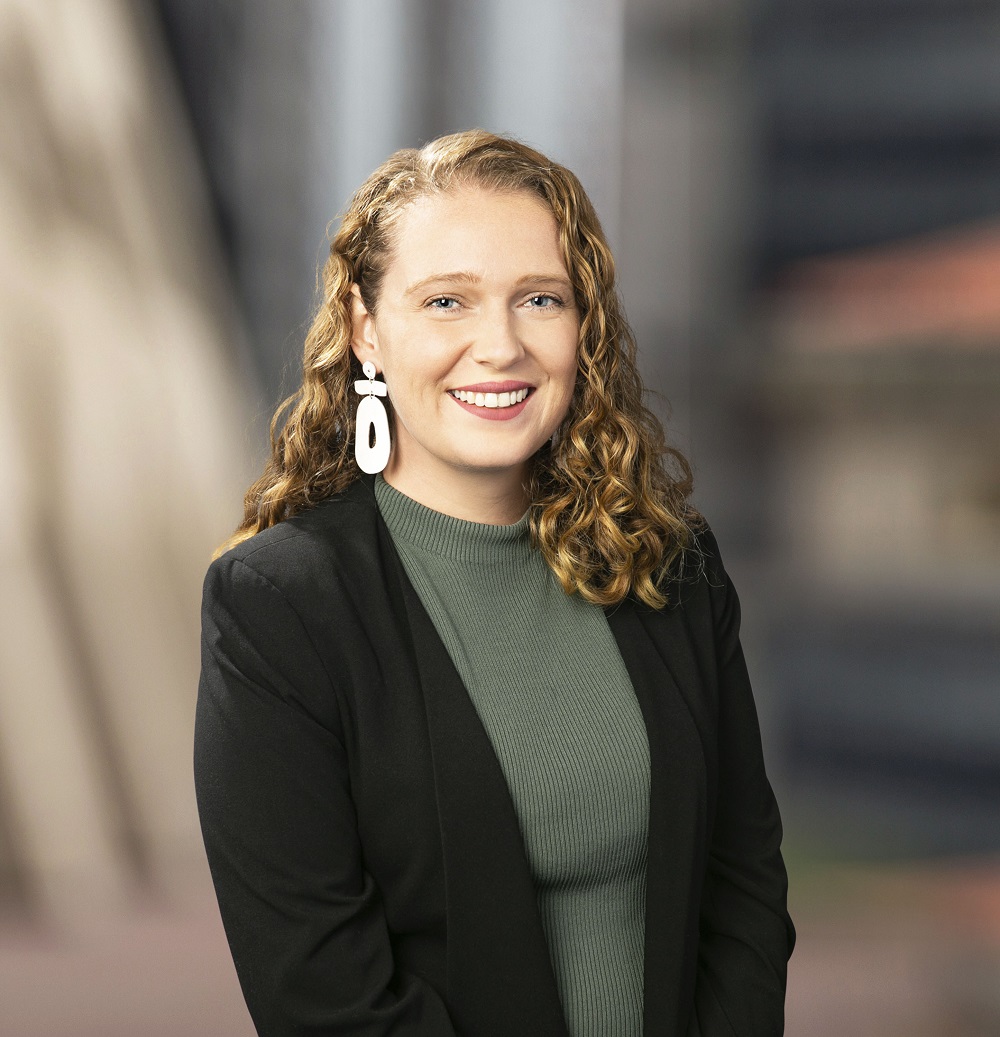 Mikaylie Page
Macquarie University
Graduate
7:00 a.m.
I'm not a morning person but I'm a big breakfast person, so I often prepare breakfast the night before and leave it in the fridge. That way it's easy to grab on my way out of the door when I inevitably press the snooze button one too many times.
I catch the tram to work, so it's the perfect time to catch up on all my favourite podcasts or to chat with my friends and family.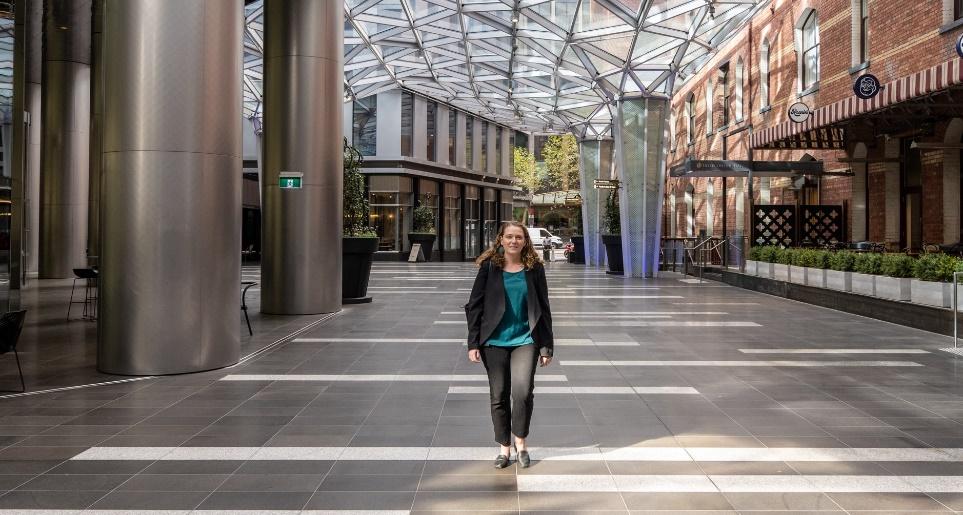 8:45 a.m.
Most people start to come in around 9:00 or 9:30, but I like to get in early. I generally spend the first ten or 15 minutes of my day checking my emails and writing a to-do list for the day. This keeps me focused and helps me keep track of the tasks coming up for the week. Keeping my inbox organised, so having time to file away my emails and finish my time entries, makes me feel like I've gotten off to a good start for the day.
9:15 a.m.
I am doing my first rotation in the Land, Environment and Planning team, so we mostly focus on environmental approvals for large infrastructure projects. However, it is varied and you can never really predict what will be coming your way, and you can be sent research tasks on close to anything. Today a lot of my work, I think, will focus on two big infrastructure projects.
9:30 a.m.
At the moment the team is really busy, as we are in the middle of a long hearing. Each morning we have a quick catch-up with the barristers and the White & Case team to make sure we are all across the documents coming in, and the action lists that we need to make sure we all complete and file on time.
10:00 a.m.
I'm helping with the preparation of one of our expert witnesses, working directly with one of our partners to make sure that our witness is prepared to give evidence in the hearing tomorrow. Yesterday I spent time making sure that I understood what the contentious issues were and what our expert's evidence is before heading into the meeting.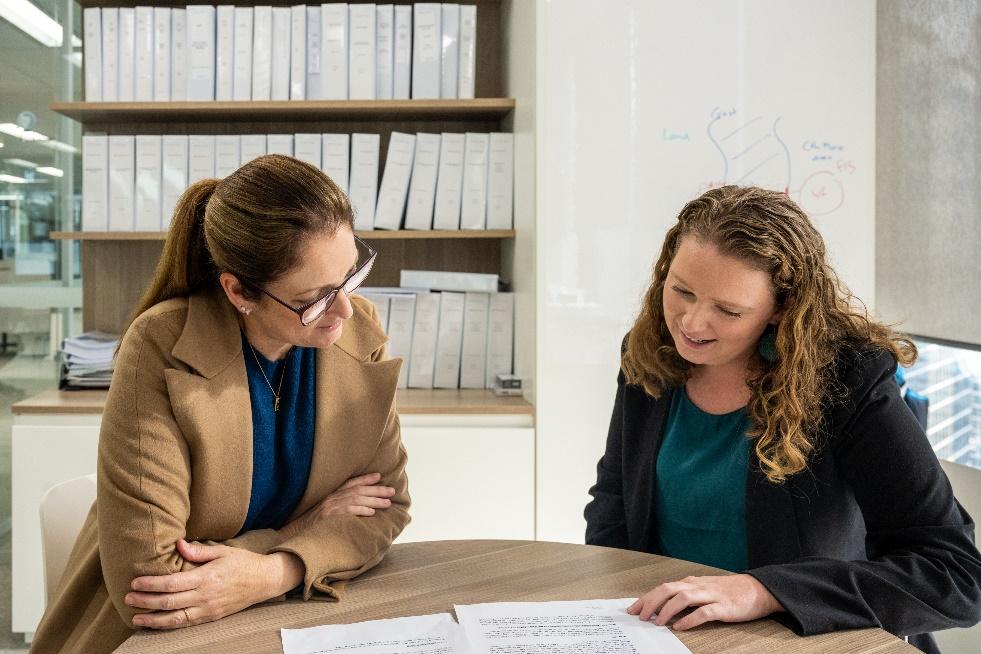 10:45 a.m.
Time for me to get stuck into some of the research tasks I have on my desk. I start with one that is due tomorrow afternoon, with an aim to have it finished by the end of the day. Some of the other juniors and I have divided up the work so that it is more manageable.
12:00 p.m.
It's about this time that the other grads start working out the lunch arrangements in the group chat. Today I brought my lunch, so I head into the kitchen to join the growing crowd sitting to eat together. Lunch conversations are some of my favorite times to get to know people from all over the office.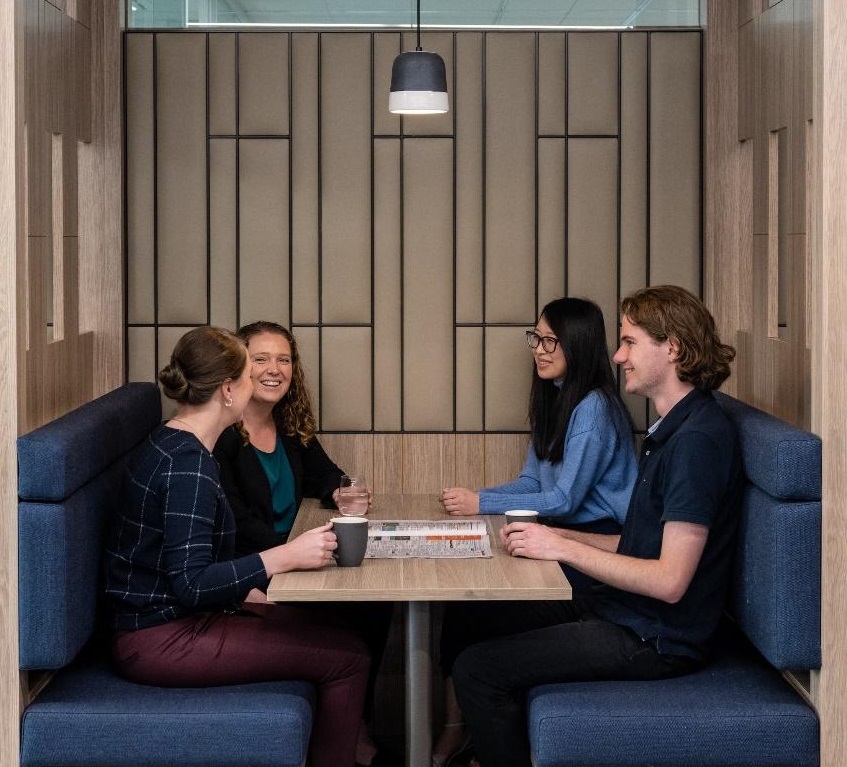 1:00 p.m.
I get an email asking for help with an urgent task for a client meeting happening in a few days. I put my other research to one side for a moment, after speaking to my colleagues to let them know, and jump into it. I have a call with the partner and senior associate to get some context on the project and the brief, and then we divide the work so that we can get it done in the short timeframe we have. Working for such a big firm means that you get to research different jurisdictions every day.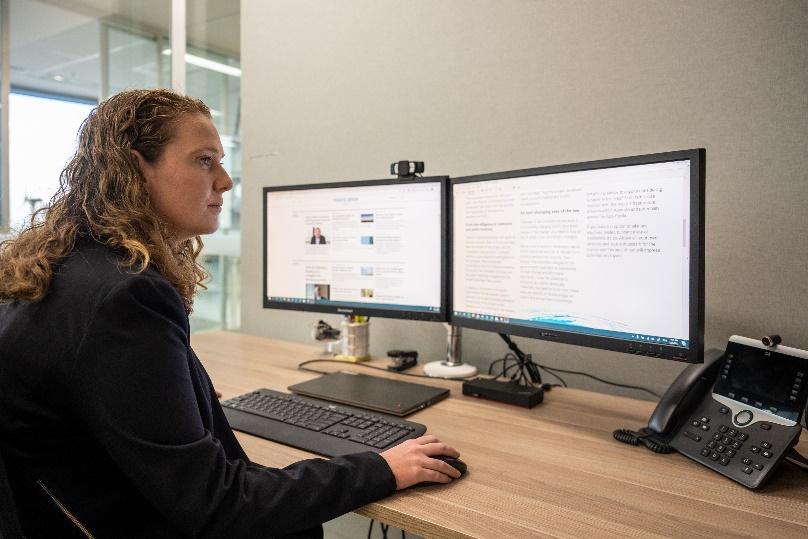 3:00 p.m.
About this time, I have organised to grab a coffee with one of the senior associates and we head on down to one of the favourite cafes not far from the office. They make the best chai latte, and I find it is the perfect afternoon motivation.
3:30 p.m.
I get back to my desk and finish off the first half of the research question. I know that the partner wanted to see a progress update this afternoon, and I expect that there will be some tasks coming in from the end of the hearing at 4:30.
5:00 p.m.
As my team walk back from the hearing, I manage to catch them quickly ahead of the full hearing debrief at 5:00. I make sure that I have my tracker open so that I can keep on top of the tasks that have been completed, as well as any new tasks.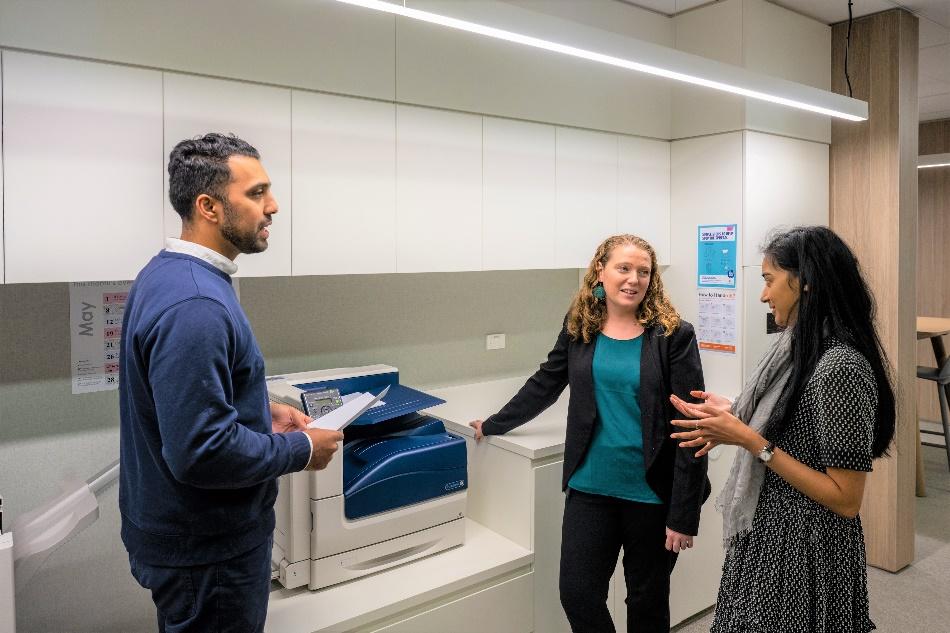 5:30 p.m.
Tomorrow I will be taking notes for the hearing most of the day, so I sit down and finish off the last section of the research before sending it off to my colleague, so that she can compile everyone's work into one table to send off to the partner.
6:00 p.m.
Usually I finish my day at around 6:00 and get home in time to go for a walk or a bike ride around my neighbourhood. I am new to Melbourne, so I'm enjoying getting to know my suburb in the evenings.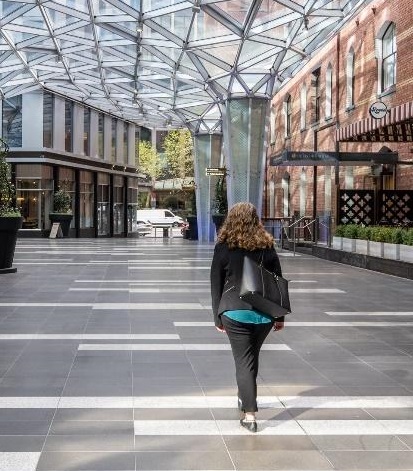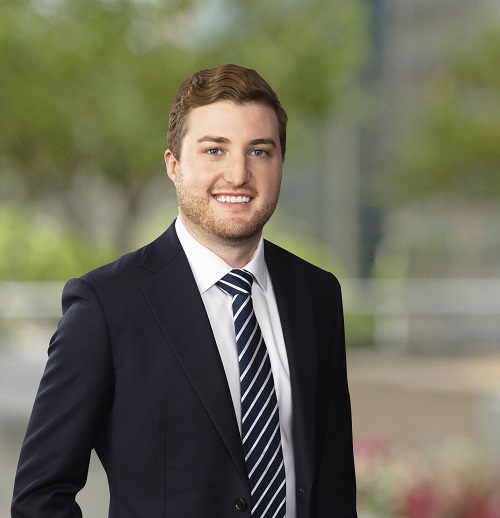 James Davy
Bachelors of Law/Art, Monash University

Associate
What's your job about?
I am a Melbourne-based Associate at White & Case, currently completing a Project Finance rotation in our Tokyo office.
This is my third and final six-month rotation as part of the Graduate Program and follows my previous seats in Melbourne (Project Delivery) and Sydney (Corporate M&A). Since starting the Graduate Program last year, my day-to-day work has varied greatly. It has largely consisted of legal research, drafting project and finance documents, reviewing documents as part of due diligence exercises and corresponding with cli…
View more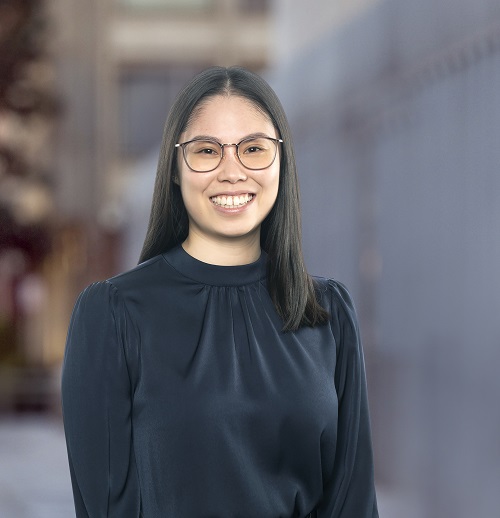 Beatrice Ho
Juris Doctor, University of Sydney

Graduate
What's your job about?
I am a first rotation graduate in the Project Finance team in the White & Case Sydney office. The work mainly involves the financing of large infrastructure projects, with a focus on renewables; such as wind farms and solar farms. Occasionally, we also work on refinancing and the acquisition of infrastructure assets. On any given deal, we are advising either the borrower or the lender (which is usually a group of banks).
My main job as a junior is to assist the senior associate and associate on the deal each day. My workflow generally changes weekly, depending on what stage the…
View more