White & Case Internships & Clerkships
Over the past 100 years, White & Case have built an unrivalled network of 45 offices in 31 countries. That investment is the foundation for our client work in 180 countries today.  Our teams in Melbourne and Sydney work with clients in every state of Australia and around the globe on all aspects of the energy, infrastructure and mining & metals sectors, and on high-profile public market and private equity M&A transactions.
Adelaide
and 14 others
Available locations
Regional Northern Territory
Regional Western Australia
Our Virtual Learning Program is a great opportunity to discover life as a White & Case graduate and experience the stimulating and challenging reality of working as an international commercial lawyer.
Past White & Case Graduate Hiring Statistics
If you're interested in working at White & Case, understanding when they have opened up applications for their graduate programs, graduate jobs and internships is helpful knowledge to have so you know when you might need to apply. Use the below information to see when White & Case hires graduates, but more importantly what graduate degree's and other student attributes they target for their jobs.
---
Job types
Internships (67%),

Clerkships (33%),
Locations
Sydney (100%),

Brisbane (67%),

Canberra (67%),

Darwin (67%),

Hobart (67%),
Work rights
Australian Citizen (100%),

Australian Permanent Resident (100%),

Australian Student Visa (100%),

Australian Working Visa (100%),

New Zealand Citizen (100%),

Australian Bridging Visa (67%),
Past White & Case Internships & Clerkships
Check out some of White & Case's past jobs they have posted on GradConnection over the last 12 months. Understanding the details about what a graduate employer is looking for well before applications have opened can sometimes be the edge you need to secure your first graduate program.
---
Adelaide
and 14 others
Available locations
Regional Northern Territory
Regional Western Australia
Our Virtual Learning Program is a great opportunity to discover life as a White & Case graduate and experience the stimulating and challenging reality of working as an international commercial lawyer.
Adelaide
and 14 others
Available locations
Regional Northern Territory
Regional Western Australia
Our Virtual Learning Program is a great opportunity to discover life as a White & Case graduate and experience the stimulating and challenging reality of working as an international commercial lawyer.
The future of law is global. If you are ready to take charge of your career, we'd like to hear from you.
Discover White & Case
White & Case
---
Over the past 100 years, we've built an unrivalled network of 45 offices in 31 countries. That investment is the foundation for White & Case's client work in 180 countries today. 
Our concept of being truly global is underpinned not only by the vast diversity within the Firm, but by the types of clients we service. Many White & Case clients are multinational organisations with complex needs, meaning the very nature of our work requires multiple offices to work seamlessly together. 
Graduates and lawyers who join our Firm find themselves part of an open, collegial culture where innovation and entrepreneurial spirits are not just valued, but encouraged. From their very first date, our lawyers find themselves engaging in multi-jurisdictional work with innovative thinkers from around the world.
"I was really impressed with how truly international the firm is"
-    Kate Butler, Graduate, Melbourne
If you want to work on high-profile projects with a globally minded and diverse team, you're one of us. As a White & Case graduate in Australia, you'll work on challenging, sophisticated and complex cross-border matters across both the developed and fast-growth markets where rules are still being made (often with our help). We'll support you, give you real responsibility and welcome you as an integral member of our team from day one.
Graduate Program
White & Case
---
You will be joining a fast-growing, dynamic Firm with ambitious growth plans in the APAC region, supported by a top-tier global network of offices. We structure our Graduate Program to meet both your short-term career goals and long-term aspirations. You will work through three six-month rotations, taking into account your preferences, to fully equip you with the necessary skills to become a skilled, globally commercial lawyer. We also offer a guaranteed international seat as one of your rotations, at one of our APAC offices.
From day one, you will join our diverse teams and work on fast-paced, cutting-edge and complex multijurisdictional projects, experiencing the operational realities of cross-border law. You will gain client exposure early on, as you handle substantive matters with first-rate guidance and supervision from leaders in their field.
As a truly global firm, we provide our graduates with unique opportunities to work on international matters—both commercial and pro bono—with teams from across our large global network of offices. Our associates develop a global mentality, plus top legal skills, and build a network that will last a lifetime.  
Internships & Clerkships
White & Case
---
A vacation clerkship is a great way to experience first-hand what life is like as a graduate at White & Case. 
Our Vacation Clerkship has been designed to engage clerks in every aspect of Firm life. Through a series of introductory presentations, clerks are able to meet and engage with key stakeholders from each of our practice areas, including our Global Pro Bono practice, and each of our diversity committees. To compliment these sessions, more informal social events allow clerks to build their network through-out their clerkship. 
During your time with us, you can expect to contribute to real work for real clients. You will be supervised and supported to work on tasks including drafting contracts and memoranda, researching, interpreting legislation and case law, preparing client alerts, document review and due diligence work. You will also attend client meetings and gain first-hand insight into how we help our clients achieve their goals. 
During your time with White & Case, you will also have the chance to connect with other members of our APAC offices, be that through the simultaneous programs that run through-out the network, or through the matters you'll be exposed too. These early insights are a great way of understanding our APAC network, and the overseas seat options that are available on our Graduate Program.
But most importantly, we invite you to be yourself, demonstrate your enthusiasm for the work and be willing to get involved in Firm life!
"My clerkship experience helped me develop a more well-rounded understanding about life as a lawyer"
-    Alistair Leung, Graduate, Sydney
Virtual Learning Program
White & Case
---
Our Virtual Learning Program is a great opportunity to discover life as a White & Case graduate and experience the stimulating and challenging reality of working as an international commercial lawyer.
You'll gain insight into the fast-paced innovative projects our teams work on and gain valuable skills on true-to-life legal tasks. This experience will be recognised on our application forms and will demonstrate your interest in law and White & Case.
Join our Australia virtual learning program or any of our global virtual learning programs here.
Global Citizenship
White & Case
---
Global Citizenship describes our role—as a business and as individuals—as active participants in the global community.
White & Case is committed to fair and ethical operations that respect the interests of our stakeholders and recognise the importance of our natural environment. All of our global citizenship activities, which include our pro bono work and environmental sustainability, are closely aligned with the UN's Sustainable Development Goals.
Our global Pro Bono practice is the centrepiece of our community engagement activities. Last year, lawyers in all our offices and in every practice devoted nearly 120,000 hours to pro bono matters.
As a graduate in Australia, you will have unparalleled opportunities to do cutting-edge pro bono work on the issues that matter most to you—both locally and cross-border—with many of the world's leading NGOs.  
Approximately 60 percent of our pro bono matters help strengthen human rights around the world. We expect every lawyer to complete a minimum of 20 pro bono hours each year.
Examples of Australia pro bono projects:
Justice Connect – Support for Domestic Building Legal Service
Structuring advice for foreign not-for-profit organisations entering Australia
World Bank - Benchmarking Infrastructure project
Creating a disaster risk management law index for the International Red Cross
Corporate and structuring advice for charities operating in Australia such as the Motor Neurone Disease Association of NSW
Reviewing and updating legal compliance registers for the Western Region Centre Against Sexual Assault
Global Culture
White & Case
---
A Firm that welcomes everyone.
We are proud that our people come from diverse backgrounds and cultures. Between us, we represent 110 nationalities and speak 87 languages, which is vital to our ability to effectively represent our diverse clients around the world.  We attract people with a global mindset, who prioritise learning about different cultures, experiences, languages and viewpoints. By increasing the diversity of students and professionals at the Firm, we add to our enjoyable, supportive work environment and develop teams that provide the best solutions for our clients.
Our global diversity networks such as Spectrum, and our initiatives for women offer members, including allies, the opportunity to support and mentor each other, cultivating both personal and professional development. Additionally, the development of our first Reconciliation Action Plan in 2020 has enabled us to create tangible milestones to ensure our efforts are felt by local communities in Australia.
"My decision to join came down to White & Case offering great work in a supportive environment."
-    Sebastian Cross, Associate, Sydney
At White & Case our culture comes to life through three core values.
Pioneering - We seize opportunities to innovate. We are passionate about growth, and we accelerate careers with first-rate training and mentoring. So, you'll learn from the very best legal minds in the industry.
United - We are One Firm with a shared sense of purpose. Our people develop meaningful relationships across the globe, which gives them a valuable and trusted support network like nowhere else. It means that, at White & Case, you're never alone.
Human - We care about each other and the world around us. We provide everyone with the opportunity and platform to do great work and own their future. It's about empowering you to be the best you can be.
The Graduate Opportunity
White & Case
---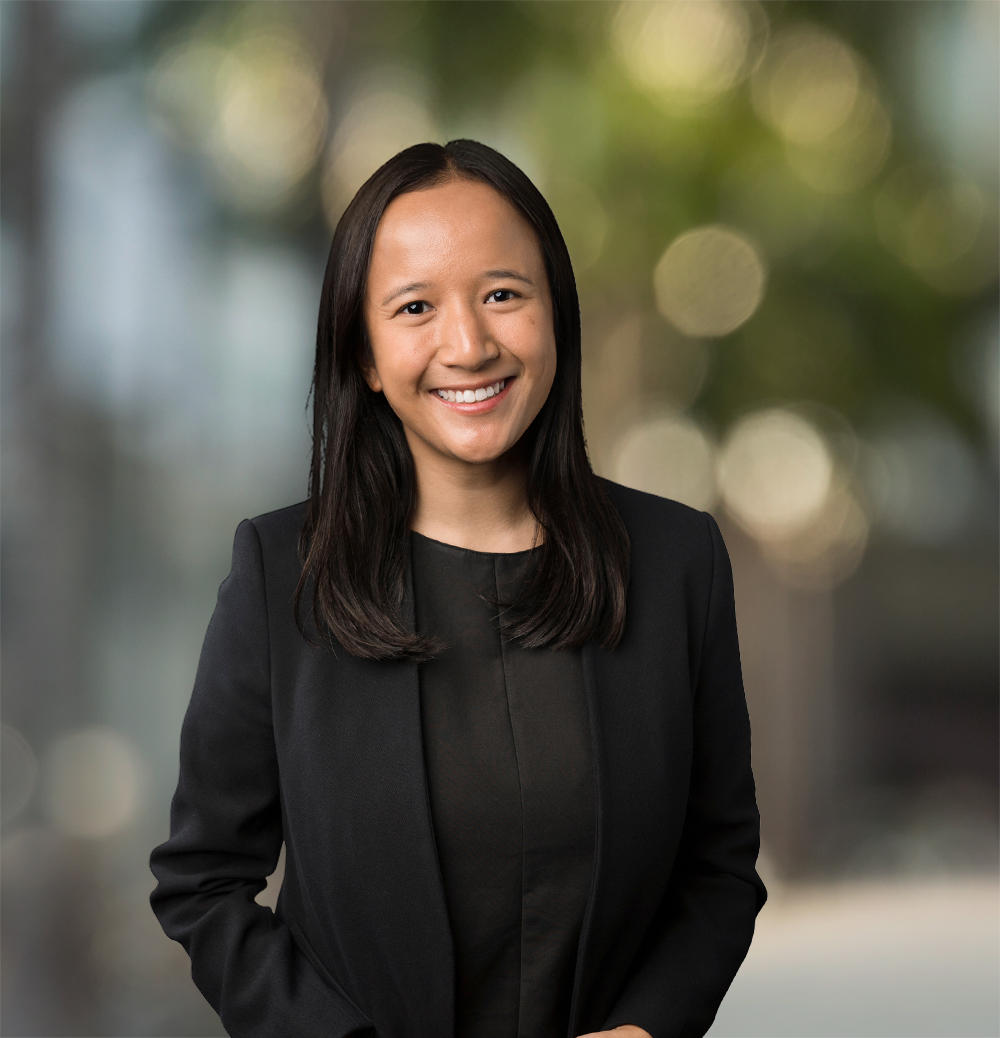 Jessie's White & Case Story
Why did you choose White & Case? 
I chose White & Case because of its global presence and the opportunity to work on cross-border transactions. Having assisted on several cross-border matters, I have met so many lawyers from across the network and been exposed to several types of law. The work is dynamic and challenging, but is so enjoyable given the quality of the teams in each office. 
Have you been exposed to any cross-border interactions while working at White & Case? 
Yes—the majority of the matters I have worked on have a cross-border element, particularly when I rotated through the Corporate and Asset Finance teams. Currently, I am assisting with the refinancing of a fleet of aircraft for an airline company, which involves a number of stakeholders from five different countries. It is a great opportunity to work with other White & Case teams and be exposed to different lawyers from across the global network
What has been your greatest highlight during your time at the Firm? 
Travelling to Hong Kong in my graduate year to assist in the completion of a debt-for-equity restructuring of a Singaporean commodities trader. I worked on this particular matter for the majority of my graduate year, so it was a huge achievement for the team when the matter closed. It was a busy trip, but made more memorable by the fact that I flew home just in time for my admissions ceremony…and our end-of-year party! 
What tasks do you do on a day-to-day basis? 
It varies from team to team, but generally as a junior lawyer, it involves a lot of document and matter management, drafting, liaising with other counsel and memo writing. If you're working towards completion of a matter, your tasks are generally more geared towards managing execution of certain transaction documents and the conditions precedent process. 
How would you describe the culture at White & Case? 
Extremely collaborative, fast-paced and flat in structure. The culture in the Melbourne office is great and everyone is genuinely friendly and easy-going. When I started clerking in 2017, it was immediately obvious to me that everyone is listened to and you have the opportunity to make a real impact. 
The International Experience
White & Case
---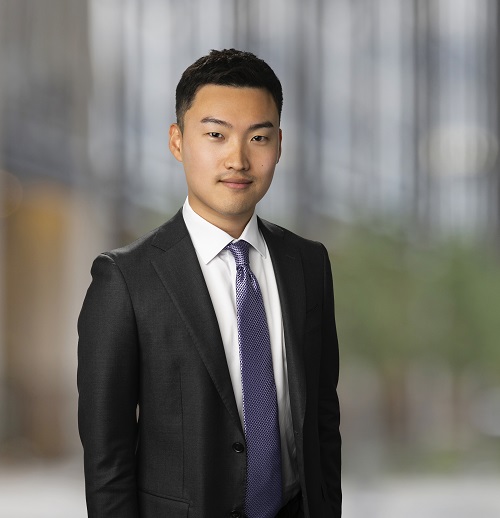 Justin's White & Case Story
"It really opens your eyes to the bigger world"
"I've always wanted my job to have an international flavour, whether working overseas or being involved in international deals while based in Australia," says Melbourne associate Justin Chang, who recently completed a rotation in Tokyo, Japan. 
He says that White & Case offered both career possibilities. "I became certain of this through the clerkship experience, and having worked in Melbourne, Sydney, Seoul and Tokyo offices in the past year alone, I think I can say that White & Case has delivered all its promises."
"You can really see yourself grow in leaps and bounds"
For Justin, working in Japan was a chance to put his language skills to use and find out more about a neighbouring country. "I had been studying Japanese since high school. I also thought that the physical proximity between Japan and Korea might allow me to visit Seoul and work with our team over there as well. I'm grateful as both expectations were met—my understanding of the Japanese culture and language has improved a lot, and I'm also currently working with the Seoul team on project finance matters." 
A warm welcome to the team
He says that the Tokyo team made him feel instantly welcome. "I hit the ground running, but didn't feel overwhelmed because associates and partners spent a lot of time with me to make sure I was fully up to speed. This made me feel that I had instantly become part of the team." This welcome extended beyond the office. "On the social side, the Firm organized welcome drinks and lunches, which helped me get to know the entire office very quickly."  
Justin points out that the similarities in the global network of White & Case offices also made for an easy integration: "So far I've been to Melbourne, Sydney, Tokyo and Seoul, and the transition is seamless—you walk in with your laptop, plug it in to the desktop and you're ready to go. All offices have near identical policies, systems and great views of their respective cities. The only tangible difference is Melbourne has a professional espresso machine for us to make our own double-shot flat white with three-quarter almond milk!" 
Challenging but fulfilling work
What type of matters is he currently focusing on in Tokyo? "I've been lucky enough to assist in multiple headline-making deals for both the M&A and Asset Finance teams. All of these deals had at least one international party, and the governing law for some of the documents varied from Japan to England & Wales to New York to Columbia. I found it very challenging at first, but you can really see yourself grow in leaps and bounds, which is extremely fulfilling."
Justin reflects on what he wanted to gain from the experience of working overseas, and how it's lived up to his expectations. "I want to work with clients from different cultural backgrounds—not only Japan—as I feel that this ability is key to providing good professional service. I have learnt a lot here about dealing with different expectations and demands. It is such a great opportunity to learn and develop so early on in your career—I never imagined myself working in a completely different jurisdiction after just six months. It really opens your eyes to the bigger world." 
A new, international perspective
For Justin, the overseas experience is definitely one that he recommends. He explains why: "You finish the rotation with an international perspective, which is a key asset in increasing your areas of commercial law. Of course, there is no doubt you're being stretched thin, but I feel that's the best way to learn fast, and the associates' and partners' doors are always open for you to step in and ask questions."  
In conclusion, he says, "You get invaluable lessons that help you become a better lawyer, and at the same time you get to explore a whole new city for six months. You'll work hard, develop new skills, learn from experienced colleagues—and, of course, have fun every now and then too!"
A Day in the Life – Mikaylie
White & Case
---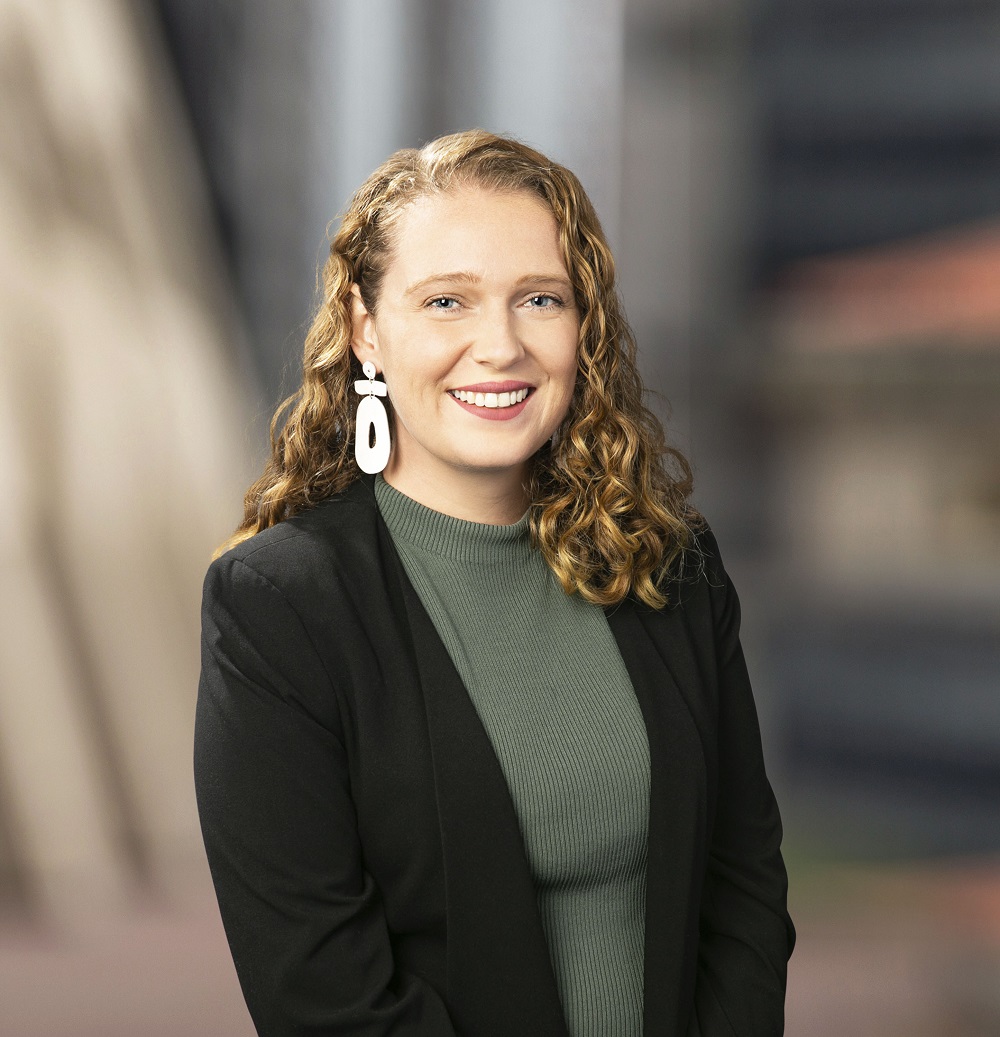 Mikaylie Page
Mikaylie Page is currently a graduate in our Land, Environment & Planning practice and studied a double bachelor's degree (Law and Arts) at Macquarie University.
7:00 a.m.
I'm not a morning person but I'm a big breakfast person, so I often prepare breakfast the night before and leave it in the fridge. That way it's easy to grab on my way out of the door when I inevitably press the snooze button one too many times.
I catch the tram to work, so it's the perfect time to catch up on all my favourite podcasts, or to chat to my friends and family.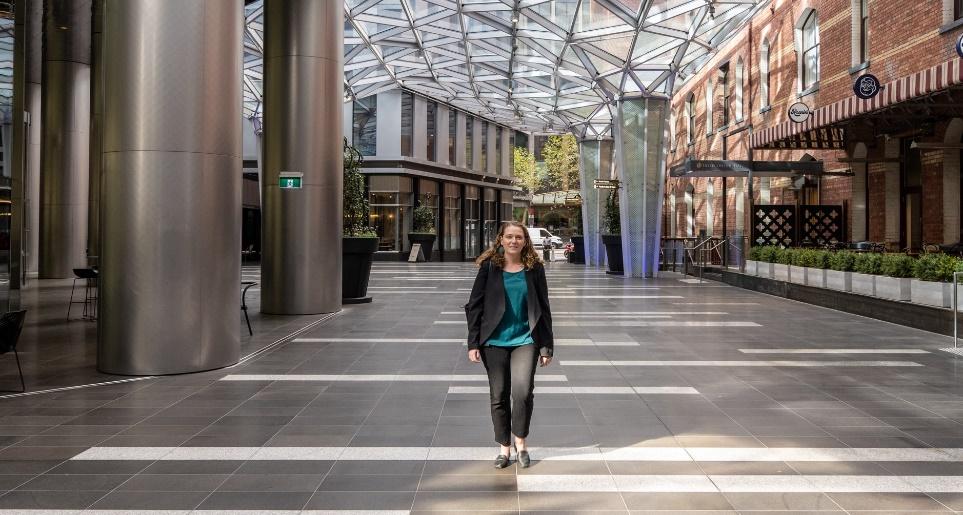 8:45 a.m.
Most people start to come in around 9:00 or 9:30, but I like to get in early. I generally spend the first ten or 15 minutes of my day checking my emails and writing a to-do list for the day. This keeps me focused and helps me keep track of the tasks coming up for the week. Keeping my inbox organised, so having time to file away my emails and finish my time entries, makes me feel like I've gotten off to a good start for the day.
9:15 a.m.
I am doing my first rotation in the Land, Environment and Planning team, so we mostly focus on environmental approvals for large infrastructure projects. However, it is varied and you can never really predict what will be coming your way, and you can be sent research tasks on close to anything. Today a lot of my work, I think, will focus on two big infrastructure projects. 
9:30 a.m.
At the moment the team is really busy, as we are in the middle of a long hearing. Each morning we have a quick catch-up with the barristers and the White & Case team to make sure we are all across the documents coming in, and the action lists that we need to make sure we all complete and file on time.
10:00 a.m.
I'm helping with the preparation of one of our expert witnesses, working directly with one of our partners to make sure that our witness is prepared to give evidence in the hearing tomorrow. Yesterday I spent time making sure that I understood what the contentious issues were and what our expert's evidence is before heading into the meeting.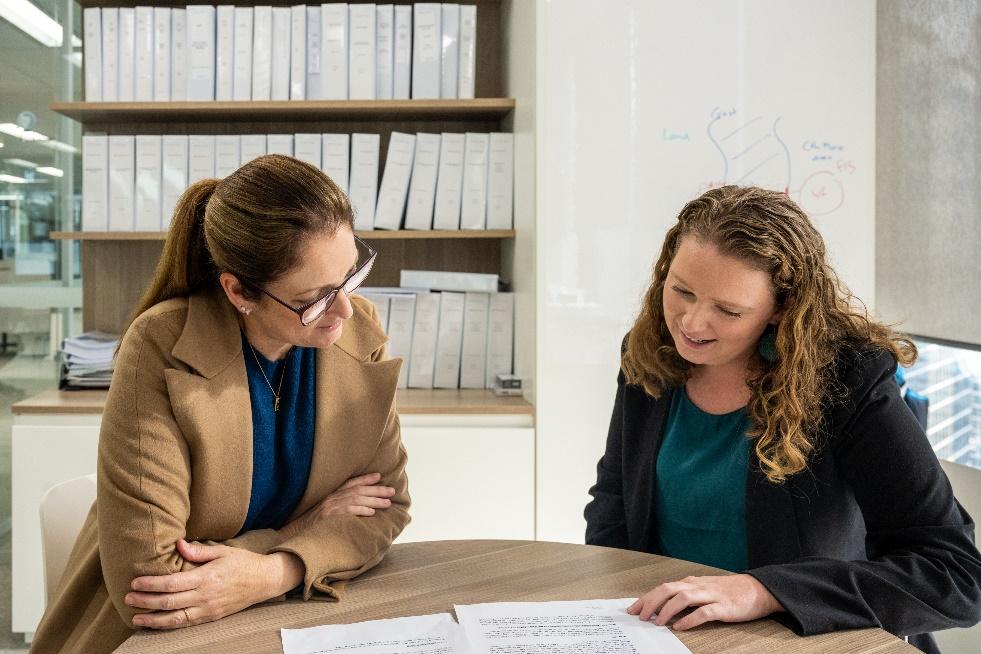 10:45 a.m.
Time for me to get stuck into some of the research tasks I have on my desk. I start with one that is due tomorrow afternoon, with an aim to have it finished by the end of the day. Some of the other juniors and I have divided up the work so that it is more manageable.
12:00 p.m.
It's about this time that the other grads start working out the lunch arrangements in the group chat. Today I brought my lunch, so I head into the kitchen to join the growing crowd sitting to eat together. Lunch conversations are some of my favorite times to get to know people from all over the office.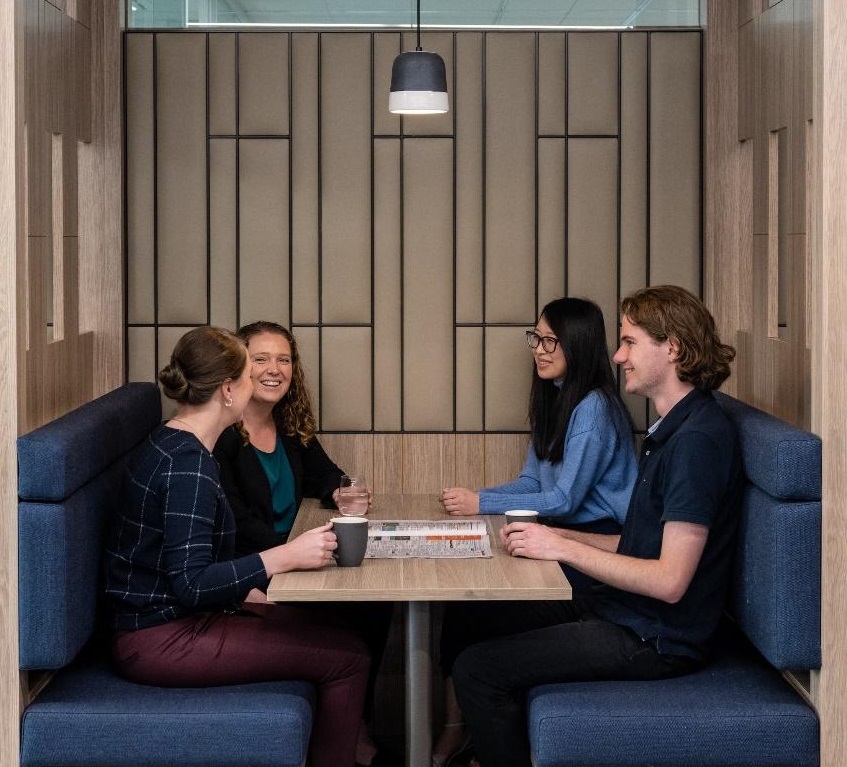 1:00 p.m.
I get an email asking for help with an urgent task for a client meeting happening in a few days. I put my other research to one side for a moment, after speaking to my colleagues to let them know, and jump into it. I have a call with the partner and senior associate to get some context on the project and the brief, and then we divide the work so that we can get it done in the short timeframe we have. Working for such a big firm means that you get to research different jurisdictions every day.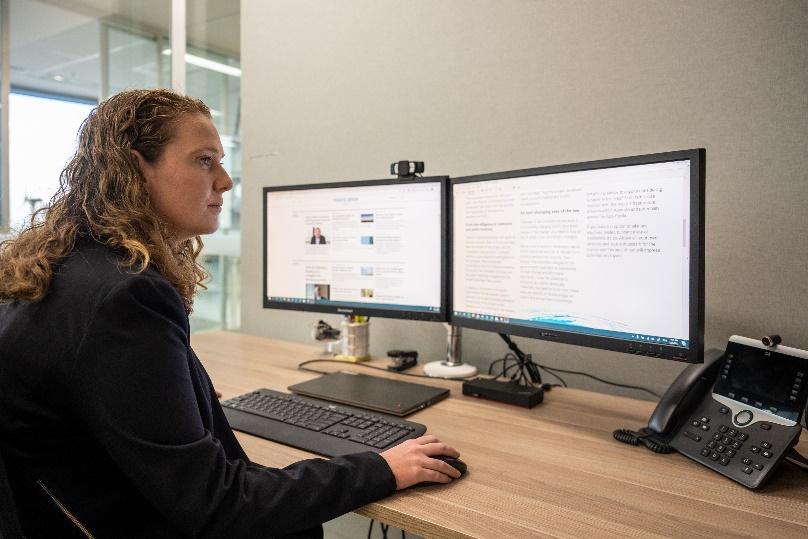 3:00 p.m.
About this time, I have organised to grab a coffee with one of the senior associates and we head on down to one of the favourite cafes not far from the office. They make the best chai latte, and I find it is the perfect afternoon motivation.
3:30 p.m.
I get back to my desk and finish off the first half of the research question. I know that the partner wanted to see a progress update this afternoon, and I expect that there will be some tasks coming in from the end of the hearing at 4:30.
5:00 p.m.
As my team walk back from the hearing, I manage to catch them quickly ahead of the full hearing debrief at 5:00. I make sure that I have my tracker open so that I can keep on top of the tasks that have been completed, as well as any new tasks.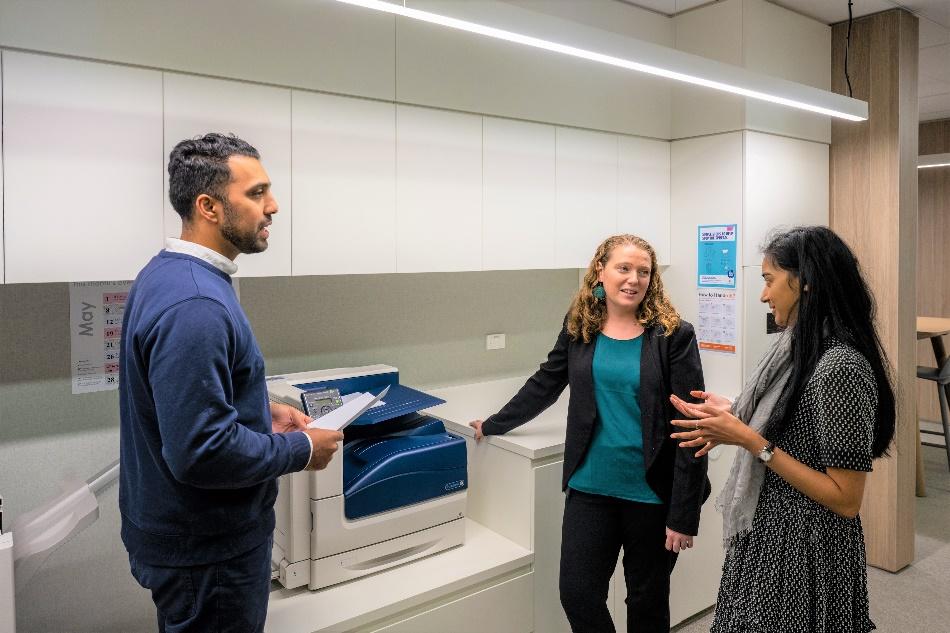 5:30 p.m.
Tomorrow I will be taking notes for the hearing most of the day, so I sit down and finish off the last section of the research before sending it off to my colleague, so that she can compile everyone's work into one table to send off to the partner.
6:00 p.m.
Usually I finish my day at around 6:00 and get home in time to go for a walk or a bike ride around my neighbourhood. I am new to Melbourne, so I'm enjoying getting to know my suburb in the evenings.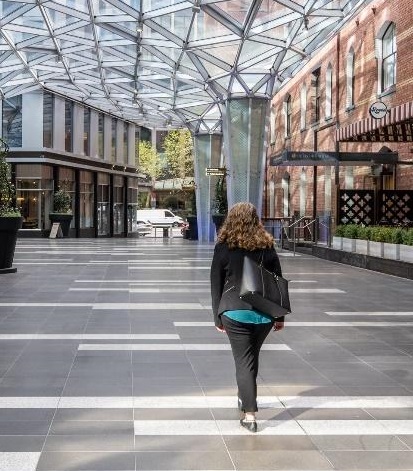 A Day in the Life – Nolan
White & Case
---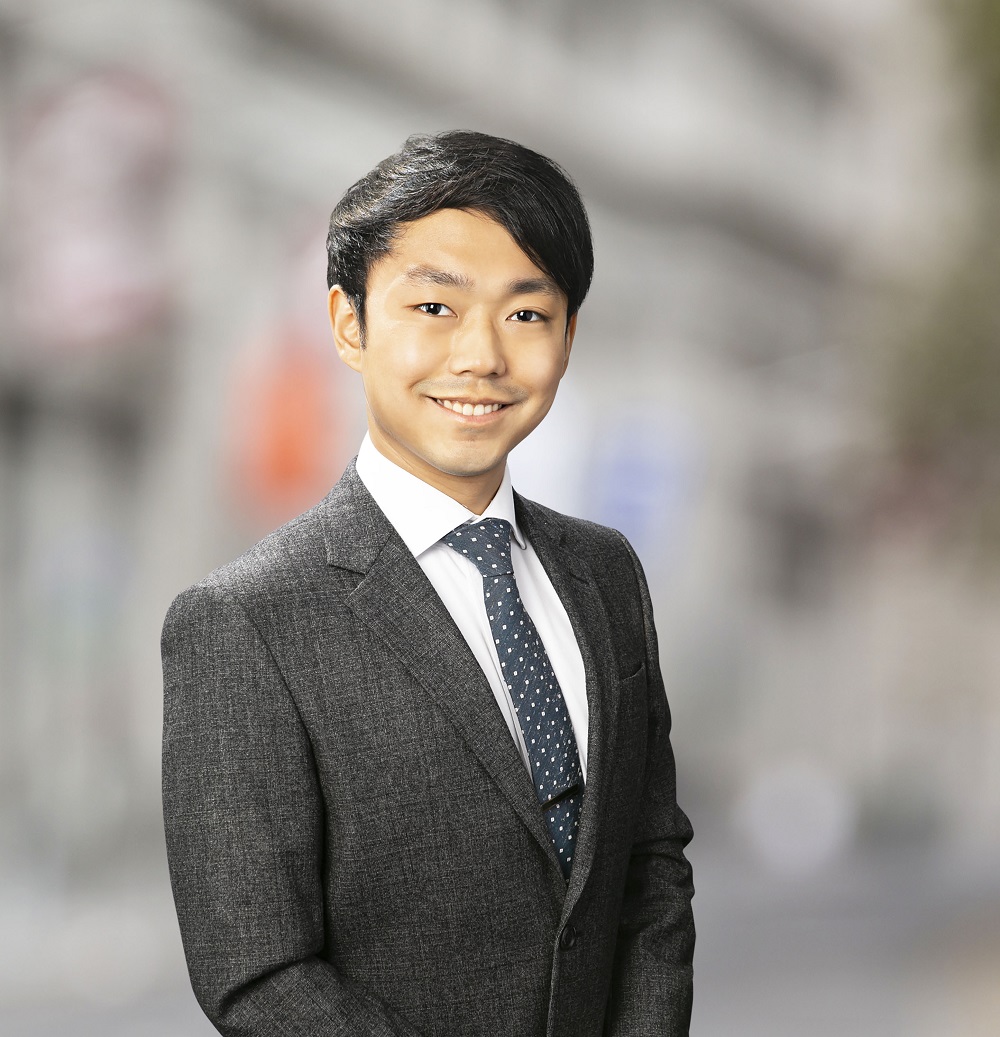 Nolan Lee 
Nolan Lee is currently a graduate in our Project Finance practice and studied the Juris Doctor at the University of Melbourne.
8:00 a.m.
I'm a bit of a night owl, so I need my morning sleep. Luckily, I live a stone's throw away from the office. I wake up, get ready and walk to the office, all the while listening to some upbeat music to wake me up.
9:00 a.m.
I arrive in the office and log onto my computer, praying that there aren't too many emails in my inbox—could be 10, could be 100. I guess this is what happens when you're working in a global law firm and your colleagues, clients and counterparties are scattered throughout different time zones. I file away all of the emails in my inbox, roll up my sleeves and get to work.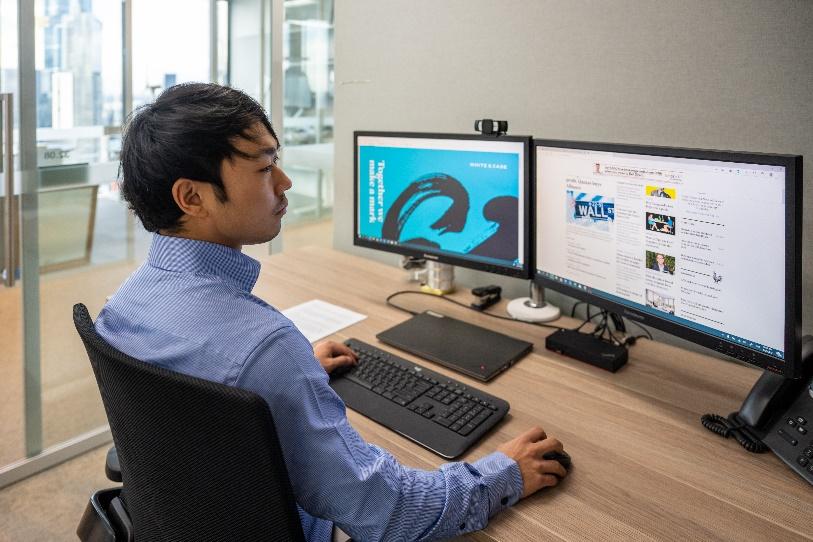 A portfolio refinancing of a windfarm and a pipeline is scheduled to close next week. It's my role to keep track of everything: which documents are in agreed form; which documents are getting amended at the last minute; who needs to sign what and by when. I open my spreadsheet and update the progress of our work. At various times throughout the day, someone will ask me where we are on a certain document, and I can answer within seconds.
11:00 a.m.
An associate in our Sydney office has asked me to do a first cut of an intercompany loan agreement for a windfarm and battery project. I locate the relevant precedent, search the depths of my brain to access any remnants of the corporation law unit from university, and give it a go. My goal right now is for the associate to get back to me with a "good to go, no changes" email.
I get hungry quite early, so I take a quick break and grab a fruit or a snack from the kitchen.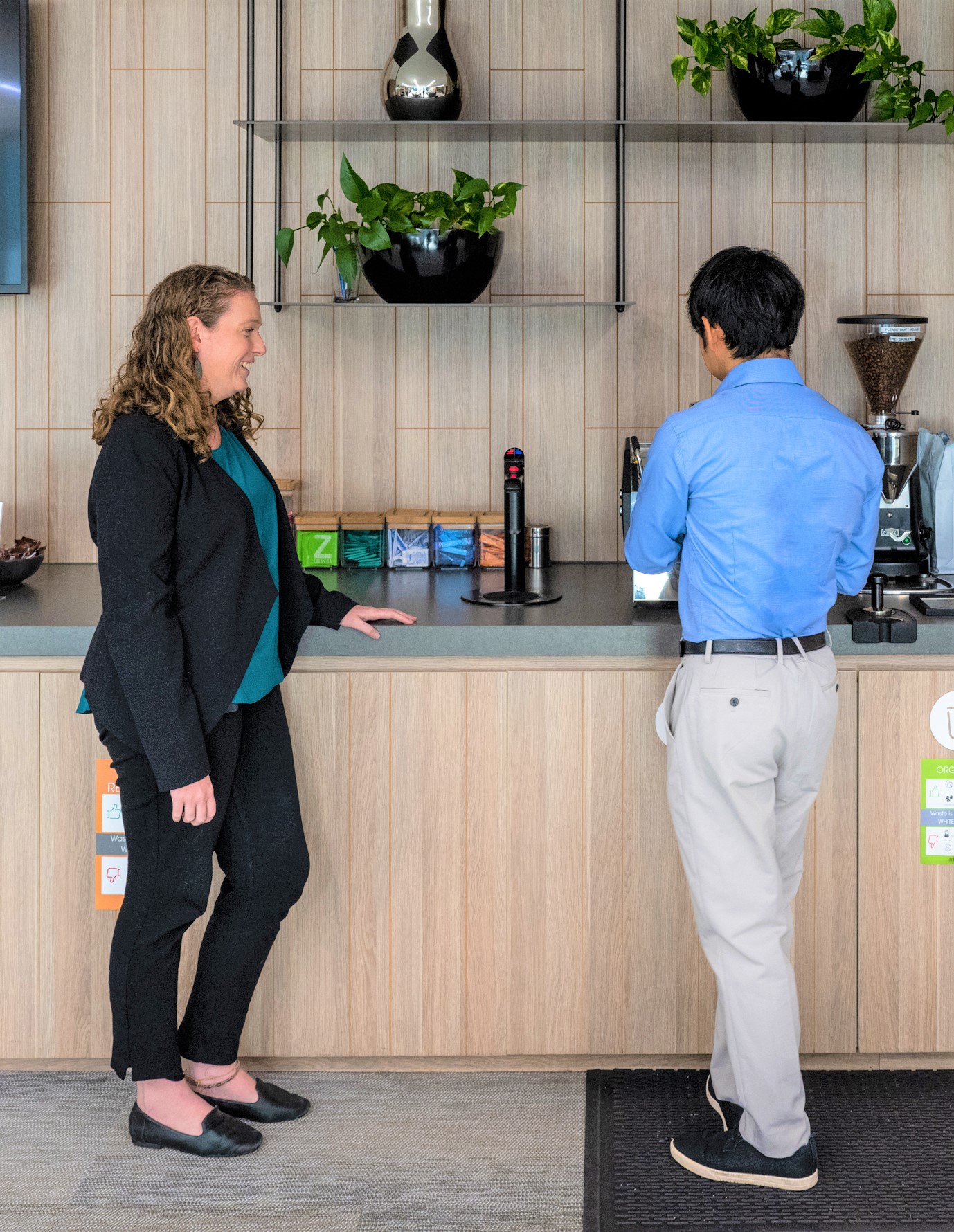 12:30 p.m.
Nine times out of ten, I go out to buy lunch. But I always check the kitchen first. There's often fresh sandwiches and salads up for grabs—first come, first served. When there aren't any, I send a message to my grad cohort group chat. Even if everyone else brought in their lunch from home, there's always someone up for a stroll.
2:00 p.m.
It's about 11:00 a.m. in Singapore, so I start getting some emails from my Singaporean colleagues. It looks like the Indian seated arbitration is going ahead, which means I get to submit research memos to my senior associate. I'm just about to start my research when I get an urgent task to proofread a document. I quickly give a heads-up to the Singapore team, flagging that this new task is urgent. Fortunately, the research task isn't as time-sensitive, so I can put a pin on that and focus on the urgent stuff first. It's times like these that I'm grateful to work with team players with good communication skills.
3:00 p.m.
I send off my edits to the document and head to the conference room—a couple of the grads and associates volunteered to organise a fun run between the Melbourne and Sydney offices, and it's time to touch base on the preparations.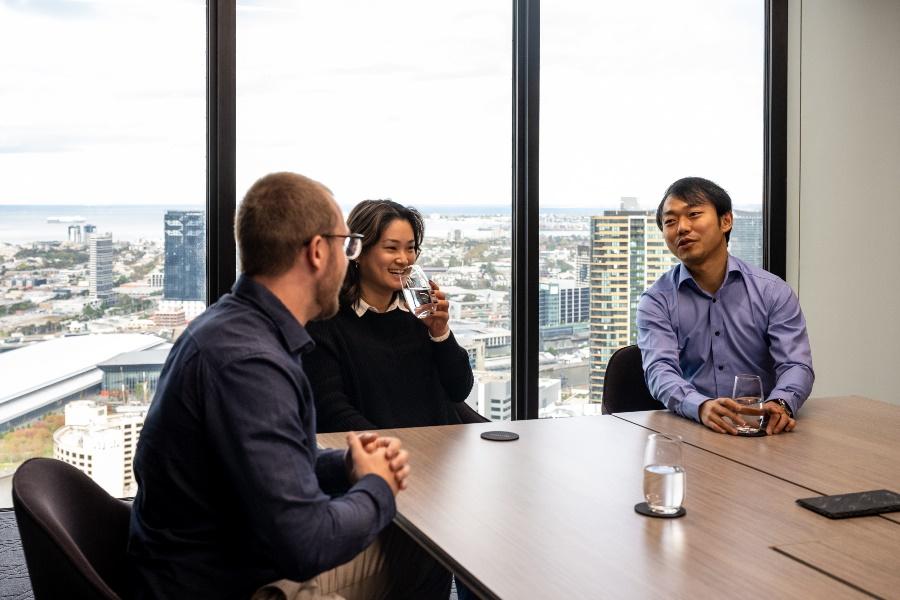 3:30 p.m.
It's time to pick up where I left off with that research memo. After a bit of digging around, I notice I have a couple of clarification questions I want to run by a senior associate before the end of the day.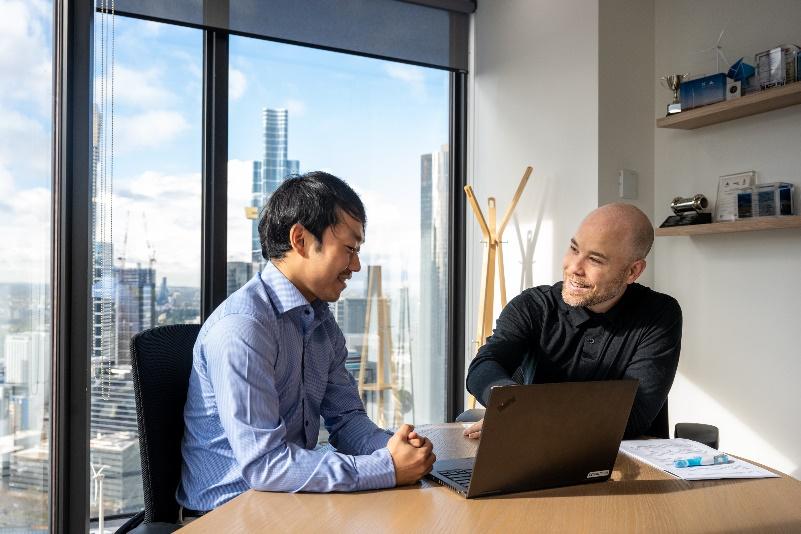 5:30 p.m.
It's a normal day and I clock off around 5:30 p.m. I usually go for an early dinner, followed by bouldering on Mondays, Tuesdays and Thursdays, and volleyball on Wednesdays and Fridays.