Whitehaven Coal Graduate Programs
Whitehaven Coal is proud to be the leading Australian producer of premium-quality coal. Our purpose as a company is to support and sustain regional communities by exporting high-quality thermal and metallurgical coal from Australia to the world.
Whitehaven Coal is proud to be the leading Australian producer of premium-quality coal.
We are the dominant player in Australia's only emerging high-quality coal basin. We help power developed and emerging economies in Asia where there is strong and growing demand for our product, particularly for use in high-efficiency, low-emissions coal-fired power stations.
Our purpose as a company is to support and sustain regional communities by exporting high-quality thermal and metallurgical coal from Australia to the world. North West NSW is the focus of our capital investment and workforce presence.
We operate four mines (three open-cut and one large underground mine) in the Gunnedah Coal Basin of NSW. Our operating assets are complemented by two high-quality, near-term development assets, being Vickery, near Gunnedah, and Winchester South, in Queensland's Bowen Basin. Over our almost 20-year history, including 12 years as a publicly-listed entity on the Australian Securities Exchange, we have developed a growing reputation for excellence in project delivery, safe operation, and targeted investment in the local economy and community.
We are proudly local, and around 75% of our 2,500-strong workforce lives in the local communities around our mine sites. We believe in helping communities grow, ensuring benefits flowing from our operations are seen and felt locally.
Why Join Us?
Whitehaven Coal
---
Why Whitehaven?
If you like a challenge, and playing an active role out in the field in a thriving regional community, Whitehaven could be for you. 
Big opportunities, high exposure
At Whitehaven people can and do make a difference. Whitehaven is a leading producer of premium-quality coal but we retain a community-feel, so you won't be just another graduate who gets lost in the crowd. You will have access to development opportunities and exposure to senior leaders throughout your early career.
Be out and about
You'll spend your first year out in the field getting your hands dirty, operating machinery and learning on the job. No two days are the same as you'll gain a deep understanding into how a mine operates. During your first year you will be placed at two different sites or teams as you begin to build your understanding of the business.
Alignment with statutory qualifications
The Engineering Stream is aligned with statutory qualifications through the NSW Resource Regulator that ensure you are job ready at the end of the program. These qualifications include:
Electrical Engineer (Open Cut & Underground)
Mechanical Engineer
Open Cut Examiner
Graduate Program
Whitehaven Coal
---
The Whitehaven Graduate Program is a two-year development program intended to grow and develop our future leaders. You will gain practical skills and training from both on-the-job learning experiences and formal development sessions. To ensure a breadth of experience, you will have the opportunity to contribute to the success of a range of our sites and offices through the rotation program.
The program is divided across three rotations (two x 6 month rotations & one x 12 month rotation). These rotations are residentially based in the Gunnedah and Narrabri region, with the exception of some functional rotations which are based in our Sydney and Newcastle offices. We assist by offering camp accommodation for your first 6 months. At the end of the program, you will be offered a permanent role.
Mentoring is a strong focus of the program. Within your first weeks with us you will be paired with one of our senior leaders, who will provide you with coaching and guidance as you move through your rotations and into your post-program role. 
We are seeking graduates across our four streams:
1. Engineering Stream
Disciplines we are seeking in the Engineering space include: Mining, Mechatronics, Electrical, Mechanical, Process, Mine Geotechnical, Civil, Metallurgy / Minerals Processing.
2. Health, Safety & Environment Stream:
Disciplines for the Health & Safety Stream include but are not limited to: Safety, Health, Occupational Hygiene, Occupational Therapy, Physiotherapy, and Environmental Engineering.
3. Geo Stream:
Disciplines for the Geo stream exclusively include: Earth Science / Geology (Honours / Masters), Spatial Science (Surveying), Geotechnical Engineering (Masters), Mine Geomechanics (Masters).
4. Business Stream:
Disciplines include but are not limited to: Business, Commerce, Finance, Accounting, Supply Chain & Logistics
5. Data Science Stream:
Disciplines include but are not limited to: Data Science, Statistics, Information Technology
Cadetship Program
Whitehaven Coal
---
The cadetship program seeks to support students through their studies. The program commences as a financial scholarship provided to the students to assist them with their degrees. We then offer the opportunity to join us over the summer break for vacation work. To be eligible for the program, you need to meet at least one of the following criteria:
Local students from the Gunnedah/ Narrabri region 
Female students 
Indigenous students
Students planning to study Mining Engineering or Geotechnical Engineering
Applicants must have finished high school and be enrolled in an Undergraduate Degree in either Engineering, Geology, or Environmental Science.
Applications open in June 2021.
Vacation Student Program
Whitehaven Coal
---
The Vacation Student Program provides paid work experience opportunity that takes place over the summer holidays. During this time you will be place at one of our sites or offices and gain real, hands-on experience in pour operations. You will be provided with food, transport and accommodation for the duration of the program. Many of our vacation students are offered a graduate position after they finish their studies.
Applicants should be current university students pursuing a degree in Mining Engineering, Electrical Engineering, Mechanical Engineering, Mechatronics, Geology, Surveying, Environmental Science, Health and Safety. We accept applications from students within all year levels at University including those completing post-graduate degrees.
Applications open in June 2021.
Application Process
Whitehaven Coal
---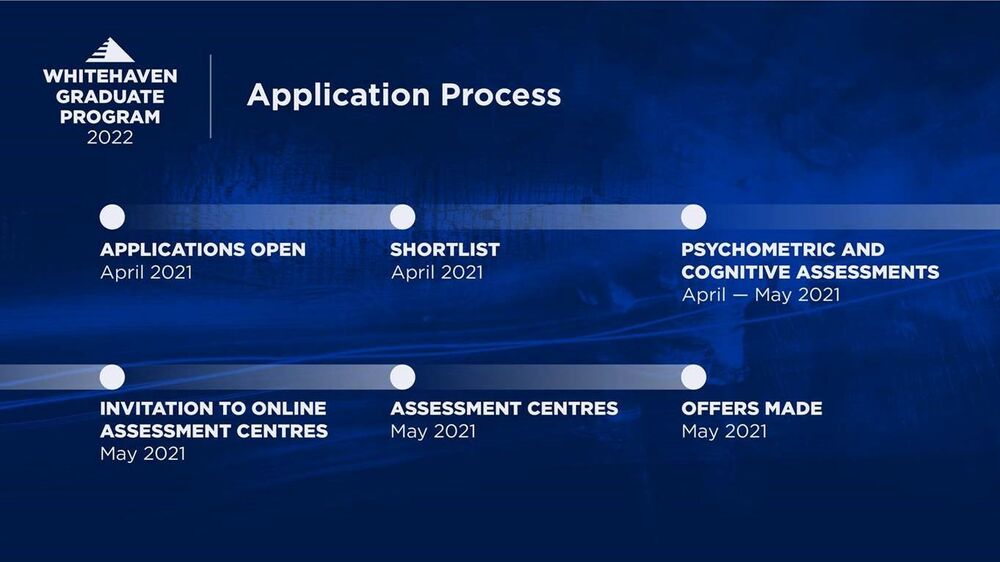 Employee Profiles
Whitehaven Coal
---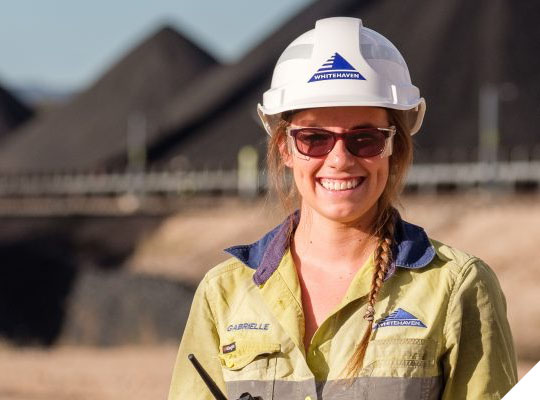 Meet Gabby
Gabby is a Graduate Mechanical Engineer.
Find out about her typical day, what she's found surprising and what she likes best about being a grad at Whitehaven.
Tell us a bit about yourself: 
I grew up in Narrabri then went to boarding school and uni in Queensland. I'm a second year graduate at Narrabri underground and I've recently been stepping up into the conveyor engineer role. While at school I saw local people starting to get involved in mining and it sparked my interest as Whitehaven became a bigger presence in the Narrabri community. At uni, I had a cadetship with Whitehaven that allowed me to work onsite during holidays and gain experience with every department at Narrabri, giving me a head start in the graduate program.
Why did you choose Whitehaven? 
I joined Whitehaven as a cadet in my first year of uni at the University of Queensland. I was already accepted into uni for engineering and saw the cadetship as a great way to get a head start in my career and move into a local professional role.
Describe a typical day: 
Over the last year, I've worked in the surface department, the engineering team in the CHPP, on crew in an operational role and with the conveyor team. A typical day consists of completing maintenance tasks and planning, interaction with trades, reviewing and maintaining standards of equipment, and mostly, people management.
What's been the biggest surprise?
I was concerned about being in a male dominated field and that I wouldn't be taken seriously as a professional as a female engineer. Although there are always challenges, the team at Whitehaven has always been supportive of my ambitions and decisions.
What do you like best about Whitehaven? 
The opportunities for career development; I've been the project manager for a multi-million dollar project; had practical underground maintenance experience; and even driven a dozer. I've also participated in the WIMnet Mentoring program and the Engineers Australia Graduate Program.
How have you found the transition to full-time work?
 I've enjoyed the transition. My favourite part is having a weekend every week without feeling guilty about not doing assignments or studying.
---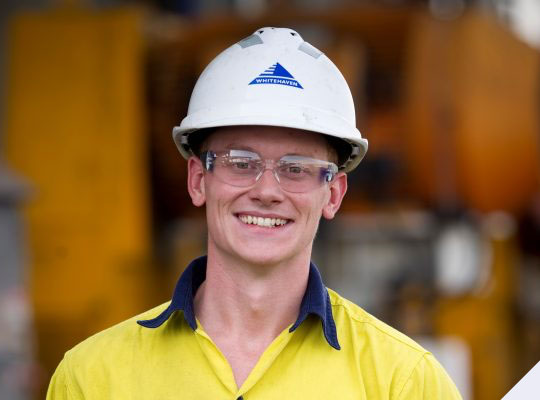 Meet Oliver
Oliver joined Whitehaven as a Graduate Mechanical Engineer after completing his degree at the University of Newcastle.
Find out about his experience as a Whitehaven grad.
Tell us a bit about yourself: 
I'm from the Central Coast of NSW. I moved to Gunnedah for the job and really enjoy the lifestyle; it's all about getting involved in the community through sport or other avenues. Working in trade-based roles alongside my university studies helped apply what I learned, and I couldn't wait to start learning on the job. I didn't always have an interest in mining, but I studied some mining-related courses at university and I'm now in the first year of the graduate program at the Narrabri underground mine.
Why did you choose Whitehaven? 
The breadth of experience and the fact that you are not pigeon-holed into a single role; there is scope to pursue avenues that interest you and sink your teeth into complex and rewarding engineering problems. You have a purpose within the mine and that drives your progress while you learn valuable engineering skills beyond what you learned at university.
Describe a typical day: 
I'm on a rotation through Surface Engineering Operations. Day to day I deal with maintenance tasks, consulting with and learning from trades to understand issues and work towards a solution or assisting with the maintenance task itself. There are also long term projects that require you to be looking forward and regularly planning and tracking goals.
What's been the biggest surprise? 
The ability to get involved and get your hands dirty, learning the job and being able to go away and actively apply what you're learning. There is also a lot of support to go and get extra tickets and qualifications, things that broaden your ability and versatility within the mine.
What do you like best about Whitehaven? 
It's a great culture to work in. Everybody is approachable and prepared to help.
How have you found the transition to full-time work? 
The change to working day-to-day on projects where what you learn is immediately applicable is rewarding and an important part of stepping into an engineering role and developing your skillset.
Indigenous Engagement
Whitehaven Coal
---
We work in partnership with Indigenous people connected to the land where we operate
We aim to work together to address disadvantage and help create stronger families and futures for Indigenous people in North West NSW and in Queensland's Bowen Basin.
Our approach is specifically designed to be intergenerational in nature. We have oriented our focus towards addressing Indigenous disadvantage through initiatives in the areas of early childhood education and support, schooling, skills development and employment.
This holistic approach provides intergenerational support for children and their families, our employees and prospective employees, so local Indigenous people see their immediate needs being addressed, in addition to creating the socio-economic preconditions for future generations to grow and prosper.
Our Indigenous Employment Strategy helps transform and empower the lives of local Indigenous men and women through meaningful and well-paid work. In 2015, we set an ambitious target of 10% of our workforce at Maules Creek, our newest and largest mine, identifying as Indigenous. We have exceeded that target every year since, and now around 20% of our Maules Creek workforce identifies as Indigenous. Across our broader workforce, around 9% identify as Indigenous.
However our approach goes beyond developing opportunities for employment; our investment aims to ensure local Indigenous people have the self-esteem and confidence to shape more positive futures. The practical measures we invest in are outlined in our Stretch Reconciliation Action Plan, launched in mid-2018.