The rumour mill is going into overdrive about Grad Recruitment for 2020, so we thought we'd share what we know and a few tips to help you navigate your way through the current situation. The main thing we are seeing is that the world of work has changed significantly over a short space of time and many organisations are now working remotely. While the landscape has changed, many organisations are still pressing forward with their graduate recruitment, just the ways in which they are assessing applications have changed.
On Wednesday the 8th of April at 4pm (AUS SYD) we are hosting a webinar featuring Graduate Recruitment representatives from PWC, DXC and Coles to share what they are doing and help guide you through the next few months. You can register by visiting https://bit.ly/2R6NpfQ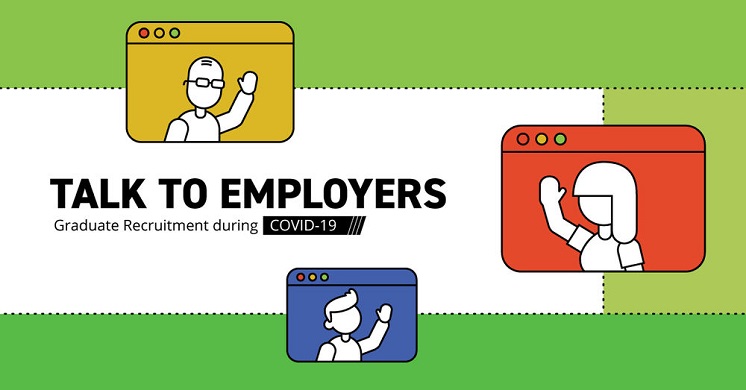 What does all this mean for Graduate Programs and Internships?
You're probably seeing all the bad news coming out about job losses and recruitment freezes - that may be stressing you out. There is some good news in Grad/Intern Recruitment though. Since the majority of this type of hiring is done a long way in advance – i.e. a lot of organisations are advertising now for roles that don't start until early next year - most employers we work with at GC are going ahead with their recruitment for their 2021 cohort. Yes, there are some who have put their processes on hold for a little while, or have revised their graduate hiring numbers, but the vast majority are going ahead as planned!
Employers recognise the skills and fresh ideas that new graduates bring to their organisation and know just how important they are for their future workforce. Many learned lessons from the Global Financial Crisis (GFC) in 2009, where several organisations pulled their graduate programs and as result, saw huge skills gaps in their organisations years later. They are now aware of the future impacts that cancelling graduate and internships programs intake will cause. So keep applying, and preparing!
What is changing?
The most significant change you'll see is that any face to face elements of the recruitment and selection cycle will have been either cancelled, or moved to virtual options. The majority of employers are looking at one or more of the following options:
Timelines set out at the beginning of the year are mostly subject to change
Online Q&A sessions & Virtual Fairs are replacing face to face Career Fairs
Virtual interviews via Zoom, Microsoft Teams, Webex, Google Hangouts, Meet & Engage, Skype etc
Virtual assessment centres – group activity & discussion held in an online forum, and/or online presentation
How should I prepare?
Familiarise yourself with online platforms like Zoom, Microsoft Teams, Webex, Google Hangouts, Meet & Engage, Skype
Do some practice interviews with your friends/family members using the above platforms
Still prepare the normal stuff like:
Answers to behavioural style questioning
Considering relevant examples from your life/part time job/student clubs and societies/sport/uni experiences
STAR technique (Situation, Task, Action, Result) to structure responses
What does it mean if a program is 'put on hold'? 
This can mean a bunch of different things, and may change as the COVID-19 situation unfolds further. It's best not to try and read too much into it at the moment, as a lot of businesses are just trying to deal with the situation as best they can.
The response of most organisations that we chat to has been that if programs are put on hold it is to ensure there is some certainty about the work that will be available - this might be dependent on contracts with other organisations. It could also be one of the below reasons:
All resources for that company may have been put into preparing their current workforce for dealing with the situation, so they don't have the time they would like to recruit grads
The company may not have been able to pivot their recruitment processes in time, so are pausing and looking to re-start later in the year
Obviously some sectors have been affected more than others.
What might some of the future impacts be?
It's a bit hard to say with absolute certainty what the future holds, however some things you should prepare yourselves if the pandemic continues beyond 6 months are for are:
Online onboarding
Online training and development
Virtual workforce/working from home
Ability to pivot processes and workflows quickly
The above may not be necessary, but worth thinking about as you move through the internship/graduate recruitment process.
Be patient and understanding!
Some processes have had to change significantly and in very short timeframes. The recruiters and businesses you're dealing with have needed to move incredibly quickly to still be able to roll out campaigns and put you through the processes to hire. Understand that everything might not be incredibly polished, things will go wrong with technology, and there may be delays in response times. They are trying their best!
If you do have a burning question, of course do ask it – but perhaps consider starting your email to the Graduate Recruiter with – "I hope you are going ok during this challenging time". This will showcase your empathy and will be greatly appreciated by the recruiter!
So, don't forget there are heaps of resources available to you via GradConnection and your university Careers Services to help you stay ahead of the game. We have 100s of employers currently advertising on our site for internship and graduate programs and don't forget to check out the GradConnection calendar for a full list of employers' application opening and closing dates and sign up for alerts, so you never miss an application deadline.
Top Tips for getting through this challenging time:
Stay positive
Keep applying for roles
Be aware that some processes may change quickly
Be empathetic and understanding
Familiarise yourself with online platforms
Prepare as best you can
Be flexible
For more help, join us LIVE on Wednesday 8th April at 4pm (AUS SYD) https://bit.ly/2R6NpfQ