As we all know, competition in the workforce is tough. New graduates now have to work harder than ever to differentiate themselves and attract the attention of recruiters and employers. Increasingly, however, canny graduates are recognising there is a sure-fire way to help get an edge in the competitive graduate job market. Here are two unique stories from graduates who used volunteering to help them secure their graduate jobs!
In 2016, Alexa Nguyen completed a Bachelor of Science but lacked direction and didn't apply for any graduate roles as she wasn't sure what sort of work was out there. This lead Alexa back to additional study, completing a Bachelor of Computer Science (Advanced) at the University of Adelaide in 2019. This time, however, Alexa was determined to arm herself with some professional experience to help her secure her dream first role! Whilst studying computer science, Alexa applied for volunteer work with Code Like a Girl, a social enterprise providing girls and women with the confidence, tools, knowledge and support to thrive in the traditionally male-dominated world of coding.
"I didn't start volunteering regularly until a friend pointed out that I had skills that an organisation could benefit from and encouraged me to apply for the volunteer position," says Alexa
"I initially started volunteering for Code Like a Girl because I wanted to contribute to a worthwhile cause and help create a safe space for women in tech in Adelaide however I quickly discovered that it was also a great tool to help me develop important professional experience such as communication, interpersonal and team work skills, time management through balancing volunteering and study, problem solving and adaptability".
Alexa took her volunteering further and used the tech skills she was learning at university to help other community organisations such as Robogals Adelaide where she worked as a workshop volunteer and also at Adelaide City Library as a Media Lab Volunteer conducting informal training sessions for library patrons in making music, digital photo editing and graphic design. A keen photographer, Alexa also sought out volunteer photography opportunities to cover events such as BiG Day In, the Japanese Film Festival and AVCon. In 2020, Alexa secured her first role out of university and is employed as an Associate Developer with SEEK, one of Australia's top tech companies.
"I definitely believe that my volunteering experience helped me stand out from among other applicants when applying for competitive graduate programs. I was able to refer to examples from my volunteering when answering interview questions. Volunteering also played a big role in being able to secure internships and paid casual roles during university plus I was able to nominate the people I volunteered for as referees and they were happy to provide references".
Another recent graduate, Johnny Dang, had a similar positive experience with volunteering. Johnny studied a Bachelor of Commerce at the University of Melbourne, majoring in Actuarial studies and Management. Whilst studying, Johnny volunteered with the Dual Identity Leadership Program (DILP), an initiative to support and encourage second generation Vietnamese-Australians to reach their potential and become leaders representing two cultural identities.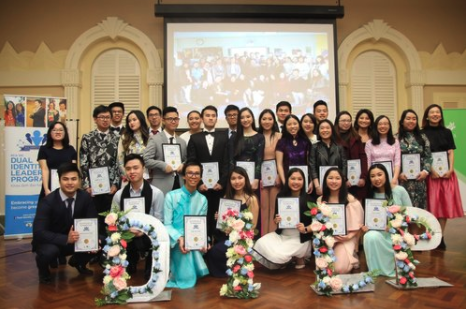 "In my first year at university, I wanted to get a foot in the door and start to develop myself professionally," says Johnny.
"I realised that not only did DILP offer opportunities for me to be mentored, but also to be a mentor myself. As a volunteer mentor, I need to commit to 2-4 hours per fortnight, a significant commitment however one which paid itself back in folds. I forged great new connections and worked on some interesting projects, including leading a mental health workshop where Vietnamese students from all universities came together got to hear from psychologists around mental health issues".
"This experience, together with my broader participation with DILP, not only gave me valuable professional experience but importantly, I also gained a lot from it personally. It taught me not only how to work in a team but also how to communicate and learn from other perspectives, all skills that not only employers look for but are valuable in life generally".
Throughout subsequent internship and job interviews, Johnny was able to reference his volunteer experience which not only demonstrated his professional skills but also highlighted his initiative.
"When I came out of high school, I obviously didn't have any professional experience but my participation in DILP really gave me that. I now work at KPMG as a data analytics consultant and prior to this, I also interned at PWC and NAB, and throughout all the application processes, I have been able to leverage the DILP opportunity".
So why not follow the lead of Alexa and Johnny and many others to give yourself an edge over other applicants in a crowed job market? To discover some of the volunteering opportunities available, visit SEEK Volunteer or contact the team at

[email protected]