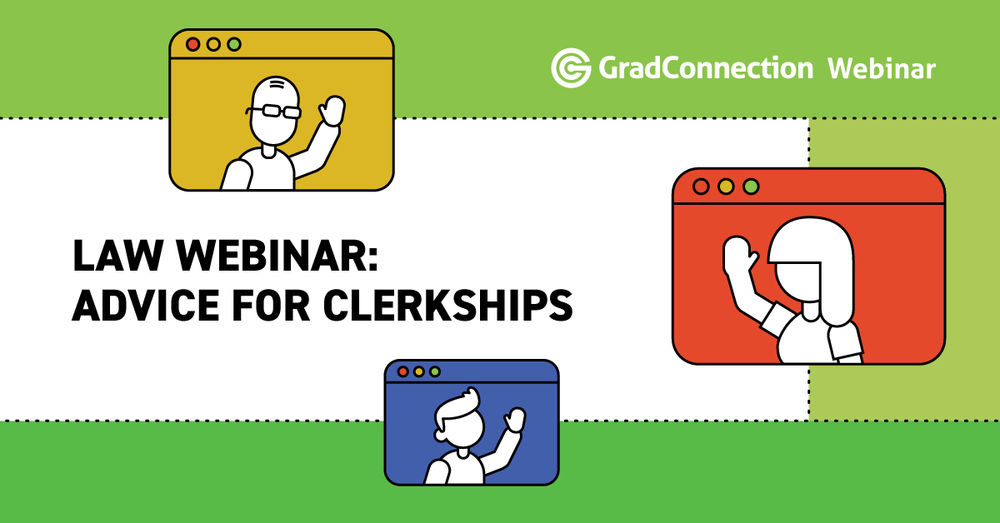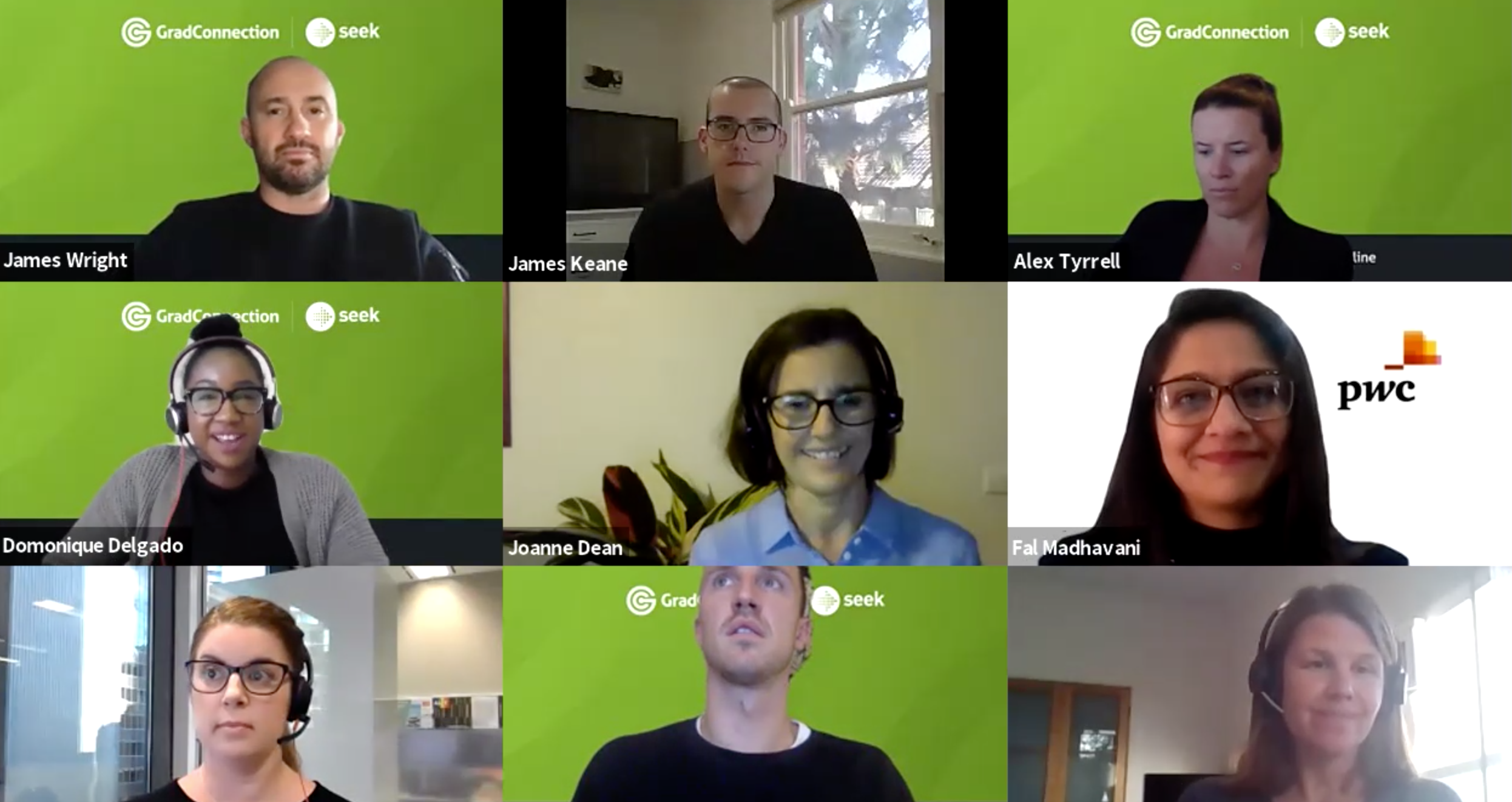 GradConnection hosted our first law industry specific webinar 'Legal Clerkships in light of COVID-19' on Thursday 21st May 2020, where students had the opportunity to hear from a panel of Australia's leading legal employers. Our panel explained how to successfully apply for Clerkship Programs and provided insights into what a Clerkship experience might look like in light of the COVID-19 pandemic and beyond.
Watch the recording here (password: [email protected])
On the panel:
Sam Garner - National Manager, Graduate Resourcing Strategy & Learning – King & Wood Mallesons
James Keane - Graduate Recruitment Manager – Herbert Smith Freehills
Jo Dean - HR Manager, National Graduate Programs – Ashurst
Kelly Byrnes - HR Manager – Clifford Chance
Falguni (Fal) Madhavani-Shah - Campus Relationship Manager- Legal and Top Education – PwC Australia
Summary of key insights:
Here at GradConnection we've found that whilst we are still in a period of uncertainty, the vast majority of law firms and employers within our network are still recruiting for Clerks and grads. From 1st March 2020 to present, we've seen a 64.35% increase in internship and clerkships and a 9.7% increase in graduate opportunities advertised on our site compared to the same time last year.
1. Has COVID-19 affected the number of Clerks you'll be hiring for 2021?
Firms have either had no change to the number of Clerks they'll be hiring or have seen only a slight reduction (around 10%). However this may be reviewed over the coming months and the firms have a commitment to maintaining open and transparent communications around these decisions.
2. Will there be any delays to the start dates for Clerks?
Delays will be dependent on the situation, but currently most winter clerkships have been pushed to summer. Firms are aware of university timetabling and exam periods and are taking this into consideration with any date changes.
3. Is there a risk Clerkship programs will be cancelled if the current working from home model continues? What would a Clerkship look like if social distancing continues.
At this stage firms are planning for the possibility of virtual Clerkships if they're unable to be in the office physically.
4. There's lots of speculation and rumours in the media and on Whirlpool that graduate/internship programs are being cancelled, what advice can you give to students to help alleviate some of their concerns?
Try not to worry about what is out of your control because we are all in the unknown together, but for most firms it is business as usual with hiring continuing so the outlook is positive. Focus on things within your circle of control and make the most of this opportunity to upskill and adapt.
5. A lot of students may have lost their casual jobs because of the pandemic; what other things can they do whilst we're in lockdown to upskill themselves and stand out to graduate employers?
Focus on transferable skills, such as empathy and curiosity, that can also be included in your application. There are also several available learn-from-anywhere opportunities, such as the virtual internships offered by King & Wood Mallesons that replicates tasks that graduate lawyers would be given.
The panel also encourage spending time researching the firms and thinking specifically about how you fit into that firm, as well as carefully preparing applications with keen attention to detail.
6. Are firms looking for anything special or different as part of applications during COVID-19? What sets a resume apart from others?
Firms are still looking for the same things from applications that they always have- including enthusiasm, passion, communication skills and attention to detail, whilst also expecting some lateral thinking regarding the skills learnt during this time.
Students are again encouraged to do research into the firm and explain why you are interested in the particular firm you're applying for, and to not undervalue the non-legal experiences you've had.
7. How will your assessment of potential Clerks change due to COVID-19?
The first priority will be the safety of interviewers and candidates, so if required there are a range of digital platforms that allow for virtual interviews and assessments that will be used.
8. What advice would you give to students/candidates in order to help them prepare for virtual interviews?
Interviewers understand there may be tech issues so encourage students not to stress but to make sure that they test the technology beforehand and ensure their environment is appropriate (ie. no alcohol bottles visible in the background!). Being conscious of your own personal brand is important, so make sure to dress for the job you want even if it is a virtual interview.
9. Is there anything students can do to stand out and make a connection when they can only meet their interviewer online?
Virtual interviews are challenging so just relax and be genuine, and make sure you know your application well.

Clerkship applications open soon so don't forget to keep checking here on GradConnection.