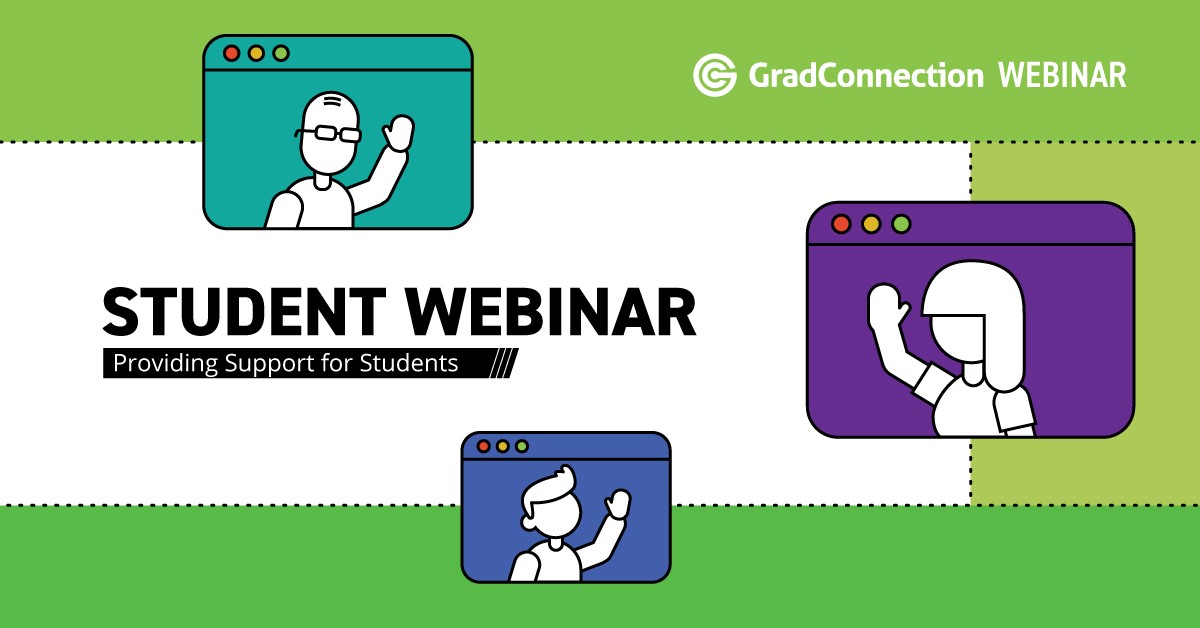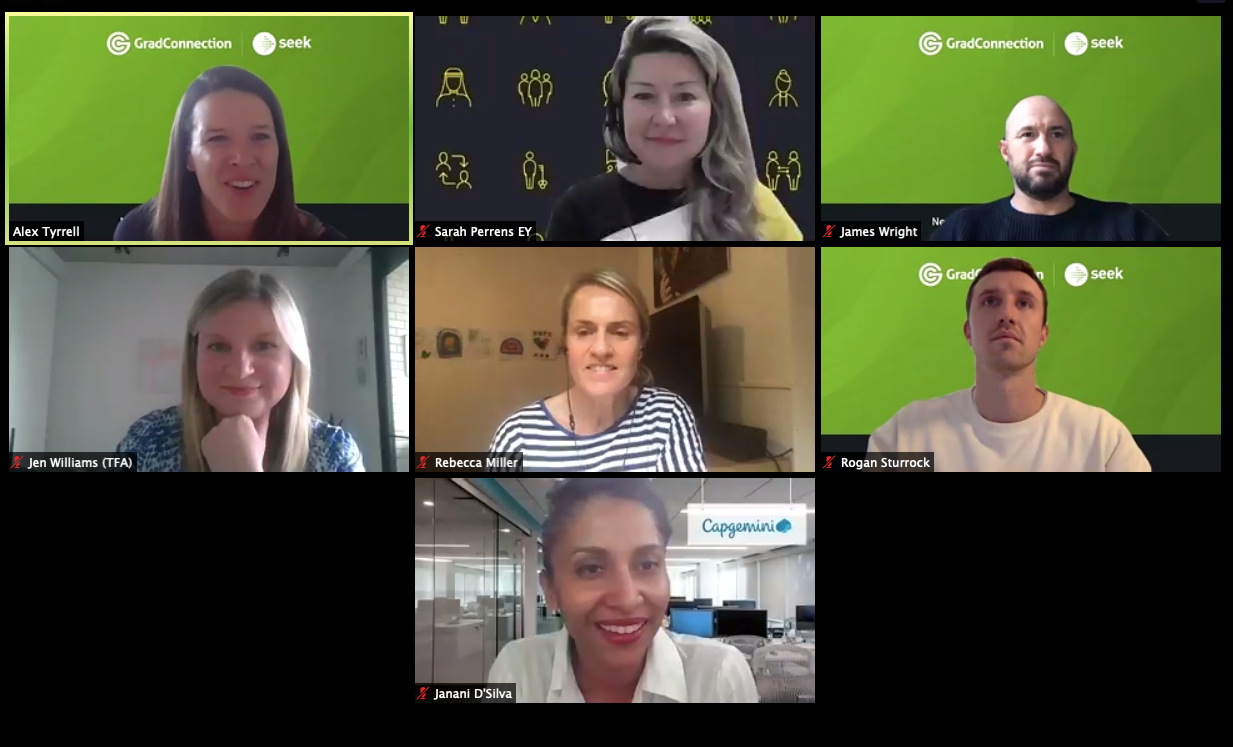 GradConnection hosted a student webinar on Thursday 20th August to discuss Internships and Graduate Programs in the evolving COVID situation. Students were able to hear from some of Australia's leading employers and SEEK Volunteer about what the recruitment process may look like for internships due to the current working restrictions, how you can prepare, and how you can stand out from the crowd.
Watch the recording here (password: [email protected])
On the panel:
Summary of key insights:
In our recent Student Survey, 89.53% of students said they were worried about not being able to secure an internship or grad job because of COVID-19. Here at GradConnection we've found that whilst we are still in a period of uncertainty, the vast majority of employers within our network are still recruiting for interns and grads. Most have changed their processes for recruitment as the situation evolves, some are starting to think about how to roll out internships virtually, and potentially even remotely onboard grads, while others are back in the office in some capacity.
We have also noticed virtual programs like those provided by InsideSherpa are becoming more and more popular with students, and if you haven't already we encourage you to browse through the many options available. These virtual programs a great opportunity to upskill yourself, and learn what sort of real issues companies actually face.
The below summarises key questions asked by students during the webinar and our panelists responses, but for even more advice and recommendations make sure to watch the full recording here! (password: [email protected])
How can I optimise my profile on GradConnection?

Our best advice is to make sure you complete all the fields- particularly around disciplines you're studying and your graduation date, so you can be found by employers and receive either daily or weekly alerts with relevant opportunities. If you're looking for even more resources – we also have a Jobs Guide on the site, which can be used to research sectors such as Accounting, IT and, coming soon, Business, Law, Engineering and more.

What does work look like for current grads now, and how are they reacting to the change?

EY hire a large number of grads each year across Australia and New Zealand, and did a 100% virtual induction over a period of 3 weeks. The current grads have adapted really well and reported feeling very supported throughout the whole process, so it has been a positive experience overall!

At Capgemini the current grad intake has been the most highly engaged group within the organisation. There have been many initiatives by Capgemini to also ensure the grads don't feel isolated, such as online learning in groups, virtual exercise sessions and lunches.

Has what you are looking for in your graduates or interns changed?

The panel confirmed that they are continuing to look for the same competencies as always- teamwork, communication, problem solving, cultural fit etc, but are also now on the lookout for skills such as adaptability, being a virtual collaborator, and applicants who demonstrate both resilience and drive, but also empathy.

What sets an application apart?

Our panelists all agree- an application that is personalised will always be a cut above the rest. Personalised both to the organisation you're applying for, but also to you- make sure the reader can jump into your shoes and understand all the amazing things you've done, why you want this role and what value you bring!

Also- no typos!

Recommendations for video interviews?

For nailing video interviews, we always recommend doing your homework! Add people on LinkedIn and talk to them beforehand- and know why you're applying. A big mistake is to have too scripted answers- the interviewer wants to get to know you and what motivates you, rather than just what you think they want to hear.

A great tip from Jan at Capgemini: "don't freak yourself out". Make sure you're joining the interview with the right attitude- is this company actually where I want to join? Are their values aligned with where I want to head? An interview should always be mutual.

I am trying to decide when the best time to undertake a master's degree would be- is it beneficial to do it straight after a bachelor degree or a couple of years working?

Whilst a master's degree is a benefit it's definitely not essential. Our recommendation is to think about why you want to do a master's and how will it benefit your future career (ie. a master's degree might be more beneficial in certain fields). It might also be a good idea to wait until you've been in the workforce for a few years so you can find out what you're actually interested in and passionate about- and then you can start 'mastering' it!
Our panel also shared a number of other tips and recommendations throughout the session for students preparing for their job search:
Recruiters like the little boxes that sit on the top left of your CV and succinctly summarise your degree, major, residency status, any programming languages etc.
Include any volunteer work on your CV, such as surf lifesaving or tutoring or even working in a family restaurant, even if you think it isn't directly related to the role you're applying for.
Practice for cognitive and skill tests before taking them- if you Google around there are lots of practice tests in all areas online.
For video interviews try not to read pre-written responses! The interviewer is looking to build rapport with you. Jot down your key points you want to talk about and memorise these.
Show something you have a passion for in your interview- talk about why it's important and your contribution, especially if it's something you've stuck with for an extended amount of time.
If you don't get accepted into a program, politely ask for feedback. That's the most sure-fire way of being able to get advice on what you need to improve on 😊
For more recommendations, resources, and all the latest opportunities, make sure to Register to GradConnection!