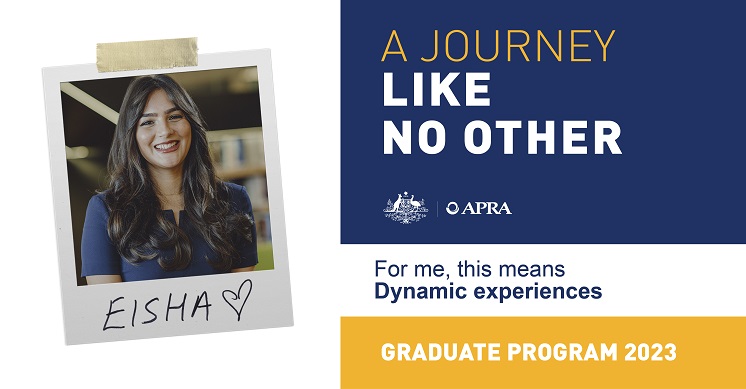 Australia's Financial Regulator, working with the Banking, Insurance and Superannuation industries to ensure financial stability for the Australian community.  Based in Sydney, Melbourne and Brisbane. 
APRA currently has 0 opportunities.
Select the following options:
Past APRA Graduate Hiring Statistics
If you're interested in working at APRA, understanding when they have opened up applications for their graduate programs, graduate jobs and internships is helpful knowledge to have so you know when you might need to apply. Use the below information to see when APRA hires graduates, but more importantly what graduate degree's and other student attributes they target for their jobs.
---
Disciplines
Accounting (50%),

Actuary (50%),

Banking and Finance (100%),

Business and Commerce (100%),

Compliance (50%),
Work rights
Australian Citizen (100%),

Australian Permanent Resident (100%),

New Zealand Citizen (50%),
Past APRA Graduate Programs
Check out some of APRA's past jobs they have posted on GradConnection over the last 12 months. Understanding the details about what a graduate employer is looking for well before applications have opened can sometimes be the edge you need to secure your first graduate program.
---
Actuary
and 7 others
Hires applicants with degrees in
Data Science and Analytics
Financial Regulator - 18 Month graduate program with 3 rotations across Supervision, Advice & Data. Opportunities in Sydney, Melbourne & Brisbane.
Accounting
and 11 others
Hires applicants with degrees in
Data Science and Analytics
APRA has uplifted the 2022 Graduate Program, looking for Sydney Based STEM/Data/Finance focused Graduates!
We are Australia's prudential regulator – banks, insurance companies and most superannuation funds operate under our supervision. As a graduate, you'll be ensuring that the savings, insurance policies and superannuation nest eggs of millions of Australians are in safe hands. 
The work we do is to protect today, prepare for tomorrow. We are at the frontier of ensuring security for the Australian community. 
Our Purpose
Our purpose is to ensure Australians' financial interests are protected and that the financial system is stable, competitive, and efficient.
Our vision
To reflect APRA's forward-looking philosophy, our Vision is focused on two strategic themes: Protected today, prepared for tomorrow.
Our values
Our values underpin the critical role we play in protecting the financial well-being of the Australian community. Our values were selected to help everyone at APRA to achieve the high standards necessary for us to protect the financial well-being of the Australian community. In our work and in our interactions with others, we seek to demonstrate:
Integrity – we act without bias, are balanced in the use of our powers, and deliver on our commitments.
Collaboration – we actively seek out and encourage diverse points of view, to produce well-founded decisions
Accountability – we are open to challenge and scrutiny, and take responsibility for our actions
Respect – we are always respectful of others, and their opinions and ideas
Excellence – we maintain high standards of quality and professionalism in all that we do
Working and acting in these ways helps us achieve the high standards necessary for us to protect the financial well-being of the Australian community. Our supervisory approach is forward-looking, primarily risk-based, consultative, consistent and in line with international best practice. This approach also recognises that management and boards of supervised institutions are primarily responsible for financial soundness.
As an APRA graduate, you are intrinsically motivated by our purpose and can see the possibility of thriving in a rotational program. APRA is not a place where you will be siloed. You may have a Mathematics or engineering background and could end up in Policy or have a non-data heavy degree have ended up in our data division.  The rotation experience is designed to open the possibilities of what you can do and stretch how far your degree can go by giving you have exposure like no other. 
From the moment you join APRA, you will be entrusted and given autonomy to deliver high profile, big thinking work in your rotations, while being supported by technical leaders in the industry to share insights and learned experiences. At APRA, we pride ourselves on fostering an environment where our team want to grow with us, and we want to invest in the next generation of leaders and experts.
APRA is committed to supporting its employees to build a path to mastery. This could be as a leader as a knowledge specialist, and/ or a leader of people. We understand that every graduate is unique, so we want to work with you create a career path that is unique to you. A graduate journey that is like no other. 
You'll be joining a team that is passionate about the work we do for the Australian community.
There is no one else in the industry that does the work that we do and in joining us, you'll be in a unique position where you'll be making an impact that directly relates to your future, and the future of all Australians. 
About the Graduate Program
The APRA Graduate Program is one of the most in-depth and diverse in the financial services industry.
Our Graduate Program runs for 18 months. During this time, you will complete three six-month rotations, across our frontline supervision, policy and advice, and data analytics divisions, giving you the opportunity to build the core foundations of prudential regulation. 
As one of our graduates, you'll benefit from:
Being assigned a buddy - who is part of our recent graduate alumni, and is fresh with understanding the challenges of being a graduate at APRA.
Connection with an experienced mentor, who will support you through your 18-month program and beyond. 
Support from several key managers and executives – all who are very invested in seeing graduates grow.
Working as part of an APRA team doing meaningful work from the outset, whilst carving out a unique career like no other. 
In joining the graduate program, you will be offered an ongoing permanent position meaning, at the end of your Graduate Program, you will remain an employee of APRA and have the opportunity to drive your career in any of APRA's diverse Divisions.
Hear from APRA graduates https://www.apra.gov.au/hear-from-past-apra-graduates
Your Development Journey
As an APRA graduate you will be supported by an in-depth learning and development program, including access to an extensive range of in-house training programs that are provided to all APRA employees. These are designed to support you to grow your technical and personal capabilities and help jump start your career as a financial professional.
Professional development is ongoing throughout your career with us. In fact, professional development is an integral part of ensuring we maintain our excellence as a regulator. 
You will have an extensive development plan designed for you to build your technical and behavioural capabilities based on APRA's Enterprise Capability framework. This framework will guide you and help you develop as well-rounded professionals at all levels and to prepare for your future roles at APRA.
You will have access to over 40 technical training courses to learn what prudential supervision is and have many opportunities to learn from and be coached by the experts at APRA. You will also be invited to join world-class courses on developing your personal enabling skills, mindset and behavioural capabilities, such as the Seven Habits of Highly Effective People and the Power of Habit. 
In addition, you will have access to the LinkedIn learning platform, where you can access business, technology, and creative-related courses on demand. Access to LinkedIn learning lets you create a learning pathway that is personalised to you. It could be a beginner guide to Photography! It does not have to be APRA related. Supporting our minds to learn and grow, supports us in being exceptional, inquisitive, and engaged employees!