Australian Defence Force Opportunities
There is currently 1 opportunity available
The Australian Defence Force (ADF) offers a range of professions for graduates looking for a career that offers satisfaction excitement and challenges that you wouldn't find in any other organisation.
Already have an account on GradConnection?
Login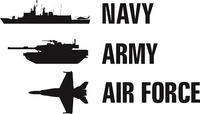 Apply to Australian Defence Force
Disciplines:
Accounting, Agriculture, Construction, Consulting,
...
Locations:
Canberra, Regional ACT, Regional
...