Experience the learning, pace and rewards that only come from working in a competitive business that is transforming an entire industry. Enjoy real responsibilities from day one, challenging projects, being supported by industry experts and building a career like no other.
Business and Commerce
and 4 others
Hires applicants with degrees in
Fast Moving Consumer Goods
This role is part of Marketing. The Virtual Sales Executive's will be responsible for managing volume and share growth across their assigned patch. By utilising their business acumen, strategic planning capability, passion, and energy for success.
Administration
and 2 others
Hires applicants with degrees in
At BAT, our Trade Marketing Representatives are responsible for the successful management and implementation of company strategies in store with retailers. We are looking for people with drive, passion and ambition to help us drive these strategies from the ground up.
Past BAT Graduate Hiring Statistics
If you're interested in working at BAT, understanding when they have opened up applications for their graduate programs, graduate jobs and internships is helpful knowledge to have so you know when you might need to apply. Use the below information to see when BAT hires graduates, but more importantly what graduate degree's and other student attributes they target for their jobs.
---
Work rights
Australian Permanent Resident (100%),

Australian Citizen (100%),

Australian Skilled Migration Visa (485) (83%),

Australian Bridging Visa (83%),

New Zealand Citizen (83%),

Australian Working Visa (50%),

Australian Student Visa (50%),
Past BAT Graduate Programs
Check out some of BAT's past jobs they have posted on GradConnection over the last 12 months. Understanding the details about what a graduate employer is looking for well before applications have opened can sometimes be the edge you need to secure your first graduate program.
---
Administration
and 2 others
Hires applicants with degrees in
At BAT, our Trade Marketing Representatives are responsible for the successful management and implementation of company strategies in store with retailers. We are looking for people with drive, passion and ambition to help us drive these strategies from the ground up.
Administration
and 2 others
Hires applicants with degrees in
At BAT, our Trade Marketing Representatives are responsible for the successful management and implementation of company strategies in store with retailers. We are looking for people with drive, passion and ambition to help us drive these strategies from the ground up.
Our Digital Business Solutions Global Graduate Programme is an 18 month fast-track development programme for driven, passionate and ambitious graduates.
Business and Commerce
and 1 other
Hires applicants with degrees in
Our HR Global Graduate Programme is an 18 month fast-track development programme for driven, passionate and ambitious graduates.
Our Marketing Global Graduate Programme is an 18 month fast-track development programme for driven, passionate and ambitious graduates.
BAT – Building a Better Tomorrow™
BAT
---
We've been around a long time – since 1902 in fact – and have evolved into one of the world's leading consumer goods companies. We are a leading, multi-category FMCG that provides products to millions of consumers around the world. Our purpose is to build A Better Tomorrow™ by reducing the health impact of our business through offering a greater choice of enjoyable and less risky products for our consumers*.
There are more than 55,000 BAT people worldwide. Many of our people are based in offices, factories, tech hubs and R&D centres, but many of our people also spend time on the road, helping and advising our tobacco farmers, and our retailers.
Global Graduate Programme
BAT
---
Hit the ground running
Experience the learning, pace and rewards that only come from working in a competitive business that is transforming an entire industry.
Our 12-month fast-track to management Global Graduate Programme will see you hit the ground running in your chosen function, whether it be Marketing, Human Resources, Finance, Legal & External Affairs or Operations (Supply Chain).
Straight away, you'll contribute ideas in a real job, developing your potential through world-class training. You'll connect with peers and senior colleagues from across the globe. Ultimately, you'll be preparing the groundwork for where you go next in our varied business. If you're looking to maximise your career potential, robust foundations are essential. You'll get those here – and more.
International exposure
Take on an international role within our global business.
After just a few months, you'll start to gain international exposure, working with colleagues across our global business, which is a great way to learn more about our local and global strategies. You will have the opportunity to build a solid international network, showcase your leadership potential, and raise your profile across our global business. 
World-class learning
Develop your future-focused skills and drive.
With access to a wide range of training opportunities, you can develop your skillset in several ways. From foundation courses to local training as well as 3,000 online courses, you'll enjoy a holistic approach to your learning that allows you to take the right path for you.
BAT Academy
Attend our world-class learning academy in the UK.
In your first year, you'll meet up with other BAT graduates from across the globe for a two-week-long course. This will be your opportunity to understand how our business affects the broader world while exploring our portfolio of products. 
In these two weeks, you'll learn from leaders, gaining the functional, commercial and leadership skills you'll need for a future with BAT. The Academy is a great way to build your professional network as you meet fellow graduates and share experiences.
Llewelyn James – Demand Planning Executive
7:30 AM
After 30 minutes of hoping my alarm forgot to turn on again after pressing snooze every 5 minutes, I bounce out of bed and start my day with a cold shower and dance music to wake me up. Sydney has returned to lockdown again, so I do a bit of "doom-scrolling" in the morning reading the news (even though I know I probably shouldn't) and then I listen to a podcast as I grab a takeaway coffee nearby. 
9:00 AM
No commute today from my kitchen to my desk as we all WFH which isn't so bad! As usual I'll slip on my homer slippers, make myself comfy at my desk and check my emails for any urgent items that needs to be prioritized that day. This week is an important week in the business cycle, so I start by quickly updating my excel files with the sales data from the previous week, double checking the all the data is clean and correct as I will be sharing it later in the day with senior managers.
9:15 AM
My manager and I found a quick daily "Work in Progress" Teams meeting helps maintain that personal connection where we catch up on everything from how we're surviving lockdown, priorities for the week to career growth/planning.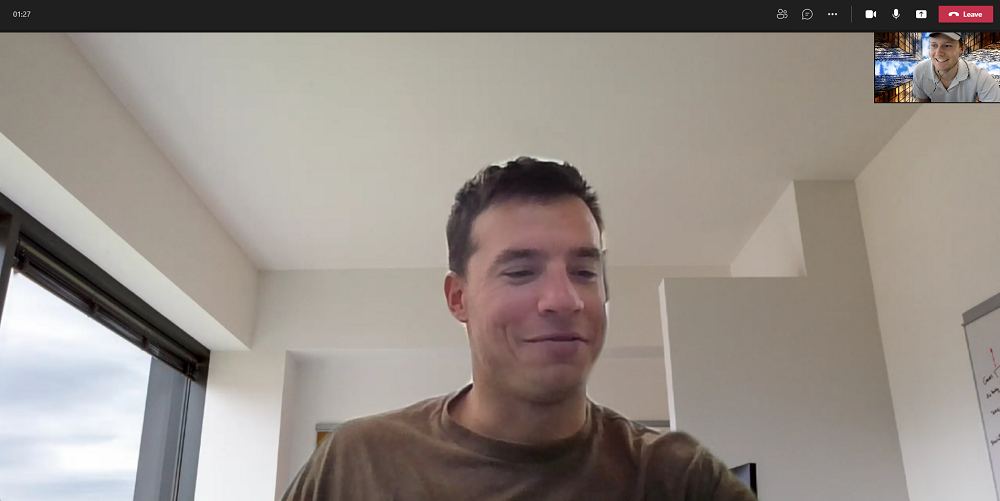 10:00 AM
Every month all the key account managers for the supermarkets and other stores make their forecasts for the year on files I manage. I check I have all the information I need to make sure it is consolidated accurately and analyse what are the key drivers to any changes from last month.
11:00 AM
I set aside some time to watch some videos via BAT's educational self-learning platform and LinkedIn Learning about how to use Power Query, Power BI & Power Pivot. I work a lot with access to "Big Data", often with hundreds and thousands of rows in Excel, so I know these tools will be very useful tool to speed up some processes on a project I am working on.
12:00 PM
Lunch time! Time to step away from the desk and workout! I found a great 30-minute full body home workout video on YouTube which helps me keep active throughout the day and ensures I don't spend all day at my desk. With no commute, I can also refresh my excel files from the online database with new scan data from all stores while I finish cooking my home-made fried rice.
2:00 PM
Given how important forecast accuracy is, we have our weekly meeting today with the National Business Managers for each marketing channel, + other departments such as Finance & Logistics to make sure all assumptions in future forecasts are aligned and understood. I am the one sharing my screen and taking minutes in case I need to refer to them later.  These meetings are great visibility to see how each department in the company functions together to work through any challenges that arise in the monthly business cycle.
3:00 PM
From the meeting there are some questions I have about the forecast assumptions I have made about the cannibalisation rate for some products. Luckily, everyone at BAT is very friendly and willing to help answer any questions I have, so I find it is easier to ask and know, then guess and get it wrong when it could have been avoided.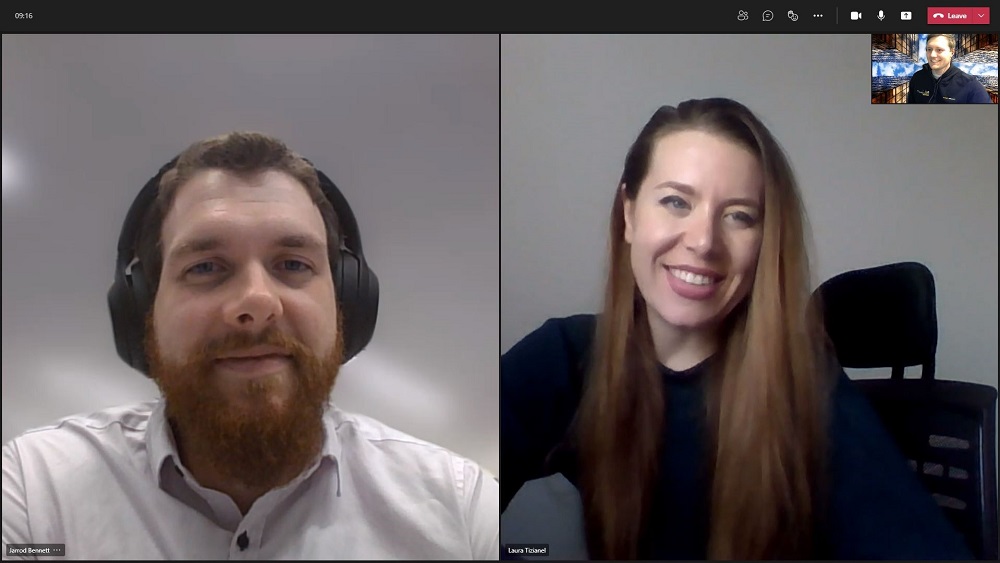 I make a quick group call with the brand manager plus another Australian brand graduate who is currently working in HK. We also take the time to find out how we're doing, when we think we'll exit lockdown, Netflix shows to watch etc. It's obviously not the same but keeping in contact and sometimes just social video catch ups with other colleagues throughout the day can be a real morale booster given the setting. 
5:30 PM
One the satisfying parts of the day, exiting all open documents and logging off! I go for a short walk outside for some fresh air, lucky my park has a good view of the city, switch off and then make sure I put away my phone and laptop, so I am not tempted to work in the night. Finding the separation between work and free time I find can be difficult, but I know if it is not urgent, it can wait until tomorrow.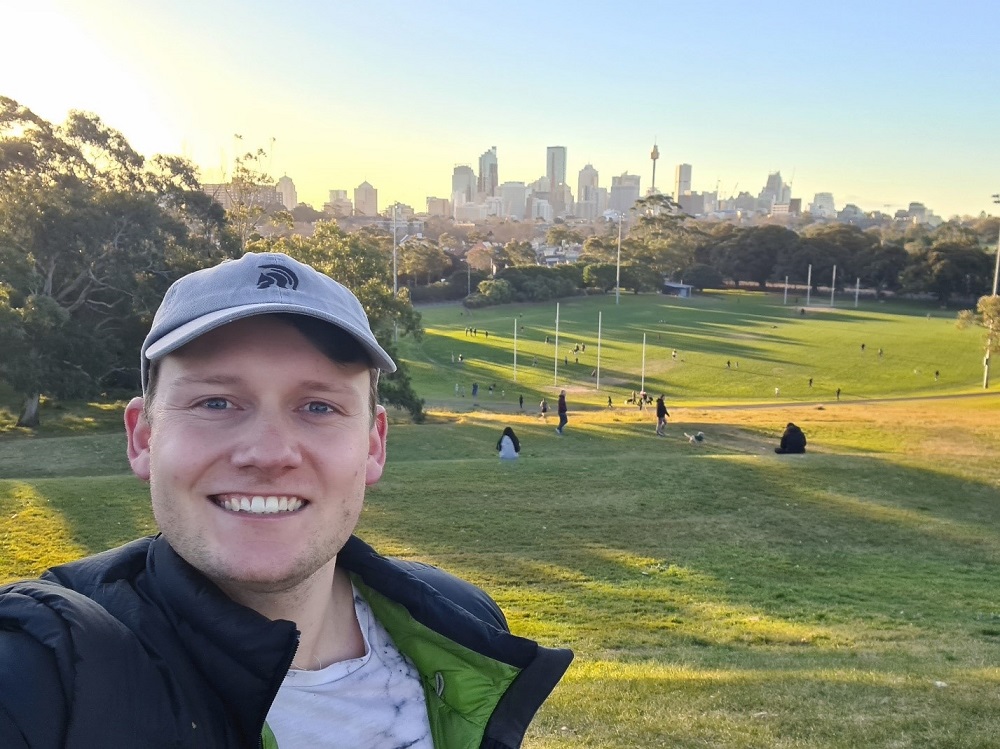 6:30 PM
With restaurants closed, I am pushing myself to find new recipes online to cook with different foods and flavours for dinner. Did you know how expensive cardamom is?!
7:30 PM
I'm using my down time to study for my C1 Advanced Spanish exam at the end of the year. This however mostly involves involving watching Latin American soap operas and listening to reggaeton.
11:00 PM
My promise of "Just one more episode" has spiralled so I force myself to head to sleep before I binge watch a series through the night. But not before I set my alarm for 7am and tell myself I'll wake up straight away this time.
Jarrod Bennett – Global Graduate (Marketing)
The big appeal for me to apply for BAT was the fact that it's such a large global company
Tell us a bit about yourself!
I grew up on the Mornington Peninsula in Victoria which is where I spent most of my life. For anyone who hasn't been there I would strongly recommend it, it has some pretty amazing beaches, wineries and restaurants and is just a very relaxing place to be away from the hustle and bustle of the city. I undertook my bachelor's degree at Victoria University in Footscray where I studied Business with a specialisation in the music industry. During this time, I was also growing my hair so I could eventually donate it to the Variety charity. This definitely taught me patience as it took me 3 years to get it long enough. However, it was such a rewarding feeling when I was eventually able to donate it.
Whilst undertaking my bachelor's degree I discovered my passion for marketing which lead me to undertake further postgraduate studies. I went on to get my master's degree in Marketing from Swinburne University. I took a few months off after my master's to relax after 5 years of university. I then started applying for jobs, one of which being BAT and the rest is history. I moved to Sydney to work for BAT in 2019 and have been working for them for just over 2 years now. I have learned so much working for BAT and have definitely grown both professionally and personally.
What made you apply for BAT?
The big appeal for me to apply for BAT was the fact that it's such a large global company. The ability to work with people from all over the world and potentially get the chance to work for the same company but in another country was a huge incentive for me to apply. I'm happy to say that my hope of working overseas with BAT came true as I'm now working in our regional office in Hong Kong!
What was your application process like?
I won't lie, the application process wasn't easy. There were a lot of interviews and the assessment centre was very long and challenging. In saying that, the application process helped me to better understand who I am and what I want out of life in a professional manner. Even though the process was long the communication between me and BAT was excellent throughout.
Can you describe a typical workday?
Every day brings new challenges so it's hard to describe a 'typical' workday, but it's usually filled with new and interesting information and challenges. It definitely keeps me on my toes and I'm definitely not bored.
Right now, my workday is a little atypical as I'm working in our regional head office in Hong Kong and I will say moving to a new country in the middle of a global pandemic was a strange process.
I know it's cliché but no two days are the same. I generally start around 8-8:30 am, sit down with a cup of coffee and go through all the emails I received overnight. One downside to working in a regional head office is the number of emails you receive overnight due to dealing with several different time zones. After going through emails and messages I will generally have at least 1 meeting in the morning and many more in the afternoon. Between these, I will try and work on whatever projects I currently have in the works.
What do you love/hate about your role?
Part of the role I love the most currently is the ability to help shape the future of the business through products outside of traditional tobacco products. Helping several different countries on their vapour and tobacco heating products agenda is challenging day in and day out because there is no clear way to do it and challenges you to think outside of the box and outside your comfort zone.
Could someone with a different background do your job?
Most definitely, BAT is a diverse place to work whether this be diversity in gender, ethnicity, or ways of working everyone brings different skills some of which they bring in some of which they learn along the way. BAT has a great culture for fostering learning and development and really helps to drive everyone to be their best self.
What advice would you give to current university student who is applying for a graduate position at BAT?
Trust your skillset but also be ready to learn. BAT is a fast paced and dynamic place to work, sometimes it can be overwhelming when you first start but just come in with an attitude for learning and take it all in and you will flourish.
Start Your Unique Journey
BAT
---
You'll be supported during the selection process, just as you would be as a member of the team. We're rigorous in our selection, but the process is something we expect you'll find as enjoyable as it is challenging. Based on the position you apply for, you'll complete some of the pre-screening activities and steps below.
Our online tests are designed to remove biases. You'll be invited to play a set of games, which measure cognitive, social and behavioural traits. 
Our screening interviews are an efficient way for you to share some key information with us. We may ask you to be available for a phone interview or answer some questions via a recorded video.
Our face-to-face interviews help you to get to know us and us get to know you. The interview covers a range of topics and often references our leadership capabilities – to see whether our offering matches your needs. It's a two-way street and an excellent chance for you to meet our leaders and ask questions, ensuring that we're the right choice for you.
Our assessment centre is designed to show you the role in action, while helping you to see what differences you can bring to BAT. We look forward to seeing how you tackle a real-life immersive situation and achieve great results, both in a group and individually. 
Get a feel for our culture
BAT
---
We're transforming at incredible speed. To keep up with this change, we have the most ambitious, courageous and resilient people in the industry taking on new challenges and driving us forward.
We're also passionate about looking after our incredible people. As an employer, we have a responsibility to our teams, and we articulate this through our inclusive ethos.
The BAT ethos runs through everything we do and how we do it. We express this as five pillars, summing up our organisational DNA. Do our principles match yours?
We are bold.


Dream big – with innovative ideas
Make tough decisions quickly and proudly stand accountable for them
Resilient and fearless to compete

We are fast.


Speed matters. Set clear direction and move fast
Keep it simple. Focus on outcomes
Learn quickly and share learnings

We are empowered.


Set the context for our teams and trust their expertise
Challenge each other. Once in agreement, we commit collectively
Collaborate and hold each other accountable to deliver

We are diverse.


Value different perspectives
Build on each others' ideas, knowledge, and experiences
Challenge ourselves to be open-minded recognising unconscious bias

We are responsible.


Take action to reduce the health impact of our business
Ensure the best quality products for our consumers, the best place to work for our people, and the best results for shareholders
Act with integrity, never compromising our standards and ethics
Diversity & Inclusion – Bring Your Difference

BAT
---
Creating A Better Tomorrow™ starts with being more inclusive today. By including everyone and getting excited about different perspectives, we make way for out-of-this world thinking. Diversity of thought will give us the edge we need to reinvent our products, our business and reshape the consumer experience. As a member of our team, you'll join an exceptional workplace, collaborating across borders with colleagues from multiple disciplines to evolve our business in one of the most dynamic phases of our history.
We match the requirements of the job to the ability and potential of the individual, and fair-minded employment principles underpin our culture and all our operations. The principles state that we won't discriminate in hiring, promotion or retirement decisions on the grounds of candidates' or employees' race, colour, gender, age, social class, religion, smoking habits, sexual orientation, politics or disability.
A Sustainable Approach
BAT
---
As we build A Better Tomorrow™, sustainability is at the core of our business. It is crucial to creating a responsible future for our consumers, shareholders, stakeholders and our company. It's not new to BAT either – as a major international business in a controversial sector, we have long been aware of our responsibilities and our ability to address issues on a global scale.
We have a long history in sustainability and contributions to communities, with significant progress including:
BAT has been included in the Dow Jones Sustainability Indices (DJSI) for 19 consecutive years.
We have strengthened our approach to human rights, sustainable agricultural practices among the tobacco farmers we work with and developed industry-wide security systems for our supply chain that help prevent tobacco trafficking.
Our contributions to the local community and charitable projects focus on social investment to benefit the community rather than as a way to promote ourselves.
Benefits Beyond the Job
BAT
---
Remuneration
We offer a truly competitive package that is reviewed yearly and benchmarked on digital and consumer packaged goods companies. This is based on salary, superannuation, benefits as well as short and long-term incentives. 
For Global Graduates, we offer a competitive starting salary of $82,000 excluding super and bonus.
Well-being
Your well-being is the key to doing your best work. So, we've put policies and initiatives in place to support your physical, emotional, and financial wellness. We offer above statutory superannuation, health & well-being allowance, employee assistance program (counselling services), mobile phone allowance and more.
Learning & Development
We're building a team of transformational, bold and disruptive next-generation leaders who drive performance and help others reach their full potential. We build this team of leaders by offering opportunities to develop and learn from experts. We offer global digitally-enabled learning, and we guide our people, providing a clear focus on how to reach their goals and achieve leadership. 
To help you build on the unique talents, attitude, and personal commitment you bring, we've created an approach to learning and development which is based on a 70%/20%/10% split.
70% There is no substitute for hands-on experience. And 70% of your learning will be on the job.
20% of your learning will be through coaches and mentors and by sharing experiences with your fellow graduates.
10% will be through formal learning. A comprehensive onboarding, the BAT Academy and other initiatives.
Our opportunities span the globe. Over 400 of our people are currently on an international assignment, and many more are permanently transferring overseas. No matter your background, race, age, gender or orientation, BAT will give you the platform to accelerate your learning, become the best person you can be and achieve your career ambitions.